This article contains affiliate links. If you make a purchase from the link, we will receive a small commission at no additional cost to you. For full information, please see our disclaimer.
When you think of Thai breakfast, what's the first thing that comes to mind? For me, it's Thai jok!
Pronounced "joke", jok is the Thai version of congee – a porridge made with rice, rather than oats. The best description of this recipe is that it's a savoury porridge. It's probably a bit of a "marmite" dish – some people love it, while others hate it. But for me, this Thai rice porridge is a dream weekday breakfast – I don't have a big sweet tooth so a big bowl full of savoury Thai jok is perfect.
What is jok?
Jok, sometimes known as congee, is Thai rice porridge. A traditional Thai dish, and probably one of only a couple of Thai breakfasts that is remotely similar to a breakfast you might eat in Europe or the US.
It's a savoury dish that uses a base of stock rather than milk. The rice is cooked for a long period of time until it starts to break down. You'll typically get a big bowl of it, served with a variety of different toppings.
It's a soupy porridge that's as filling as it is delicious. If you're a fan of Thai food, this is the Thai breakfast that I'd recommend giving a go. It's not the most well known Thai recipe, but we'd recommend giving it a go even if you've never heard of it before!
How to make rice porridge
It's a very similar process to making an oatmeal porridge. The main difference is that it uses stock, rather than milk, and the cooking time is a lot longer. With a Thai jok, you have to cook the rice until it starts to break down and rather than the usual rice texture, you'll have something more akin to a typical oat porridge.
We typically cook up a large batch on a Sunday, as it keeps in the fridge for a good few days, then you don't have to spend ages making breakfast during the week. You can use a variety of rices too – like most Thai dishes, the traditional Thai jok is made using jasmine rice. However, we've made this recipe with brown rice a number of times and it's equally delicious. You just need to cook it for even longer!
To make our vegan Thai jok, you'll need just two primary ingredients:
2 cups of rice
3-4 litres stock – either a vegan chicken stock, or just a plain vegetable stock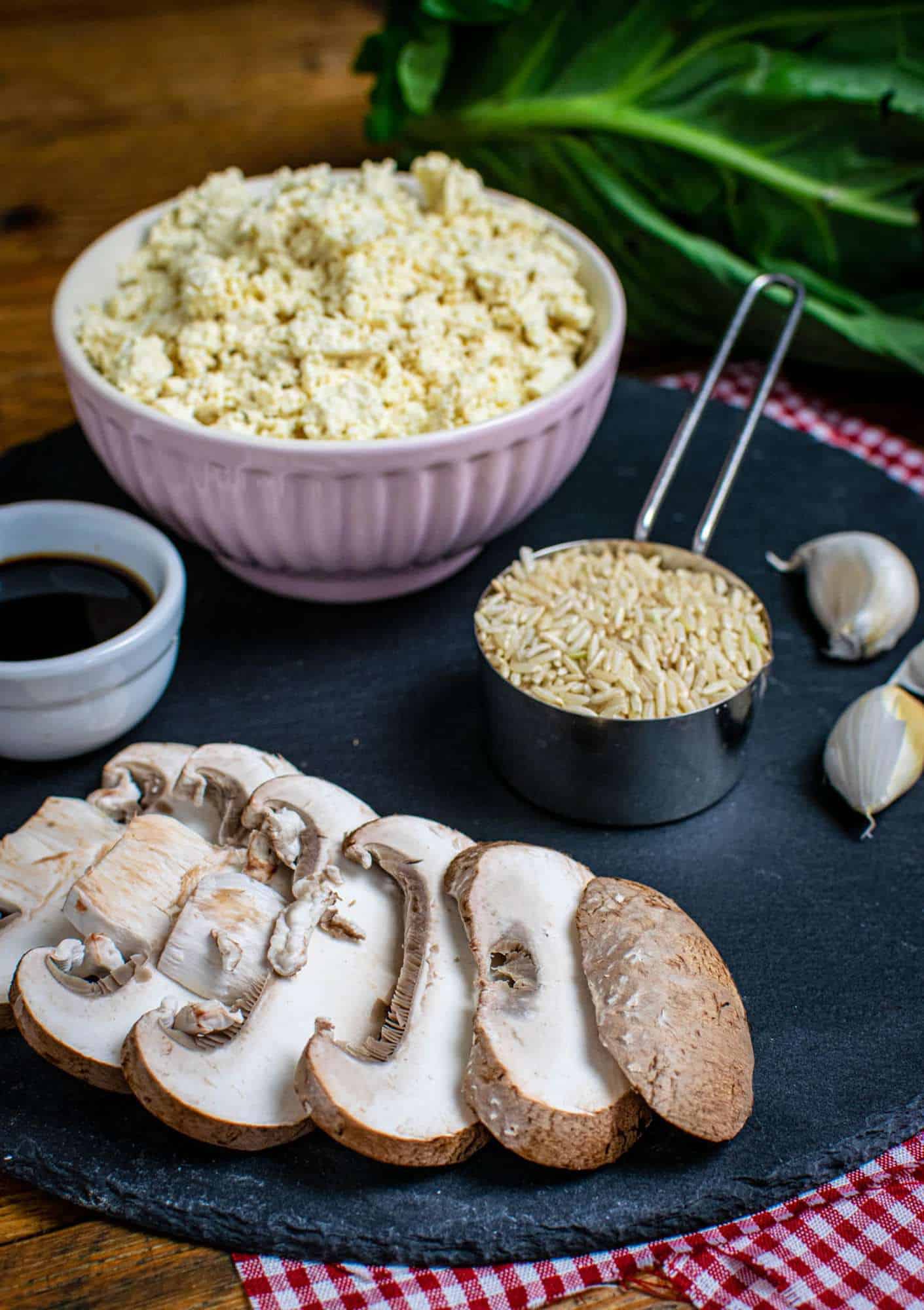 If you're using jasmine rice, chuck it in a sieve and rinse it until the water runs clear. After that, it's a very simple process – it just has a longer cook time than porridge.
Add stock to a very large pan (we tend to use a large non-stick soup pan) and bring it to a boil, then add the rice and get the stock back up to a low-simmer. Then you need to cook the rice for around 90 minutes if you're using jasmine rice, or more like 2 hours if you're using brown rice. Keep the lid of the pan on so the water doesn't evaporate too quickly.
You need to cook the rice until it starts to break down and resembles a porridge consistency. Stir regularly to ensure it doesn't stick to the bottom of the pan and add more stock if needed – it should be a soupy consistency, rather than a very thick porridge.
It's that simple – serve with your favourite toppings and some optional soy sauce for seasoning. I absolutely love Thai jok – especially when made with our favourite vegan chicken stock, which we would recommend trying! It makes for a delicious, savoury and filling meal.
If you're going to make a big batch like we do, keep it in the fridge for up to 5 days. It will 'set' a little bit in the fridge, but this is fine. When you reheat it, just add some extra water and it soon goes back to the original soup consistency.
Take a look at this step-by-step video we made for this recipe:
Thai jok FAQs
What do you serve with Thai jok?
Traditionally you would serve Thai jok with a raw or partially cooked egg. In addition to egg, the other popular toppings are minced pork or beef and chopped spring onions. Of course, we don't suggest these as toppings for our vegan Thai breakfast!

To replace the minced meat, we love crumbling up some extra-firm tofu and frying it off with minced garlic, spring onions and soy sauce! It creates a savoury, mince-like crumble to serve on top of your Thai rice porridge. It's really delicious!

Other options that we love to include are leafy greens, such as spinach, spring greens or cabbage. Add them to the porridge while you heat it, they wilt nicely in a couple of minutes. You could also try adding matchsticks of freshly cut ginger as they go perfectly. We love the fresh, fiery crunch the ginger adds to our favourite Thai breakfast!

But really, you can use anything that you think you'd enjoy with it! Get creative, use seasonal veg, or even add some vegan meat-replacements if you want to. Don't be afraid to experiment!
Can I keep it in the fridge and reheat it?
Yes! This is exactly what we do – make a big batch on Sunday then eat it during the week.

Just make sure you reheat it very well, as you would with any rice dish. We make sure to add extra water during reheating – it should be kind of soupy, rather than a thick porridge.
What other Thai breakfasts are there?
Some of the most popular breakfast options in Thailand are Thai omelette with rice, fresh fruit, khanom krok (small coconut pancakes), grilled meats with sticky rice and salapao (dumplings, like dim sum).

Thai breakfast options aren't as fixed as they are in the UK, so fried rice or noodle dishes are equally popular breakfast choices. It's not unusual to grab a portion of Pad Thai or red curry and rice for breakfast when you're in Thailand!

We actually love this way of eating breakfast and always look forward to it every morning when we're in Thailand. It's another opportunity to eat lots of healthy vegetables and provides you with a bigger variety of options.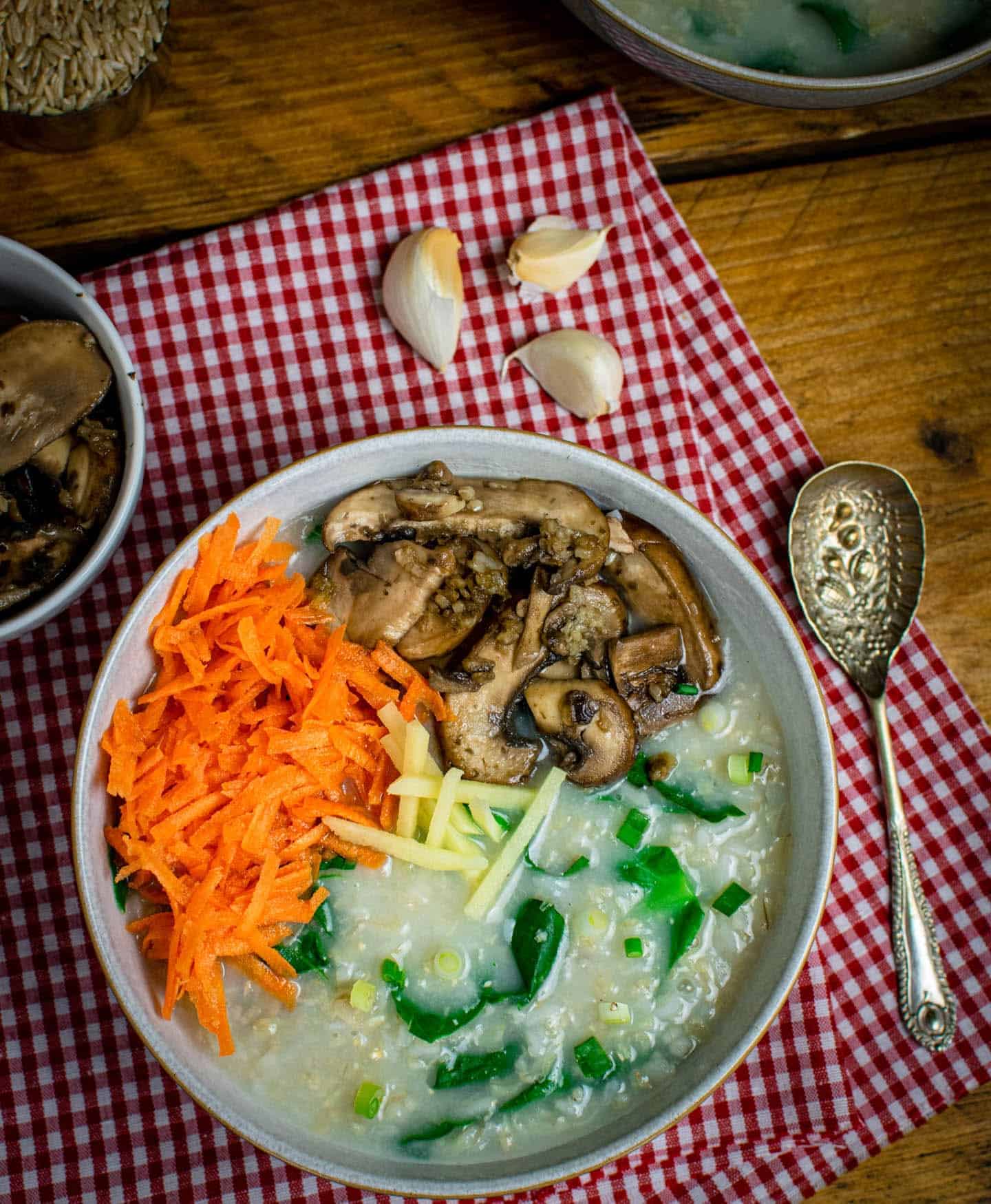 Equipment for making this recipe
In keeping with how simple our Thai jok recipe is, you won't need much kitchen equipment to whip up a batch of our favourite Thai breakfast! You'll need:
A large saucepan or soup/stock pot
This recipe uses a lot of liquid, between 3-4 litres of stock, so you need a pot that can hold a good amount! We use our trusty non-stick soup pan, which we've had for a number of years now and it's perfect for making Thai jok!
It holds 6.4l, so there's a bit of room to spare even once the rice starts soaking up all that stock and expanding.
A sieve
If you're into your traditional Thai food and you love jasmine rice, a sieve is essential for rinsing that rice! Jasmine rice is quite starchy, so thoroughly rinsing it before cooking helps to prevent it from clumping together.
Just make sure you have a fine mesh sieve – you don't want that rice escaping down the sink while you're rinsing!
A spoon for stirring and serving
Obvious, I know, but you're going to need something to stir your Thai breakfast while it cooks, and then serve it with.
If you're using a non-stick pan, like us, you'll want silicone or bamboo wok utensils to keep the non-stick coating protected from scratches.
Cup measurers
If you've made many of our recipes, you'll know we love cup and spoon measurers! They make cooking so simple, because measuring out smaller quantities of ingredients becomes quick and painless.
If you love this recipe, pin it for later! Also, don't forget to check out our guide to cooking Vegan Thai Food for even more delicious inspiration.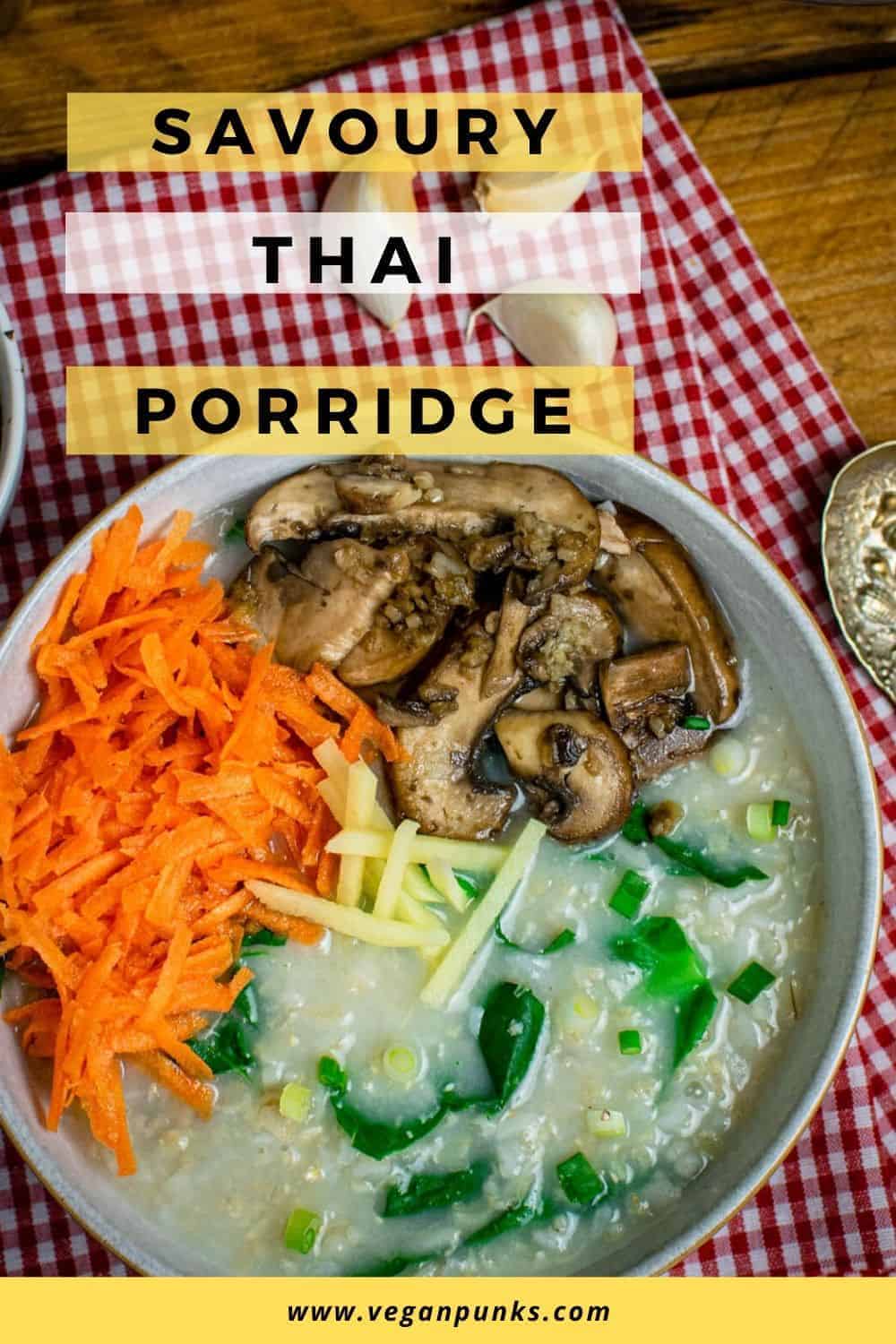 Print
Thai Jok (Congee)
---
Author:

Prep Time:

5

Cook Time:

90

Total Time:

1 hour 35 minutes

Yield:

10

1

x

Diet:

Vegan
Description
Thai jok is a hearty Thai breakfast! A delicious and filling savoury rice porridge, which you can customise with a variety of tasty toppings to suit you.
---
2 cups

rice – jasmine is used traditionally, but other types of rice are also fine

3

-

4

litres stock – vegan chicken stock or regular vegetable stock
Suggested toppings:
Crumbled tofu fried with garlic and soy sauce
Sliced mushrooms fried with garlic and soy sauce
Sliced spring onions
Matchsticks of fresh ginger
Leafy greens, such as spinach, spring greens or cabbage
Grated carrot
---
Instructions
Pour 3 litres of stock into a very large pan and bring to a boil – if you're using stock cubes or powder, you can make it up directly in the pan.
If using jasmine rice, rinse in a sieve until the water runs clear.
Add the rice to the pan and bring to a low-simmer.
Cook for around 90 minutes with the lid on, stirring regularly to prevent sticking. Add more stock if it needs it. If using brown rice, cook for around 2 hours.
Once the rice has started to break down and resembles a soupy porridge consistency, you're done.
Serve in a bowl along with a variety of tasty toppings (as suggested above)!
Category:

Breakfast

Method:

Simmer

Cuisine:

Thai
Keywords: Thai jok, Thai breakfast, Thai congee