Vegan cauliflower cheese, as part of a roast dinner, is just amazing! We especially love it when you get a forkful with the perfect amount of cauli cheese and roast potato together...yummy.
The key to creating a great vegan cauliflower cheese is finding the right milk and cheese alternatives, they make all the difference. We've tested a few combinations and we've found the right ones that make a cauliflower that is totally delicious and creamy, even though it's vegan.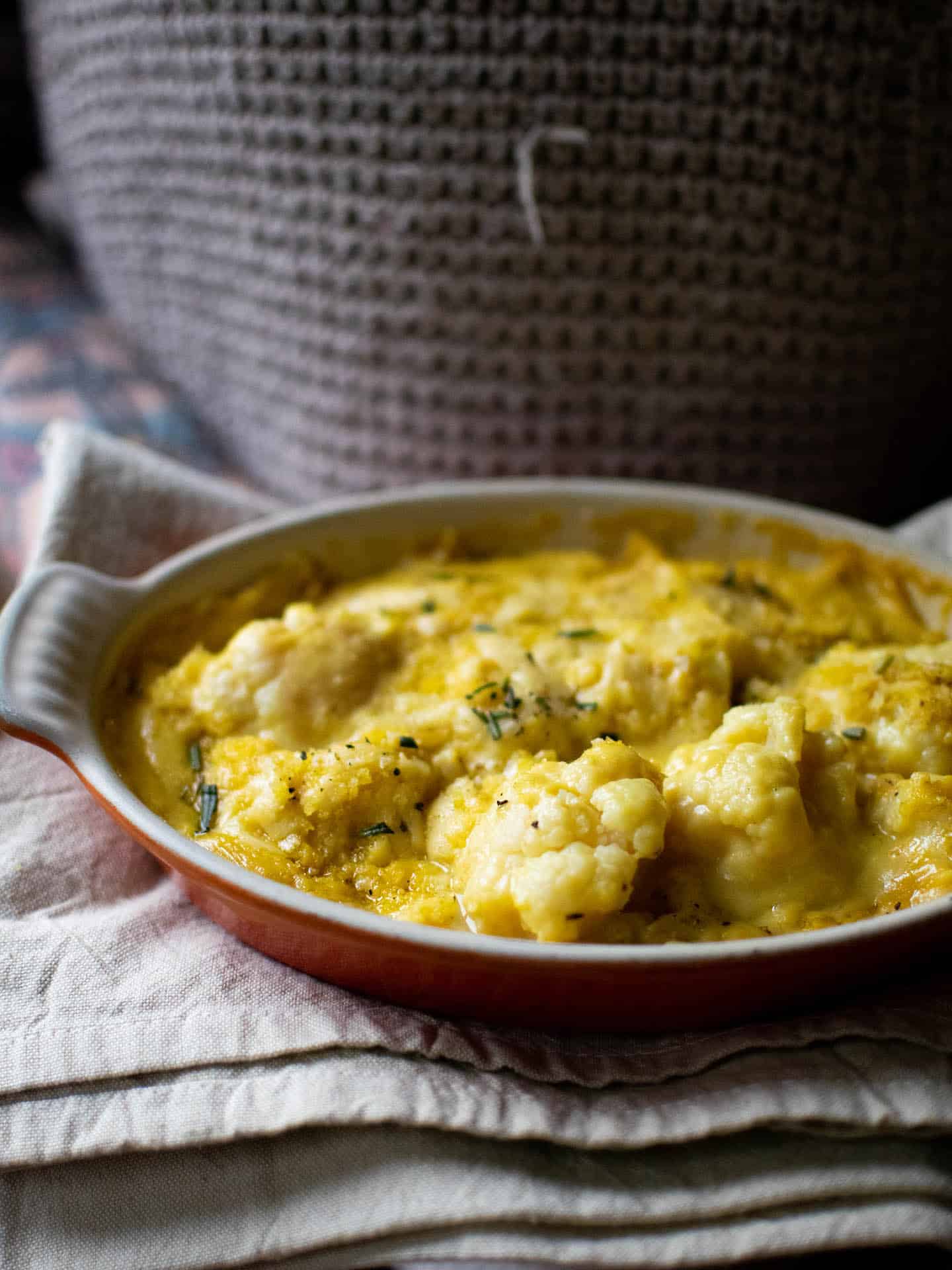 We particularly like it because it only has 7 ingredients and is ready in under 30 minutes. Plus you can make and freeze it in advance.
We put this 90 second video together to give an overview of how to make this recipe. We hope it's helpful!
Is Cauliflower Good For You?
Disclaimer - we aren't nutritionists! However, looking after ourselves and making sure that we get all of the vitamins and minerals that we need is really important to us. This is why we've done our reading on the ingredients that we use commonly.
Cauliflower is low in calories while also being high in vitamins. In fact, it contains some of almost every vitamin you need. It's an excellent source of:
Fibre (important for healthy digestion)
Vitamin C (keeps cells healthy), K (helps blood to clot) and B6 (allows energy storage and formation of haemoglobin)
Folate (formation of healthy red blood cells)
Pantothenic Acid (helps release energy from food)
Potassium (balances fluids and helps the heart work correctly)
Manganese (formation of enzymes to help with things like digestion)
Magnesium (helps regulation of calcium)
Phosphorus (builds strong bones and teeth)
For more information on the function of vitamins and minerals, check out the NHS guide.
Cauliflower is also incredibly versatile. People following low carb diets often use it to replace grains, using it to make cauliflower rice or even a cauliflower pizza base.
We love to make a Moroccan Roast Cauliflower, it's both delicious and low waste because even the leaves are included!
Vegan Cauliflower Cheese Sauce Ingredients
Vegan Cheese! We really like Koko cheddar because it melts well and has a lovely, creamy, flavour - you can get it from Waitrose, Ocado, Holland & Barrett and The Vegan Kind. Violife is also a great option and can be found in Tesco and Sainsbury's stores, but really any vegan hard cheese will work, so pick your favourite.
Nutritional Yeast or 'Nooch' - you can get this in most supermarkets.
Vegan Butter.
Turmeric.
Plain Flour.
Oat Milk (make sure it's unsweetened - we like to use the Barista editions as they are thicker, Oatly is the best one in our opinion!).
Bread Crumbs.
And of course, cauliflower!
How To Make Vegan Cauliflower Cheese
When you're making the cheese sauce for your vegan cauliflower cheese, you'll need to keep it moving once it starts to heat up otherwise it may stick. This is why we like to get all of our ingredients prepped, measured and laid out before we start, especially if you don't have a helper on hand to pass you things!
Chop up your cauliflower. Keep the chunks big enough that they'll retain a bit of 'bite' once they have been cooked.
Grate your cheese, being sure to grate a little more than you need – to account for the topping.
Measure out your milk, butter, nooch and turmeric.
Put your oven on to heat up.
Make a Roux
First make a roux. Heat up the butter in a non stick saucepan, on a medium heat. Once the butter has melted add in your flour and keep stirring with a whisk until it's combined – don't worry if it clumps up, start adding the milk and you'll be fine.
Gradually begin to add the oat milk, stirring continuously with a whisk as you do so. Add a good splash each time, whisk until smooth and then keep adding more until it's all in.
Once all the oat milk is added, add your nooch, turmeric and a pinch of salt and pepper. Then gradually start to add your cheese. It's best to allow each handful of cheese to melt before adding the next one, otherwise it could get unmanageable in the pan.
Simmer your sauce for five minutes. Keep whisking it in order to make sure that it's smooth. Over the course of the five minutes you should notice the sauce thicken a little as the flour reacts with the milk and heat.
Time for baking
Get an ovenproof dish and lay your cauliflower out in it. Cover it with the sauce.
Put the dish in the pre-heated oven and bake for ten minutes.
Carefully take the dish out after ten minutes, and top your cauliflower cheese with some extra grated cheese and breadcrumbs. This will give the top of your cauliflower cheese a nice crispy texture and that delicious cooked cheese taste. (If you're planning on freezing your cauliflower cheese, don't add the cheese and breadcrumbs - you'll add them when you reheat it.)
Pop your cauliflower cheese back into the oven for another five to ten minutes until the breadcrumbs have turned golden, the cheese has melted and the cauliflower is cooked to your liking.
For detailed quantities and temperatures, take a look at the recipe card at the bottom of this page.
What To Serve With Vegan Cauliflower Cheese
Vegan cauliflower cheese is wonderful as part of any roast meal, something about the cheesy sauce with gravy is just awesome! We especially like to have it as part of our Christmas dinner. Try these great dishes with it:
If we're making a roast, the most important part is probably the roast potatoes! We love a roast potato that's fluffy on the inside and crispy on the outside, and it's totally possible to achieve this without any goose fat in sight. Check out our roast potato recipe and let us know what you think.
We also really love yorkshire puddings, and we missed them when we first went vegan. We spent a long time creating this vegan yorkshire pudding recipe, and it's awesome. They're crispy, golden brown, and each one has it's own little 'well' ready for you to fill with gravy (or cheese sauce perhaps?)
So, what about the main event? If you want to create a vegan version of a quintessentially British dish, take a look at our toad in the hole recipe. We love toad in the hole because it's such a simple dish, and goes really well with almost anything.
If you're looking for something a little richer, give our vegan mushroom wellington a go. The crispy, flaky pastry complements the mushroom filling really well. We use chestnut mushrooms so the filling is almost meaty in texture, and very satisfying. We've served this up for Christmas Dinner before and had great feedback.
79 Ultimate Vegan Christmas Dinner Recipes!
Have a read of our 79 Ultimate Vegan Christmas Dishes for more Vegan Christmas Dinner inspiration!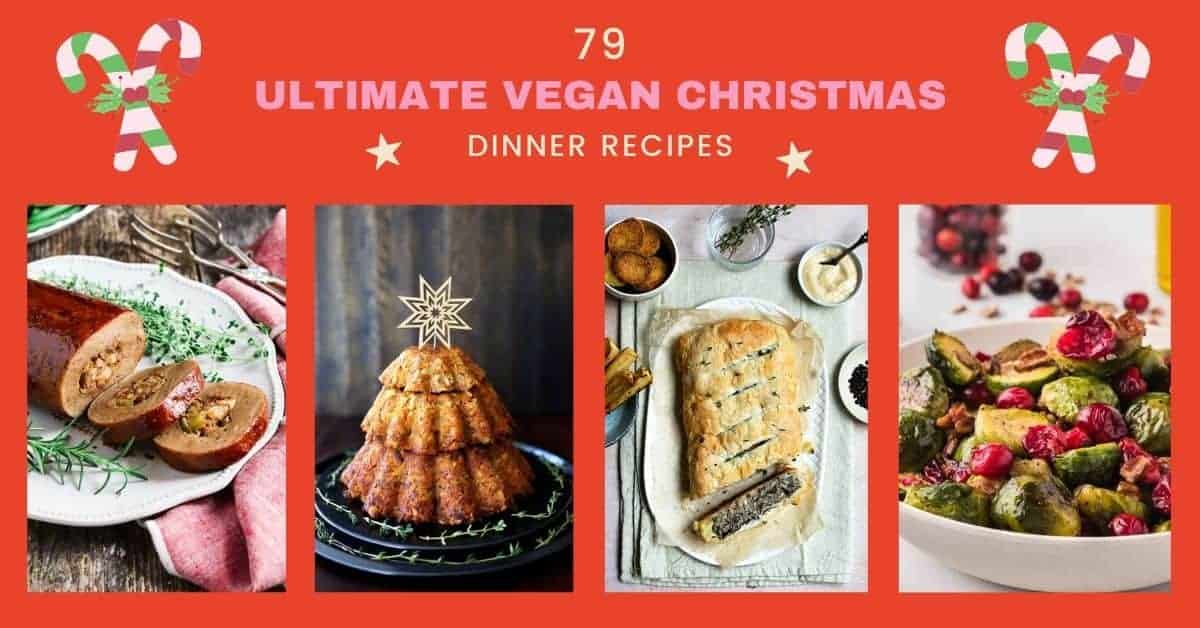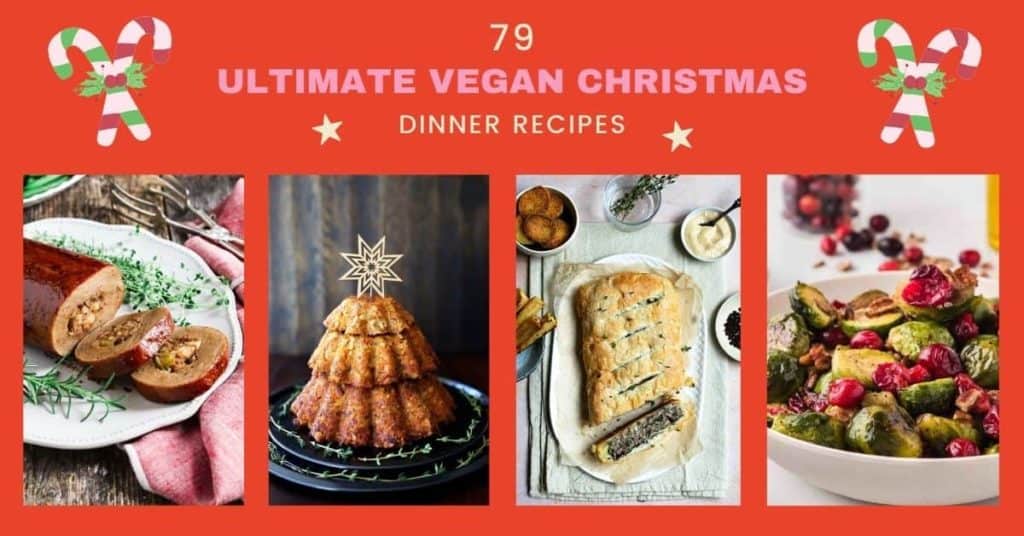 FAQs
Should I Par Boil The Cauliflower?
We don't think that you need to par boil the cauliflower. We've made this recipe both with and without parboiling the cauliflower, and we got better results when we didn't. If you don't parboil, it means that the sauce has time to reduce down in the oven while the cauliflower cooks. You'll end up with chunks of cauliflower that have a good bite to them, and the sauce will have a good consistency. Parboiling means you risk 'mushy' cauliflower, or a sauce that's too runny.
Can I Freeze The Vegan Cauliflower Cheese?
Definitely! We love to make a batch of this and freeze it ready for when we're making a roast, or even for Christmas dinner. Make the cauliflower cheese as normal, just without the breadcrumbs and extra cheese on top. Once it's cool you can pop it in the freezer where it should keep for up to three months. When you want to eat it, defrost overnight and then cook for 10-15 minutes on gas mark six or 200°C.
What Other Vegetables Could I Add?
If you want to add more veggies, our favourite combination is a cauliflower and broccoli mix, it's completely delicious. Some other veggies that we know work well are leeks, carrots and sliced potatoes. Honestly though, the sauce is so great that most veg will work so long as they aren't likely to go sloppy in the cooking process. Have fun, experiment with your favourites and let us know how you get on!
Can This Be Made Gluten Free?
Of course! Switch out the flour for a gluten free alternative, either a specialist gluten free brand or corn flour works well. Make sure to use gluten free bread crumbs for the topping as well.

Oat milk isn't always suitable for people who are gluten free, particularly those with severe health conditions like celiac disease, so be sure to check that the brand you're using is gluten free. Oats don't actually contain gluten, but they are often processed in factories where gluten containing products are handled, so cross contamination can occur.
Equipment needed for this recipe
A great silicone whisk
If you want to make sure that your vegan cheese sauce is smooth and lump-free, then a silicone whisk is a must. We like to use a silicone coated whisk because then you won't damage the non stick coating on your pan. A good whisk is great to have on hand for baking, too.
Your life will also be made much easier if you use a good quality oven proof dish, as it will heat more evenly and there is less risk of your cauliflower cheese sticking.
A good oven proof dish is essential, particularly in the winter months, for roasting veggies and sweet treats alike.
Finally, the pan you use will make a real difference to your sauce. You'll want a non stick pan so that the sauce doesn't burn or stick. It should be a medium thickness so that it heats up quickly and evenly.
A good quality saucepan is a great investment, and can also be used for making an indulgent hot chocolate or mulled wine to warm you up on a drizzly evening.
Vegan Cauliflower Cheese
Vegan Cauliflower Cheese is one of the best parts of a roast dinner, or even Christmas dinner! With just 9 ingredients needed, and 25 minutes cook time, we hope you'll love this one as much as we do.
Print
Pin
Rate
Ingredients
2

tbsp

vegan butter

2

tbsp

plain flour

2

tbsp

nutritional yeast

100

g

Vegan Cheddar Style Cheese

we use Koko cheddar as it melts well and is a good flavour

1

pinch

turmeric powder

less than ⅛ tsp, this is just for colour

750

ml

oat milk

must be unsweetened

400

g

cauliflower

A handful of extra vegan cheese

(optional)

2

tbsp

breadcrumbs

(optional)

Salt to season
Instructions
Put your oven on to heat up, gas mark 6 or 200°C

Chop up the cauliflower into medium sized chunks, so they'll retain a bit of 'bite' once they have been cooked.

Grate the vegan cheese, being sure to grate the extra handful if you're adding it – to account for the topping.

100 g Vegan Cheddar Style Cheese

Gently melt the butter in a saucepan, on a medium heat. Once melted, add the flour and stir well with a whisk. It may clump up a bit, but don't worry, just make sure it's combined and start adding the milk.

2 tbsp vegan butter,

2 tbsp plain flour

Pour in the oat milk a bit at a time, stirring continuously with the whisk. The idea is to add some oat milk, keep whisking so that it combines with the contents of the pan and creates a smooth mixture, then add some more. Keep doing this until all the oat milk is in.

Add the nutritional yeast, turmeric powder and a good helping of salt.

2 tbsp nutritional yeast,

1 pinch turmeric powder,

Salt to season

Handful by handful, add in the vegan cheese, allowing the previous handful to melt in before adding the next. Continue whisking throughout to keep it smooth – the cheese will noticeably thicken the sauce.

100 g Vegan Cheddar Style Cheese

Simmer and stir for a total of 3 minutes then take off the heat. The sauce should have thickened up a bit, but it will still be fairly runny – it will cook down even more in the oven.

Lay the cauliflower out in an oven proof dish, you can make one large dish or two small. Cover with the sauce.

Bake for 10 minutes on gas mark 6 (200°C)

After 10 minutes, remove the dish from the oven and top with breadcrumbs and the extra cheese (if using).

2 tbsp breadcrumbs,

A handful of extra vegan cheese

Bake for another 5-10 mins until the breadcrumbs are golden, and the cheese has melted.

Test the cauliflower by inserting a fork, it should be able to easily go into the floret without much resistance, but it shouldn't be soft.
Notes
You can use cornflour or gluten free flour, along with gluten free breadcrumbs and plant milk to make this dish gluten free.
Replace half of the cauliflower with broccoli for a great variation on this recipe.
Nutrition
Calories:
295
kcal
|
Carbohydrates:
38
g
|
Protein:
9
g
|
Fat:
13
g
|
Saturated Fat:
3
g
|
Polyunsaturated Fat:
1
g
|
Monounsaturated Fat:
2
g
|
Trans Fat:
1
g
|
Sodium:
452
mg
|
Potassium:
484
mg
|
Fiber:
6
g
|
Sugar:
17
g
|
Vitamin A:
657
IU
|
Vitamin C:
48
mg
|
Calcium:
323
mg
|
Iron:
3
mg