If you've been following our blog for any time at all, you'll know we're curry addicts! This vegan cauliflower curry with a madras style sauce is something that we make regularly to satisfy our cravings for an Indian takeaway.
A fairly spicy, tomato-based sauce with a slight tang makes it a really delicious and vibrant dish. We'll order a madras 90% of the time from our local takeaway, and it's always nice to be able to recreate the food you enjoy in restaurants at home.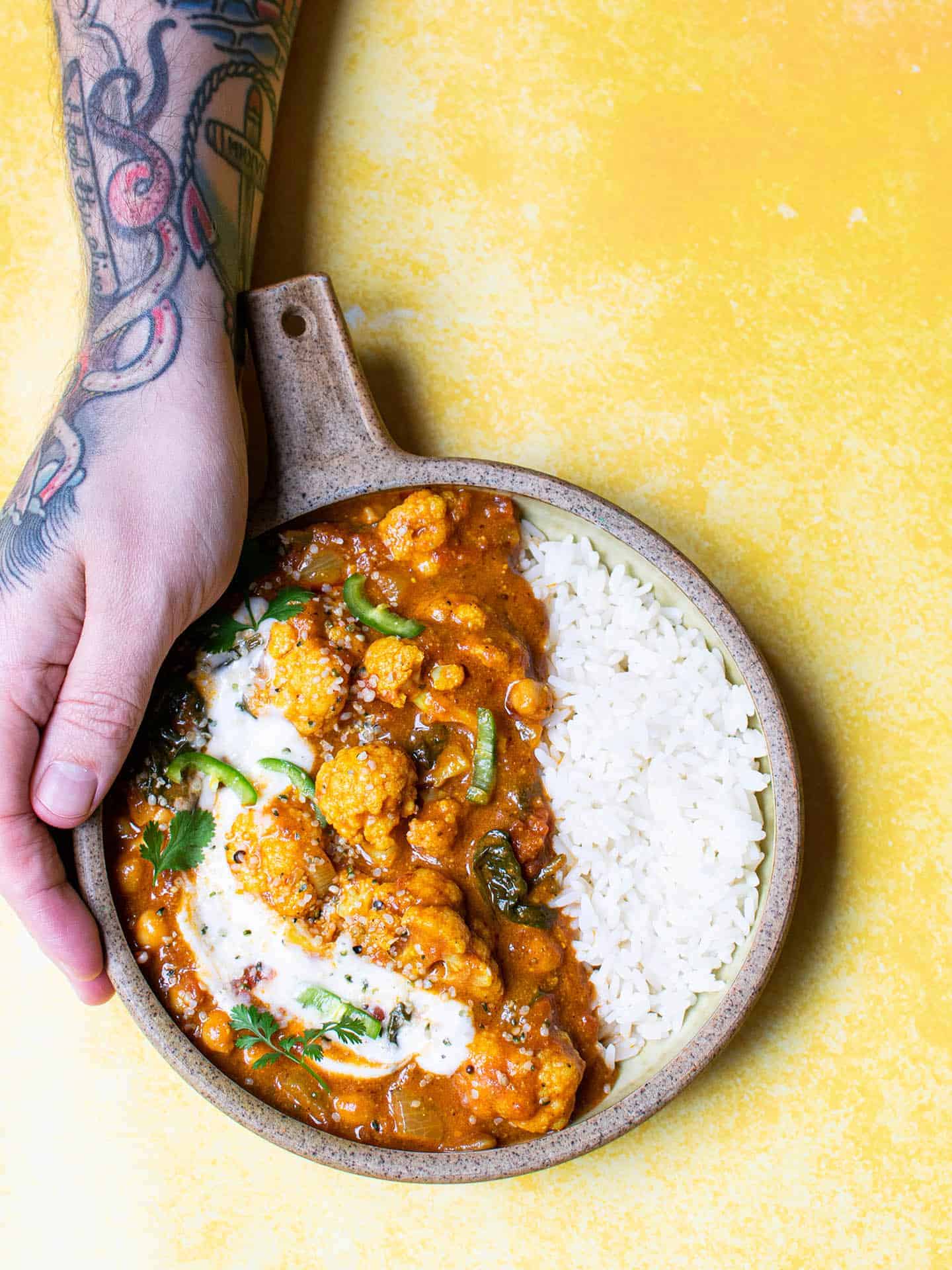 Jump to:
The madras curry paste is so simple to make and much better than buying a jar from the supermarket. Don't be put off by having to make a paste from scratch, it's honestly as easy as throwing some ingredients into a blender.
That being said, this recipe works great with a shop-bought paste, if you can't or don't want to make your own. We're not going to sit here and pretend we make every single meal ever from scratch!
What's it like?
Madras curries are usually pretty spicy as they feature a good amount of chilli powder. It has a tomato based sauce but with a really rich, tangy flavour from all the spices and vinegar (which is used for the paste). If you're not a big fan of spicy food, it's very easy to just reduce the amount of chilli powder. You can also add yoghurt to the dish, which is a traditional way to reduce the heat in a madras.
We decided to use cauliflower in this madras curry because it's such a versatile ingredient. It takes on flavours really well. We make sure to only simmer the cauliflower for around 15 minutes in the sauce, so that it keeps a nice 'crunch'.
When we made this exact curry for our friends they said they really enjoyed the crunchy 'bite' to the cauliflower, and that they'd never thought to include it in a curry before. What do you think? Do you enjoy cauliflower in a curry? Let us know in the comments!
We would recommend combining this vegan cauliflower curry with these dishes:
Mushroom bhaji – a traditional Indian side dish, that's quite dry but full of flavour. It's not like an onion bhaji though!
Our ultimate vegan naan bread – it takes a couple of hours to prove, but making your own vegan naan bread is a real treat. It's one of the only things we struggle to find in a supermarket, and anyway, making your own naan is even better!
If you're looking for even more curry recipes, check out this list of vegan curries from around the world. And if you're feeling adventurous, try this Fried Idli too.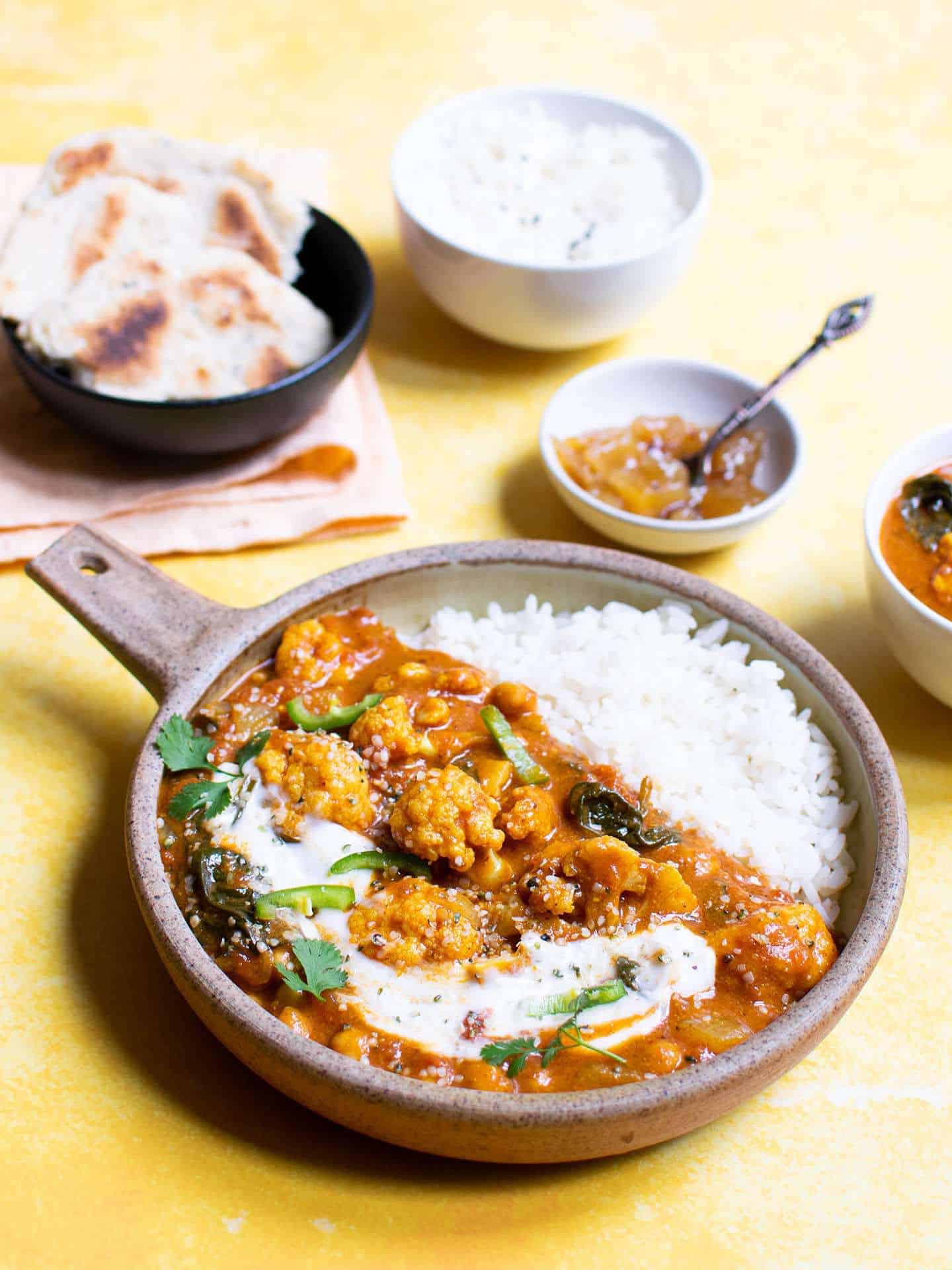 Where does it come from?
Well, it comes from India, but the word 'Madras' isn't used in India. The name is thought to have been coined by English merchants who went to Chennai in 1640. Typical.
According to Wikipedia, the name 'Madras' is only used in British restaurants, and not in India. It is thought to have been named after a fishing village 'Madraspattinam' or a fisherman named Madrasan.
Some sources even suggest it may be a British curry, with origins in the Midlands, much like the balti. We're not sure which story is right, but we know that they did something special when the madras curry was invented. It truly is delicious. Jess grew up in the Midlands and her dad would regularly make a madras., That's probably where she first fell in love with this dish and served as the main inspiration for us creating it!
From the research we've carried out, we've tried to make our madras paste closer to a traditional recipe. It uses chilli, turmeric and gets a slight sourness from the malt vinegar.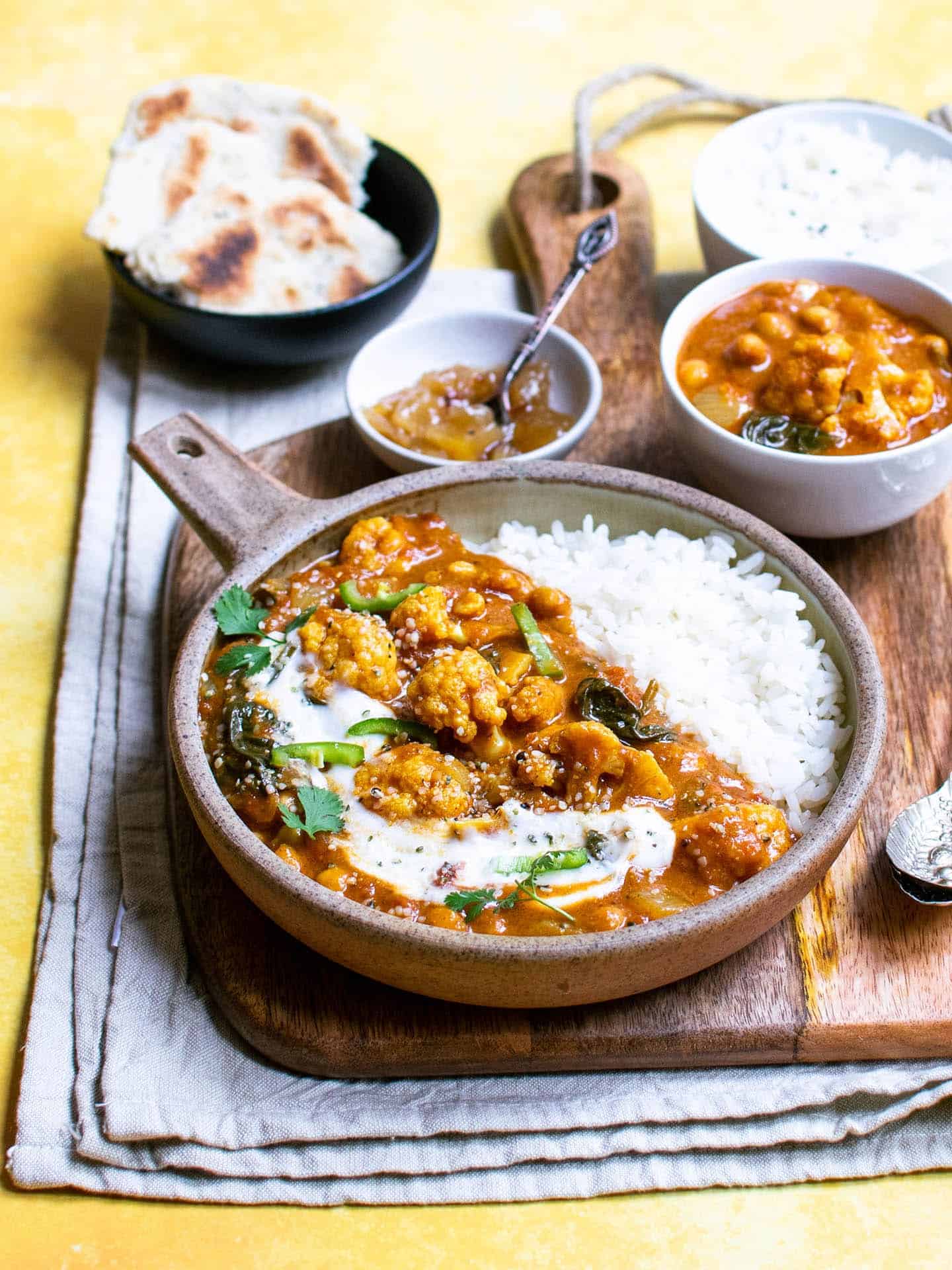 Does this cauliflower curry freeze?
Yes! This cauliflower curry freezes easily, and will last for 3 months in the freezer. We love filling the freezer with delicious and tasty food. It means when we're feeling lazy we can have a night off cooking! That's if we remember to defrost it first of course, as we don't have a microwave!
FAQs
Can I make it less spicy?
Of course. We often make recipes pretty spicy in our kitchen, especially where that's what the traditional version would be like. In the case of our vegan cauliflower curry, you could use less chilli powder or add yoghurt to the sauce to cool it down (or both!).
Can I just use a shop bought paste?
Definitely! We have done, and it's still tasty. We recommend the Patak's madras paste, and it is vegan as it comes.
What other vegetables can I use?
If you don't like cauliflower, this recipe works well with so many other vegetables. We've used all kinds, such as broccoli, sweet potato, peppers and courgette! Most of our recipes just mention particular vegetables as a guideline, but really they're here as a base for you to get creative with!
Using vinegar to make the paste seems a bit odd – do I have to use malt vinegar?
Nope! Some traditional recipes use tamarind for a base level of sourness and then don't add any vinegar, or just use a little. So, you could use tamarind paste. You could also just cut the sour flavour out if it's not for you – you do you!
For even more vegan Indian recipes, head to our ultimate list of vegan Indian dishes.
Did you make this recipe? Leave a review and a rating below, or tag us in your photos on Instagram! Alternatively, bookmark it in your browser or save to Pinterest for later.

If you love our content, please consider supporting it by buying us a coffee.
📖 Recipe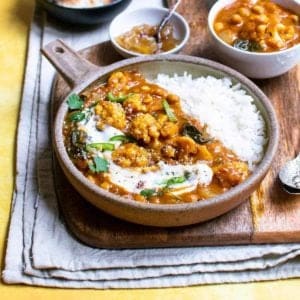 Vegan Cauliflower Curry with Madras Sauce
Our vegan cauliflower curry is full of flavour and is way better than anything you'd get out of a jar! The perfect way to calm your takeaway cravings.
Save
Saved!
Print
Pin
Rate
Ingredients
For the madras paste:
3

cloves

garlic

- crushed

2

cm

piece of ginger

2

tablespoon

cumin powder

1

teaspoon

black mustard seeds

1

teaspoon

turmeric powder

4

tablespoon

coriander powder

1

red chilli

- optionally, remove seeds

¼

teaspoon

cinnamon

1

teaspoon

black pepper

1

teaspoon

garam masala

¼

cup

vinegar

4

tablespoon

groundnut oil

- or rapeseed oil
For the vegan cauliflower curry:
1

teaspoon

groundnut

- or rapeseed oil

All of the paste

as above

2

onions

- chopped

2

cloves

garlic

- chopped finely

1

teaspoon

cumin

250

g

chickpeas

- 1 tin drained and rinsed

200

g

cauliflower

- chopped into florets

120

g

baby spinach

800g

chopped tomatoes

- 2 tins

400

ml

coconut milk

Pinch

of salt

– to taste
Instructions
For the madras paste:
Put all the ingredients apart from 1 tablespoon of the oil into a blender and whizz up until smooth. If it's a bit dry, and your blender is struggling, add a little water to loosen things up.

3 cloves garlic,

2 cm piece of ginger,

2 tablespoon cumin powder,

1 teaspoon black mustard seeds,

1 teaspoon turmeric powder,

4 tablespoon coriander powder,

1 red chilli,

¼ teaspoon cinnamon,

1 teaspoon black pepper,

1 teaspoon garam masala,

¼ cup vinegar,

4 tablespoon groundnut oil

Heat the remaining oil in a pan, over a low-medium heat, then add the paste.

4 tablespoon groundnut oil

Stir the paste around the pan until oil starts to leech out of the paste.

Your kitchen should be smelling pretty rad at this point, so your paste should be good to go!
For the vegan cauliflower curry:
In a large pan, heat up the oil over a medium heat, add the paste and stir for a minute.

1 teaspoon groundnut,

All of the paste

Once the paste is fragrant add the onions and garlic - cook until the onions have softened.

2 onions,

2 cloves garlic

Stir in the cumin, then pour the tomatoes and coconut milk in the pan and stir well.

1 teaspoon cumin,

800g chopped tomatoes,

400 ml coconut milk

Bring the sauce to a boil, then immediately reduce to simmer. Add the cauliflower and chickpeas.

250 g chickpeas,

200 g cauliflower

Simmer with the lid on for 15-20 mins, stirring occasionally to make sure it's not sticking. You're looking to cook the sauce down slightly, so that it's a bit thicker, but so it's still a nice consistency for mopping up with naan bread!

Add the spinach and stir in until wilted.

Salt to taste and serve with rice.
Nutrition
Calories:
468
kcal
|
Carbohydrates:
37
g
|
Protein:
11
g
|
Fat:
34
g
|
Saturated Fat:
16
g
|
Polyunsaturated Fat:
6
g
|
Monounsaturated Fat:
8
g
|
Sodium:
519
mg
|
Potassium:
1088
mg
|
Fiber:
11
g
|
Sugar:
9
g
|
Vitamin A:
3219
IU
|
Vitamin C:
75
mg
|
Calcium:
224
mg
|
Iron:
8
mg