Our vegan fish pie is truly delicious! You might be thinking, how do you make fish pie vegan? But don't worry…we've actually spent a long time testing and researching how to make the best vegan fish pie. The full recipe is at the bottom of the page.
We've tried it out on numerous friends and family and we're confident of the finished result! It's been very well received on Instagram too. Read on for the best vegan fish pie recipe...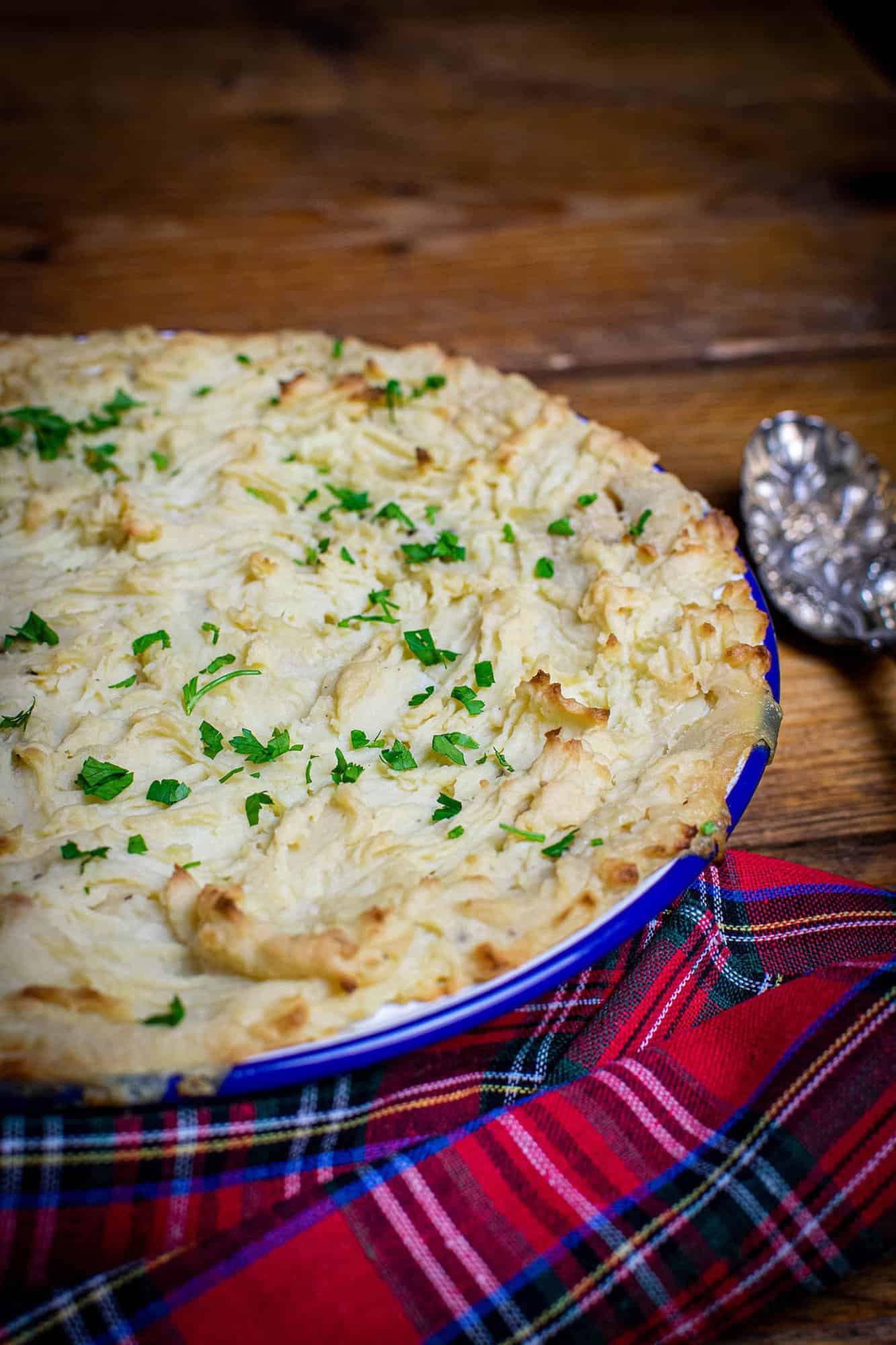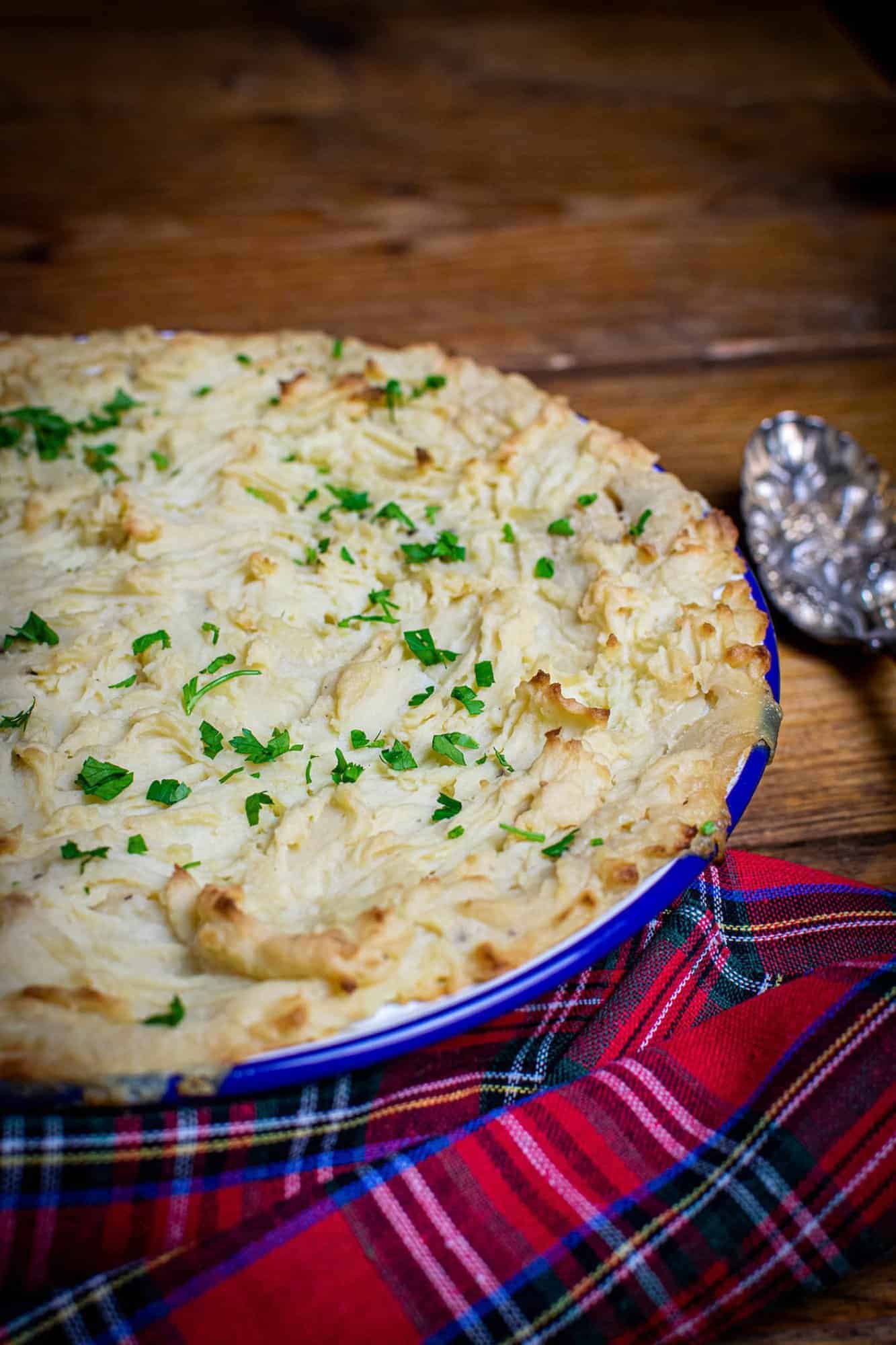 Jump to:
What is vegan fish pie?
Fish pie is a classic British dish that people all over the country look forward to, because it is just so comforting. But what about those of us who want to move away from eating meat and fish? Then this one's for you because we've totally veganised it!
This vegan fish pie is:
Comforting
Herby
Creamy
Hearty

Fish pie isn't a traditional pie with pastry. It has a filling in the bottom of a dish and is topped with mashed potatoes. So it's more akin to a shepherd's pie or cottage pie in that sense. It's often made with a creamy, herby sauce that the fish is cooked in, which contains peas and leeks, and it's also often topped with cheese too.
I know it's a cliché, but when I was younger my Dad made the best fish pie ever (hey Dad!) and I had the greatest memories associated with it. When he was making it I looked forward to it so much – it was a real 'thing'. Does that sound weird? Anyway, I wanted to try to recreate that feeling with this vegan version. Fun fact: my Dad loves vegan food now, and is well on his way to becoming a fully fledged vegan…isn't that right Dad? 😜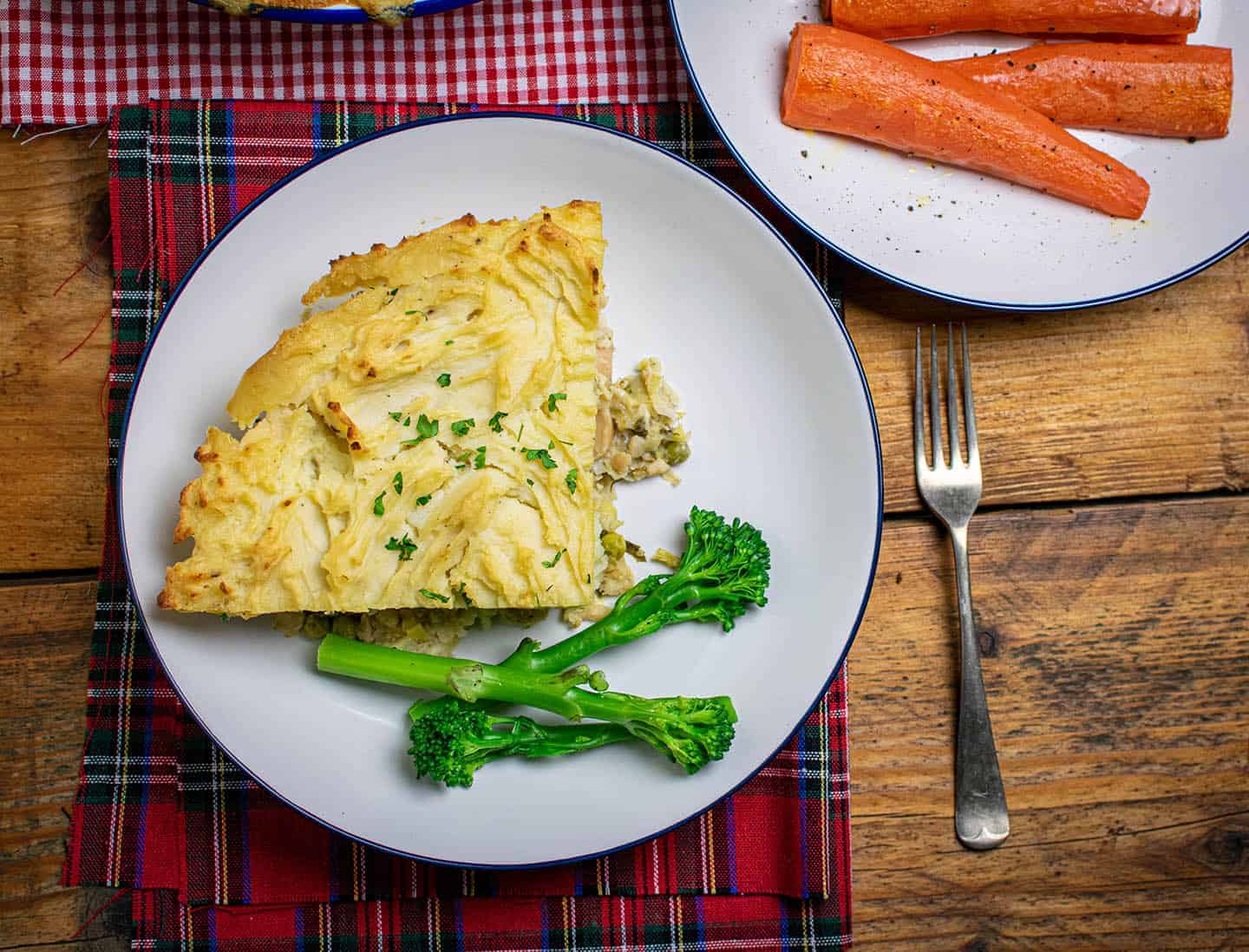 Why we use butter beans as the main protein in this fishless pie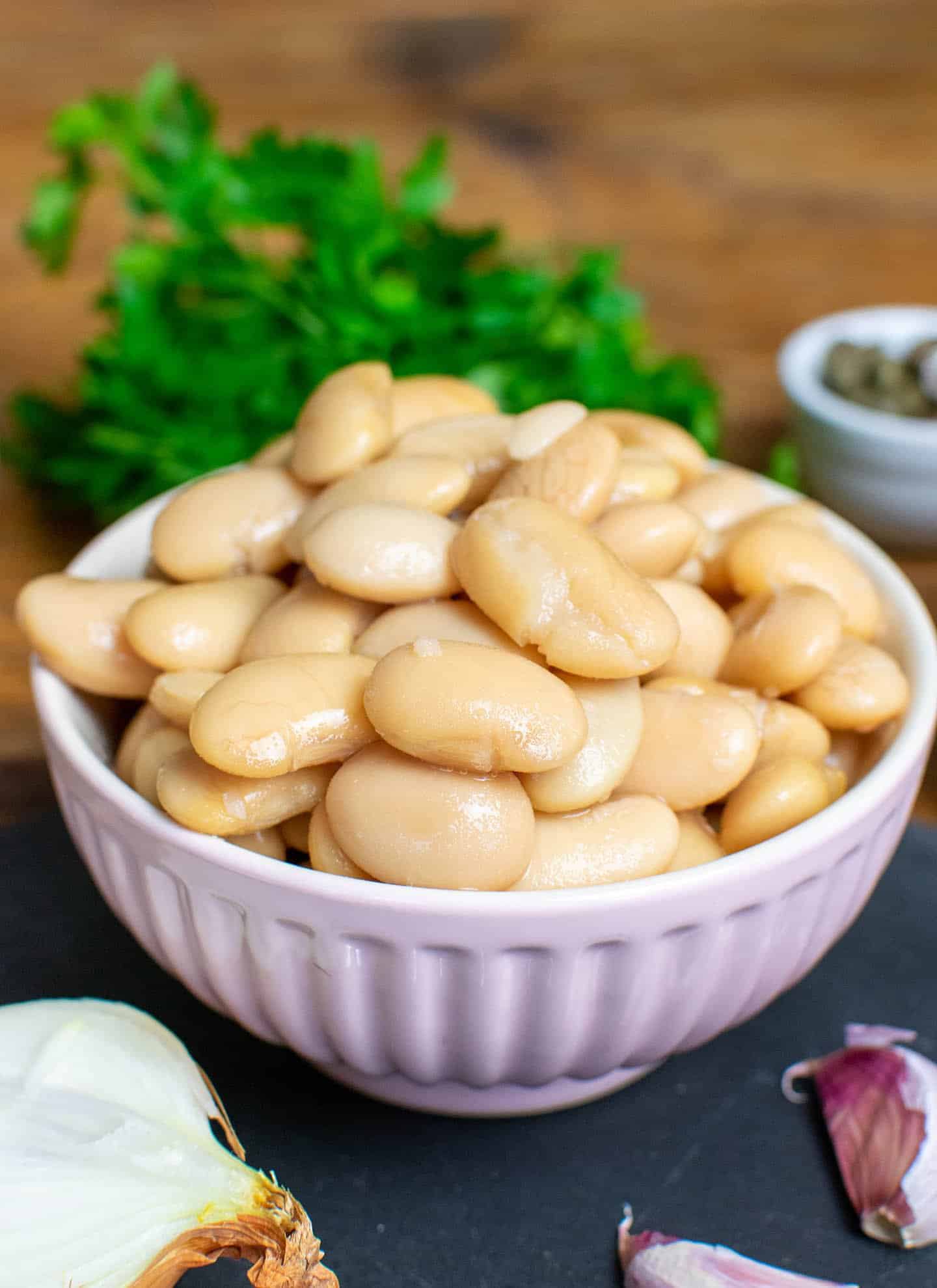 Usually a fish pie recipe is made with white fish, which from memory, is pretty bland before being battered, put in a sauce or marinaded.
We wanted to move away from using tofu in this dish, as we wanted to create a mixture between flakey and whole pieces of protein. We just didn't think this would be as do-able with tofu.
Butter beans are a great source of protein, and are also pretty bland before flavouring. In this recipe, we've flaked some of them and kept some of them whole. We've done this simply by mashing them a bit with a potato masher. Not until they're paste-like but just until they're a bit flakey, whilst leaving some of them intact. We also found that they take on the flavour of the sauce pretty nicely too.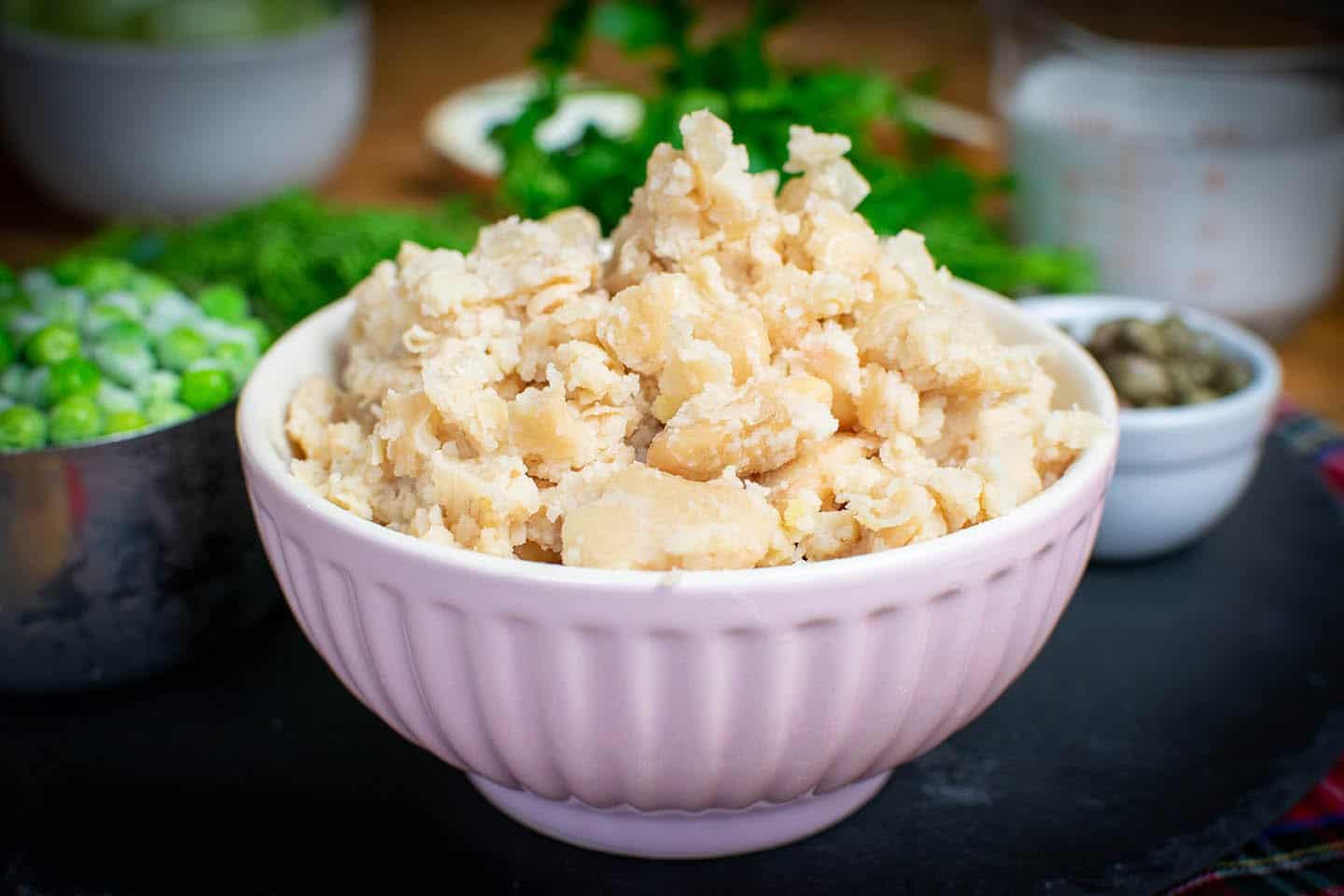 These are some other proteins that could work in a vegan fish pie, in case you haven't got butter beans handy:

Chickpeas
Cannellini beans
Borlotti beans
Firm tofu (let us know how this goes if you decide to use it!)
What goes in a vegan fish pie?
We've created a classic flavour by substituting dairy cream for oat cream, using nori to add a 'fishy' flavour, as well as the classic herbs – dill and parsley. We've also used a splash of white wine to enhance the flavour of the sauce. Don't worry if you don't like cooking with wine, it can be substituted for water. We've made it both ways and it's still delicious if you don't use the wine.
Interestingly, neither of us are big fans of dill or parsley by themselves. Although, in this recipe, mixed with just the right amount of complementary ingredients, it all amounts to vegan food heaven! So even if you're like us, we hope you'll give it a try anyway…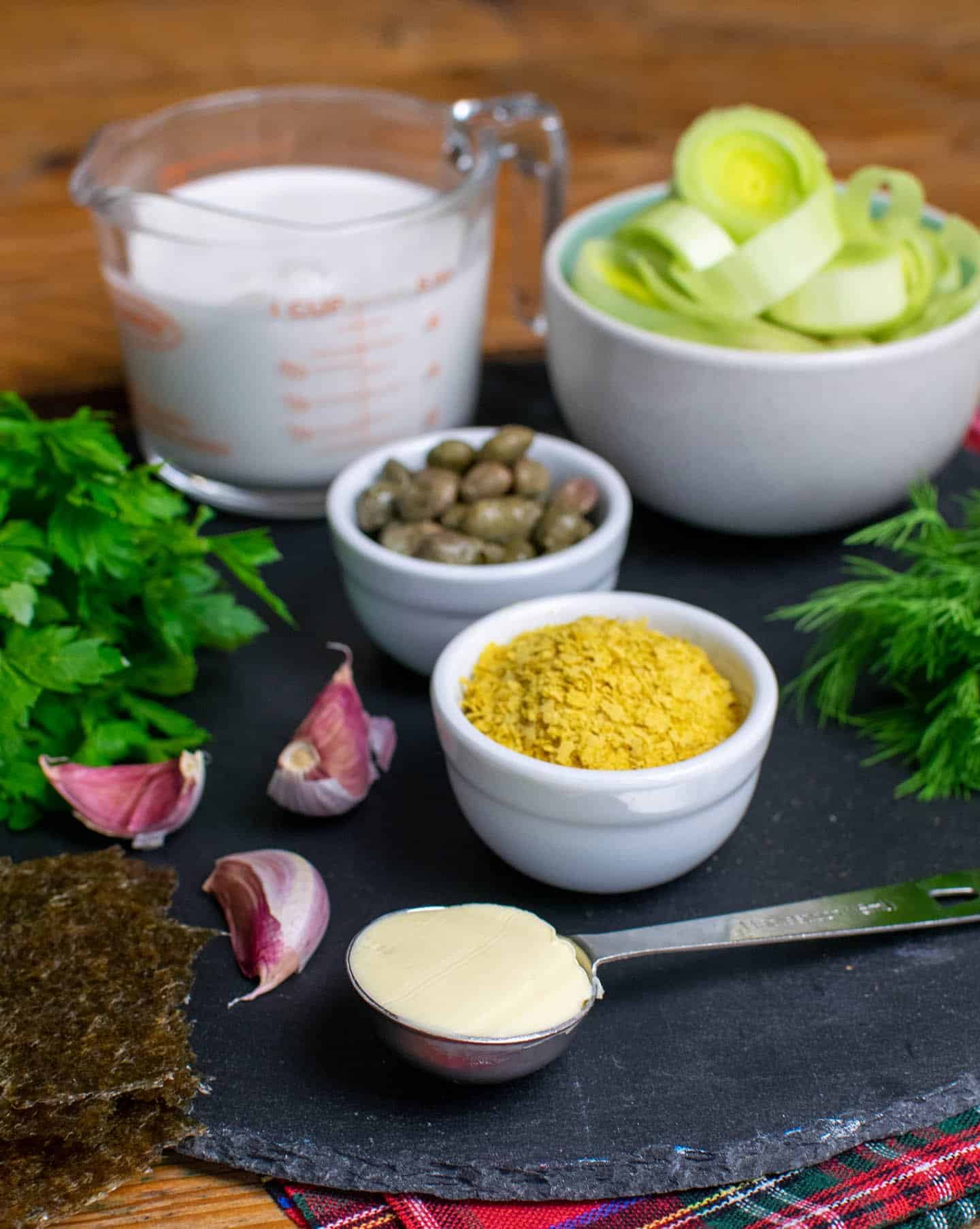 A little bit about capers...
Capers are a lesser known ingredient but are often found on pizzas, in sauces and in salads. They're an interesting ingredient, and often used for their slightly pickled flavour as they're sold pickled – in jars, usually.
Fun fact: capers are neither a fruit or a vegetable. They're in fact an unopened flower bud of the caper bush, which is also different to a caperberry. They kind of look like the stone found inside an olive!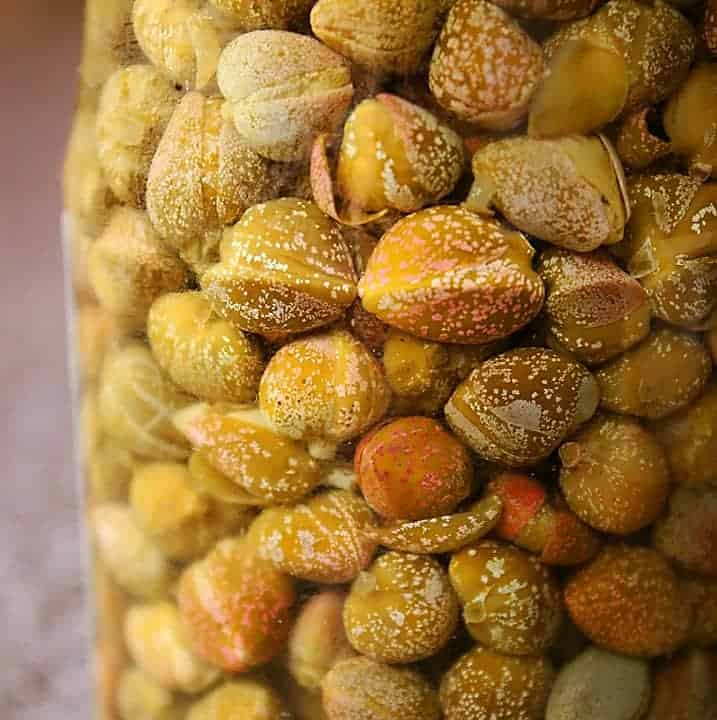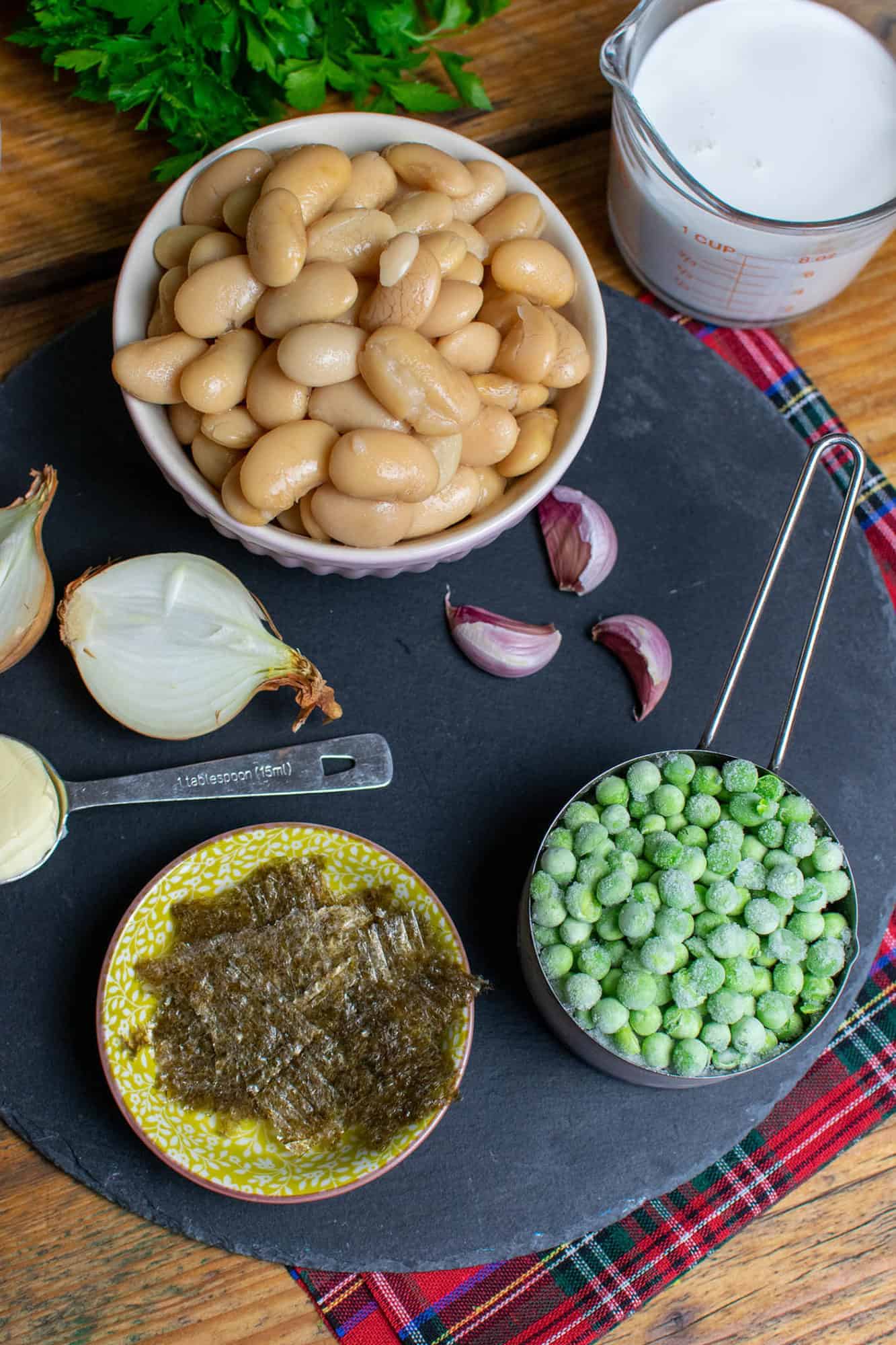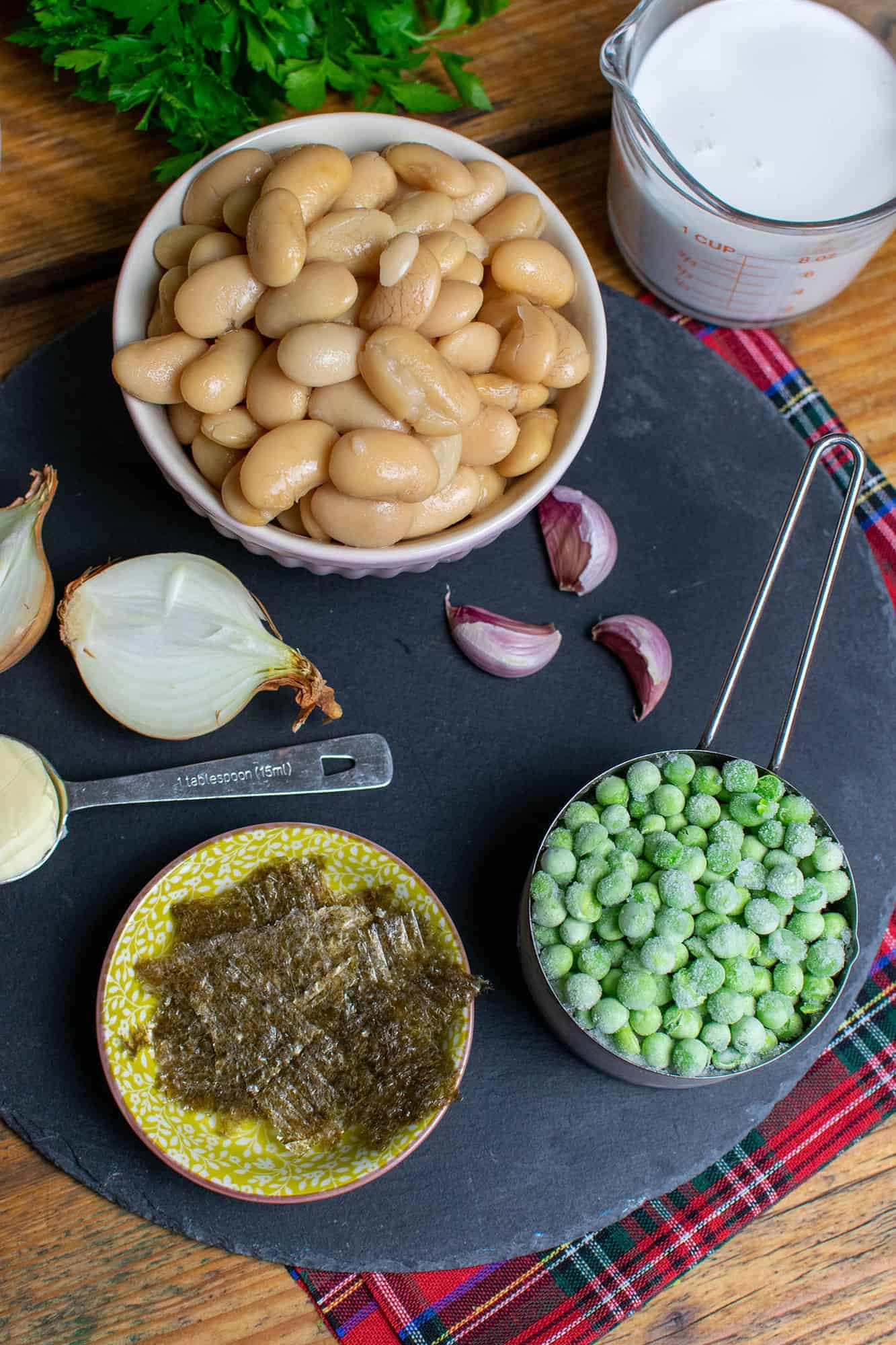 What is nutritional yeast?
Nutritional yeast, often referred to as 'nooch' is a type of yeast flakes. It's a great source of B vitamins, including B12 – where it has been fortified with it. This type of yeast is not used for fermentation because it's treated with heat to deactivate it.
It's a wonder ingredient for vegan recipes because it adds such a unique creamy and cheesy flavour. You'll find it in most of our creamy dishes for this reason alone. It's the ultimate ingredient for any vegan cheese sauce too. We always keep it stocked in our cupboard as it's just so handy!
We often use nutritional yeast in place of vegan parmesan to put on pasta or risotto. It's also included in our Cashew parmesan recipe, which is a top notch parmesan alternative too.
Nutritional yeast is a complete protein, however it isn't used as a main source of protein in recipes, due to the amount that would be needed. Luckily, there's loads of whole protein sources in a vegan diet to choose from, like beans, lentils, tofu, the list goes on and on!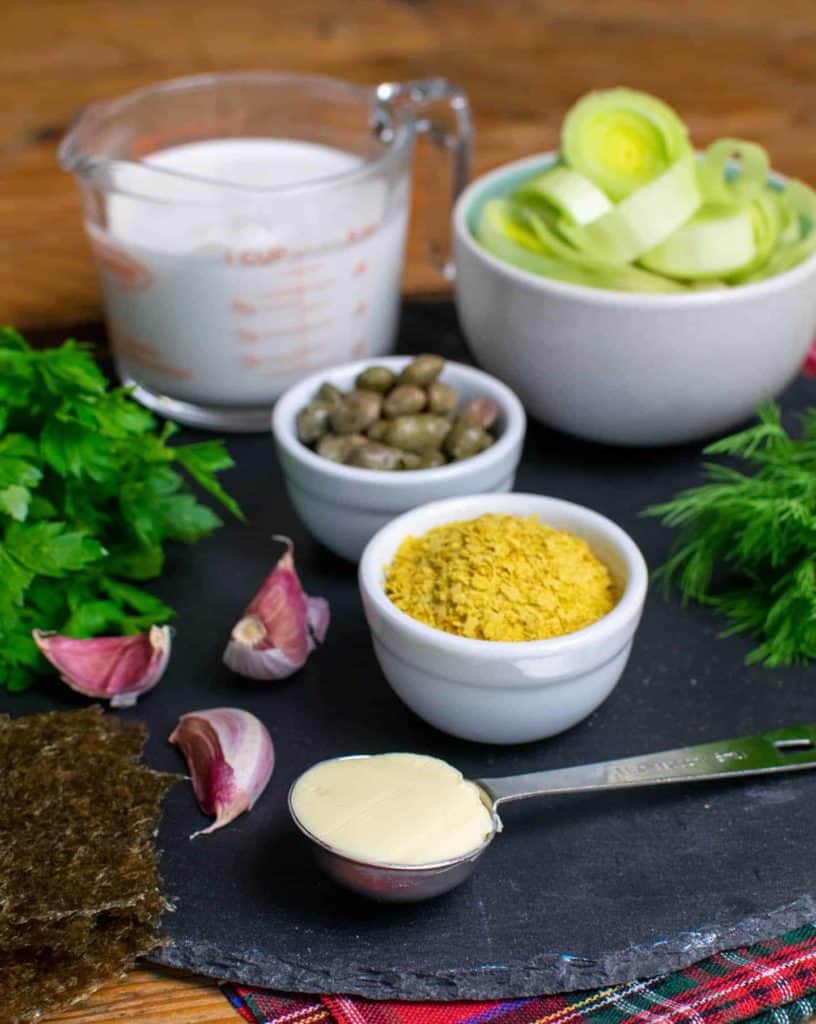 Where can I buy nutritional yeast?
When buying nutritional yeast, it's important to remember to buy the type that's fortified with vitamin b12, to make sure you're getting enough b12 on a vegan diet. It is just one source of vitamin b12 – there are many foods that provide a decent serving of the vitamin, for example, vegan milks, butters and even cereals.
As with most things, it's cheaper to buy nutritional yeast in bulk. We've bought it from the supermarket, however we've found that it's cheaper to buy online or in health food shops (often more expensive in health food shops though).
These are the best options we've found online:
Creamy buttery vegan mashed potatoes
In our house, Dan is the king of vegan mashed potatoes! So whenever we make this vegan fish pie, he's always in charge of the potatoes. And I'm in charge of the sauce – we make a great team like that!
Basically, all you need to make the most delicious and indulgent vegan mashed potatoes is four ingredients. They are:
Potatoes
Oat milk
Vegan butter
Seasoning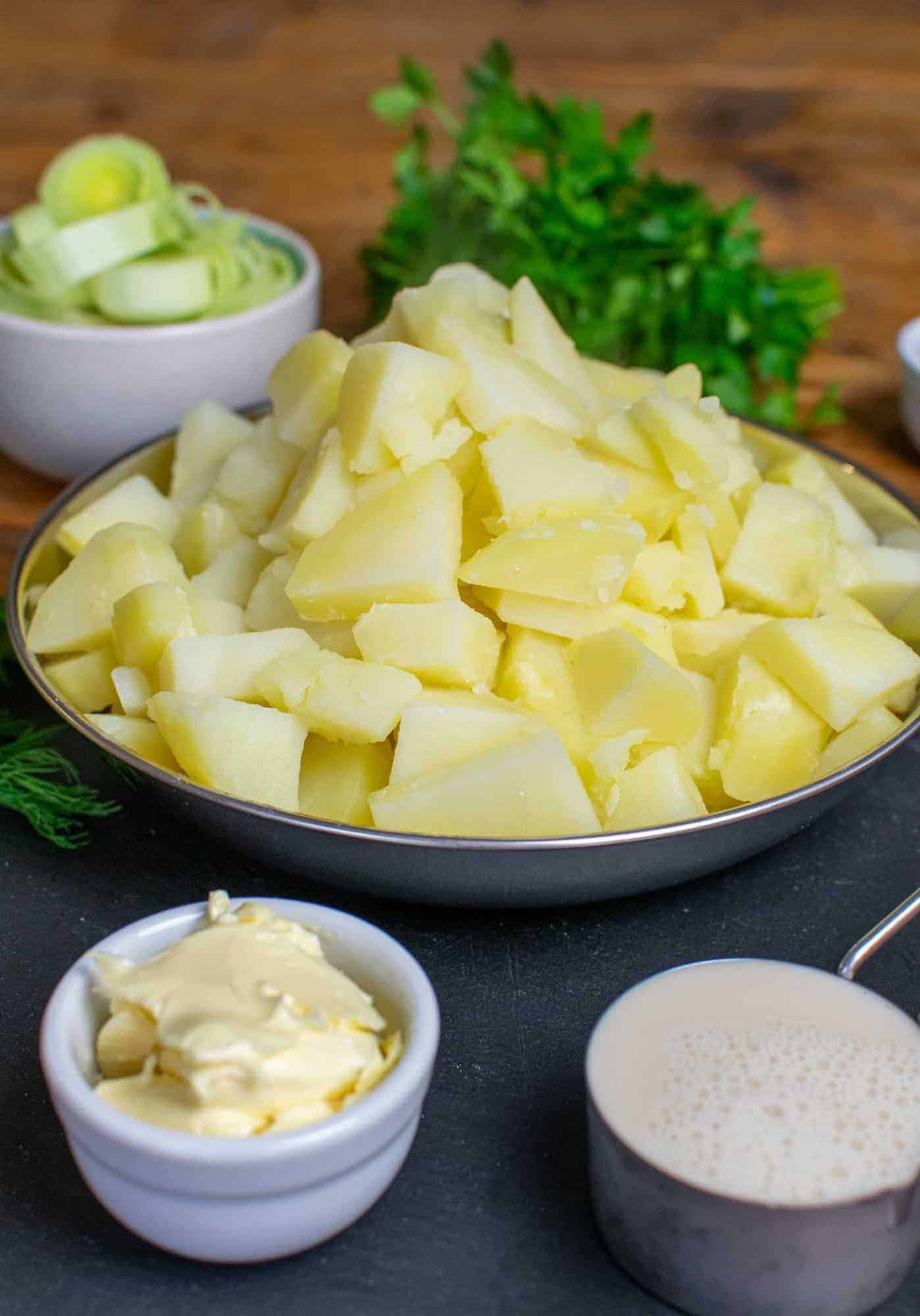 We've found that using a particularly 'buttery' vegan butter is best. Stay away from coconut based spreads as they taste a bit too coconutty. We like to use Flora Buttery or Vitalite for best results. If you have it available in your area we would also highly recommend Naturli. For our American and Canadian readers we'd recommend Earth Balance, which incidentally also holds the crown of best vegan butter we've ever tried!
How to make creamy vegan mashed potato
Once you have all four of these staple ingredients, it's just a case of mashing the potato first, then adding in the butter, oat milk and seasoning. Continue to mash until it's super creamy and smooth. Give it a taste test to see if it needs any more seasoning, butter or milk. Just be careful not to add too much milk as it will become runny, which wouldn't be very good.
If you have a potato ricer, we would wholeheartedly recommend using it. A potato ricer is one way to ensure there will be no lumps! This is the potato ricer that we use.
A standard hand held masher will also do the trick. We've found that a stainless steel masher works better than plastic ones. However, it may be best to use a plastic one if you want to protect a non-stick coating on your sauce pan.
Here are the links to the potato mashing equipment we've used:
Don't forget, if you don't have any of these pieces of equipment, use a fork to mash the potatoes! It may take longer and not be quite as efficient, but it will still do the job.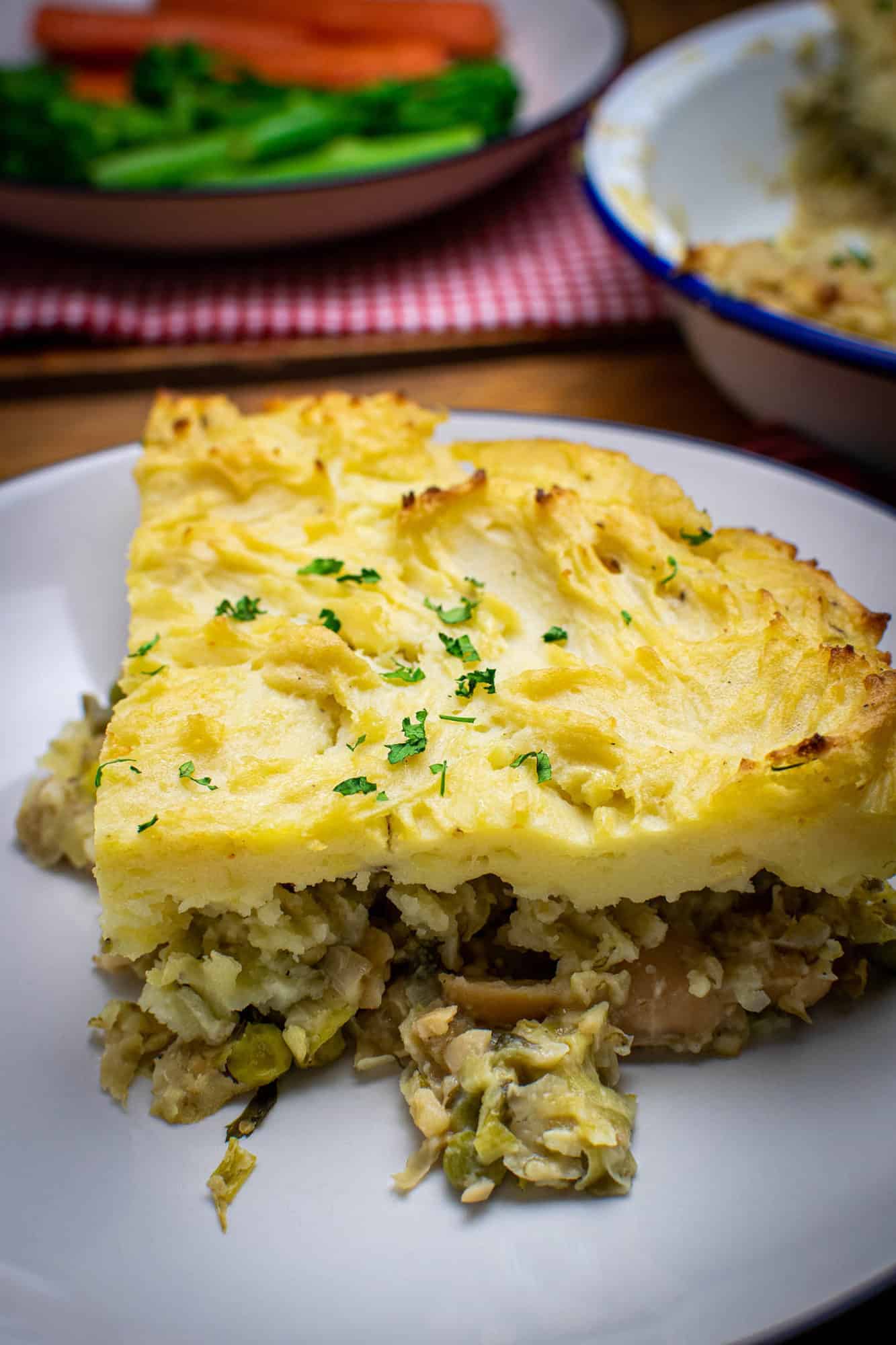 What is the best plant milk for mashed potatoes?
In our opinion, the best vegan milk for mashed potatoes is oat milk. We tend to use Oatly Barista because it's super creamy and we always have it in the fridge.
We've tried to use almond milk, but we find it too flavourful and a little bit sweet for mashed potatoes. Unsweetened soya milk also works well, but if possible we'd recommend using oat milk because we've had the best results with it.
Ultimately, make sure the plant milk isn't sweetened, is made from a bland source and is creamy, rather than watery.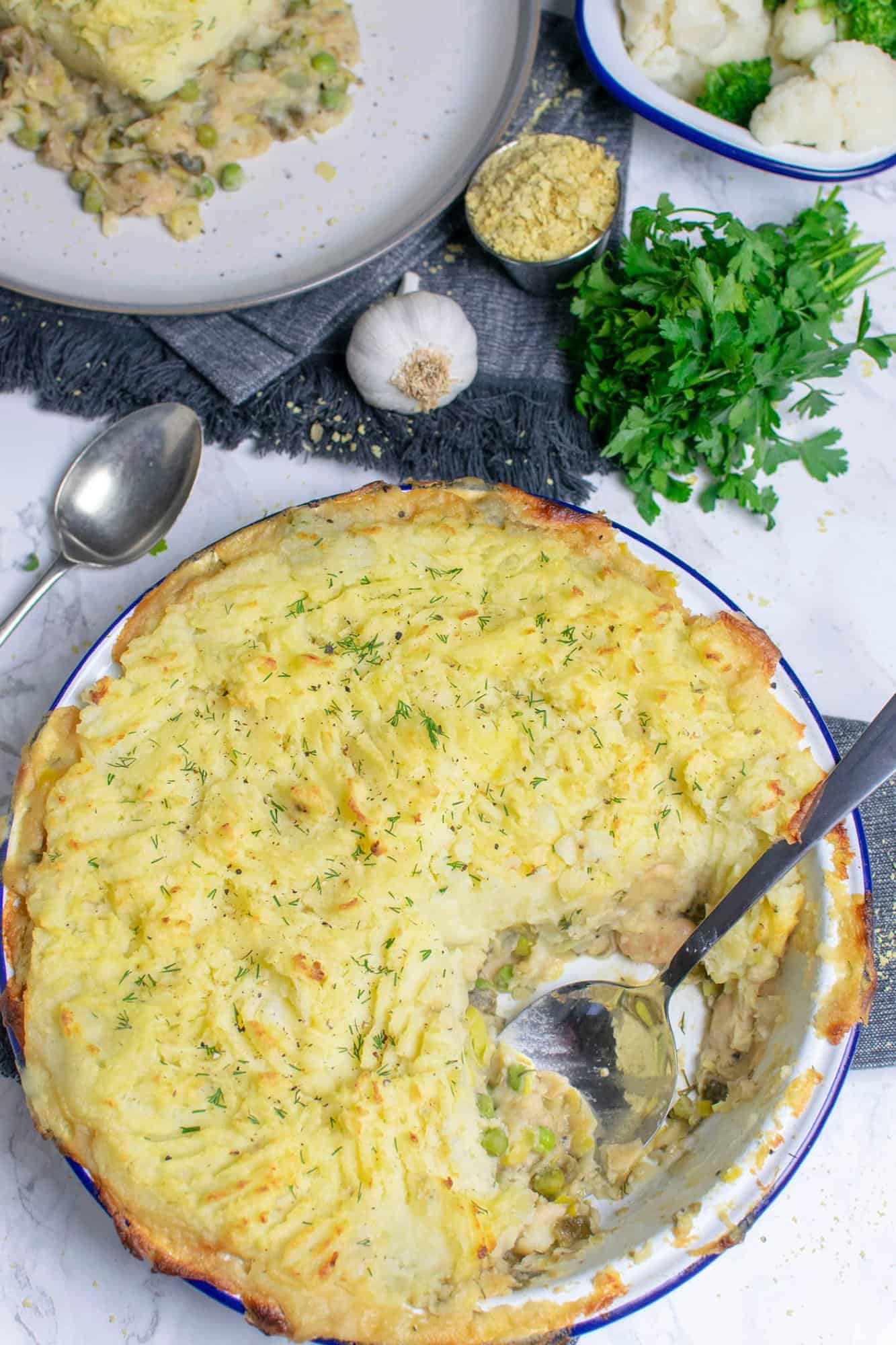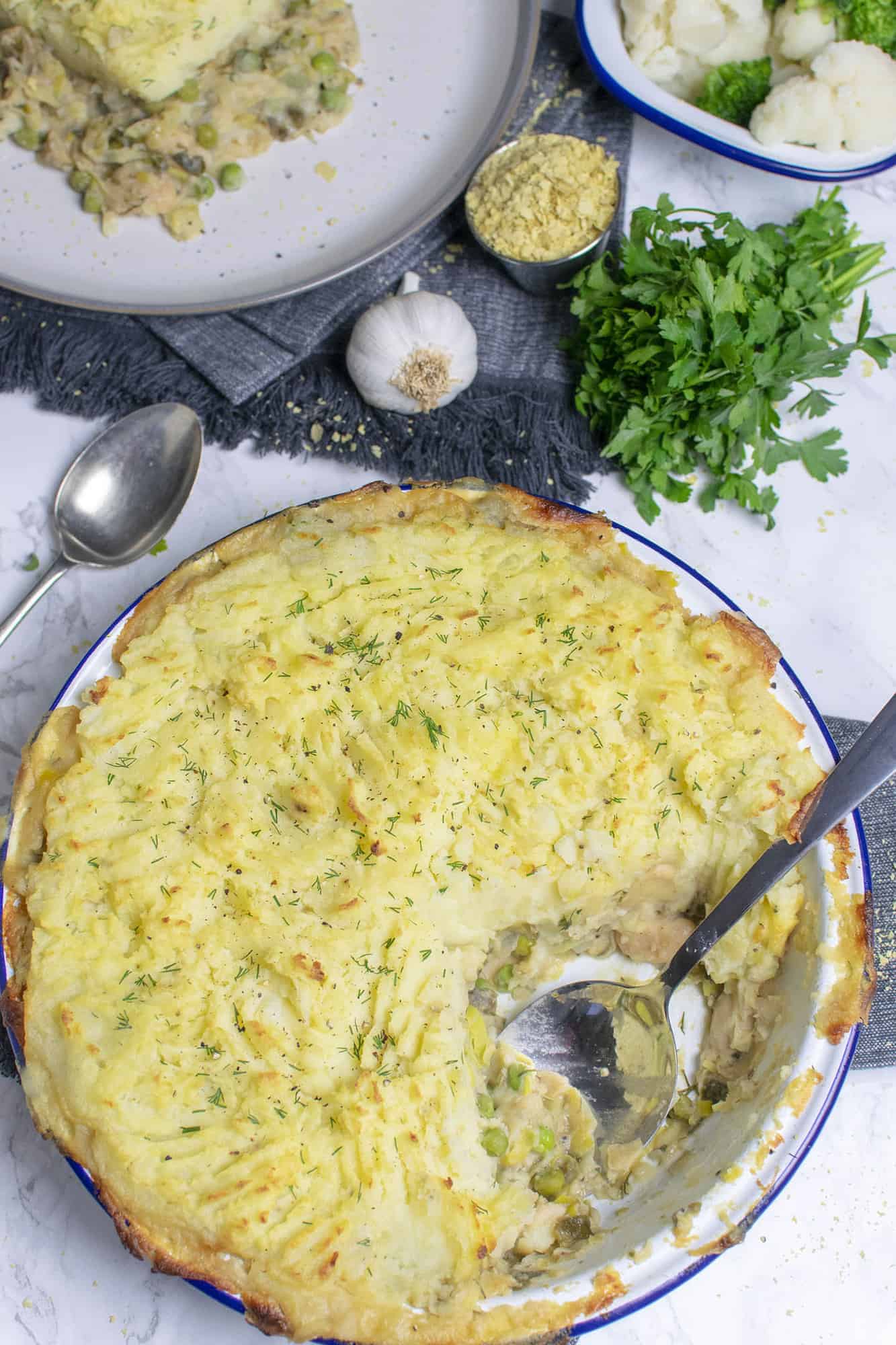 📖 Recipe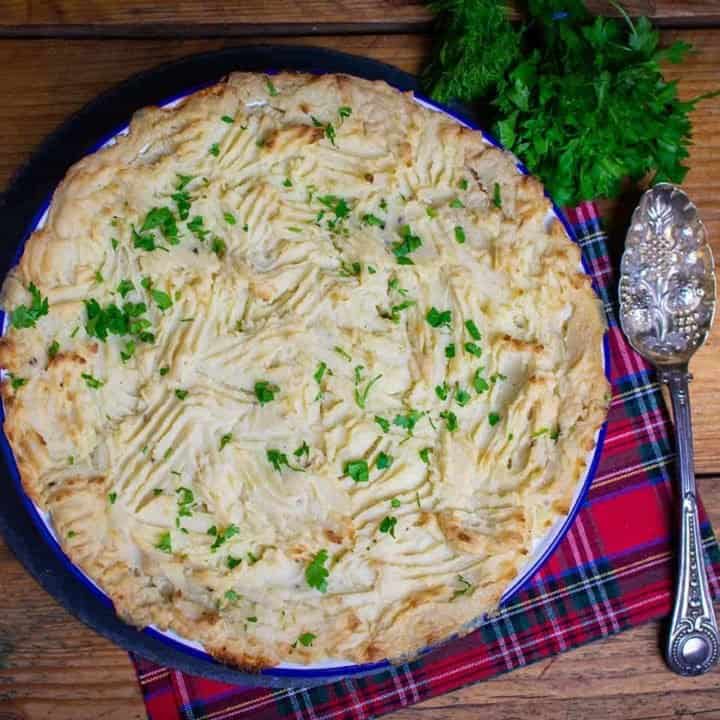 Vegan Fish Pie
This vegan fish pie is the ultimate comfort food. Ready in around 1 hour, it's well worth the time to make it, and we're sure your family and friends will love it too! Please leave a review if you like it, we'd be hugely grateful.
Save
Saved!
Print
Pin
Rate
Ingredients
For the filling:
2

400g tins butter beans

– drained, rinsed and mashed lightly

1

tablespoon

vegan butter

2

onions

– chopped finely

3

cloves

garlic

- finely chopped

2

leeks

– washed and sliced

1

tablespoon

fresh dill

– roughly chopped

1

tablespoon

fresh parsley

– roughly chopped

250

ml

oat cream

Splash of white wine*

1

sheet nori

- finely chopped

2

teaspoon

capers

– finely chopped

3

tablespoon

nutritional yeast

1

cup

peas
For the top:
1

kg

white potatoes

– peeled and chopped into ~ 2cm cubes

2-4

tablespoon

non-dairy milk

- add a little more or less to get the right consistency - it'll depend on your potatoes

2-4

tablespoon

non-dairy butter

- start with 2 tablespoon and add more bit-by-bit
Instructions
Once you've peeled and chopped your potatoes, cook them in boiling water until soft enough to easily push a fork into them - around 10-15 minutes.

Pre-heat the oven to gas mark 5.

Drain and mash the potatoes, add in the vegan butter and oat milk, add 2 tablespoons of each at first, then add more if needed.

2-4 tablespoon non-dairy butter,

2-4 tablespoon non-dairy milk

Mash the potatoes until smooth and creamy. Add salt and pepper to taste. Set aside.

Empty the butter beans into a big bowl and mash them until some are broken up but some are still mostly whole.

In a large pan, heat the vegan butter until melted, then add the onions. Cook until onions are translucent.

1 tablespoon vegan butter,

2 onions

Add the garlic for a couple minutes over a lower heat, so it doesn't burn.

Add in the leeks, and cook until softened.

Sprinkle the fresh herbs over the mixture and stir really well.

1 tablespoon fresh dill,

1 tablespoon fresh parsley

Pour in the oat cream and a splash of white wine (or water if not using wine).

250 ml oat cream,

Splash of white wine*

Once it's all nice and hot, add the capers, nori and nutritional yeast, and again, stir well.

1 sheet nori,

2 teaspoon capers,

3 tablespoon nutritional yeast

Finally, add the butter beans and peas. Stir well, letting the mixture heat up.

2 400g tins butter beans,

1 cup peas

Pour the creamy butter bean mix into a large pie dish then top with the mash potato.

Rough the potato with a fork so it's covered in lines - this will give it a nice texture and allow some of it to brown.

Bake in the oven for 20-30 minutes (keep an eye on it, you may find it bubbles up a bit, but that's normal, turn it down if you think it's bubbling too much).

Take out of the oven and serve with a side of veggies, and enjoy!
Notes
You can make two smaller pies or one large – we used one large pie dish, but have previously made two using 24cm pie dishes
You can use water instead of wine, it will still taste lovely.
You could try using sweet potatoes for the topping!
Nutrition
Calories:
381
kcal
|
Carbohydrates:
64
g
|
Protein:
12
g
|
Fat:
9
g
|
Saturated Fat:
2
g
|
Polyunsaturated Fat:
3
g
|
Monounsaturated Fat:
4
g
|
Trans Fat:
1
g
|
Sodium:
130
mg
|
Potassium:
1453
mg
|
Fiber:
11
g
|
Sugar:
8
g
|
Vitamin A:
1314
IU
|
Vitamin C:
76
mg
|
Calcium:
96
mg
|
Iron:
4
mg
If you love this recipe, pin it on Pinterest!