This light and delicious version of creamed leeks and cabbage is a great addition to any roast dinner. It's even great as part of your Christmas dinner!
We love it because it only takes 25 minutes to prepare, and you only need three ingredients.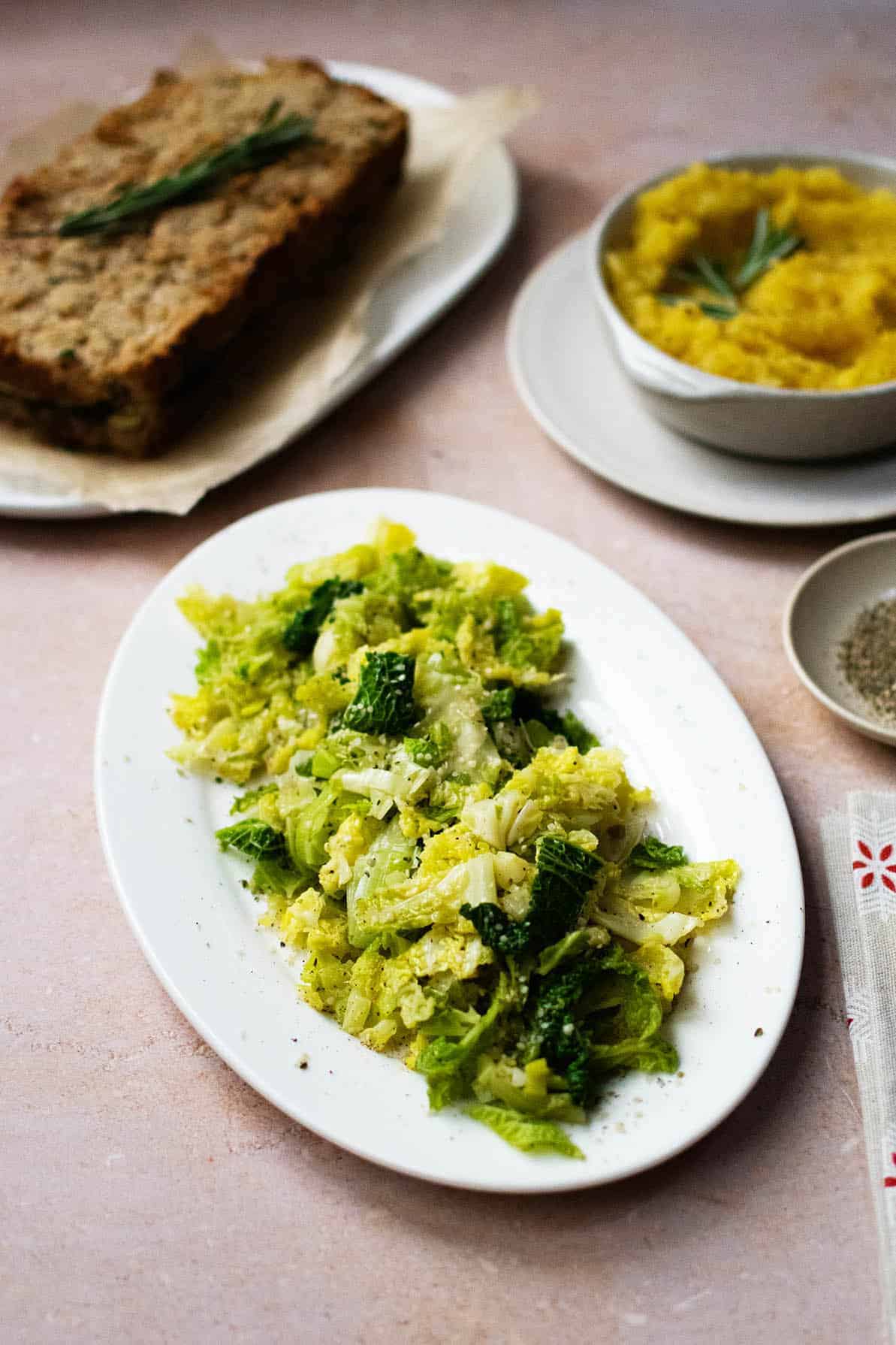 Sautéed Leeks And Cabbage
This dish is great as part of a roast dinner because not only is it delicious, cabbage is great for your digestion. We find it really helpful with the 'food baby' situation that often arises after a big meal!
Leeks and cabbage both have a rich, savory flavour that nicely complements the other parts of your roast. They are also absolutely wonderful with gravy.
We generally serve up sautéed leeks and cabbage as part of our Christmas dinner because you can make it in just 25 minutes. You can even make it the day before and pop it in the fridge ready to be reheated. That way we have more free time to scoff mince pies and get a tiny bit drunk!
How To Prepare Leeks
One of the lovely things about leeks is that you can eat the whole thing, if you want to! Just note that the flavour differs slightly between the white part and the green, and the green part is often a little tougher.
Our method for preparing the leeks for this cabbage and leeks recipe is:
First, chop off the root end close to the top. This part of the leek is often quite tough and dry. Then remove the outer layer, again this is often quite tough and dry.
Run the leek under the tap to remove any visible soil.
Chop it into slices, put it into a colander or sieve and then rinse again. This is necessary because mud often gets in between the layers, so you can't remove it effectively until you chop it up.
There is always the option of buying ready prepared leeks, but we find that they often still have mud on them! Plus they can often be a little bit dry where the protective outer layers have been removed before packaging them. And it's just more unnecessary plastic…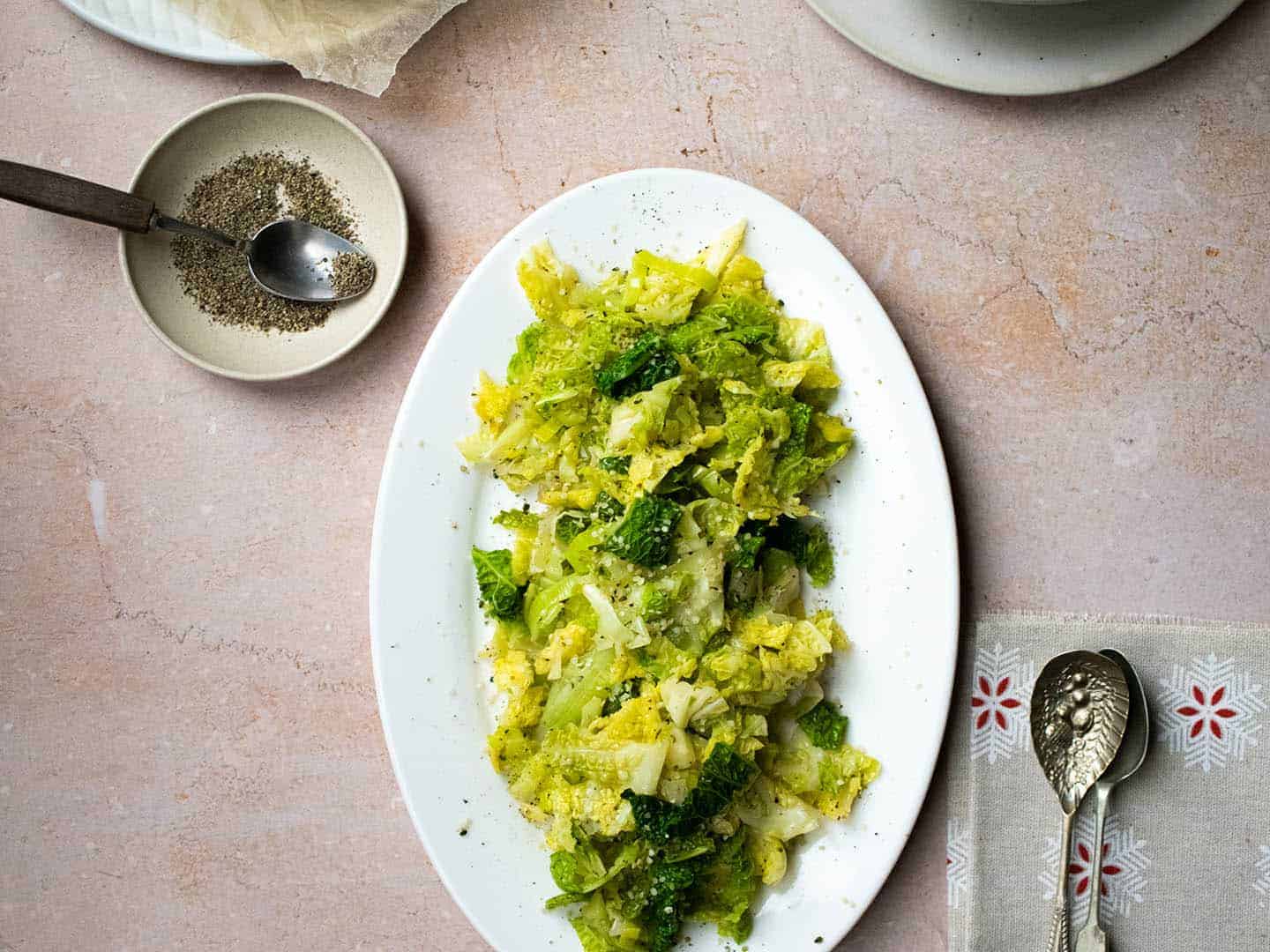 Sautéed Leeks And Cabbage Ingredients
You will need just three ingredients for this recipe:
A whole cabbage. We recommend using savoy or white cabbage because they both have a mild flavour that goes nicely with the stronger flavour of the leeks. When you're choosing your cabbage the looks of the outer leaves isn't that important as you will generally remove them. It is a good idea, however, to choose a cabbage that feels heavy for its size as this means it has more leaves.
Your favourite vegan butter or margarine.
A leek.
You'll also need a bit of salt and pepper for seasoning.
How To Cook Cabbage And Leeks
You can prepare and cook our cabbage and leeks recipe in about 25 minutes, around the time it takes to watch an episode of Cobra Kai (we love it, fight us!).
First prepare the leek. Remove the outer layer and very bottom part by the root. Chop it into slices and give it a good wash.
Next prepare the cabbage. Use a good sized, sharp, knife to chop your cabbage into shreds. We'd recommend not using a grater as this will make the pieces of cabbage too fine. The core of the cabbage can be a bit sour so don't use that bit.
Take your vegan butter and melt it in a large frying or sautéing pan.
Once the butter has melted, pop the leeks in and stir well so that they are nicely coated with butter.
Cook your leeks for about five minutes until they have softened slightly.
Now add your cabbage. Keep stirring it until it wilts down. This will take around 15-20 minutes.
Add a generous amount of salt and pepper to season. If you're anything like Jess you'll want to add a lot of salt!
And there you have it, yummy fried cabbage and leeks. Take a look at the recipe card at the end of this article for detailed measurements and timings.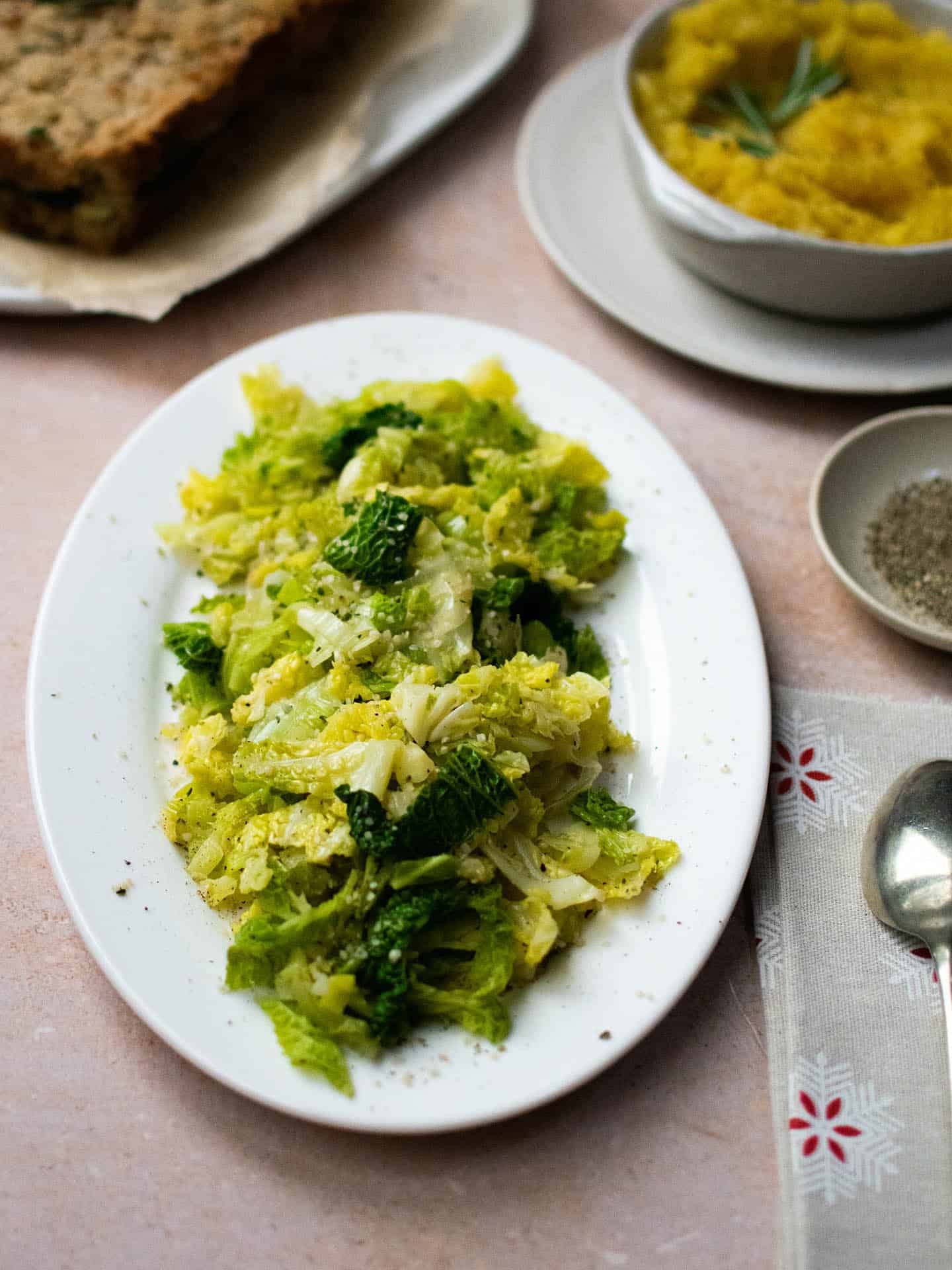 What To Serve With Cabbage And Leeks
Sautéed cabbage and leeks are a welcome addition to any roast dinner, they bring a lovely extra savoury flavour to your plate. We especially enjoy these sautéed cabbage and leeks with these Vegan Punks staples:
Sauteed cabbage and leeks go really well with a gravy meal, and they also go really well with a cheesy meal. This is why they are absolutely awesome on the side of our Cashew Nut Roast. It has a gooey, cheesy layer in the middle which is absolutely delicious with a bit of cabbage, and a generous helping of gravy.
The savoury flavours of this cabbage and leeks dish contrast nicely with the sweetness of our maple Roasted Carrots and Parsnips. Plus having a bit of green alongside the orange on your plate is a great way to make your Sunday roast look, as well as taste, a bit more special.
Growing up, we both agree that Yorkshire puddings were one of our favourite parts of a roast dinner. Try loading up the well in the middle of your pud with cabbage and leeks, and a generous helping of gravy.
It would just be rude not to mention Roast Potatoes while we're talking about roast dinners! These ones are absolutely fab, and there's not a hint of duck fat in sight.
We've put together loads more ideas to give you some Vegan Christmas Dinner Inspiration in our guide 79+ Ultimate Vegan Christmas Dishes. Check it out and let us know what you think!
Can This Dish Be Frozen?
We wouldn't recommend freezing it. Cabbage doesn't freeze very well once you've cut it into strips, you'd probably find that it goes a bit soggy after you reheat it.

You can make this dish one day ahead and leave in the fridge. Just make sure you reheat it thoroughly.
Are Leeks And Cabbage Good For You?
So good! We aren't nutritionists at all, but the health benefits of leeks and cabbages are pretty undisputed.

Cabbages are high in both Vitamin C and Vitamin K, and they are great for digestion. Similarly leeks are a great source of Vitamin A and Vitamin K. They are also known to be good for digestion.
What Kind Of Cabbage Is Best To Use?
We recommend using either white cabbage, or savoy cabbage. This is because their flavours are milder than the flavours in other cabbages, so they pair better with the leeks.

Red cabbage has a stronger flavour, and the colour is likely to 'bleed' into the rest of your food which isn't harmful but can certainly look a little odd.
What Equipment Should You Use?
You don't need any specialist equipment to make this dish. However, upgrading some of your existing items could make cooking this, and other, dishes a whole lot easier!
Sharp Knife
We can't stress the importance of having a good quality, sharp knife enough! If your knife is the right size for the job you're doing, and the blade is sharp, you'll find it a lot easier and you're much less likely to cut yourself.
For chopping a cabbage we'd recommend a chef's knife, as you can apply pressure at both ends of the blade to easily and evenly slice through the cabbage. This is much easier than hacking at it with a knife that's too small.
Chopping Board
We'd recommend getting either a wooden or a plastic chopping board. Glass ones will become scored quite quickly, and those scores are a risk for bacteria.
Wooden boards look lovely, and wood is known to have antimicrobial properties which means that bacteria can't thrive in them. We love our bamboo chopping board. It's so sturdy and solid.
Plastic boards aren't quite as pretty, however they are a bit cheaper. Plastic is easy to clean, although bacteria can gather in areas where knives have left a mark. If getting a plastic board be thorough when washing them. Plus, you can chuck plastic in the dishwasher a lot more easily than wood!
Frying Pan
Having a frying pan that is the right size for the job just makes cooking so much easier. You won't find yourself spilling food all over the hob and then having to clean it up for a start. This pan (above) is perfect for this recipe as it will hold all of the cabbage, and there's a lot of it!
It's also a great idea to get a good quality pan that's relatively sturdy so that the heat conducts more evenly. Finally, make sure your pan is non-stick! Washing up is rubbish as it is, you don't want to make it even harder on yourself.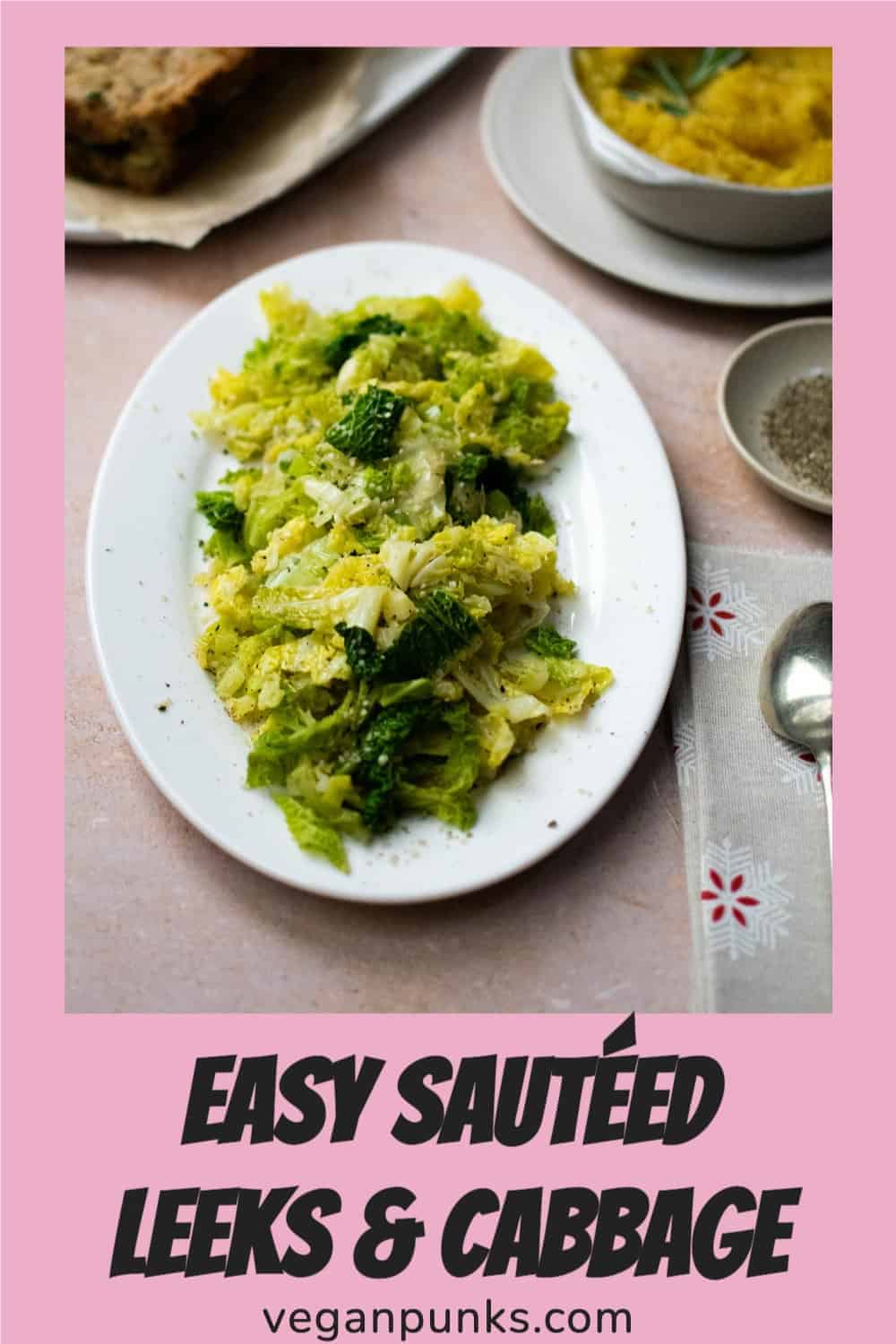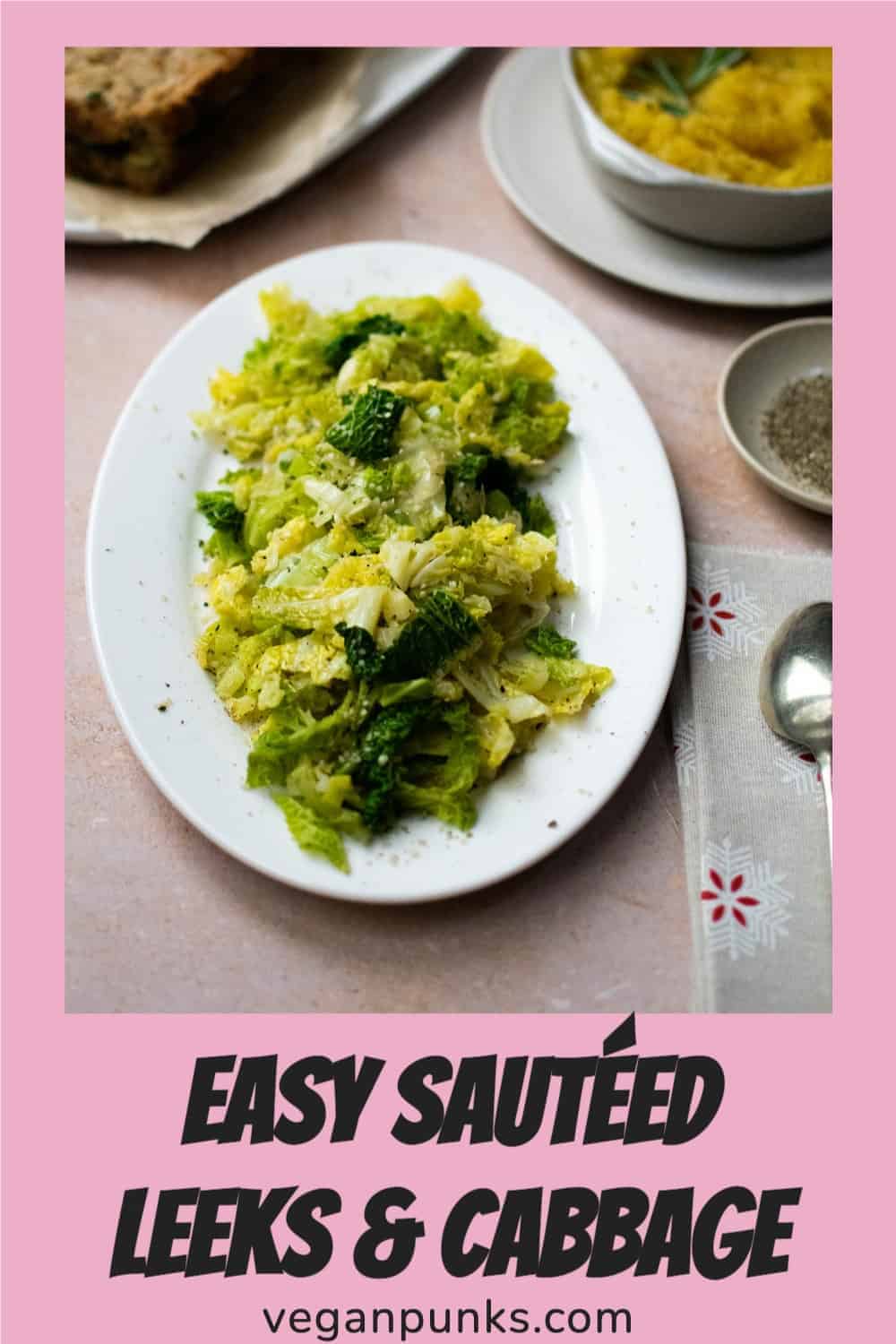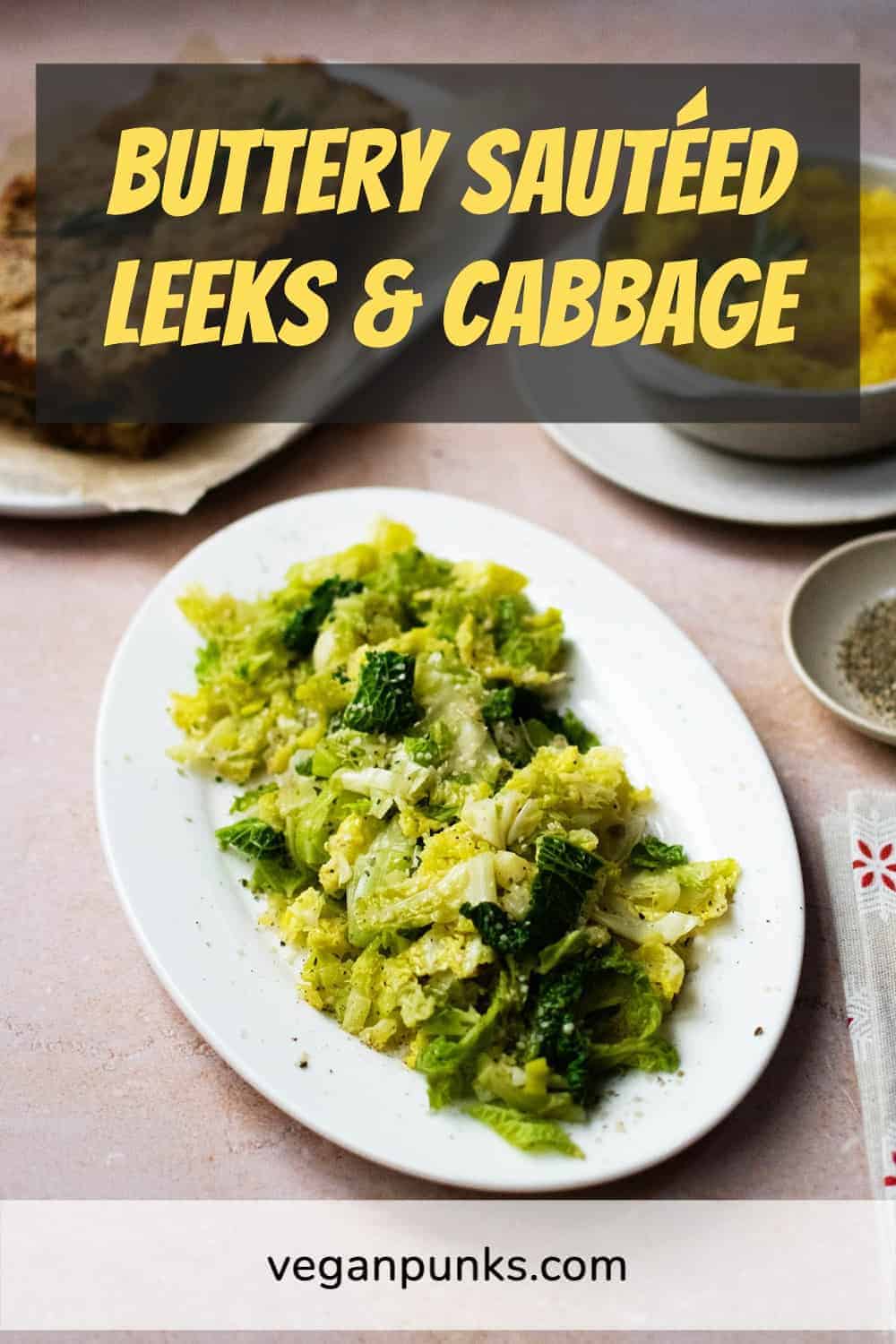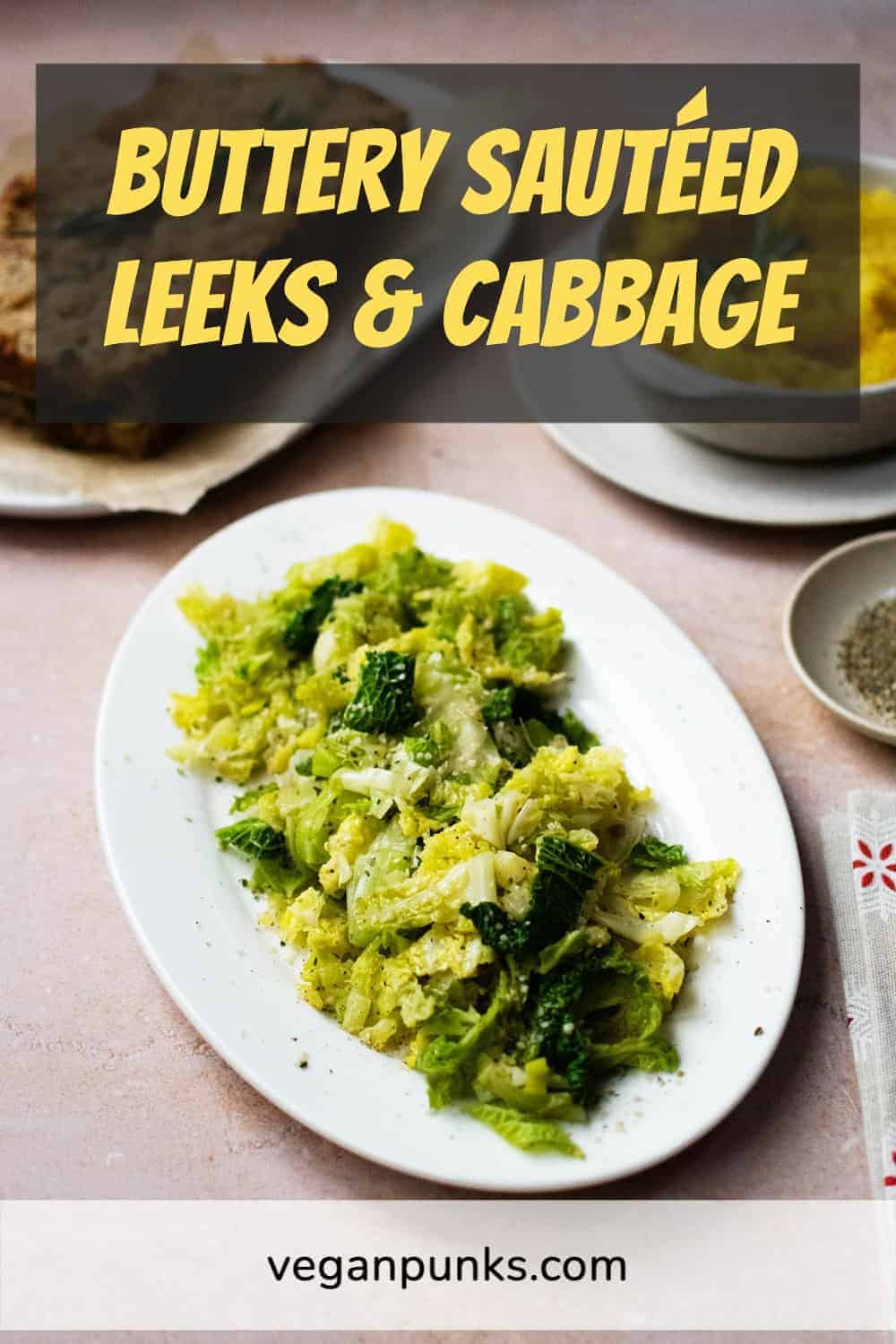 📖 Recipe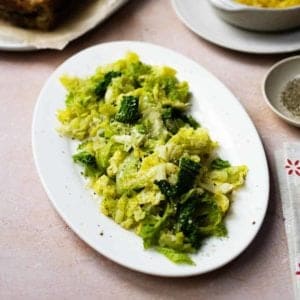 Ultimate Leeks And Cabbage Recipe In 15 Minutes!
This leeks and cabbage recipe is seriously easy to make. It only needs 3 ingredients and 30 minutes to make, it will make any Sunday roast that little bit extra special!
Save
Saved!
Print
Pin
Rate
Ingredients
350

g

cabbage

savoy or white – sliced

1

leek

– washed and sliced

3

tablespoon

vegan butter

or margarine

Salt & Pepper
Instructions
Melt the vegan butter over a medium-high heat in a large frying or sautéing pan.

3 tablespoon vegan butter

Put the leeks in once the butter has melted and stir well. The leeks should get a nice coating of vegan butter.

Cook for five minutes until they softened slightly.

Next pop the cabbage in. Keep stirring until it wilts down. Due to the volume, this will take about 15 minutes!

Season generously with salt and pepper.
Notes
You could add thyme or rosemary to this dish, but we kept it simple so that it complements any main dish on a roast dinner!
This will easily serve 6 people as part of a roast dinner, but will serve 4 as a bigger side (for a meal with fewer side vegetables!).
Nutrition
Calories:
64
kcal
|
Carbohydrates:
5
g
|
Protein:
1
g
|
Fat:
5
g
|
Saturated Fat:
1
g
|
Polyunsaturated Fat:
1
g
|
Monounsaturated Fat:
2
g
|
Trans Fat:
1
g
|
Sodium:
59
mg
|
Potassium:
128
mg
|
Fiber:
2
g
|
Sugar:
2
g
|
Vitamin A:
572
IU
|
Vitamin C:
23
mg
|
Calcium:
32
mg
|
Iron:
1
mg