If you're looking for a deliciously sweet veg dish for your roast dinner, then you've come to the right place. Look no further than these Sticky Maple Roasted Carrots and Parsnips!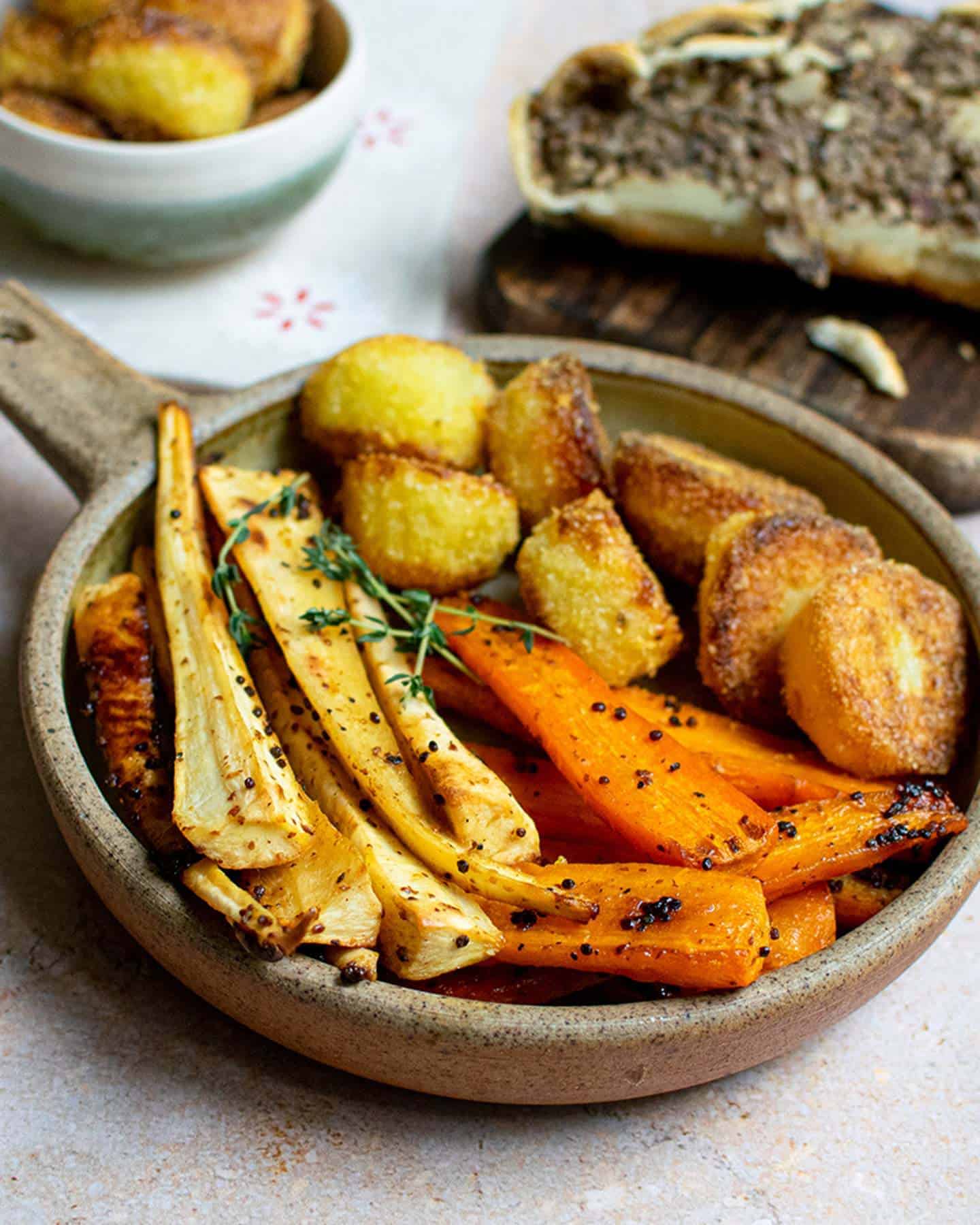 Honey roasted carrots and parsnips are an important part of the traditional roast dinner, so we were really excited to create this vegan alternative. The sweetness of this dish beautifully contrasts with the savoury flavours that make up the rest of the plate. It adds a nice bit of colour, too!
Why We Use Maple Syrup
Maple Syrup is a great alternative to honey because it's nice and sweet, and easily used to toss your veg in. It also has a distinct maple flavour which compliments a lot of different foods nicely. Let's talk for a moment about why we don't use honey.
Vegans aren't just concerned with animal cruelty, they are also concerned with animal exploitation. It is on the grounds of exploitation that vegans don't eat honey.
Bees make honey for themselves. It's an excellent source of nutrition and helps to keep the hive healthy. It's especially important during the winter months when other food sources aren't available. When bees are farmed, honey is removed from their hive and replaced with a sugar substitute that's much less nutritionally dense.
In addition to this, just as with other types of livestock farming, bees are bred in order to maximise production. Narrowing the gene pool in this way means that the bees are more susceptible to disease and mass die offs. These diseases can be passed to native bee and insect populations. It risks not just the lives of these insect species, but the ecosystems that they are part of, too.
This is a very brief overview! If you'd like to learn more, take a look at the Vegan Society's article on the honey industry.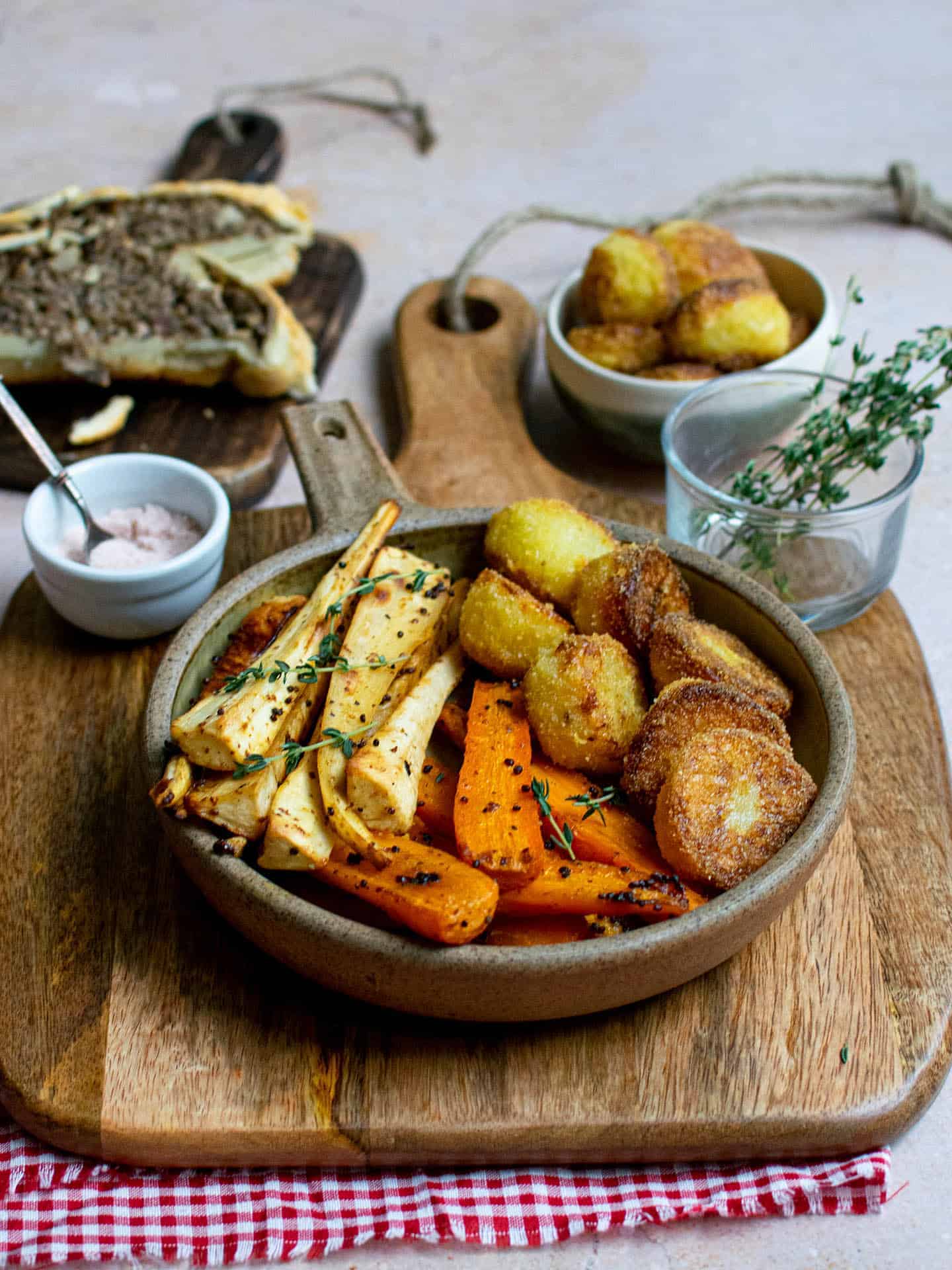 Ingredients For Maple Roasted Carrots And Parsnips
This is a really simple recipe, you'll only need five ingredients (or four if you leave out the mustard!)
Carrots. We always get carrots that are grown in the UK to reduce our carbon footprint. If you can, avoid getting the ones that come in a plastic bag as it's unnecessary landfill fodder!
Parsnips. Again, we go for UK grown and avoid plastic. If you're lucky enough to have a farmers market or a greengrocer near you, they are usually fresher and cheaper than a supermarket!
Maple Syrup.
Wholegrain Mustard. You can leave this out if you want to and your maple roasted carrots and parsnips will still be delicious. However, we recommend including it to make them extra special.
Oil. We like to use either olive or rapeseed oil, but any oil that you have on hand is fine.
Vegan Substitute For Honey
We use maple syrup in this recipe because it's got a lovely flavour, drizzles easily and is available in any supermarket.
If you don't fancy maple syrup but still want to make these maple roasted carrots and parsnips then you can also use Agave or Golden Syrup. Both work really well.
We also really love the 'Honea' made by Plant Based Artisan. 'Honea' has been crafted so that it has all of the floral notes that you would expect to find in a jar of honey. It's also full of prebiotics that are great for digestion.
How To Make Roasted Carrots And Parsnips With Maple Syrup
First step, stick on your favourite album - cooking is much more fun with music! Now you're ready to get started.
As with any roasted veg, you'll get the best out of your Maple Roasted Carrots and Parsnips if you preheat your oven. Do this before you start prepping.
Prepare your parsnips and carrots. Parsnips have quite a thick, tough, skin so are definitely better peeled. You can leave the skin on your carrots if you prefer, just be sure to give them a scrub.
Once the carrots and parsnips are peeled and scrubbed, chop them in half lengthways.
Don't throw away the peelings! You can use them to make a vegetable broth which is a great alternative to stock if you're making soup. Try it in our spiced carrot and lentil soup as a warming starter. Peelings can also be used to make vegetable chips, or you can use them in smoothies.
Mix the maple syrup, mustard and oil in a small bowl until they are combined.
Chuck the carrots and parsnips into a large mixing bowl, along with the glaze mix. Toss them until they are evenly coated in the mixture. Alternatively you can put the carrots and parsnips directly onto your roasting tray, drizzle with the mixture, then use a brush to even out the coating.
Season with salt and pepper to taste.
Lay out your carrots and parsnips on a large roasting pan. If your pan isn't non-stick it's a good idea to use some parchment paper. Otherwise they may stick.
Pop the tray in the oven and roast for 30-35 minutes.
After 20 minutes take them out and flip them over. Then pop them back in the oven for the remaining 10 minutes. This will ensure they go nice and golden on both sides.
Once the carrots and parsnips are caramelised and lightly golden-brown, they're ready. Serve them up and eat them while they're warm with lots of gravy.
Check out the recipe card at the end of this article for full details on measurements and temperatures.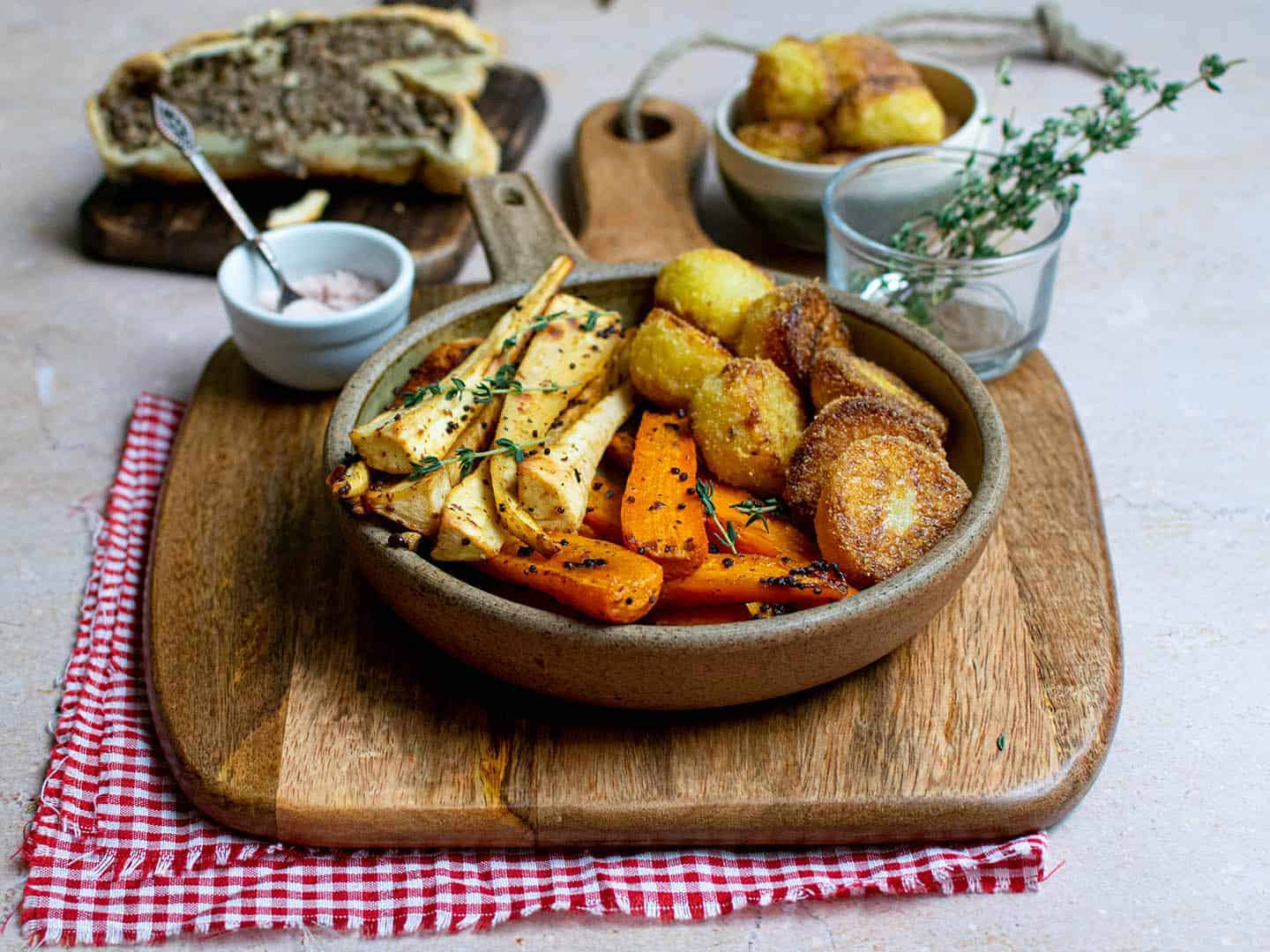 What To Serve With Roasted Carrots And Parsnips
These sticky maple roasted carrots and parsnips are delicious by themselves, but they really come into their own as part of a roast dinner. Try serving them up with these roast dinner favourites.
We've been eating a lot of roast dinners while researching our Ultimate Christmas Dinner Guide (it's a hard life!), and one of our favourite roast dinner centrepieces is Mushroom Wellington. Not only is it completely delicious, it's super simple to make and it only has eight ingredients!
Another great option for a vegan roast dinner is Toad In The Hole. We love this because it's incredibly hearty and filling, and it reminds us of family dinners that we had as kids. It's also a great option if you're feeding someone who for some reason doesn't like mushrooms (honestly, they exist!).
No roast is complete without Roast Potatoes! We've made our recipe really simple, and it's designed so that your spuds can be made in advance and frozen. Perfect for busy cooks on Christmas Day. You'll also be able to show those people who insist that roasties need to be made with goose fat that they are completely wrong, when you serve up these crispy, fluffy, golden brown roast potatoes.
The best thing about Yorkshire Puddings is how light and crispy they are. Actually, wait, the best thing is the way that they soak up the gravy. No, hang on, the best thing is the little well in the middle. Ok, so it's hard to choose the best thing about them, but we can all agree that they are awesome! Definitely an integral part of the roast dinner experience.
Speaking of the little dip in the middle of a Yorkshire Pudding… isn't it great when you fill it up with a big old forkful of Vegan Cauliflower Cheese? We love how creamy this recipe is, despite the fact there's not a hint of dairy to be found!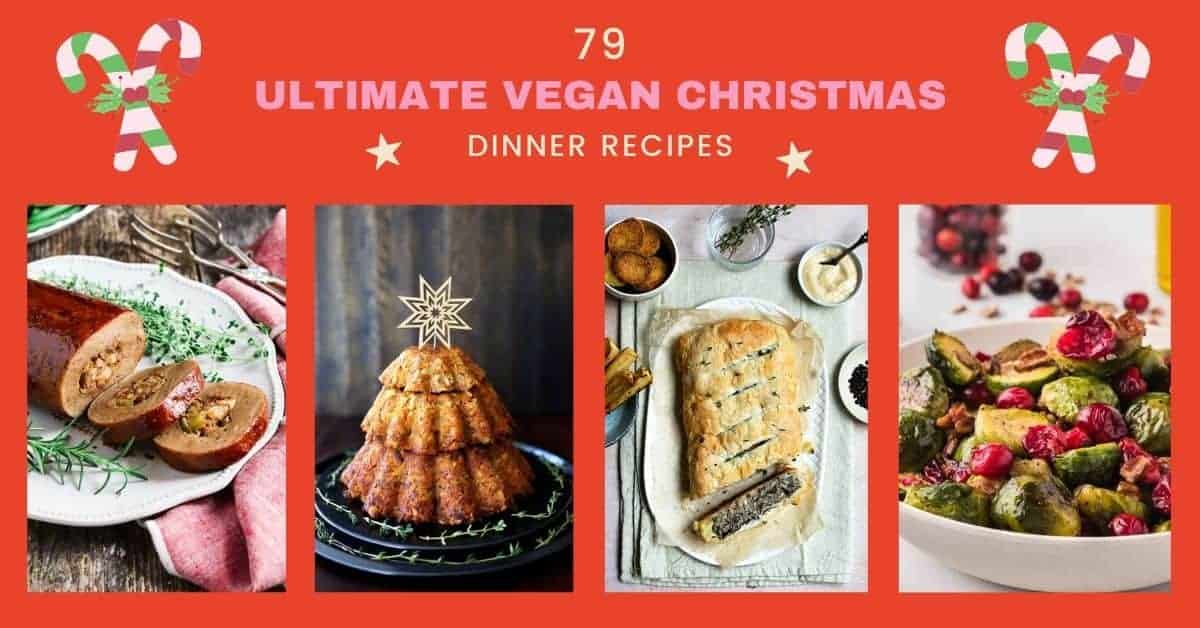 If you'd like more Vegan Christmas Dinner inspiration, have a look at our 79 Ultimate Vegan Christmas Dishes guide. There's so much good stuff in there you won't know what to try first!
FAQs
Can I use a different type of syrup?
Maple Syrup gives you a subtle maple flavour which is really lovely. It's also quite thin and therefore really easy to toss your veg in. However, there are a few different syrups you can try when you're making sticky maple roasted carrots and parsnips which will give you subtly different results.

Golden Syrup is a little sweeter than maple, and it's also a fair bit thicker so you may end up with a thicker glaze. You could also try using Agave, which is probably a little easier to use than Golden Syrup and not quite so sickly sweet. You could also try using 'Honea,' a vegan honey which has the botanical flavours that are present in regular honey.
Do I have to peel carrots?
Nope! Whether or not you peel your carrots is completely up to you. If you like the skin on your carrots, just give them a scrub and you're good to go. We do recommend that you peel your parsnips, though, as their skins are quite tough.
What temperature should I roast carrots and parsnips at?
It's important that you roast carrots and parsnips at a high temperature to ensure that the outside caramelises, while retaining the moisture in the middle. We'd recommend roasting them at Gas Mark 7/220°C.
How long should I roast carrots and parsnips for?
They need a reasonably long time to achieve the caramelised, golden brown finish that makes Maple Roasted Carrots and Parsnips truly delicious. We usually roast them for 30 minutes, turning them after 20 minutes.
What other veg could I roast like this?
Really any veg that tastes good roasted, will probably taste good maple roasted! Why not try jazzing up your brussels sprouts by maple roasting them (honestly, they are so much better roasted).

You could also try sweet potato, butternut squash, beetroot and onion.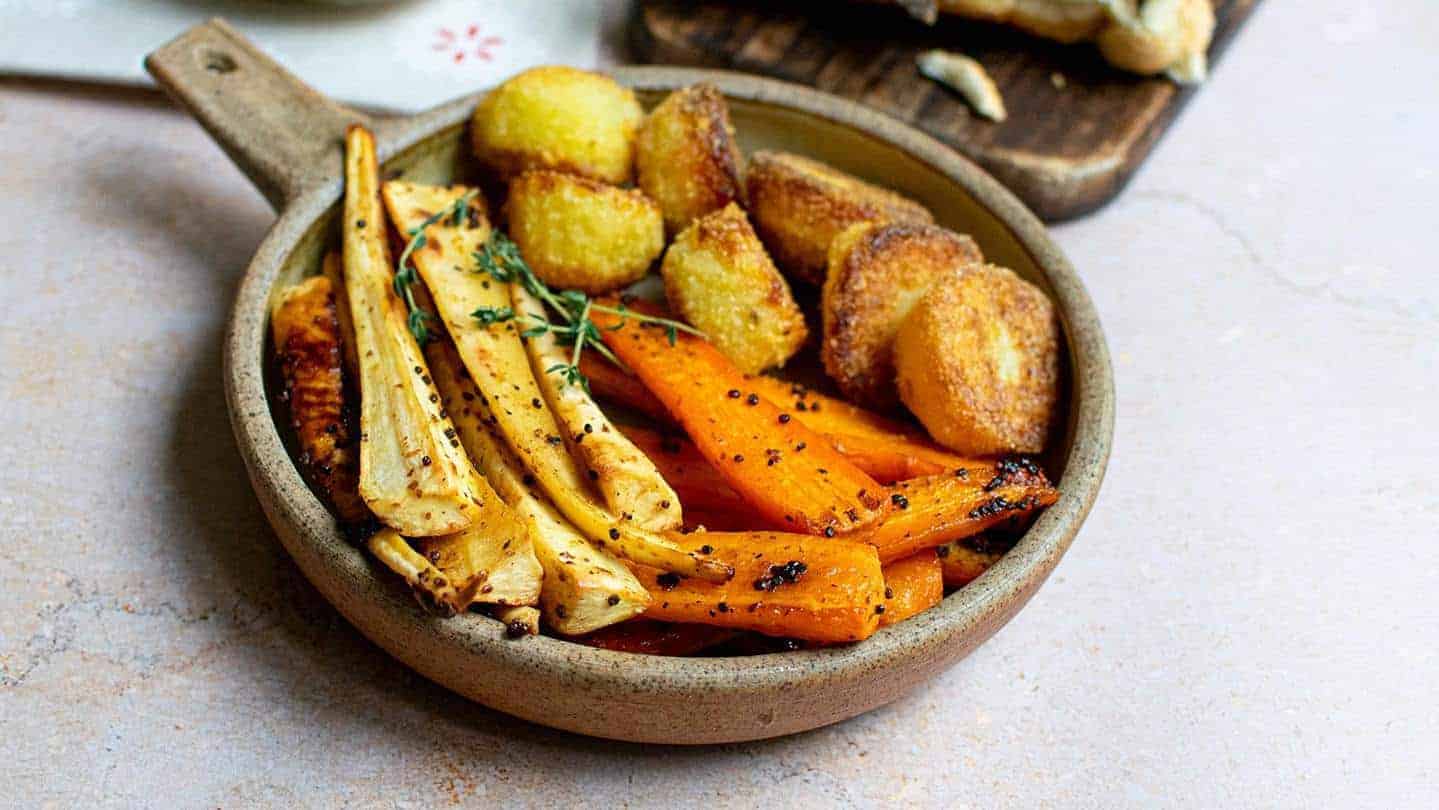 Equipment
A great non-stick roasting pan
We spent a long time using the old roasting tray that had been in our kitchen ever since we could remember, and honestly getting a new one has been a revelation! A good non stick roasting pan will mean that not only can you get food out of it without using a chisel, but the heat is more evenly distributed and your food cooks better. We use ours when we're making any kind of roast dinner, but also when we're roasting up veg for a pasta dish or curry.
A decent vegetable peeler
Using a rubbish vegetable peeler is a miserable experience that you don't need to put yourself through. Get yourself a good one and not only will you be able to peel your veg much more quickly and easily, your peelings will be good enough to make veg crisps with, too!
A big mixing bowl
A nice big mixing bowl makes evenly coating your veg with the glaze a much easier job. They're also great to have on hand for any impromptu baking! Similarly, it's a good idea to get yourself a silicone pastry brush to help even out your glaze, and for any pastry you might be baking.
If you like this recipe, don't forget to bookmark it, save it on Pinterest and let us know if you like it in the comments!
📖 Recipe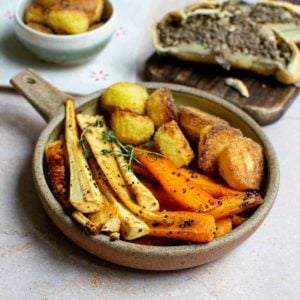 Sticky Maple Roasted Carrots and Parsnips
Sticky maple roasted carrots and parsnips are a deliciously sweet side to go with your roast dinner! We love the contrast with a rich, umami gravy and think that maple syrup is the perfect plant-based alternative to honey.
Save
Saved!
Print
Pin
Rate
Ingredients
500

g

carrots

– scrubbed or peeled

500

g

parsnips

– peeled

4

tablespoon

maple syrup

2

tablespoon

olive oil

2

tablespoon

wholegrain mustard
Instructions
Pre-heat your oven to 220c / gas mark 7.

Cut the carrots and parsnips in half lengthways. If you happen to get some particularly fat parsnips, you can always chop them in half again to try get them to a more consistent size with the carrots.

500 g carrots,

500 g parsnips

In a small bowl, mix the maple syrup, olive oil and wholegrain mustard until combined.

4 tablespoon maple syrup,

2 tablespoon wholegrain mustard,

2 tablespoon olive oil

Chuck the carrots and parsnips in a large mixing bowl, drizzle over the maple syrup mix, season generously with salt and pepper, then toss or stir to coat the veg. Alternatively, you could brush the mix onto the veg directly on a baking tray.

Put the coated veg onto a non-stick roasting tray, or use some parchment paper if you don't have non-stick. Place the tray in the oven.

After 20 minutes, turn the veg over and put in the oven for another 10 minutes.

The carrots and parsnips should be tender and nicely caramelised now, but you could give them another 5 minutes if you think they need it – every oven is a bit different!
Nutrition
Calories:
133
kcal
|
Carbohydrates:
24
g
|
Protein:
1
g
|
Fat:
4
g
|
Saturated Fat:
1
g
|
Polyunsaturated Fat:
1
g
|
Monounsaturated Fat:
3
g
|
Sodium:
93
mg
|
Potassium:
462
mg
|
Fiber:
5
g
|
Sugar:
12
g
|
Vitamin A:
10444
IU
|
Vitamin C:
14
mg
|
Calcium:
56
mg
|
Iron:
1
mg