Vegan roast potatoes are so easy to make. You'll only need three ingredients to make them, and they can be made ahead of time. Plus, you won't need any goose fat, as roasties can be made perfectly crispy without it, and they'll still be totally delicious!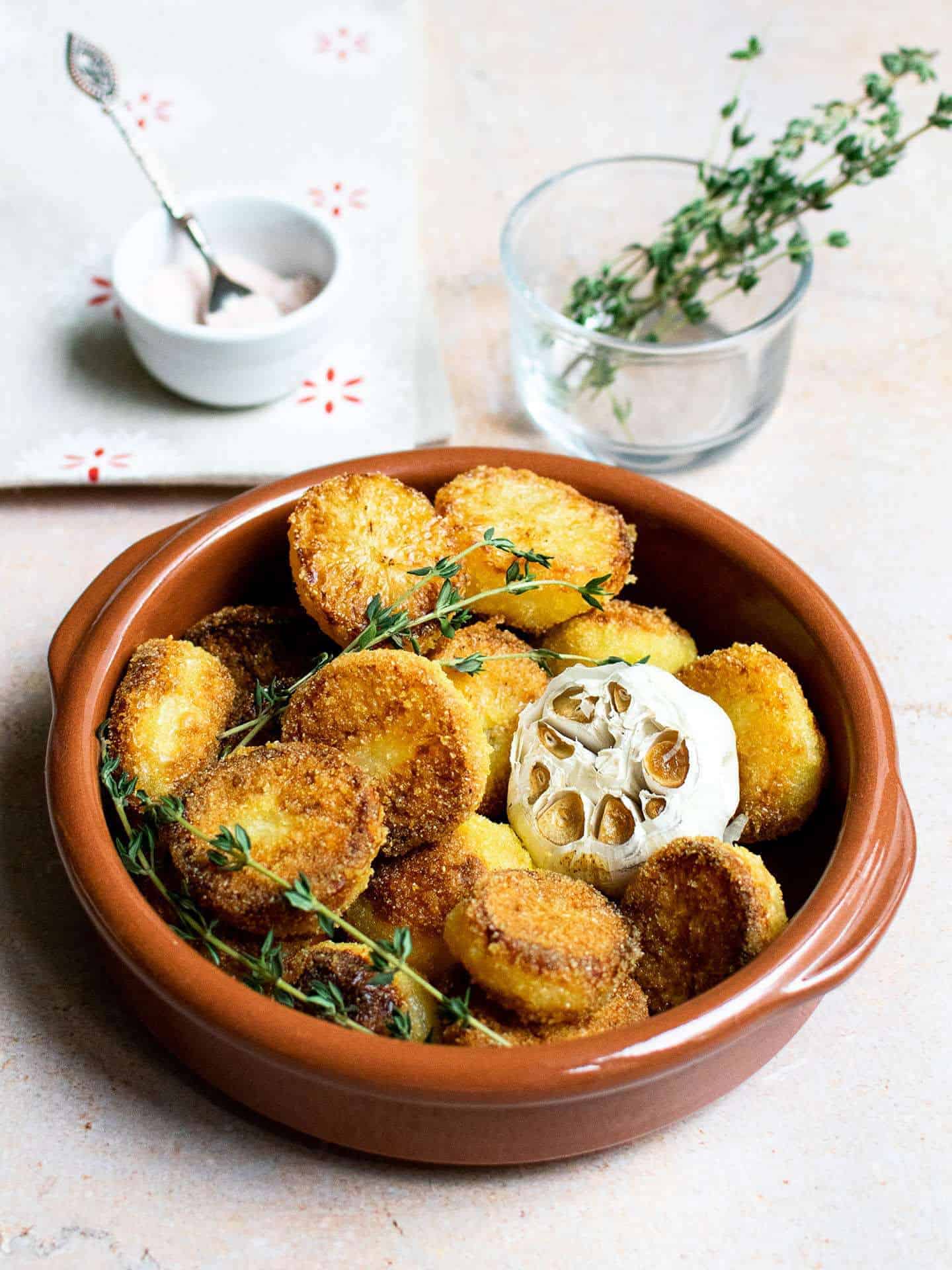 Jump to:
How To Make Vegan Roast Potatoes
The first thing to do is peel and chop your potatoes into reasonably large, equal pieces. Some people like to make their roast potatoes with the skin left on which is absolutely fine. However you won't get exactly the same result as if you peel them first.
Don't waste your potato peelings! Be sure to save them and use them to make crisps, by tossing them in oil and seasonings and baking them for 8 to 10 minutes. You could do this at the same time as you are cooking your roasties ready for when the inevitable after dinner snacking commences.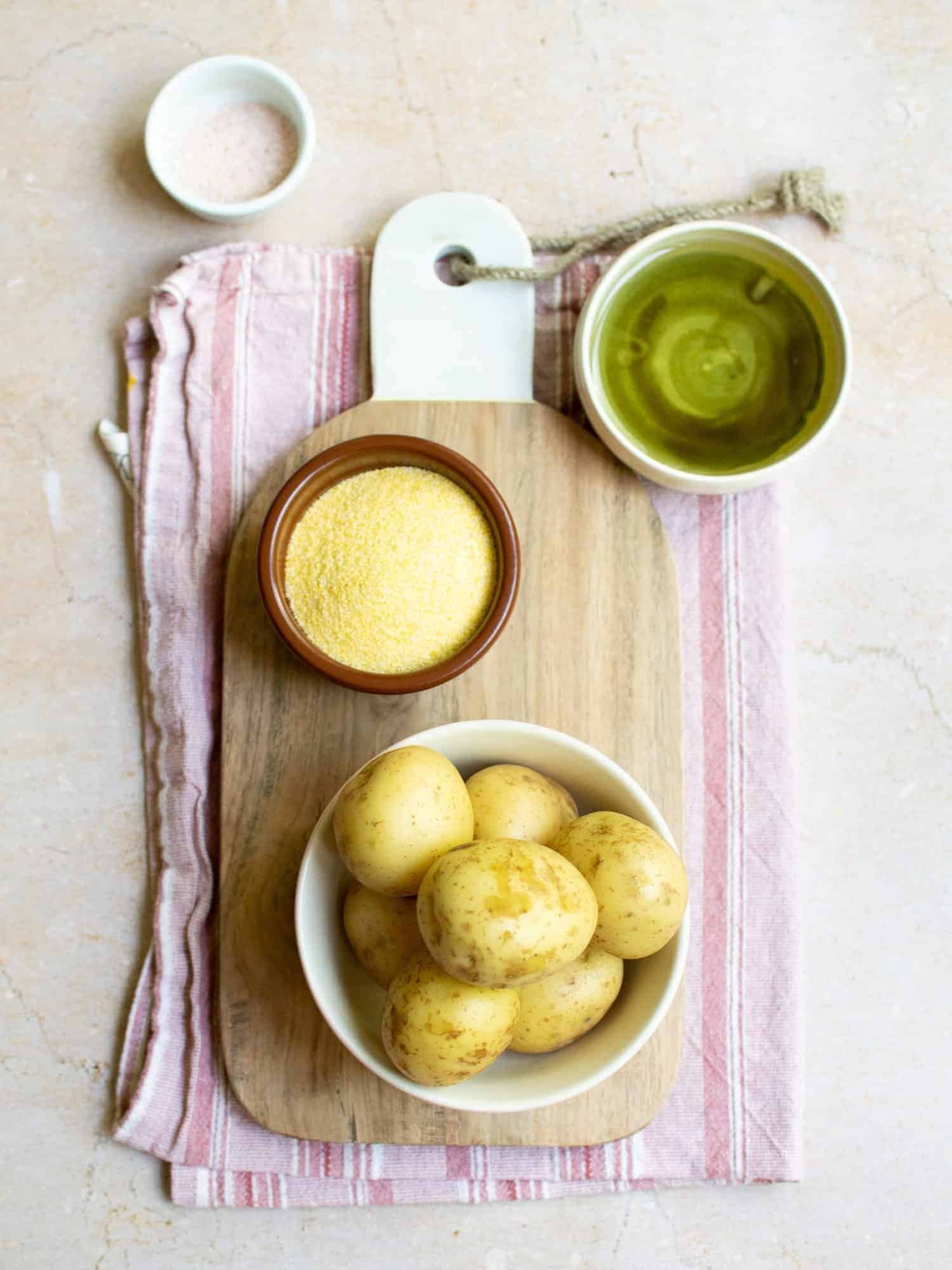 Take your potatoes and par boil them in a large pan for 8 minutes. This will ensure that your potatoes are cooked all the way through and help them become lovely and fluffy after roasting.
Check to see if the potatoes are par-cooked by poking them with a fork. The fork should penetrate relatively easily, but the potatoes shouldn't be soft.
Once you're happy that your potatoes are parboiled, empty them into a colander to drain them.
Shake them around in the colander for around a minute until parts of the potatoes start to flake off. They should look slightly 'fluffy.'
If you like, you can coat the potatoes in some polenta at this point. This will help to give your roasties an extra crispy finish and is yummy, but isn't essential. We would recommend it though!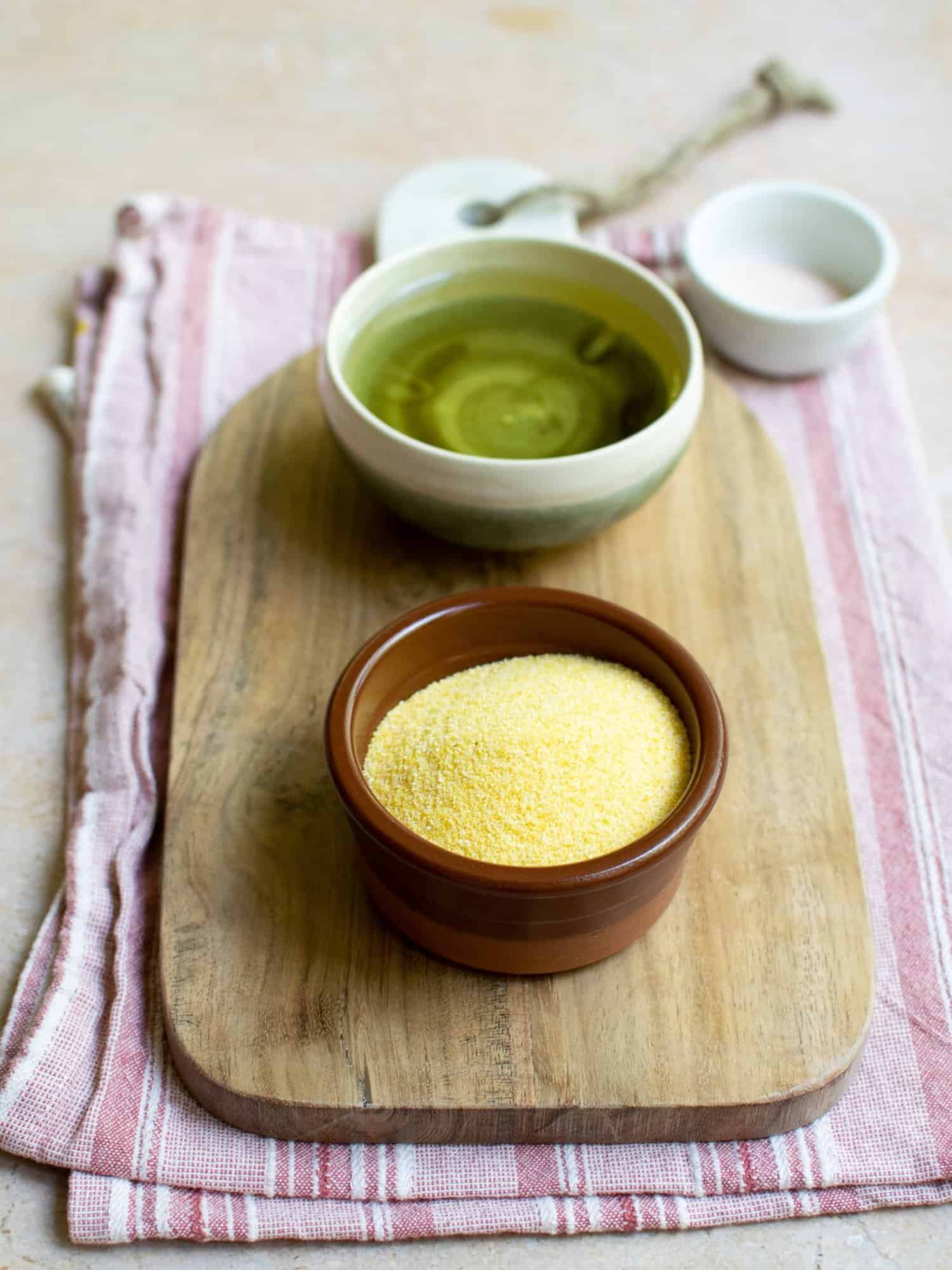 Roasting the potatoes
Get yourself a roasting dish and pour a layer of oil into the bottom of it. We recommend using rapeseed oil as it has a high smoke point. This means that it will cook your potatoes at a higher temperature and give you a crispier finish. It's also rich in fatty acids and vitamin E, and low in saturated fat.
Heat the oil in the oven for 5 to 8 minutes.
Once your oil is hot add your potatoes to the pan. Be careful not to splash yourself with hot oil! Ensure that all of the potatoes are well coated in oil, and add a generous helping of salt to season them.
Put the pan back in the oven, and cook the potatoes for 20 minutes. Be sure to use the middle shelf of the oven, as this will mean that your potatoes cook more evenly.
After 20 minutes take the potatoes out and turn them over. You can also use a spoon to coat them in the oil from the bottom of the tray again.
Pop them back in the oven for another 20 minutes.
Dependent on your oven, at this point your potatoes should be done. You'll be able to tell because they will be golden and crispy. You could also try eating one… partly as a test and partly because if you're cooking, you deserve an extra potato! If they aren't quite done, or you want them extra crispy, put them back in for a little longer.
You can also freeze your potatoes by taking them out of the oven and letting them cool before putting them in the freezer. If you're eating them now then tuck in and enjoy!
Take a look at the recipe card at the end of this article for the ingredients and quantities list.
Are Potatoes Vegan?
There is absolutely no animal involvement in growing potatoes, so yes they are completely vegan. Surprisingly, this is a question we have encountered in real life! No question is a silly question in our book though!
You know when you accidentally leave a potato in the back of your cupboard for ages and it grows little sprouts? Those sprouts are actually the beginning of new potato plants.
Unlike a lot of other plant species, no insect involvement is needed to pollinate new potato plants. Potatoes grow on the underground roots of the potato plant in order to serve as a nutrient store during the colder winter months. Once the plant has survived the winter season, the potatoes grow sprouts, sometimes called eyes, which are the beginnings of new potato plants.
Potatoes also have a lower carbon footprint than a lot of other vegetables. They are able to grow in colder climates which means that they don't need to be grown and imported from warmer countries over the winter months as a lot of fruit and veg do.
So basically, eat as many potatoes as you want!
These Are Perfect Christmas Dinner Roast Potatoes
These potatoes are perfect for a Christmas dinner where you are feeding a lot of different people because not only are they vegan, they're gluten free too! The optional polenta is made from corn, and so is suitable for people who can't have gluten.
It's also very easy to scale the recipe up or down depending on how many people you are feeding. Additionally, because you can make and freeze them in advance, they are nice and easy to prepare on a hectic Christmas morning!
Serve These Vegan Roast Potatoes With:
These are so great we wouldn't judge you if you made a bowl of them and ate them by themselves… but they are also delicious as part of a lush meal!
Try them with our Vegan Toad in the Hole, covered in gravy and served with a side of roasted veg.
If you're a fan of a traditional roast dinner you could try these alongside our Vegan Yorkshire Puddings and these delicious Miso-Glazed Roasted Carrots.
Check out our Ultimate Christmas Dinner guide if you're looking for some more inspiration.
FAQs
Can they be frozen?
Yes absolutely! They can be kept in the freezer for up to three months. When you want to eat them just take them out and cook them straight from frozen - they'll take around 15-20 minutes at gas mark 5 or 200 degrees centigrade.
Can you prepare roast potatoes in advance?
Definitely, this is one of the things that we love about this recipe as it saves on stress. Especially at times like Christmas day, it helps to have a lot of your prep done in advance. Just don't forget about them in the back of the freezer like we did recently!
Can you make them without oil?
The oil is really what makes the potatoes so crispy. So yes, you can make them without oil or you could try using an oil spray so that you use less, but the end result won't be quite the same.
Did you make this recipe? Leave a review and a rating below, or tag us in your photos on Instagram! Alternatively, bookmark it in your browser or save to Pinterest for later.

If you love our content, please consider supporting it by buying us a coffee.
📖 Recipe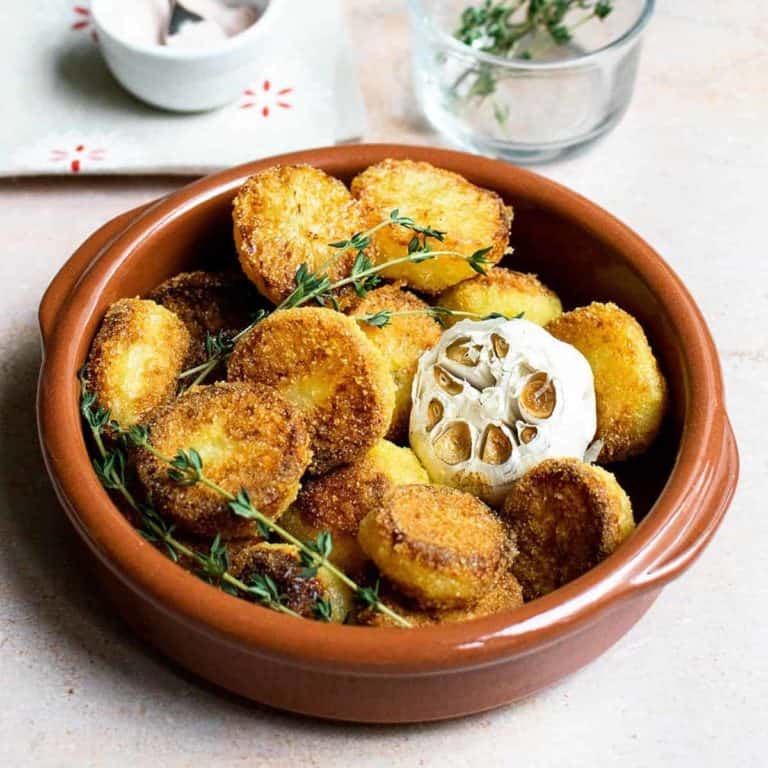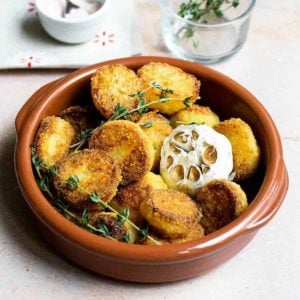 Vegan Roast Potatoes
These Vegan Roast Potatoes are super easy to make and are so tasty! You just need three ingredients and 40 minutes to make them. We would recommend adding polenta though, so increase that to 4 ingredients if using!
Print
Pin
Rate
Ingredients
6

large white potatoes

– peeled and chopped into 2-3 pieces each, all roughly the same size

100

ml

Rapeseed oil

– it should be around 1-2cm deep in your roasting dish

1

tsp

Salt

– we use pink Himalayan salt
Optional but recommended:
Instructions
Par-boil the potatoes for 8 minutes in a pan.

Drain the potatoes into a big colander.

Shake the potatoes in the colander for around 1 minute, until parts of the potatoes start to flake off and they look a bit 'fluffy'.

Optional: add the 2 tbsp of polenta to the potatoes and make sure they all get a good coating.

Pour the oil into the roasting dish and heat on gas mark 5/ 190°C / 375°F for 8 minutes.

Once the oil is hot carefully put the potatoes into the roasting dish, making sure they all get a good coating of oil and then generously add salt.

Roast for 20 minutes in the middle shelf of the oven.

After 20 minutes take them out and turn them over, then put back in the oven for another 20 minutes.

Depending on your oven they may be done at this point – they should be golden and crispy. Put them in for a little longer if necessary.
Notes
The polenta is optional but we would recommend it as it adds a delicious crispy coating to the potatoes. If you try it once, it will be hard to go back!
Nutrition
Calories:
436
kcal
|
Carbohydrates:
49
g
|
Protein:
6
g
|
Fat:
25
g
|
Saturated Fat:
2
g
|
Polyunsaturated Fat:
7
g
|
Monounsaturated Fat:
16
g
|
Trans Fat:
1
g
|
Sodium:
597
mg
|
Potassium:
1081
mg
|
Fiber:
6
g
|
Sugar:
2
g
|
Vitamin A:
16
IU
|
Vitamin C:
50
mg
|
Calcium:
31
mg
|
Iron:
2
mg