This delicious, creamy swede mash is a great alternative (or addition!) to potatoes as part of a roast. We love it because aside from being incredibly tasty, it only has two ingredients and takes just 25 minutes to make!
Depending on where you hail from, you may have heard the humble swede referred to as a few different things. Just to be confusing, in Canada the swede is called a turnip while the vegetable English people know as a turnip is called a 'white turnip'. In Scotland the swede is called a neep, hence the favourite dish for Burns night 'neeps and tatties' (a tattie is a potato!). Swede is also sometimes called a Rutabaga in the US, or a Swedish Turnip.
Check out this video on how to make swede mash:
How To Cook Swede
Swede is a very dense vegetable. For this reason, when you're making mashed swede it's important to cut it into bite sized chunks to boil it. If you don't, it can take a very long time to cook!
If you want to try another way of cooking swede, it's also great roasted. You can try the method we used for our sticky maple roasted carrots and parsnips (you can see the link further down the page). It works really well for swede. As with boiling, when you're roasting, you'll also want to chop the swede up nice and small so that it can cook through easily.
Another great way to cook swede is to let it cook slowly in a stew or curry, it's a great addition to any hearty dish as it is nice and filling.
And last but not least, swede works really well as part of a hearty winter vegetable soup. Chuck it in a pot with some stock, seasonings and whatever veg you have lying around and you're onto a winner. You could even try subbing out some of the pumpkin in our vegan pumpkin soup for swede. You'll get a different flavour, but it'll still be tasty!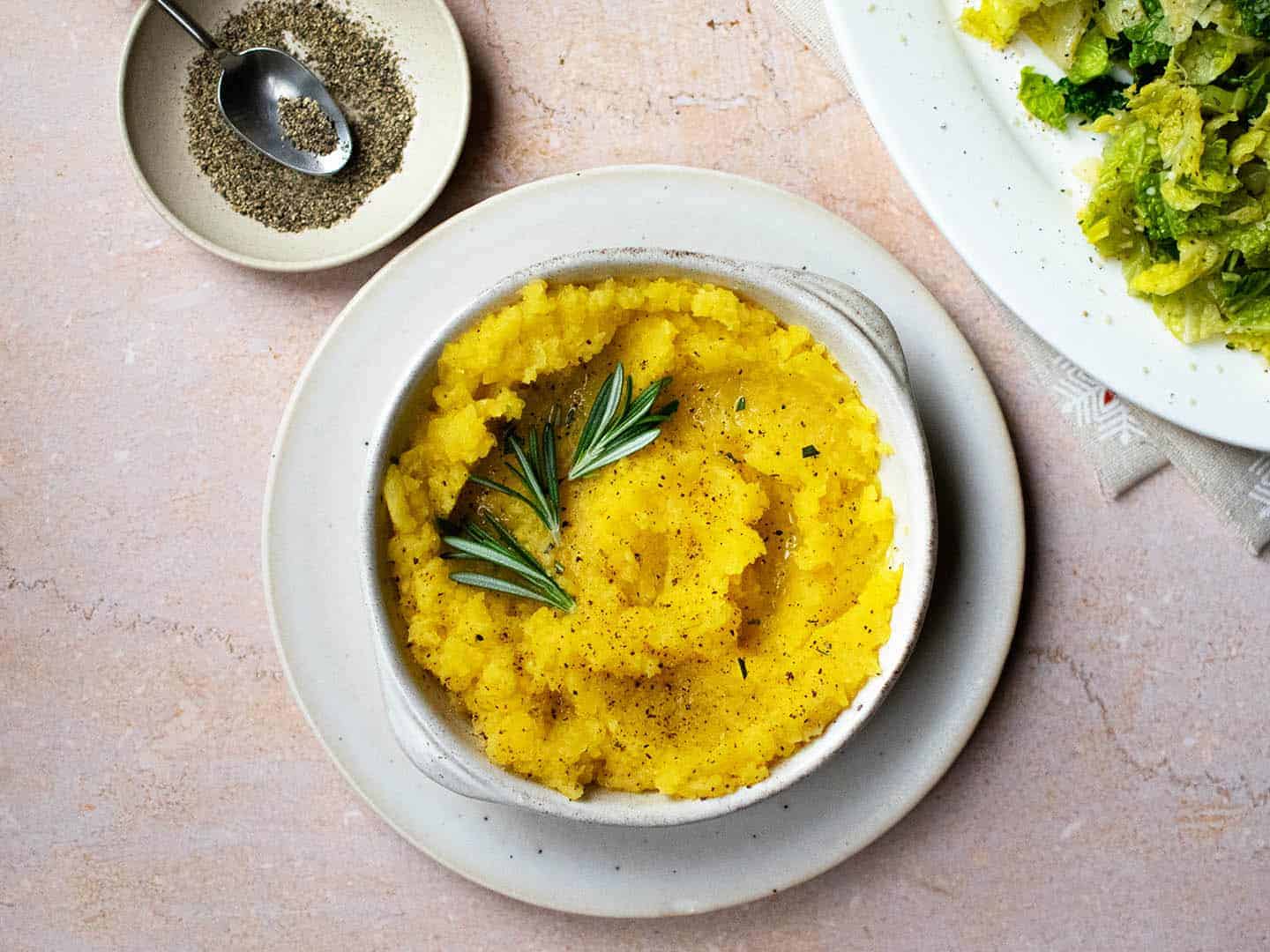 Mashed Swede Ingredients
There are only three ingredients for this recipe:
Swede
Vegan butter or margarine
Salt and pepper
Swedes, and other root vegetables, sweeten around November time when the ground is frosty. This means that they are at their best around the festive season, which makes them a perfect addition to a Christmas feast!
When you're choosing your swede we'd recommend finding one where the skin is undamaged, as this means the flesh inside will be at its best. It's also worth remembering that the smaller the swede, the sweeter the flavour and the more tender the texture of the flesh.
How To Make Swede Mash
This recipe is super quick and easy to make, so it's great for busy evenings when you just want some food in your belly immediately.
First peel the swede. You do this with a peeler in much the same way as you would with a potato. Swede skin is pretty tough so just make sure that your peeler is up to the job! Some people find it easier to peel swedes with a knife. Do whatever works for you, just be careful while you're doing it.
Next chop the swede into small chunks. As swedes are tough and round, they can be tricky to chop! We'd recommend making sure you use a really sharp knife. Chop the swede into quarters first so that you have a flat edge to lay on the chopping board, and then chop each quarter into chunks.
Get a pan that's enough to fit all of your swede in, fill it with water and bring it to the boil.
Once the water's boiling, pop your swede in. Don't drop it in from a great height otherwise you'll splash boiling water on yourself, and honestly that's just not fun.
Let your swede boil for around 20 minutes. To check if it's done, pierce it with a fork. If it's done, the fork should enter the swede easily. If not, give it another 5 minutes or so.
Drain your swede using a colander, and then put it back into the pan.
Add the butter, and then mash with either a potato masher or a potato ricer until smooth.
Mashed swede won't get as smooth as mashed potato, but make sure that there aren't any visible lumps.
Add salt and pepper to taste. We'd recommend a generous amount as it really adds depth of flavour.
What To Serve With Swede Mash
Mashed swede is great as part of any meal with gravy really! If you don't fancy potatoes it's a delicious alternative, or of course you could just have both…
Cashew Nut Roast
Our cashew nut roast is a winter staple for us. Dan's mum used to make it all the time when he was growing up, so we were really excited to create a vegan version. The gooey, vegan cheesy layer in the middle is absolutely dreamy.
Mushroom Wellington
We first tried vegan mushroom wellington at a Christmas party a few years ago, and ever since we've been absolutely obsessed with recreating it! We love the rich mushroom filling combined with crispy golden pasty. Delicious!
Yorkshire Puddings
Who doesn't love Yorkshire puddings? We love them as part of a Sunday dinner. Or a Monday dinner. Or any day of the week dinner really! The way they soak up the gravy but somehow still stay nice and crispy is a thing of beauty.
Carrots and Parsnips
The sweetness of carrots and parsnips compliments the flavour of swede really well. Doubly so if you roast your carrots and parsnips in a bit of maple syrup. You can also use the method we've linked here to try on some roast swede if you fancy it.
You could even try swede in a Vegetable Noodle Soup, in this great recipe by Vegan Yack Attack.
If you're after more ideas for a tasty roast, or Vegan Christmas Dinner Inspiration then check out our guide, 79+ Ultimate Christmas Dishes!
FAQs
How To Peel A Swede?
The best method we've found for peeling a swede is to use a potato peeler. Make sure it's a good quality one that's nice and sharp, as swede skin is pretty tough. If your peeler isn't up to the job you can also carefully cut the skin off using a sharp knife.
We also find it easier to peel a swede if you cut it into quarters first.
How Do You Cut A Swede
The most important thing about cutting a swede is that you do it with a very sharp knife! Blunt knives actually make chopping tough veg like swede more dangerous, as they are more likely to slip.

Use a chopping board, and put a folded towel underneath it to make sure the board doesn't slip.
Can This Swede Mash Be Frozen?
Absolutely! We really like making it ahead of time so that we can save on Christmas Day or Sunday dinner stress. 

Swede hack: Use an ice cream scoop to portion out the swede onto a baking tray. Pop the tray in the freezer, and then once the swede has frozen move it into a ziplock bag or reusable freezer bag. This is much more manageable than dealing with an enormous block of frozen swede!
Equipment
As with any recipe, you'll find this one much easier to make if you have the right equipment.
Potato Masher
There's nothing more annoying than a rubbish potato masher! And mashing with a fork just doesn't cut it because you can't easily get the right amount of pressure. We really like using one with a good grip, and that's made of stainless steel or nylon so we can just chuck it in the dishwasher when we're done.
Sharp Knife
Having a good sharp knife, with a good sized blade and a handle with a nice grip is essential for chopping a swede! A good sized blade means that you can chop your swede in one fluid motion rather than needing to saw away at it. This applies for any large vegetable, having a decent knife is always going to make cooking much easier and safer.
Potato Ricer
This one is optional as you can use a masher, but ricers make mashing up veg even quicker and easier. It's also quite fun to use.
You'll tend to get a smoother consistency from using a ricer than you will from using a masher, so it depends what your preference is as to which one you choose.
If you try this recipe, leave a review below! Reviews help bloggers get their recipes out there in the eyes of Google. And if you want to save it for later, why not bookmark it or save on Pinterest using the images below?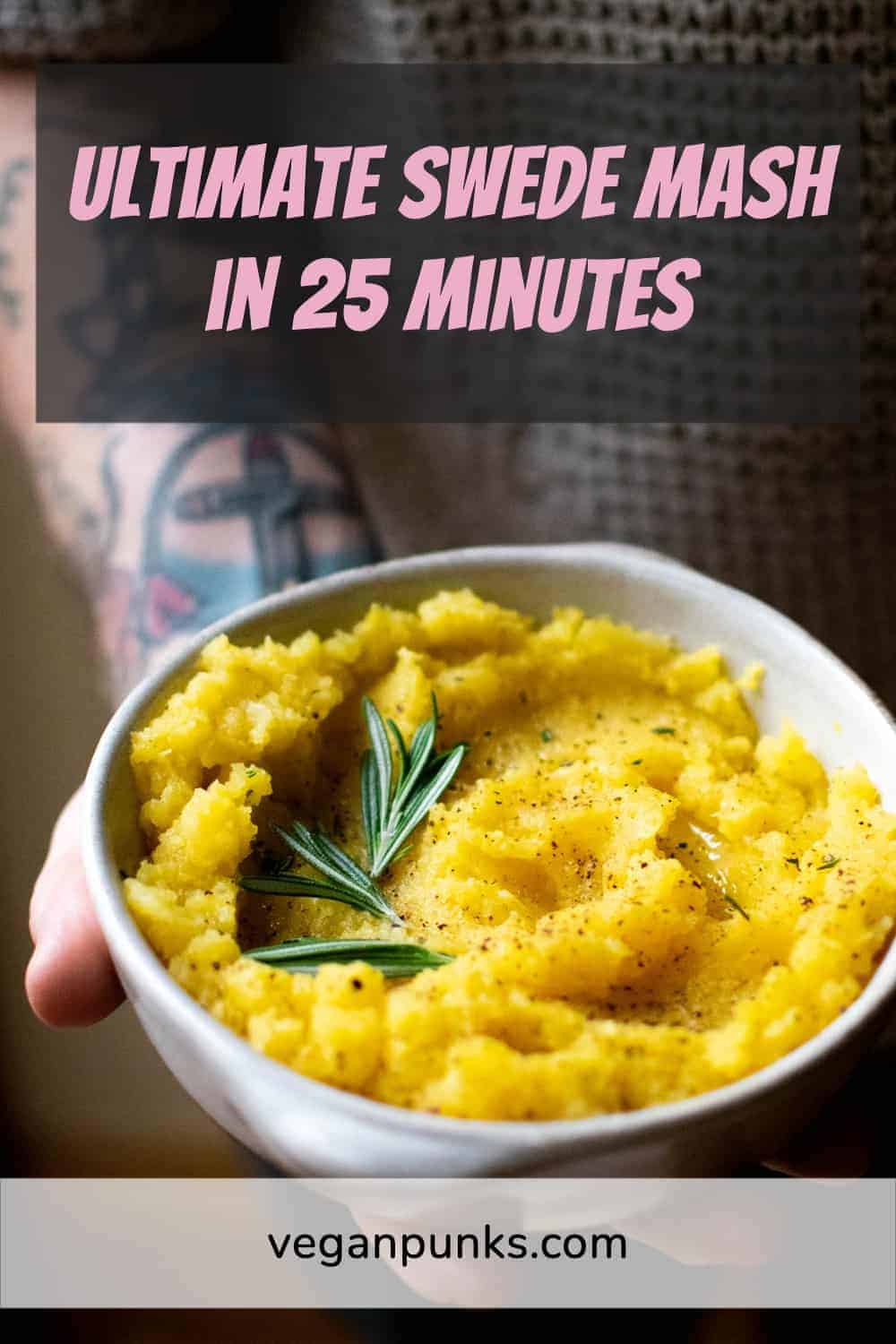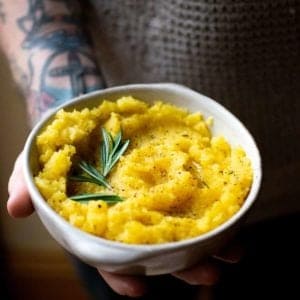 Ultimate Buttery Swede Mash in 25 minutes!
This swede mash takes just 25 minutes, is utterly indulgent and a great alternative (or addition!) to mashed potato.
Print
Pin
Rate
Ingredients
700

g

swede

– peeled and chopped into small chunks

3

tbsp

vegan butter

Salt and Pepper
Instructions
Fill a large pan with water and bring to the boil.

Once the water's boiling, carefully pop the chopped and peeled swede in.

Boil for 20 minutes. Pierce with a fork to check if it's ready. The fork should enter the swede easily. If not, give it 5 minutes longer.

Drain the swede using a colander, and then put it back into the pan.

Add the vegan butter, salt and pepper, then mash with either a masher or a potato ricer until smooth. It might take up to 10 minutes!

3 tbsp vegan butter,

Salt and Pepper

Make sure there aren't any visible lumps, and then serve as part of a roast dinner or with roasted veggies on top.
Notes
Mashed swede won't get as smooth as mashed potato, but make sure that there aren't any visible lumps.

You could add a splash of oat milk to help create a smoother texture
Nutrition
Calories:
84
kcal
|
Carbohydrates:
10
g
|
Protein:
1
g
|
Fat:
5
g
|
Saturated Fat:
1
g
|
Polyunsaturated Fat:
1
g
|
Monounsaturated Fat:
2
g
|
Trans Fat:
1
g
|
Sodium:
59
mg
|
Potassium:
358
mg
|
Fiber:
3
g
|
Sugar:
5
g
|
Vitamin A:
270
IU
|
Vitamin C:
29
mg
|
Calcium:
50
mg
|
Iron:
1
mg