Silken tofu is a silky smooth and delicate form of tofu. It's a versatile ingredient that can elevate your culinary creations to new heights. In this article, we'll delve into the world of silken tofu. We'll explore the best vegan silken tofu recipes, as well as its origins, nutrition facts, and we'll provide you with a range of mouthwatering dishes to try - that are both sweet and savory. Whether you're vegan, vegetarian or simply looking to incorporate more plant-based options into your diet, silken tofu is a fantastic choice.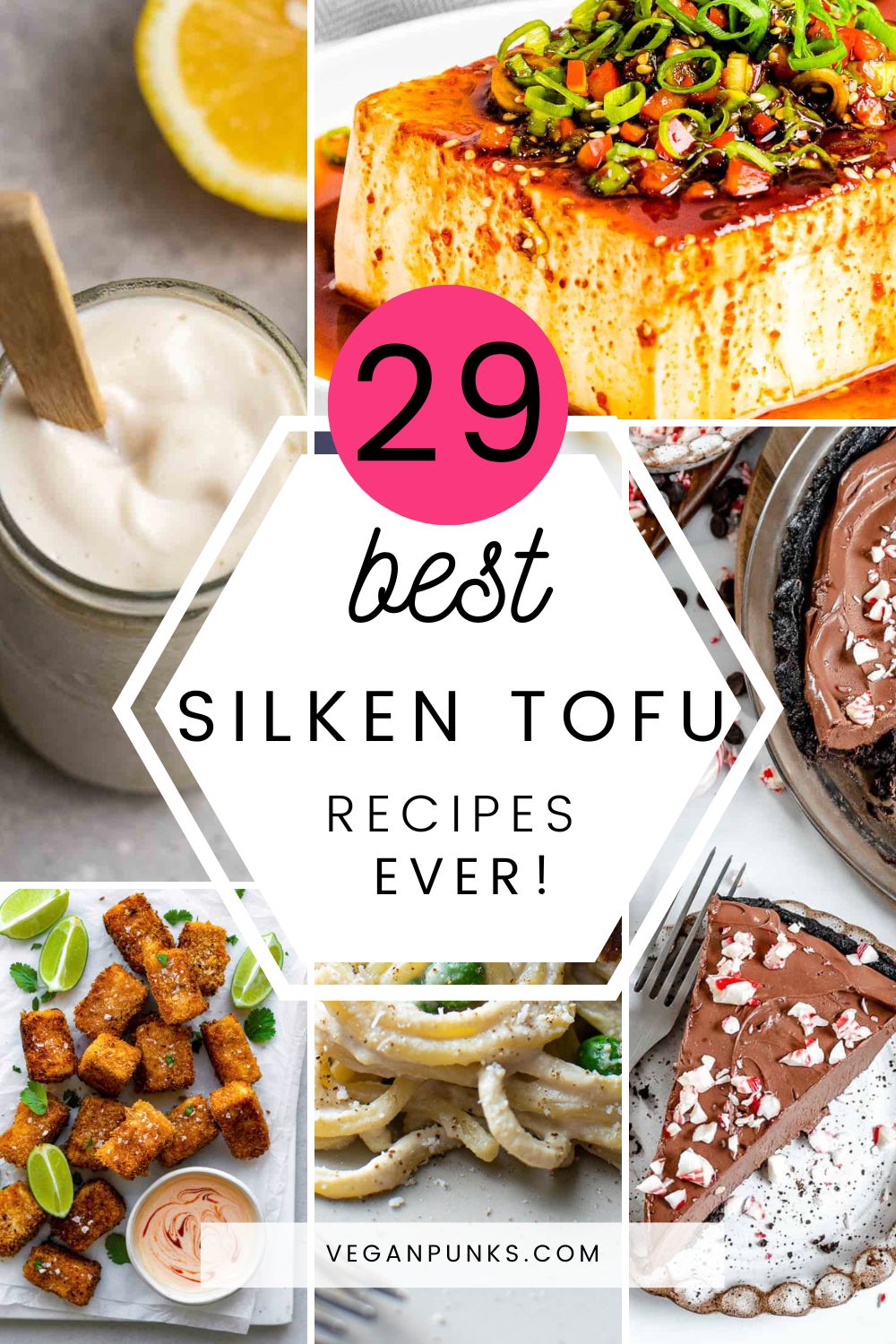 Jump to:
🤔 What is silken tofu?
Silken tofu, also known as soft tofu or silk tofu, has a luscious texture and a subtle flavor. Unlike regular tofu (AKA firm tofu), which has a firmer and chewier consistency, silken tofu has a custard-like quality that lends itself well to both savory recipes like scramble or dairy free sauces, and sweet treats like chocolate mousse or vegan cheesecake. It's a cornerstone for many vegan recipes!
A block of silken tofu is made by coagulating soy milk without pressing it, resulting in a delicate and smooth texture. It's often packaged in a water-filled container to preserve its softness.
👩‍🍳 Techniques and Tips for cooking silken tofu recipes
There are several techniques and tips to keep in mind when it comes to cooking with silken tofu. Silken tofu can be used as a dairy substitute, providing a creamy base for various recipes.
It blends and purees easily, making it ideal for creating smooth textures in soups, sauces and desserts.
Additionally, silken tofu can be used as an egg substitute in baking, adding moisture and structure to your favorite treats.
To ensure the best results, select fresh silken tofu and store it properly in the refrigerator. It also makes a great egg salad or scrambled egg substitute!
Finally, there are different types of silken tofu available, including firm, extra firm, and standard. Firm silken tofu has a slightly denser texture and holds its shape well, while extra firm silken tofu is firmer and holds up to stir-frying and grilling.
Standard silken tofu is the most common type, with a delicate and custard-like texture, making it versatile for various recipes. Choosing the right type of silken tofu depends on the desired texture and the cooking method involved.
Now, let's get into all the best vegan silken tofu recipes.
🍜 Savory Silken Tofu Recipes
🥫 Sauces
🍰 Sweet Recipes
💭 FAQs
🌟 Summary
Silken tofu is a culinary gem, offering endless possibilities in both savory and sweet vegan recipes.
Whether you're a seasoned tofu enthusiast or a curious beginner, incorporating silken tofu into your cooking repertoire can introduce new flavors and textures to your meals.
From savory scrambles to delectable desserts, these silken tofu recipes demonstrate the versatility this ingredient brings to the table. Vegan cooking has never been easier.
So, go ahead and explore the wonders of silken tofu in your kitchen, and don't forget to share your favorite silken tofu recipes with us below!