Oyster mushrooms are an incredible ingredient to cook with – whether you're vegan or not. That's why we've put together this amazing list of the best oyster mushroom recipes, that also happen to be vegan! Our favourite is this oyster mushroom stir fry (with peanut butter!) but we'll give you a lot of ideas in this article. But first, let's get to know oyster mushrooms a bit better.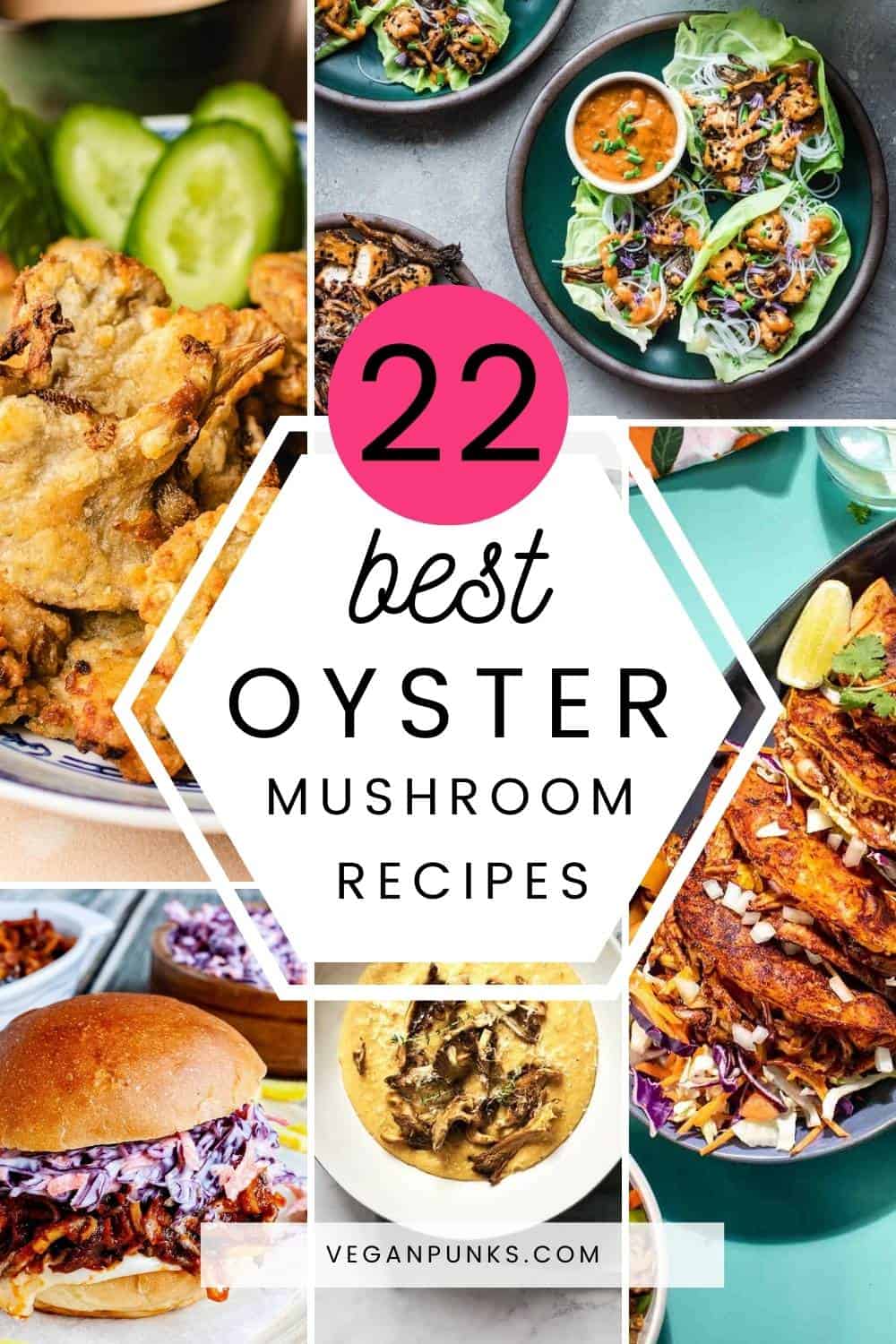 Jump to:
👩‍🍳 What are oyster mushrooms?
To begin with, there are a number of types of oyster mushrooms. They are: king, pearl, blue, pink, golden, phoenix and black. You can find out more about the types of oyster mushrooms on the My Pure Plants blog. But basically, they are a variety of mushroom that are cultivated around the world.
We're focusing on king oyster and pearl oyster mushrooms in this list. As they're the two that are most commonly used, in my opinion. Often used in many types of Asian cuisines, but they are versatile and can be used in a variety of ways!
Pearl oyster mushrooms have very short stems and fan-shaped caps which actually resemble an oyster – which is where they get their name. Talking of names, the scientific name is pleurotus ostreatus – and they're best eaten while young. This is when they are most commonly cooked and are at the most 'fleshy'. Often used to replace meat in dishes to make them vegan. It's a great wholefoods alternative that really packs in the flavour.
King oyster mushrooms, AKA pleurotus eryngii, king trumpet mushroom, eryngi or king brown mushroom, is native to Mediterranean regions, North Africa and the Middle East but also grown in some parts of Asia. They're often used in vegan cooking to replicate scallops, but they have many other uses too!
🍄 Pearl oyster mushroom recipes
👑 King Oyster Mushroom Recipes
💭 FAQs
So which oyster mushroom will you try first? And if you have an oyster mushroom recipe that we've missed, let us know in the comments!
📋 More recipe inspiration