Jackfruit is one of the greatest ingredients for replacing meat in recipes! In this list, you're going to get all the inspiration you need for making the best tinned jackfruit recipes. They're simple, delicious and inspired by flavours from all over the world, like this Jackfruit Curry. But, first of all, let's delve into why jackfruit is such a great ingredient.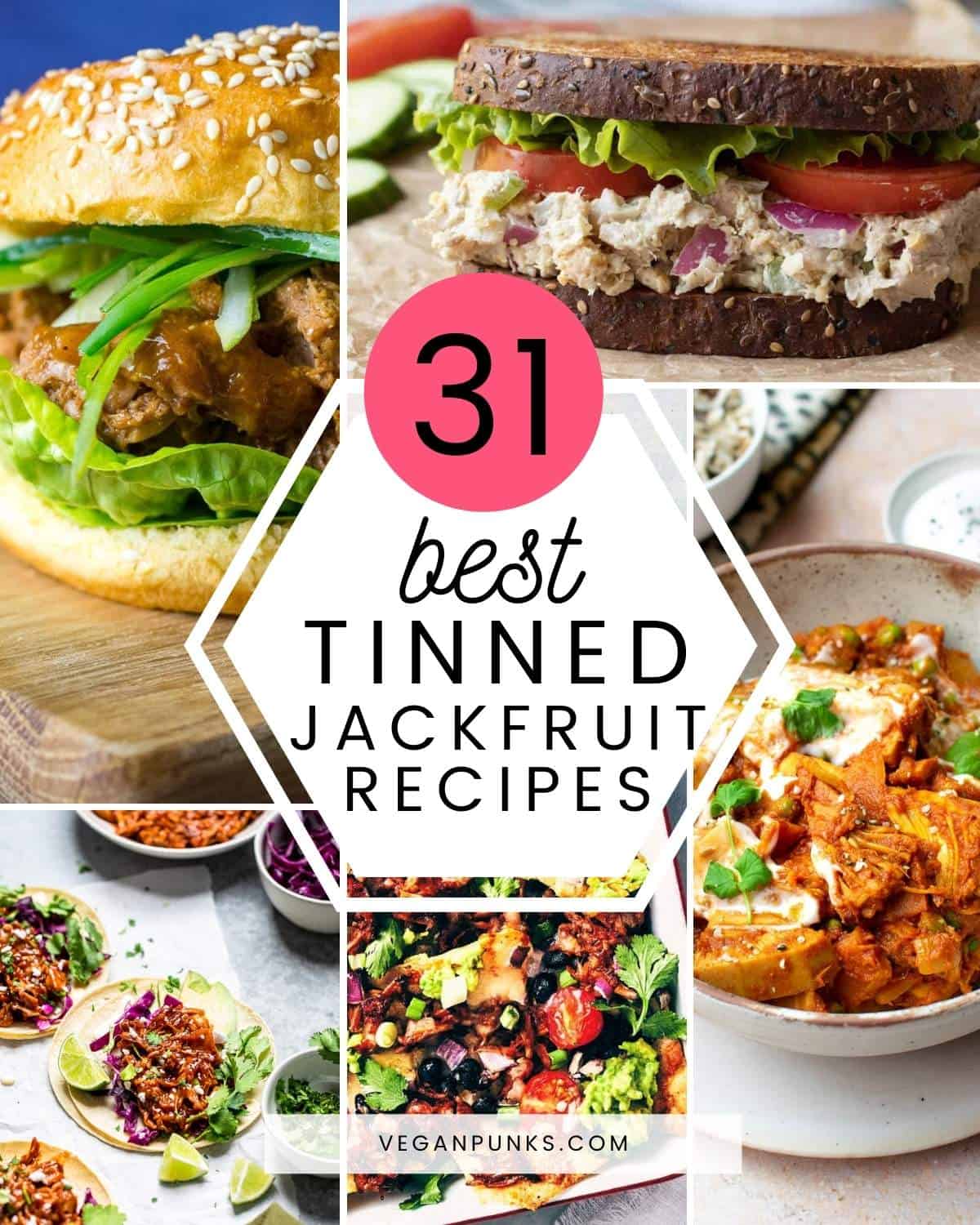 Jump to:
🤔 What is jackfruit?
Jackfruit is a fruit that's grown on trees in tropical climates like south-east Asia, the Caribbean and Brazil.
It's a relative of the fig and breadfruit, and when it's fully grown it has a thick, light green bumpy skin with pods inside of it, that's kind of similar to mango. However, we're talking about jackfruit when it is unripe in this article. When it's underripe, the outside is green and knobbly but the inside is tougher and meatier.
While jackfruit is often used as a meat replacement, as it resembles pulled pork when slowly cooked, it actually isn't a great source of protein. Which I actually found quite surprising! To give you an idea, it has 2 grams of protein per 100g, as well as 95 calories. Find out more about jackfruit.
👩‍🍳 How to cook jackfruit
Jackfruit can be used for savoury and sweet dishes. In this article we'll be focusing on tinned jackfruit recipes, using young jackfruit. The type that is used for savoury dishes, where jackfruit is usually used to replace meat. That means buying jackfruit that comes in brine or water in a tin. Ripe jackfruit is often sold in cans in syrup, so don't get them confused!
Young jackfruit can be slow cooked, BBQd, baked, added to curries, stews and stir fries and even air fried. Basically, it can be cooked using almost any method but it's the flavours that make the biggest difference!
🛒 Where to buy jackfruit
Jackfruit can be bought in lots of major supermarkets in the UK and the US. It's also found in Asian supermarkets and health food stores. It will usually be in the canned goods aisle, near tins of beans and legumes.
It's also often sold in pouches but that's often preprepared in a sauce or gravy, so it wouldn't be great for the recipes in this list. You can also buy jackfruit online, and if you buy a few tins at a time, you usually get a bulk discount which is great for savings!
🍛 Best Tinned Jackfruit Recipes
💭 Canned Jackfruit FAQs
If you loved this tinned jackfruit recipes list, then give it a share on Facebook, Instagram or Pinterest! Did we miss your favourite jackfruit recipe? Let us know in the comments!