This vegan jackfruit curry is entirely plant based, but the jackfruit gives it a lovely 'meaty' texture which we can't get enough of. This recipe has a rogan josh style sauce, which means that it's rich, tomatoey and mild. Plus, there's a lot of sauce for you to get stuck into with some naan bread!
Jump to:
🤔 What is jackfruit?
Jackfruit is a relative of the fig and the breadfruit, and it is widely grown in the Western Ghats of southern India and the rainforests of Malaysia.
We've been eating a lot of jackfruit since coming to Bali, as it's a really popular cooking ingredient all over Asia and especially in Indonesia. As we've been eating it so much, it seemed only right that we share this jackfruit curry recipe with you all! And we love this ingredient so much that we've dedicated a whole article to it. Get even more amazing jackfruit recipe inspiration.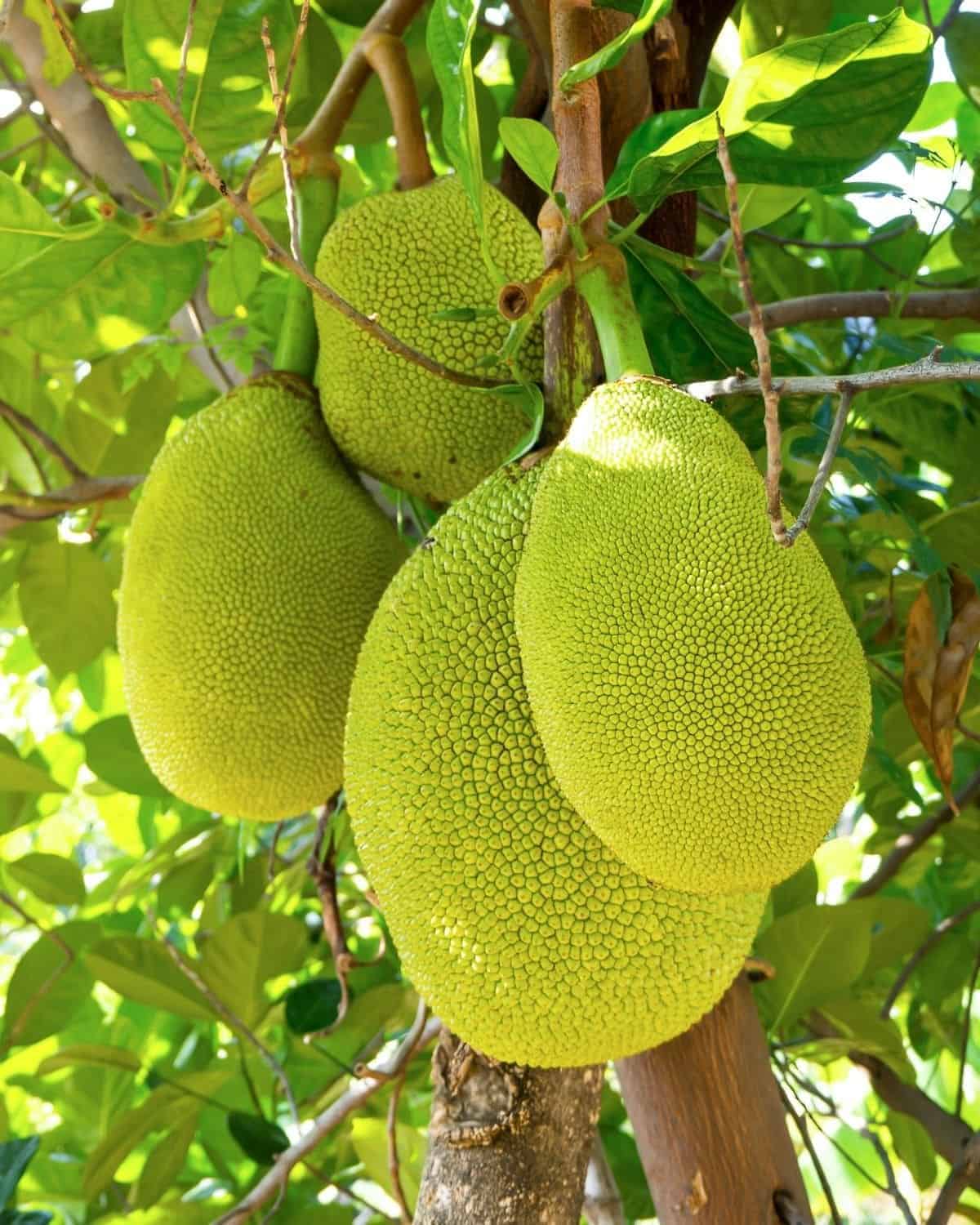 What does jackfruit look like?
Jackfruit looks almost like a cross between a mango and a melon when it's hanging on the tree. It has lots of spikes on its skin, which shouldn't be confused with a durian! When you chop a jackfruit open, you'll notice it has lots of fibres, which is what gives it such a great texture to use in a jackfruit curry.
However, it's unlikely you'll have to actually chop the jackfruit open. It's mostly sold in cans, preserved in brine.
📋 Ingredients
As you've probably come to expect, if you make a lot of curries, then you can make this vegan jackfruit curry using spices that you'll probably already have in the cupboard at home. The only things you may not have are the jackfruit and the fennel powder. You will need:
Garlic
Onions
Fresh ginger
Cinnamon stick
Cloves
Cardamom pods
Paprika
Cayenne powder
Turmeric
Cumin seeds
Garam masala
Coriander powder
Fennel powder
Ground black pepper
Tinned jackfruit in brine
Tomato puree
Passata
Peas (frozen is fine)
Check out the recipe card at the end of this article for detailed quantities. And we hope you're not put off by the amount of spices included! Even though they look like a lot, they're mostly cupboard staples, and once it's all in the pan you just have to simmer the curry. Easy!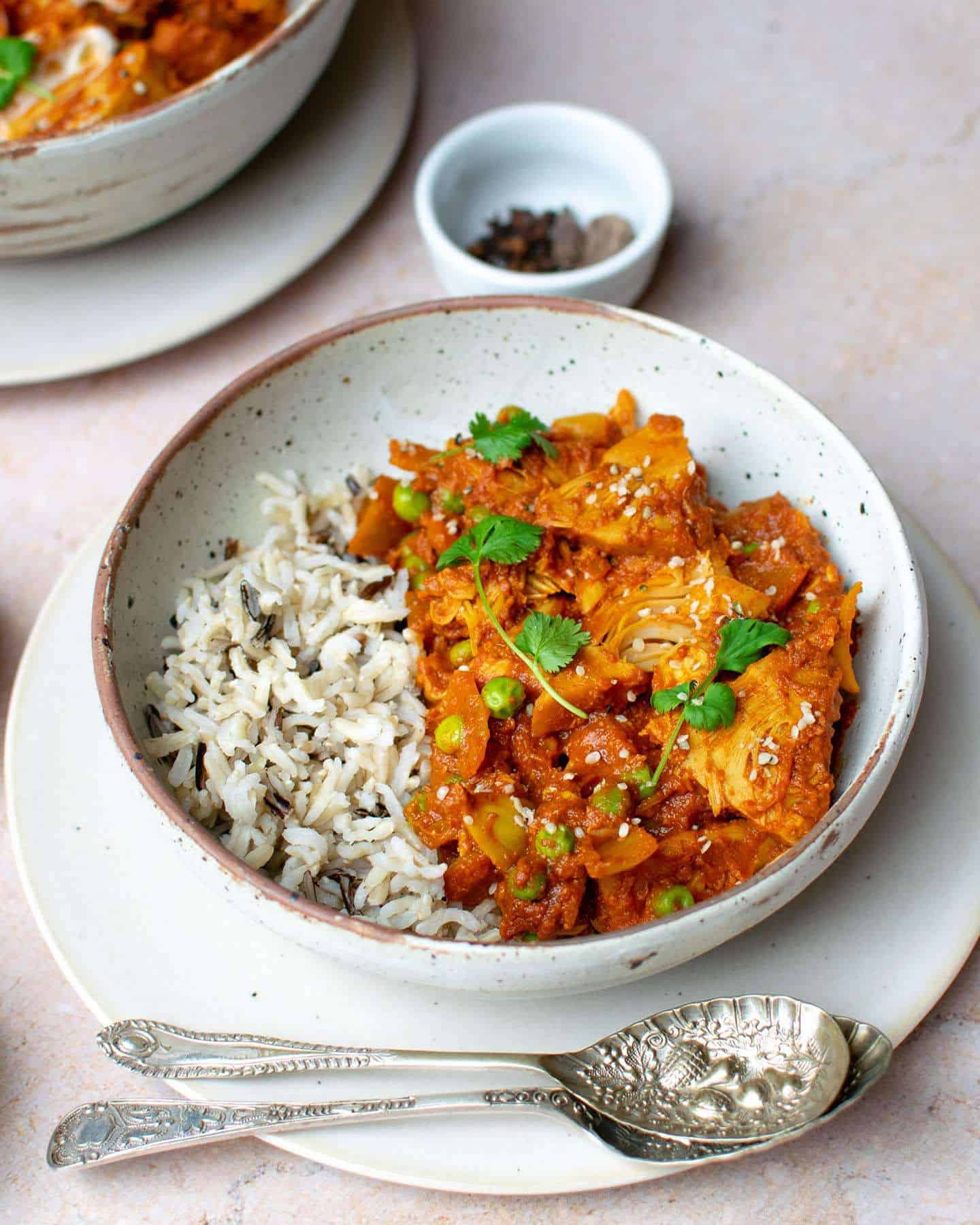 🔪 Step-by-step Instructions
As with any curry, the key to this jackfruit curry is making sure that you really cook down the onions. This infuses the dish with flavour.
First, fry off the onions in a splash of oil for 10-15 minutes. Keep them moving so that they don't burn.
Once the onions are nice and brown add the cumin seeds, cardamom and cinnamon.
Add finely chopped garlic and ginger to the pan.
Pop in the tomato pure and mix well.
Drain the jackfruit and add it to the pan.
Add in the rest of your spices and the cinnamon stick, and give the whole lot a good stir.
Pour in the passata and ½ a cup of water.
Allow the pan to warm so that it is bubbling gently, and then let it simmer for 30 minutes.
Add in the peas and salt to taste. Optionally, top with plain vegan yoghurt and fresh coriander. Serve and enjoy!
For detailed measurements and instructions, please see the recipe card at the bottom of this article.
👩‍🍳 Pro tip
If you're going to make a vegan jackfruit curry, be sure to use young jackfruit, and buy it in a tin in brine. The cheapest we've found it in the UK is in Sainsburys, usually under £1 for a tin. It's widely available in the UK.
We've even tried this Organic Jackfruit by Essential from The VeganKind. This online vegan supermarket has almost everything vegans could dream of! So we would definitely recommend checking it out.
Be really careful that you buy it in brine and not in syrup! A friend of ours accidentally bought it in syrup and ended up having to make a crumble rather than the dinner he'd planned, so don't make the same mistake. We've warned you!
Pro tip 2: we've found that the best way of cooking jackfruit is low and slow. That's why we leave this curry to simmer for 30 minutes with the lid on. Not only will the sauce thicken up, but the jackfruit will take on lots of flavour and will go deliciously soft, kind of like a pulled 'pork'!
💭 FAQs
What if I don't have or don't like Jackfruit?
You can easily switch out the jackfruit for mushroom and potatoes if you aren't a fan or you're struggling to get hold of it. Use 400g of mushroom and 400g of potatoes, pop them into the pan in place of the jackfruit and they'll cook beautifully as the sauce very gently simmers.
Canned jackfruit vs fresh jackfruit - what's the difference?
You'll probably find it quite difficult to get hold of fresh jackfruit if you're in the UK. If you find some, you can use it for cooking, but there are a couple of things to be aware of.

First, if you're making a savoury dish like this jackfruit curry then you should make sure that you're buying either young or unripe fruit. Ripe jackfruit is quite sweet, so it only really works for sweet dishes.

Second, if you're using fresh jackfruit (rather than tinned) you'll probably find it a little more difficult to prepare as it's quite sticky and harder to pull apart. You will need to remove both the skin and the outer part of the fruit as it's only the middle that's suitable for eating.
Can it be frozen?
Yes, absolutely. Jackfruit freezes really well, and we've kept this curry in the freezer for up to three months. It's great to make in advance and freeze, so you always have a healthy 'ready meal' on hand for those lazy days!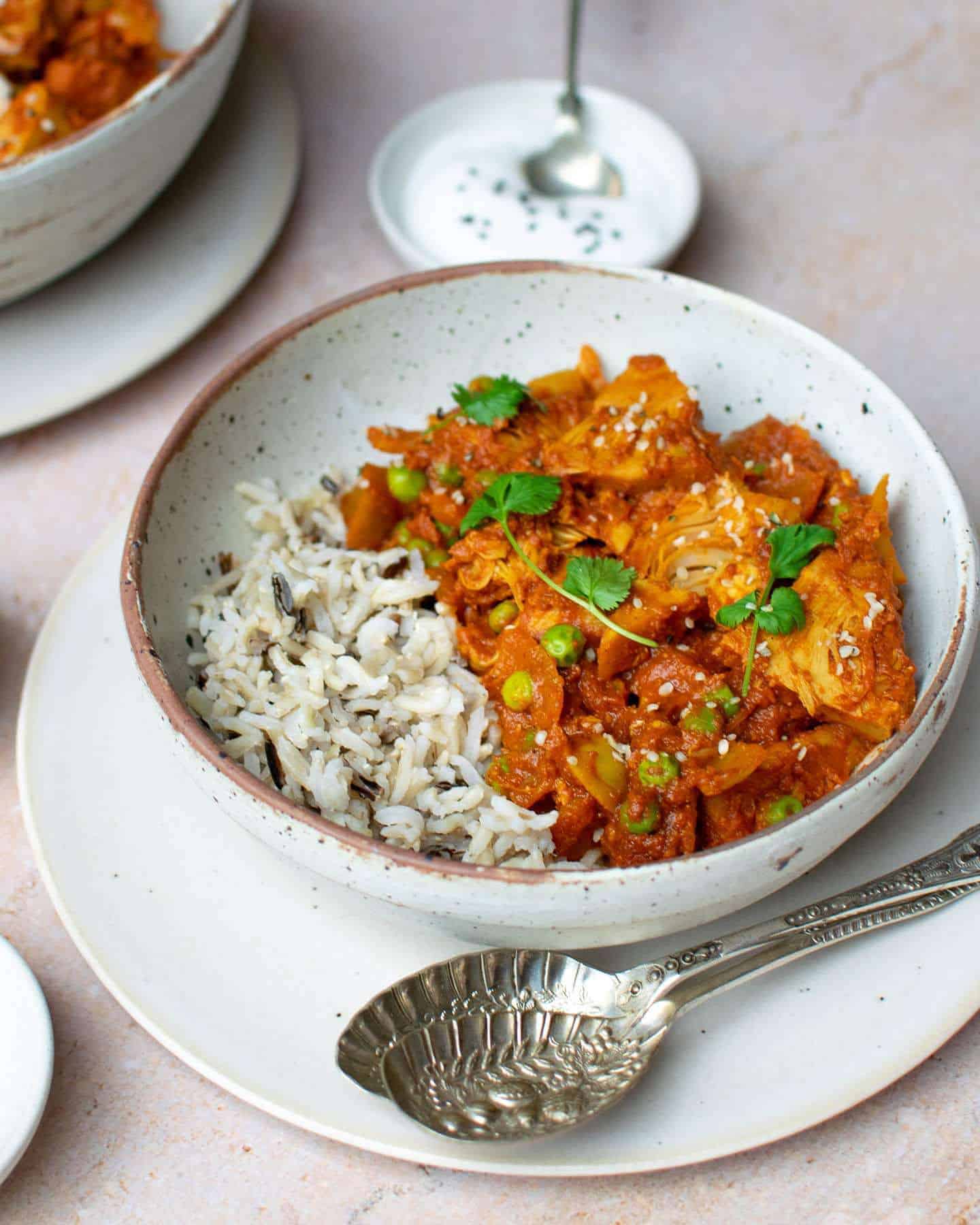 🍛 What to serve with it
The only way to make this delicious jackfruit curry better, is by serving it up with some awesome sides. Wrap your laughing gear around these:
Pilau rice
No curry is complete without rice, and this amazing turmeric infused pilau rice will take your rice game to a whole new level.
Raita
Raita is a cooling yoghurt based dip, complete with cucumber and mint. Our version is made with coconut yoghurt so it's totally vegan, and it is great on the side of a spicy curry or even on it's own for dipping crisps into.
Vegan naan
A saucy curry like this one needs a lovely fluffy naan bread on the side, the problem is that most shop-bought naan isn't vegan! Not to worry though, we've got you covered with this tasty vegan naan bread recipe.
If you like the sound of these vegan Indian recipes, then we bet you'll love these 60+ Vegan Indian Recipes, that we've collated from around the internet from some of the best bloggers going. Oh, and there's a load of our recipes included too!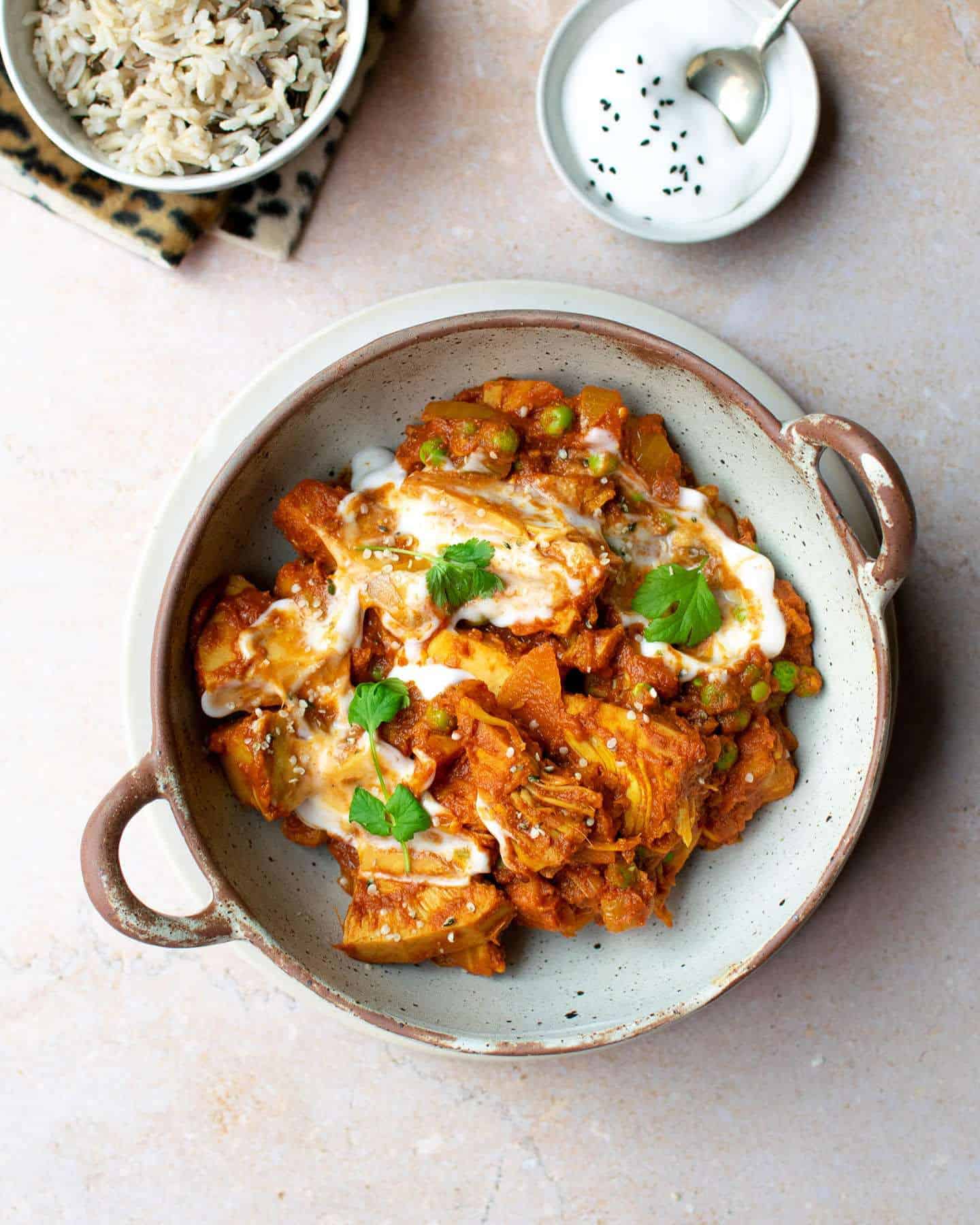 ✨ More inspiration for what to make with jackfruit
Jackfruit is really versatile, and it works really well in any dish where you want a meaty texture - particularly 'pulled pork' style dishes. Some of our favourites are:
Did you make this recipe? Leave a review and a rating below, or tag us in your photos on Instagram! Alternatively, bookmark it in your browser or save to Pinterest for later.

If you love our content, please consider supporting it by buying us a coffee.
📖 Recipe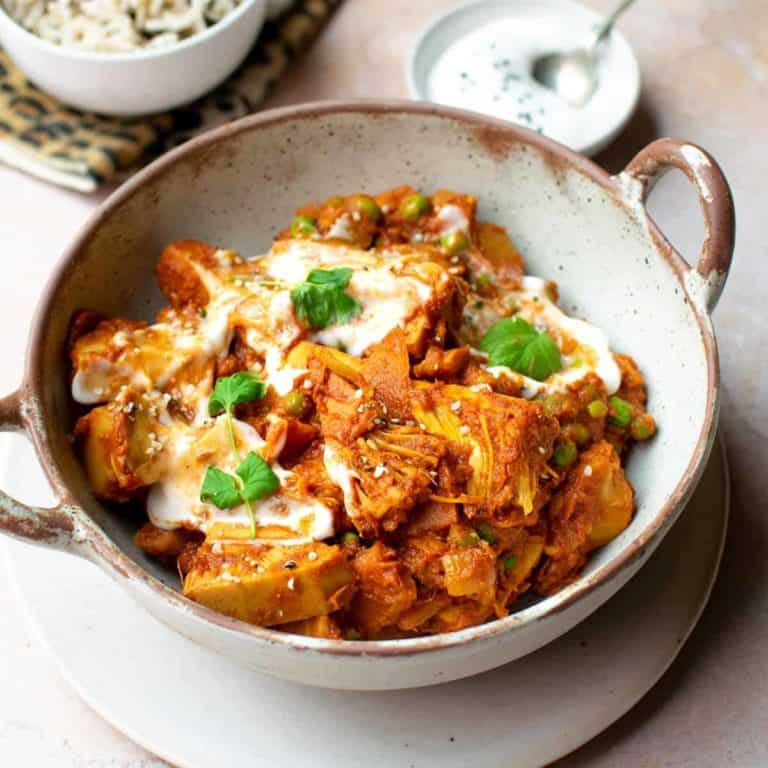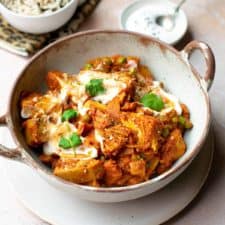 Jackfruit Curry in under 60 Minutes
This Jackfruit Curry has a rich and delicious tomato Rogan Josh style sauce, is super filling and so easy to make. It's on the mild side, yet is full of flavour!
Save
Saved!
Print
Pin
Rate
Ingredients
1

tablespoon

oil

(or a few sprays of 'Fry Light' oil spray)

4

garlic cloves

– crushed

2

onions

– chopped into medium chunks

1

cinnamon stick

2

teaspoon

cumin seeds

4

cardamom pods

crushed

2

tablespoon

fresh ginger

– chopped finely

2

cloves

1

tablespoon

paprika powder

¼

teaspoon

cayenne powder

1

teaspoon

turmeric

2

teaspoon

garam masala

2

teaspoon

coriander powder

½

teaspoon

fennel powder

¼

teaspoon

ground black pepper

960

g

tinned jackfruit

(500g drained weight)

2

tablespoon

tomato puree

500

ml

passata

125

ml

water

110

g

peas
Instructions
Put a splash of oil in a large sauté pan, heat over a medium heat and then fry off the chopped onions for 10-15 minutes. Keep them moving so that they don't burn.

Next add the cumin seeds and cardamom.

2 teaspoon cumin seeds,

4 cardamom pods

Pop finely chopped ginger and garlic in the pan. Careful not to burn the garlic, so keep it moving for a minute.

2 tablespoon fresh ginger,

4 garlic cloves

Add the tomato puree and mix well.

2 tablespoon tomato puree

Put the drained jackfruit into the pan and stir.

Immediately add the rest of the spices and the cinnamon stick, continue to stir.

1 cinnamon stick,

2 cloves,

1 tablespoon paprika powder,

¼ teaspoon cayenne powder,

1 teaspoon turmeric,

2 teaspoon garam masala,

2 teaspoon coriander powder,

½ teaspoon fennel powder,

¼ teaspoon ground black pepper

After 1 minute, pour in the water and the passata, mix well.

500 ml passata,

125 ml water

Bring up to a simmer, cover and allow it to simmer slowly for 30 minutes, covered. Check on it half way through and stir, just to make sure it isn't sticking. If it is, turn the heat down!

Finally, add the peas and salt to taste. Optionally, top with fresh coriander and plain vegan yoghurt. Serve with rice, naan and raita.
Notes
If you can't find (or don't like) jackfruit, you can replace it with 400g chopped chestnut mushrooms, and 400g of chopped potatoes (into small 1-2cm chunks). Just put them in place of the jackfruit. The potatoes will cook well in the sauce.
As there are a fair few powdered spices to add, measure them out before you start cooking and put them in a small bowl or ramekin. Then you can just put them all in at once without having to worry about measuring each one out whilst you're cooking.
Nutrition
Calories:
382
kcal
|
Carbohydrates:
85
g
|
Protein:
6
g
|
Fat:
5
g
|
Saturated Fat:
1
g
|
Polyunsaturated Fat:
1
g
|
Monounsaturated Fat:
3
g
|
Trans Fat:
1
g
|
Sodium:
74
mg
|
Potassium:
1107
mg
|
Fiber:
10
g
|
Sugar:
11
g
|
Vitamin A:
1825
IU
|
Vitamin C:
33
mg
|
Calcium:
198
mg
|
Iron:
5
mg