Have you ever tried to find vegan naan bread in the supermarket? It's a pretty tall order! That's why we've created this easy vegan naan recipe that needs just 8 ingredients. They're the most fluffy, soft and yummy naans ever!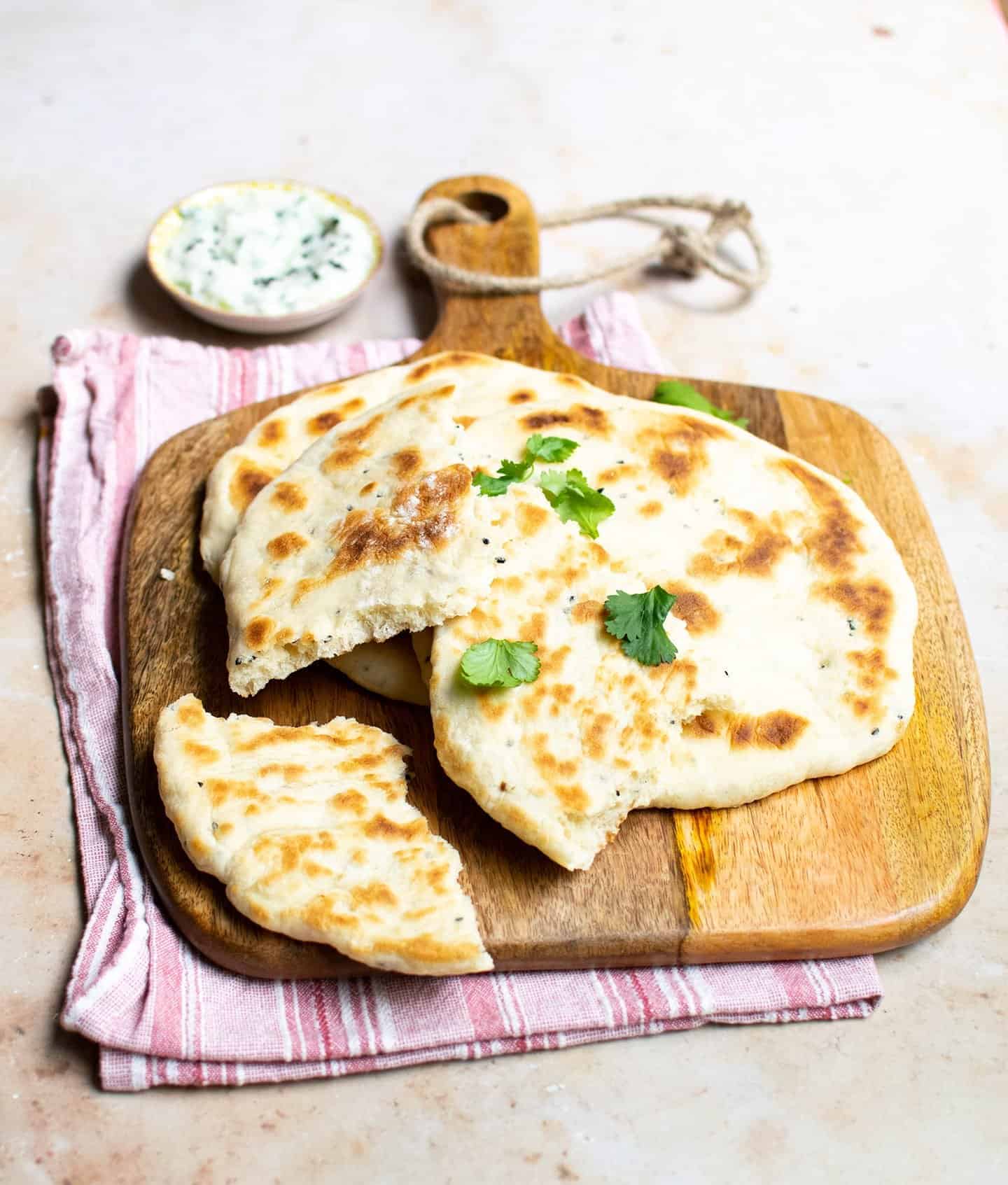 Jump to:
Homemade vegan naan is much better than anything you'll find in the shops.
Our recipe is super easy, and quick too. They only take 15 minutes once they've proved, and the proving time provides a great opportunity to make a delicious curry. Try making a delicious jackfruit curry, palak chana, tikka masala or pumpkin chickpea kale curry to dip it in.
📋 Ingredients Notes
Garlic – you can make vegan garlic naan bread by adding 3-4 cloves of garlic to the mixture. Make sure you peel it and mince it up first.
Fresh coriander – roughly chop a handful of coriander and throw it in too!
Nigella seeds – A couple of pinches of Nigella seeds will add a slightly nutty, onion flavour. They can be overpowering but delicious in small quantities.
What vegan yoghurt is best to use? We've found that plain coconut yoghurt gives the best results when making this recipe. Our favourite brand is Koko, it just seems to work well every time. You can use any type of smooth unsweetened plant yoghurt and you'll get great results.
Check out this video for a visual guide to making them:
🔪 Step-by-step instructions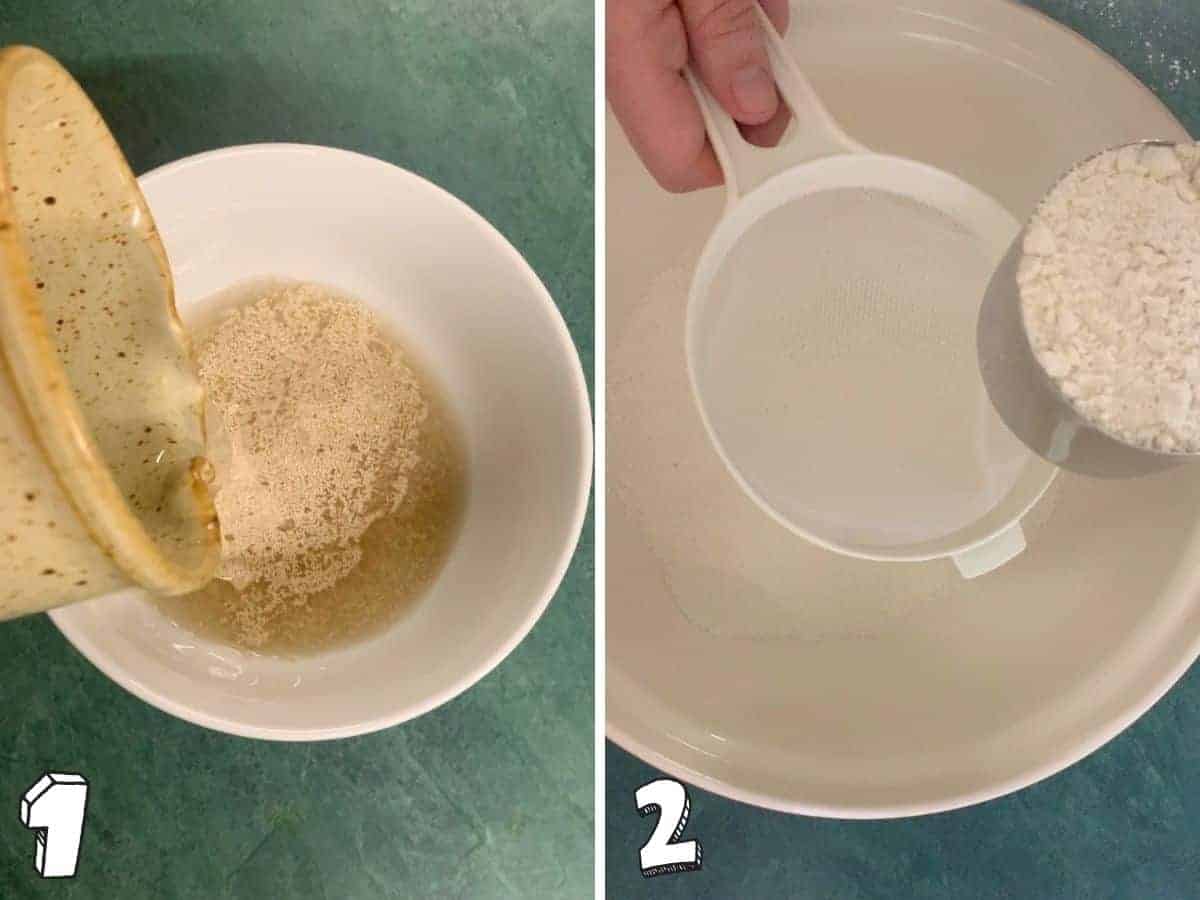 1. The first thing to do is activate the yeast. Do this by putting it in a small bowl along with the lukewarm water and coconut sugar. Set this to one side, as it will take around 10 minutes. Use your fingers to mix the yeast, sugar and water. Don't use a metal spoon as this can deactivate the yeast.
2. While the yeast is activating, sieve the flour, salt and baking powder into a large bowl and mix together.
3. Once the yeast has activated – you will be able to tell if it has because it will be bubbling or foaming. Then add the yoghurt and oil to it and mix together.
4. Pour the yeast and yoghurt mix into the dry ingredients and mix them together with a wooden spoon or your hands. The mixture should be quite sticky.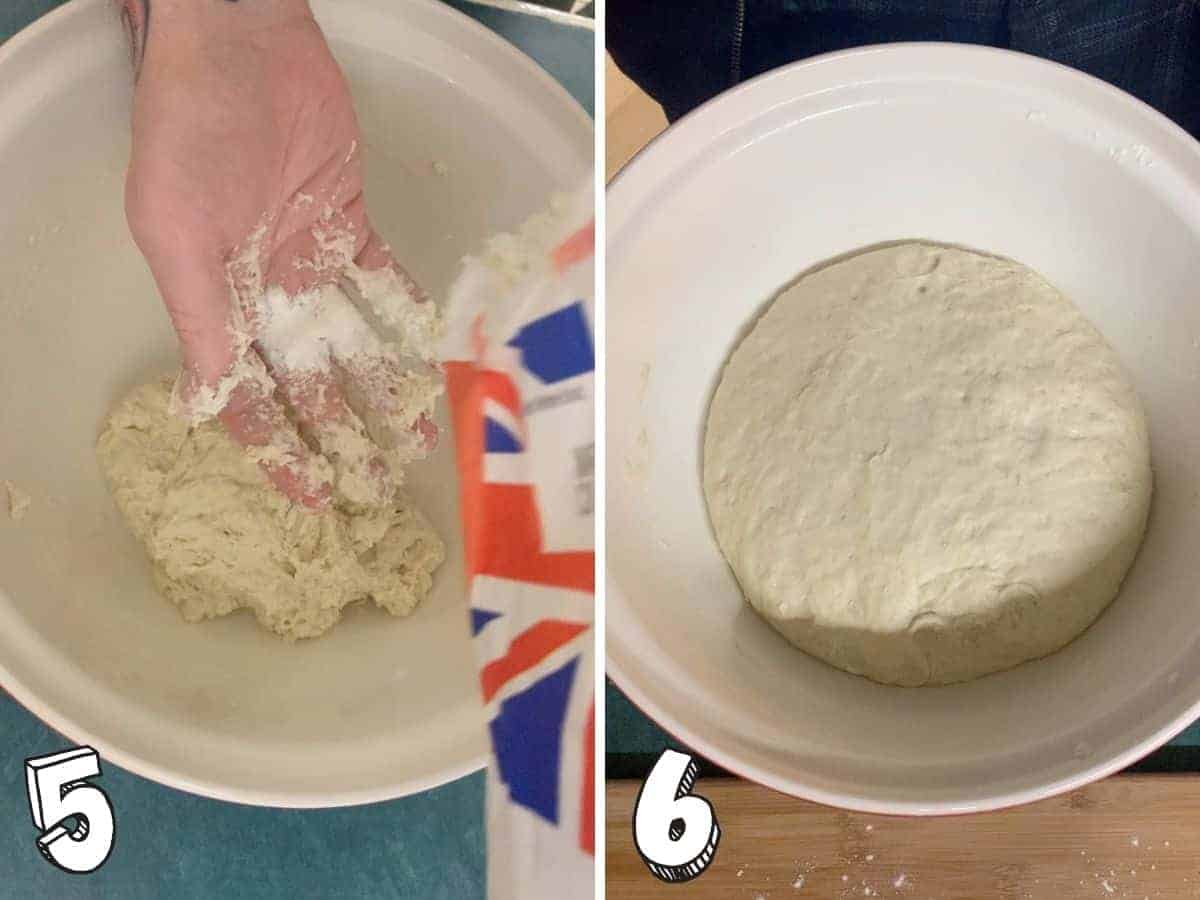 5. Next, knead the mixture. To do this, add a little flour to the bowl, and coat your hands in flour, too. Use your hands to work the dough for around a minute. If you find that it's too sticky to work then you can add a little more flour, but do this sparingly! Too much flour will make the mixture dry, so only add a tiny bit at a time.
6. Take the dough out of the bowl, and grease the inside of the bowl with some oil. Pop the dough back in, and cover it with a damp tea towel. Leave it to rise somewhere warm for 1-2 hours (or up to 4 hours if you aren't using fast action yeast). The airing cupboard is a good place, or anywhere warm in your house that isn't in direct sunlight. We've tried resting the dough for 1, 2, 3 and 4 hours. There wasn't a big difference in the end product, so if you only have an hour, that is fine!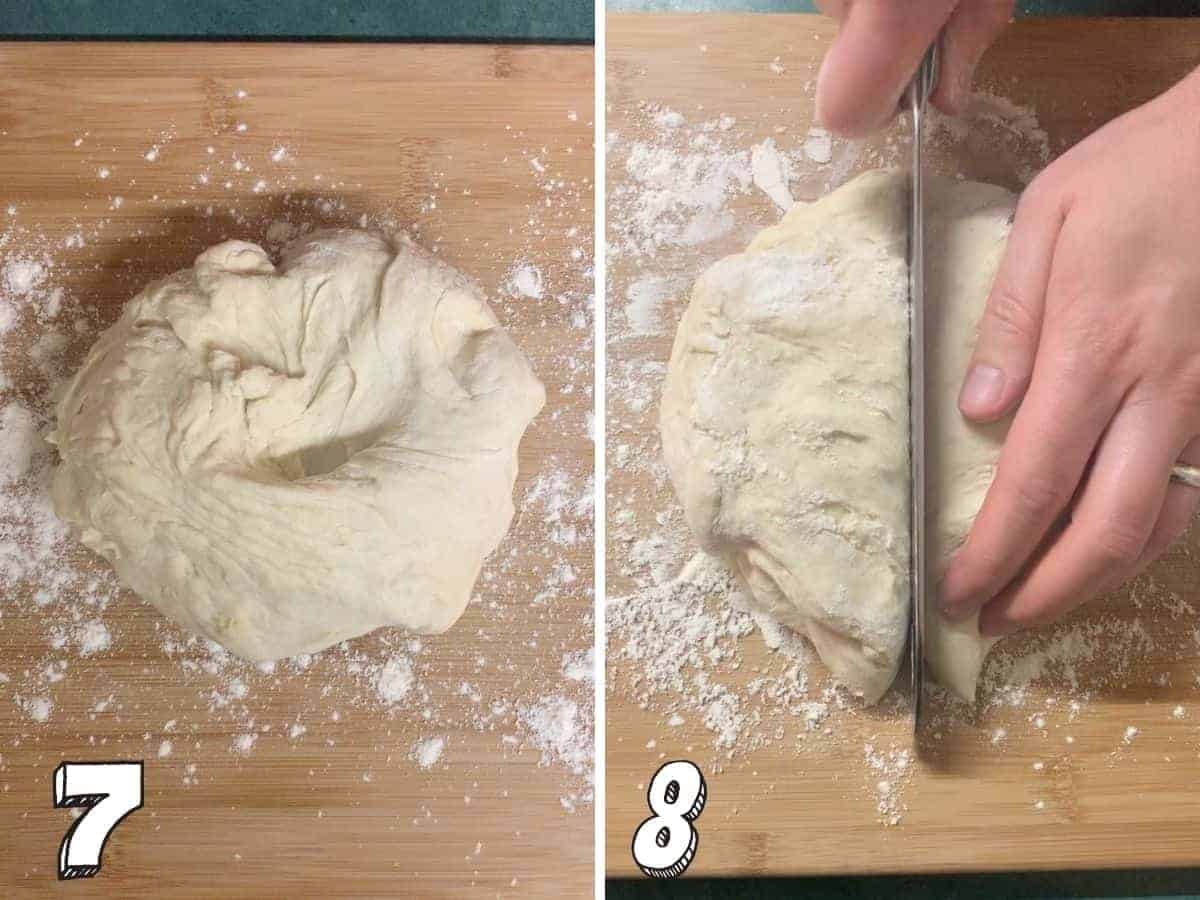 7. Sprinkle flour over a clean, dry, work surface and put the dough on it.
8. Divide the dough into four equal pieces - each one will make a single naan.
9. Give each piece of dough a quick knead, and then leave to sit for 10-15 minutes. If you're planning to use any extra ingredients like garlic or coriander, get them ready while your dough is sitting.
10. Next, get the vegan naan bread ready. Roll or press the dough into a rough oval shape, and if you're using toppings, press them into each one.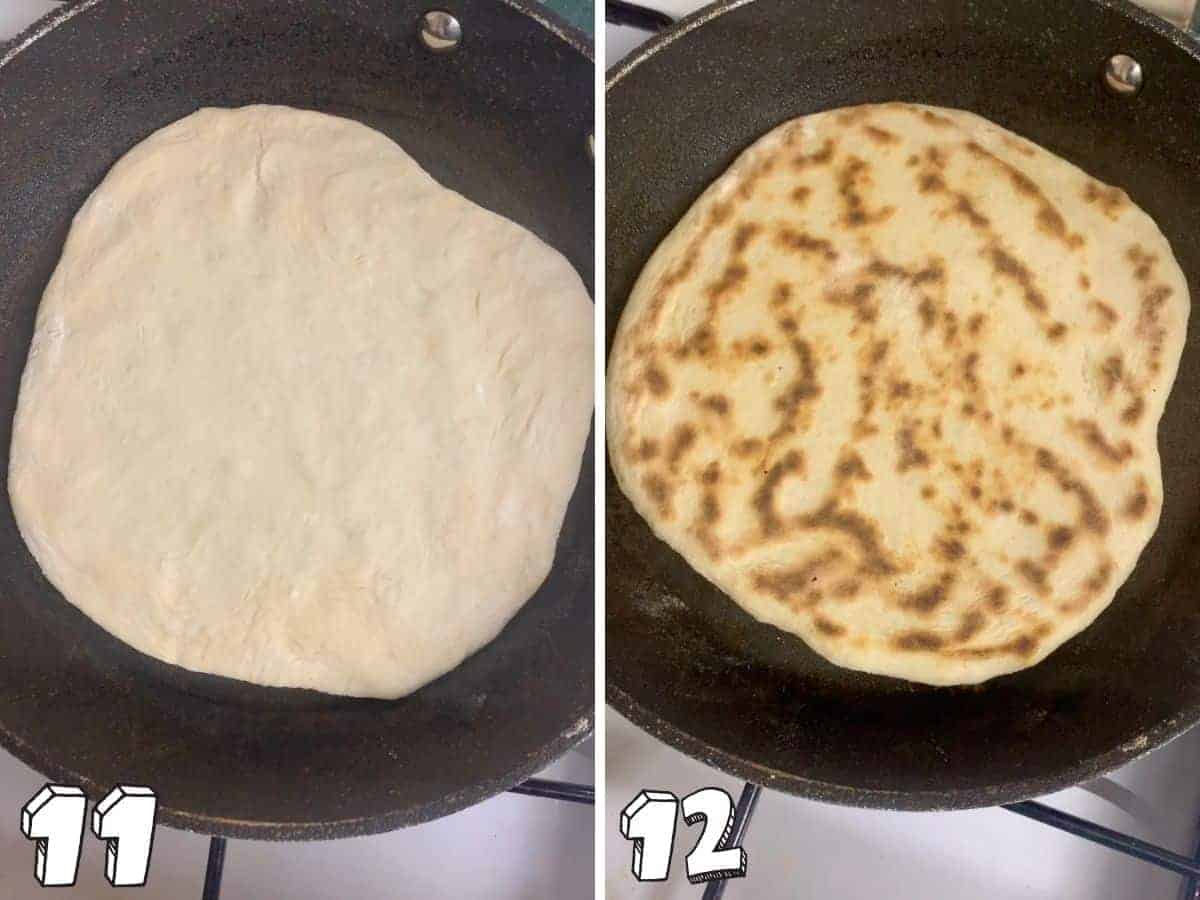 11. Get a non-stick pan (cast iron if you have it) and heat it up over a medium heat. A thick-bottomed pan will work the best as it will hold the heat better.
12. Put one naan into the pan. Cook for a couple of minutes until you see the dough start to bubble. When the dough is starting to bubble, flip it over to the other side. Cook until the bread has puffed up, and both sides are browned. The first side will take around 3 minutes and the second side will be around 1-2 minutes. Repeat until you have four delicious vegan naans!
👨‍🍳 Expert tips
Is naan bread vegan usually?
Not usually, no. Naan bread is traditionally made with yoghurt which means that it's not vegan or dairy-free. We've made vegan naan bread by using plant-based yoghurt instead.
A note on proving
Proving is a really important part of making this recipe. When you leave the dough to prove, gases are released as the yeast ferments the dough. This makes the mixture lighter and softer, which is how you get a yummy fluffy naan.
Wet a tea towel, use it to cover the bowl with the dough in it and leave it somewhere warm. You can get away with proving your dough for an hour, but the longer the better. Anywhere up to four hours is fine.
For the yeast
Make sure you use fast action yeast, this will make sure your vegan naan bread is light and fluffy.
Allow your yeast to activate before using it by mixing it with warm water (not hot or cold, but lukewarm). You'll know when it's activated because it will start to bubble. It usually takes about 10 minutes for the yeast to activate. Yeast that isn't fast-acting will take longer to activate.
If you use cold water, the yeast won't activate. In addition, if you use water that's too hot, the temperature will kill off the active part of the yeast and it won't work either.
In addition, don't use yeast that's too old, as yeast can become inactive if left too long in the cupboard.
Sieve the flour
Sieving the flour is important because it gets air into the mixture, just like baking a cake. The air is part of what makes your vegan naan bread fluffy and light.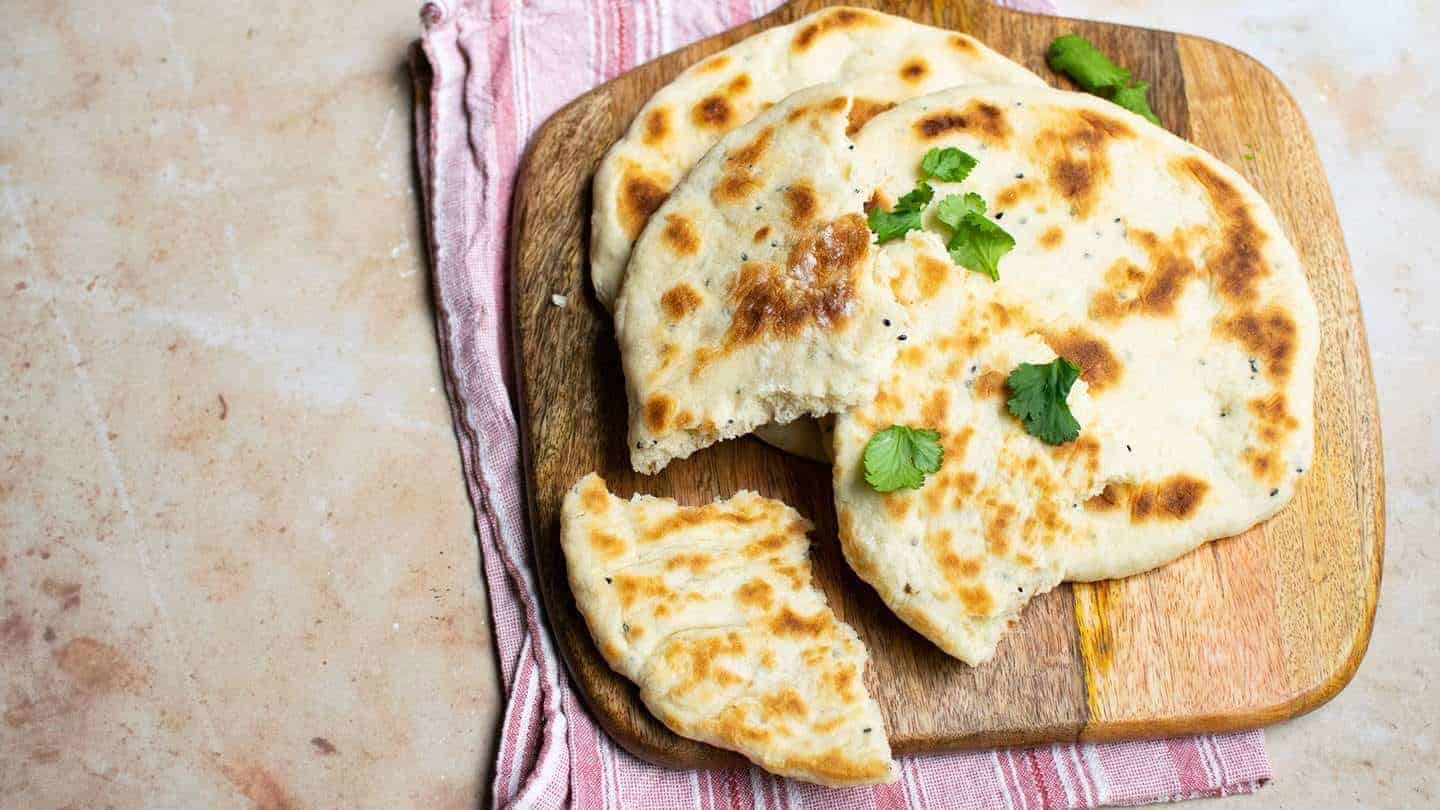 💭 FAQs
Can you buy vegan naan bread?
It's still not readily available. Some world food shops will sell it, and so do Morrissons in the UK. Homemade naans taste much better though!
Can I make them ahead and freeze them?
Yes, absolutely! They freeze really well and can be heated straight from frozen. Just pop them in the oven on Gas Mark 5/190°C for about 10 minutes.
Where does naan come from?
Naan bread is traditionally found in Indian cuisine, as well as in the homes of families across South Asia and beyond (these days!). It's thought to have originated in India when yeast arrived there from Egypt, in around 1300 AC. Originally it would have been made in a Tandoor oven, which is a very hot metal or clay oven. You can achieve the same results by cooking vegan naan bread in a hot pan.
What does yoghurt do in naan?
The yoghurt changes the texture of the bread, making it softer and lighter than other types of bread. We've achieved the same thing with our recipe by using plant-based coconut yoghurt.
Can I make different variations of vegan naan?
Absolutely! The best part of cooking is experimenting to see what you like best. Before you put them into the pan to cook, add whichever toppings you like. We'd suggest garlic, coriander, nigella seeds, vegan cheese and flaked almonds as a good place to start.
🍛 What To serve With It
We think that vegan naan bread is best served on the side of a delicious curry, with all the trimmings! Check out some of our curry recipes for some inspiration:
🇮🇳 More Indian Bread Recipes
Are you searching for even more vegan Indian bread recipes? Then you've come to the right place! In our article for 60+ of the best vegan Indian dishes around, there's a whole section dedicated to bread!
Did you make this recipe? Leave a review and a rating below, or tag us in your photos on Instagram! Alternatively, bookmark it in your browser or save to Pinterest for later.

If you love our content, please consider supporting it by buying us a coffee.
📖 Recipe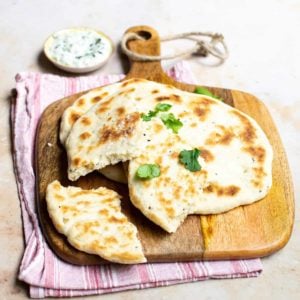 Ultimate Vegan Naan Bread
Vegan naan bread might take a little bit of effort and time to make, but the end result is worth it. We promise! Try adding fresh coriander, nigella seeds and fresh garlic to take them to the next level.
Save
Saved!
Print
Pin
Rate
Ingredients
¾

cup

warm water

1

teaspoon

fast-action yeast

1

teaspoon

coconut sugar

or brown sugar

2

cups

plain flour

½

teaspoon

salt

¾

teaspoon

baking powder

2

tablespoon

olive oil

or rapeseed oil

3

tablespoon

coconut yoghurt

(unsweetened)
Optional:
3-4

cloves

garlic

- minced

Handful of fresh coriander

- roughly chopped

1

teaspoon

Nigella seeds
Instructions
Put the yeast and sugar in a small bowl, then add the water and give it a good stir - make sure the water is pretty warm (over 40 degrees centrigrade) and mix with your hands, not a metal spoon. Leave for the yeast to activate.

1 teaspoon fast-action yeast,

1 teaspoon coconut sugar,

¾ cup warm water

Sieve the flour and the remaining dry ingredients in a larger bowl. Also add the nigella seeds now, if using them.

2 cups plain flour,

½ teaspoon salt,

¾ teaspoon baking powder,

1 teaspoon Nigella seeds

Once the yeast mix is bubbling (or foaming), add the vegan yoghurt and oil, give it a stir.

3 tablespoon coconut yoghurt,

2 tablespoon olive oil

Pour the wet ingredients into the bowl of dry ingredients and combine with a spoon to start with. The mix should be fairly sticky.

Add a little flour to the bowl, and to your hands, then gently knead the dough for a minute - if it's sticking to your hands too much, add a bit more flour (but only add enough to be able to successfully knead it without it sticking to you too much).

Lightly grease the large bowl you used to make the dough with some oil, then add the dough back into it and cover with a damp tea towel. Leave to rise in a warm place for 1-2 hours (2-4 hours if you're not using fast action yeast). You can get away with just an hour if you're in a rush.

Flour a clean work surface and empty the dough onto it.

Divide the dough into 4 even pieces. Give each ball of dough a quick knead, then leave to sit for 5-10 minutes. While the balls of dough are resting, prepare the garlic and fresh coriander (if using them).

Press or roll your dough balls into an oval shape. If you're using any toppings, like garlic or coriander, press them into the naan.

3-4 cloves garlic,

Handful of fresh coriander

Heat up a cast-iron or non-stick pan over a medium heat.

Put one naan into the pan and cook for 1-2 minutes. You should see the dough start to bubble up - that's when to flip it. Cook it on the other side for another minute until both sides have some nice brown patches and have puffed up a bit.

Repeat 3 more times and then serve with a tasty curry!
Notes
Make sure the vegan yoghurt is plain and unsweetened, for best results.
Make sure to use fast action yeast and warm water to activate it. Cool water or hot water won't work.
Sieve the flour for even fluffier results!
Adding fresh garlic, nigella seeds and fresh coriander takes these naans to the next level.
This naan freezes really well, for up to three months. Put them in the freezer once cool. Reheat from frozen on gas mark 5/190°C for 10 minutes.
Nutrition
Calories:
315
kcal
|
Carbohydrates:
52
g
|
Protein:
8
g
|
Fat:
8
g
|
Saturated Fat:
1
g
|
Polyunsaturated Fat:
1
g
|
Monounsaturated Fat:
5
g
|
Sodium:
420
mg
|
Potassium:
105
mg
|
Fiber:
3
g
|
Sugar:
1
g
|
Vitamin A:
1
IU
|
Vitamin C:
1
mg
|
Calcium:
59
mg
|
Iron:
3
mg