Vegetable Tikka Masala is a perfectly creamy curry with a hint of spiciness and warming flavours. Baking the marinaded cauliflower in the oven really brings out the delicious flavours! And it only takes 30 minutes to make.
Jump to:
Why we love it
Did you know that tikka masala was voted the UK's favourite curry in 2020? That must be why it always goes down a storm when we serve up our vegetable tikka masala!
Tikka masala traditionally consists of meat (often chicken) roasted in spices, served up in a rich, creamy and slightly spicy curry sauce.
However, in our vegan tikka masala, we roast marinated cauliflower instead because it's got a delicious flavour and is great at absorbing flavour from spices, too. Plus, it's a vegetable that's often overlooked.
Vegetable tikka masala isn't usually vegan because the sauce is made with cream, so in our version we've used plant based cream to make sure it's vegan friendly.
We've made this recipe as simple as possible. That means that whatever your level of experience is in the kitchen, you'll be able to follow it and end up with a delicious veggie tikka masala that's sure to impress!
Read on for how to make vegan tikka masala...
The key to this vegan masala is all in the cauliflower! It's marinated in a delicious spicy mixture and then roasted in the oven for about 15 minutes.
🍽 Equipment
This is a simple recipe so you don't need any specialist equipment. A non-stick roasting tray is needed for baking the cauliflower, a chopping board to safely chop the veggies and a sauté pan or large pan for making the curry in.
📋 Ingredient Notes
Vegan yoghurt. Be sure to choose a plain and unsweetened yoghurt for this. We really like coconut yoghurt (Koko is our favourite), but soy or oat yoghurt work just as well. Just make sure it's unflavoured and unsweetened.
Onion - chopped into medium sized chunks. Generally very important to create a super delicious curry!
Vegan cream. We really like Elmlea plant based cream, but use your favourite brand. Coconut milk or cashew cream also works well.
Cauliflower - chopped into medium chunks. Keep hold of the leaves, there's loads you can do with them! The cauliflower is marinated in a mix of yoghurt and spices before baking it, which is what sets a vegetable tikka masala apart from other vegetable curries. This process is where the 'tikka' part of the name comes from.
Potatoes - chopped into chunks. You can leave the skins on, just be sure to give them a good wash and scrub beforehand
🔪 Instructions
To make this spicy and delicious vegetable tikka masala the first thing you will need to do is marinate the cauliflower. Chuck all of the marinade ingredients into a bowl, and mix them until they are combined.
Add the cauliflower to the bowl and coat with the marinade. Ensure that the cauliflower is well coated so that it soaks up the flavour.
Line a baking tray with parchment paper, and then lay out the pieces of cauliflower on it. Try to spread them out evenly.
Pop them in the oven on gas mark 5/190°C for 15 minutes. You'll need to turn them over once about half way through. This will ensure that they cook evenly.
While your cauliflower is cooking, heat a dash of oil in a pan. We'd recommend a high temperature oil like groundnut or rapeseed. Add your cumin seeds and fry them until they start to sputter.
Once the cumin seeds are sputtering, add your onion and potatoes to the pan and sauté for around 10 minutes.
Now add the garlic, ginger and chillies and fry them for another minute.
Sprinkle over all of the dry spices, and stir the mixture well so that everything is coated.
Mix in the tomato purée.
Pour in the vegan cream and stir well so that everything is combined.
Pour in some water and bring to the boil. Turn down to a medium heat and simmer for 10 minutes.
Add in the peas and heat them through.
By this point your cauliflower should be ready. Remove from the oven, and pop the pieces into the curry, and stir well. Some of the marinade on the cauliflower will naturally fall off into the sauce, making it even tastier.
Season with salt to your liking, and then serve and enjoy!
For detailed measurements and instructions, please see the recipe card at the end of this article.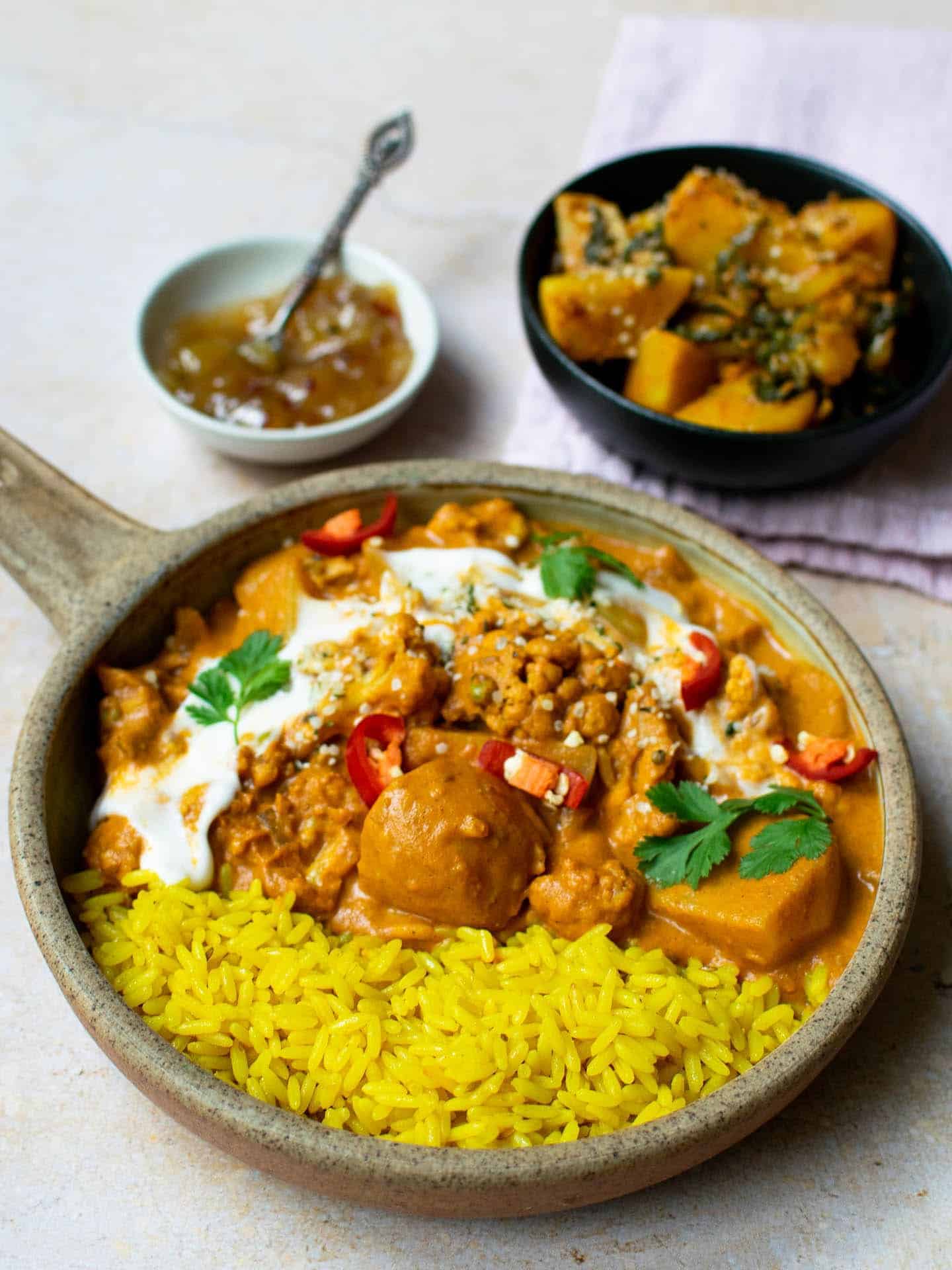 👩‍🍳 Expert Tips
It's a really good idea to test your chillies to see how spicy they are before putting them in your sauce. We have accidentally ended up with an incredibly spicy veggie tikka masala in the past because we have forgotten to do this. So don't do that, like us!
To test your chilli, cut off a tiny bit from near the stalk and taste it to see how spicy it is. You can then add either one or two chillies to this recipe depending on how spicy it is, and how adventurous you're feeling!
💭 FAQs
What does tikka masala taste like?
This vegetable tikka masala contains marinated, roasted cauliflower, served up in a rich and creamy tomato based sauce. It has a medium-spicy, and creamy flavour and feels quite indulgent to eat.

What's the difference between curry and tikka masala?
Masala sauce is more complex than a lot of other curry sauces, and it's made up of a lot of different flavours. It's also a lot creamier than other curry sauces. 

The tikka element of a tikka masala is the main ingredient that is baked in a marinade to make it extra delicious. Traditionally the main ingredient would have been chicken or meat, but in this vegan tikka masala we have used cauliflower which tastes even better.
Can it be frozen?
Absolutely! Vegan tikka masala is a great dish to keep in the freezer ready for those days when you just can't be bothered to cook.

We'd recommend separating it into portions before freezing, as this will mean you can just defrost what you need, rather than having to deal with an enormous block of frozen food. It will keep well in the freezer for up to three months.
Can I use other veg?
Yes, definitely. We think the combination that we've listed for our veggie tikka masala here works really well, but there are loads of other variations that you could try. Carrot, sweet potato and mushrooms in particular would all work really well in this curry, but experiment with local, seasonal veg. That will reduce your carbon footprint too!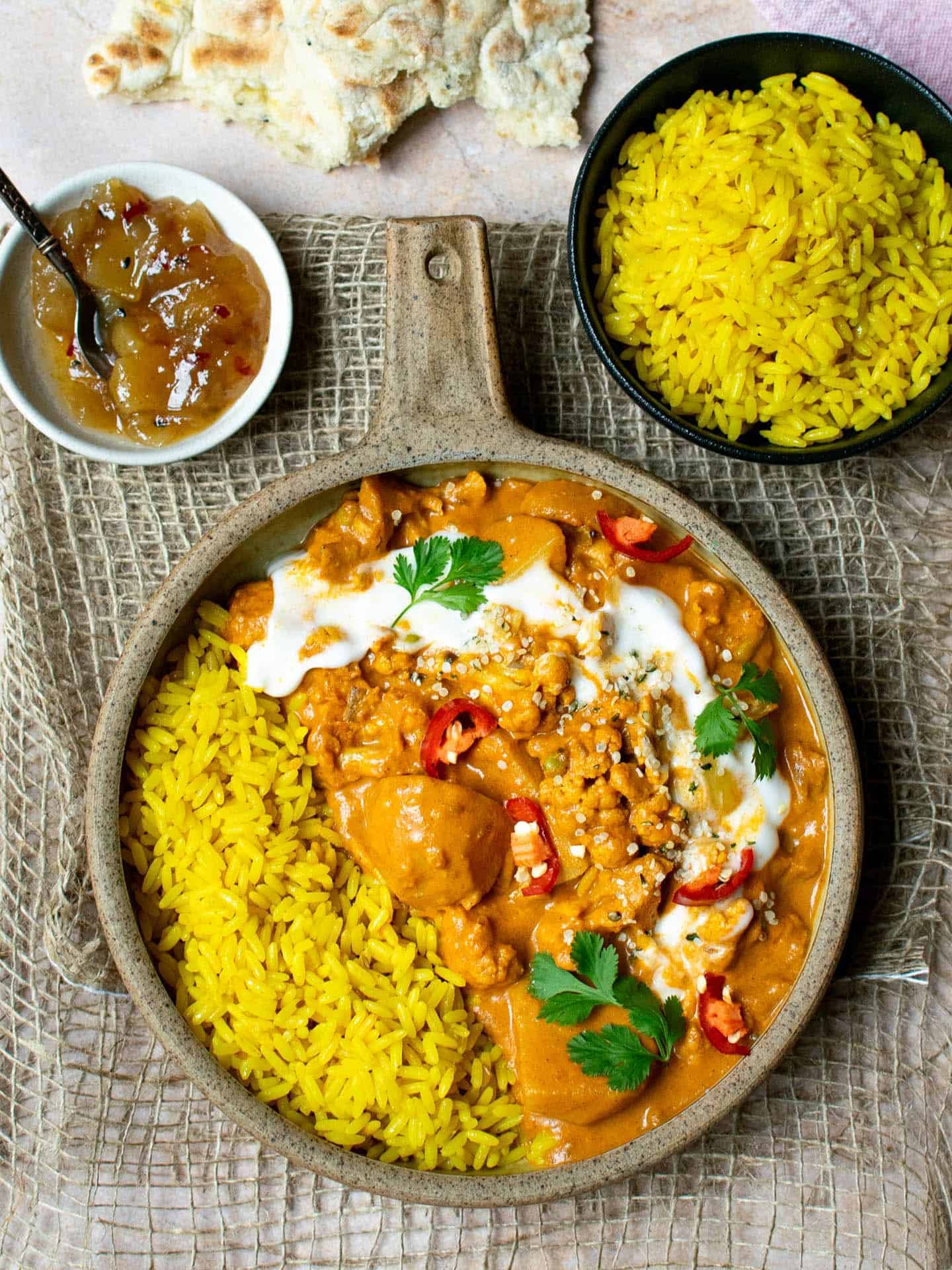 🍛 What to serve with it
As with any curry, vegan tikka masala is best served with all of the side dishes you can lay your hands on!
Naan bread
If, like us, you have been missing naan bread since going vegan then you have to check out our ultimate vegan naan bread. It's deliciously fluffy and soft, and nowhere near as complicated as you might think to make! We've chucked a bit of garlic in too, to make it extra tasty.
Pilau rice
Curry and rice go together like… well, curry and rice! We've come up with a foolproof way to get perfect pilau rice, every time, without having to use a rice cooker. The rice is simple to make and delicately flavoured so that it perfectly complements most curries, and it really pulls your meal together.
Mushroom bhaji
Mushroom bhaji is one of our favourite Indian dishes, because the mushrooms have a lovely meaty texture and they really soak up the rich and delicious flavours of the sauce. Despite the name, mushroom bhaji is actually nothing like onion bhaji, it's a much 'saucier' dish.
Raita
If you accidentally use too many chillies then raita is the perfect way to cool it down. It's a refreshing, creamy dip made with coconut yoghurt, mint and cucumber and it's absolutely delicious. Give it a go on the side of your curry, or even as a dip with some poppadoms.
It goes particularly well with this vegetable tikka masala because the refreshing flavour of the raita contrasts so well with the rich tomato sauce.
🇮🇳 More Indian recipes you might like
If you're interested in making even more vegan Indian food, then head to our article: 60+ Ultimate Vegan Indian Dishes. There's lots of inspiration in this list!
Did you make this recipe? Leave a review and a rating below, or tag us in your photos on Instagram! Alternatively, bookmark it in your browser or save to Pinterest for later.

If you love our content, please consider supporting it by buying us a coffee.
📖 Recipe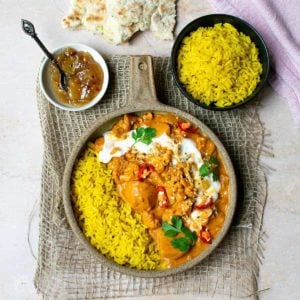 Vegetable Tikka Masala
Vegetable Tikka Masala is a perfectly creamy curry with a hint of spiciness and warming flavours. Bake the marinaded cauliflower in the oven to really bring out the delicious flavours!
Print
Pin
Rate
Ingredients
For the marinade:
120

g

coconut yoghurt

unsweetened

4

tsp

garam masala

4

tsp

paprika

1

tsp

black pepper

½

tsp

salt

½

tsp

cayenne

1

tsp

ground coriander
For the curry:
1

tsp

cumin seeds

1

onion

- chopped into medium chunks

4

cloves

garlic

- crushed

1

tbsp

ginger

- minced

2

green chillies

- minced

1

tsp

garam masala

½

tsp

ground coriander

½

tsp

turmeric

½

cup

tomato puree

250

ml

water

250

ml

vegan cream

400

g

cauliflower

- chopped into medium chunks

350

g

potatoes

- chopped into chunks

110

g

peas

Salt
Instructions
Mix all the marinade ingredients together in a bowl, then add the cauliflower and mix well.

120 g coconut yoghurt

,

4 tsp garam masala

,

4 tsp paprika

,

½ tsp salt

,

½ tsp cayenne

,

1 tsp ground coriander

,

400 g cauliflower

,

1 tsp black pepper

Lay the coated cauliflower our on a baking tray (lined with parchment) and bake on gas mark 5 (190°C) for 15 mins. Turn halfway to make sure they cook evenly.

While the cauliflower bakes, grab a large pan. Fry the cumin seeds off in a dash of oil, until spluttering, then add the onion and potatoes. Sauté for around 10 minutes

1 tsp cumin seeds

,

1 onion

,

350 g potatoes

Then add the garlic, ginger and chillies, continue to cook, stirring continuously for another minute.

4 cloves garlic

,

1 tbsp ginger

,

2 green chillies

Sprinkle the rest of the ground spices over and stir well.

1 tsp garam masala

,

½ tsp ground coriander

,

½ tsp turmeric

Pop in the tomato purée.

Pour in the vegan cream and stir well, it will turn into a delicious deep red sauce.

Add 1 cup of water, bring to a boil and then simmer for 10 minutes. Check that the potatoes are cooked all the way through.

Now add the peas and heat through.

Place the baked cauliflower into the curry and stir well, season with salt to your liking. Some of the cauliflower marinade will naturally fall into the sauce, which will deepen the flavour of the sauce. Sprinkle with fresh coriander and enjoy!

400 g cauliflower

,

Fresh Coriander
Notes
You could use broccoli instead of cauliflower, but reduce the cooking time by 5 minutes.
In the marinade, coconut cream or cashew cream can be used in place of the vegan yoghurt.
Coconut milk can be used instead of the vegan cream in the sauce.
Other veggies can also be used in place of the potatoes and peas. Sweet potato, green beans, carrots and mushrooms will all work well.
Nutrition
Calories:
297
kcal
|
Carbohydrates:
40
g
|
Protein:
8
g
|
Fat:
13
g
|
Saturated Fat:
1
g
|
Polyunsaturated Fat:
1
g
|
Monounsaturated Fat:
1
g
|
Sodium:
455
mg
|
Potassium:
985
mg
|
Fiber:
10
g
|
Sugar:
11
g
|
Vitamin A:
647
IU
|
Vitamin C:
92
mg
|
Calcium:
73
mg
|
Iron:
3
mg