Our favourite thing about a curry is all of the side dishes! It feels like such a treat to enjoy so many different textures and flavours as part of the same meal. In our opinion, Mushroom Bhaji is one of the best.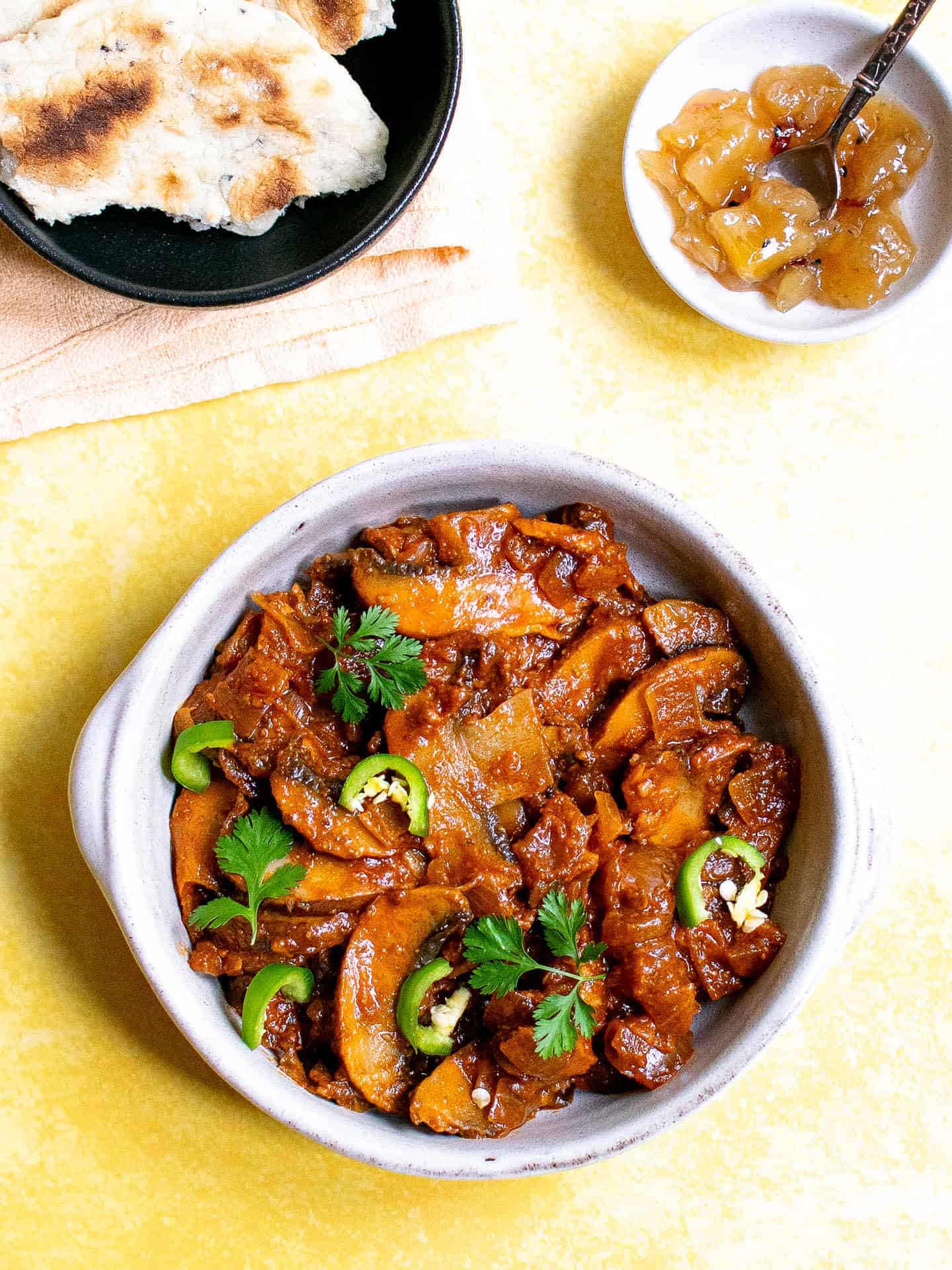 Jump to:
When we order a takeaway we always get a Mushroom Bhaji because it's delicious and almost always vegan (just check that they haven't used dairy ghee). We were inspired to make our own because as we upped our curry game and stopped ordering so many takeaways, we didn't want to have to miss out on one of our favourite sides.
We love this recipe because it's super easy, ready in just 15 minutes and only uses 9 ingredients. Give it a go the next time you want to make your curry night at home a bit more special!
What is Mushroom Bhaji?
The first thing to note about Mushroom Bhaji is that it's nothing like an Onion Bhaji, which may come as a surprise!
Where Onion Bhaji are crispy and can be picked up and eaten (if you don't mind getting oily fingers), Mushroom Bhaji is not crispy and generally needs to be eaten with a spoon or fork.
This difference is partially due to the difference between mushrooms and onions as vegetables, mushrooms will tend to soak up liquid a lot more than onions will. It's also due to the fact that Onion Bhaji are deep fried and Mushroom Bhaji isn't. Good news for those of you who are health conscious.
Bhaji is always a dry dish (e.g. it doesn't come in a sauce) and is always made of vegetables, but you may find that the finished Bhaji differs depending on the veg and the recipe that has been used.
What ingredients you'll need:
You'll only need 9 ingredients to make our Mushroom Bhaji:
Chestnut mushrooms
Onion
Garlic
Ground Cumin
Ground Coriander
Chilli Powder
Tomato Puree
Fresh Coriander (To Serve)
Groundnut or Rapeseed Oil
Once you start cooking, the Mushroom Bhaji will come together pretty quickly. It's a good idea to chop up all of your fresh ingredients, and measure out the spices, before you start.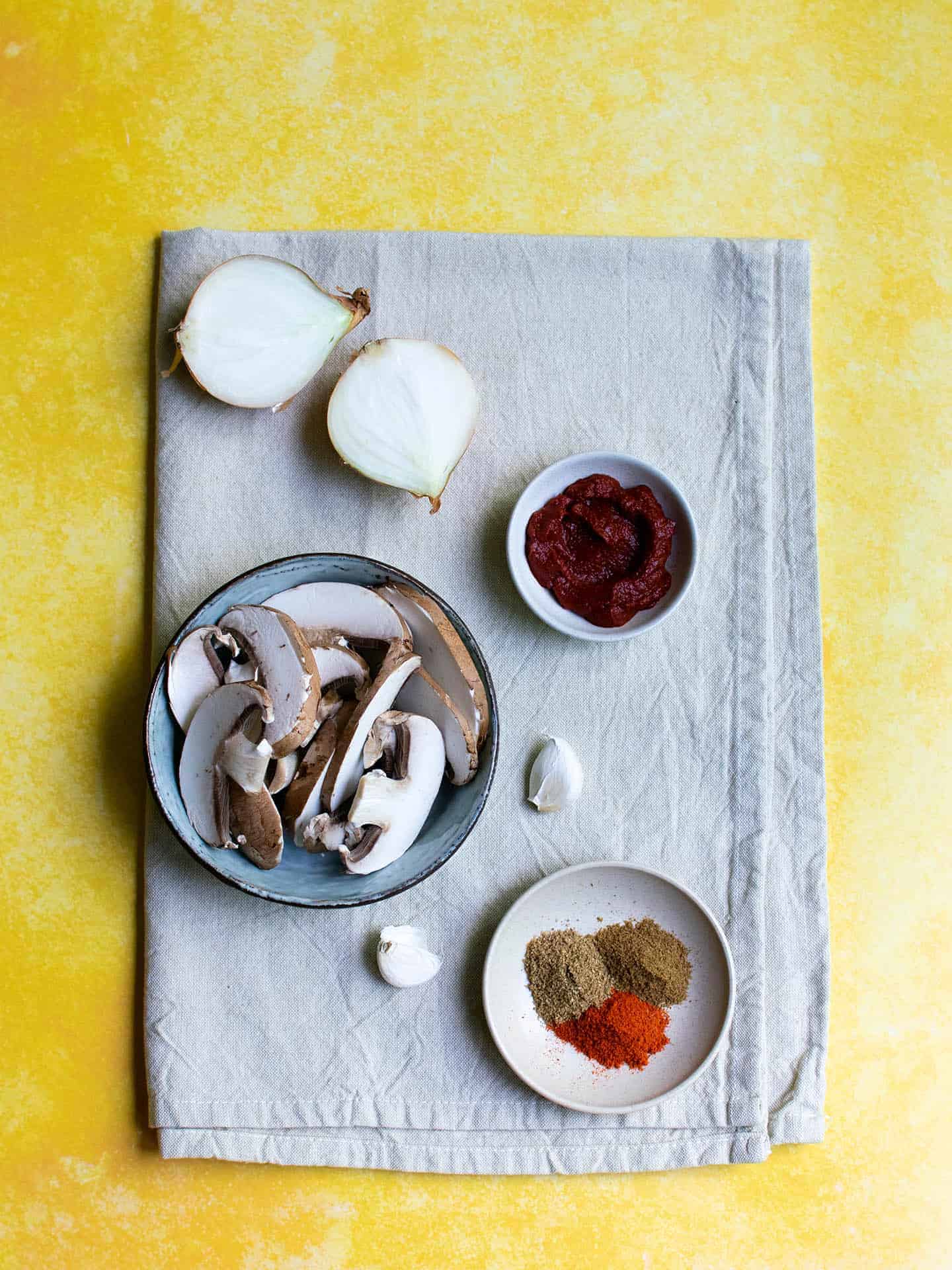 How to make it
The chestnut mushrooms should be sliced to a medium thickness, and the onion and garlic need to be sliced as finely as possible. The mushrooms should be thick enough that they still have a good texture and bite to them after they have been cooked. The onion and garlic need to be fine enough that they can flavour the mushroom without you getting huge chunks of them in each mouthful.
Next take your saucepan or frying pan and heat it up on the hob over a medium heat. Make sure that you use a pan with a lid, as (spoiler alert) you'll need to simmer the mixture later.
Add your oil and give it a moment to warm. We use groundnut or rapeseed oil because they have a high smoking point, which means that they can cook safely at a higher temperature. Once the oil is warm, add the onion and fry until it's soft and slightly translucent.
Put the garlic into the pan, and fry for another minute.
Next add the mushrooms, ground spices and tomato paste to the pan and stir.
Pour some water into the pan along with a good sized pinch of salt and give it a good stir.
Pop a lid on the pan (told you!) and simmer for 10 minutes. Be sure to stir the mix often to avoid it sticking to the pan or burning.
Once it's simmered, you're done! Serve your Mushroom Bhaji up with a sprinkling of fresh coriander on top, and on the side of your favourite curry. You could even serve it as a main dish if you love mushrooms that much! This recipe will serve two people as a main, and four as a side.
If you'd like to give this recipe a try, check out the recipe card at the end of this article for full measurements and instructions.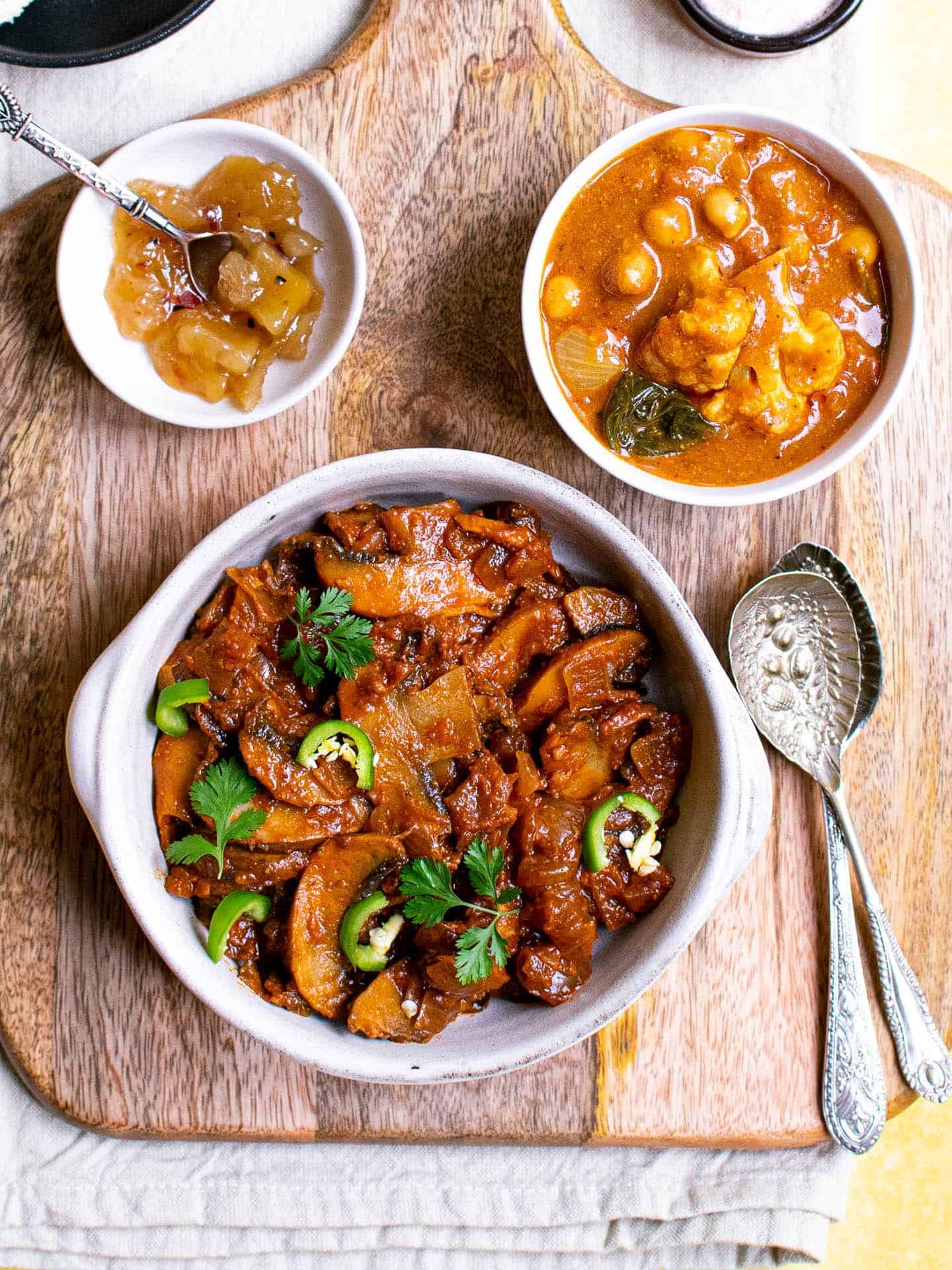 What to serve with Mushroom Bhaji
We really like to have Mushroom Bhaji as part of one big Indian feast!
For the main event, try our Vegan Cauliflower Curry. It's a relatively spicy curry featuring a madras style tomato based sauce, so it's lovely and rich. Cauliflower is great in a curry because it soaks up the flavour of the sauce it's cooked in, while still retaining a nice firm texture.
If you're having a feast, you obviously need more than one side dish! We'd recommend knocking up a batch of our Brinjal Bhaji to have as well. This is Aubergine Bhaji (also sometimes called Begun Bhaji), and it contrasts nicely with the Mushroom Bhaji because of its slightly more aromatic flavour profile. This comes from the Garam Masala that the Aubergine is sauteed in.
Of course, you'll need some sundries. We (especially Dan!) always get more excited about bread than we do rice.That's why we spent so long getting our Naan bread recipe just right. Load up a warm piece of Naan with all three curries, and get ready to enjoy.
We'd also recommend trying the Tarka Dhal by one of our favourite chefs, Erin Baker, from The Natural Cookery School.
Finally, once you've got your bread sorted (the most important bit!) get some Pilau Rice on. When we first learnt how to make it, we were so shocked at how easy it was!
FAQs
What are the best mushrooms to use?
In our opinion Chestnut mushrooms are the best to use. They have the 'meatiest' texture compared with other mushrooms, and they also retain their texture better while cooking. That being said, button, portobello and cremini mushrooms all work well too. Alternatively, you can even use a mixture. Feel free to experiment and use up whichever mushrooms you have on hand and see what you think!
Can it be frozen?
Mushrooms don't really freeze that well. We think that they go quite tough once they have been in the freezer. Sliced mushrooms are definitely better for freezing than whole ones, but they still won't be as tasty as when they are fresh.
Can you add other vegetables?
Definitely! Adding some spinach, cauliflower, broccoli or peppers would complement the mushrooms nicely and give you a really tasty dish. If you decide to add other vegetables you might just need to add extra spices and water to compensate, as the quantities we've provided are based on mushrooms only.
For even more amazing Indian sides, curries, bread and snacks check out our list of 60+ of the best vegan Indian recipes ever.
Did you make this recipe? Leave a review and a rating below, or tag us in your photos on Instagram! Alternatively, bookmark it in your browser or save to Pinterest for later.

If you love our content, please consider supporting it by buying us a coffee.
📖 Recipe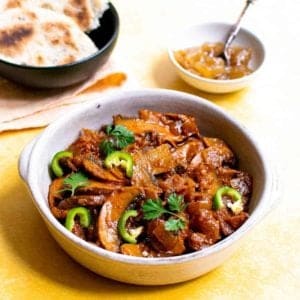 Mushroom Bhaji
Mushroom Bhaji is one of our favourite Indian side dishes, and is seriously easy to make!
Save
Saved!
Print
Pin
Rate
Ingredients
1

tablespoon

Rapeseed oil

250

g

chestnut mushrooms

- sliced

1

onion

- finely chopped

2

cloves

garlic

- finely chopped

1

teaspoon

ground cumin

1

teaspoon

ground coriander

1

teaspoon

chilli powder

1 ½

tablespoon

tomato purée

5

tablespoon

water

Fresh coriander

- chopped, to serve
Instructions
Heat up a saucepan or frying pan (one that has a lid) over a medium heat, add your oil and fry the onion until soft.

1 tablespoon Rapeseed oil,

1 onion

Add the garlic and fry for another minute.

Chuck in your mushrooms, spices, tomato paste and stir in.

250 g chestnut mushrooms,

1 teaspoon ground cumin,

1 teaspoon ground coriander,

1 teaspoon chilli powder,

1 ½ tablespoon tomato purée

Pour in the water, a good pinch of salt and give it a good stir.

Put a lid on it and simmer for 10 minutes, stirring every so often.

Sorted! One rad mushroom bhaji - serve with the fresh coriander on top, alongside your favourite curry!
Nutrition
Calories:
65
kcal
|
Carbohydrates:
7
g
|
Protein:
2
g
|
Fat:
4
g
|
Saturated Fat:
1
g
|
Polyunsaturated Fat:
1
g
|
Monounsaturated Fat:
2
g
|
Trans Fat:
1
g
|
Sodium:
17
mg
|
Potassium:
378
mg
|
Fiber:
1
g
|
Sugar:
3
g
|
Vitamin A:
186
IU
|
Vitamin C:
3
mg
|
Calcium:
32
mg
|
Iron:
1
mg