Brinjal Bhaji, otherwise known as Aubergine Bhaji, is a staple in Indian restaurants all over the UK. And now this vegan recipe takes any Indian 'fakeaway' to the next level!
If you come back to this recipe often, we've made a couple of updates to the recipe. But don't worry, it's just as delicious. The biggest change is that we bake the aubergines on a slightly higher temperature so that they're even softer than they were before. The rest is pretty much the same!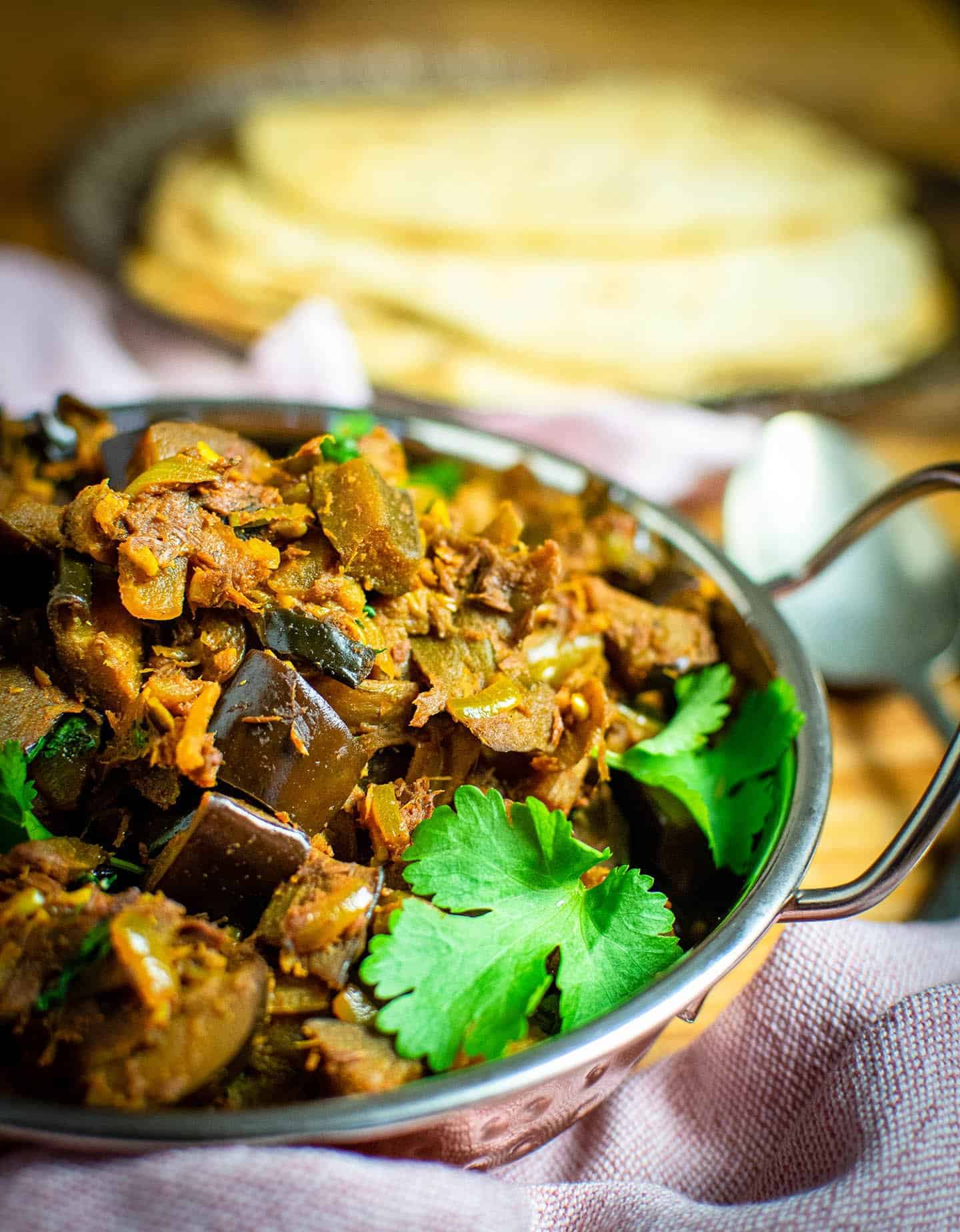 Brinjal bhaji is actually one of our favourite dishes to order at our local Indian takeaway. The combination of the creamy, roasted aubergines and classic Indian spices is a satisfying one!
The dish is filled with chunks of aubergine that's been baked with aromatic Indian spices, topped with fresh coriander and chilli.
Aubergine bhaji is actually also 'accidentally vegan'. You'll probably find that your local restaurant's version of this is completely plant-based too. Make sure to check if they use a dairy ghee to cook it though. It actually isn't typical but it's always best to check!
Another name for this meal – or side dish, is begun bhaji, so keep an eye out for all three of those names when you're ordering!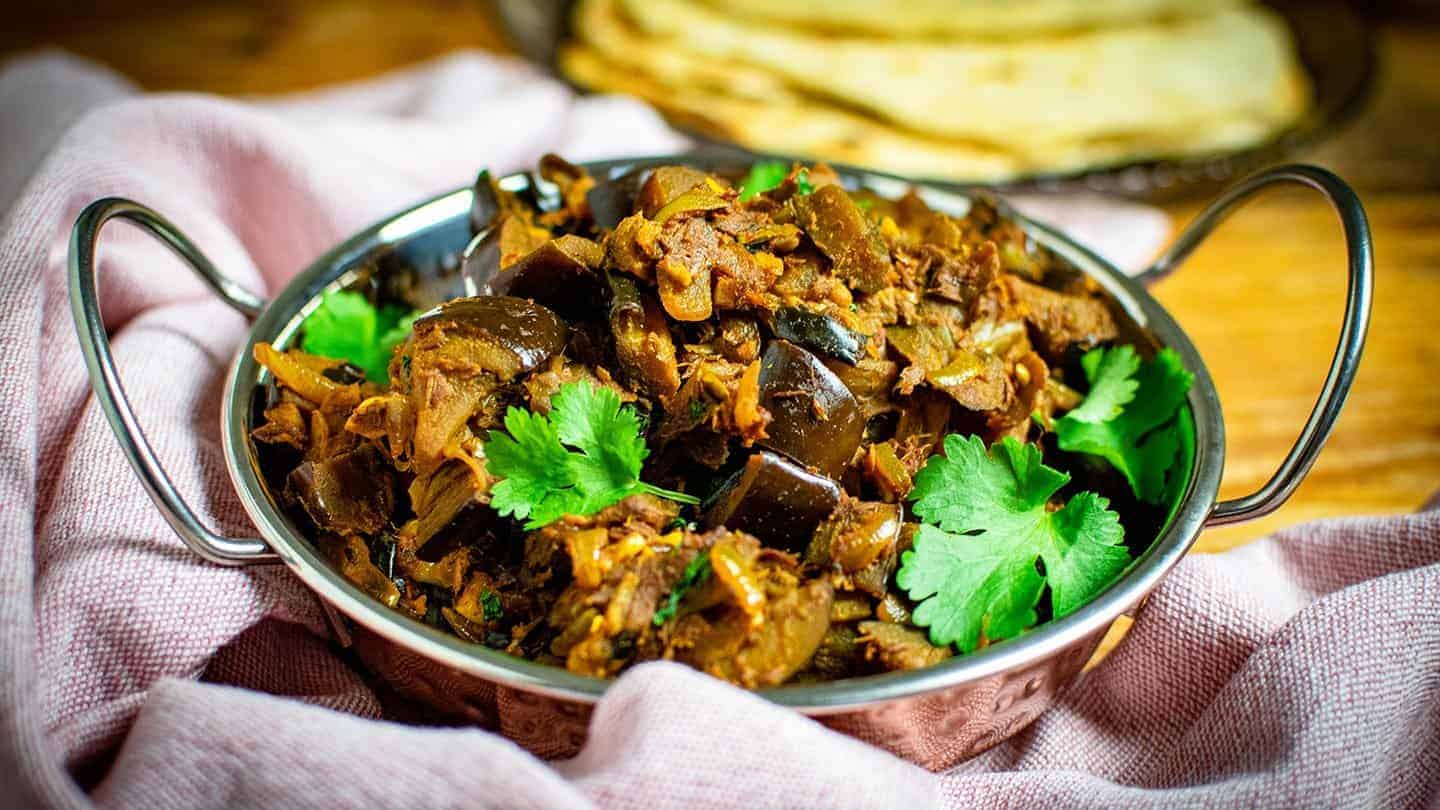 How to make brinjal bhaji
These are the ingredients that you'll need for this brinjal bhaji:
2 large aubergines (around 600g)
1 onion
2 garlic cloves
2 tablespoon tomato puree
Water
To get the incredible flavour, you just need four spices:
Cumin
Coriander
Garam Masala
Chilli Powder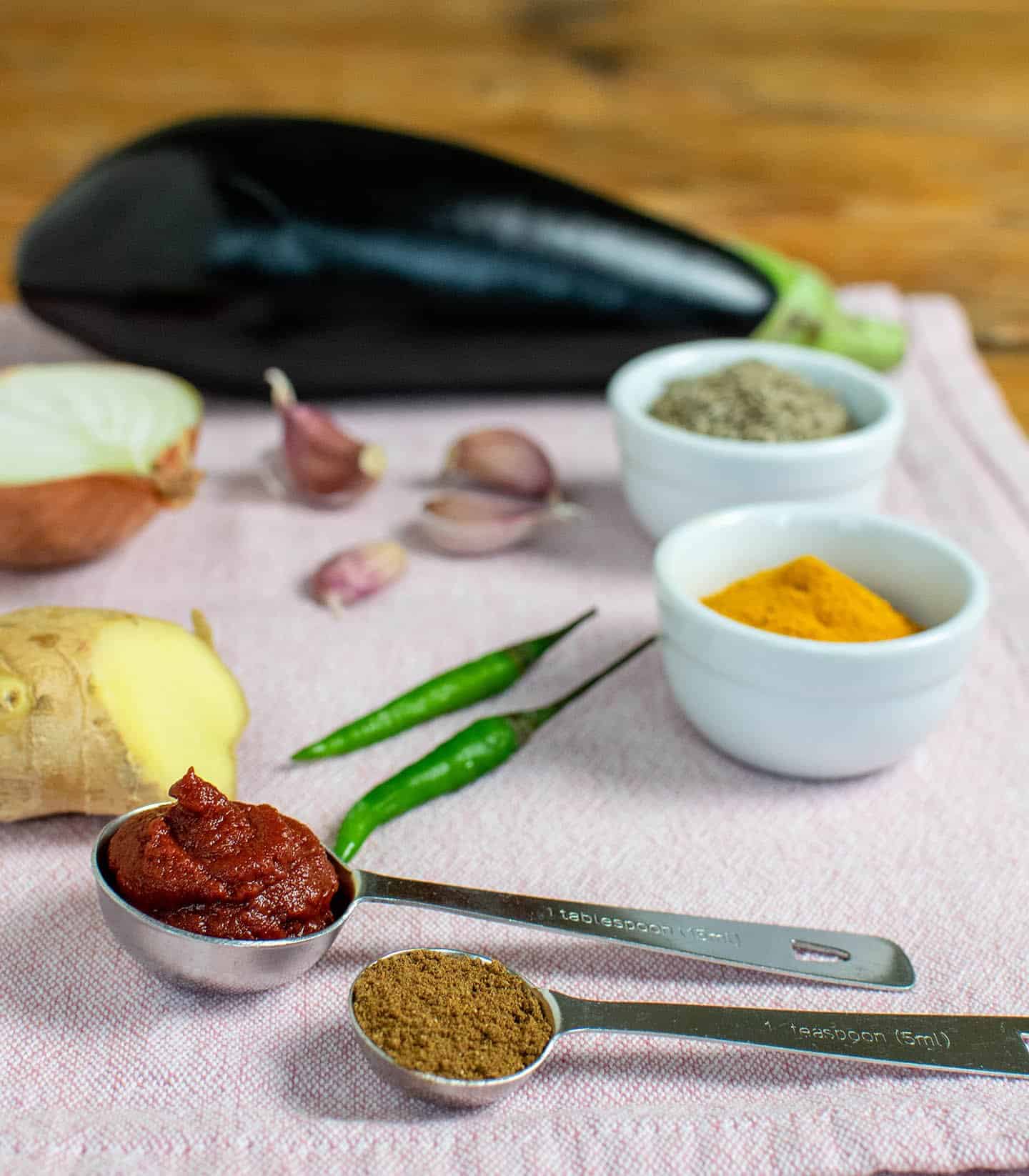 Step-by-step instructions
As per usual, we've included the full instructions in the recipe card below, but here's a brief overview of how to make this aubergine bhaji.
Start off by baking the aubergines for 30 minutes on gas mark 6. That might seem like a high temperature but it really does take that long to get them to the right consistency. It means they'll be nice and soft and creamy on the inside, and the skin will be just a little crisp on the outside (but not too much!).
Brush the skin with a little bit of oil, but there's no need for a lot of oil. Aubergines act like sponges when it comes to oil, so less is more in this case.
Pro tip: a lot of people will be used to salting aubergines before cooking them. This really is not necessary. We have it on good authority from our chef friend (hey Erin!) that salting eggplant before cooking is not needed. So we don't do it, and we've never noticed the difference.
Once the aubergine is ready, let it cool and then chop it into bite size chunks. You can remove the skin if you like, but we never do. There's often a lot of nutrients in the skin so keep them intact if you don't mind them!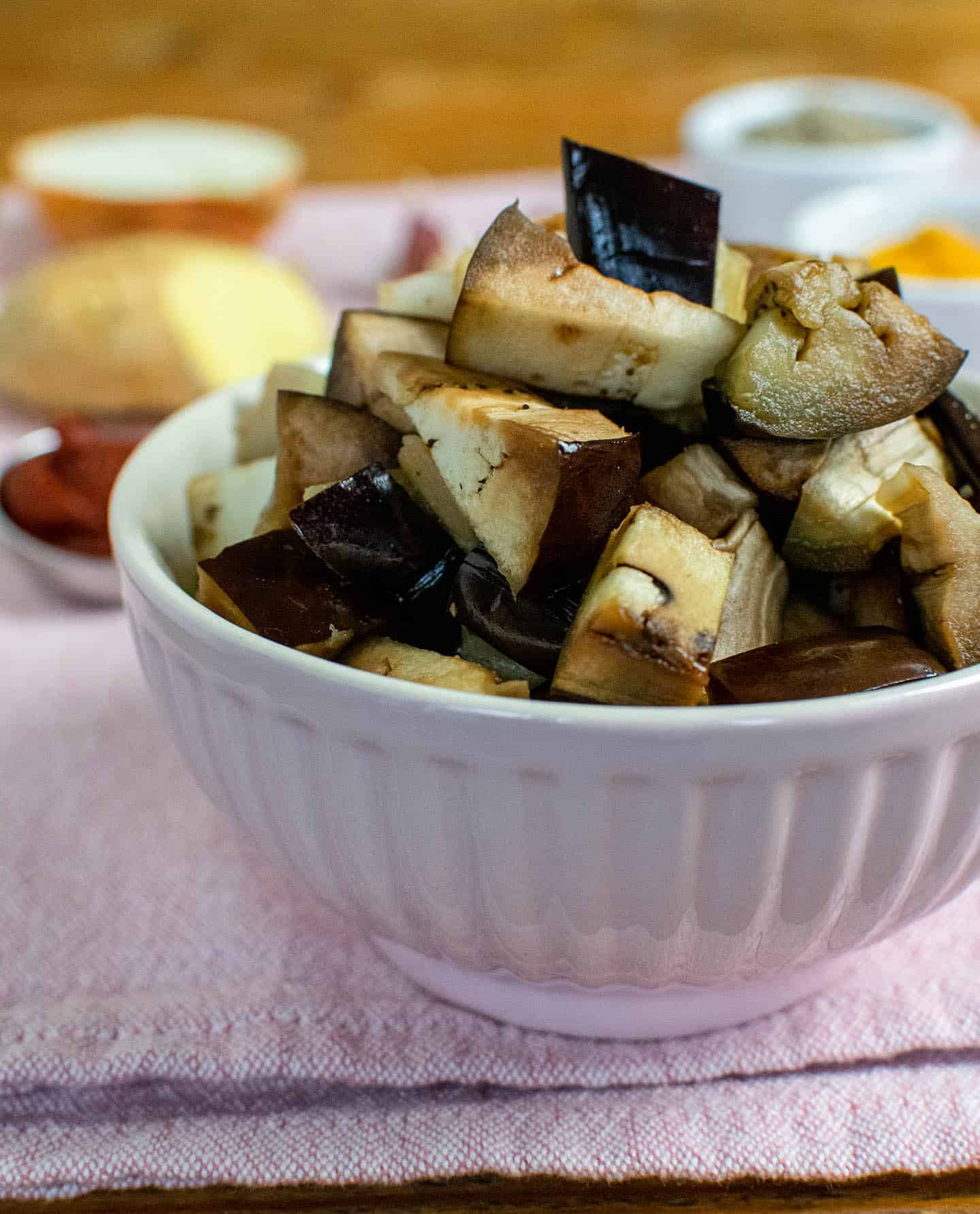 The next part of the cooking process will be on the stove top. Pop another small splash of oil in a pan and start frying off the onions, then add the garlic. Then add all the spices and the tomato puree.
Once all combined add the chopped aubergines into the pan, add around 6 tablespoons of water then cover. Simmer for around 10-15 minutes. The aubergine will be super soft and tasty by this point. Season with salt to taste.
Uncover when ready to serve, and top with fresh coriander. It's as easy as that!
Difference between brinjal bhaji and onion bhaji
Brinjal bhaji (or aubergine bhaji!) is not to be mistaken for the fried, crispy onion bhajis that we all know and love. As with a lot of Asian or Indian food, it can be subject to change when it crosses borders or even different areas within its country of origin.
'Bhaji' actually means a simple vegetable curry, as a pan Indian term. However, chopped onion coated in batter and deep fried, is also a bhaji. And it's probably more commonly known too, at least in the UK anyway. Onion bhaji is also a very well known and loved dish from street food sellers in certain areas of India.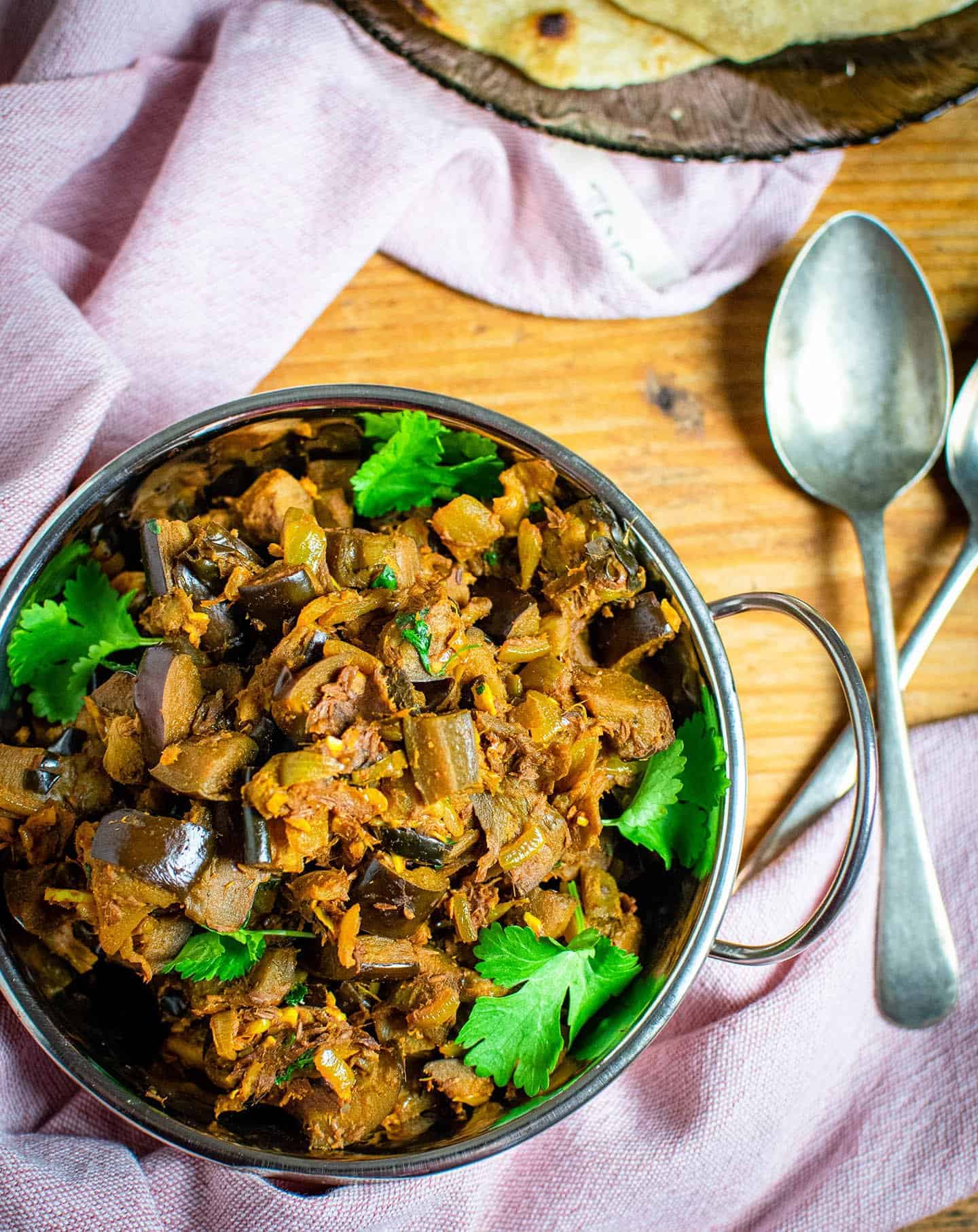 Maybe it was down to a spelling error, as it certainly seems that bhaji means a dry curry in most instances, and the onion bhaji has a lot more in common with a pakora than a dry curry.
So, there you have it: aubergine bhaji and onion bhaji are two completely different dishes!
Our brinjal bhaji is a much healthier dish anyway. More comparable to an aubergine curry, it involves twice cooked aubergines – first roasted, then sautéed with spices and tomatoes.
Is aubergine bhaji good for you?
Aubergines are very good for you. According to BBC Good Food aubergines contain:
Dietary fibre
Vitamins B1
Vitamin B6
Potassium
Antioxidants
Copper
Magnesium
Manganese
The antioxidant nasunin is found in aubergine skin too. So, as long as you don't use too much oil, not only is this brinjal bhaji super tasty, but it's good for you too! FYI, we're not nutritionists but we do take a keen interest in what's healthy and what isn't. We do like an unhealthy treat now and again though!
Equipment needed to make this dish:
Oven Roasting Pan – make sure the oven dish is big enough for all four halves of the aubergine. Be sure to cover the bottom of the tray with greaseproof paper to prevent the aubergines from sticking.
Large Pan with a Lid – you'll need a large pan with a lid. This Scoville 3 Piece Saucepan Set is excellent value for money. It includes a 16cm, 18cm and 20cm saucepan, all with lids. The bhaji is cooked with the lid on so that the little bit of water that's added doesn't completely evaporate. The reason for this is that it is a dry-ish dish, but it shouldn't be bone-dry. That wouldn't be enjoyable to eat!
Balti Dishes – so, you don't technically need these. However, we love our balti dishes so we wanted to give them a special mention. As featured in our photographs! If you have friends over or you're just trying to recreate the feeling of being in an Indian restaurant, they make curry night extra special.
If you love this recipe, you make also like to try:
There's nothing much else left to say but, we hope you enjoy the recipe! If you love this recipe, please do leave a review (at the bottom of the page). Reviews help bloggers more than anything, so we'd really appreciate your feedback if you have a few moments to spare!
Don't forget to save this recipe for later by pinning it on Pinterest too...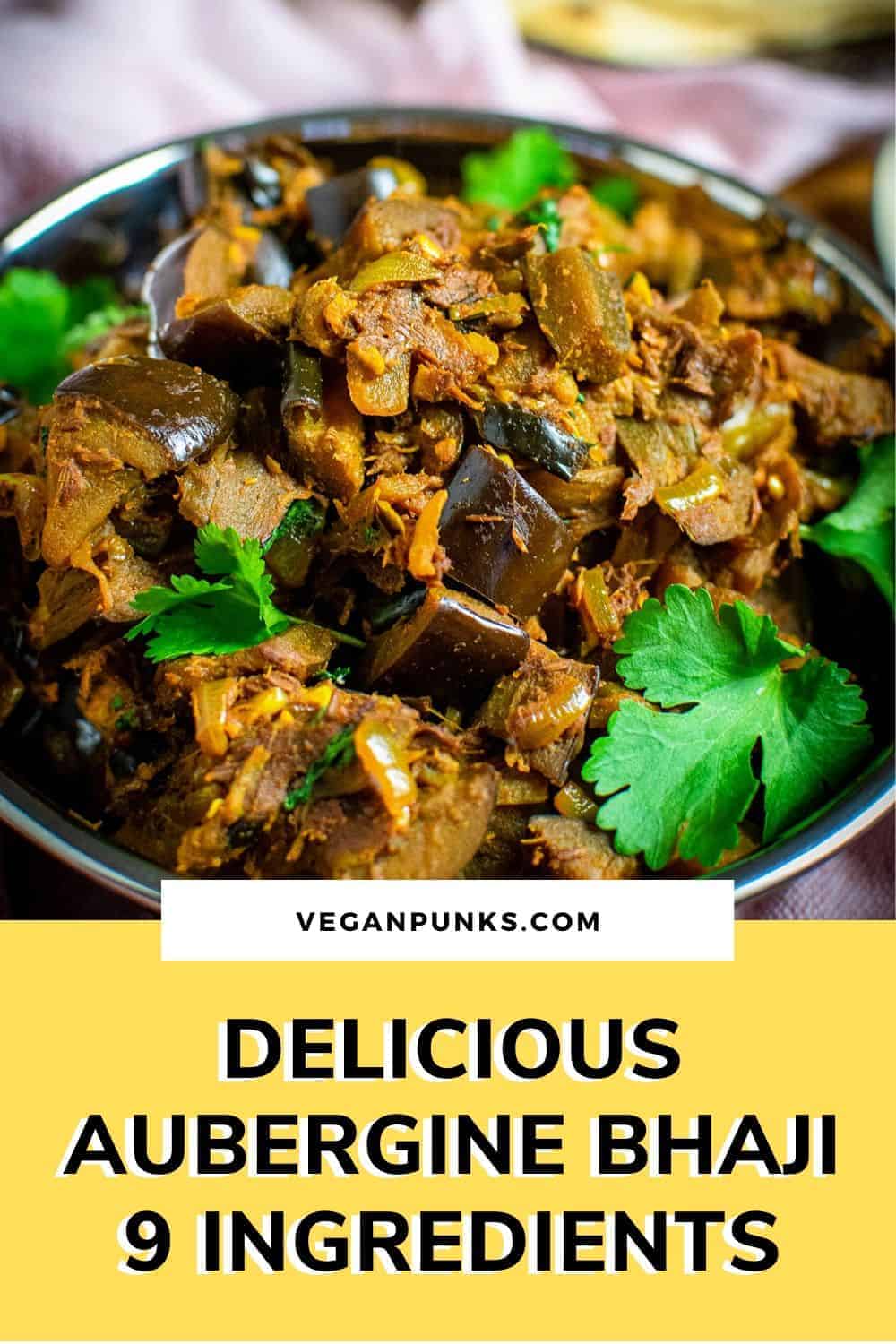 📖 Recipe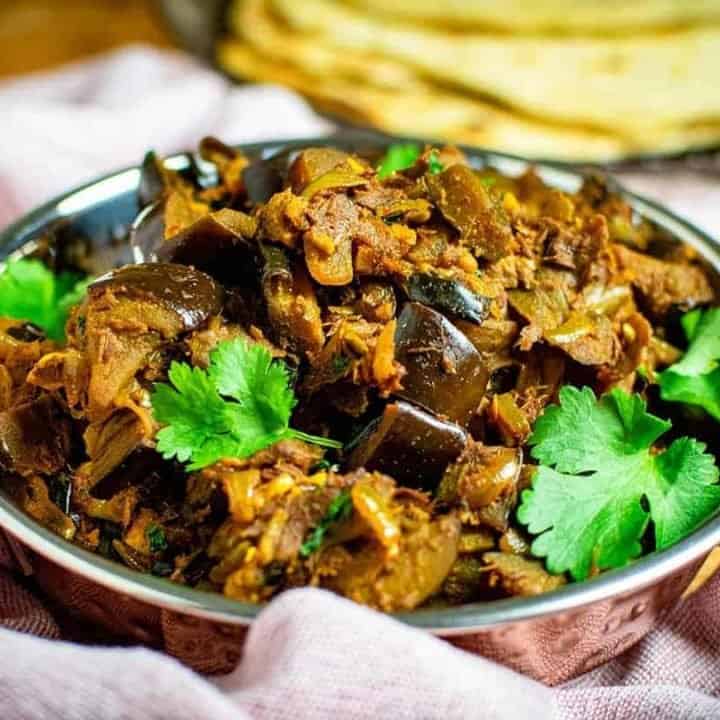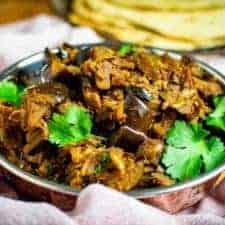 Aubergine Bhaji
Aubergine bhaji, or brinjal bhaji, is a classic Indian side dish that pairs the rich, creaminess of aubergines with classic spices like garam masala and cumin. This recipe will serve 2 as a main and 4 as a side.
Save
Saved!
Print
Pin
Rate
Ingredients
2

aubergines

~600g - chopped in half lengthways

1

onion

- finely chopped

2

cloves

garlic

- minced

1

teaspoon

garam masala

1

teaspoon

ground cumin

1

teaspoon

ground coriander

½

teaspoon

chilli powder

2

tablespoon

tomato purée

6

tablespoon

water

Handful of fresh coriander

- roughly chopped

2

tablespoon

vegetable oil
Instructions
Pre-heat the oven to gas mark 6/200c.

Cut the aubergines in half, brush oil on the skins. Lay with the flesh side down in an oven roasting tray.

Roast them in the oven for 30 minutes, until the insides soften.

Remove the aubergines from the oven and, once they're cool enough to handle, chop them into rough chunks – about 1 inch in size.

Heat a splash of oil in a frying pan over a medium-high heat, then add the onion until it starts to soften and turn translucent.

2 tablespoon vegetable oil,

1 onion

Add the garlic, spices and tomato purée and cook for a couple of minutes until fragrant.

2 cloves garlic,

1 teaspoon garam masala,

1 teaspoon ground cumin,

1 teaspoon ground coriander,

½ teaspoon chilli powder,

2 tablespoon tomato purée

Stir in the roasted aubergine and water, stir well, then reduce to a simmer. Cook for 10-15 minutes with the lid on, stirring occasionally.

Season to taste and stir in the coriander.

Serve up with naan bread or chapatis alongside your favourite curry!

Handful of fresh coriander
Notes
You could also use baby aubergines, you'll need about 600g. They may need less time in the oven, so keep an eye on them.
Another traditional way to prepare the aubergines, once baked, is to remove the skins and mash the flesh. You'll end up with a creamier dish which could almost be compared to an Indian spiced baba ganoush.
Nutrition
Calories:
80
kcal
|
Carbohydrates:
18
g
|
Protein:
3
g
|
Fat:
1
g
|
Saturated Fat:
1
g
|
Polyunsaturated Fat:
1
g
|
Monounsaturated Fat:
1
g
|
Sodium:
14
mg
|
Potassium:
626
mg
|
Fiber:
8
g
|
Sugar:
10
g
|
Vitamin A:
175
IU
|
Vitamin C:
9
mg
|
Calcium:
41
mg
|
Iron:
1
mg