This is our really simple and delicious vegan dahl recipe. Ready in 35 minutes, you might be surprised at just how easy this recipe is!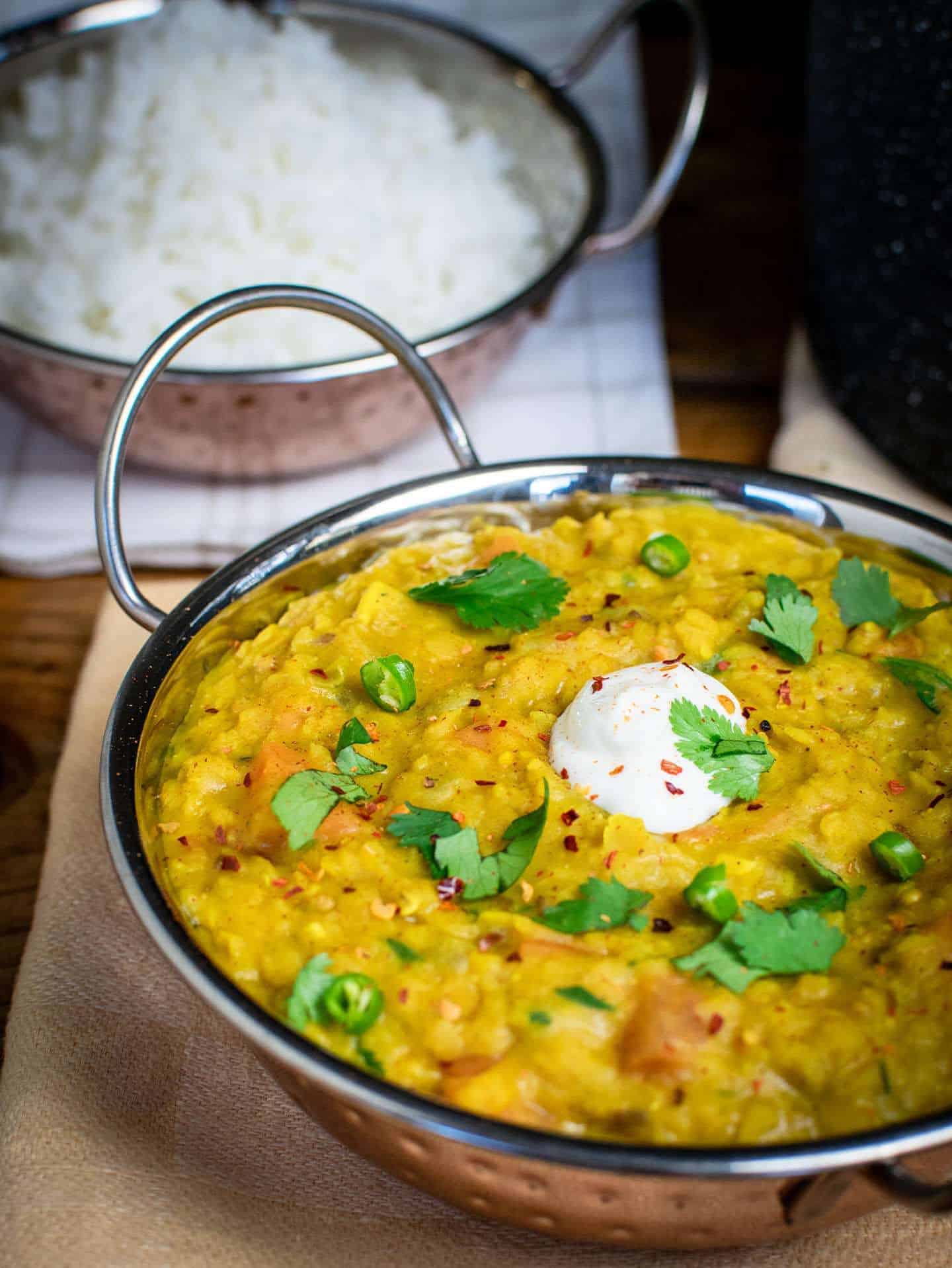 Jump to:
We're updating this article during the pandemic, and subsequent lockdown. As people aren't going to the supermarket very often we thought it would be a good idea to include what can easily be switched for something else, and what dried ingredients can be used instead of fresh.
Cupboard Staple Ingredients for vegan dahl
This vegan dahl calls for 15 ingredients and only 6 of them are fresh. In this section we'll break down the fresh ingredients that can be switched for other ingredients, or cupboard staples.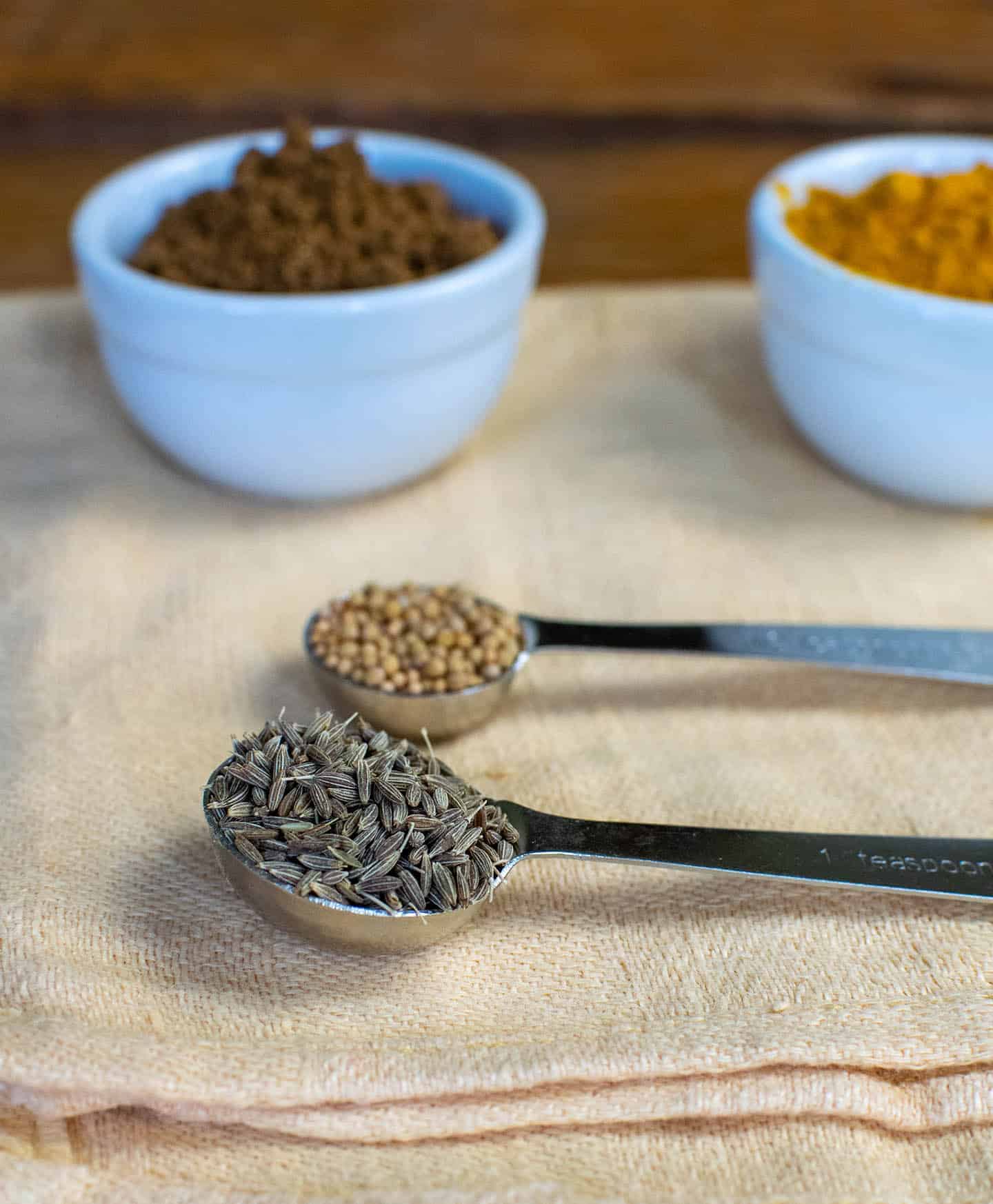 Onions – onion makes a great base for this vegan dahl. If you haven't got any – either fresh or frozen – you could use onion granules instead. It won't create the same great base that cooking onions down does, however, it will still be super tasty.
Garlic – same as above. If you don't have fresh or frozen garlic available, you could use garlic granules. We always have garlic granules in our rack of herbs and spices (is that weird – we do like cooking after all!). Alternatively, you may have Lazy Garlic in the fridge or pureed garlic – both will make a suitable alternative. Just make sure to read the instructions on the packet that advises how many teaspoons are equivalent to each fresh garlic clove.
Ginger – using frozen or pureed ginger is an option, or use ginger powder. We always find that ginger powder tends to be pretty strong, so just make sure to use around half a teaspoon for each inch piece of ginger.
Chilli – if you don't have any fresh chilli in the cupboard – don't worry! Using frozen, or chill flakes from the spice rack make excellent alternatives.
Tomatoes – use one tin of tomatoes in place of two large fresh tomatoes.
Carrots – carrots can easily be omitted but if you have frozen carrots use them instead. Alternatives for carrots include sweet potato, squash, parsnips (at a stretch!) or even cauliflower. Basically, if you've got it to hand and don't have any other use for it, just try chucking it in!
Additionally, fresh coriander in the garnish can be omitted if you don't have any.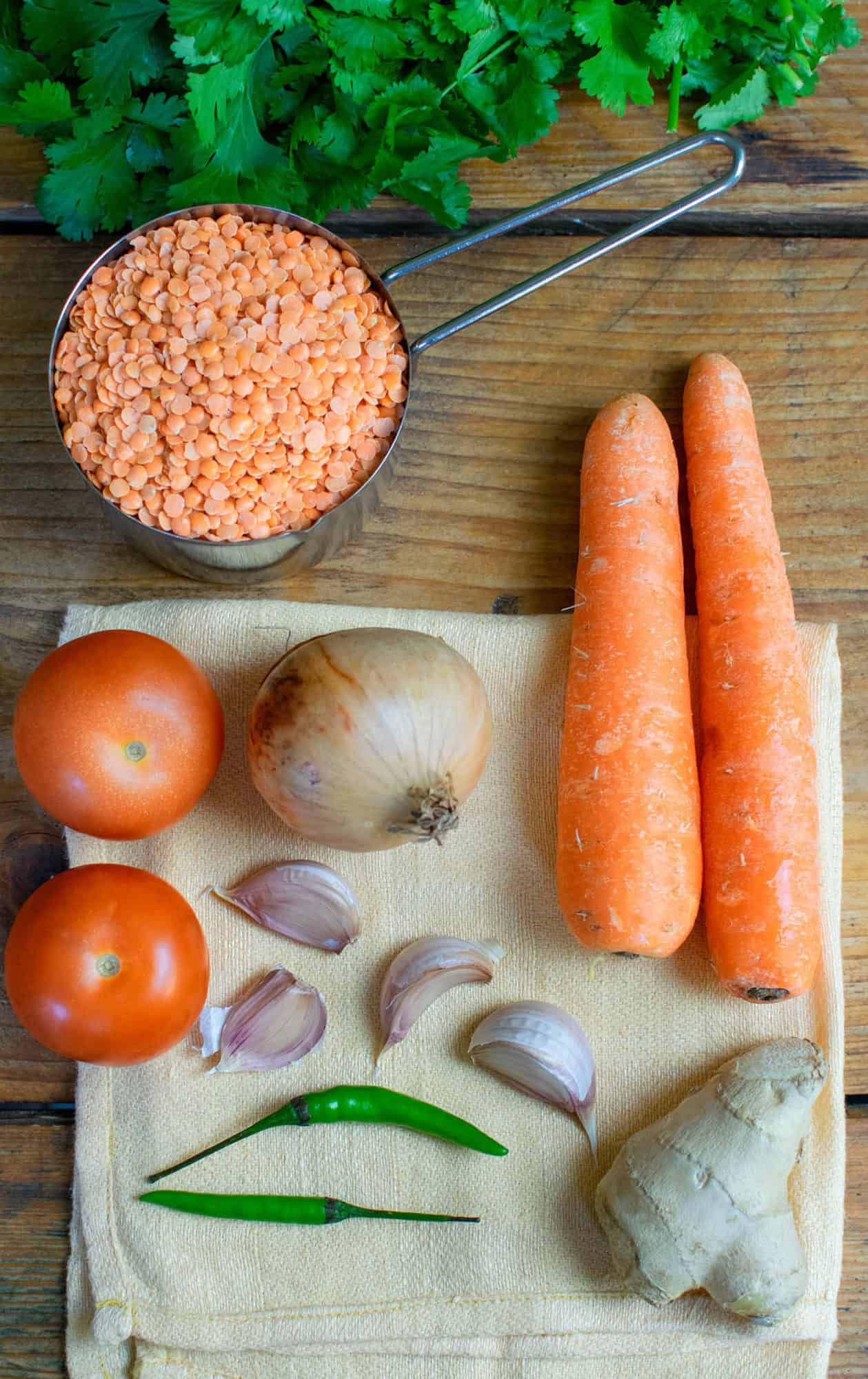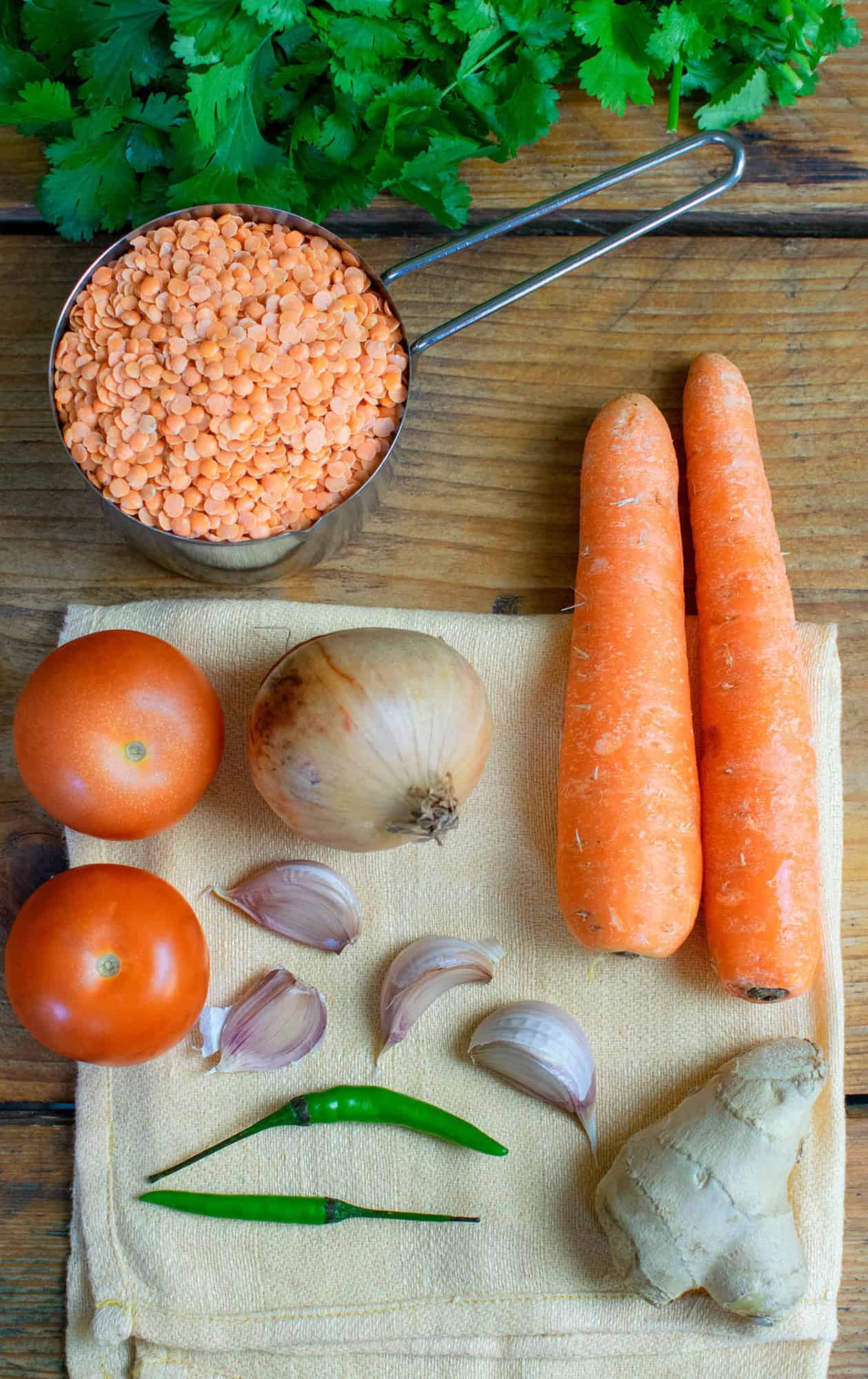 Easy Vegan Dahl
This really is an easy vegan dahl – it only takes 35 minutes and 8 steps to make! It is:
Luxurious
Simple
Creamy
Spicy
Garlicky
Plus, as you only need one pan, you'll save on the washing up too! And 15 minutes of that time is simmering, so it's really only twenty minutes of hard work…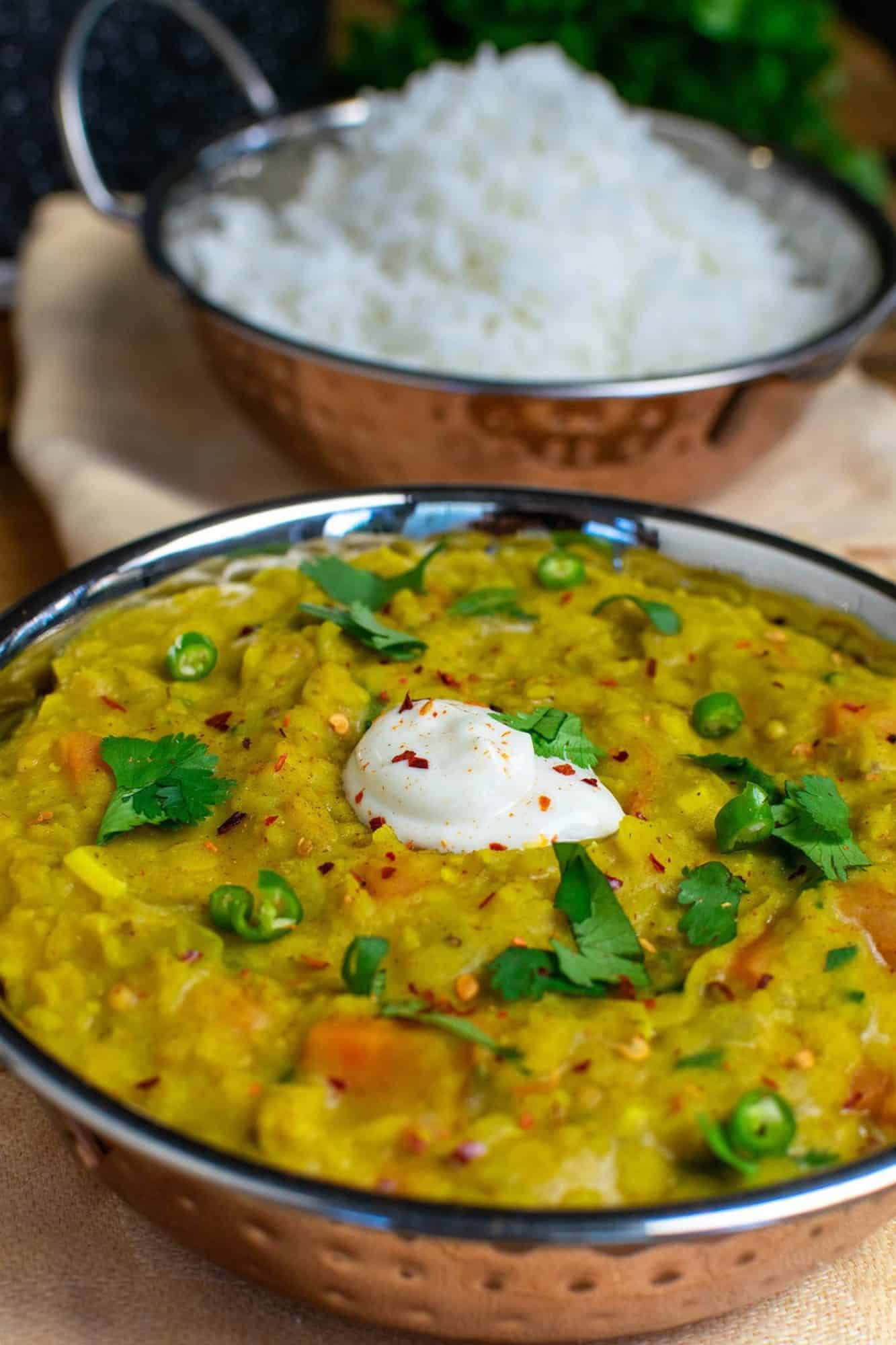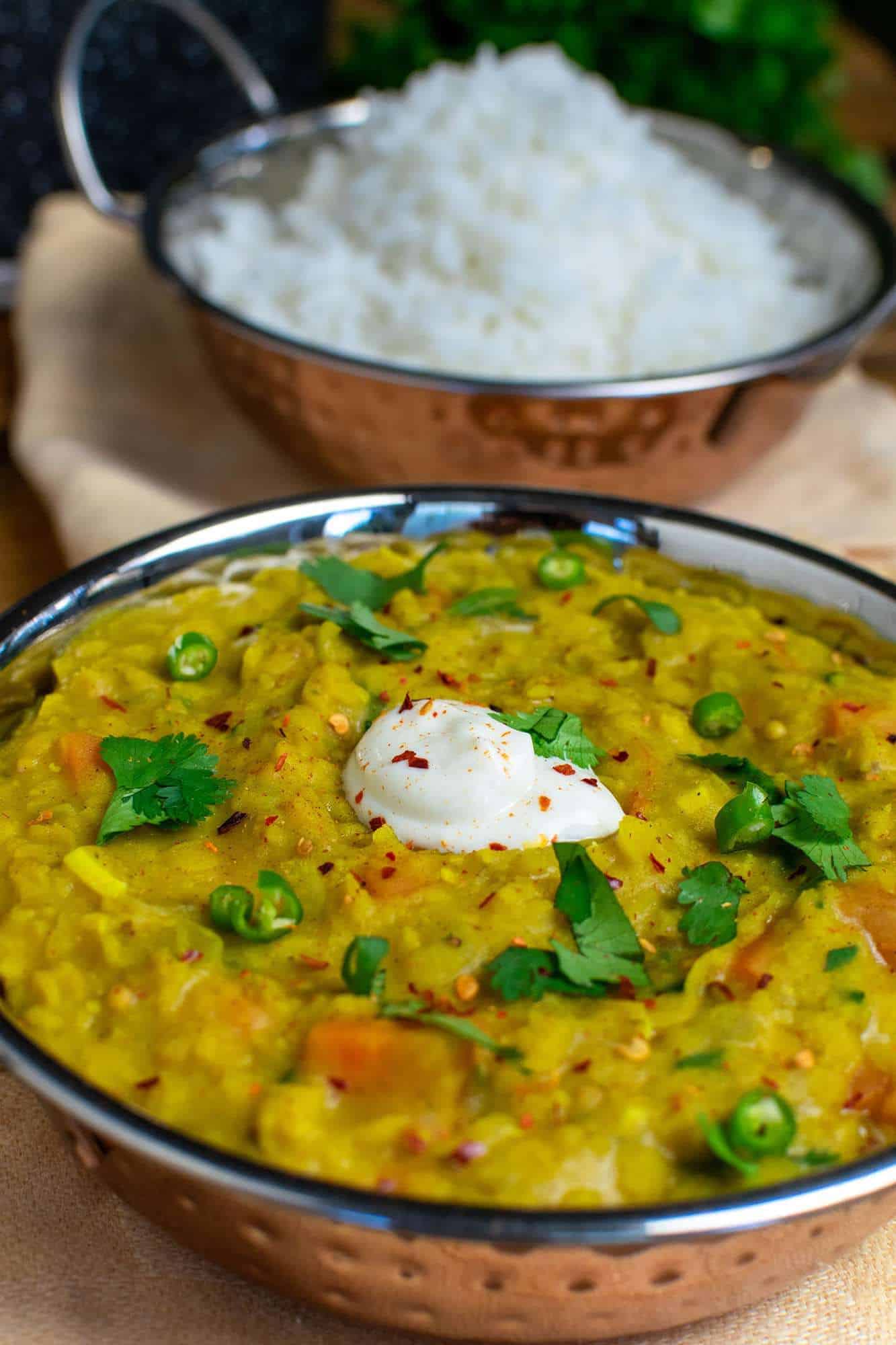 How to cook vegan dahl
It's really easy to cook this vegan dahl recipe. If you're using fresh – or frozen – onions, just fry them off in a little vegetable oil, until translucent.
Then it's a case of adding in all of the delicious flavourful ingredients, the garlic, ginger, chilli and all the spices. Even if you're using dried ginger, garlic and chilli flakes, they will still go in at this point.
Toasting the spices like this really helps to release their flavour, so don't be afraid to put them into an otherwise dry pan, as the onions will have soaked up most of the oil. Just add the red split lentils and then stir well, so they get a good coating in all the delicious flavours.
All you have to do then is pour in the coconut milk, tomatoes (fresh or tinned) and water. After that, bring it up to a boil, pop the lid on and simmer for 15 minutes. Finally, just season to taste and make sure the red lentils have softened.
Once it's ready, garnish with vegan yoghurt, more chillies and fresh coriander (if using).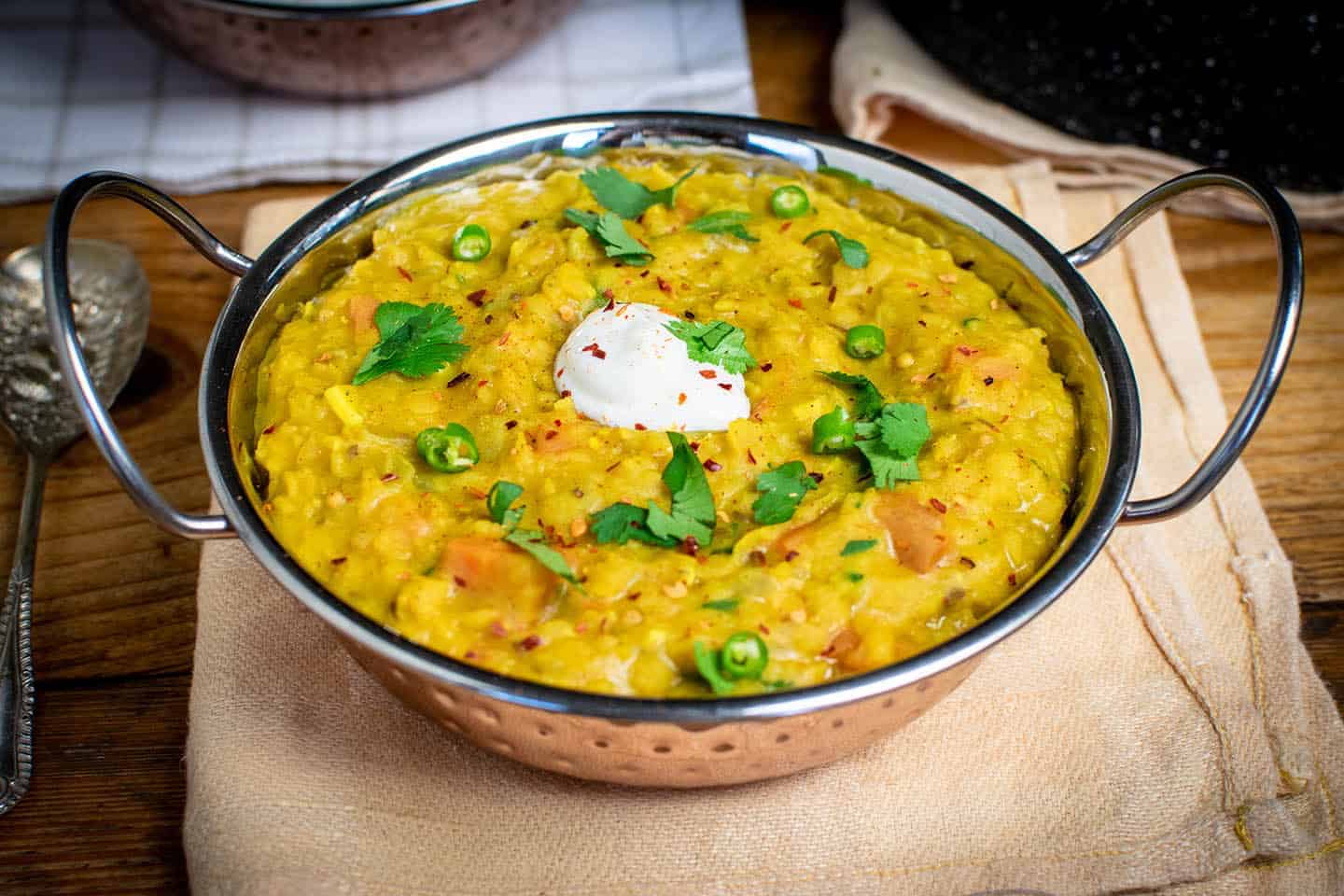 A note on cooking red lentils
This recipe calls for split red lentils. On the packet on the split red lentils that we buy, it says they take around 30 minutes to cook. However, we've found that they cook in around 15 minutes. They will be tender and will absorb the flavours of the dahl by this point – they're probably the quickest and easiest lentil to cook!
Just make sure that the lentils are tender once the simmer time is up.
A lot of lentils need to be soaked before cooking, but split red lentils do not need to be soaked.
When you leave the vegan dahl to simmer, make sure there's enough space in the pan, as these lentils tend to triple in size once cooked.
One more thing, don't add the seasoning before the lentils are cooked. They will remain hard if salt is added beforehand!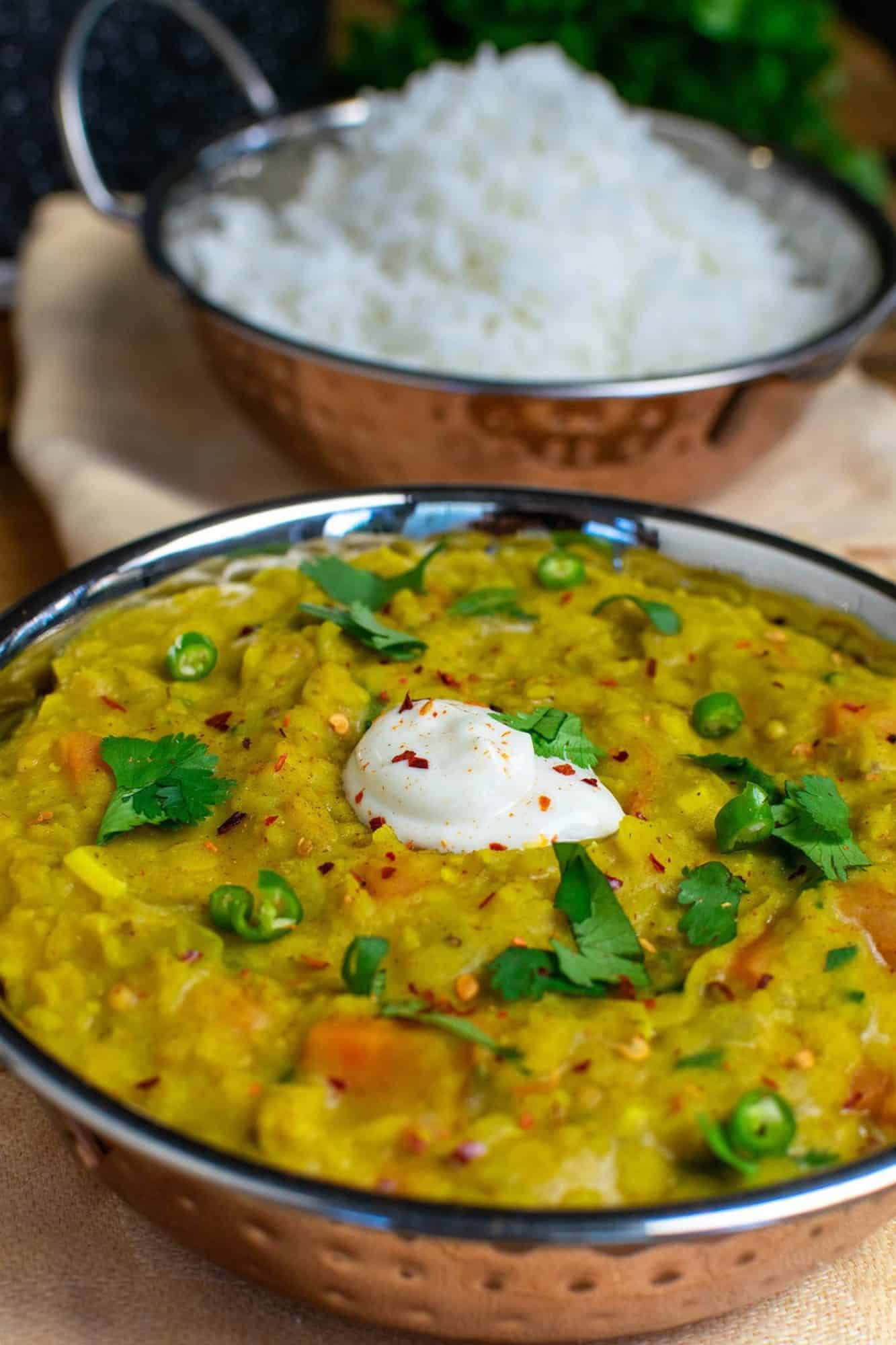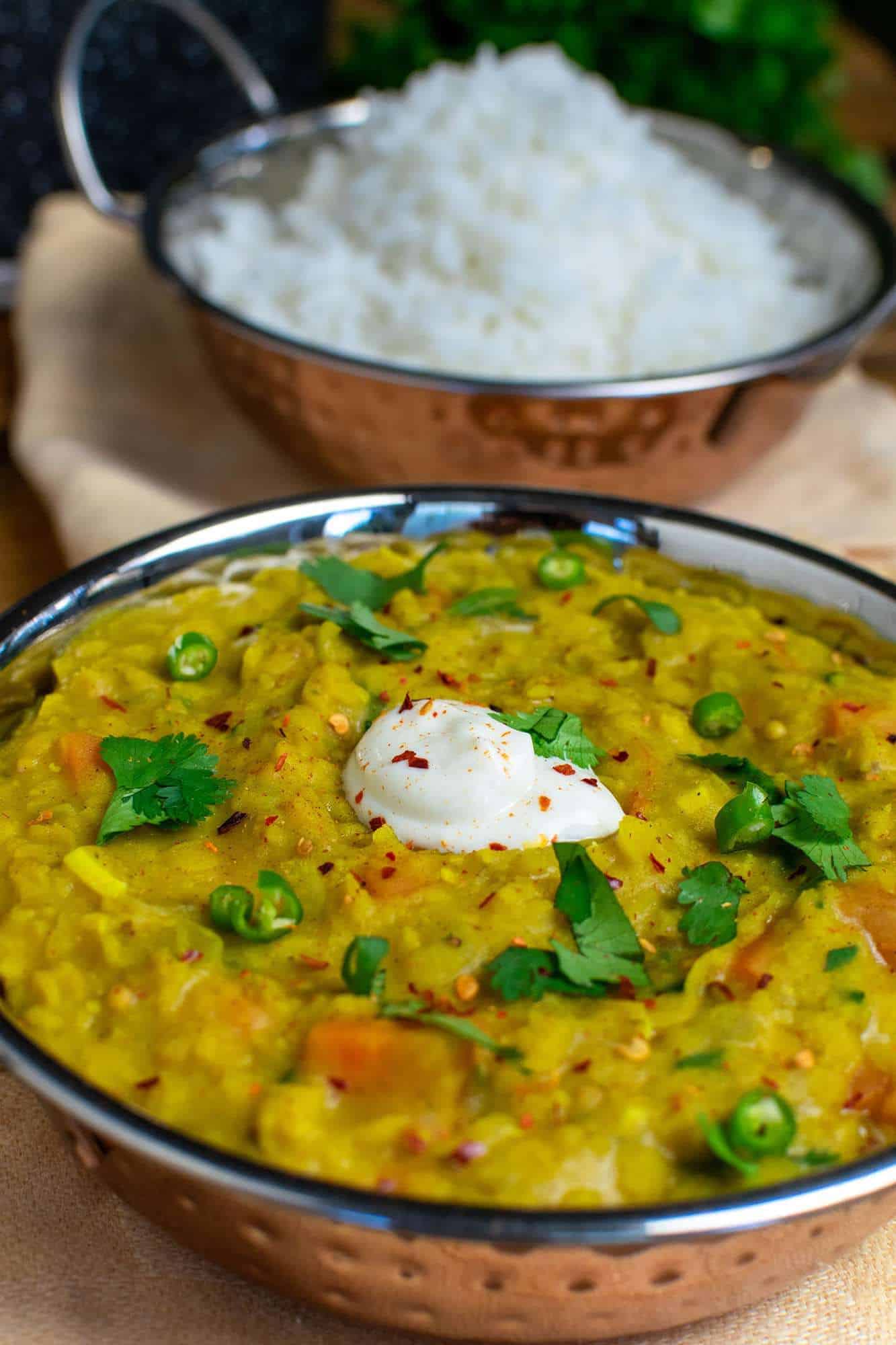 If you like this vegan dahl, you may also like to try:
Cauliflower curry with madras paste
Still looking for more inspiration? Check out even more dahls, curries, Indian bread, snacks (chaat) and even chutneys and pickles, in our Ultimate Guide to Vegan Indian Food.
Did you make this recipe? Leave a review and a rating below, or tag us in your photos on Instagram! Alternatively, bookmark it in your browser or save to Pinterest for later.

If you love our content, please consider supporting it by buying us a coffee.
📖 Recipe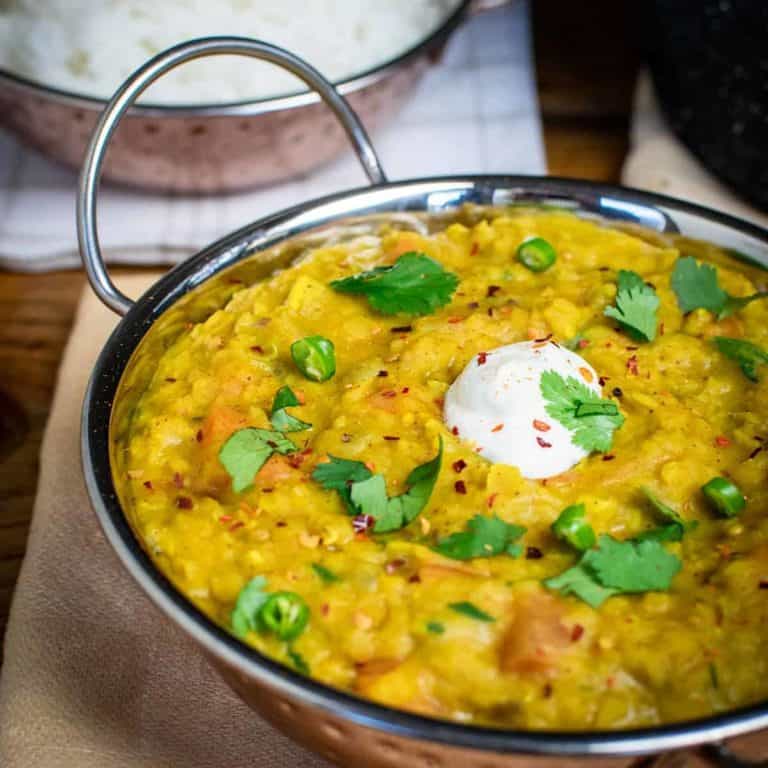 Vegan Dahl with Red Lentils
This is a really simple and delicious vegan dahl recipe. Ready in 35 minutes, you might be surprised at just how easy this one-pot really is!
Save
Saved!
Print
Pin
Rate
Ingredients
1

onion

- finely chopped

4

cloves

garlic

- finely chopped

1

inch

fresh ginger

- finely chopped

1

green chilli

- finely chopped and deseeded if you want to be sure it's mild

2

teaspoon

cumin seeds

1

teaspoon

yellow mustard seeds

2

teaspoon

ground turmeric

1

teaspoon

garam masala

2

tomatoes

- chopped

2

carrots

- diced

1

cup

red lentils

400

ml

coconut milk

200

ml

water

2

tablespoon

fresh coriander

- roughly chopped

1

tablespoon

rapeseed oil
Instructions
Get the oil in a saucepan and bring it up to a medium-high heat.

1 tablespoon rapeseed oil

Add the onion and fry until soft and translucent.

Chuck the garlic, ginger, chilli and spices in and stir.

4 cloves garlic,

1 inch fresh ginger,

1 green chilli,

2 teaspoon cumin seeds,

1 teaspoon yellow mustard seeds,

2 teaspoon ground turmeric,

1 teaspoon garam masala

After a couple of minutes when the spices have become fragrant, add the carrots and tomatoes and cook for another two minutes.

Pile in the lentils, then the coconut milk and water, and give it a good stir.

1 cup red lentils,

400 ml coconut milk,

200 ml water

Bring to a boil and immediately reduce to a simmer.

Simmer for 15 minutes, stirring frequently.

Give the lentils a quick check and make sure they're cooked, if they're not quite there, give them another 5 minutes.

Stir in the coriander and season with salt to taste. If you're happy with consistency, serve with naan bread or roti.

2 tablespoon fresh coriander
Nutrition
Calories:
402
kcal
|
Carbohydrates:
42
g
|
Protein:
15
g
|
Fat:
20
g
|
Saturated Fat:
14
g
|
Polyunsaturated Fat:
1
g
|
Monounsaturated Fat:
3
g
|
Trans Fat:
1
g
|
Sodium:
71
mg
|
Potassium:
782
mg
|
Fiber:
17
g
|
Sugar:
6
g
|
Vitamin A:
5652
IU
|
Vitamin C:
17
mg
|
Calcium:
68
mg
|
Iron:
5
mg