This vegan Chinese curry has all the benefits of a real Chinese takeaway, only it's healthier and cheaper!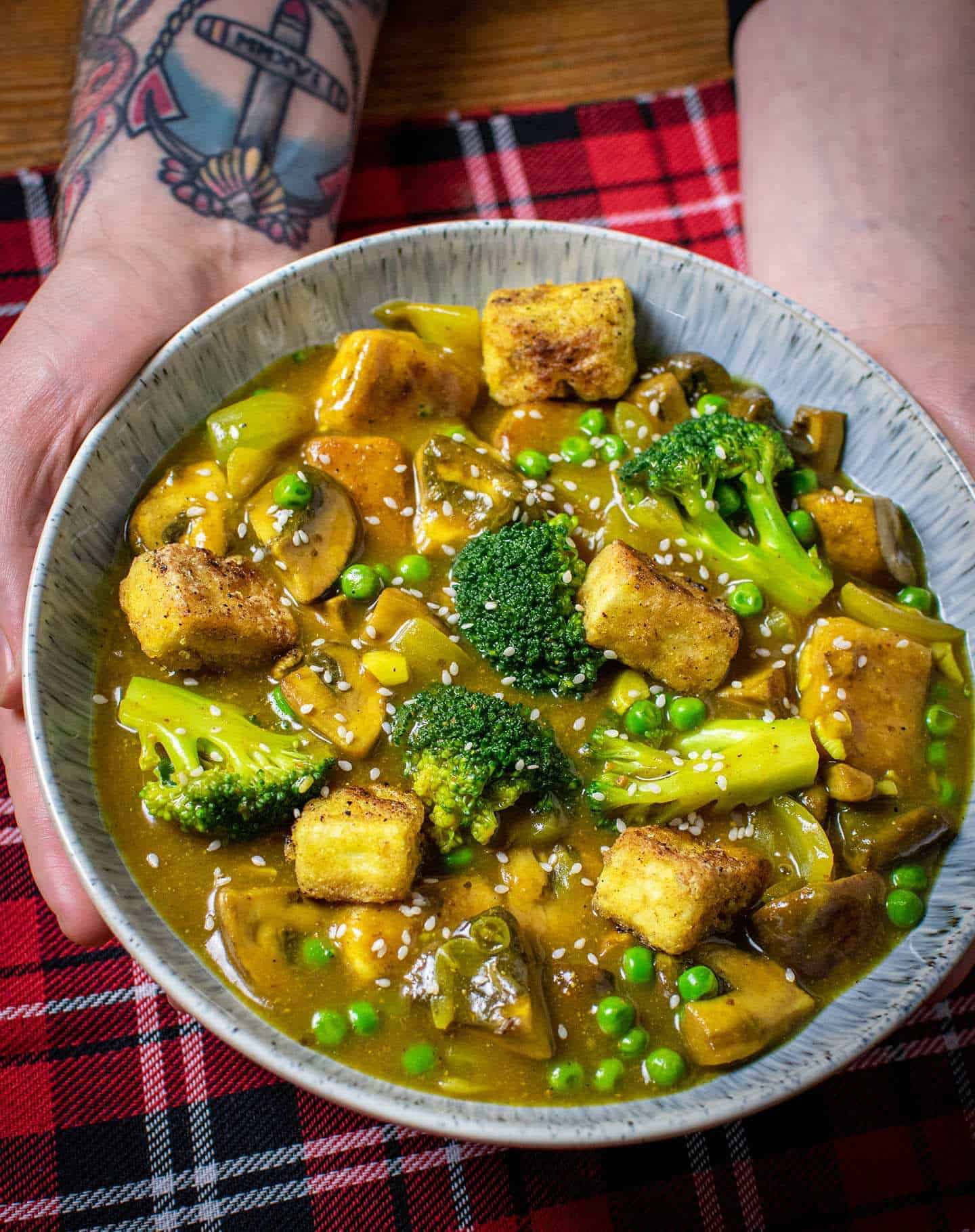 We love a takeaway as much as the next vegan punk, but we also love to recreate the dishes we know and love at home. Plus, sometimes vegan options are hard to find at smaller takeaways. Where we live, we're lucky to have one Chinese takeaway around the corner that does a pretty mean curry, but we don't like to get take-out too many times per month!
This Chinese vegetable curry recipe (with tofu) only takes around 30 minutes to make, and you only need one pan too.
How to make Vegan Chinese Curry
There's not many steps to this recipe at all, and you don't need to be an expert in the kitchen to make a top notch veggie Chinese curry either!
We start with the tofu – we always recommend to press firm tofu to get rid of any additional water held inside it. That really is key to making really good, tasty tofu. And of course, using the right tofu for the recipe is key. Generally this is our rule:
Extra-firm tofu – for curries, stir fries and stews, as well as tofu bacon and for replicating things like chilli 'beef'.
Silken tofu – desserts, scrambled tofu, quiches and sauces.
Some recipes, like our vegan egg mayo recipe call for a combination of both firm and silken tofu to get the best result!
In this vegan Chinese curry recipe we've tried to keep it as traditional as possible. We have added some extra veggies, because it wouldn't be a Vegan Punks recipe if there weren't loads of veg included! These are the main ingredients:
Extra-firm Tofu
Garlic
Onion
Mushrooms
Broccoli
Peas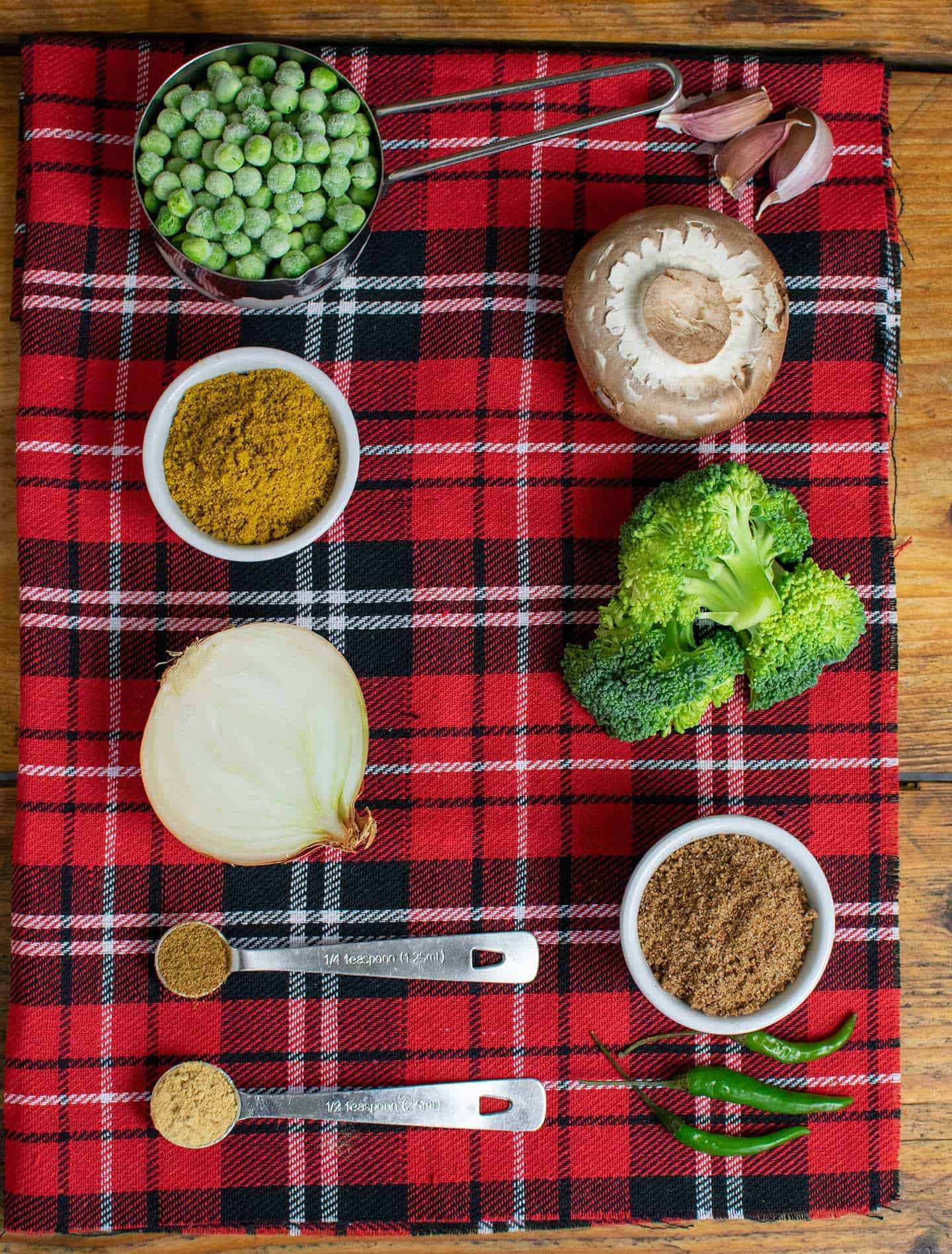 To get that delicious vegan Chinese curry sauce flavour that we all know and love, these are the ingredients that you'll need:
Curry Powder
Ginger Powder
Cumin Powder
Chinese Five Spice
Turmeric powder
Veggie stock
Cornflour (mixed with around 3 tablespoons of water)
We always recommend getting everything ready before you start cooking. Chop the veggies, make up the stock and measure spices. Either measure the spices in a little ramekin or have them to hand for when you'll need them, with a set of measuring spoons.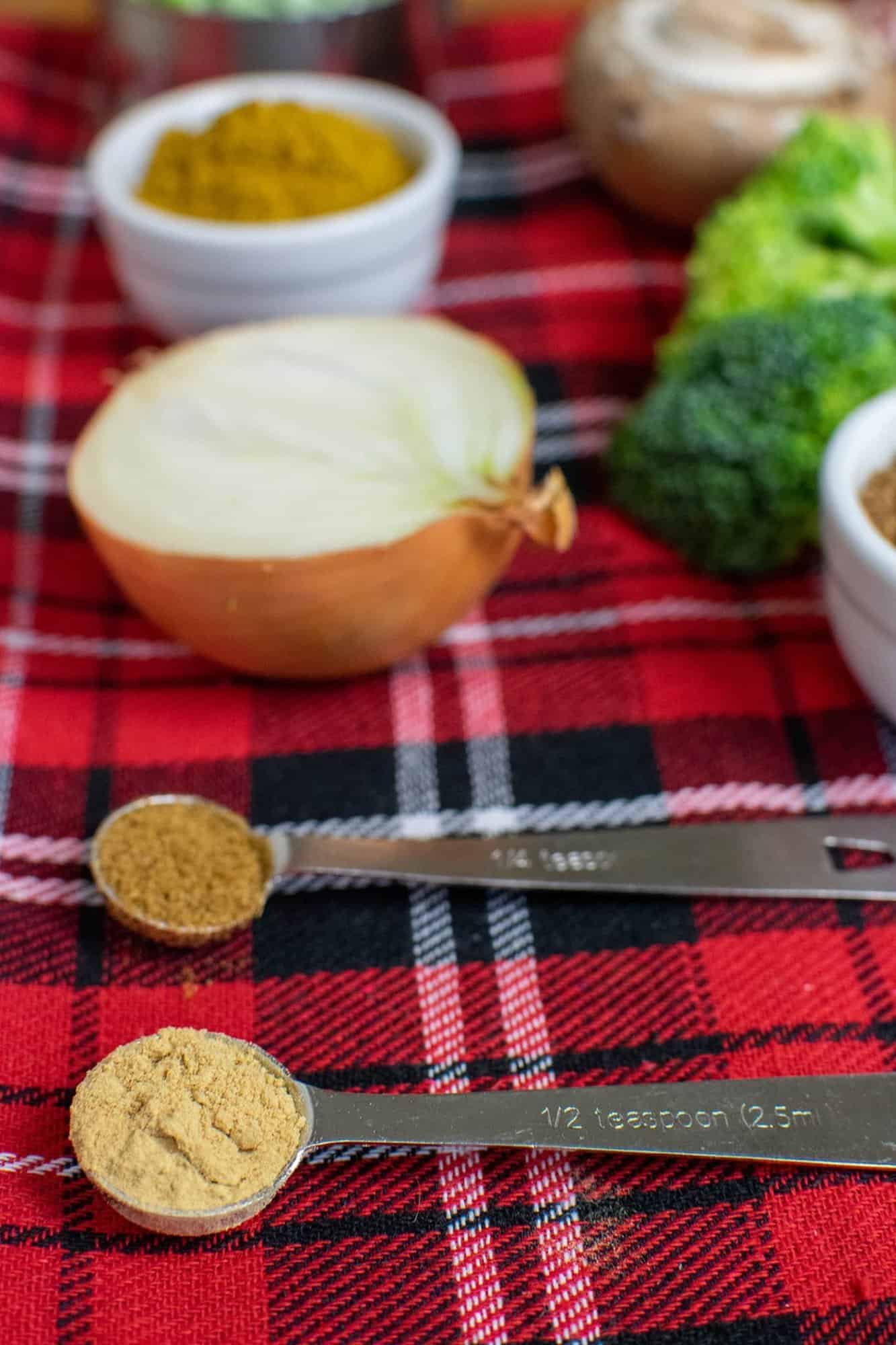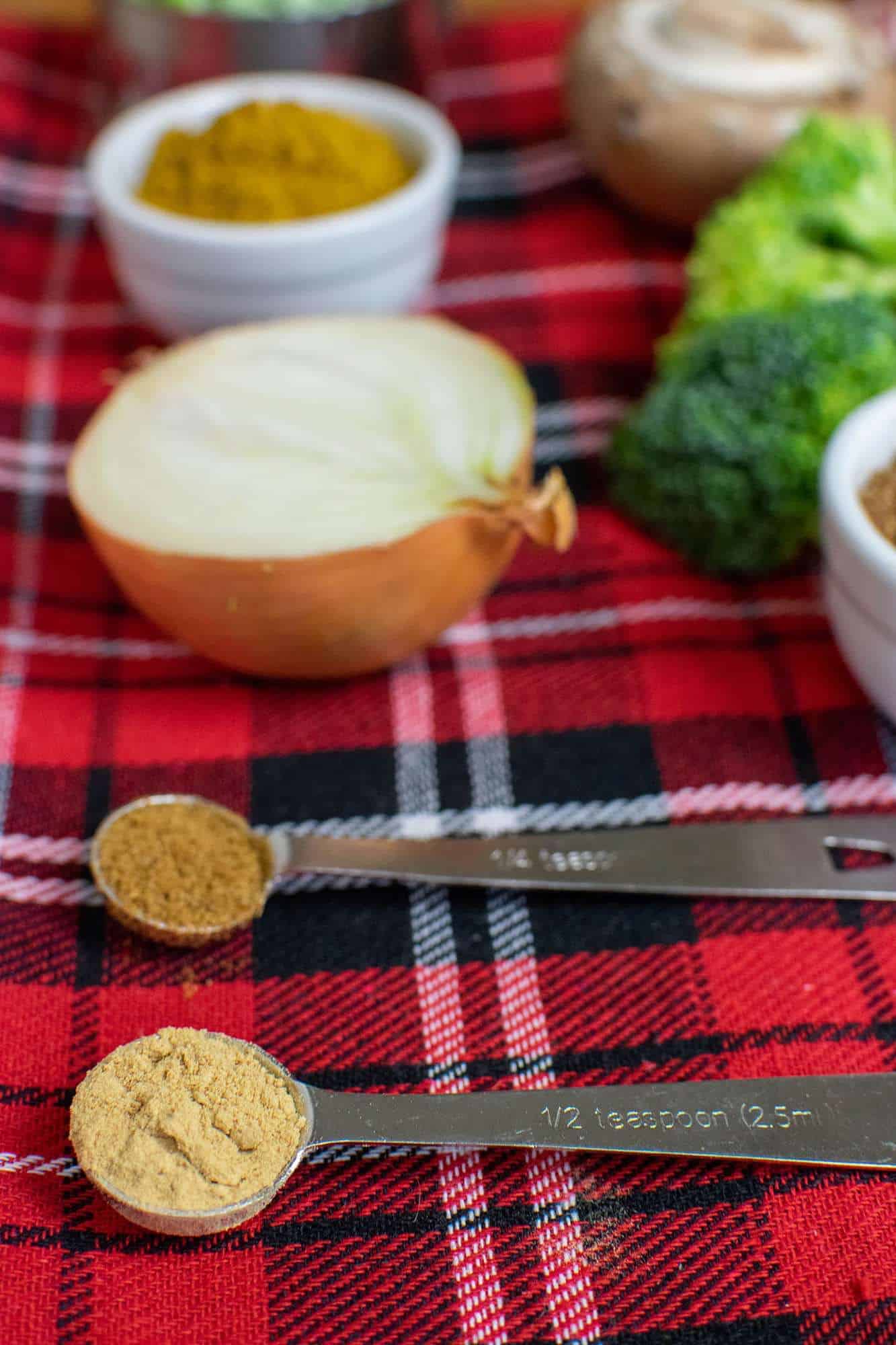 A note on Vegan Chicken Stock
We found this amazing vegan chicken stock that works really well in this recipe. It adds a herby flavour to the base of the curry that veg stock just doesn't have! However, veg stock is still a solid option. We regularly mix it up between the vegan chicken stock and plain veggie stock too.
Check out the Vegan Chicken Stock here.
Top tip: if, like Dan, you like making seitan, this chicken stock will take any chicken style seitan to the next level. You're welcome. And let us know how it goes!
Back to the vegan Chinese curry recipe…
So, once all your veggies are chopped and the spices are ready, it's time to get cooking. If you want to make some excellent tofu, we recommend coating it in cornflour and frying for a few minutes. We always make the extra effort with this tofu. It reminds us of Chinese curries from takeaways like this, plus it is just totally delicious.
Once the tofu is done, set it aside and start making the curry.
Start by heating your wok and a little oil over a medium-high heat, once hot add the onions. Give them a good sauté for about 5 minutes, until they've browned a little.
Add the chilli and garlic, cook for a minute or two, then add all of the spices. Fry off until they become fragrant and your kitchen is smelling awesome – it should be about two minutes.
Add in the mushrooms, cook for another couple of minutes and then add the stock and the cornflour paste.
By this point the sauce will start to thicken a little. You just then have to add the broccoli and peas, and simmer for 5-6 minutes until the broccoli is cooked through (al denté). It's as easy as that!
Which curry powder should I use?
My Dad actually once bought us a big sack of madras curry powder, I mean big, like 5kg, so we tend to use that as long as it's appropriate for the type of dish we're making. And luckily for us, Chinese curry powder is actually similar to madras, the Chinese curry powder just has the addition of star anise and cinnamon. We include Chinese Five Spice in the spice mix though, so we feel that it is as close to a real Chinese curry flavour you can get!
Madras curry powder tends to be spicier than a mild curry powder, so just be aware of this when cooking this dish, and use a curry powder that you know you like.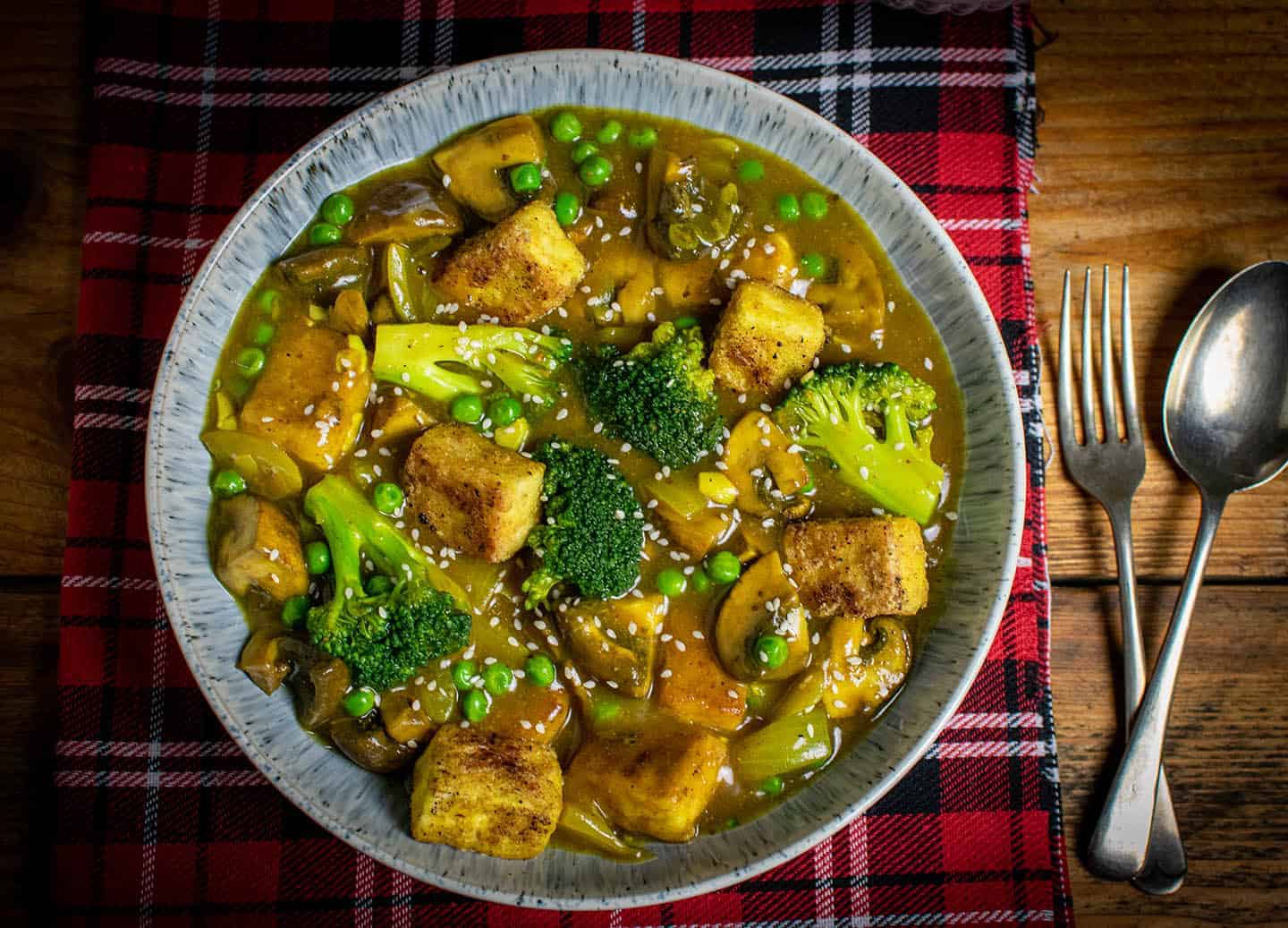 Where does Chinese curry come from?
Curry flavours are not a big part of Chinese cooking, however it is used in the southern part of China.
Chinese curry is thought to have its roots in the Sichuan area of China. Certain locations even have its own variations on the dish too. However, in the UK, this curry has become an integral part of Chinese restaurant menus. And it is certainly my favourite Chinese dish ever!
Is Chinese Curry Sauce Vegan?
Generally, Chinese curry sauce isn't vegan unless it's listed as being so on the menu or it's a vegetarian Chinese curry. Obviously, most curries on an average restaurant's menu will be made with various types of meat or seafood, so will also use chicken or beef stock for the sauce. A veggie version will use vegetable stock, and as this type of dish doesn't traditionally contain dairy or eggs, it's likely to also be vegan.
We always check with servers at restaurants as it pays to be sure!
Luckily, this blog post is all about a vegan Chinese curry recipe so there's no need to worry about it – it naturally includes a vegan Chinese curry sauce recipe!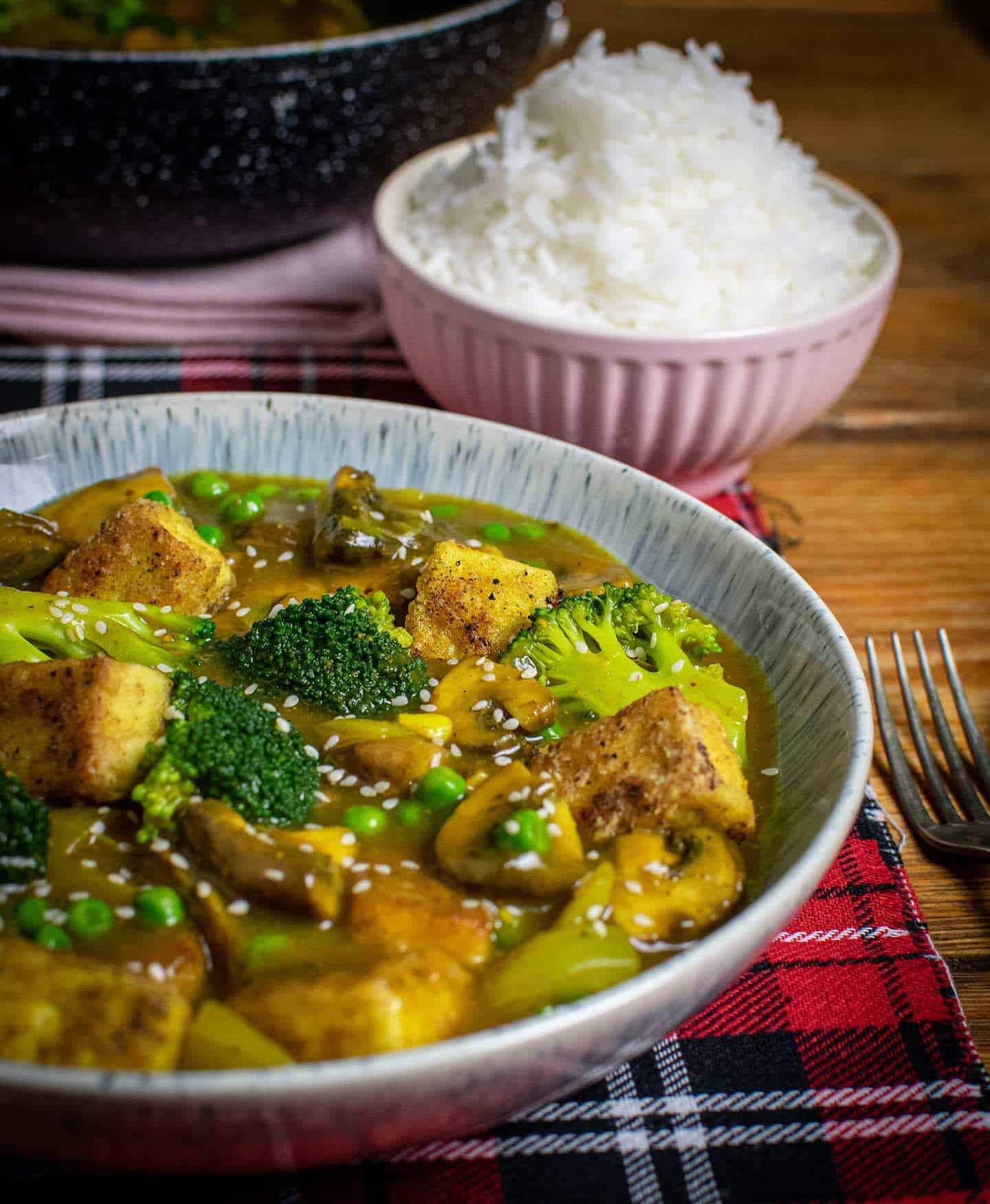 The Equipment you'll need
Wok – a wok is key for this recipe, and most Chinese recipes actually! We use this one which is non-stick, but would also recommend a traditional stainless steel wok too.
Wok Utensils – using the appropriate wok utensils will make life a lot easier for cooking in a wok. Using silicone or wooden utensils will help protect the non-stick, if your wok has non-stick too.
Tofu Press – this tofu press is a wonder gadget for preparing tofu. It takes all the faff out of pressing tofu. No need to piling books on top of a plate of tofu to press it now! Use a tofu press to take the hassle out of cooking tofu!
A set of measuring cups and spoons – we use cup and spoon measures to keep our recipes standardised. It really helps to make sure you're accurately measuring the spices (etc.). Then you won't end up with something that's so spicy you'll hate it, or not flavourful enough!
If you like this vegan Chinese curry, you may also like these takeaway style dishes:
We hope you enjoy this recipe as much as we do. You can always pin it for later too!
📖 Recipe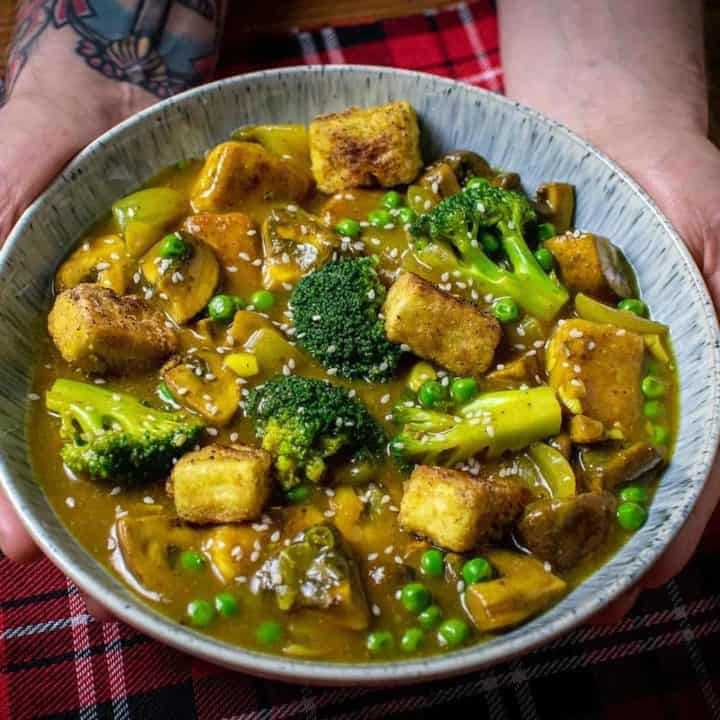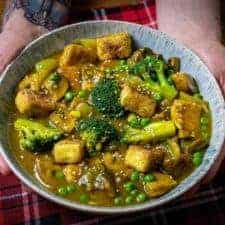 Vegan Chinese Curry
This Vegan Chinese curry has all the benefits of a real Chinese takeaway, only it's healthier and cheaper! Ready in 30 minutes and needs just one pot.
Save
Saved!
Print
Pin
Rate
Ingredients
For the tofu:
400

g

firm tofu

- pressed, for at least a few hours

2

tablespoon

cornflour

2

tbsps

vegetable oil
For the rest of the curry:
1

tablespoon

vegetable oil

2

onions

- cut into big chunks

1

green chilli

- finely chopped

6

cloves

garlic

- finely chopped

2

tablespoon

curry powder

1

teaspoon

ginger powder

¼

teaspoon

cumin powder

¼

teaspoon

Chinese five spice

1

teaspoon

turmeric powder

500

g

chestnut mushrooms

- quartered

800

ml

vegetable stock

2

tablespoon

cornflour

– mixed with a little cold water to make a paste

1

cup

peas

or petit pois

200

g

broccoli

- cut into florets
Instructions
Press the tofu for a few hours (optional), then chop into chunks.

Coat the tofu in the cornflour on all sides.

Fry the tofu in 2 tablespoons of veg oil until brown on all sides.

Once done, set the tofu aside.

Heat the rest of the oil in a wok and then add the onions and cook for a few minutes until they start to soften.

2 onions,

1 tablespoon vegetable oil

Add the chilli and garlic, cook for a couple minutes more.

6 cloves garlic,

1 green chilli

Next, add all the spices and cook for a minute until they become fragrant.

2 tablespoon curry powder,

1 teaspoon ginger powder,

¼ teaspoon cumin powder,

¼ teaspoon Chinese five spice,

1 teaspoon turmeric powder

Pop the mushrooms in the wok and cook for 5 minutes.

Add the vegetable stock, then the cornflour mix and stir well.

800 ml vegetable stock,

2 tablespoon cornflour

Keep it over a medium heat, and it will start to thicken, continue to stir. Add a splash more water if it looks too thick.

Finish the dish by adding the broccoli, tofu and peas, and cook for another 5-6 minutes.

1 cup peas,

200 g broccoli,

400 g firm tofu

Serve with rice and enjoy.
Notes
You could make the sauce without the vegetables or tofu to serve with chips!
Add an extra chilli if you like your curry spicy.
Try adding some curry powder to the cornflour that coats the tofu. This is delicious!
Nutrition
Calories:
249
kcal
|
Carbohydrates:
35
g
|
Protein:
17
g
|
Fat:
6
g
|
Saturated Fat:
1
g
|
Polyunsaturated Fat:
3
g
|
Monounsaturated Fat:
1
g
|
Sodium:
771
mg
|
Potassium:
976
mg
|
Fiber:
7
g
|
Sugar:
9
g
|
Vitamin A:
622
IU
|
Vitamin C:
66
mg
|
Calcium:
220
mg
|
Iron:
4
mg