These Vegan Singapore Noodles are delicious, filling and super quick to make! You'll only need 13 ingredients (14 if you add tofu) and 30 minutes to make it. They're great when served with sweet and sour tofu too.
This blog post will take you through all the steps to make the most delicious veg Singapore noodles, and we really hope you love it as much as we do. We've had quite a few friends who have tried this recipe and they've said that they now make it all the time (shout out Vicki!).
Jump to:
We often make this dish when we're in the mood for a takeaway but want to be healthy and also save some money. It's the perfect replacement! We like to think of it as a vegan fake-away. You could even serve it in a reused plastic takeaway tub (that I know most people keep a stack of in the cupboard!).
If you love this recipe, don't forget to head down to the bottom of the page and leave us a quick review – it would mean the world to us.
How to make Vegan Singapore Noodles
The best way to prepare these vegan Singapore noodles is to prepare all of the vegetables first, then mix together the sauce in a separate bowl. If using you should first fry off the tofu in your wok before adding any other ingredients.
If you're making tofu Singapore noodles, chop the tofu into small thin chunks, around 2cm long – as seen in the video below. Fry it in a little sesame oil for the best flavour! Even though it's an extra step in the process, pressing and frying the tofu beforehand will hugely improve the texture of the tofu.
However, if you're short on time, you can always skip this step out.
Before moving on to cooking, make sure you soak the vermicelli rice noodles in a big bowl. Usually soaking for 5 minutes is sufficient.
Top tip: don't forget to rinse cooked noodles with cold water. This helps to prevent them from sticking together when added to the wok. Dan finds this so infuriating so I tend to be in charge of noodles when we're making stir fry – haha.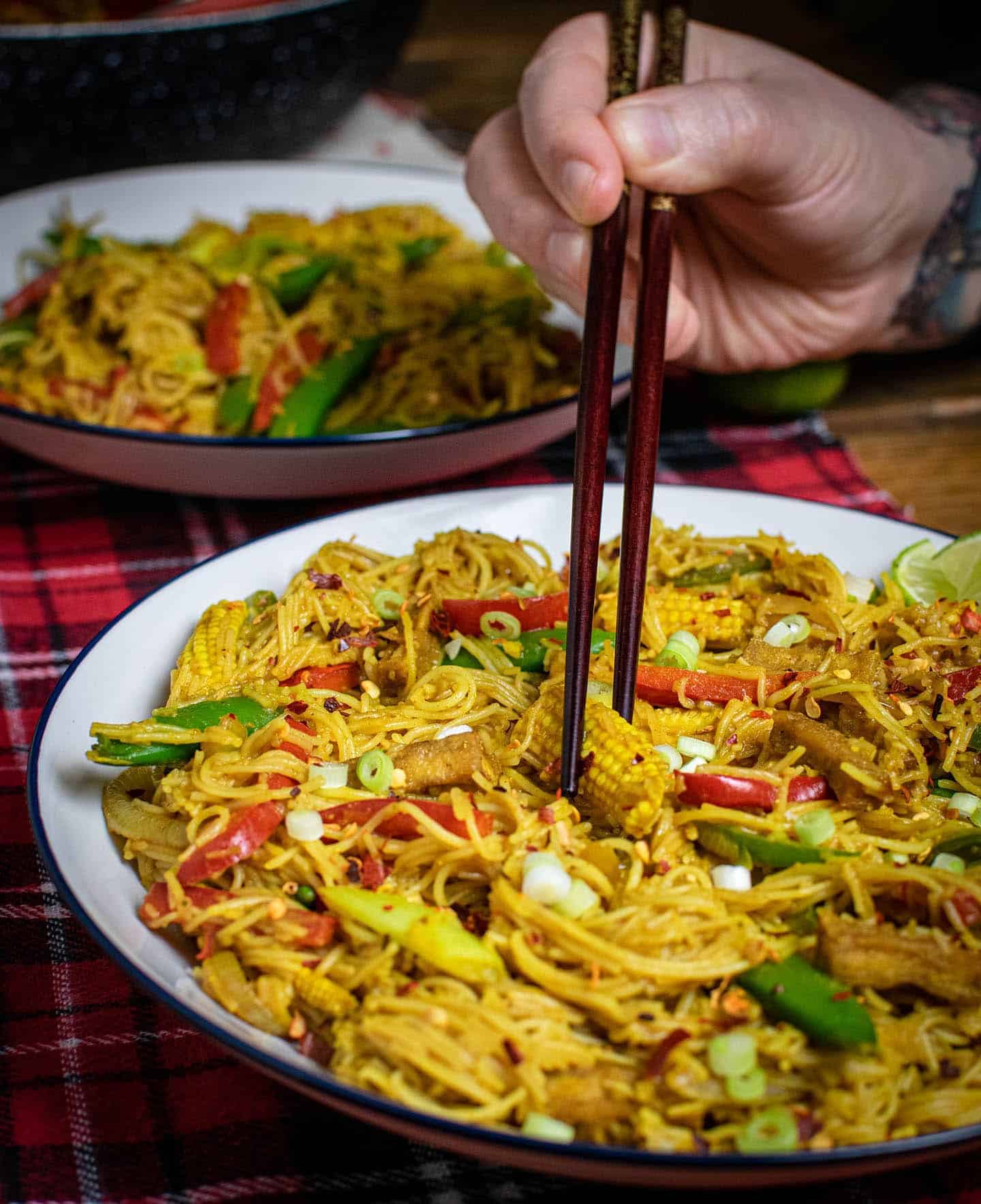 Once you've prepared the tofu, chopped all the vegetables and soaked the noodles, it's just a case of stir frying in a wok over a high heat. It will only take about 15 minutes to put these vegan Singapore noodles together!
Using a high heat and flash frying means that the vegetables stay crunchy but will also be lovely and hot – just how stir fries should be, in my opinion.
First add in the onions, then the garlic, peppers, baby corn, sugar snap peas and spring onions. After flash frying, add the curry powder and turmeric, then the noodles. Once everything is covered in the spice and mixed together, add the pre-prepared Singapore noodle sauce. This will help to loosen it all up and enable it to mix together even better. It's as simple as that!
You can then serve with optional chilli flakes, chilli oil and sesame seeds.
Where do Singapore Noodles come from?
Not Singapore! According to Wikipedia, there's actually a version of Singapore noodles found in certain restaurants in Singapore, but it's actually known as: Xing Zhou Mi Fen.
While researching this article, I found myself deep down a reddit hole learning all about the origins of the dish. Apparently, Singapore Noodles actually first came about in Hong Kong in Cantonese restaurants.
The thread I saw goes on to say that British people brought curry powder to Hong Kong, and it was teamed up with rice noodles, which of course are very popular in South East Asia. People thought that the curry powder and rice noodles combination was similar to Singapore's Indian-Chinese fusion. So they dubbed the meal 'Singapore Noodles', even though the recipe had never set foot in the country. Don't say we're not resourceful here at the Vegan Punks blog!
We love to find out where certain meals come from, and we hope you do too? Let us know in the comments...
What are Veg Singapore Noodles?
I've probably covered what veg Singapore noodles are already above, but traditionally it's made up of rice vermicelli noodles, curry powder, various meats and scrambled eggs. Of course, this is a vegan recipe so we won't be needing any meat or eggs. Additionally this recipe is also vegetarian!
Ingredients for these stir fry noodles
All of the ingredients in this recipe are pretty standard things that may already be in your cupboard. The fresh ingredients you will need are:
Onion
Garlic
Peppers
Sugar Snap Peas
Spring Onions
Firm Tofu (optional but recommended)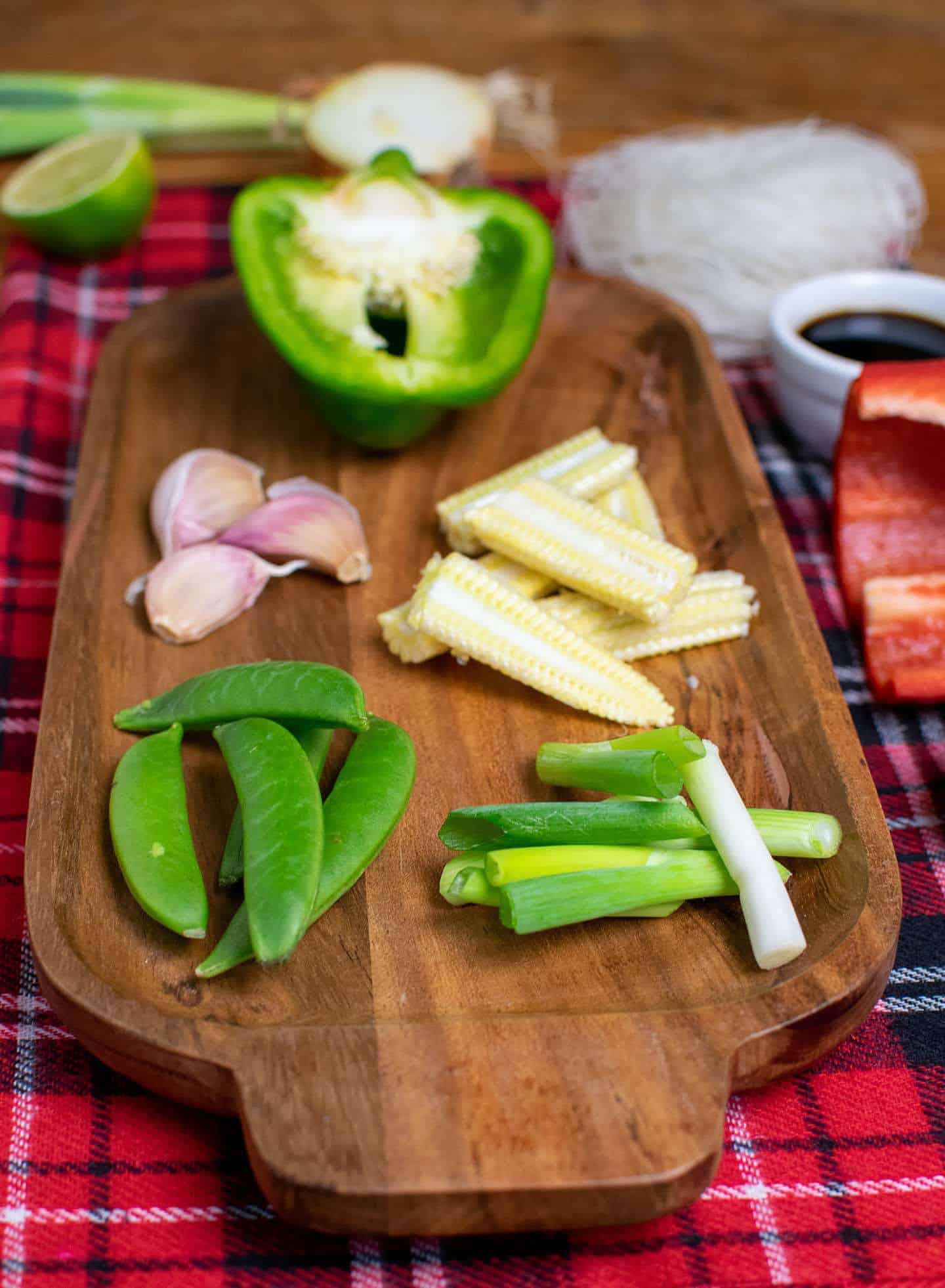 Veg Singapore Noodles Sauce
The sauce only needs 6 ingredients, and you may already have these in your cupboard too! You will need:
Liquids:
Sesame oil
Lime Juice
Light Soy Sauce
2 tsp sugar
Spices:
Turmeric Powder
Curry Powder
All you have to do to make the sauce is mix the liquid ingredients together in a bowl and then it's ready to be added to the pan!
I've included the spices in this section too. Even though they don't get mixed into the sauce, they are key to the flavour of the vegan Singapore noodles dish. The turmeric and curry powder really do make up the flavour of these vegan noodles – it just wouldn't be the same without them!
When it comes to which curry powder to use, it doesn't matter too much. If you like spicy food, use hot curry powder, otherwise use mild. We always have madras curry powder in the cupboard so we tend to use that to make this dish.
And of course, we haven't forgotten the noodles. It's traditional to use rice vermicelli noodles in this recipe, and 50g of dried noodles per person is a good portion.
The Equipment you'll need
If you like these recipes, you may also like these vegan stir fry dishes:
Did you make this recipe? Leave a review and a rating below, or tag us in your photos on Instagram! Alternatively, bookmark it in your browser or save to Pinterest for later.

If you love our content, please consider supporting it by buying us a coffee.
📖 Recipe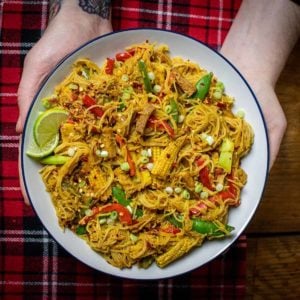 Vegan Singapore Noodles
These Vegan Singapore Noodles are delicious, filling and super quick to make! You'll only need 13 ingredients (14 if you add tofu) and 30 minutes to make it.
Print
Pin
Rate
Ingredients
200

g

vermicelli noodles

3

tbsp

sesame oil

½

cup

light soy sauce

2

tbsp

lime juice

2

tsp

brown sugar

4

tbsp

curry powder

1

tsp

turmeric powder

400

g

firm tofu

– pressed and chopped into small chunks

1

onion

– finely sliced

5

cloves

garlic

– crushed

175

g

baby corn

– sliced in half lengthways

175

g

sugar snap peas

2

peppers

– finely sliced

8

spring onions

– chopped into 1.5" chunks
Instructions
Soak the noodles in a bowl of hot water (straight from the kettle) for 5 minutes. Drain and rinse with cold water once they're done.

In another bowl, mix 2 tablespoons of sesame oil, the lime juice, brown sugar and soy sauce until the sugar dissolves.

3 tbsp sesame oil,

½ cup light soy sauce,

2 tbsp lime juice,

2 tsp brown sugar

Heat the remaining tablespoon of sesame oil in a large wok over a medium-high heat.

Once the oil is hot, add the tofu chunks into the wok and sauté until golden brown, being careful not to burn them.

Add the onion to the wok and cook until soft, then add the crushed garlic and stir for a minute.

Drop in the peppers, baby corn, spring onions and sugar snap peas and continue to cook for a few minutes.

175 g baby corn,

2 peppers,

8 spring onions,

175 g sugar snap peas

Move the vegetables to one side of the wok and add the noodles into the space.

Pour in the sauce mixture and add the curry and turmeric powder.

4 tbsp curry powder,

1 tsp turmeric powder

Stir everything together with tongs until the noodles turn yellow and everything has a good coating of curry powder and sauce.

Give it a quick taste and see if any more curry powder is needed - it really varies depending on the type you're using, so add a tsp or two more if needed.

Serve with extra spring onions, sesame seeds, chilli flakes or sriracha. 
Notes
The tofu is optional but recommended.
We usually use madras curry powder, but you can use whatever type you have, hot or mild, it will still be tasty.
Nutrition
Calories:
504
kcal
|
Carbohydrates:
73
g
|
Protein:
19
g
|
Fat:
17
g
|
Saturated Fat:
2
g
|
Polyunsaturated Fat:
8
g
|
Monounsaturated Fat:
6
g
|
Sodium:
1729
mg
|
Potassium:
602
mg
|
Fiber:
8
g
|
Sugar:
10
g
|
Vitamin A:
1114
IU
|
Vitamin C:
87
mg
|
Calcium:
229
mg
|
Iron:
6
mg