If you're looking for a top tier lunch, then you have come to the right place! In this article you'll find all the best vegan sandwiches, including the best vegan sandwich fillers and hopefully inspiration for the most unique sandwiches around – as well as vegan versions of all the classic sandwiches, like Vegan Egg Mayo and Vegan Tuna Salad.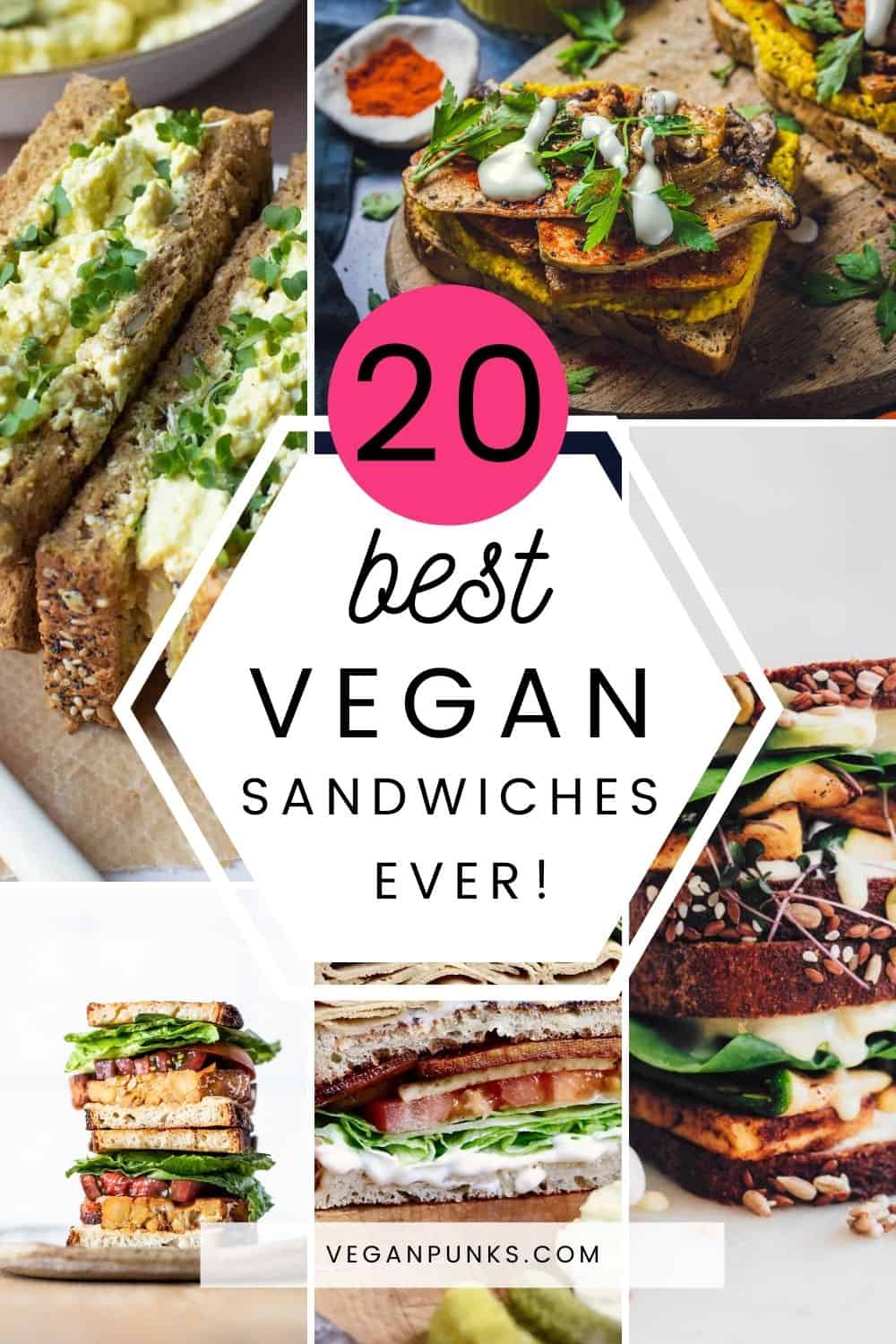 Jump to:
So, if you love sandwiches as much as Joey Tribiani, you're in luck because the best vegan sandwiches around are only found in this list! (We'll leave it up to you to decide if you'll be sharing them though 😜). We've even included the best vegan bread to use, and the best vegan butter. Just head to the bottom of the page for that little bonus.
However, before we get into the thick of the best ever vegan sandwich ideas list, let's just clear one thing up. A sandwich is a filling that's wrapped between two pieces of bread. Or even three pieces of bread if we're talking about club sandwiches. They can be served cold or toasted. That means we've excluded wraps, pittas and burgers and we're solely focusing on the best sandwiches around. In addition, vegan sandwiches can are usually savoury but can be sweet. So we've made sure to include a few sweet vegan sandwiches too – if that tickles your pickle!
We're mostly going to be focusing on vegan lunch sandwiches but we've thrown in a few breakfast ideas for good measure too. And, as picnic season is just around the corner, most of these vegan sandwiches are perfectly portable for a good picnic too!
🥪 Classic Vegan Sandwiches
🥖 Inventive sandwiches
🍭 Sweet sarnies
💭 FAQs
These are some of the questions we've seen asked about vegan sandwiches and vegan sandwich fillers, so this is where we can set the record straight!
🍞 Best Vegan Bread
All great vegan sandwiches have to start with vegan bread and butter! So we mustn't forget them when making a great vegan sandwich.
The key thing to know is that most bread found in supermarkets is vegan in the UK. Always remember to check the packaging, and if the bread is from a bakery, it's best to ask the baker or staff in the shop, just to be 100% sure. Most standard bread recipes are accidentally vegan though, such as sourdough, crusty wholewheat bloomers or even tiger bread to name just a few. Find out more about vegan bread.
However, if you're keen to make your own, try this homemade crusty bread recipe. Or this amazing sourdough, or even focaccia! There are so many options.
🧈 Vegan Butter
To round off this article, we'll just talk about vegan butter briefly. It's totally possible to make your own vegan butter, however, it's really easy to buy too!
We love Vitalite, Flora or Naturli in the UK. In the US and Canada, we liked to use Earth Balance when we were there. Find out about more brands of vegan butter and in the US.
Remember, even if it's not labelled as vegan in your supermarket, a lot of margarine or 'spreads' are made with vegetable oil such as sunflower. So always make sure to check the ingredients list. This is how we managed to get vegan margarine when we lived in Bali! It wasn't labelled as vegan, but all of the ingredients listed were vegan.
So, there you have it! An extensive list of vegan sandwich fillers for making the best vegan sandwiches around. They will be perfect for a vegan picnic, lunch date or even breakfast. And if you're looking for even more inspiration, how about this guide to the best plant based party recipes?
Have we included your favourite? Let us know what your favourite combo is in the comments below!
More recipe inspiration