This article contains affiliate links. If you make a purchase from the link, we will receive a small commission at no additional cost to you. For full information, please see our disclaimer.
This Thai Vegetable Stir Fry only takes 10 minutes to cook, yet is full of flavour! You'll just need 10 ingredients and some rice or noodles to serve them with. Carry on reading for this super quick, simple and tasty meal…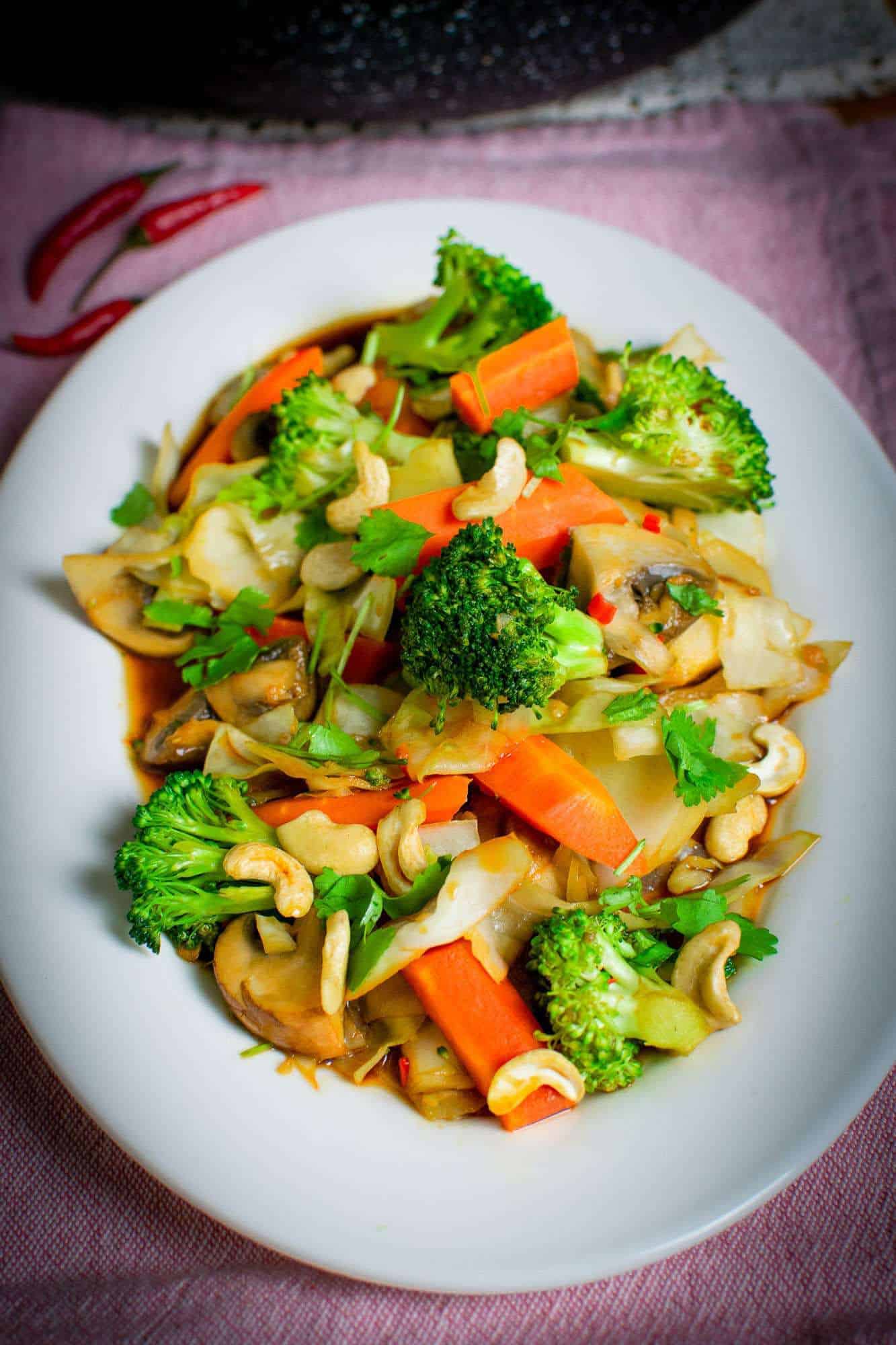 These Thai stir fried vegetables are a super simple take on the classic dish, vegetables in oyster sauce, only it's totally plant based. We used a DIY work around for a vegan substitute for oyster sauce. However, if you have a vegan oyster sauce in the cupboard, that will work just fine too! We go into more detail on that later…
This dish is great for eating 'Thai style', and by that we mean putting it in the middle of the table and sharing. We love sharing our meals generally, but especially when at restaurants that encourage you to do so! It also means that you can try more from the menu, so what's not to love?
Alternatively – of course, it works as a main too. You might be thinking 'but it's just veggies' – where's the tofu or meat substitute? We found that it just doesn't need it – this one puts the veggies in the centre of the dish. We definitely won't be changing that – we love vegetables too much!
If you want to add tofu, tempeh or another substitute, then please do. Just because we don't, doesn't mean you can't! As far as protein goes, there is mushroom and broccoli included so nutritionally, there is protein in this meal so we're happy that it's balanced, we're not dieticians though.
Ingredients
There's a whole lotta veggies in this one!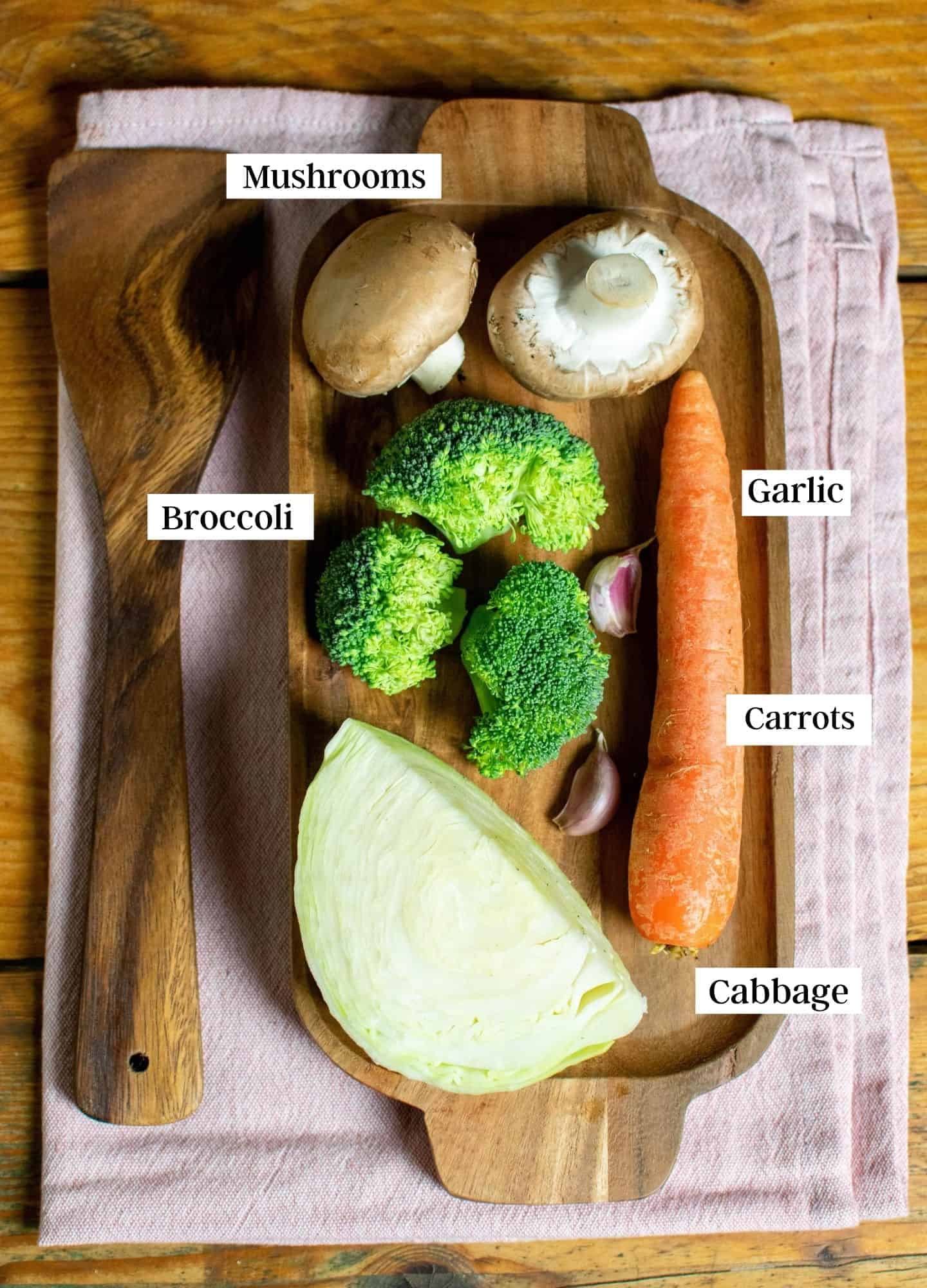 These are the vegetables that you'll need for this vegetable Thai stir fry:
Cabbage (Chinese or Savoy works great)
Carrots
Broccoli
Mushrooms
Garlic
For the vegan stir fry sauce, you'll just need these 5 items:
Light Soy Sauce
Dark Soy Sauce
Vegan Worcestershire Sauce
Sugar
Water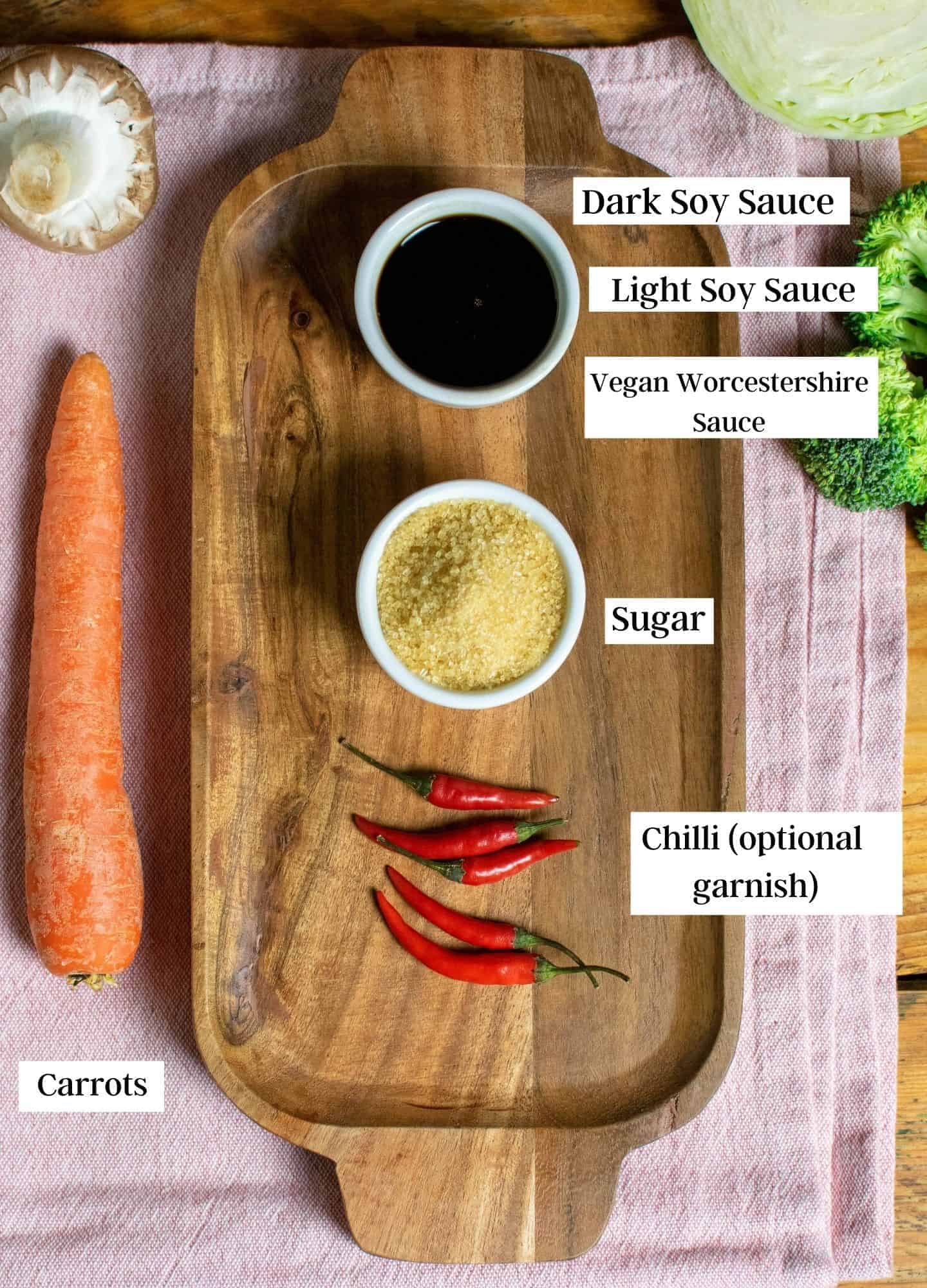 It's really as simple as that! We would also recommend topping with fresh coriander, fresh chilli (or chilli flakes) and cashews. But that's all optional.
As a side note, so many different vegetables would work in this dish. If you don't have everything that's listed, or you want to make it more seasonal, then go ahead! Other veg that would work well includes:
Baby corn
Pak Choi
Courgette
Sugar snap peas
Asparagus
Brussels sprouts (they're not just for Christmas!)
Cauliflower

...and that's just off the top of my head!
Vegan substitute for oyster sauce
Now, it might sound weird to use vegan Worcestershire sauce. If you don't have an oyster sauce substitute, dark soy sauce mixed with the vegan Worcestershire is a great alternative!
The best vegan substitute for oyster sauce, in our opinion, is the Mama Sita's brand. This is the only brand that comes close – that we've found, anyway!
The second best option is the Mushroom Vegetarian Stir Fry sauce by Lee Kum Kee. It's a lot easier to come by and can even be found on Amazon! However, the flavour isn't perfect, that's why we prefer the other one. As below…
Best stir fry sauce to buy
If you don't want to bother with making the sauce, you can always get a pre-bought sauce, like this Biona one. It's similar to the one used in this dish, but it's pre-made! It won't be exactly the same as the sauce we make from scratch, as it's a sweet and sour sauce, but it will be tasty.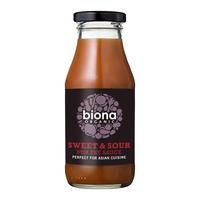 Another shop-bought stir fry sauce includes this vegetarian mushroom one by Lee Kum Kee. The mushroom flavour really adds a deep, rich umami flavour. You can use it in place of the dark soy and Worcestershire sauce in this dish, and it will be delicious!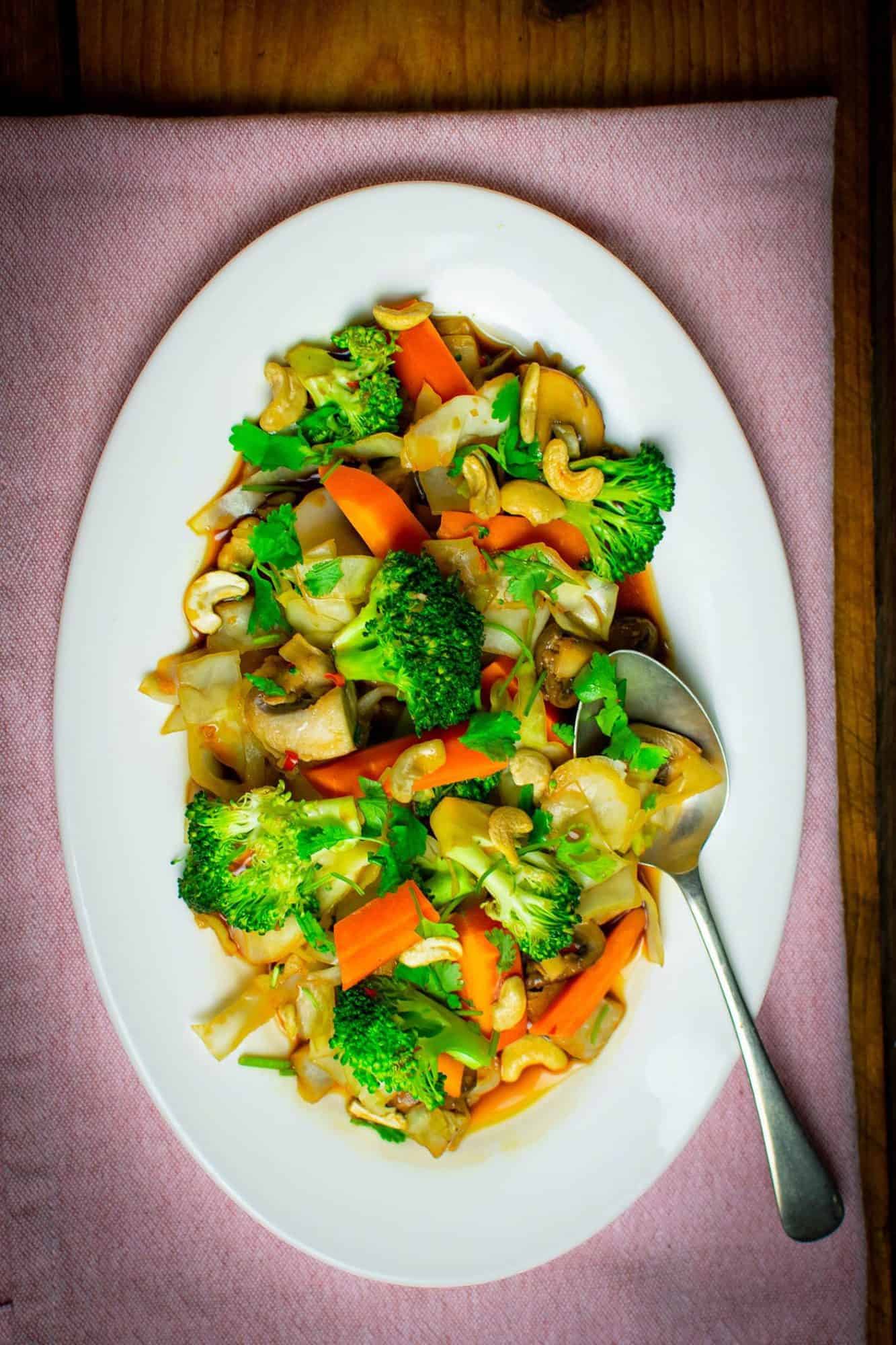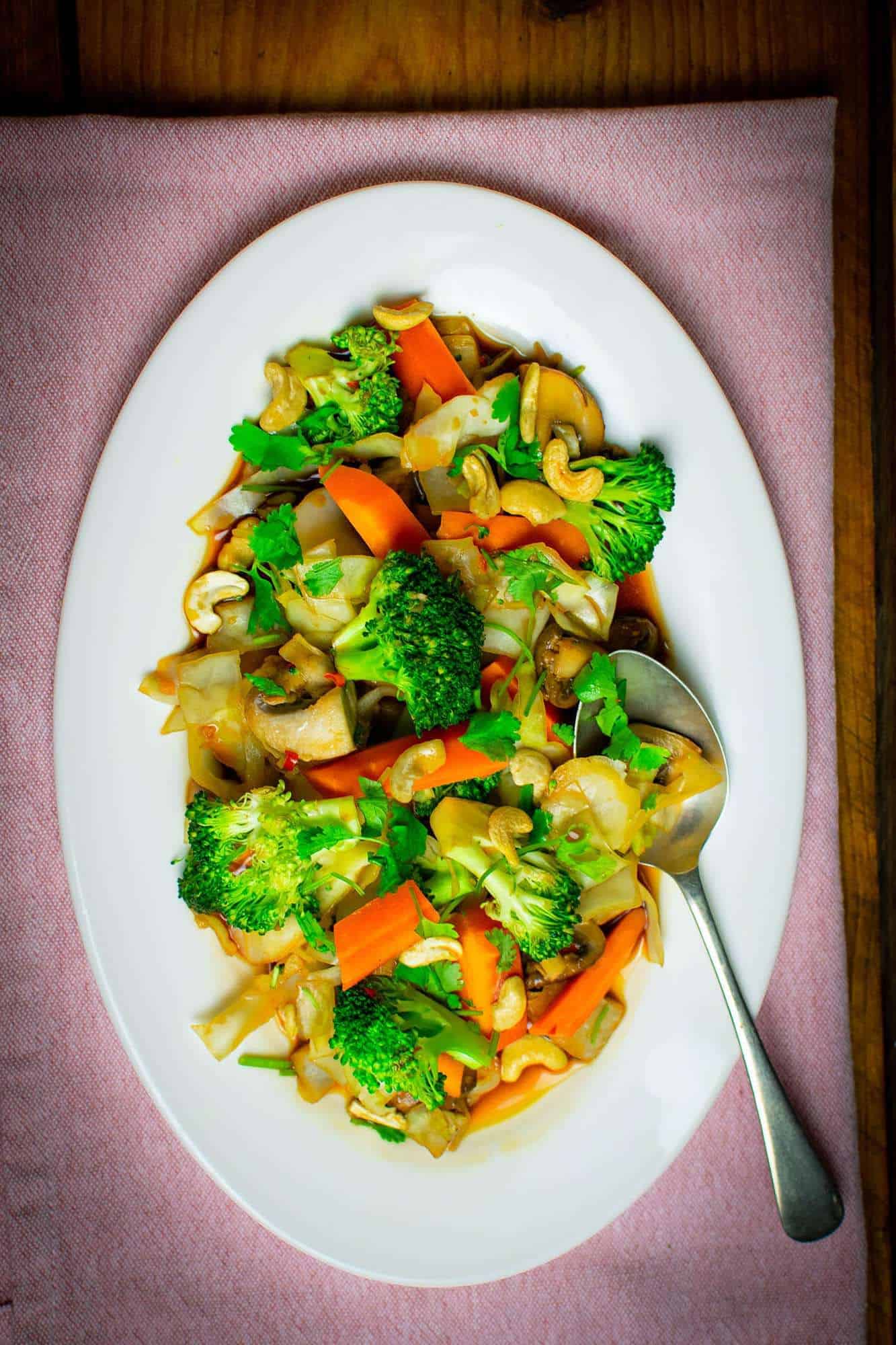 How to make Thai Vegetable Stir Fry in 10 minutes!
This is such a quick recipe, sometimes we surprise ourselves when we make it! It really does only take a few minutes to bring together.
First things first. Measure out all the ingredients, prepare and chop the veggies, and put the light soy sauce, dark soy sauce and vegan worcestershire sauce in a pot together.
Step 1
Pop a splash of veg oil (optional) into your wok, then add the garlic and stir fry for a minute. Add in the mushrooms and stir fry over a high-ish heat until they release water. If you choose not to use oil, you may need to add a splash of water to stop the garlic from catching.
Step 2
Add the carrots and broccoli, and continue stir frying for a few minutes.
Step 3
Pour in the soy sauces, vegan Worcestershire sauce and sugar, followed by the water. Continue to stir fry until all is combined. The sauce should come up to the boil, but only for around 30 seconds before the next step.
Step 4
Add in the cabbage, then stir until it wilts down. Serve and enjoy! Optional garnishes can be added such as cashews, fresh red chilli and coriander leaves.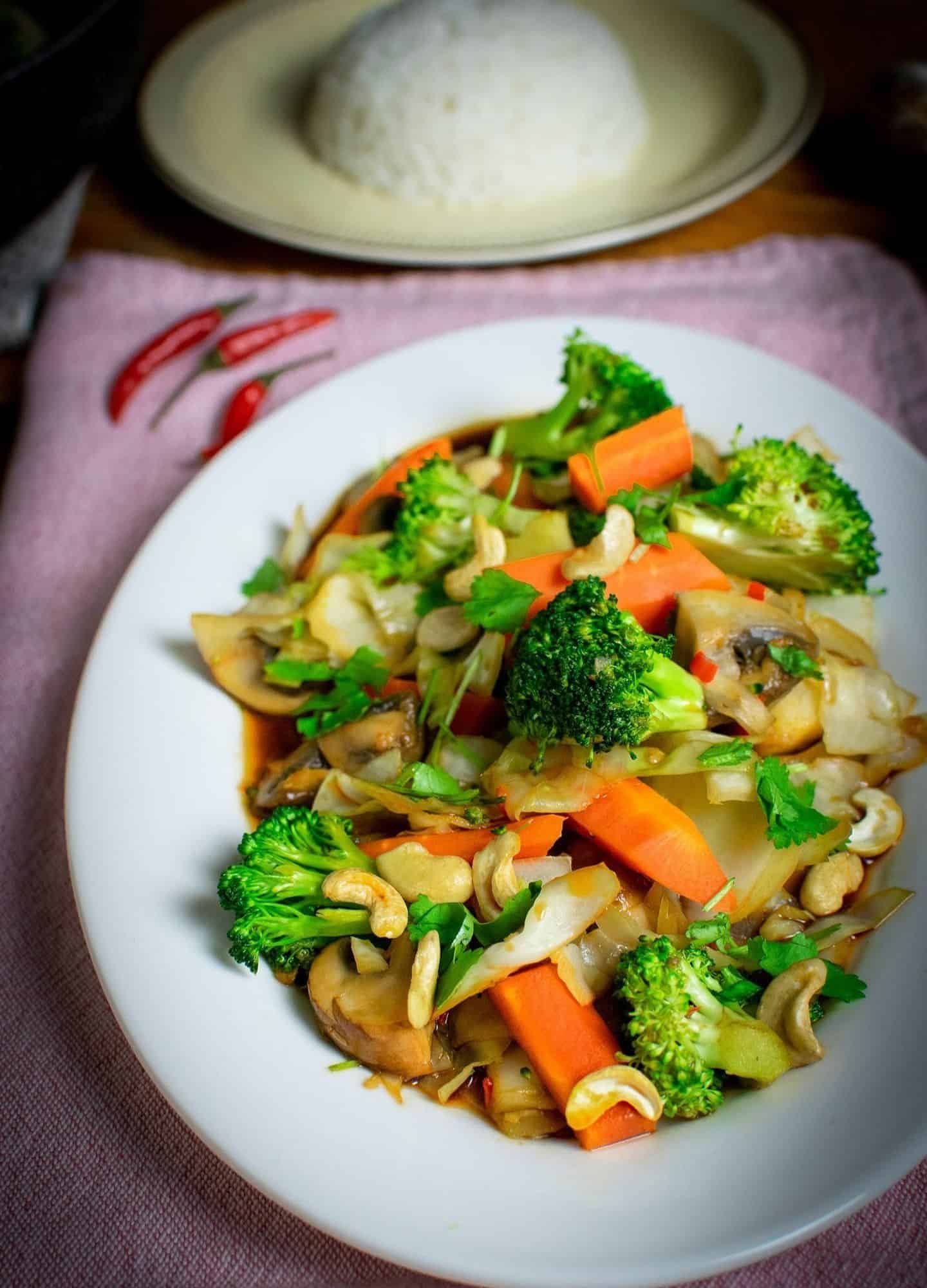 Thai Vegetable Stir Fry FAQs
What vegetables can I use?
A number of different veggies can be used. This recipe is in fact great for just chucking in leftover produce from the fridge! We use mushrooms for a protein but would recommend using a whole variety of other vegetables with them (as listed above) such as baby corn, bok choi, peppers, cauliflower, sugar snap peas... the list goes on and on!
Does this stir fry freeze?
This stir fry can be frozen. However, we would omit the chestnut mushrooms if you plan on freezing this meal. We always find that the texture of chestnut mushrooms become leathery and unenjoyable once defrosted and then cooked.
Can I make this stir fry without oil?
Yes, as long as you have a non-stick wok. As garlic burns easily, you can add a small splash of water to help prevent it catching at the beginning of cooking.
What if I don't have vegan oyster sauce or vegan Worcestershire  sauce?
You can omit both vegan oyster sauce and vegan Worcestershire sauce but the flavour won't be as umami rich.
If you love Thai food, read even more about it in our Ultimate Vegan Thai Food Guide!
Save this recipe by pinning it on Pinterest, using the image below! Thank you for reading.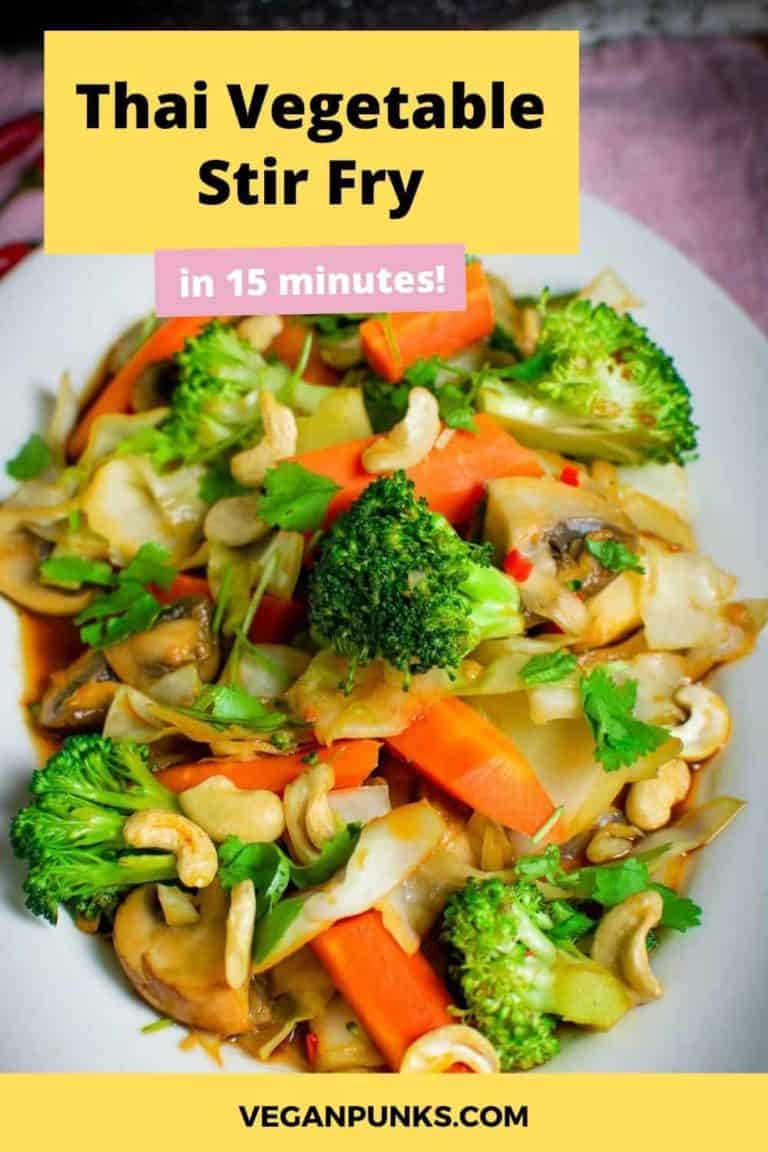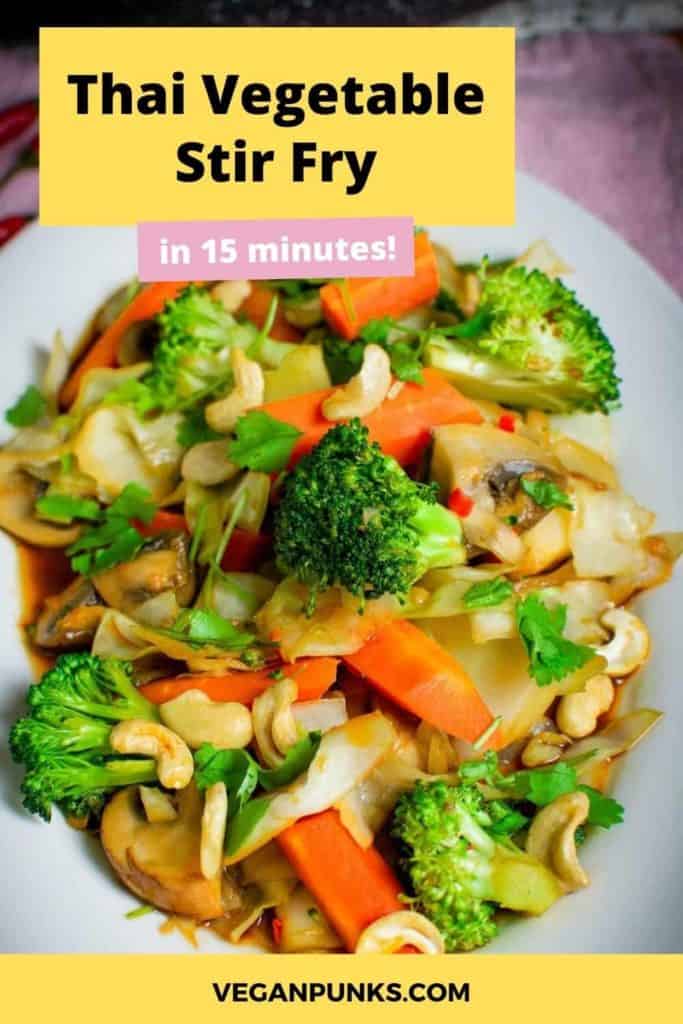 Print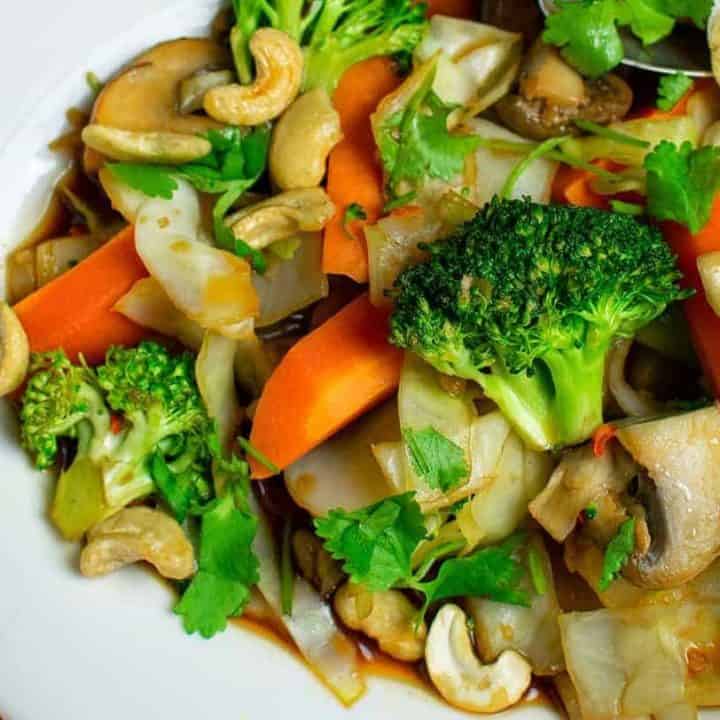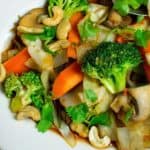 Thai Vegetable Stir Fry in 15 minutes
---
Author:

Prep Time:

5

Cook Time:

10

Total Time:

15 minutes

Yield:

4

1

x

Diet:

Vegan
Description
This Thai vegetable stir fry is super simple, quick and easy to make! We've included the veggies that we like in this dish, but feel free to mix them up if you like. We've included a list of other vegetables that go well in this dish above.
---
4

cloves garlic – minced 

250g

mushrooms – chopped into quarters

300g

carrots – peeled and chopped

200g

broccoli

2 tbsp

light soy sauce

2 tbsp

dark soy sauce

1 tsp

sugar

¼ cup

water

500g

white or Chinese cabbage

1 tbsp

veg oil (optional)
Garnish (optional):
Fresh coriander
Cashews
Fresh chopped chillies
---
Instructions
If using, put the veg oil into the wok, then add the garlic and stir fry for a minute.
Add in chopped mushrooms and stir fry over a high-ish heat until water is released. If you're not using oil, you may need to add a splash of water to stop the garlic from catching or burning.
Pop the carrots and broccoli in, and continue stir frying for a couple of minutes.
Pour in the soy sauces and vegan Worcestershire sauce, the water and the sugar. Stir well – let the sauce boil, but only for around 30 seconds.
Add in the cabbage, then stir until it wilts down. Serve and enjoy! Optional garnishes can be added such as fresh coriander cashews, chopped red chilli and cashews.
Equipment
Category:

Dinner

Method:

Wok

Cuisine:

Thai
Keywords: Thai vegetable stir fry, Thai stir fried vegetables, Vegan thai stir fry