Need to know about fish sauce substitutes? Then check out this list of the best (and worst) options! Fortunately, it's easy to find a great fish sauce alternative. There's soy free and gluten free options and, of course, they're all suitable for a vegan diet.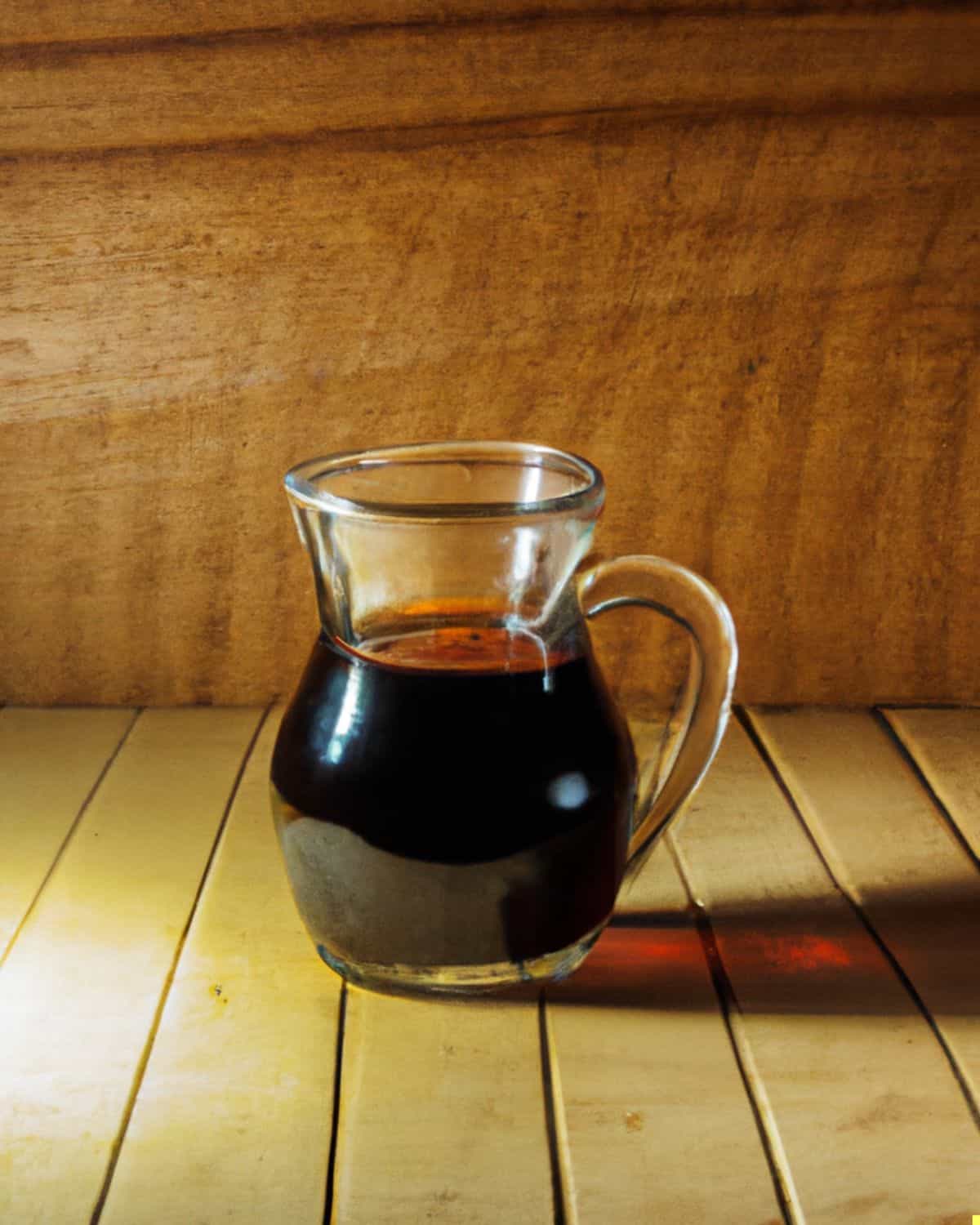 Jump to:
🐟 What is fish sauce?
Fish sauce is a popular ingredient in many Southeast Asian cuisines, particularly in Thai and Vietnamese dishes like fried rice, curries and even salads. It's used in dipping sauce, as well as added to stir fries and curries to add a complex, umami flavor to dishes
It's made from fermented fish and has a salty, savory flavor that adds depth and a rich umami flavor to dishes, as well as a bit of a briny flavor.
However, for vegetarians and vegans, or those with allergies, finding a substitute for fish sauce can be a challenge! Fortunately, there are several fish sauce substitutes that can be used in place of the real thing.
As we're experts in making vegan Thai and Indonesian cuisine, we've tried all the options to make sure our dishes, like our papaya salad, Thai veg stir fry and Thai Green Curry, have the best flavor with no compromise. There's no need for real fish sauce when great alternatives exist! We also have some amazing recommendations for the best shrimp paste substitutes.
🌟 The best fish sauce substitutes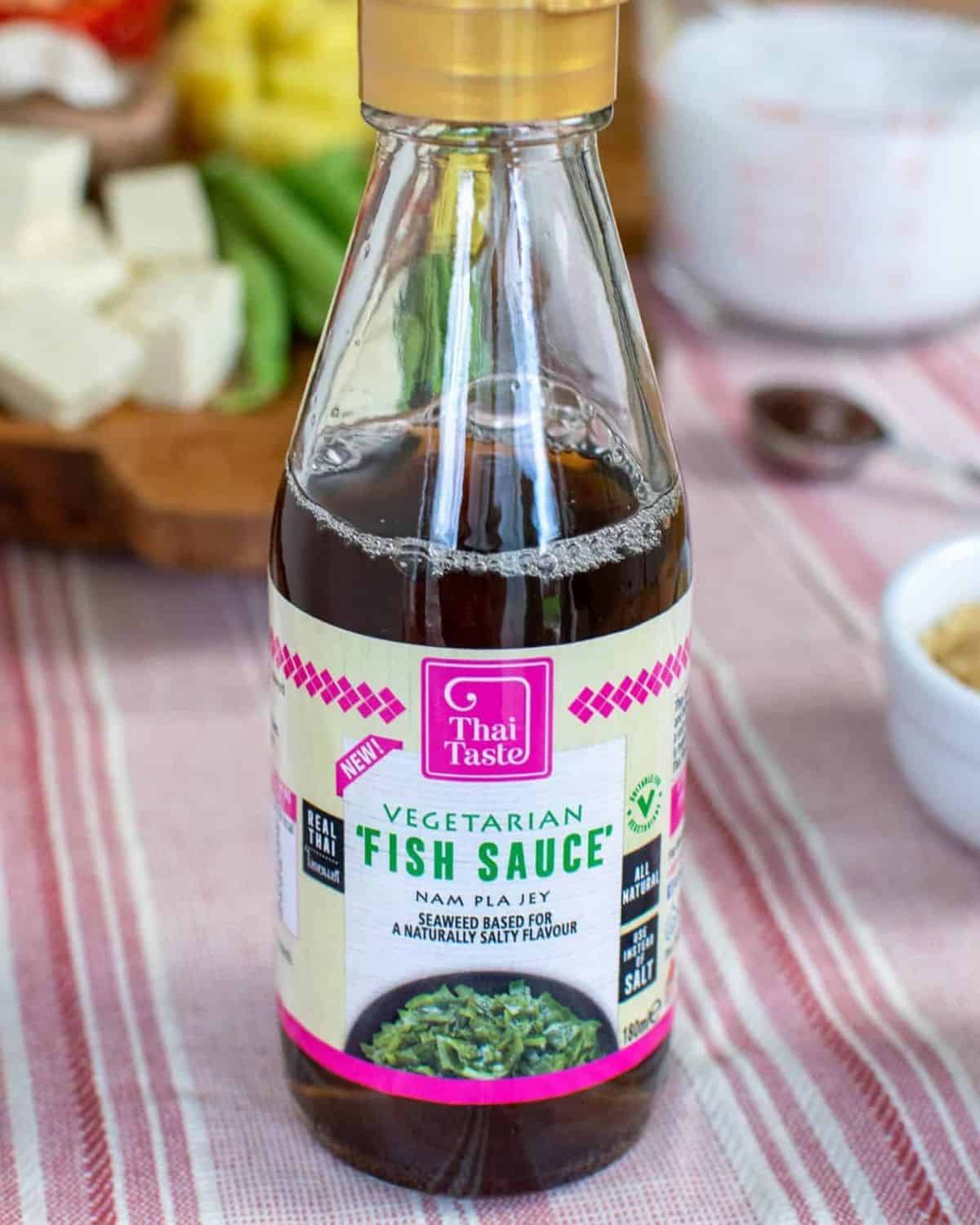 1. Vegan fish sauce
Yes, vegan fish sauce (a.k.a. vegetarian fish sauce) is a thing! You can find it in supermarkets, vegan stores and health food shops or just on Amazon.
Vegan fish sauce is made without fermented fish - because it is for those following a vegan diet. It's also great for those who are simply needing to avoid fish sauce.
This fish sauce is usually made with soy, yeast extract, seaweed and vinegar to give it that salty, slightly sour flavor that you'd expect from fish sauces.
So, if you want to replace fish sauce in a recipe, vegan fish sauce is the best option! This is our favorite fish sauce substitute.
1:1 - substitute 1 tablespoon of fish sauce for 1 tablespoon vegan fish sauce.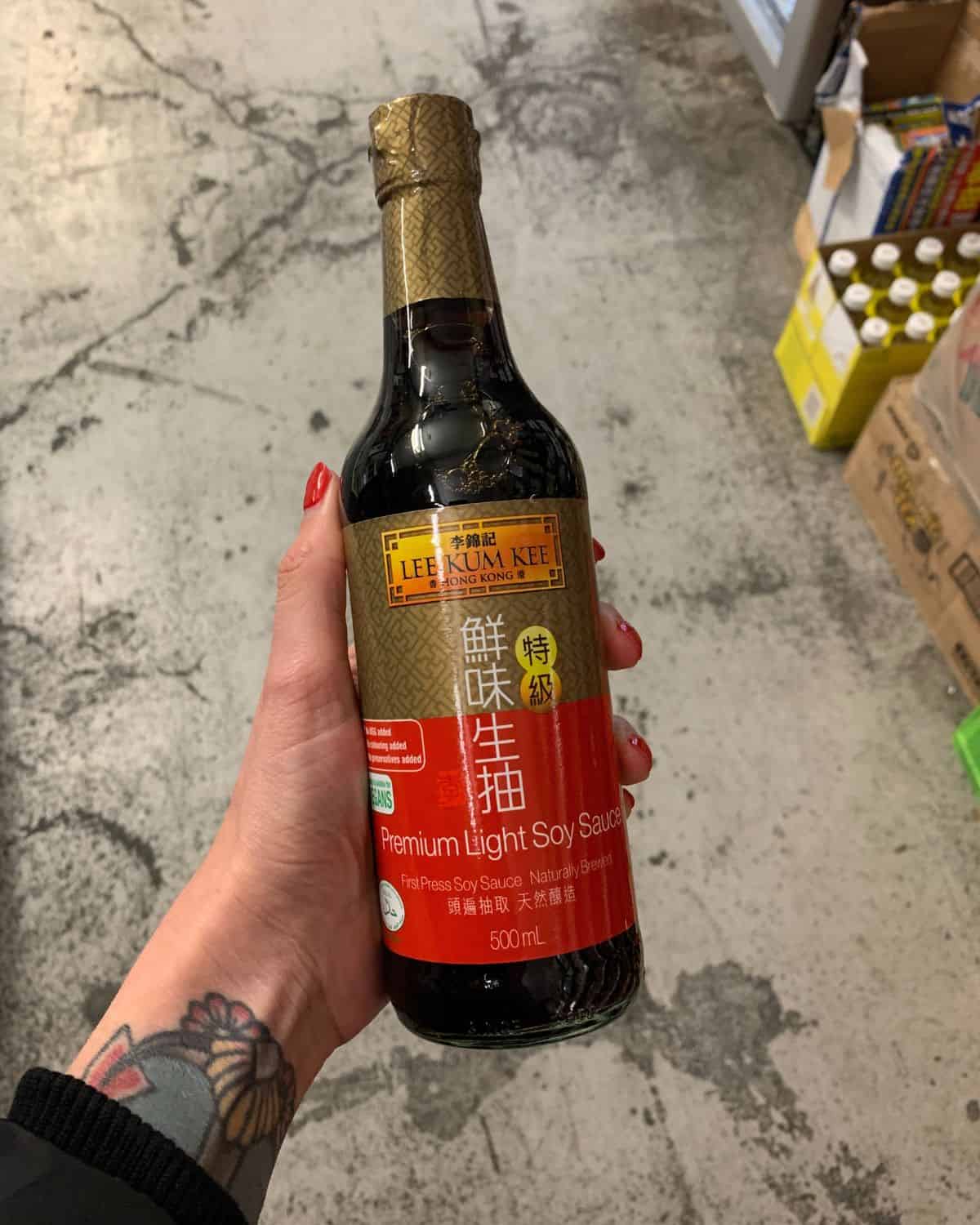 2. Soy sauce
Soy sauce, tamari, liquid aminos and coconut aminos all have a pretty similar flavor. They all add a salty umami flavor to dishes, so if a recipe calls for fish sauce they're not a bad place to start.
Soy sauce is also a pretty common cupboard staple ingredient so we know it will be a popular choice as a fish sauce substitute!
Soy sauce is a super popular condiment and one of the top fish sauce substitutes. Dark soy sauce is an option too but it's likely to be too rich to replicate the flavor of fish sauce. So stick with light soy sauce here.
And, in addition, if you ever need to replace light soy sauce, check out our guid to substituting soy sauce.
1:1 - substitute 1 tablespoon of fish sauce for 1 tablespoon soy sauce.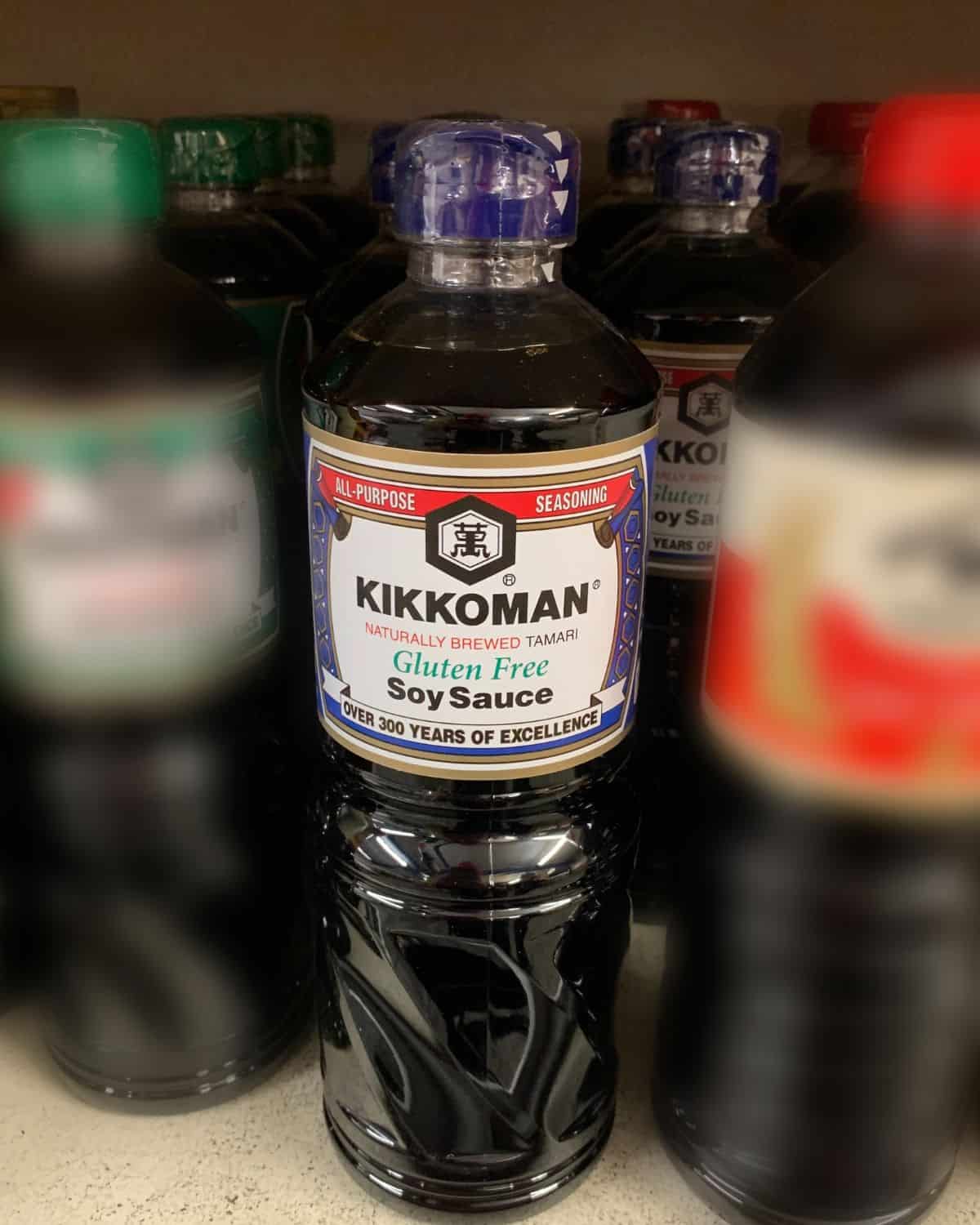 3. Tamari
Tamari is a gluten free soy sauce. It can be used as a soy sauce substitute or as a fish sauce substitute. As fish sauce adds a salty, briny and kind of sour flavor to recipes, tamari should be a decent alternative.
Actually, it's probably one of the best fish sauce substitutes you could use! It's pretty readily available and is great for making gluten free options too. if you're ever looking to replace tamari, we have a guide for that too.
1:1 - substitute 1 tablespoon of fish sauce for 1 tablespoon tamari.
4. Liquid Aminos or Coconut Aminos
Liquid aminos are a fish sauce and soy sauce alternative that are made from non-GMO soybeans and water. They're gluten-free and have a similar umami flavor to fish sauce. Liquid aminos can be found in health food stores or online.
Coconut aminos are a great alternative for fish sauce for several reasons. Firstly, it has a similar umami flavor that can add depth to dishes like fish sauce does.
Secondly, it's made from fermented coconut sap, from a coconut tree, which makes them a great gluten-free and soy-free alternative for those with dietary restrictions. And that means it's also a fermented condiment, like fish sauce.
Additionally, coconut aminos are low in sodium and have a slightly sweet flavor, which can balance out the savory flavors in dishes, especially in asian cuisine.
This option can be found in health food stores or online, which makes it a pretty convenient option to substitute fish sauce. Overall, coconut aminos are a versatile ingredient that can be used in many different types of cuisine, especially in Southeast Asian dishes.
1:1 - substitute 1 tablespoon of fish sauce for 1 tablespoon of liquid aminos or coconut aminos.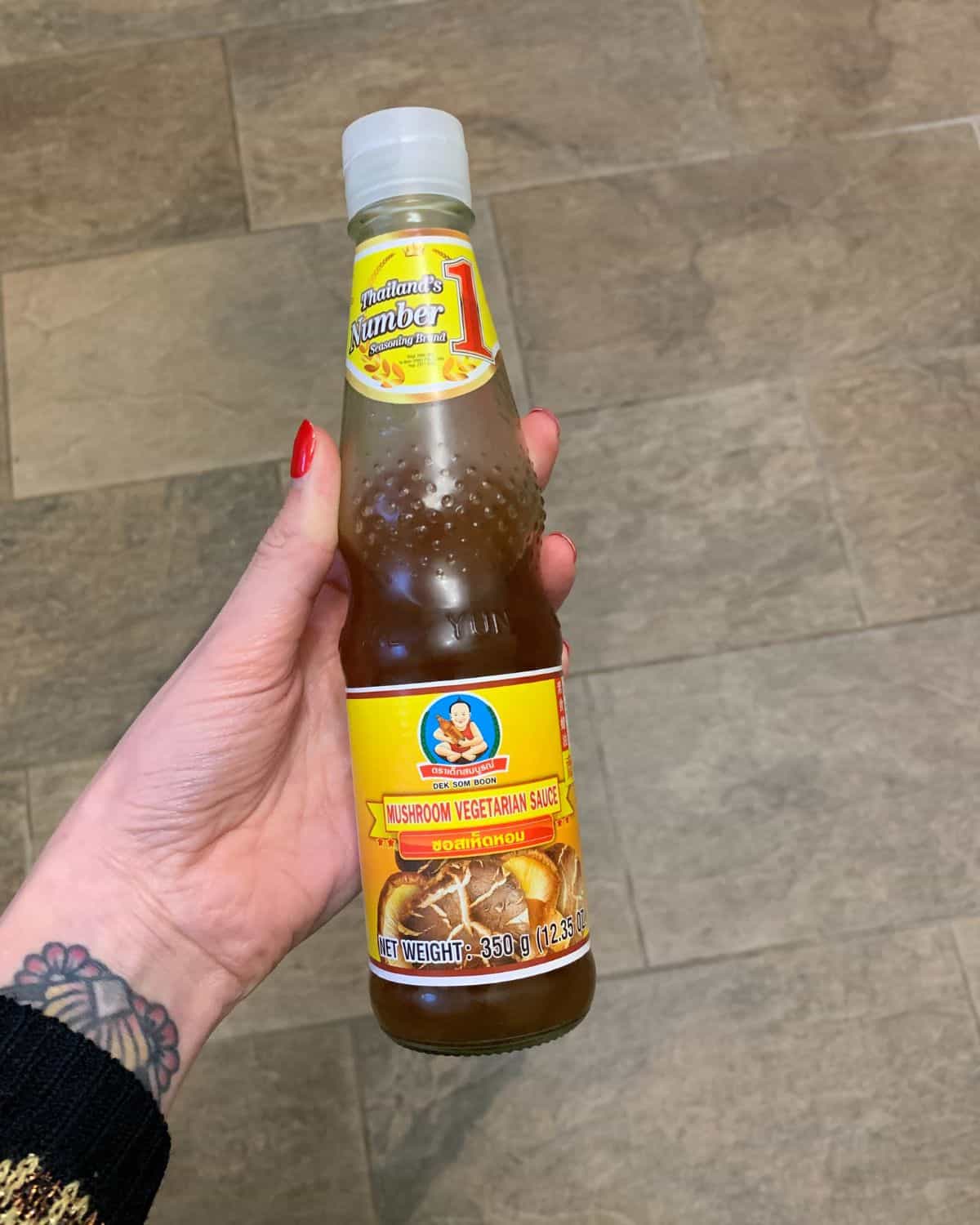 5. Vegetarian oyster sauce
Vegetarian oyster sauce is a great alternative to fish sauce for a few reasons. It has a similar savory, umami flavor that can enhance recipes. And is also sometimes called mushroom sauce.
Secondly, it's usually made from mushrooms instead of oysters, making it a vegan-friendly option.
However, it's not super easy to find in grocery stores, which means it's not one of the most convenient fish sauce substitutes. Overall, vegetarian oyster sauce is a versatile ingredient that can be used in many different types of cuisine, especially in Southeast Asian dishes.
1:1 - substitute 1 tablespoon of fish sauce for 1 tablespoon vegetarian oyster sauce.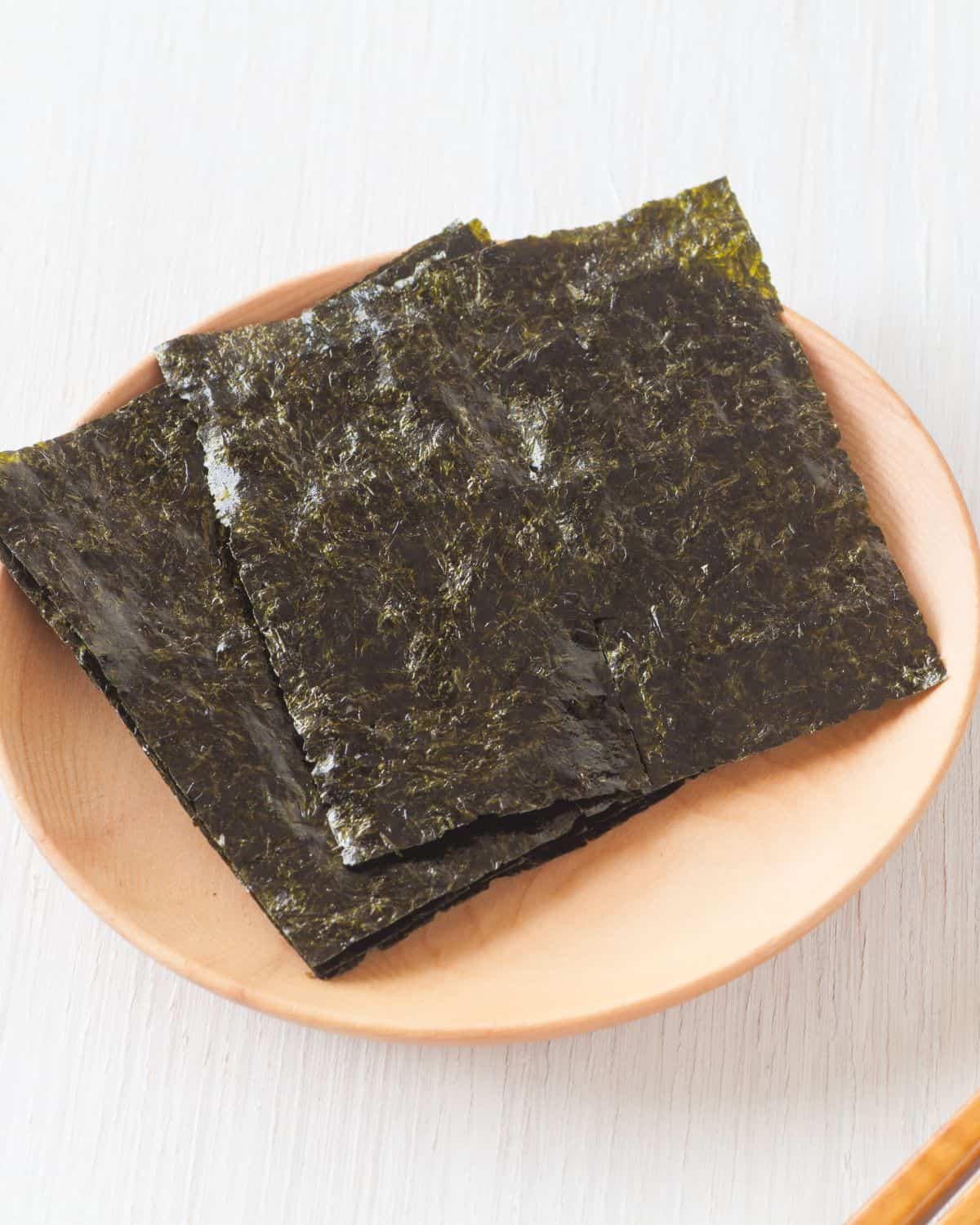 6. Seaweed
There are already quite a few fish sauce substitutes listed, but seaweed is another great one! Dried and fresh seaweed is quite nutritious, and is a term that encompasses many algae and plants that grow in the ocean. It adds a fishy flavor to dishes. It's particularly good in soups for adding a flavor of the ocean without using actual fish.
If using dried or fresh seaweed to replace fish sauce, it would be good to combine it with soy sauce or tamari. You can used both fresh and dried seaweed, depending on what you've got to hand.
While seaweed offers a fishy flavor, it's not very salty or rich in umami flavor. That's why we recommend using a liquid like soy sauce, liquid aminos or tamari as well.
It's hard to give a ratio for this substitute for fish sauce, as it can very per dish. It's best to start with around a teaspoon of each seaweed and soy sauce, and then taste and adjust.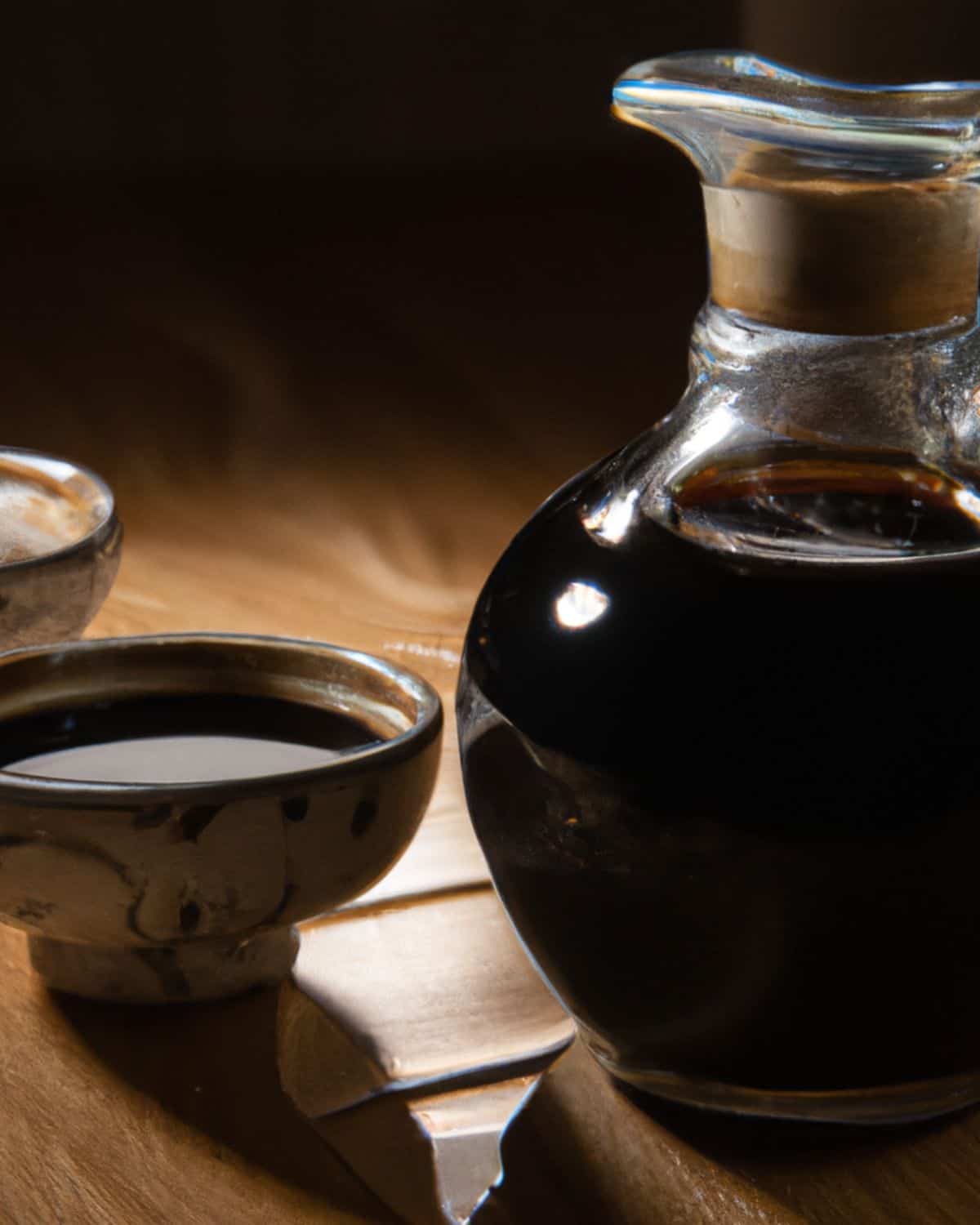 7. Homemade vegan fish sauce
It's easy to make a homemade vegan fish sauce. Basically, and this is one of most effective fish sauce substitutes, you'll just need water, dried shiitake mushrooms, soy sauce, dried seaweed and miso paste. We'll share a full recipe below.
🤨 The worst fish sauce substitutes
Worcestershire sauce
We're not sure why other websites keep recommending Worcestershire sauce as a fish sauce substitute, or as a substitute for lots of other ingredients like soy sauce and miso paste. Presumably they haven't tried Worcestershire sauce, because they're not in the same ballpark taste-wise.
Vegan Worcestershire sauce (or the similar flavor of Henderson's Relish) is great in some dishes. It adds that umami flavor with a great tanginess. But please, don't use it as a fish sauce alternative, it's not going to do your finished dish any favours. It will add tang rather than umami, and a little goes a long way with this sauce!
Hoisin sauce
Hoisin sauce is a thick, gloopy, salty and sweet sauce. It really doesn't have much in common with fish sauce aside from a bit of an umami hit and it contains fermented soybeans, so there's that fermented element. But, it doesn't make our list of fish sauce substitutes, mainly because it is too sweet.
Anchovies
Aside from the fact that anchovies or anchovy filet aren't vegan, we just don't think they're a great substitute. You'd get that salty, fishy flavor in your dish, but the flavor is also more in your face and obviously, it's not a sauce!
💭 FAQs
What sauce is similar to fish sauce?
The closest is vegan fish sauce, as it's designed to mimic fish sauce. These vegan fish sauce alternatives are your best bet. If you're looking for something a bit more common, then soy sauce is the next best option.
Can I use vinegar instead of fish sauce?
Vinegar (or even rice vinegar) isn't a great option for replacing fish sauce. When it comes to fish sauce substitutes, ideally we need something that is rich in umami flavour, has a little bit of an ocean or floral edge but doesn't have tartness or tanginess like vinegar. So no, vinegar is not one of our fish sauce substitutes!
What is a vegan substitute for fish sauce?
Vegan fish sauce alternatives are widely available from many brands. They're often made from soy, yeast extract, seaweed and rice vinegar.
Can you use Worcestershire sauce as fish sauce?
When it comes to fish sauce substitutes, we don't recommend Worcestershire sauce as a good option.
👩‍🍳 Summary
To conclude, there are many fish sauce substitutes to choose from. The best is vegetarian fish sauce or vegan fish sauce, depending on if you have this in your cupboard or time to go and buy some.
Following on from that, the next best options for fish sauce substitutes are soy sauce, liquid aminos, coconut aminos and seaweed, and then there's a homemade fish sauce option. The homemade option requires a little planning as ingredients like dried shiitake mushrooms, white miso paste, garlic and soy sauce are also needed.
These fish sauce substitutes all work well in dishes like fried rice, stir fries, dipping sauces and even pad Thai, as well as lots of other asian cooking.
📋 Related ingredient substitute articles
📖 Recipe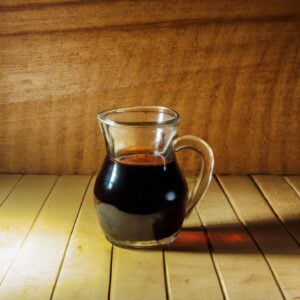 Vegan Fish Sauce
This easy to make vegan fish sauce recipe is super simple and great to have in the fridge, ready for when you need it!
Save
Saved!
Print
Pin
Rate
Ingredients
2

cups

water

0.25

cup

seaweed

or kombu, kelp or dulse

0.25

cup

dried porcini

or shiitake mushrooms

1

teaspoon

salt

2

tablespoon

soy sauce

1

teaspoon

miso paste
Instructions
Add the water, seaweed, mushrooms and salt to a saucepan and bring to a boil.

2 cups water,

0.25 cup seaweed,

0.25 cup dried porcini,

1 teaspoon salt

Reduce the heat and simmer for 20-30 minutes until the amount of liquid has halved.

Take off the heat and stir in the soy sauce and miso paste until the miso has fully dissolved. Taste and add more salt or soy sauce if necessary.

2 tablespoon soy sauce,

1 teaspoon miso paste

Leave to cool to room temperature.

Strain through a sieve or filtered funnel into a sterilised jar or bottle.
Notes
Will last up to 1 month in the fridge.
Nutrition
Calories:
55
kcal
|
Carbohydrates:
9
g
|
Protein:
5
g
|
Fat:
0.5
g
|
Saturated Fat:
0.1
g
|
Polyunsaturated Fat:
0.2
g
|
Monounsaturated Fat:
0.1
g
|
Sodium:
4588
mg
|
Potassium:
198
mg
|
Fiber:
1
g
|
Sugar:
1
g
|
Vitamin A:
7
IU
|
Vitamin C:
0.3
mg
|
Calcium:
29
mg
|
Iron:
1
mg