Vegan Thai green curry is one of those dishes that we'll never get tired of! The spicy, fragrant flavours are some of the best in the world in our opinion. We hope you like this curry as much as we do...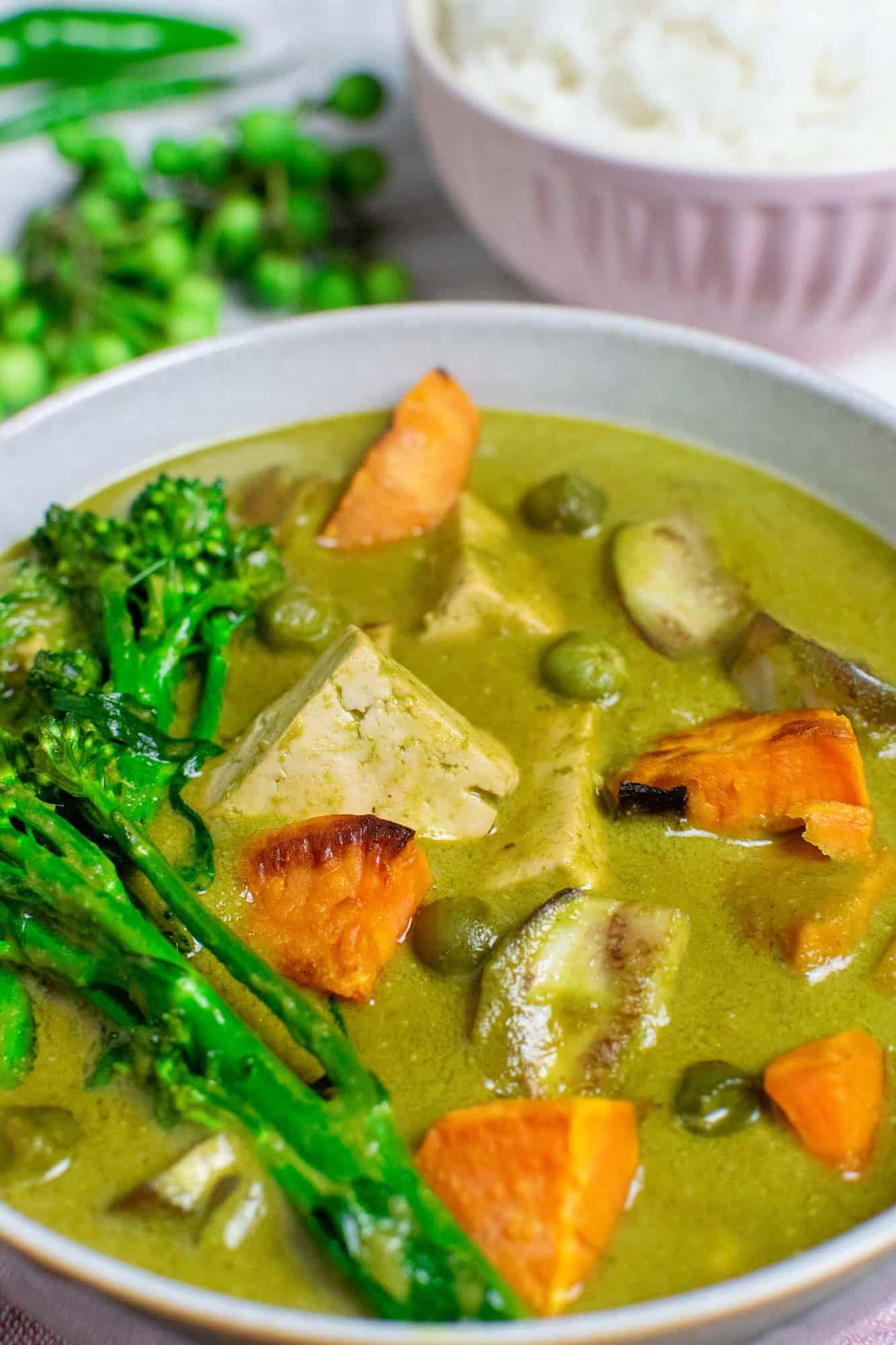 We've travelled in Thailand extensively, and of course, we took numerous cooking classes while there.
Luckily, we brought the Thai cooking skills back with us and used them to create this vegan Thai green curry! As well as lots of other vegan Thai recipes too.
We've packed this curry full with tofu and veggies. However, as it's a versatile dish, you can choose your own combination of vegetables. We try to use seasonal ingredients where we can, but understand it's not always possible.
🌶 Would you like your vegan Thai green curry Thai spicy?
We love our green curry 'Thai spicy' – that means it's just as spicy as it would be made in Thailand. Disclaimer: depending on how hardcore we're feeling!
If you're not into super spicy food, that's cool. Just use two green chillies instead of three in the green curry paste. You can always add more later if you need to!
Did you know that green curry is the spiciest of all the Thai curries? It's a common misconception. Most people think red curry is the spiciest because of the colour! There's a fun fact.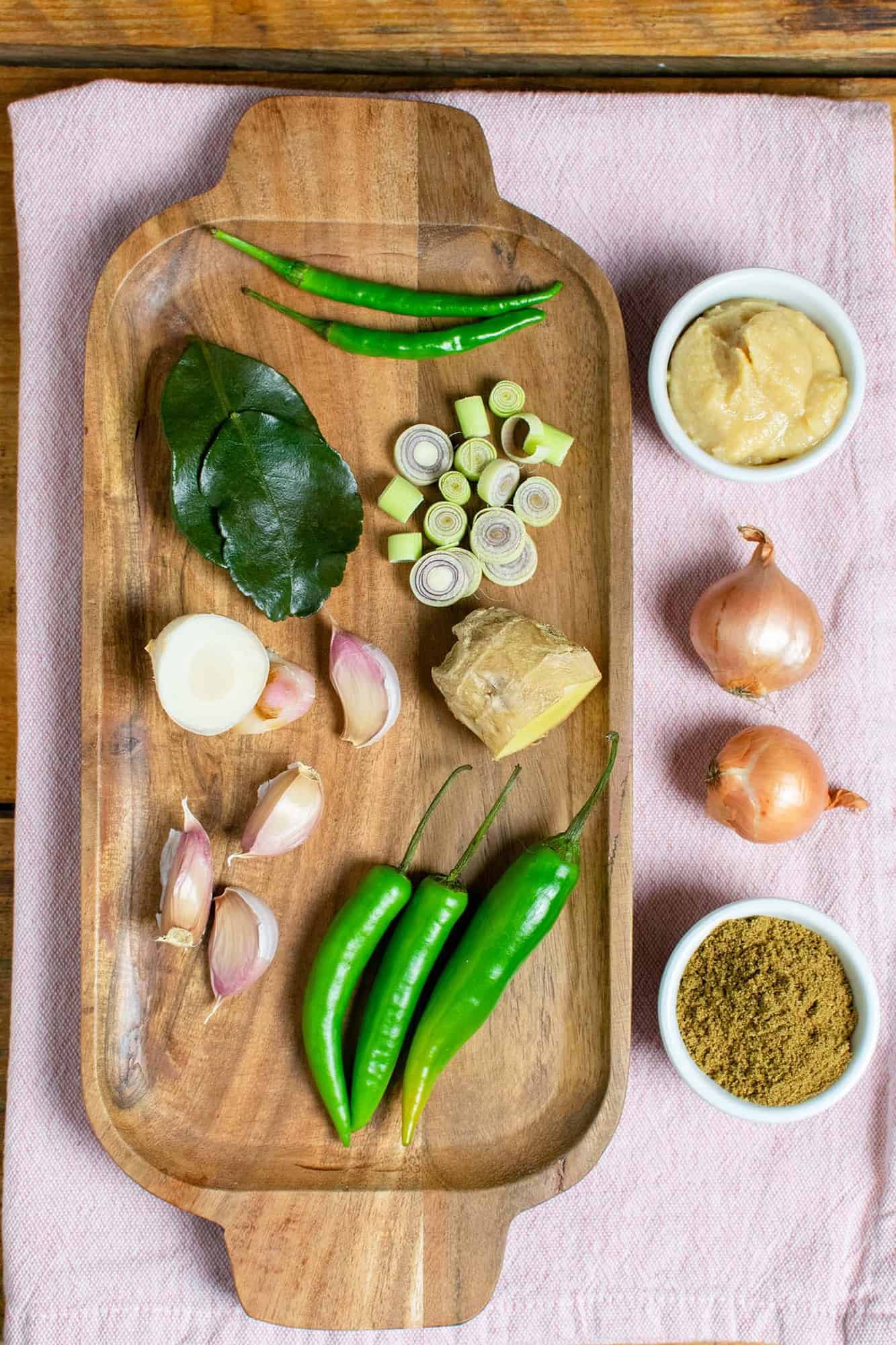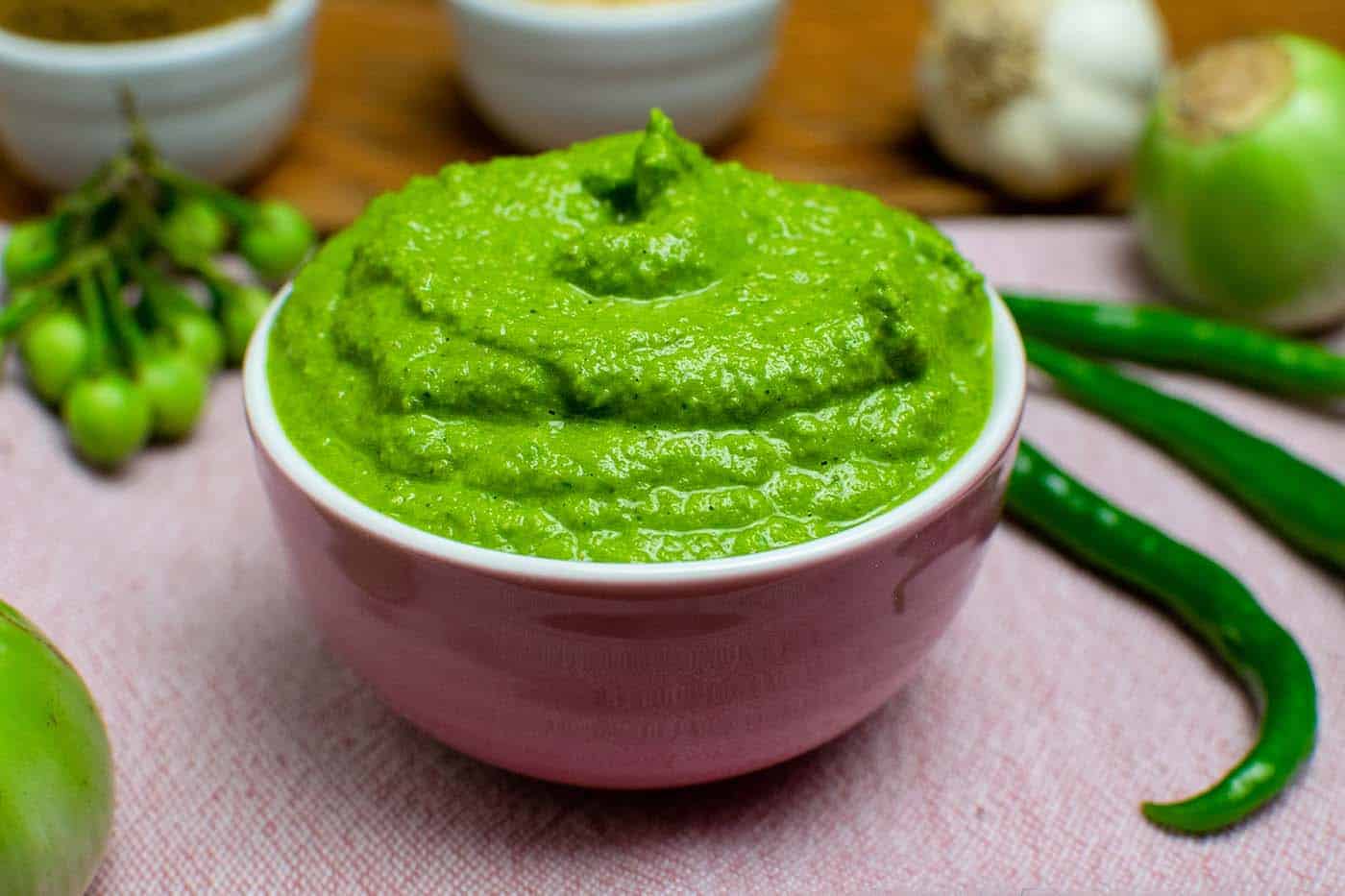 Traditional Thai ingredients
We have worked extra hard to make sure this is an excellent vegan version of a traditional recipe.
That included going out to the Asian supermarket to find vegetables that aren't found in the normal supermarket. We picked up Thai eggplants and Thai pea eggplants. We also got some dried red chillies and soy bean paste that we'll use in other Thai vegan recipes.
What are Thai eggplants and pea eggplants?
Thai eggplants are a member of the nightshade family, and often used in green and red curries, as well as salads in Thailand. They come in all sorts of different colours, like green, purple and yellow, and are cultivated in Thailand as well as Sri Lanka.
They can be a little sour, but if you cut them in half and cook them in a curry sauce, they will mellow out in no time!
Thai eggplants are related to purple eggplants (or aubergines as we say in the UK). Purple eggplants are really common, so you can easily replace Thai eggplants with baby (or standard) purple aubergines in this recipe.
While Thai eggplants are golf ball sized, Thai pea eggplants are the size of regular garden peas. Fun fact: even though we all think of aubergines (or eggplants!) as vegetables, they are indeed fruit. Thai pea eggplants grow in fruit clusters of 10-15 per branch.
Pea eggplants have an acquired taste. When I've accidentally bitten into one whilst enjoying a Thai green curry, I'm always surprised to feel it burst in my mouth, kind of like a tomato!
We recommend letting them cook for at least 10 minutes. Otherwise, they will remain quite bitter. It's up to you whether you use them in this curry, but we would suggest trying them at least once! They really do have a fascinating taste.
To find about more Vegan Thai recipes, check out our guide.
Top Tip: if you love this recipe, check out our e-cookbook Vegan Thai Food Made Easy. It's packed with 21 original Vegan Punks recipes featuring curries, curry pastes, stir fries and even the most popular Thai dessert, as well as 3 BONUS recipes!
Vegan Thai Green Curry
Vegan Thai green curry combines fragrant ingredients, intense chillies and exotic vegetables, with rich and creamy coconut milk to create a flavour explosion.
Print
Pin
Rate
Ingredients
For the Thai green curry paste:
4

green chillies

4

green bird's eye chillies*

6

kaffir lime leaves

1

inch

ginger

1

inch

galangal*

1

stick

lemongrass

2

shallots

4

clove

garlic

1

tbsp

cumin powder

1

tbsp

white miso

3

tbsp

groundnut oil

1

handful

spinach*
For the vegan Thai green curry:
1

kaffir lime leaf

1

inch

ginger

– finely chopped

1

stick

lemongrass

– bashed

2

can

coconut milk

100

g

tender stem broccoli

2

medium

sweet potatoes

– peeled and diced into bite size chunks

5

Thai eggplants

– cut into quarters, omit if you don't have them (see notes)

40

g

pea eggplants

- omit if you don't have them (see notes)

2

tbsp

light soy sauce

2

tbsp

dark soy sauce

1

tsp

coconut sugar

280

g

firm tofu

1

tbsp

vegetable oil
Instructions
Pre-heat the oven to gas mark 5 (190 degrees C).

Pop the sweet potato in a baking tray with a glug of vegetable oil, mix well and bake for 15 minutes on gas mark 5.

Chuck all the paste ingredients in a blender, and blitz until smooth. Alternatively, grind by hand in a pestle and mortar if you want the traditional experience. If the paste looks a bit dry, add a splash more oil or water.

Heat your wok over a hot stove, then add all of the paste and stir for a few minutes. Your kitchen will become fragrant with Thai spices.

Add in the kaffir lime leaf, ginger, lemongrass and a couple of tablespoons of the coconut milk, then stir for a few more minutes.

Pour in the remaining coconut milk, all the vegetables and the tofu.

Bring to the boil, then reduce to a simmer for five  minutes, stirring frequently.

Add the soy sauces and coconut sugar, then simmer gently for another 5 minutes.

Give it a taste and add a bit more sugar if it's too spicy, or chilli if you want it spicier!

Remove the kaffir lime leaf and lemongrass, then serve with Jasmine rice.
Notes
It's not traditional to use spinach in a Thai green curry paste. Through trial and error, we've found that the ingredients available in the UK do not make the wonderful green colour that you'd expect. So we've made an adjustment to include the spinach. It's your choice whether to include it or not.
Thai eggplants and pea eggplants can be found at the Asian supermarket. If you can't find them, use purple aubergine and another vegetable, such as baby corn. 
Use fewer bird eye chillies if you don't like your curry too spicy.
Galangal is closely related to ginger and turmeric root. It is found at Asian supermarkets or online. If you can't find it, omit.
Nutrition
Calories:
803
kcal
|
Carbohydrates:
61
g
|
Protein:
19
g
|
Fat:
59
g
|
Saturated Fat:
41
g
|
Polyunsaturated Fat:
6
g
|
Monounsaturated Fat:
8
g
|
Sodium:
1425
mg
|
Potassium:
1758
mg
|
Fiber:
16
g
|
Sugar:
20
g
|
Vitamin A:
16337
IU
|
Vitamin C:
49
mg
|
Calcium:
230
mg
|
Iron:
11
mg
If you love this recipe, pin it on Pinterest!