Vegetable Massaman Curry is a lesser-known Thai curry, but it's probably one of the most delicious! I always find it hard to not order a Thai Green curry when we go out, but these days, I think Massaman curry has taken the top spot!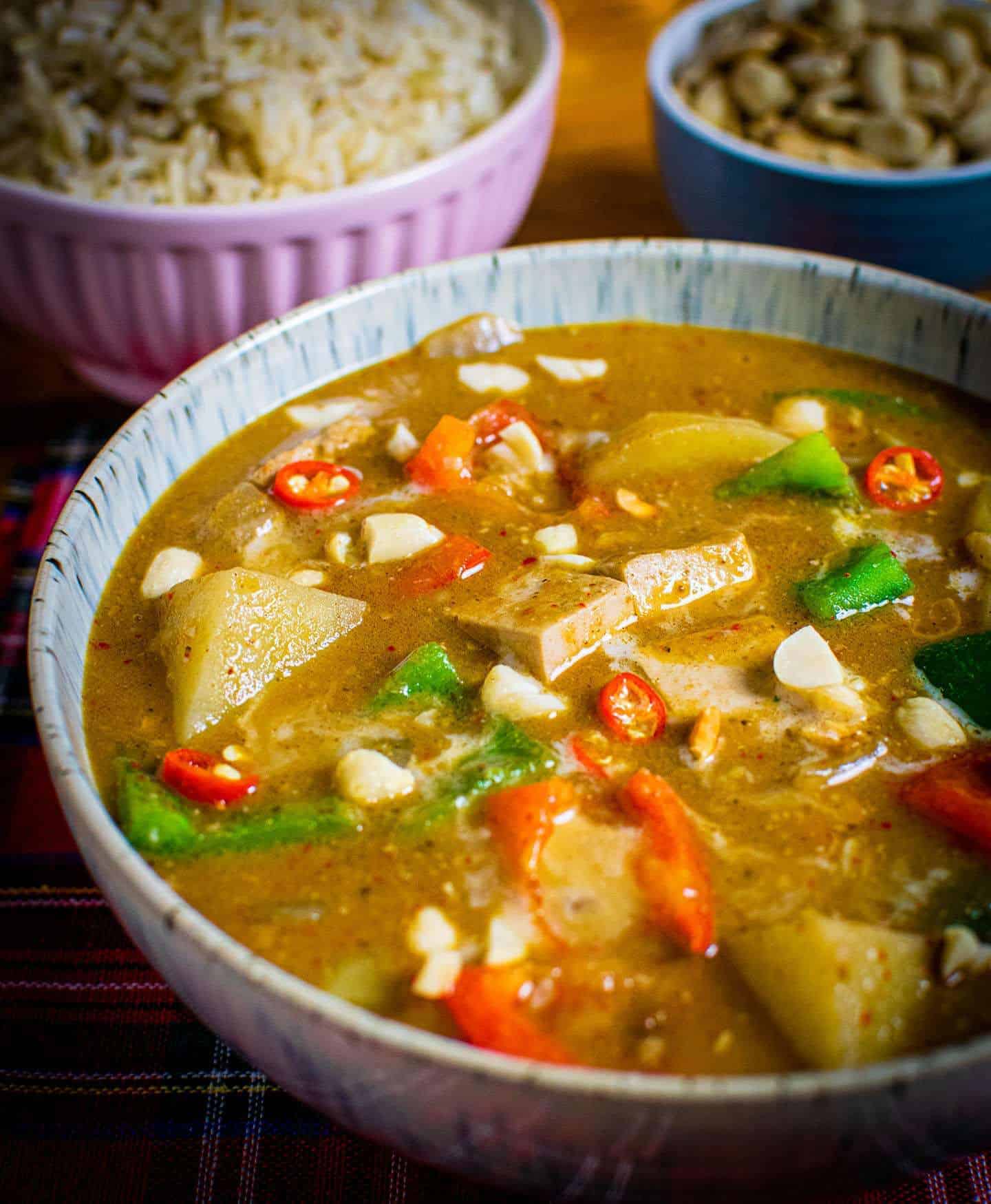 Jump to:
The blend of spices is just so delicious – there's nothing else out there that tastes like it! Like Panang curry, it takes influence from Malay cuisine. This means it uses spices like cumin seeds, coriander seeds and cloves. Not the usual Thai ingredients, but they fuse with the traditional Thai flavours to make a veg Massaman curry that is truly unique and tastes out of this world!
As usual, we'll go through all the ingredients, substitutions and equipment you can use to make this recipe in depth. You can skip to the bottom for the full recipe though!
What is Vegetable Massaman Curry?
Massaman Curry is a Thai-Malay dish that has Malaysian and Indian influences. It potentially dates back to the 17th century!
It has a rich history that we won't go into in detail, but basically there are a few theories for where it came from. One is that the spices were traded into Thailand from the Malay archipelago, which included lots of Muslim traders. The word "massaman' is thought to have derived from the word 'Musselman' which is an ancient form of Muslim. The new ingredients were added to traditional Thai ingredients and a new type of curry was born – Massaman!
Whatever the true story is, it's clear that this is not purely a Thai dish. It's actually reminiscent of a Yellow Curry in that sense too. We also have a recipe for a Tofu Yellow Curry if you'd like to try it!
Ingredients for Vegan Massaman Curry Paste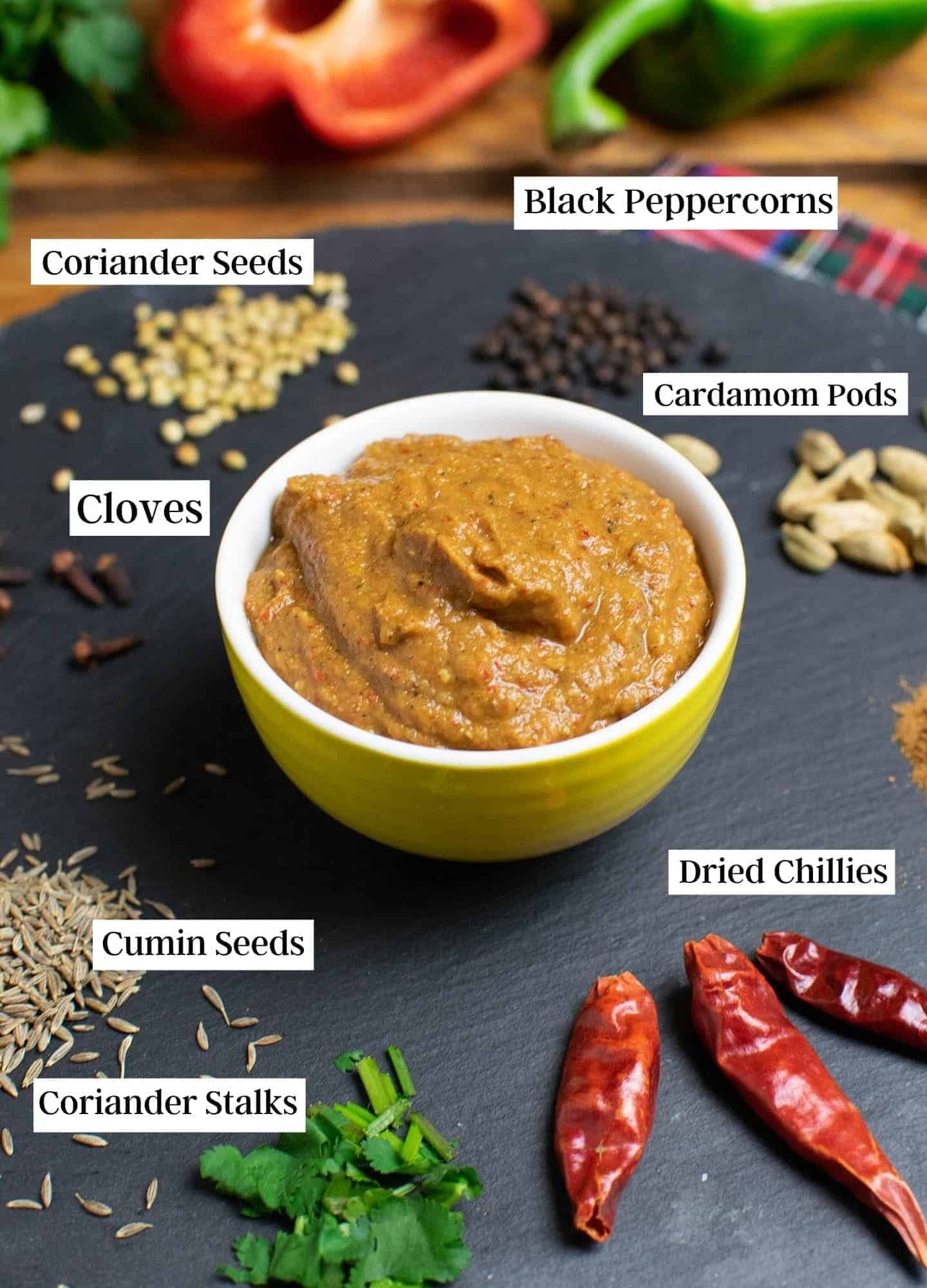 Vegan Massaman curry paste uses 13 ingredients, which might seem like a lot for just the paste. If you don't have the time or just can't be bothered with it – then don't worry, we have been there and can relate!
If you're not making a vegan massaman curry paste from scratch then we recommend using Mae Jum. Their pastes are just like the real deal. They're home made to a fabulous Thai Mama's own family recipe and are absolutely divine. Plus, they're certified by the Vegan Society!
Try the traditional curry paste bundle – it's great value as each packet serves 8 portions!
Mae Jum were actually kind enough to send us samples to try, so we're not making it up – they genuinely are amazing! Try them by hitting the button below...
So, if you are making the paste for your Vegetable Massaman Curry, this is what you'll need:
Shallots
Garlic
Black Peppercorns
Cumin Seeds (or powdered version)
Coriander Seeds (or powdered version)
Cinnamon Powder
Cardamom pods (just the insides)
Dried chillies – soaked (or fresh red chillies)
Galangal
Lemongrass
Cloves
Coriander stalks
Yellow bean paste / Miso Paste (check out the best miso paste alternatives)
2 tablespoon water
Once you've got all the ingredients measured out (full measurements in the recipe card below), all you have to do is blend them up! We do this in a cup blender. This is easier for us than using a pestle & mortar – even though using the pestle & mortar is more authentic. Maybe we're lazy, but we're going for convenience as well as authenticity with our recipes. We know that people don't always have the time to choose the traditional but more time consuming method.
Pro Tip: a lot of recipes, including the method we learnt in Thailand, includes frying off the whole spices in a frying pan before blending.
We tried, and compared, both methods – with and without frying. They were both equally delicious. The thinking behind frying the spices is that it brings the flavour out more. Even though frying the spices means a more intense flavour, we found it didn't make a huge difference to the final dish. That's why we have skipped this step in our method. It makes it a lot easier and quicker for you when making this curry paste!
Ingredients for this curry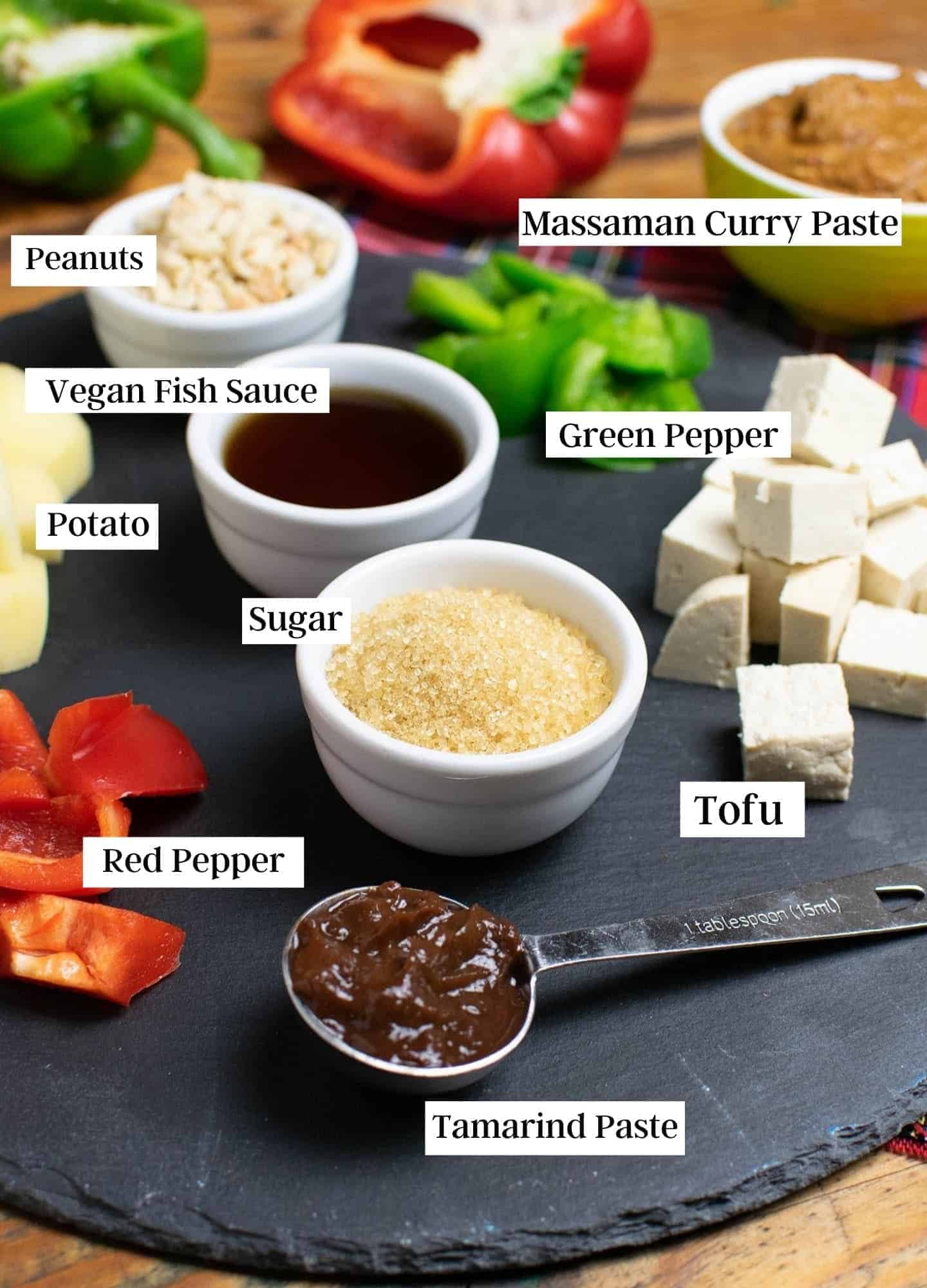 Once you've made the paste, you just need another 11 ingredients! They are:
Potato (a Massaman curry always has potato in it!)
Onion
Tofu
Red Pepper
Green Pepper
Peanuts
Coconut cream
Coconut milk
Tamarind (use lime juice as a substitute)
Sugar
Step 1
Fry off the full lot of Massaman paste until fragrant.
Step 2
Add in the potatoes and onion, and mix well with the paste.
Step 3
Pour in the coconut cream and stir well.
Step 4
Once combined, pour in the coconut milk.
Step 5
Add in the peanuts, sugar and vegan fish sauce
Step 6
Simmer for 10-15 minutes (until potatoes are just about soft) and then add in the tamarind.
Step 7
Once the potatoes are softened, pop the peppers and the tofu in and stir well. Simmer for a further two minutes and serve!
Top Tip: if you love this recipe, check out our e-cookbook Vegan Thai Food Made Easy. It's packed with 21 original Vegan Punks recipes featuring curries, curry pastes, stir fries and even the most popular Thai dessert, as well as 3 BONUS recipes!
Niche ingredients
Some of the ingredients listed in this vegetable Massaman curry recipe are a bit niche. However, don't let that put you off! We've included helpful links for where to buy 'lazy' versions and also included substitutions below! Let us know if you have any questions about the ingredients used in the comments, or over email.
Cardamom pods – you only need to use the insides of the cardamom pods. It's a bit fiddly to get them out, so you can use powdered cardamom instead, to make it easier.
Tamarind – most supermarkets sell tamarind paste in jars. It's harder to find – and more time consuming, to use fresh tamarind. If you don't have this on hand, a suitable replacement is lime juice. Tamarind adds a sour flavour to the dish, so the juice from a lime will add a similar flavour.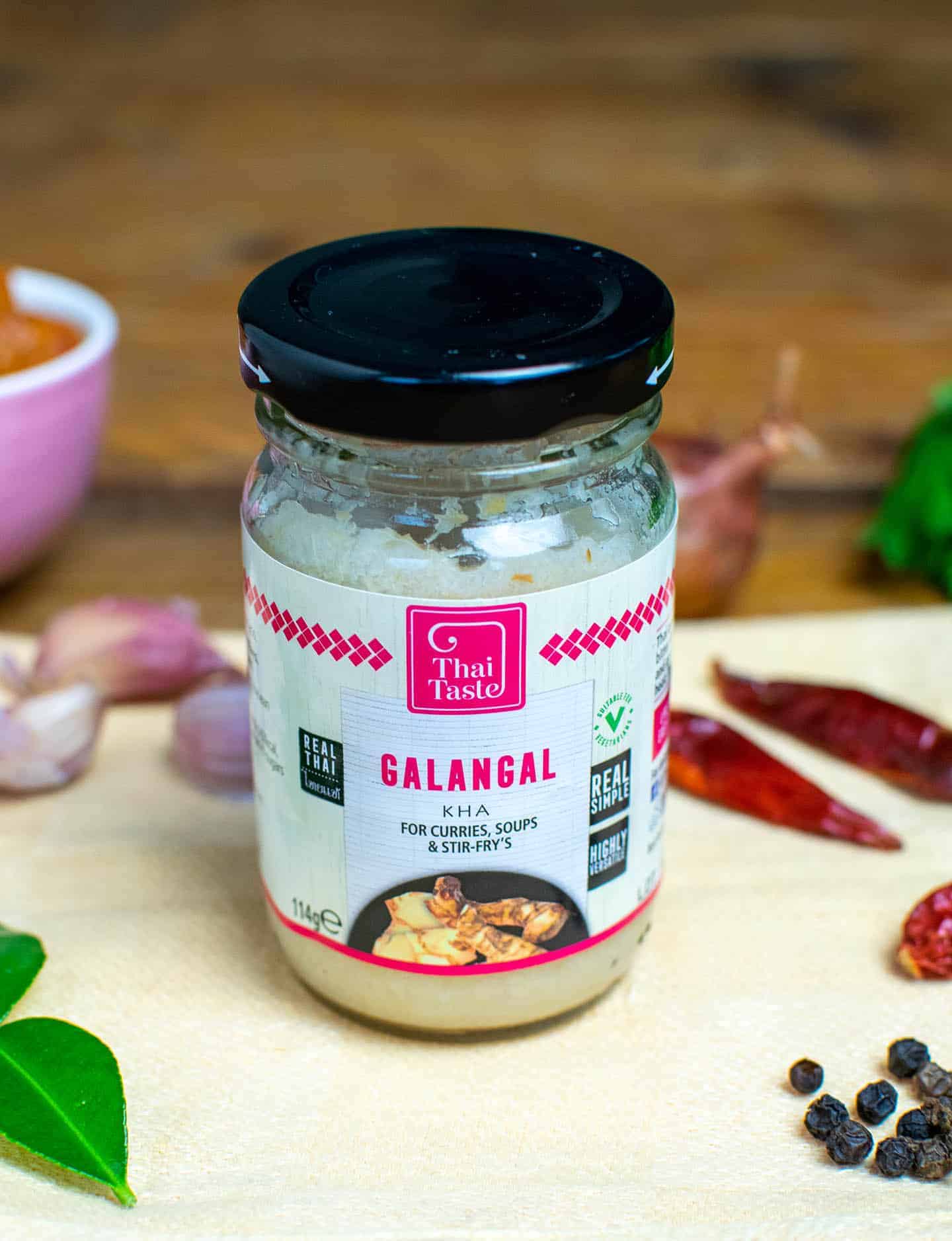 Galangal – galangal is part of the ginger family, but tastes completely different. It's quite floral, whereas ginger is fiery and hot. We recommend getting galangal in a jar, which is what we have used in this recipe. If you don't have any, use half the amount of fresh ginger instead.
Dried Red Chillies – if you don't have dried chillies, use fresh red chillies. The overall flavour won't be as intense or earthy but it will still taste lovely!
Lemongrass – available fresh in most supermarkets, and freezes very well. You can also get lemongrass in a jar as a 'lazy' version, which we have no problem with at all. It does the same job! There isn't really a replacement for lemongrass as it has such a specific fragrant flavour. If you don't add it, the curry will taste different.

Yellow bean paste – also known as Dan's favourite all time ingredient! It's a savoury fermented paste made from soybeans. Find it in Asian supermarkets or use white miso paste instead. There will be no noticeable difference to the finished dish if you use white miso instead of yellow bean paste.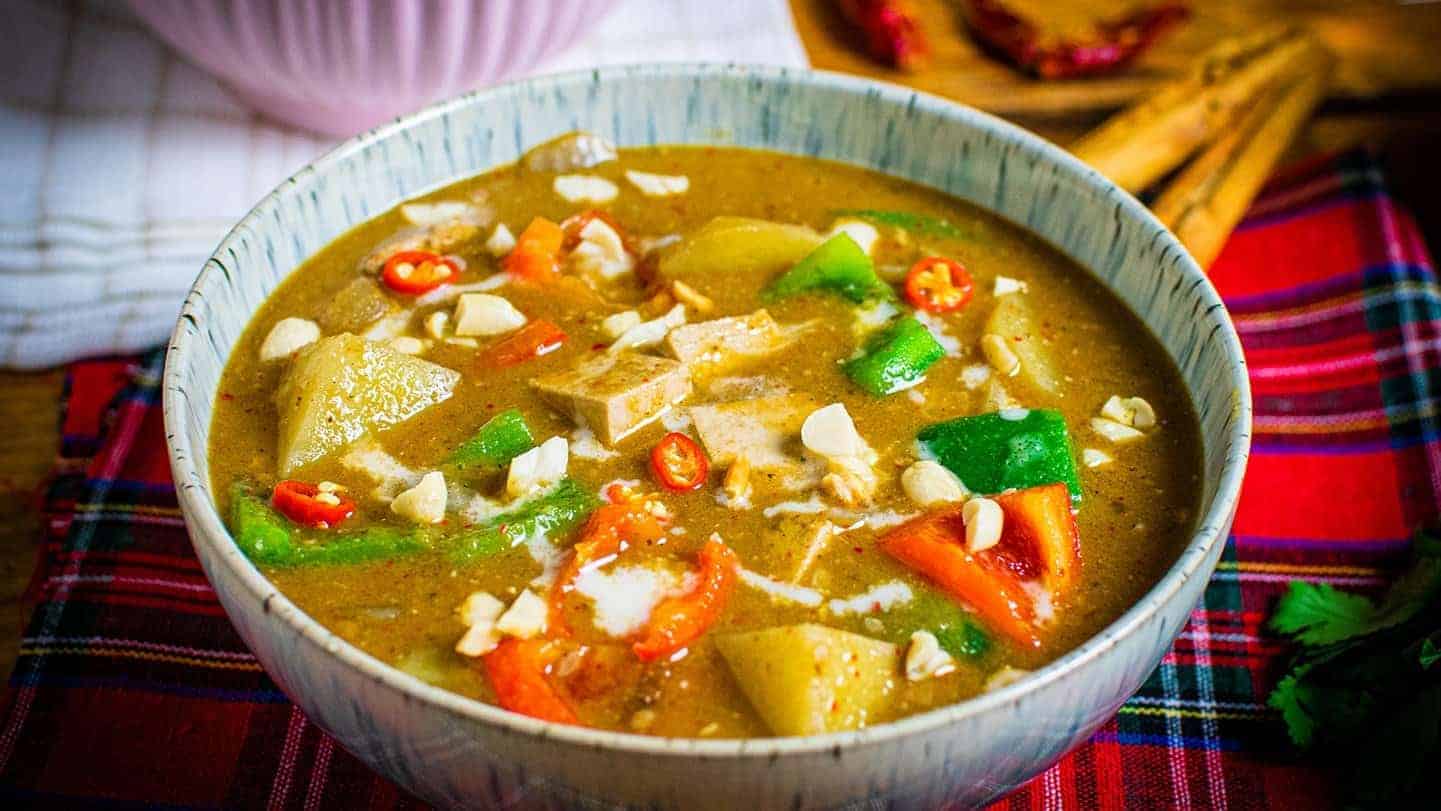 Massaman Curry FAQs
Can I freeze this curry?
Yes, this curry freezes well. Freeze into portions once cooked, and it will keep in the freezer for 2 months.
Can I freeze the curry paste?
Yes!

Pro Tip: We highly recommend making double the amount of curry paste and freezing the rest in an ice cube tray. Once frozen, empty into ziplock bags to save freezer space. Then you have the hard work done for you the next time you want a delicious Vegetable Massaman Curry!
Massaman Curry vs Panang Curry – what is the difference?
Panang curry tends to be a bit sweeter and thicker than Massaman curry. While both dishes have Malay-Thai heritage, Panang curry tastes more typically Thai. Due to the mix of spices in the paste, I would say that Massaman curry tastes more Indian than a Panang curry. However, Massaman curry is runnier and soup-like, just like a usual red or green Thai curry.
Is Massaman Curry Spicy?
Like all Thai curries, Massaman curry contains a few chillies, so it's a little bit spicy. However, if compared to other curries like red or green, Massaman would not be as spicy. It's a very fragrant and aromatic curry. It relies on these flavours rather than intense spiciness.
We've written a whole guide on how to cook vegan Thai food – if you love this recipe, check it out!
Did you make this recipe? Leave a review and a rating below, or tag us in your photos on Instagram! Alternatively, bookmark it in your browser or save to Pinterest for later.

If you love our content, please consider supporting it by buying us a coffee.
📖 Recipe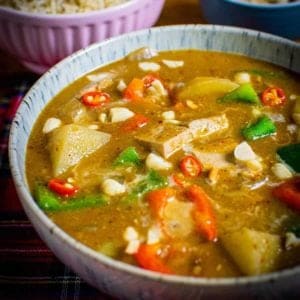 Vegetable Massaman Curry
Vegetable Massaman curry is a Thai-Malay curry, that not as well known as other Thai curries. It has a flavour like no other curry that really makes its mark. We hope you love it as much as we do!
Save
Saved!
Print
Pin
Rate
Ingredients
For the paste:
3

Shallots

3

cloves

garlic

¼

teaspoon

Black Peppercorns

½

teaspoon

Cumin Seeds

or powdered version

½

teaspoon

Coriander Seeds

or powdered version

½

teaspoon

Cinnamon Powder

½

teaspoon

Cardamom Pods

just the insides

10

Dried chillies

– soaked (or fresh red chillies)

½

teaspoon

Galangal

1

teaspoon

Lemongrass

½

teaspoon

Cloves

1

tablespoon

Coriander stalks

1

tablespoon

Yellow bean paste

or white miso paste

2

tablespoon

water
For the curry:
1

onion

- chopped into chunks

300

g

potato

~ 1 large potato

400

g

tofu

– firm tofu

1

Red Pepper

- chopped into chunks

1

Green Pepper

- chopped into chunks

4

tablespoon

Peanuts

160

ml

Coconut cream

400

ml

Coconut milk

1

tablespoon

Tamarind

use lime juice as a substitute

2

tablespoon

Vegan Fish Sauce

use soy sauce as a substitute

1

tablespoon

Sugar
Instructions
Put all the paste ingredients in a cup blender (or whatever blender you have) and blitz until smooth. You could alternatively use a pestle and mortar, but it's requires more effort!

Optional: if frying the tofu for a golden crispy style tofu, do this in a frying pan first. It should take around 10 minutes and you'll need a splash of oil. If using an air fryer, we recommend setting it to 170°C for 7-8 minutes. Then set aside.

In a wok, fry off the full lot of Massaman paste until fragrant.

Add in the potatoes and onion, and mix well with the paste. If you haven't fried off the tofu, add it in now too.

Pour in the coconut cream and stir well.

Then add the coconut milk and continue to stir.

Add in the peanuts, sugar and vegan fish sauce.

4 tablespoon Peanuts,

1 tablespoon Sugar,

2 tablespoon Vegan Fish Sauce

Simmer for 10-15 minutes (until potatoes are just about soft) and then add in the tamarind.

Put the peppers (and the fried off tofu – if using) in and stir well. Simmer for a further two minutes. Serve and enjoy.

1 Red Pepper,

1 Green Pepper
Nutrition
Calories:
613
kcal
|
Carbohydrates:
67
g
|
Protein:
18
g
|
Fat:
32
g
|
Saturated Fat:
21
g
|
Polyunsaturated Fat:
5
g
|
Monounsaturated Fat:
4
g
|
Sodium:
701
mg
|
Potassium:
710
mg
|
Fiber:
8
g
|
Sugar:
38
g
|
Vitamin A:
1393
IU
|
Vitamin C:
82
mg
|
Calcium:
185
mg
|
Iron:
4
mg