Thai basil tofu stir-fry, or any kind of vegan holy basil stir-fry, is my absolute favourite Thai dish! The intense spicy and peppery flavour of the holy basil leaves combined with bird eye chillies, with a salty, slightly sweet sauce is a dream combo for me. It's also incredibly quick to cook – we usually knock this one up in around 15 minutes!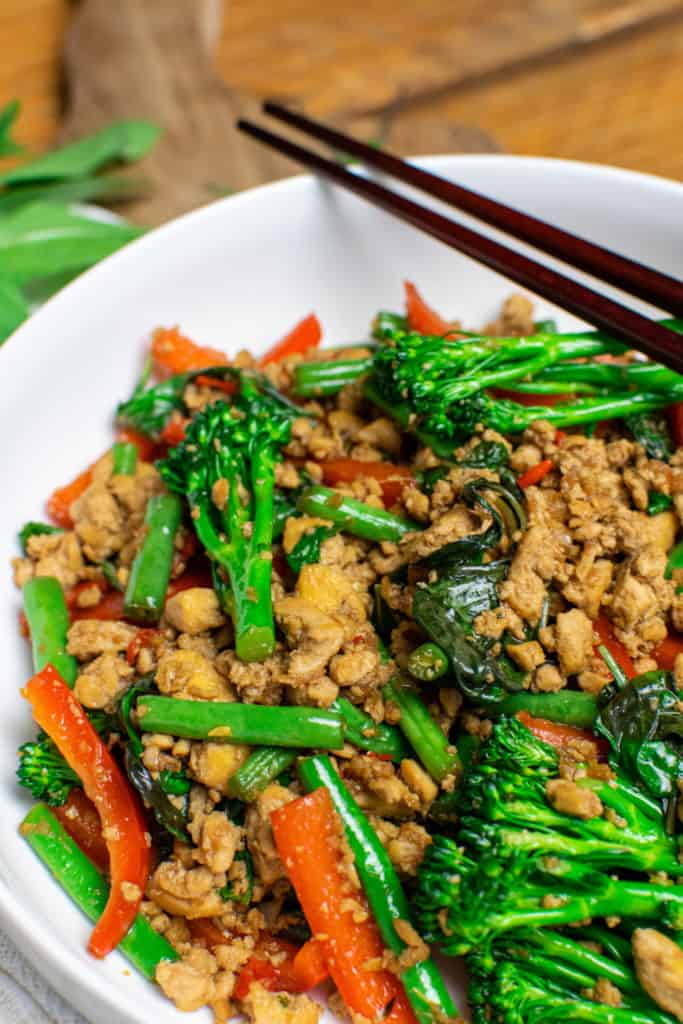 When checking out a new restaurant I have go-to dishes that I've eaten so many times, in so many different places, that I use them as a kind of litmus test. I think it's a good way to see how good a restaurant is – anybody else do that? Jess will always order a green curry, so when a place manages to nail their Thai basil tofu and their green curry, you can guarantee we'll be back!
If you're a fan of Thai food and love a bit of spice, this is a must-try dish for you. The balance of speed to cook (just 15 minutes) and flavour is unreal – it's great proof that you don't have to spend an age in the kitchen to walk out with a big plate full of fresh, delicious and healthy food.
If you're not quite so good with spicy food, you could always switch out the holy basil for Thai basil, or reduce the number of chillies in the dish. You do you, and we can guarantee it'll still be mouth-wateringly good.
Thai basil tofu stir-fry
Known as Pad Krapow in Thailand (or many other variations of that, like Pad Kra Pao), holy basil stir-fry is one of the most popular Thai street food dishes.
Traditionally you'll find it made with some kind of minced meat, like chicken or pork, and the sauce usually includes oyster sauce.
Obviously you won't find any of that here though, and it's incredibly easy to make a vegan or vegetarian Thai basil stir-fry recipe. We switch out the ground meat for crumbled firm tofu, and the oyster sauce for mushroom sauce, often known as vegetarian oyster sauce.
Key ingredients include:
Holy basil – you can make a very similar dish called Pad Horapa by substituting in Thai basil a.k.a. Thai sweet basil, more on that below.
Bird eye chillies
Vegetarian oyster sauce (also known as mushroom sauce, but don't get it confused with mushroom soy sauce!)
A protein – we think crumbled tofu makes a great replacement for minced meat
Vegetables aren't commonly used in this dish – it's a bit like the Thai equivalent to Western fast-food options, like a burger. That being said, we love to try to keep our meals healthy and packed full of veg, so our Thai basil tofu recipe includes red pepper, green beans and tenderstem broccoli.
Thai basil vs holy basil
You may be wondering what holy basil is, if it's the same thing as Thai basil, Thai holy basil, or even Thai sweet basil! There are a lot of similar names floating around when it comes to holy basil stir-fry recipes.
This dish traditionally uses holy basil, which is a spicy and peppery leaf. Sometimes known as hot basil, it has a similar numbing effect on the mouth and tongue to Schezuan peppercorns. The flavour is a bit like black pepper and cloves.
Thai basil, on the other hand, has a much sweeter flavour. Also known as Thai sweet basil, its flavour more closely resembles liquorice or aniseed.
In the West, Thai basil is often substituted in place of holy basil for pad krapow recipes. So if you've eaten this dish at a Thai restaurant in Europe or the US, you may have been eating Thai sweet basil without realising it!
We've found it considerably easier to find the sweet leaf in the UK, with it even being stocked by major supermarkets. Holy basil has proven much more difficult to find. We recently trekked around three different specialist Asian supermarkets and placed an order with an online Thai supermarket, and still didn't end up with any!
If you want the real, traditional experience when you make your own holy basil stir-fry, you'll probably need to find holy basil. However, if you can only find Thai basil, you're still going to end up with a great tasting dish, so don't sweat it!
Where to buy holy basil
Good luck!
But seriously, it is possible to find it. It's just not going to be as easy as adding it to your weekly shop at the supermarket.
We'd recommend hitting up your local Asian food shops and supermarkets. If you get lucky, they'll stock fresh holy basil leaves. If you don't see any immediately make sure you ask the staff. It may be that they have frozen leaves or could order some in with their weekly delivery.
Even if you don't get lucky at your local Asian supermarket, you'll inevitably find a wealth of incredible (and reasonably priced) ingredients, so we recommend checking them out. We recently picked up Thai aubergines (eggplants), pea aubergines, morning glory, galangal and some fantastic fermented soya bean paste at one of our local stores.
If you're not lucky enough to live near a store that stocks the leaves, we'd recommend ordering some frozen holy basil leaves. They're frozen whole and fresh, and are a great option to keep in the freezer. Especially if you end up getting addicted to our Thai basil tofu stir-fry (like we are!).
Check out a load more Thai recipes and cooking tips here.
Print
Thai Basil Tofu Stir-Fry
---
Author:

Dan Saunders

Prep Time:

10 minutes

Cook Time:

5 minutes

Total Time:

15 minutes

Yield:

2

1

x
Description
This Thai basil tofu stir-fry is our vegan take on the street food classic, pad krapow. Featuring fiery holy basil, crumbled tofu and fresh, crunchy vegetables – it's a delicious, healthy meal that only takes around 15 minutes to prepare.
---
250g

extra-firm tofu – crumbled

1

shallot – diced

4

cloves garlic – finely chopped

4

bird eye chillies* – chopped

2 tsp

coconut sugar

2 tbsp

light soy sauce

1 tbsp

vegetarian oyster sauce*

1

red pepper – sliced

100g

green beans – chopped

100g

tenderstem broccoli – chopped

1 cup

(~

50g

) holy basil leaves*
---
Instructions
Add a splash of oil to a wok and bring up to a medium-high heat.
Fry the crumbled tofu until any water has been released and the tofu is dry, but don't brown it.
Stir in the shallot, garlic and chillies, and leave to cook for a couple of minutes until the shallot has softened.
Add the sugar, soy, vegetarian oyster sauce and vegetables and fry for a few minutes until your veg is hot. We don't fry the veg for very long as we love fresh, crunchy vegetables in dishes like this, but you can cook for longer if you'd like!
Remove the wok from the heat and stir in the basil leaves – it's best to let them wilt from the existing heat in the pan, rather than cook them. You don't need to chop the basil – just remove from the stem and throw them in whole.
Taste and add more soy if needed. If it's looking a bit dry you can add a tablespoon or two of water.
Serve over rice and you're done – enjoy!
Equipment
Notes
If you're not such a fan of spicy food, start with 1 or 2 chillies – you can always add more! We typically use 4 in this dish, but if you're feeling brave you can add more.
Vegetarian oyster sauce is also sometimes called mushroom sauce or mushroom stir-fry sauce. If you don't have it, you can just use more soy.
Try to get holy basil leaves for the proper experience. If you can't find any, switch them out for Thai basil leaves to make more of a pad horapa style dish.
Category:

Dinner

Method:

Stir-fry

Cuisine:

Thai
Keywords: Thai basil tofu stir-fry, holy basil stir-fry, vegan Thai basil stir-fry
If you love this Thai Basil Tofu recipe, re-pin it on Pinterest!