This 15 minute Thai basil tofu is based on an authentic Thai recipe, although we've veganised it, of course! It's also known as Pad Krapow vegetarian. We've made it vegan by using an alternative to oyster sauce, and using tofu, which is a vegan super ingredient!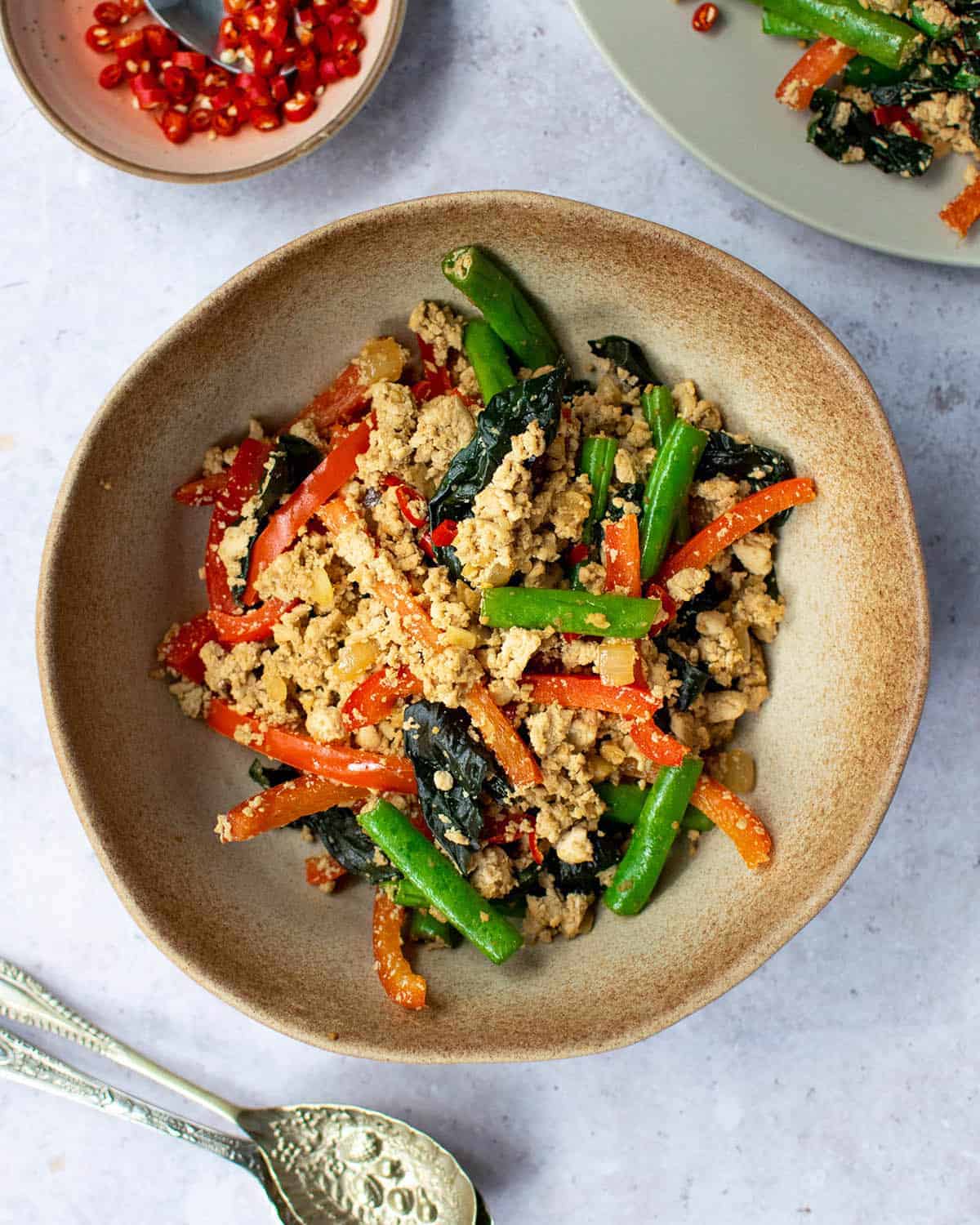 Thai basil tofu is our favourite vegan Thai stir fry! We love the intense spicy and peppery flavour of the holy basil leaves. They're perfect when combined with spicy bird eye chillies, and the sweet and salty sauce. Thai basil tofu stir fry is super quick and easy to cook too.
This one can be knocked up in around 15 minutes.
Jump to:
🌟 Why this recipe works
It's super quick and simple. Even if you aren't confident in the kitchen, you'll be able to make it with no problems.
This recipe is a great opportunity to try cooking with Thai basil or holy basil. However, you can use standard basil if you don't have Thai or holy basil.
Traditionally Thai basil tofu stir fry doesn't have a lot of veg in it. Our version does as we thought it needed some colour! We like to make our meals healthy, so we've included red peppers, green beans and tenderstem broccoli.
We've crumbled the tofu in this recipe to give it the same texture as mince meat, which is what is traditionally used. It replicates the traditional dish so well!
🍽 Equipment and products needed
For best results, you will need a wok to make this stir fry so that you can cook at a high enough temperature. You'll also need wok utensils so that you don't damage it. If you're going to use holy basil or Thai basil, try your local Asian supermarket to find it. Try to get Vegetarian Oyster Sauce, or mushroom stir-fry sauce for the full flavour experience.
📋 Ingredient notes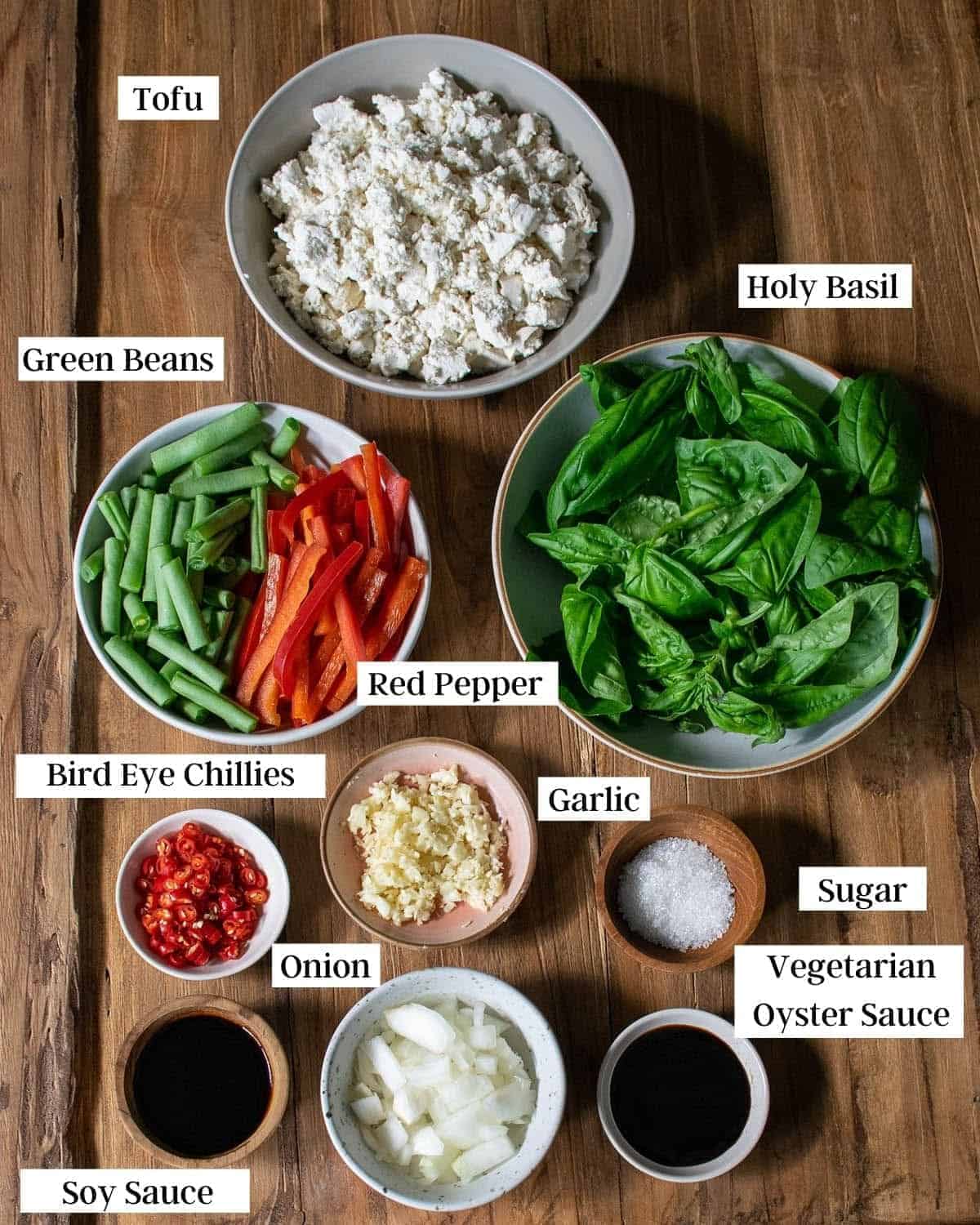 Holy basil - Holy basil isn't the same as the basil you might put on top of your pizza! It's actually native to India but is used throughout Southeast Asia in cooking. It has a warm, spicy and peppery flavour with notes of clove. Use Thai basil (also known as Thai sweet basil) instead to make a similar dish called Pad Horopa. It's basically the same as this one, but with Thai basil instead.
Birds eye chillies - they bring the heat to your Thai basil tofu. Try adding more or less to adjust the heat level.
Coconut sugar - we love coconut sugar because it's unrefined. Although, you can try brown sugar or white if you don't have coconut sugar. It's used in this Thai basil stir-fry to make sure the dish is balanced. Thai cooking is based on 4 key flavour principles - spicy, salty, sweet and sour. This is the sweet part.
Vegetarian oyster sauce - as you might have guessed from the name, oyster sauce isn't usually vegan! Vegetarian oyster sauce is sometimes known as mushroom sauce, but don't get it confused with mushroom soy sauce. If you don't have it use 1 tablespoon of kecap manis (sweet soy sauce) or an extra 1 tablespoon of soy sauce.
Crumbled tofu - this is a great replacement for the minced meat that's found in a traditional version of this stir fry. Plus it's low in fat!
🔪 Step-by-step instructions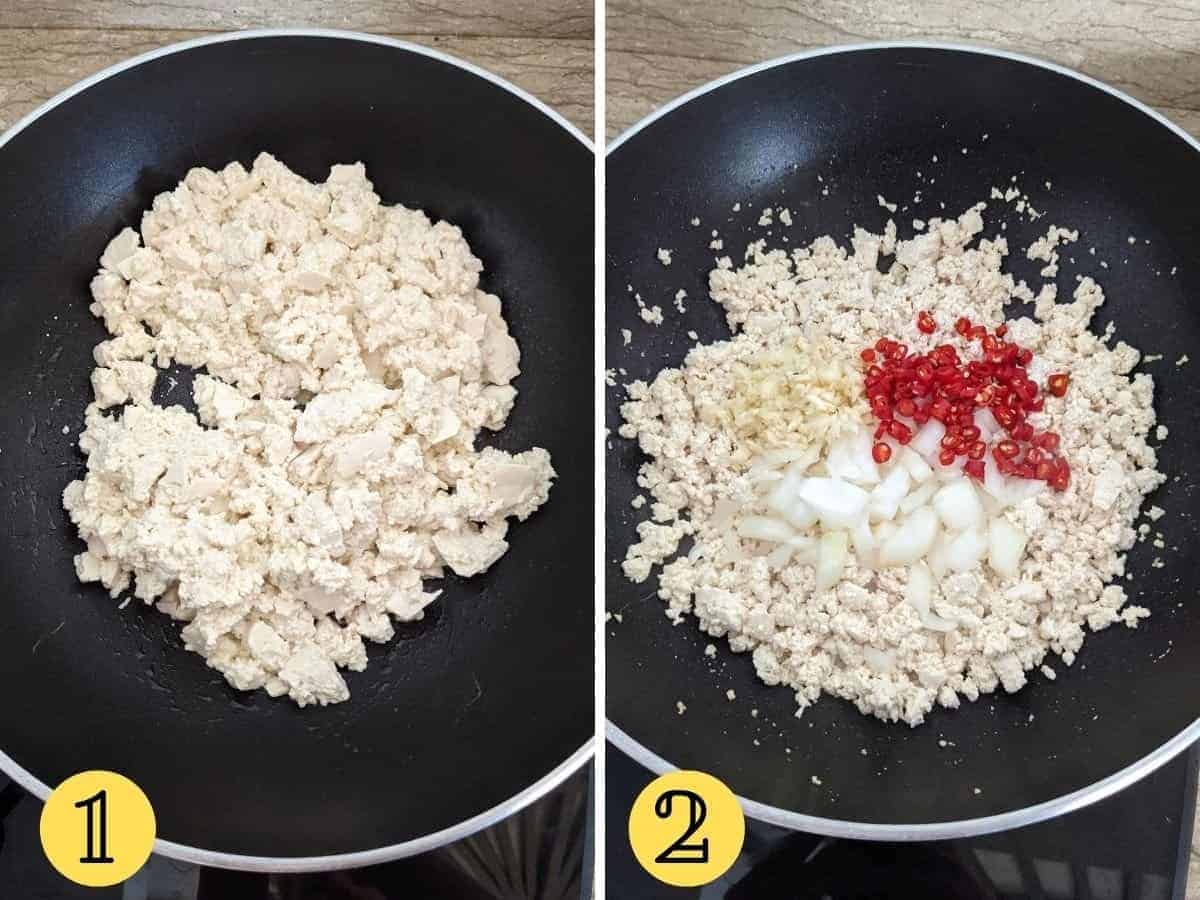 1. Begin by heating a splash of oil in your wok to a medium heat. Once the pan is warm, add the crumbled tofu. Fry until it's dry and any water has been released and cooked off. Be careful not to brown it too much though.
2. Add the garlic, shallot and chillies to the pan and cook for a couple of minutes. The shallot should be slightly softened.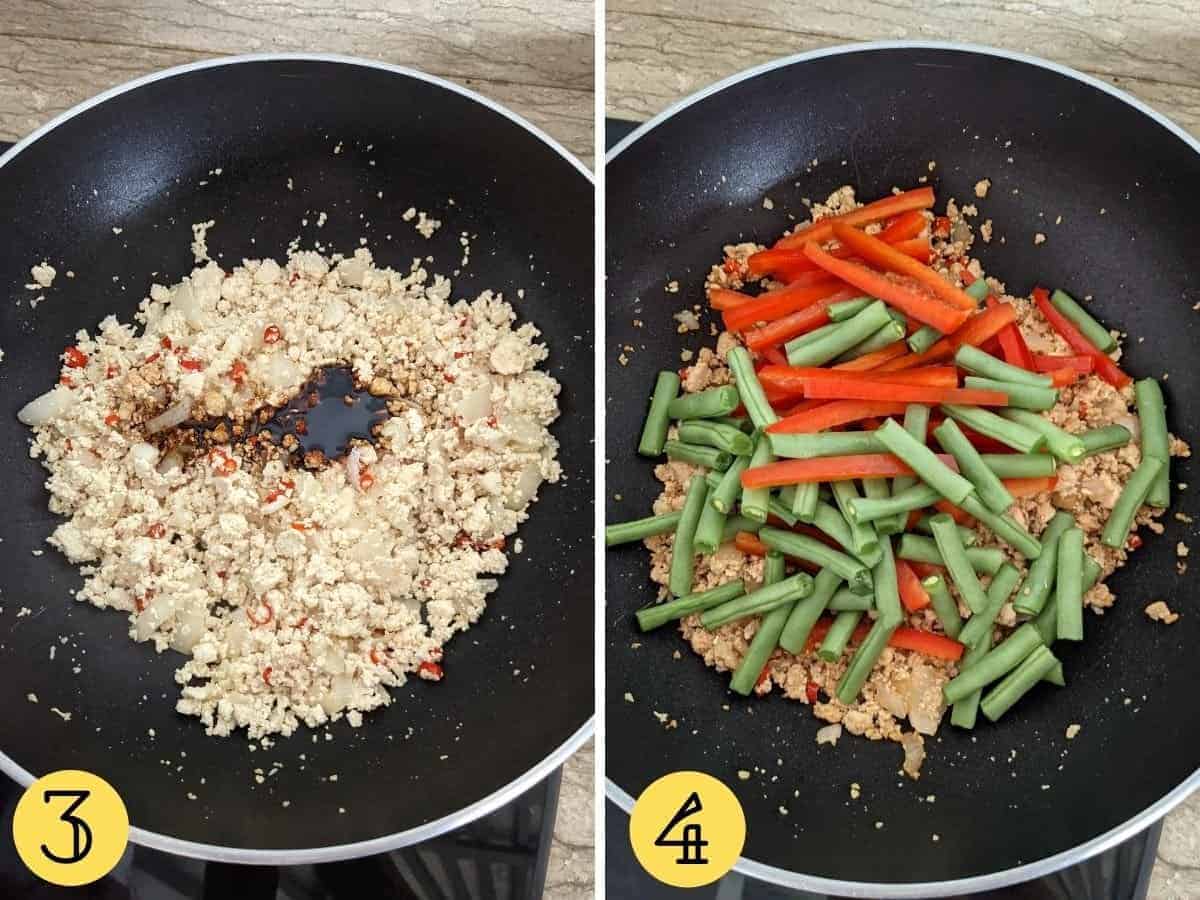 3. Pour in the soy sauce along with the sugar, and vegetarian oyster sauce.
4. Next, the veggies! Chuck them into the pan, we'd recommend only frying the veg for a few minutes so that it stays nice and crunchy.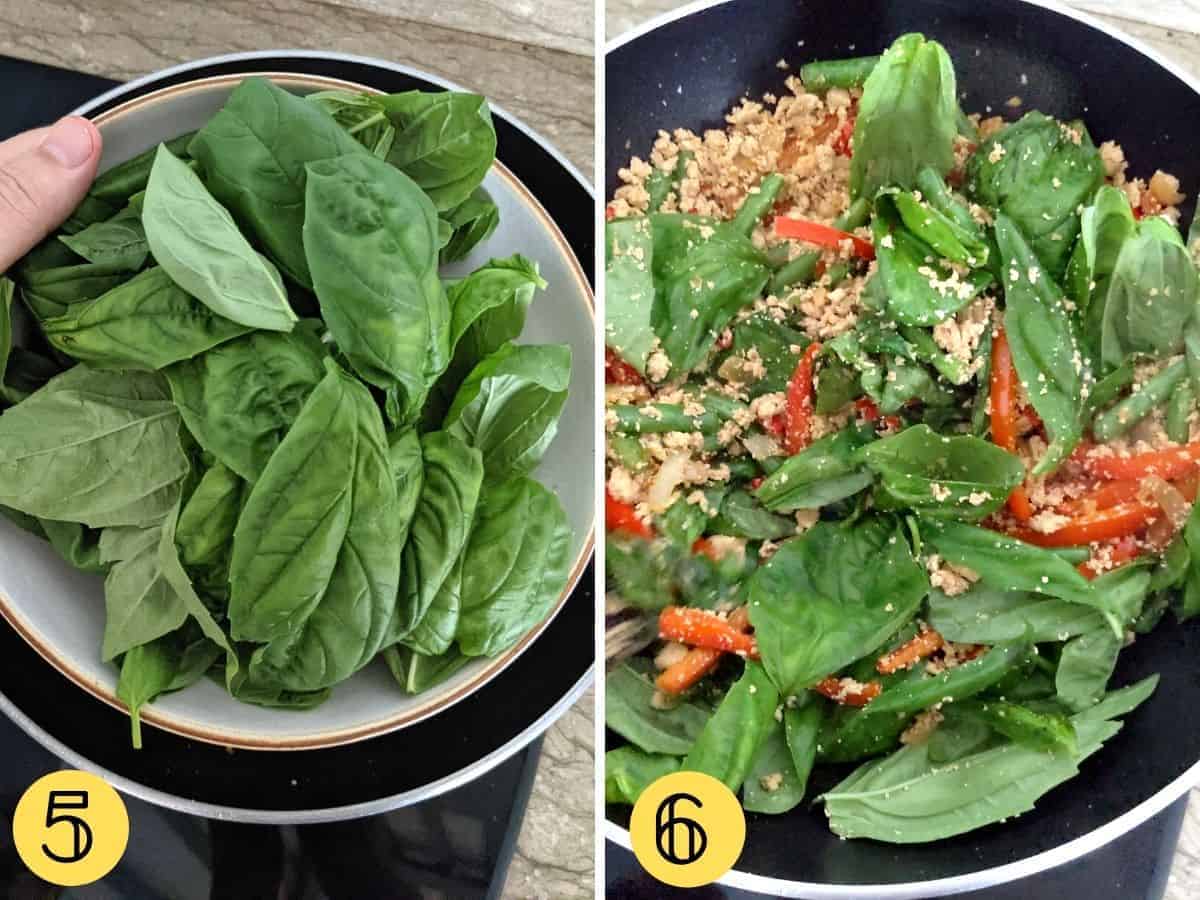 5. Take the wok off of the heat, and then stir in the basil leaves. Don't worry about chopping them up, just remove the stems and chuck them in whole. It's better to let them wilt from the remaining heat of the pan, rather than cooking them.
6. Give it a taste and add more soy sauce if needed. You can also add a splash more water if you think it looks dry. Serve it up and enjoy!
👩‍🍳 Expert tips
Variations - You can make Thai basil stir fry using either holy basil, Thai basil or standard basil. They are all delicious!
Bird's eye chillies - Thai basil tofu is a spicy dish! If you don't want it to be as spicy, try replacing the bird's eye chillies with mild chillies. Or you could use fewer bird's eyes. Ideally, it should pack a punch. If you don't have these chilis, check out the best substitutes for bird's eye chilis.
Tofu - if you aren't keen on tofu, you can try using crumbled tempeh instead or even TVP (textured vegetable protein).
Thai basil vs holy basil – Thai basil and holy basil are cousins, but they are quite different from one another. Holy basil is spicy and peppery, with a flavour similar to black pepper and cloves. Thai basil, in comparison, is much sweeter - it's sometimes called Thai sweet basil. Its flavour is similar to liquorice or aniseed.
Serving - this dish is best served with steamed jasmine rice, extra soy sauce and more chilli (if you like it really hot!)
💭 FAQs
What is holy basil?
Holy basil is a really popular ingredient in Thailand. It's an essential part of the flavour of many traditional Thai dishes because it has such a distinctive, aromatic flavour. Holy basil is also used to make tea, and is thought to have healing properties in Ayurvedic medicine.
Where to buy holy basil?
You might find it quite difficult to track down holy basil, particularly if you're in the UK! We once ended up going to three different Asian supermarkets and still didn't find any.

We'd recommend giving your local Asian supermarket a go, and if you don't have any luck order some frozen holy basil online. They're frozen whole and fresh so they're really tasty - we love keeping some in the freezer.
Can this be made ahead of time?
As with most stir fries, Thai basil tofu is much tastier when eaten fresh. That way, the veggies will be lovely and fresh and crunchy and the flavours will be perfect. That being said, it does keep in the fridge for two days.
Can you use different vegetables?
You can, but we'd recommend using the ones we've selected. If you want to switch it up try using aubergine (bake it first), or different coloured peppers. Asparagus, carrots or any other vegetables that keep their crunch when stir fried would work well, too.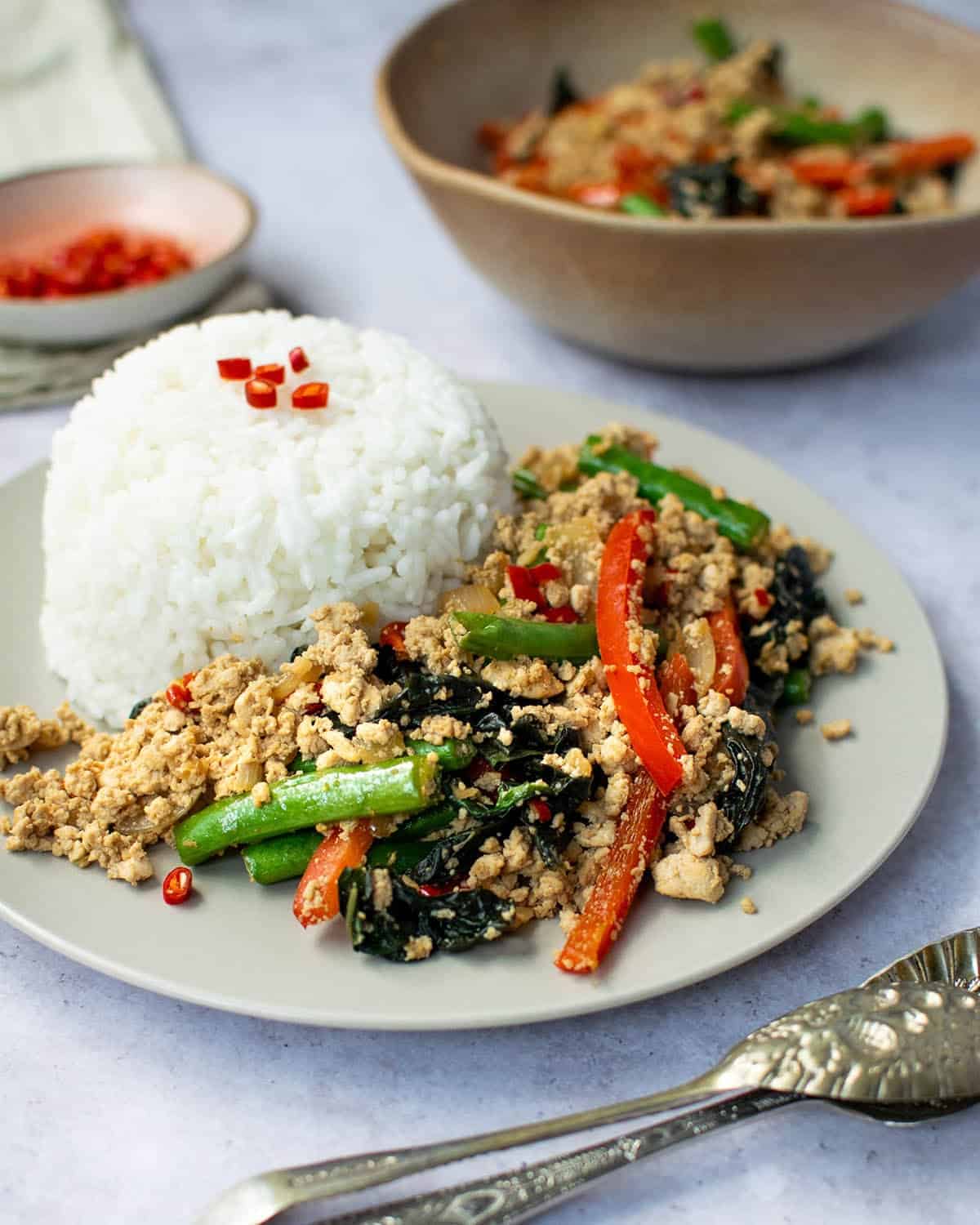 🍛 What to serve it with
If this recipe has got you hungry for more authentic Thai recipes, check out our ultimate guide to vegan Thai food. Or grab a copy of our ebook Vegan Thai food made easy which includes hints, tips and exclusive recipes!
We also have loads more delicious Thai recipes for you to try, including:
Did you make this recipe? Leave a review and a rating below, or tag us in your photos on Instagram! Alternatively, bookmark it in your browser or save to Pinterest for later.

If you love our content, please consider supporting it by buying us a coffee.
📖 Recipe
Thai Basil Tofu Stir-Fry
This Thai basil tofu stir-fry is our vegan take on the street food classic, pad krapow. Featuring fiery holy basil, crumbled tofu and fresh, crunchy vegetables – it's a delicious, healthy meal that only takes 15 minutes to make.
Save
Saved!
Print
Pin
Rate
Ingredients
500

g

extra-firm tofu

– crumbled

1

shallot

– diced

4

cloves

garlic

– finely chopped

4

bird eye chillies

– chopped (upto 8 chillies)

2

teaspoon

coconut sugar

(or white or brown sugar)

3

tablespoon

light soy sauce

2

tablespoon

vegetarian oyster sauce*

(also known as mushroom sauce)

2

red pepper

– sliced

200

g

green beans

– chopped

50

g

holy basil leaves

1

tablespoon

oil

(or a few sprays of Fry Light)
Instructions
Add a splash of oil to a wok and bring up to a medium-high heat.

Fry the crumbled tofu until any water has been released and the tofu is dry, but don't brown it.

Stir in the shallot, garlic and chillies, and leave to cook for a couple of minutes until the shallot has softened.

1 shallot,

4 cloves garlic,

4 bird eye chillies

Add the sugar, soy sauce, vegetarian oyster sauce and vegetables and fry for a few minutes until your veg is hot. We don't fry the veg for very long as we love fresh, crunchy vegetables in dishes like this, but you can cook for longer if you'd like!

2 teaspoon coconut sugar,

3 tablespoon light soy sauce,

2 tablespoon vegetarian oyster sauce*,

2 red pepper,

200 g green beans

Remove the wok from the heat and stir in the basil leaves – it's best to let them wilt from the existing heat in the pan, rather than cook them. You don't need to chop the basil – just remove from the stem and throw them in whole.

Taste and add more soy if needed. If it's looking a bit dry you can add a tablespoon or two more of water. Serve over Jasmine rice and enjoy!
Notes
If you're not such a fan of spicy food, start with 1 or 2 chillies – you can always add more. We typically use 4 in this dish, but if you're feeling brave you can add more – up to 8!
Vegetarian oyster sauce is also sometimes called mushroom sauce or mushroom stir-fry sauce. If you don't have it, you can just use more soy sauce.
Try to get holy basil leaves for the full flavour experience. If you can't find any, switch them out for Thai basil leaves to make pad horapa, or use standard basil leaves.
Nutrition
Calories:
174
kcal
|
Carbohydrates:
18
g
|
Protein:
13
g
|
Fat:
6
g
|
Saturated Fat:
1
g
|
Polyunsaturated Fat:
2
g
|
Monounsaturated Fat:
3
g
|
Trans Fat:
1
g
|
Sodium:
1146
mg
|
Potassium:
532
mg
|
Fiber:
3
g
|
Sugar:
10
g
|
Vitamin A:
2903
IU
|
Vitamin C:
93
mg
|
Calcium:
95
mg
|
Iron:
3
mg