This vegan mango sticky rice recipe (traditionally known as khao niao mamuang) is a gorgeous Thai dessert that's really creamy and feels quite decadent. The creaminess of the rice is offset really nicely by the sweetness of the mango, giving you a satisfying dessert that tastes indulgent but fresh.
It takes a little while to prepare because it uses glutinous rice which needs to be soaked and steamed, but once that's done the rest of the prep only takes about fifteen minutes.
Jump to:
🌱 Is it vegan?
It is! We have fond memories of picking up portions of mango sticky rice from street food vendors and night markets when we were in Thailand. We also learned how to make it at traditional Thai cookery classes. It's always vegan, because the delicious creamy taste comes from coconut milk and not from dairy, as you might expect.
🍚 What is glutinous rice?
The only ingredient in this vegan mango sticky rice easy recipe that you may not have come across before is glutinous rice.
Firstly, despite its name there is no gluten in glutinous rice! The name comes from the fact that the rice becomes glue like and quite sticky once it's been cooked. So if you're gluten free, don't worry, you can still eat this delicious dessert.
Glutinous rice, sometimes also called sticky rice, is widely consumed across Asia. It's a type of rice that becomes more sticky and moist as it cooks than other types of rice, which is why it lends itself so well to desserts. This is also why glutinous rice is usually steamed rather than boiled, boiling would make it far too sticky!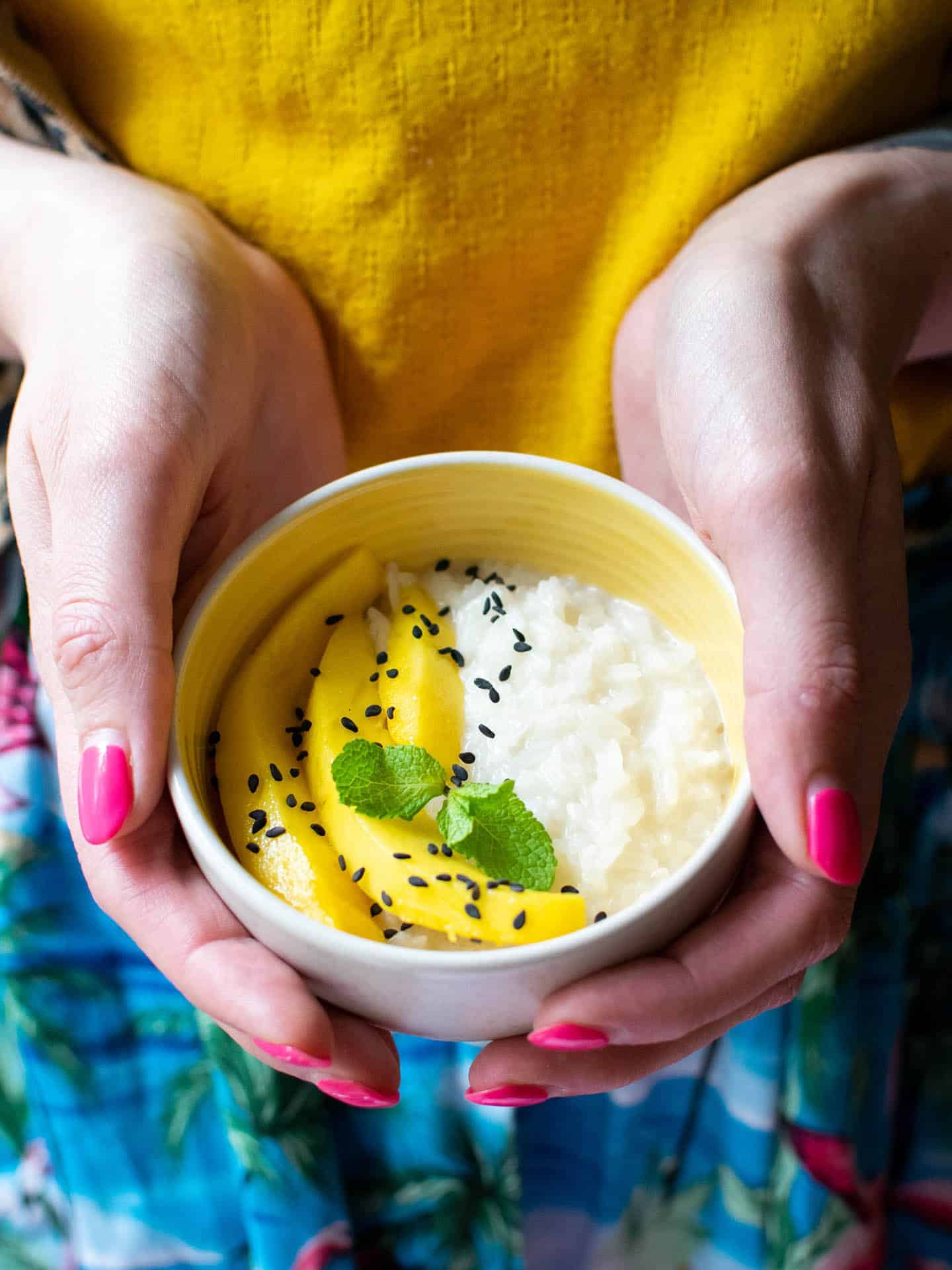 📋 Ingredients
This vegan mango sticky rice is made mostly out of store cupboard ingredients, with the exception of the fresh mango.
For the rice you will need:
Glutinous rice. This is available in most of the bigger supermarkets. It might be called sticky rice, rather than glutinous rice.
Coconut milk. If you don't use the entire tin of coconut milk (which would be crazy but hear us out) it actually freezes really well, just pour your leftovers into a tupperware or a freezer bag and it will keep for a couple of months.
White sugar. Definitely use white sugar and not brown. We made this with brown sugar once and it made the whole thing turn brown. It tasted nice, but it didn't look great! White sugar is vegan-friendly here in the UK, but double-check it for whatever country you're in.
Salt.
Fresh mango.
Black sesame seeds. These are optional but they do add a little something.
Boiled and toasted mung beans. A traditional alternative to sesame seeds. Completely optional – we prefer just chucking on some black sesame seeds for ease.
And for the drizzle:
Coconut milk.
Salt.
White sugar.
Cornflour mixed with water to form a paste.
See the recipe card at the end of this article for detailed quantities and methods.
🔪 Instructions
The first step to making vegan mango sticky rice is to get your rice ready.
To do this, first rinse the rice thoroughly in a sieve until the water coming through the sieve runs clear. Then just cover the rice with water and leave it to soak for at least two hours, but ideally overnight.
Once your rice has soaked you can start putting your vegan mango sticky rice together!
Drain the rice and then cook it. The traditional method is steaming and gives the best results. We wrap the rice in muslin cloth, then put it in a steamer basket. If you have a traditional bamboo steamer that's perfect. Place the steamer over a pan of boiling water. The rice shouldn't be touching the water, the idea is that the steam from the water cooks the rice. Cover the pan with a lid.
While the rice is steaming, mix together the coconut milk, salt and sugar. Warm the mixture in a small pan until the sugar dissolves.
Once your rice is ready, pour your sauce over it and mix well to break up any clumps.
Let it sit for 15 minutes.
Now you can mix together your drizzle ingredients. Using the same small pan from earlier, mix together the coconut milk, salt, white sugar and cornflour paste while gently heating.
Leave the drizzle to cool.
Slice the mango. Getting mango slices that actually look good isn't as easy as you might think! This took us a few goes. Check out this video for the best way to chop mango.
Serve the rice out into bowls, and place the sliced mango beside it. Drizzle your sauce over the mango and the rice, and sprinkle with black sesame seeds or mung beans.
And there you go, a mango sticky rice easy recipe for you! Check out the recipe card at the end of this article for the detailed method and measurements.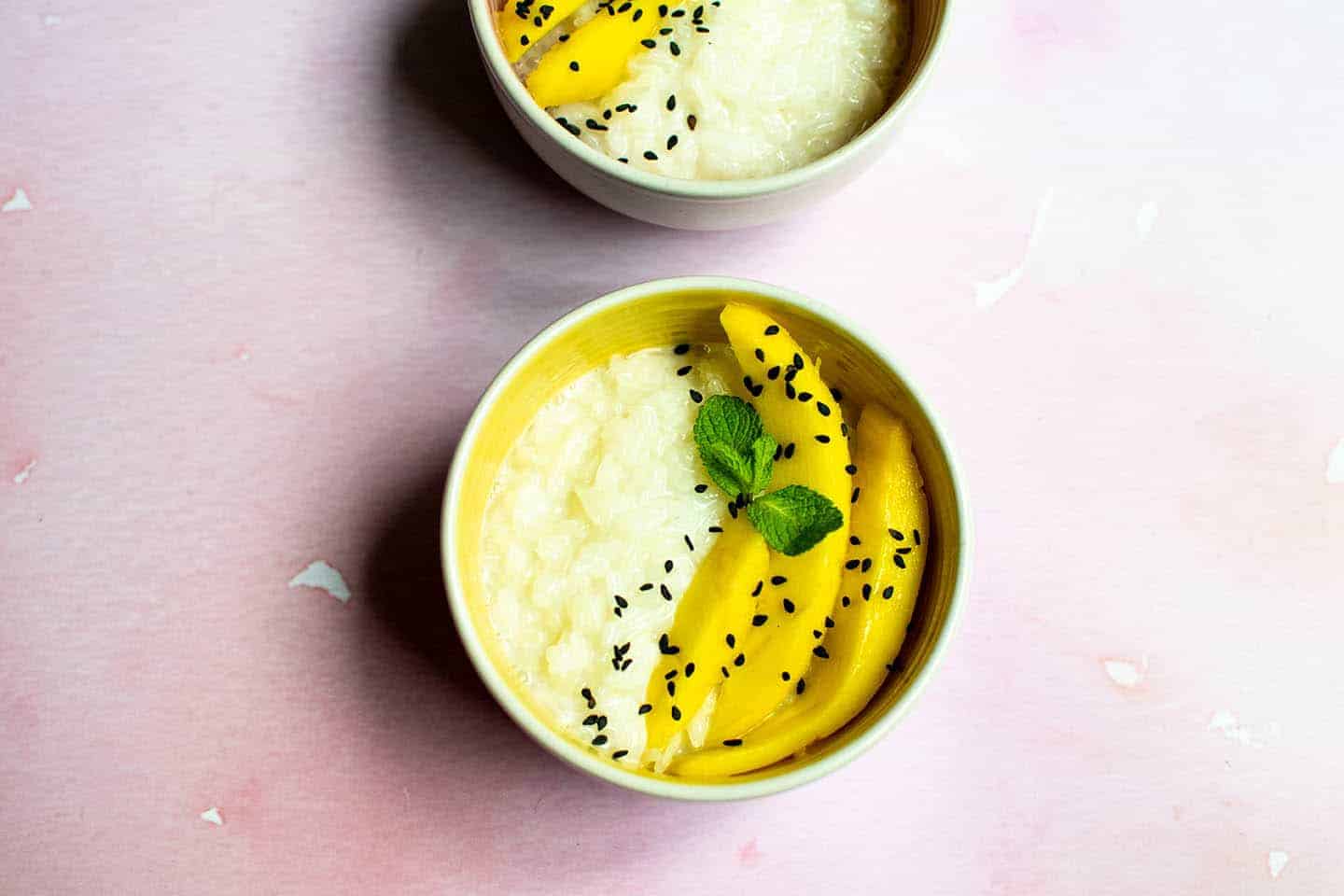 💭 FAQs
Is mango sticky rice served hot or cold?
Generally it's served cold, but if you're impatient then by all means tuck in while it's still warm. It's still absolutely delicious. Every time we had it in Thailand it was served at room temperature.
What does mango sticky rice taste like?
It's quite similar to rice pudding, except that the rice has much more texture to it. The coconut milk also makes it much creamier than the traditional British rice pudding, and the mango gives it a lovely fresh taste.
What is mango sticky rice made of?
The main ingredient in vegan mango sticky rice is glutinous rice, which is a form of rice that is popular in Asia. This is then sweetened with sugar and coconut milk, and flavoured with fresh mango.
What is sticky rice?
Sticky rice is another name for glutinous rice. The names are used pretty interchangeably, particularly in supermarkets.
🇹🇭 Other vegan Thai dishes
If you're a fan of Thai food, be sure to check out our ultimate guide to vegan Thai food! We run through key ingredients, kitchen equipment and famous recipes. Here's some of our favourites:
Easy vegetable massaman curry.
Super speedy Thai morning glory stir fry.
Dan's favourite Thai basil tofu.
Did you make this recipe? Leave a review and a rating below, or tag us in your photos on Instagram! Alternatively, bookmark it in your browser or save to Pinterest for later.

If you love our content, please consider supporting it by buying us a coffee.
📖 Recipe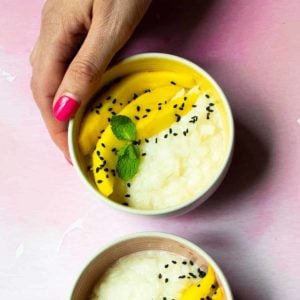 Vegan Mango Sticky Rice (Khao Niao Mamuang)
Mango sticky rice must be the most famous Thai desert – and for good reason! It's creamy and indulgent, but still fresh. Simple to make and sure to please.
Save
Saved!
Print
Pin
Rate
Equipment
Sieve

Muslin Cloth

Steamer basket

Small pan
Ingredients
1

cup

glutinous rice

½

cup

coconut milk

4

tablespoon

white sugar

½

teaspoon

salt

2

mangoes

– cut into slices
For the drizzle:
¼

cup

coconut milk

¼

teaspoon

salt

1.5

tablespoon

white sugar

1

tablespoon

cornflour

mixed with 4 tablespoon water to make a paste
Instructions
Rinse the glutinous rice in a sieve until the water runs clear.

Put the rinsed rice in a bowl and cover with water. Leave for at least 2 hours or even overnight.

After soaking, drain the rice and empty it onto a piece of muslin cloth. Wrap the cloth round the rice so it is secure.

Put a large pan of water onto boil. Reduce the heat to a high-simmer and put the steamer basket in the pan with the lid on. The rice needs to be able to sit in the basket without touching the water, so if it's bubbling a bit too much, just turn the heat down a little.

Add the muslin wrapped rice to the steamer basket and cover the pan with a lid. Steam the rice for 30 minutes or until tender.

While the rice is steaming, add the coconut milk, sugar and salt to a small pan. Heat until the salt and sugar have dissolved.

½ cup coconut milk,

4 tablespoon white sugar,

½ teaspoon salt

Once the rice is cooked, put it in a bowl and pour the coconut milk mix over. Mix it together, breaking up and clumps of rice. Leave to stand for 15 minutes.

In the small pan from earlier, add all the drizzle ingredients and gently heat. The sugar and salt should dissolve, and the drizzle should thicken up into a thick, but still runny drizzle.

¼ cup coconut milk,

1.5 tablespoon white sugar,

1 tablespoon cornflour,

¼ teaspoon salt

Serve the rice out into bowls or onto plates, top with the sliced mango, pour over the drizzle then sprinkle with sesame seeds or mung beans!
Notes
Rice flour can be used instead of cornflour
Nutrition
Calories:
377
kcal
|
Carbohydrates:
73
g
|
Protein:
5
g
|
Fat:
8
g
|
Saturated Fat:
6
g
|
Polyunsaturated Fat:
1
g
|
Monounsaturated Fat:
1
g
|
Sodium:
441
mg
|
Potassium:
210
mg
|
Fiber:
3
g
|
Sugar:
31
g
|
Vitamin A:
1120
IU
|
Vitamin C:
38
mg
|
Calcium:
17
mg
|
Iron:
1
mg