Thai morning glory stir fry, otherwise known as Pad Pak Boong Fai Daeng, is a must-try Thai dish. It's often served as a side dish, but sometimes as a lunch or dinner along with jasmine rice. It'll be ready in just a few minutes and uses only 7 ingredients. This is probably the quickest and easiest Thai dish to prepare, but still packed with flavour!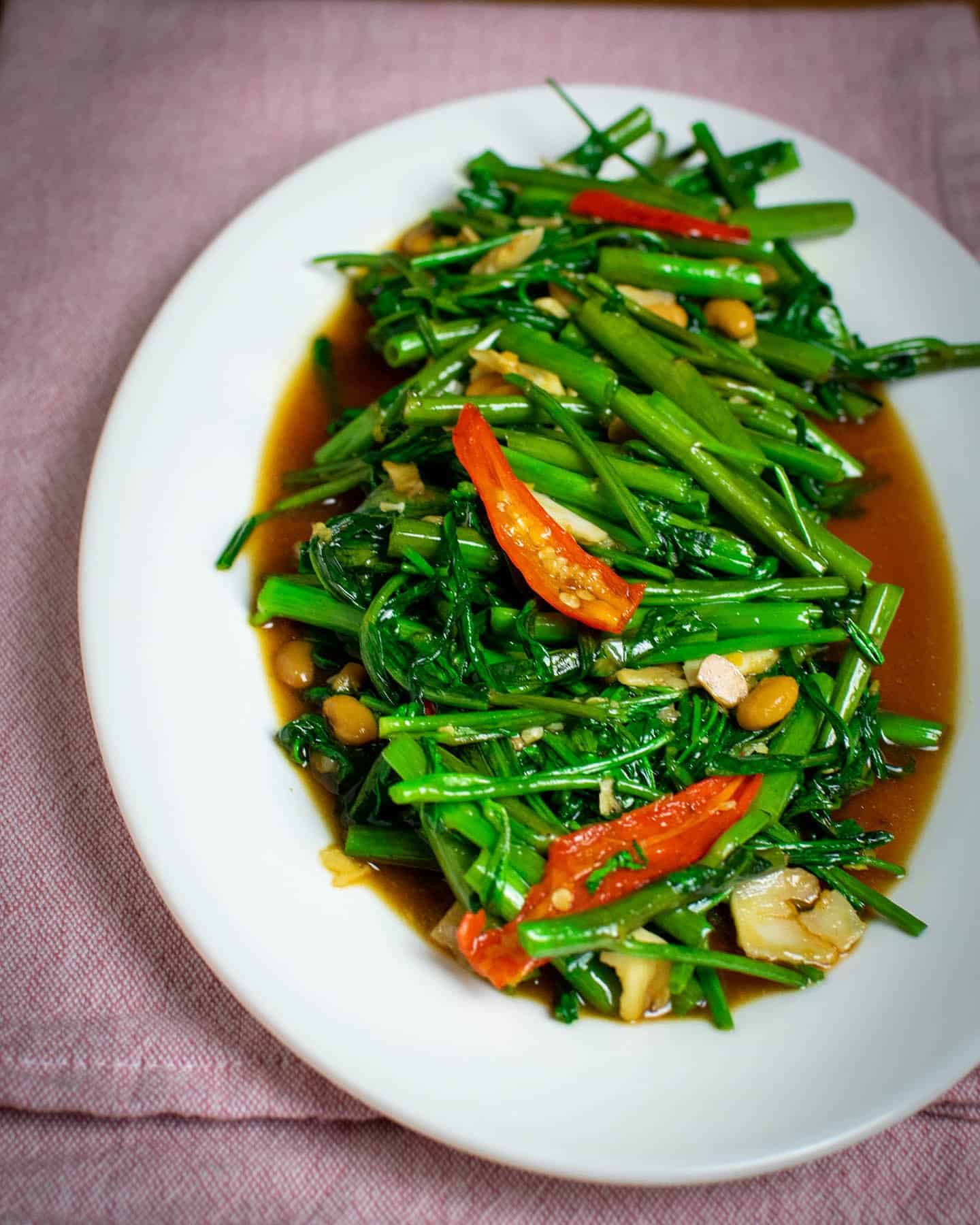 There's almost no prep work required for this recipe. A couple of slices with a knife, a few bashes with a pestle and mortar and you're ready to cook.
While stir fried morning glory doesn't typically contain any meat, it does use fish and oyster sauce. Of course, we wanted to create a version that everyone can enjoy. So, this is our completely vegan Thai morning glory stir fry!
What is morning glory?
I know, I know – it means something rude (at least in the UK)! But I'm talking about morning glory the vegetable!
Morning glory is a semi-aquatic plant that's native to South-East Asia. It goes by a lot of names, depending on what country you're in. Some of them are: water morning glory, water spinach, Chinese spinach and river spinach. In Thailand, it's known as Pak Boong.
Morning glory is a vegetable that has hollow, extremely tender shoots. The stems grow to be 2-3m tall and are topped by leaves which resemble typical spinach leaves. If you haven't had morning glory before, spinach is probably the closest western comparison. Morning glory has much longer, thicker and crunchier stalks though.
Like spinach, it cooks extremely quickly, so flash frying it is all that's required. That's why stir-fried morning glory is such a quick dish to prepare – you don't need to cook it for long!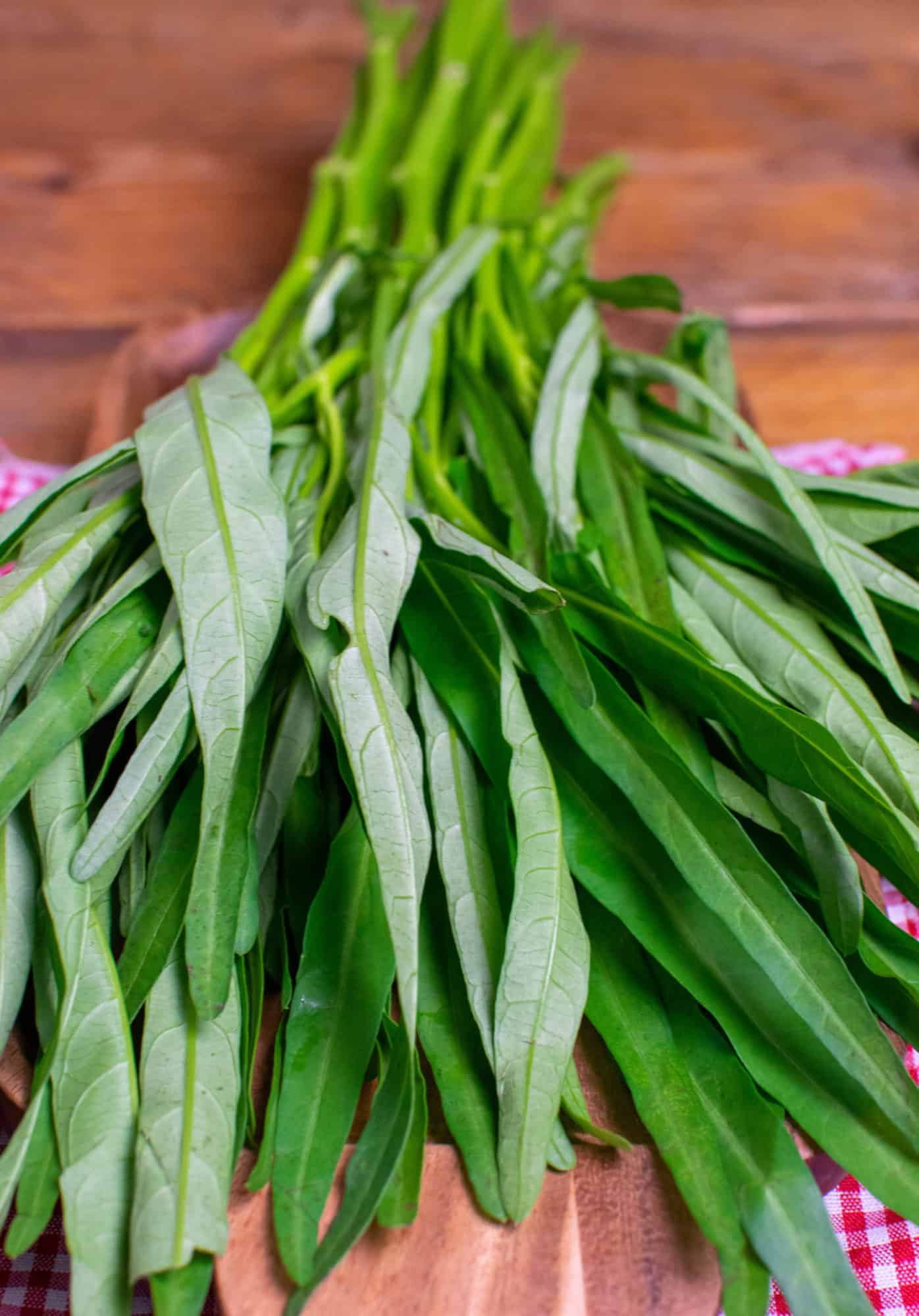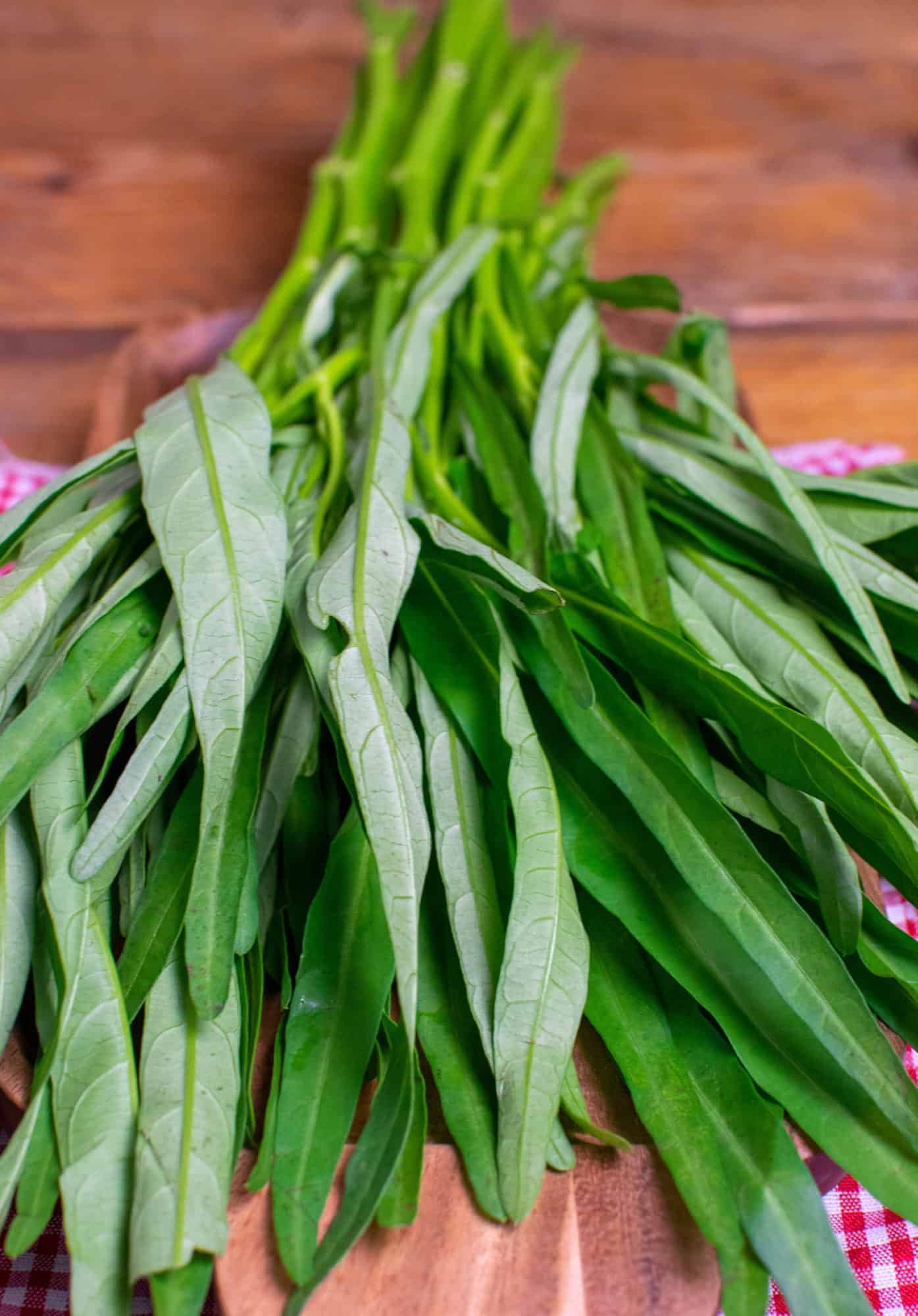 Where can I buy it?
Outside of South-East Asia, morning glory can be difficult to come by. We recommend finding your local Asian store or market and hoping they have some. If they don't, be sure to ask! You may find that they can order it in for you. Or perhaps you've just missed the delivery for that week and they can tell you when to check back in.
If you're looking for an online supplier of morning glory and other hard to find Asian ingredients, we recommend Essence of Thailand. Despite what the name suggests, they do sell a lot more than Thai ingredients!
They sell a whole host of interesting ingredients that will take your vegan Thai cooking to the next level, including some that we recommend using in our Thai morning glory stir-fry. Namely, vegetarian fish sauce, fermented yellow bean paste and vegetarian oyster sauce. You can definitely make this recipe without them, and while it will be delicious, we'd suggest grabbing those key ingredients when you next get the chance.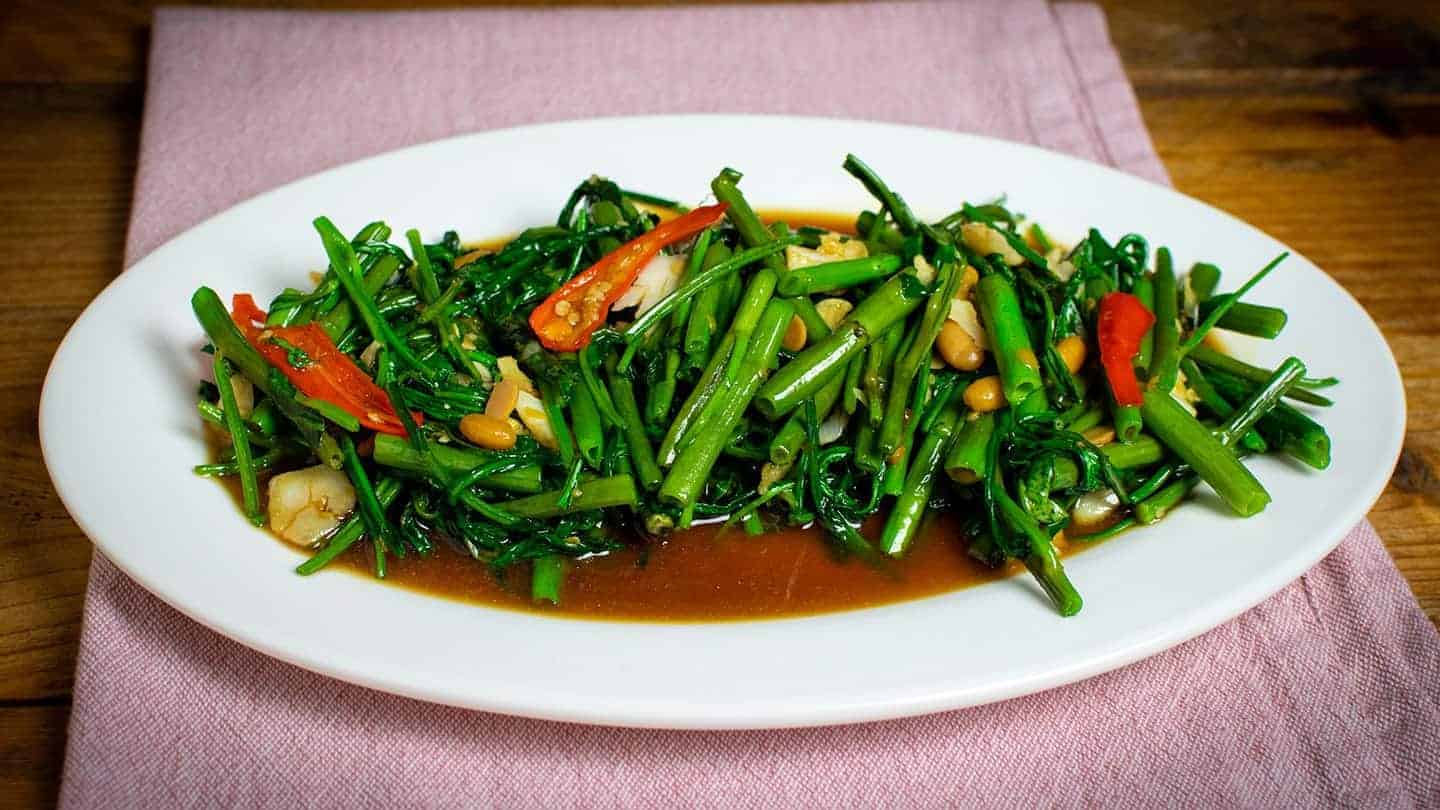 How do I make Thai morning glory stir fry?
Versions of stir fried morning glory exist in various Asian countries, but this recipe is for a vegan version of the Thai dish. The process is really simple and, depending on how quickly you work, it'll be ready in 5-10 minutes.
The keys to a delicious Thai morning glory stir fry include:
A pestle and mortar – the best way to prepare the garlic and chilli for stir fried morning glory is to smash them up.
A very hot wok – this dish only needs cooking for a couple of minutes, so a hot wok is important.
Three of the key Thai flavour foundations – salty, spicy and sweet. You've got to get that balance right. There's no real sour ingredients in stir fried morning glory, but as you'll find out, it's not needed!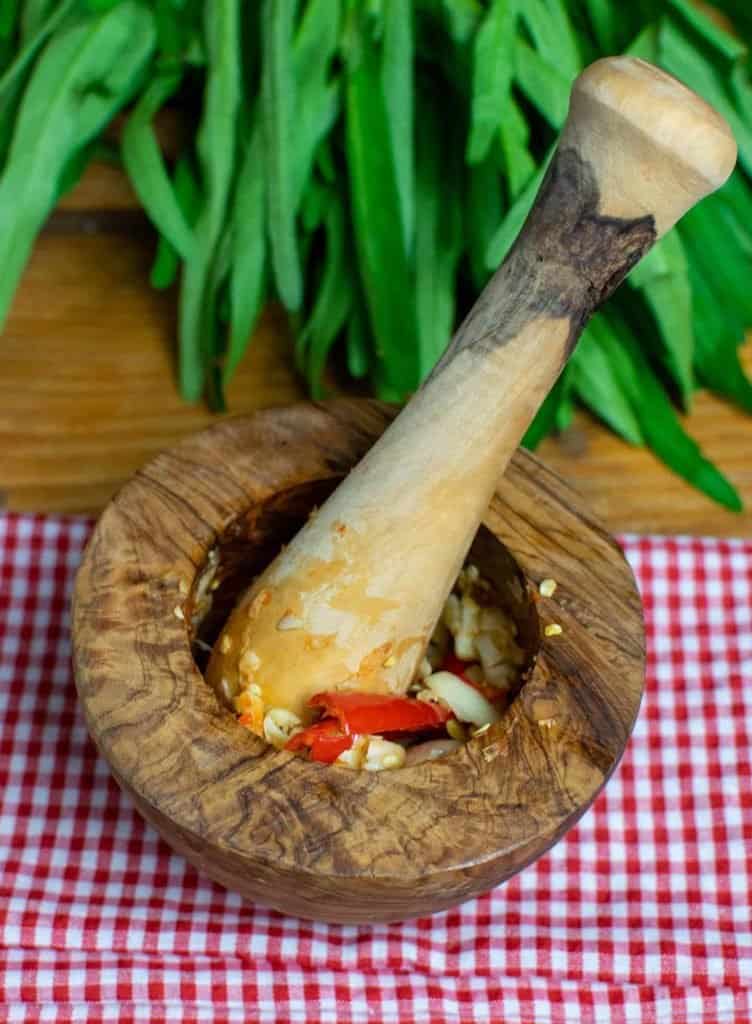 The ingredients
There's only 7 ingredients in our Thai morning glory stir fry, but each of them is important, and some of them aren't common ingredients outside of Thailand or Asia.
Morning glory – obviously. The dish is named after it, afterall! You can substitute for something else if you're struggling to get hold of it, see more on that below.
Garlic – and lots of it. We use 4 large cloves in our recipe and they're best prepared by smashing them in a pestle and mortar, rather than chopping.
Chillies – specifically bird eye chillies. Slice them in half lengthways and give them a good bashing along with the garlic.
Fermented soybean paste – also known as yellow bean sauce. A rich, salty sauce that is common in Thai cooking. You'll struggle to find a stir fried morning glory in Thailand that doesn't have whole soybeans mixed in from the yellow bean sauce.
Vegetarian oyster sauce – which is also vegan, of course. You can replace oyster sauce in Thai recipes with soy sauce, but it doesn't quite make up for the depth of flavour that you get from oyster sauce. Luckily, you can buy a vegetarian oyster sauce!
Vegetarian fish sauce – which, again, is also vegan. Similar to oyster sauce, you can just replace this with soy sauce if need be. We do recommend the vegetarian fish sauce by Thai Taste though!
Sugar – just a bit. Most Thai dishes benefit from a touch of sweetness to balance out and enhance the salty and spicy elements.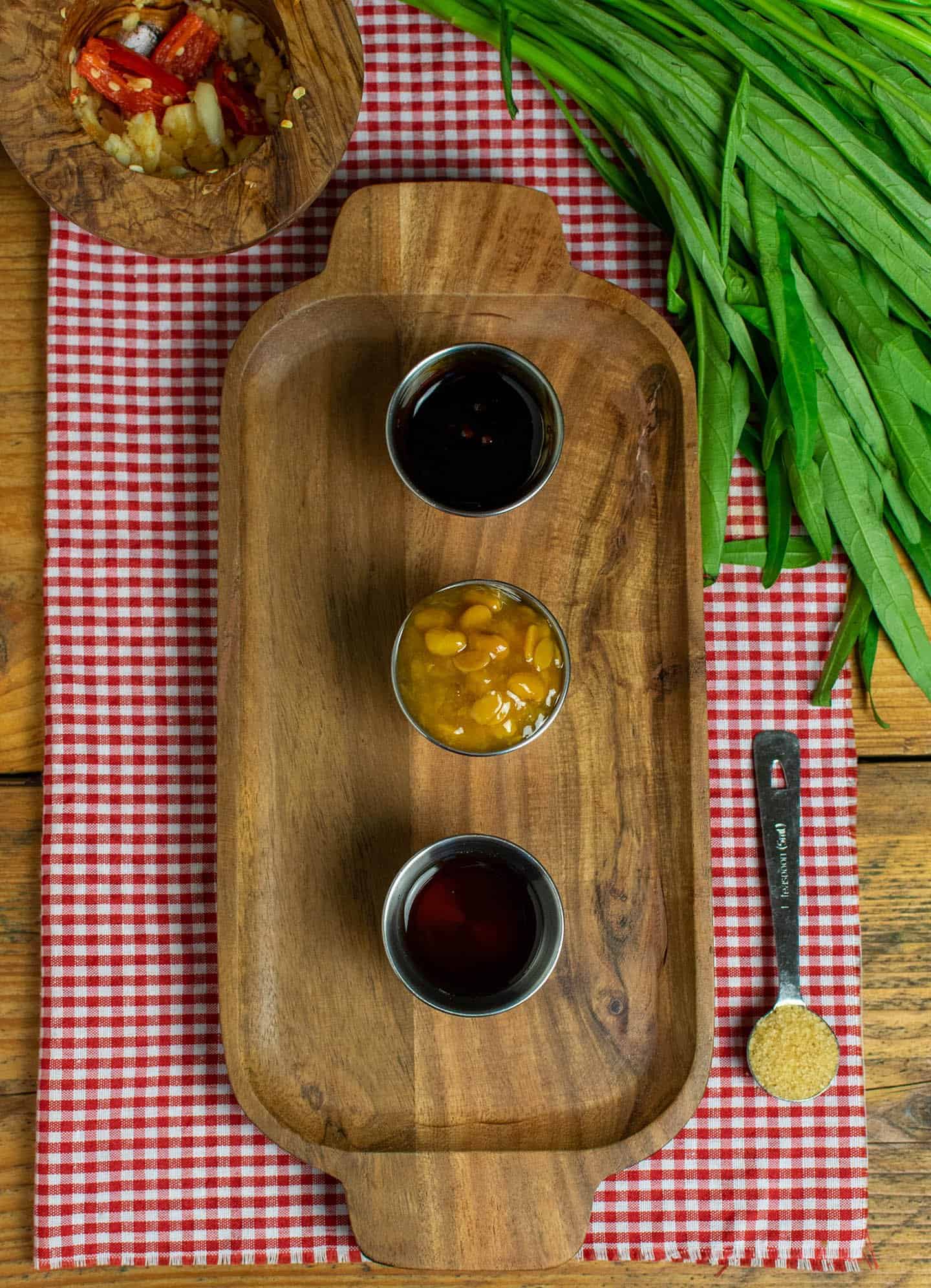 How to prepare morning glory
You don't need to do a lot to prepare morning glory for cooking, which is good news. We love a dish that doesn't require huge amounts of preparation!
All you need to do is:
Wash it! Give it a quick rinse under some cold water, then shake off as much of the water as possible.
Chop it! Cut it into 2-3 inch pieces, with the leafy end left slightly longer because it will wilt more when cooking.
That's it! Apart from slicing the chillies in half, and the few seconds of chopping it will take to get the morning glory down to size, there's not a lot of effort required for this recipe.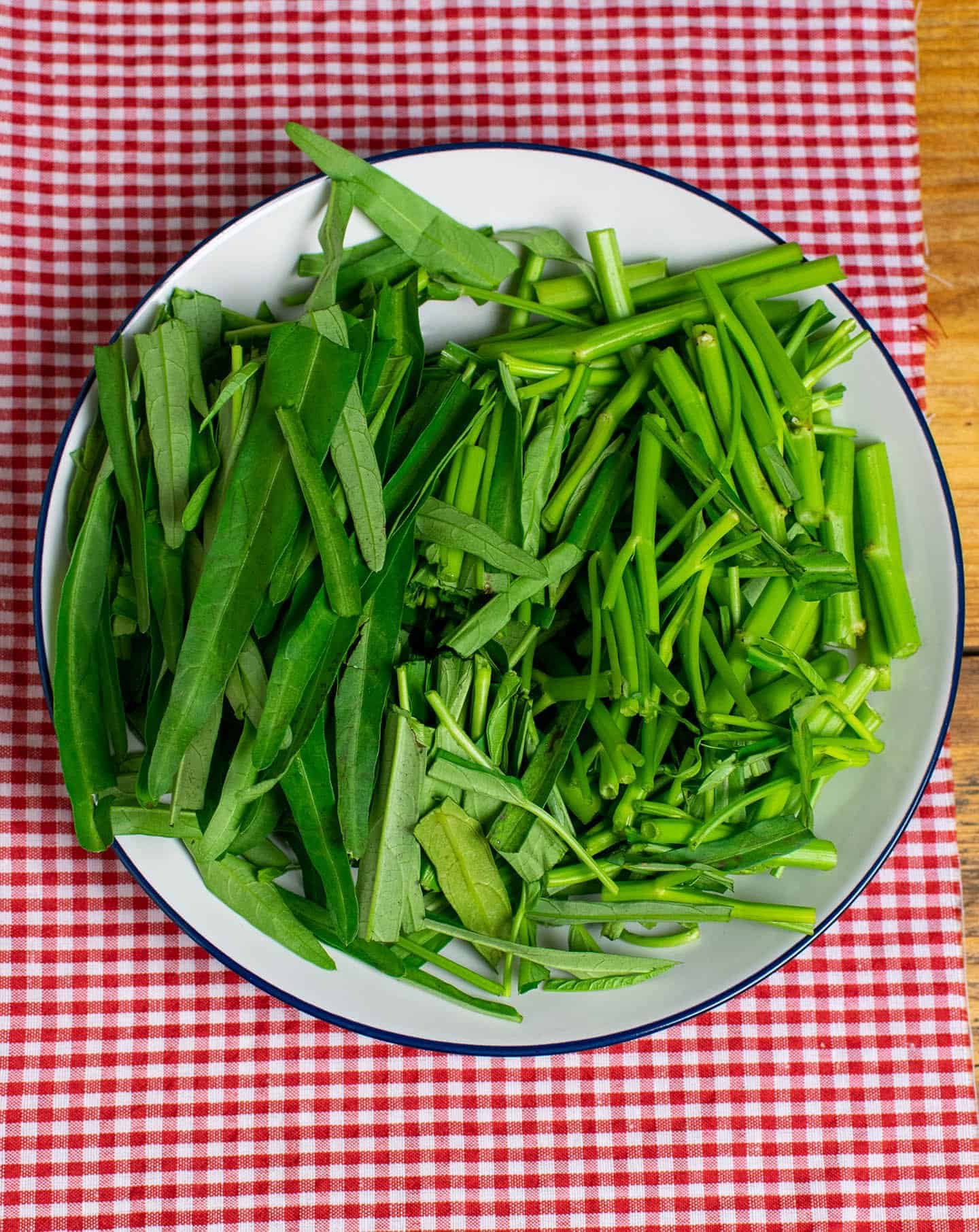 Can I substitute the morning glory for something else?
Yes, if you're struggling to find morning glory, this dish will be delicious with something else substituted in. You're unlikely to find something that exactly replicates the shape and texture of morning glory, but replacing it with another vegetable shouldn't affect the flavour.
Our top picks for a morning glory substitute would be:
Chinese broccoli – perhaps the closest vegetable that we can think of, but also probably not the easiest one to find. Chinese broccoli has thick stalks, topped by a small broccoli "flower" (a bit like tenderstem broccoli) as well as spinach-like leaves. It's almost like a cross between tenderstem broccoli and morning glory.
A combination of tenderstem broccoli and spinach – the best of both worlds, and super healthy. While the stalks of tenderstem are undoubtedly different to morning glory, they'll provide a good bite. The spinach will then replace the leafy tops, so combined, the two ingredients make a great alternative.
Spring greens – leafy and stalk-y! Not the perfect replacement, but spring greens will definitely do the job when you're in a pinch.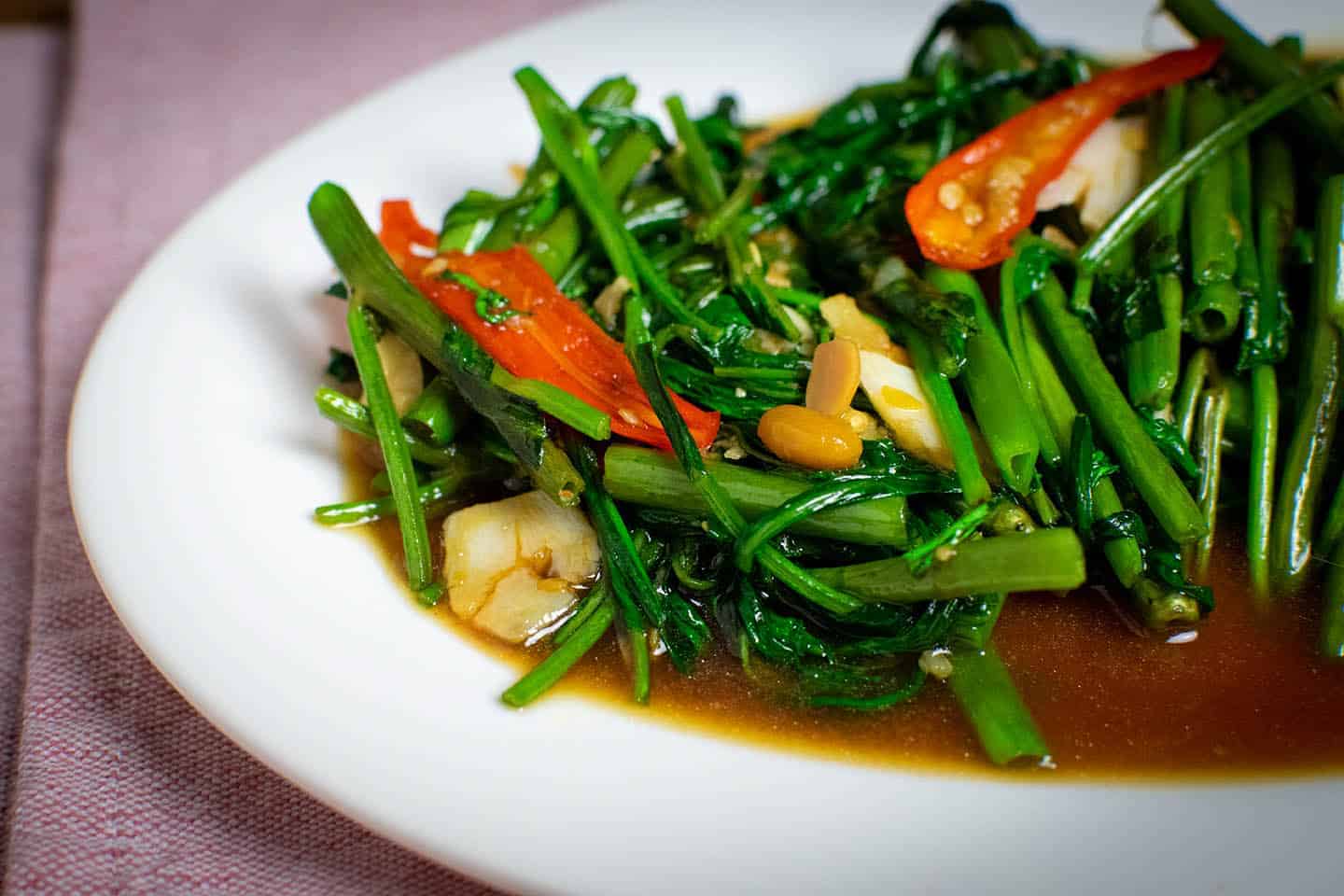 We hope you enjoy this recipe as much as we do! If you're looking for more Thai food inspiration, as well as how to cook it, check out our Vegan Thai Food Guide.
📖 Recipe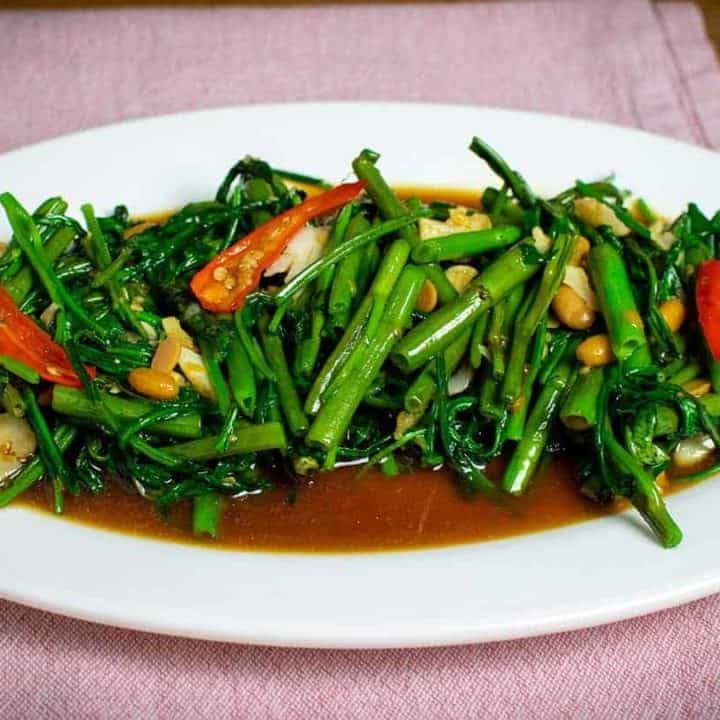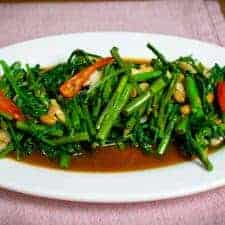 Thai Morning Glory Stir Fry
The perfect side dish or quick lunch, stir fried morning glory is one of the easiest Thai dishes you'll ever make. 7 ingredients, 5 minutes and you'll be in Thai food heaven.
This recipe will make enough for 4 as a side dish. If you want to serve as a lunch or dinner, it will be enough for 2 served with rice.
Save
Saved!
Print
Pin
Rate
Ingredients
4

cloves

garlic

4

bird eye chillies

– sliced in half lengthways*

200

g

morning glory

– rinsed and cut into 2-3 inch pieces

1

tablespoon

fermented soybean paste

also known as yellow bean sauce*

2

tablespoon

vegetarian oyster

or mushroom sauce*

1

teaspoon

vegan fish sauce

– see notes

1

teaspoon

sugar

⅛

cup

water

1

tablespoon

vegetable oil
Instructions
Pound the garlic and chillies in a pestle and mortar.

4 cloves garlic,

4 bird eye chillies

Heat the vegetable oil in a wok until it's very hot.

1 tablespoon vegetable oil

Add the garlic and chillies and stir for 10 seconds.

4 cloves garlic,

4 bird eye chillies

Throw in the rest of the ingredients and keep stirring for around 90 seconds.

200 g morning glory,

1 tablespoon fermented soybean paste,

2 tablespoon vegetarian oyster,

1 teaspoon vegan fish sauce,

1 teaspoon sugar,

⅛ cup water

Serve as a side or with jasmine rice for a lunch/dinner portion.
Notes
This isn't the spiciest Thai dish out there by a long way, but use fewer chillies if you're not really into spicy food.
The vegetarian oyster and fish sauces could be substituted for soy sauce if you don't have them.
The fermented soybean paste could also be replaced by miso paste, although the flavour might not be perfect.
If you don't have Morning Glory (water spinach), you can use a mix of tenderstem broccoli and spinach.
Nutrition
Calories:
33
kcal
|
Carbohydrates:
6
g
|
Protein:
2
g
|
Fat:
1
g
|
Saturated Fat:
1
g
|
Polyunsaturated Fat:
1
g
|
Monounsaturated Fat:
1
g
|
Sodium:
546
mg
|
Potassium:
195
mg
|
Fiber:
1
g
|
Sugar:
1
g
|
Vitamin A:
3189
IU
|
Vitamin C:
36
mg
|
Calcium:
50
mg
|
Iron:
1
mg