In this article, you're going to get some of the best Thai vegetable side dishes that are available on the internet. All Thai recipes are built on the foundation of four key flavours. The flavours are: salty, sweet, savoury and spicy. And Thai vegetable dishes are no different!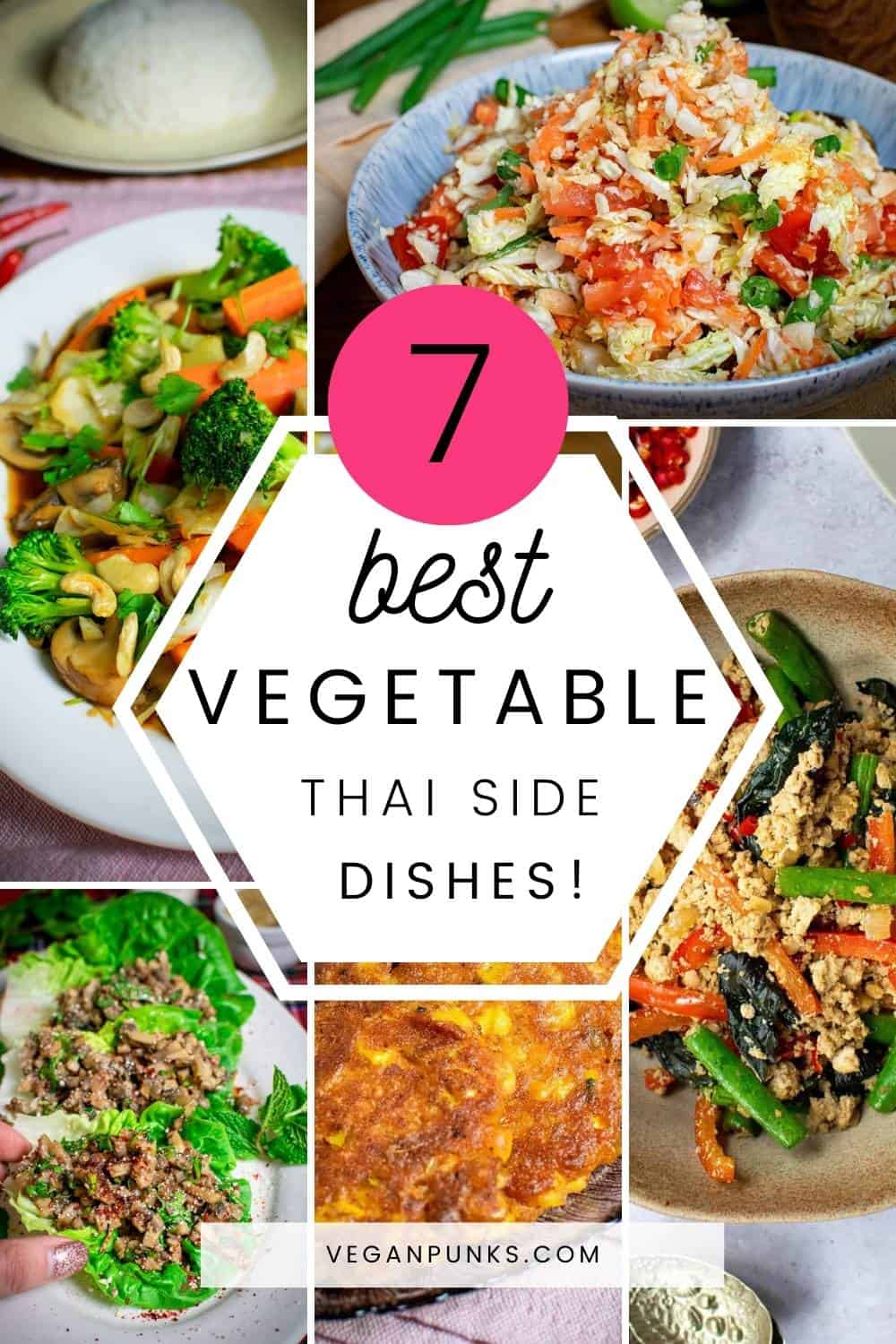 Jump to:
Thai recipes often use a lot of fresh vegetables. There's an abundance of fresh produce in Thailand, and most local restaurants head to the markets in the morning to get fresh vegetables and ingredients daily.
A lot of Thai side dishes can be made veggie or vegan. They're often not either accidentally because the recipes often use a lot of fish sauce and oyster sauce. The good news is that there are vegan versions of these sauces that can be used to make Thai vegan side dishes.
🇹🇭 What makes a great Thai side dish?
Generally, a great Thai side dish is fresh, zesty, spicy and umami rich. But it all depends in what quantity! Thai food tends to be quite spicy, so Thai side dishes will often contain chilli as it's actually often a key ingredient. However, the spice level in all Thai side dishes can be adjusted to suit pallets that prefer a milder taste.
Basically, using fresh vegetables – either what's in season or what you can get at the supermarket is a great place to start. Thai side vegetable dishes are great when they're made fresh and served with the best Thai main dishes like Thai Green Curry or Red Curry.
🌶 Thai Vegetable Side Dishes
When cooking Thai food, you'll likely still use a lot of vegetables and ingredients that you know and love. For instance, carrot, mushrooms, broccoli and cauliflower are used in many Thai curries – even when they're served at a restaurant in Thailand!
However, there are some vegetables that are more niche. For example water spinach (AKA morning glory) is synonymous with the Thai side dish stir fried morning glory, but it is used in many other Asian countries too. Thai eggplant and pea eggplant are also traditional vegetables that are often served in red and green curries.
In addition, ingredients such as pak choi, daikon, Chinese broccoli, beansprouts, lotus root, bamboo shoots and even long beans are very often used in Thai cuisine, including many Thai vegetable side dishes. These ingredients are often used in a lot of southeast Asian dishes, such as many Indonesian dishes too.
There's not just specific Thai vegetables either – there's also key herbs, spices and chillies too. The main aromatics are: Thai Basil, Holy Basil, Galangal and bird eye chillies – for the heat! Of course, this is a simplified overview and there is a lot more to Thai cooking than just using these ingredients!
🥦 Best Thai Vegetable Dishes
Let's get into the best Thai vegetable side dishes. Here they are…
Thai Vegetable Dishes FAQs
There we have it – the best Thai side dishes ever! Have we included your favourites? Let us know in the comments below if we've missed anything.
More recipes to try