We love mushrooms. Sometimes I have to stop myself adding them to recipes where there are already enough ingredients! So, we're super happy to bring you this delicious mushroom larb! Larb is a type of Thai salad that isn't usually vegan or vegetarian, but ours is both, of course.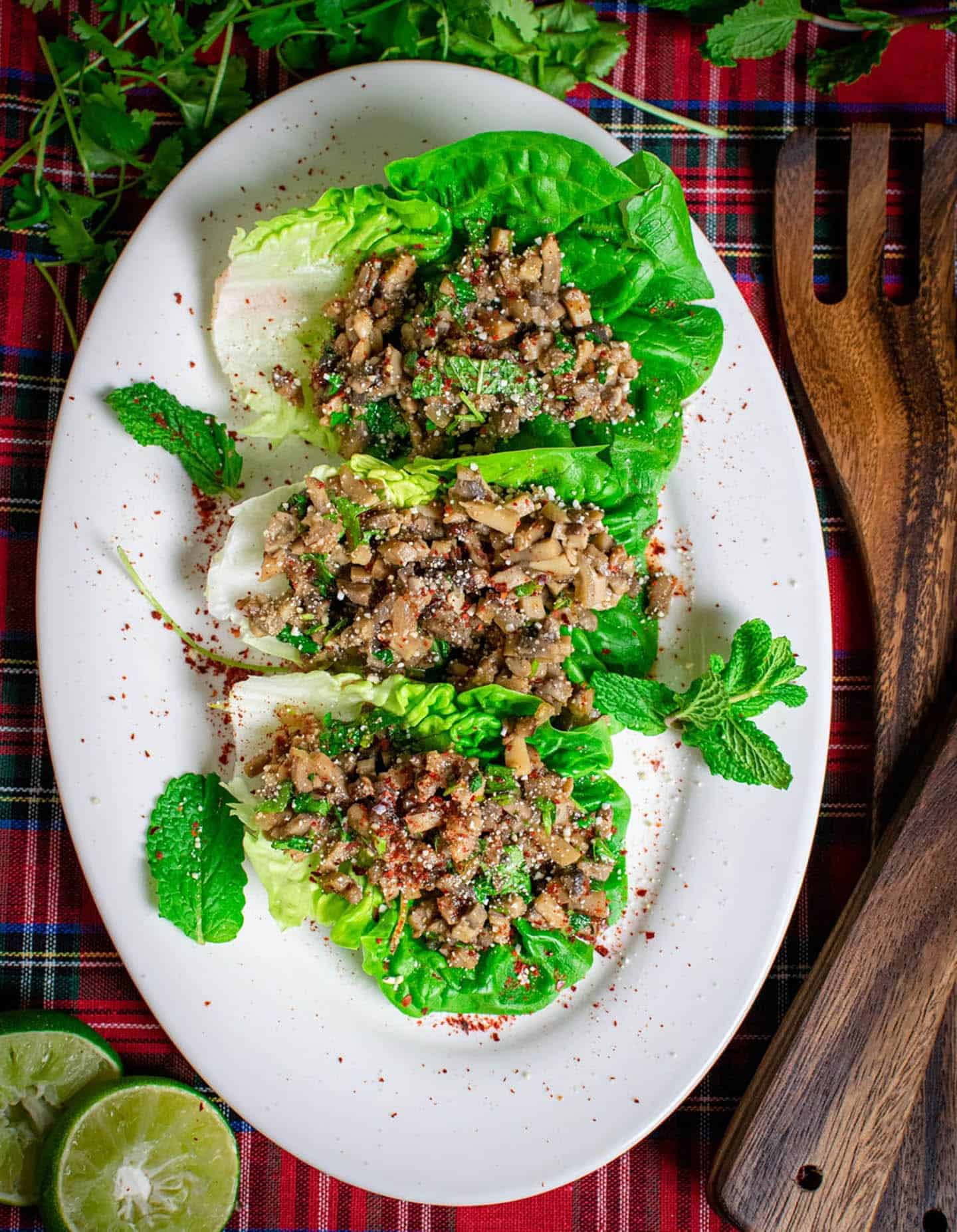 We haven't published a lot of salads, however, with the heat wave we're experiencing in the UK right now, we're super motivated to create more salads.
Let us know if you like this salad in the comments section below, and we'll create more!
We also made a video step-by-step tutorial for this recipe, hope it's helpful:
What is larb?
In all honesty, mushroom larb (or any type of larb) isn't originally a Thai dish – it's actually known as the 'unofficial' national dish of Laos, a neighbouring South East Asian country to Thailand. However, as with a lot of dishes, it easily crossed the border into Thailand and took on a new lease of life.
It became part of Thai traditional cuisine in the Isan region, which is in the North-East region of Thailand, which borders Laos along the Mekong River. It's an area where a lot of people are of Laos (pronounced 'Lao') ethnicity so it makes sense that a traditional Laos dish like this one would cross the border.
Larb is served at room temperature, either with salad leaves or with glutinous rice. It's usually a meaty dish, but our version is full vegan and veggie. Skip to the bottom to get the full recipe!
Top Tip: if you love this recipe, check out our e-cookbook Vegan Thai Food Made Easy. It's packed with 21 original Vegan Punks recipes featuring curries, curry pastes, stir fries and even the most popular Thai dessert, as well as 3 BONUS recipes!
What is mushroom larb?
Traditionally, Larb is made with meat or fish, and is seasoned with chilli, fish sauce, lime juice, toasted rice (we'll get to this later) and fresh mint and coriander.
In this version, we're going to use two types of mushrooms – chestnut and shiitake. We chose chestnut mushrooms because they're pretty firm and hold up well when chopped really small. Shiitake mushrooms have a stronger flavour, are also sturdy, but also have an earthy, umami flavour that work really well with the other flavours.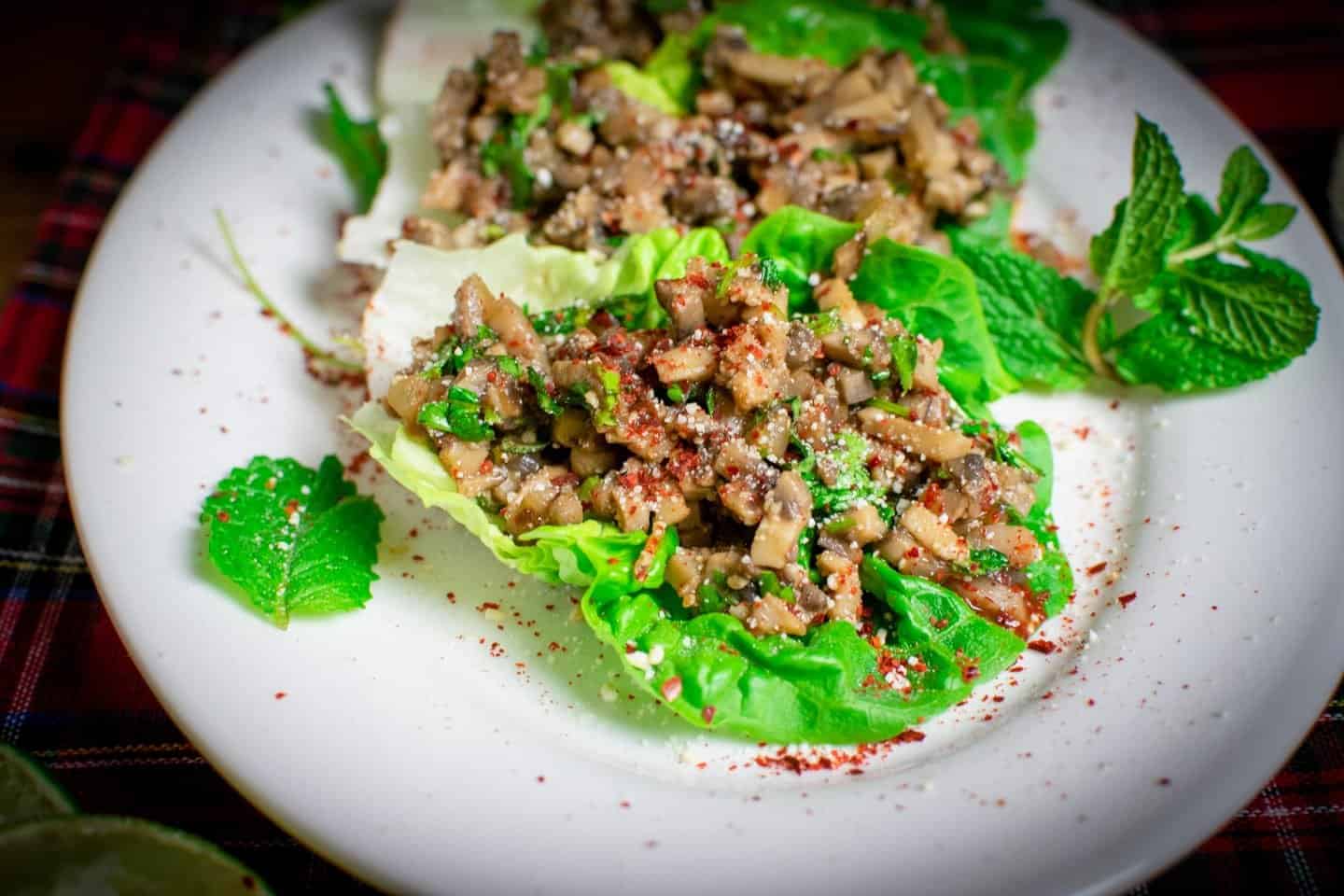 Mushroom larb seasoning mix
The mushroom larb seasoning mix is really simple. It follows the classic Thai flavours of salty, sweet, spicy and sour. The mushroom larb seasoning mix includes:
Soy Sauce (salty)
Lime Juice (sour)
Sugar (sweet)
Chilli flakes (spicy)
It's quite a spicy salad, but you can adapt the quantity of chilli flakes in this dish if you would rather it was more herby than spicy.
In actual fact, the Thai version of larb doesn't use lime juice or soy sauce, but when we were taught to cook this dish in Northern Thailand these ingredients were used. So, to keep things simple we have used lime juice and soy sauce in our recipe. However, other variations from Thailand include adding cumin powder, star anise and cloves.
It's often the case that the dishes we veganise use animal ingredients (and this is one of them), so this dish is in no way traditional. However, we have made a vegan version, so that everyone can try the flavours in this recipe. So, we'd say this one is inspired by the traditional ways of making the salad!
Ingredients for mushroom larb
This recipe will only take around 20 minutes to make – and most of that time will be spent chopping the mushrooms! This is what you'll need for the mushroom larb (head to the full recipe below for full measurements and instructions):
Chestnut mushrooms
Shiitake mushrooms
Shallots
Mint
Coriander
Toasted rice
Chilli flakes
Soy sauce
Lime juice
Sugar
Baby gem lettuce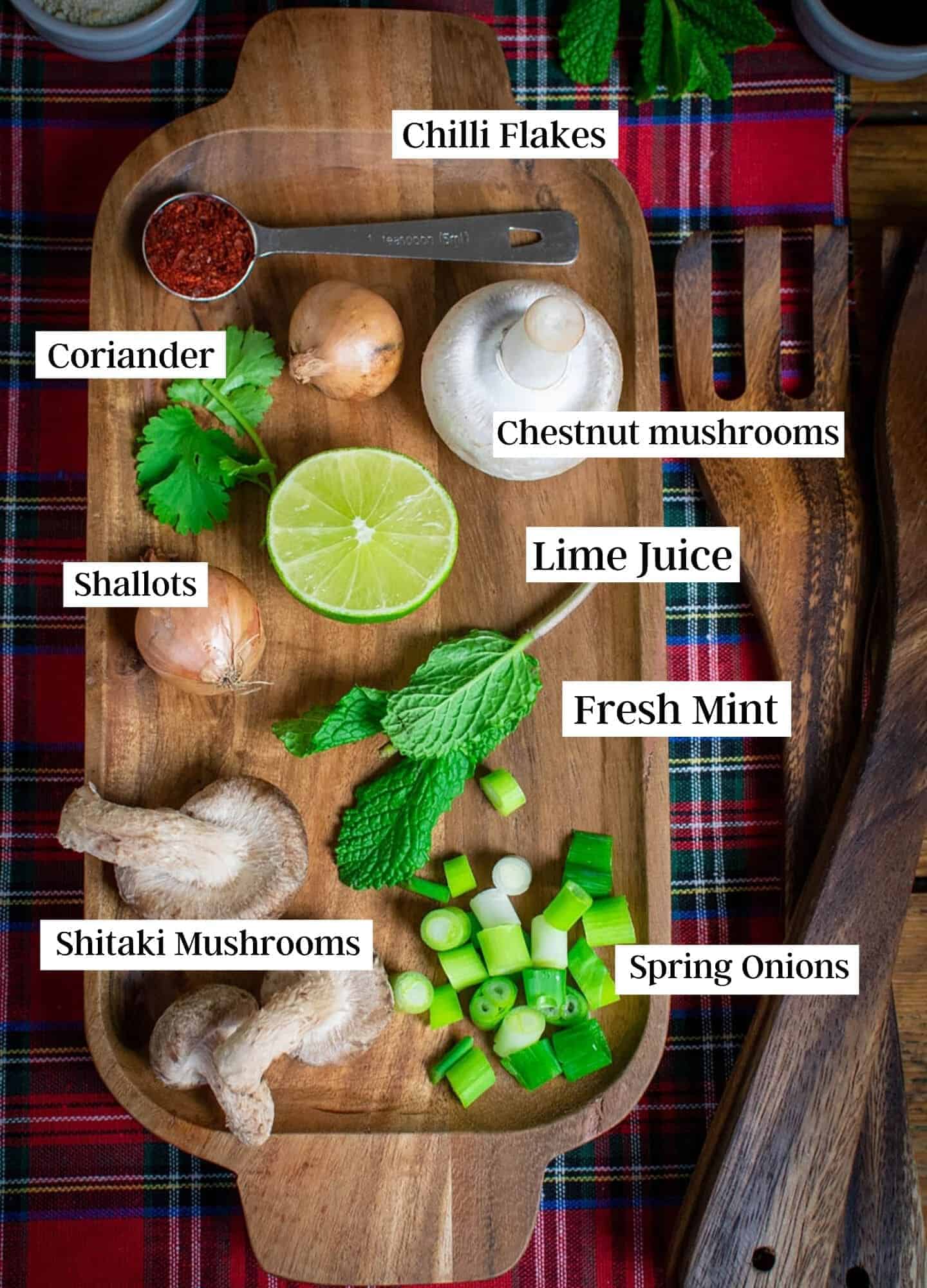 How to make larb
First of all, wash the mushrooms, then chop into really really small pieces, almost minced (like in the picture). We used a Nicer Dicer to get them chopped evenly and to such a small size, but you can use a normal knife instead, it just might take a little longer!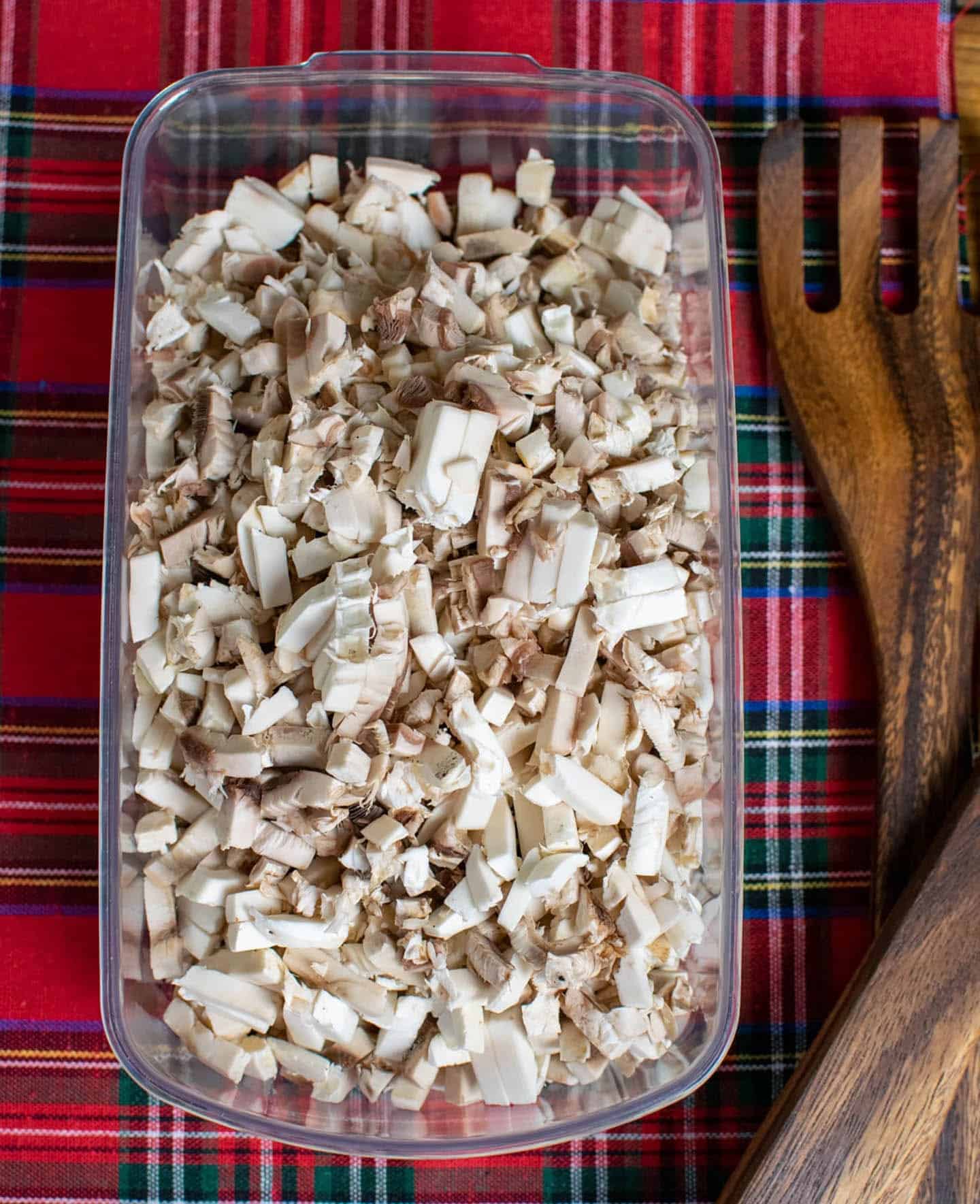 Once the mushrooms are chopped, grab a large frying pan and add a splash of vegetable oil. Heat the oil up then add the mushrooms. The mushrooms should cook until water is released, and start to shrink.
Once cooked, drain excess liquid using a sieve and set aside for a moment.
In a large bowl, place the mushrooms, chopped shallots, mint, coriander, chilli flakes and toasted rice. Mix well.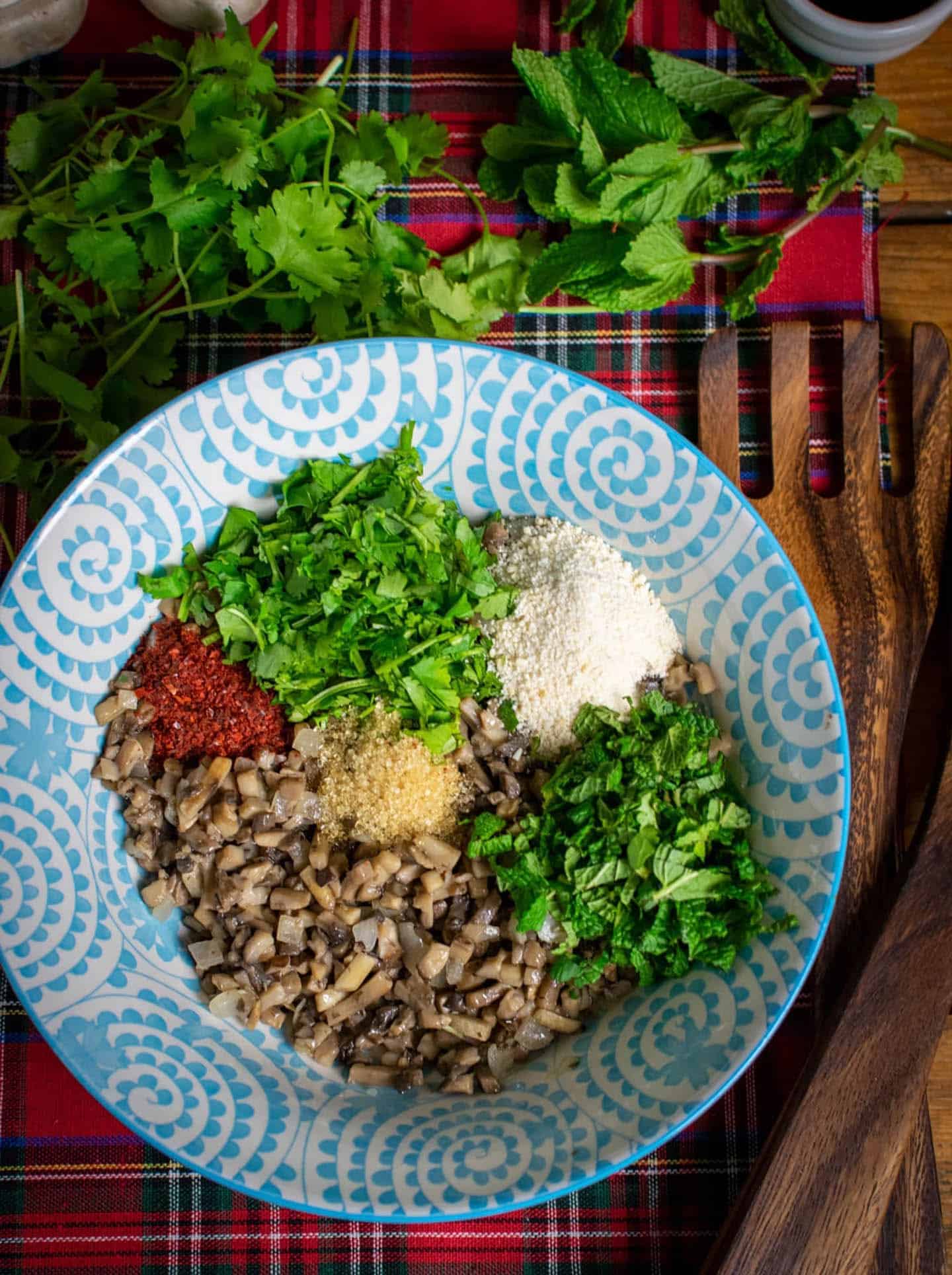 Then add the soy sauce, lime juice and sugar. Once it's all mixed up, it's ready to serve! It's really as easy as that.
To serve, peel away whole leaves of baby gem lettuce and place the mushroom larb onto each leaf. You should serve three lettuce leaves full of mushroom larb per person as a light lunch!
Mushroom larb FAQs
What is toasted rice?
Toasted rice is a staple cooking ingredient in Thai and Laos cooking. It adds a nutty aroma to dishes, such as larb, and a little crunch too. It can also be used as a thickening agent in soups.

It's really easy to make. Just grab a frying pan, place a thin layer of rice into the pan (without oil) and roast over a medium heat. Keep an eye on the rice to make sure it doesn't burn. Shake the pan every few minutes to ensure every rice grain is roasted. After around 10 minutes it should be pretty well toasted and a nice golden colour.

Once ready, transfer to a spice grinder, cup blender or pestle and mortar. Bash or blitz until it resembles a powder, like a coarse flour.
What can I use instead of toasted rice?
If you don't have toasted rice, you could substitute peanuts or cashews. Make sure to crush them so they're not in big pieces, they will then add the crunch. This isn't a traditional method and so the final dish won't be something you'd find in Thailand or Laos, but it will still taste good!
Can I use any type of mushroom?
We would recommend using chestnut and shiitake (fresh) in this dish. However, suitable alternatives include: portobello, button, white and king oyster mushrooms. Steer away from the more 'jelly'-like mushrooms like ear, and also enoki mushrooms wouldn't really work, as they're too small and straw-like.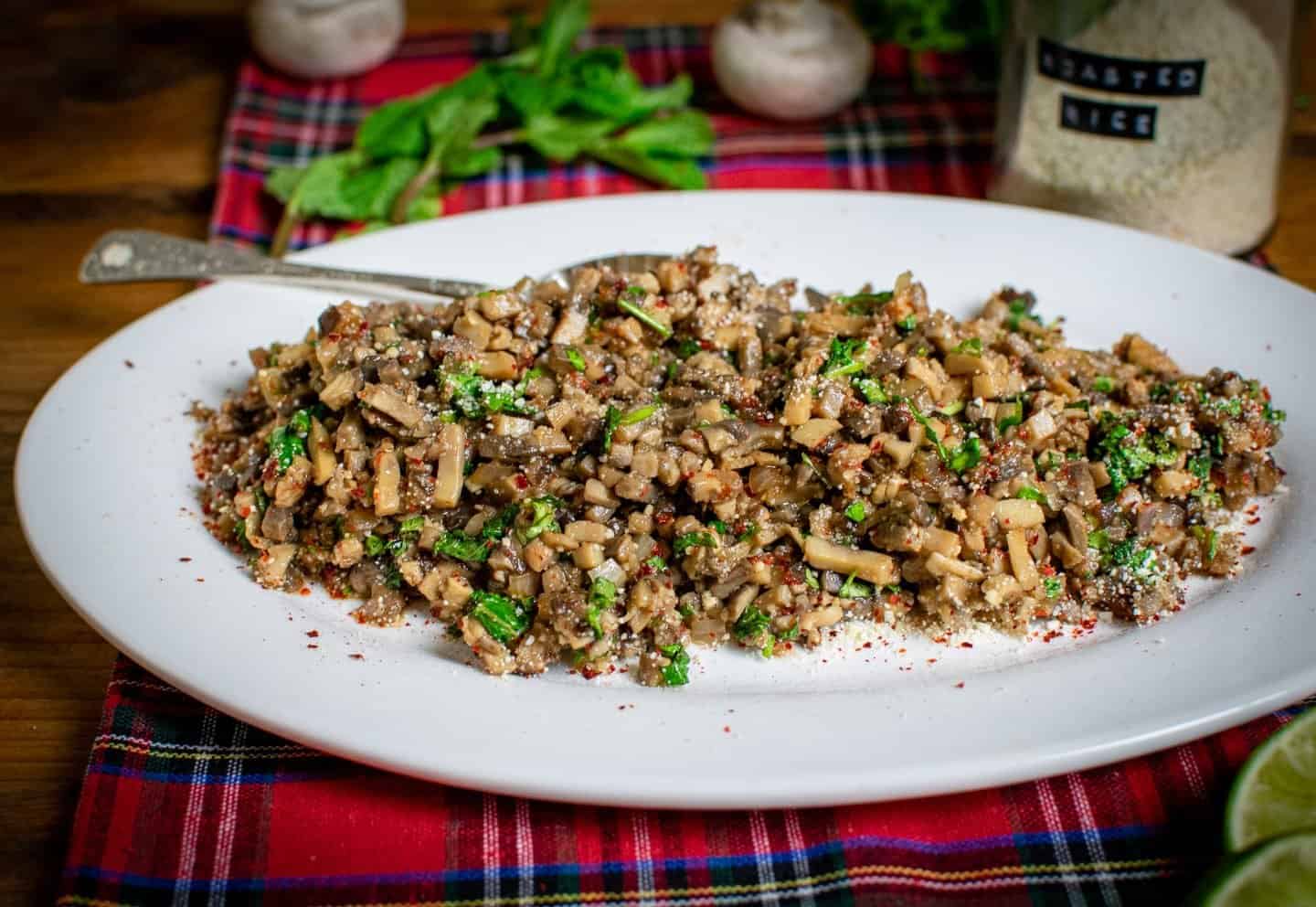 Learn all about Thai cuisine, the cooking techniques, ingredients and equipment in our guide on how to make the best vegan Thai food.
If you like this Thai salad, you may also like to try our Vegan Papaya Salad. And if you're enjoying mushrooms in salad try this Mushroom, Lemon and Lentil Salad from the lovely Delicious Everyday blog.
📖 Recipe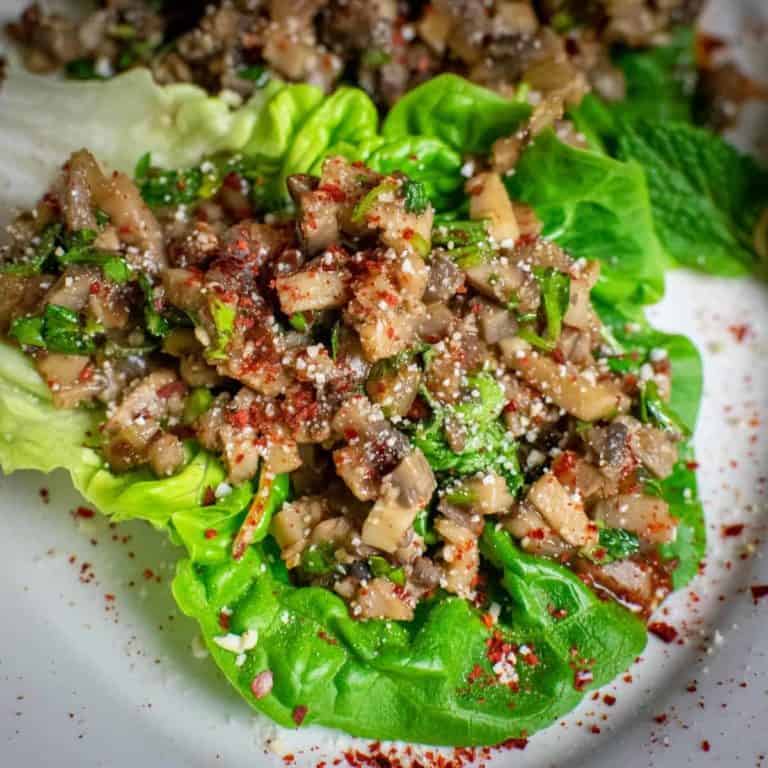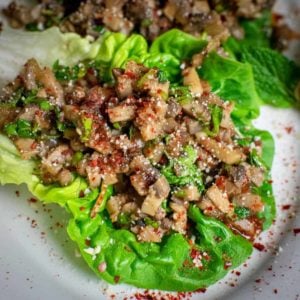 Mushroom Larb
This is a vegan and vegetarian friendly mushroom larb. A delicious mix of mushrooms, fresh herbs and the crunch of toasted rice!
Save
Saved!
Print
Pin
Rate
Ingredients
1

tablespoon

toasted rice

see notes

250

g

chestnut mushrooms

– diced finely

250

g

shiitake mushrooms

– diced finely

2

shallots

– chopped

2

tablespoon

mint

– chopped

2

tablespoon

coriander

– chopped

1

teaspoon

chilli flakes

2

tablespoon

soy sauce

2

tablespoon

lime juice

1

teaspoon

sugar

2

baby gem lettuce
Instructions
Firstly make the toasted rice if you don't have any – see the recipe notes on how to make it (it's quick!).

1 tablespoon toasted rice

Heat up a large frying pan or wok, add a splash of oil and cook the mushrooms until they're tender and have released some liquid – this should only take a few minutes with how small they're chopped.

250 g chestnut mushrooms,

250 g shiitake mushrooms

Once cooked, drain the excess liquid from the mushrooms by pouring the contents of your wok into a sieve.

In a large bowl, mix the chopped shallots, mint, coriander, chilli flakes and toasted rice with the mushrooms.

2 shallots,

2 tablespoon mint,

2 tablespoon coriander,

1 teaspoon chilli flakes,

1 tablespoon toasted rice

Add the soy sauce, lime juice and sugar and mix really well.

2 tablespoon soy sauce,

2 tablespoon lime juice,

1 teaspoon sugar

It's that simple! Serve on whole leaves of baby gem lettuce – three lettuce leaves loaded up with mushroom larb per person makes for a delicious light lunch.
Notes
To make toasted rice: take around a quarter of a cup of rice, and a frying pan. Without any oil, put the frying pan over a medium heat and place the rice in the pan. Keep an eye on the rice to make sure it doesn't burn. Shake the pan every couple of minutes to ensure every rice grain is roasted. After around 10 minutes it should be pretty well toasted and a nice golden colour. Put the toasted rice into a blender/food processor, or pestle & mortar, and blitz or bash it into a course powder. This will keep in a tub for at least a few months.
Instead of roasted rice, you can used crushed cashews or peanuts. It won't quite be the same, but it will be tasty still!
Nutrition
Calories:
72
kcal
|
Carbohydrates:
15
g
|
Protein:
5
g
|
Fat:
1
g
|
Saturated Fat:
1
g
|
Polyunsaturated Fat:
1
g
|
Monounsaturated Fat:
1
g
|
Sodium:
523
mg
|
Potassium:
569
mg
|
Fiber:
3
g
|
Sugar:
5
g
|
Vitamin A:
272
IU
|
Vitamin C:
4
mg
|
Calcium:
29
mg
|
Iron:
1
mg