This article contains affiliate links. If you make a purchase from the link, we will receive a small commission at no additional cost to you. For full information, please see our disclaimer.
Panang curry is a salty, sweet and nutty curry from Thailand. Our vegan panang curry sticks very closely to traditional recipes, only switching out ingredients where necessary! The result is a delicious, rich and thick curry that's as delicious as it is filling.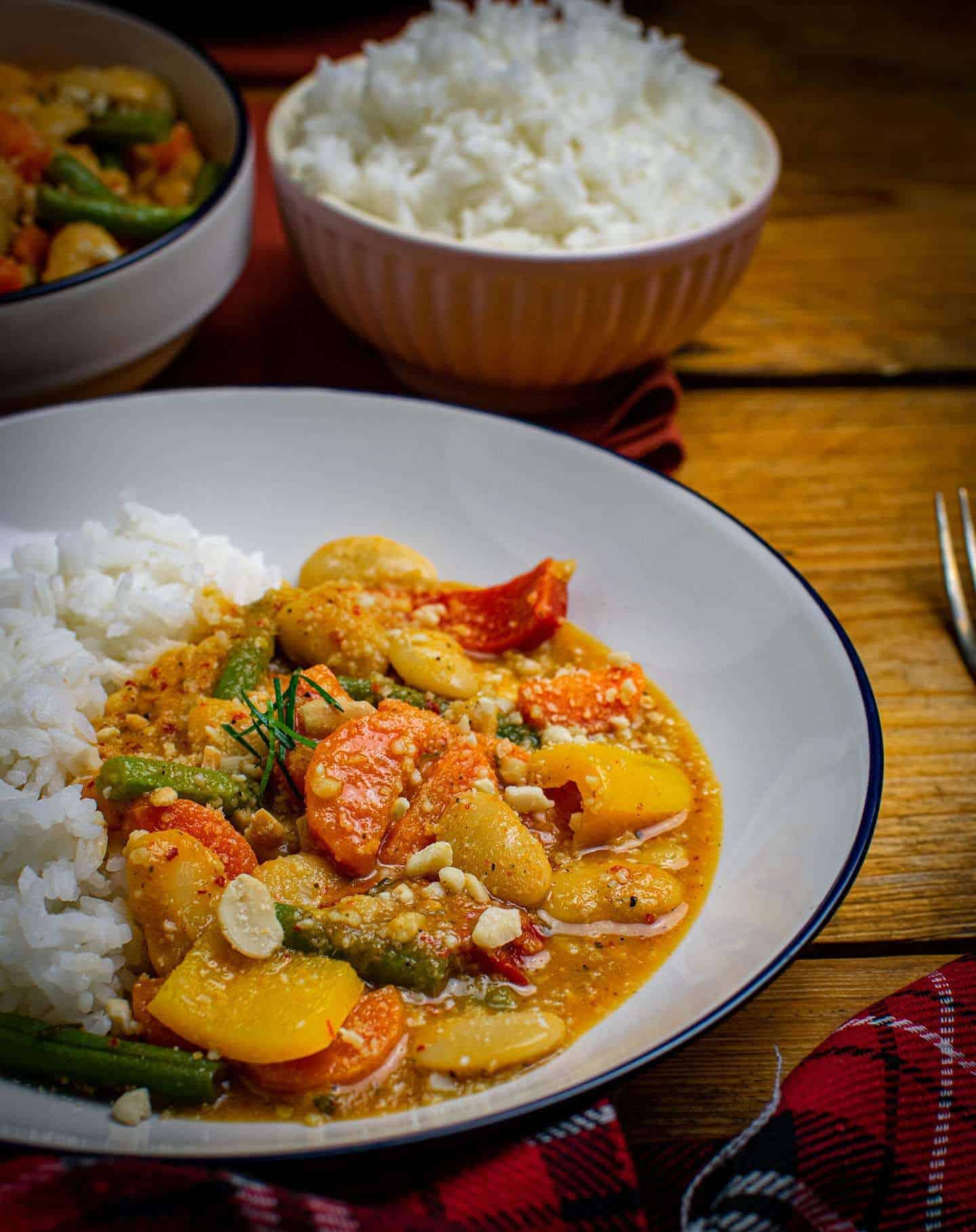 What is panang curry?
It's a rich and delicious dish that's thicker than the average Thai curry, with a distinct nutty peanut flavour. Very popular throughout Thailand, it's similar to a Thai red curry – the main differences are that it's served thicker, sweeter and uses peanuts.
As with most Thai dishes, there are multiple ways to spell it! 'Panang' is the most commonly used spelling here in the UK, but you may also see it called phanaeng or phanang.
Typically a traditional panang curry paste would contain shrimp paste, and fish sauce would be used in the curry sauce. This is one of the areas where our vegan panang curry differs! We use fermented soybean paste in place of the shrimp paste (though you can just leave this out if you don't have it), and vegan fish sauce or soy sauce to replace the standard fish sauce. You can also use white miso paste instead of fermented soybean paste.
Aside from the thickness of the sauce, the other thing that makes this dish quite unique amongst other Thai curries is that it's often served with just meat – no vegetables! This is the other major change that we make (obviously!) as ours is a vegetable panang curry.
While we've gone for a straight up veggie panang curry, with beans as the protein, you could easily add tofu or a mock meat instead of the butter beans.
We love to create our own curry pastes, so we've included how to make a vegan panang curry paste below. Of course, you can use a shop-bought curry paste if you're short on time or just don't want to make the extra effort.
When picking shop-bought Thai curry pastes, just be careful to read the ingredients very carefully! Unfortunately, most Thai curries include very small amounts of shrimp paste which makes them unsuitable for vegetarians and vegans.
The only pre-made vegan panang curry paste that we've come across is by Mae Jum – you can be confident that they're safe, as they're registered with The Vegan Society. They actually do a traditional curry paste bundle, which includes pastes for the six most famous Thai curries!
What are the ingredients?
For the paste, you'll need just 10 ingredients. Some of them may not be things you just happen to have in the cupboard. You may not even find some of the ingredients in an average supermarket, but as always we'll point out useful substitutions.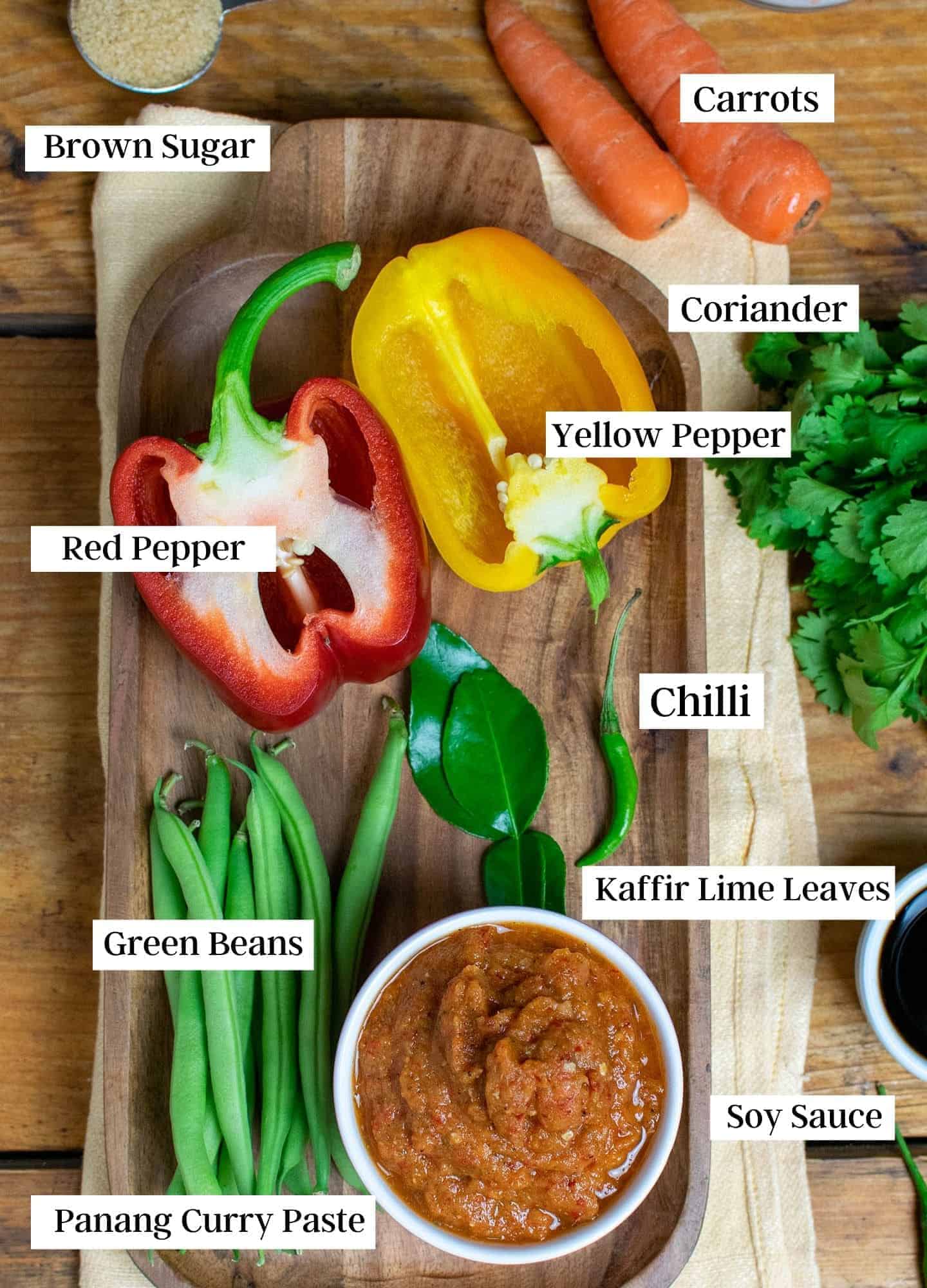 Our vegan panang curry sauce also uses very few ingredients. We use either soy sauce or vegan fish sauce to replace the usual fish sauce that you might find in a non-vegan panang curry.
We include the peanuts in the sauce, rather than the paste. This is just a personal preference – I really enjoy the texture of ground peanuts in the curry sauce. It's very common to include the peanuts in the paste though, so if you're going to do that, chuck them in your pestle and mortar, or blender, when you're making the paste.
The paste
Shallots – always used in Thai curry pastes. They're much milder than an onion, but you could use onion if you can't get hold of them. Use a quarter of a standard brown onion in place of one shallot.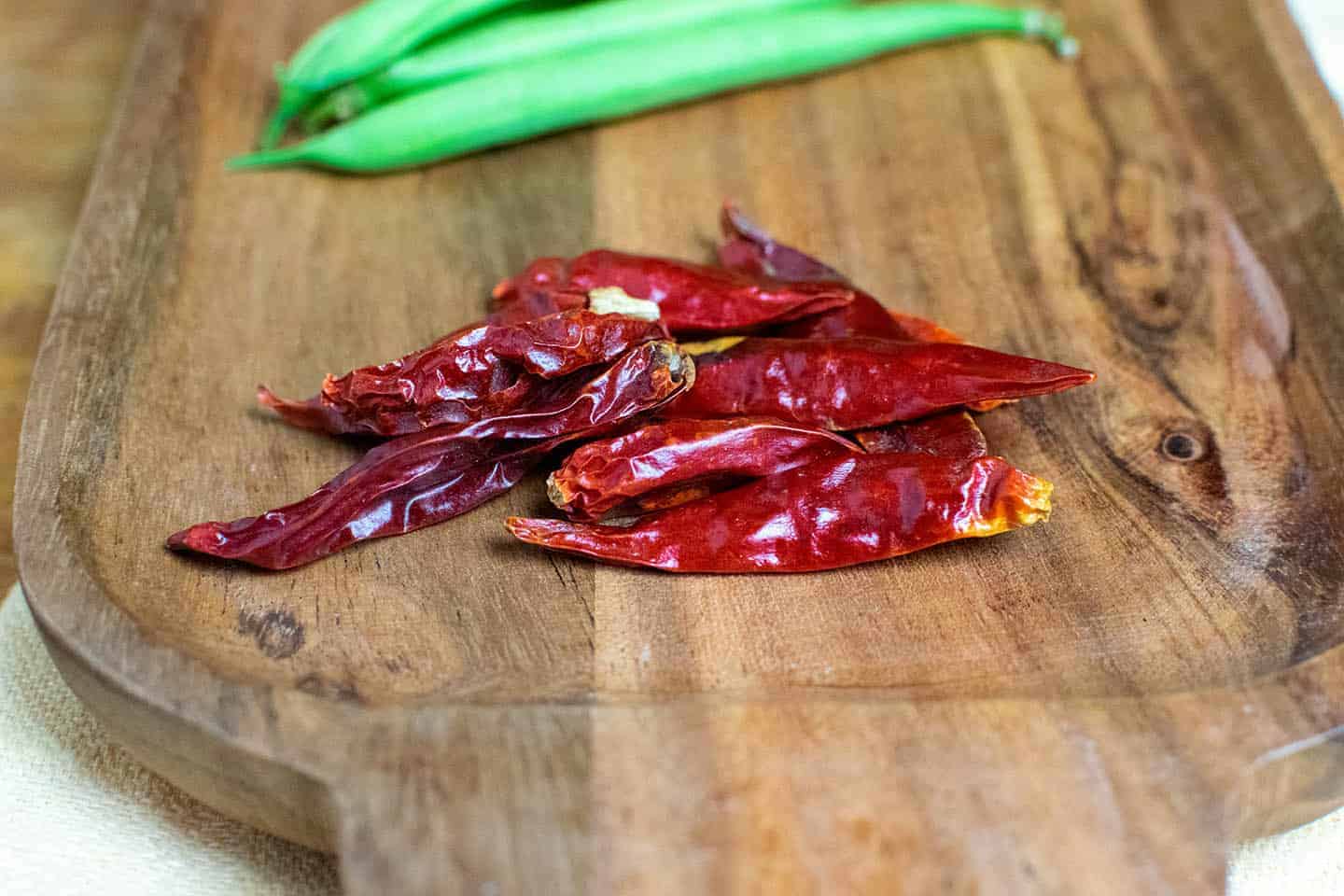 Dried chillies – a Thai staple! While you can replace with fresh chillies, the heat levels can vary so consider using fewer and adding more later if needed.
Lemongrass – adds a lovely, subtle citrus flavour. No great replacement for lemongrass, but you can buy it in a jar.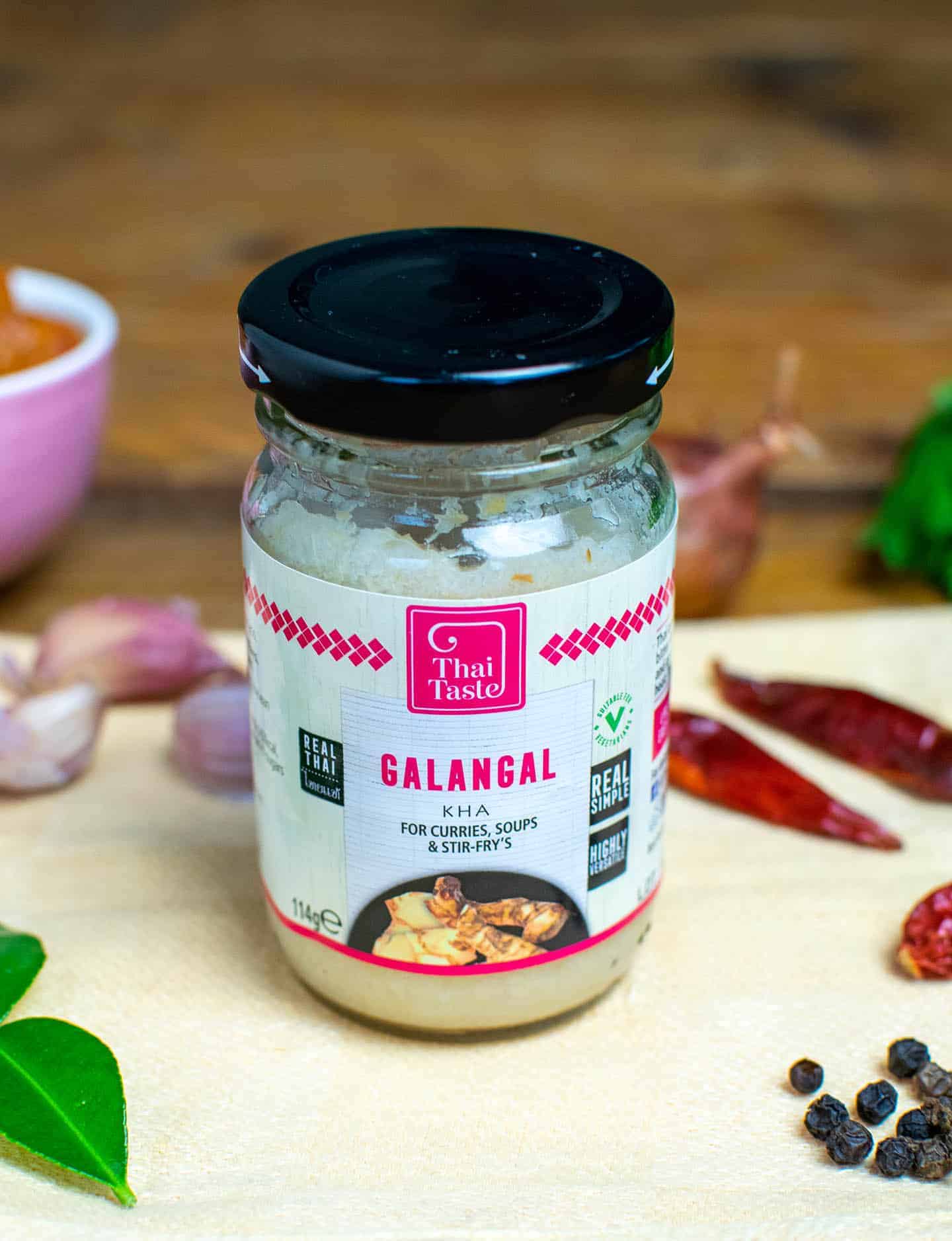 Galangal – from the ginger family, but very different in flavour. While ginger is fiery, galangal has more of a citrus, floral flavour.
Kaffir lime leaves – usually kaffir lime zest would be used. However, kaffir limes aren't that easy to come across where we are, so we replace the zest with kaffir lime leaves.
Coriander stalks – usually coriander root would be used, but we've replaced this with the stalks of fresh coriander. They're just easier to find in shops.
Black peppercorns – just standard peppercorns.
Garlic – gotta love garlic! A staple in most curry pastes.
Fermented soybean paste – we use this to replace shrimp paste. It has a really rich, complex salty flavour. While we'd highly recommend getting some, you can just as easily use miso paste or leave it out altogether.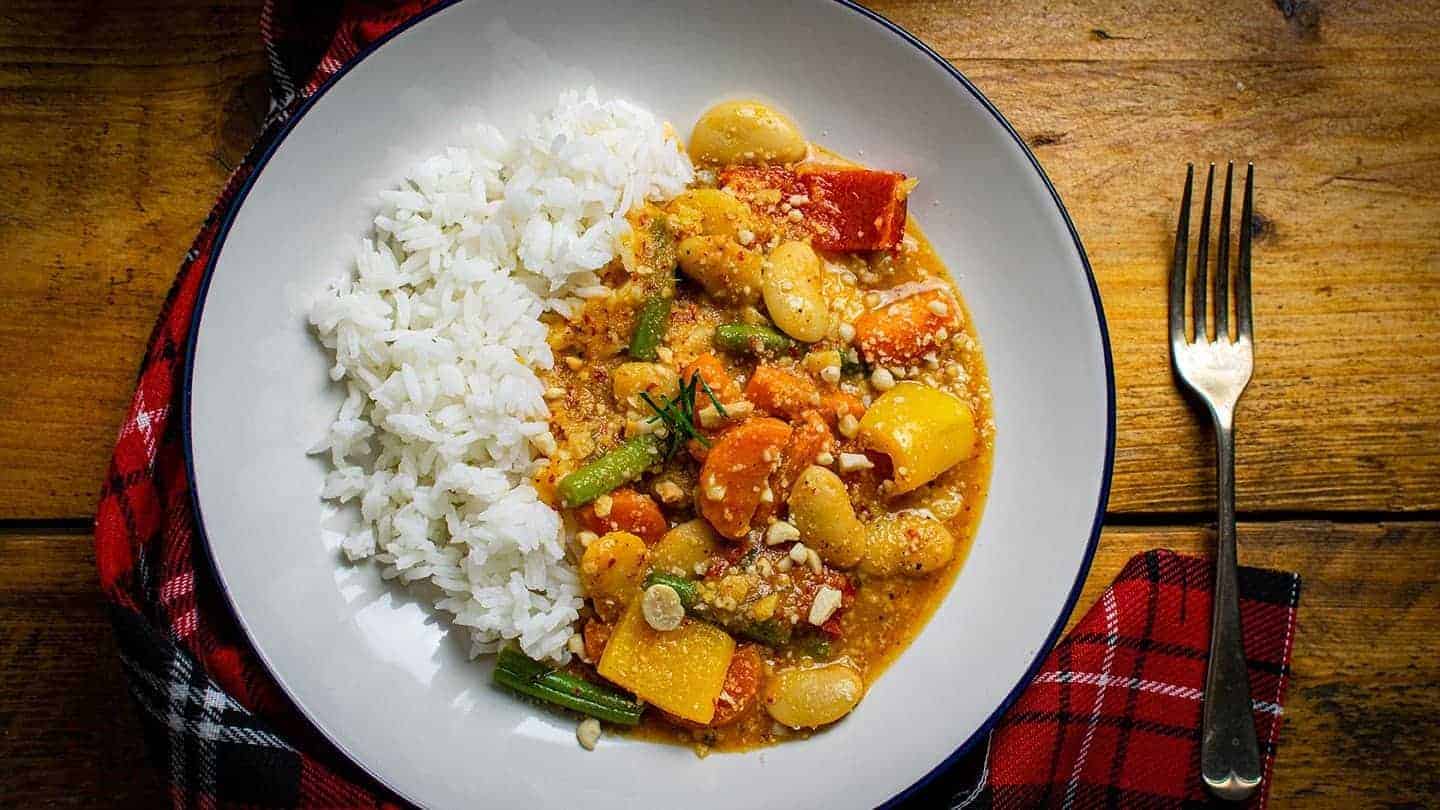 The curry
Coconut milk – essential for Thai cooking. Standard or reduced fat coconut milk are both fine.
Sugar – getting that perfect balance of sweet, salty, spicy and sour is an art, and that requires sugar.
Vegan fish sauce or light soy sauce – it's really up to you. Most people have soy sauce in the cupboard and that works a treat. We do love using Thai Taste vegan fish sauce for some extra flavour depth though.
Kaffir lime leaves – as well as using kaffir lime leaves in the paste, we also add some finely sliced leaves in the sauce. This adds extra fragrance to the vegan panang curry.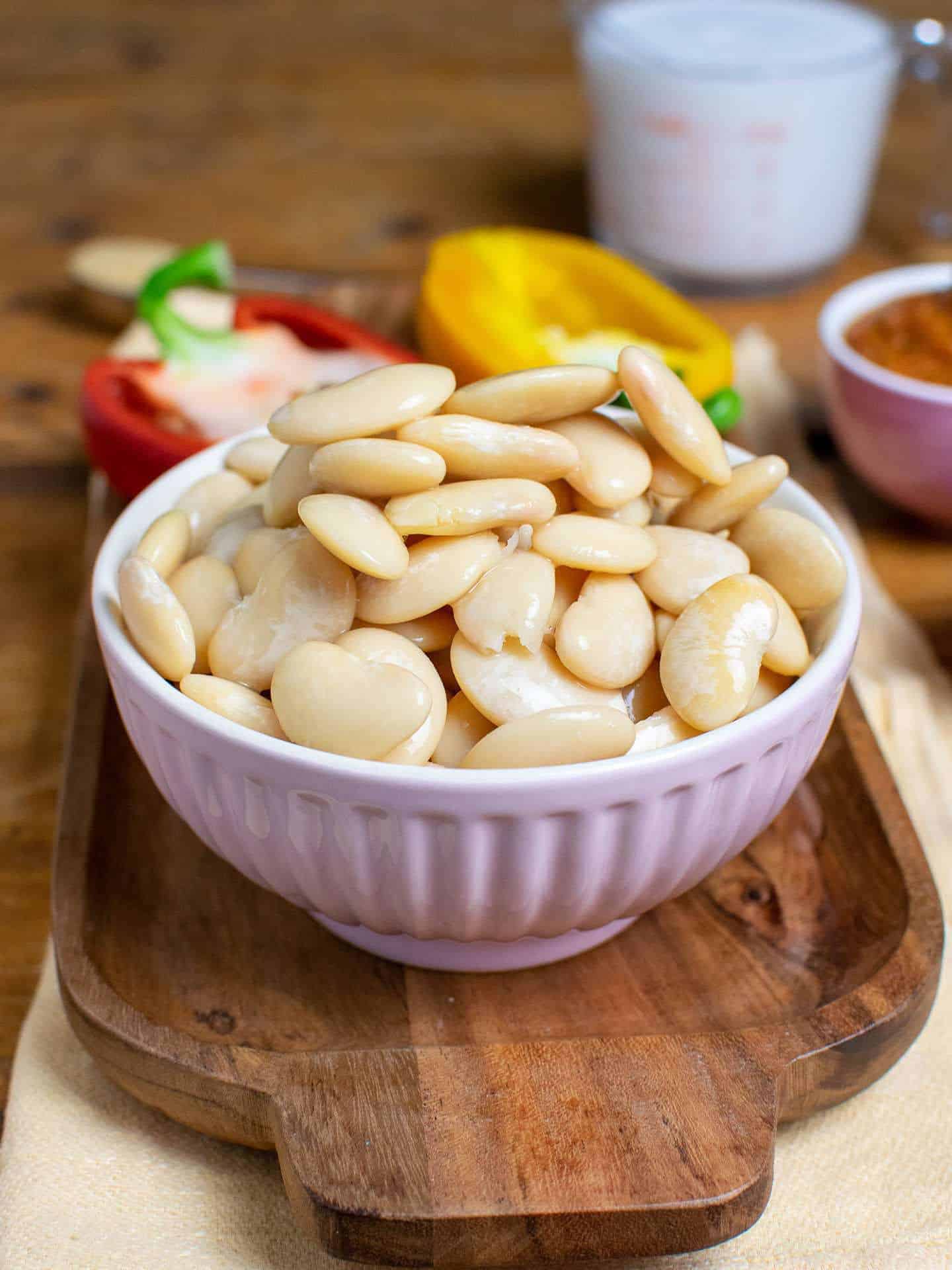 Butter beans – we often use tofu in curries, but it's nice to mix things up! Butter beans have such a great texture and are a good source of protein. You could also use chickpeas, haricot beans or berlotti beans.
Lots of veg – we always like to include a good variety of vegetables in our meals. We went with carrots, peppers and green beans for this one, but you can definitely switch any of those out for the veg of your choice! A vegetable panang curry is very versatile in that way, which is one of the many reasons why I love it.
Equipment
Here's what equipment you'll need to make our vegan panang curry:
Spoon & cup measurers
One of my favourite bits of kitchen equipment, purely because it makes measuring things so quick and simple!
A pestle & mortar
The traditional tools for making a Thai curry paste. Let's be honest, it takes longer and it's more work than using a blender, but it is kind of satisfying to do!
A cup blender
When we're short on time (or energy), a cup blender is what we turn to for our curry pastes. Just chuck all the ingredients in and blitz them up!
A wok
Surely the most important bit of equipment for Thai cooking! Almost everything is cooked in a wok in Thailand, so if you're into your Thai cooking, get yourself a good one. We tend to use a less traditional non-stick wok (because it works on our induction hob), but equally love a carbon steel wok too.
If you love cooking Thai food, check out our ultimate guide to making vegan Thai recipes!
Print
Vegan Panang Curry
---
Author:

Prep Time:

10

Cook Time:

15

Total Time:

30 minutes

Yield:

4

1

x

Diet:

Vegan
Description
Panang curry is a salty, sweet and nutty curry from Thailand. Our vegan panang curry sticks very closely to traditional recipes, only switching ingredients where necessary! The result is a delicious, rich and thick curry that will leave you wanting seconds.
---
For the panang paste:
For the curry:
All the curry paste (if you're using a shop-bought paste check the instructions)

300

ml coconut milk

200g

carrots – chopped into chunks

1 tbsp

sugar

1 tbsp

soy sauce

1

red pepper – chopped into chunks

1

yellow pepper – chopped into chunks

100g

green beans

2

x 400g tins of butter beans

4 tbsp

peanuts – ground/crushed

3

chopped kaffir lime leaves (optional)
Splash of oil (optional)
---
Instructions
For the panang paste:
Put all of the ingredients in a pestle and mortar or cup blender.
Blend or bash until smooth.
For the curry:
Put the full amount of the curry paste into the wok over a medium heat. There's no need for oil if you have a non-stick wok, however, you can use a splash if needed.
Pour in around 2 tbsp of the coconut milk and stir.
Add in the carrots and cook for around 2 minutes.
Pour in the rest of the coconut milk and mix well.
Pop the soy sauce, sugar and peanuts in and then stir. 
Put the butter beans in, bring to the boil, then simmer for 8-10 minutes.
Finally, add the peppers, green beans and kaffir lime leaves (if using) into the wok. Mix well, and then simmer for a further 3-5 minutes. Serve with Jasmine rice and enjoy!
Equipment
Notes
Use fewer chillies for a less spicy finished dish.
Category:

Dinner

Method:

Wok

Cuisine:

Thai
Keywords: vegan panang curry, vegetable panang curry, vegan panang curry paste