Vegan panang curry has a thick, rich sauce and is a tasty combination of salty, sweet and nutty flavours. It's also based on a traditional Thai recipe that we learnt in Thailand. We've made this recipe nice and simple so you can have it ready in just 30 minutes.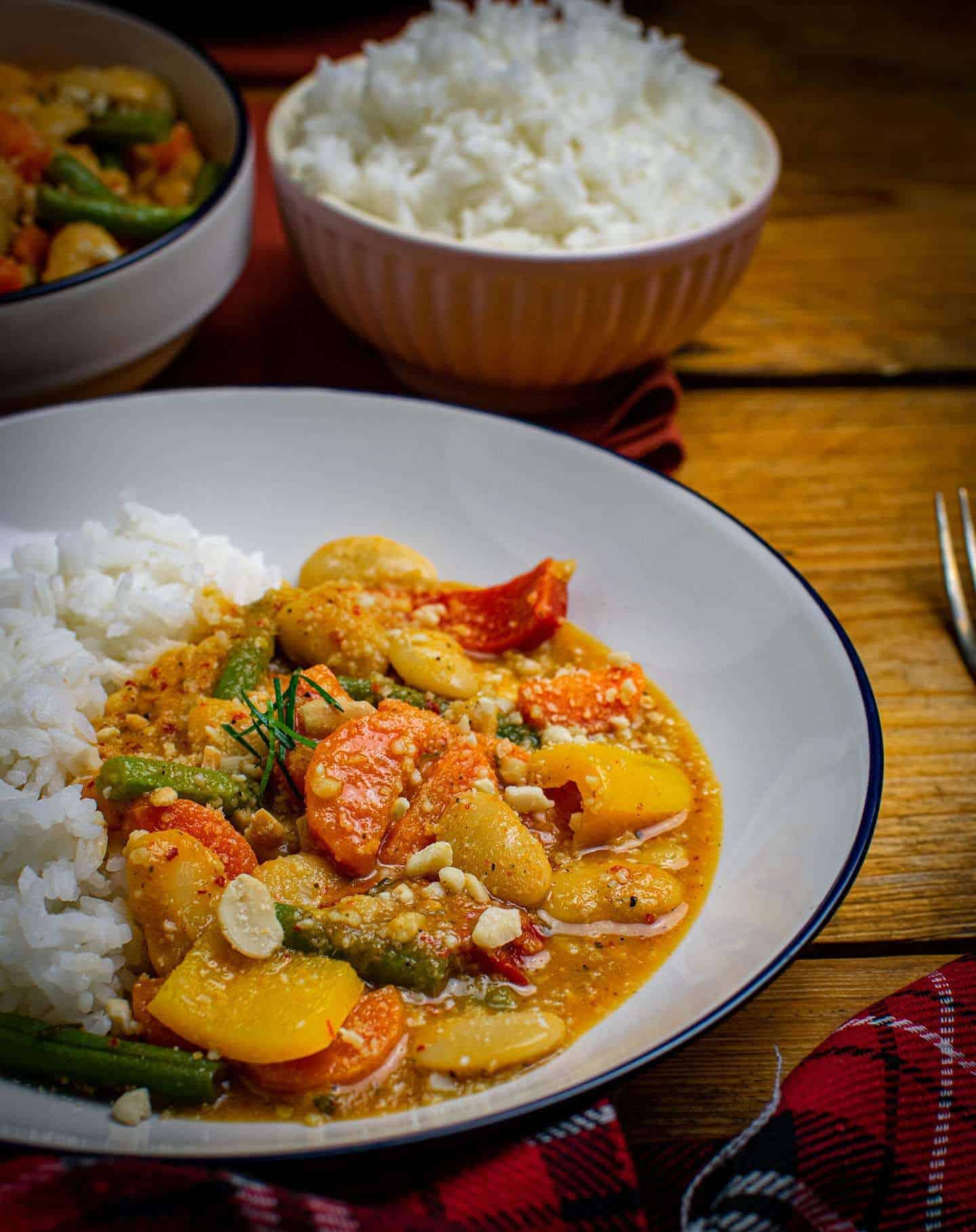 Jump to:
Panang curry is similar to a Thai red curry in colour, but it's much thicker and has a distinct nutty flavour. Our vegan panang curry sticks closely to traditional Thai recipes, using kaffir lime leaves to create the characteristic fragrant flavour.
It's not quite as spicy as a red curry as less chilli is used. In addition, it's also sweeter and contains peanuts, which really sets it apart from other Thai curries.
As with most Thai dishes, there are multiple ways to spell it! 'Panang' is the most commonly used spelling here in the UK, but you may also see it called phanaeng or phanang.
📋 Ingredient Notes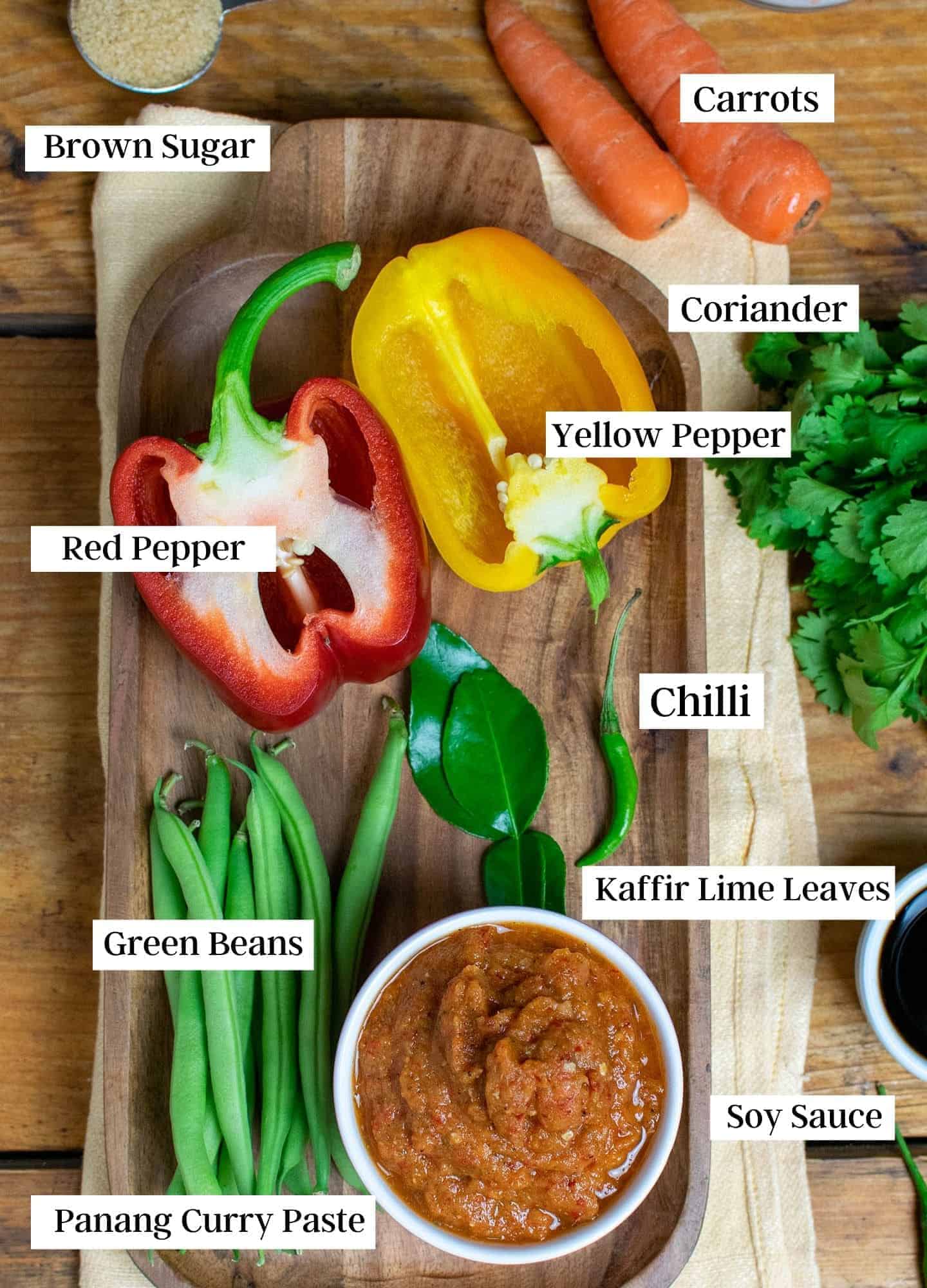 The paste:
You'll need just 10 ingredients to make your own vegan panang curry paste from scratch!
Shallots. These are used in pretty much all Thai curry pastes. They have a milder flavour than onion, but onion is a good replacement if you can't find them. Use a quarter of a standard brown onion in place of one shallot, but get shallots if you can!
Dried chillies. Soak these before putting them in the blender. You can replace these with fresh chillies, if you like. Just bear in mind that the level of heat in fresh chillies will vary.
Whole lemongrass. This adds a lovely, subtle citrus flavour. No great replacement for lemongrass, but you can buy it in a jar.
Galangal. Galangal is from the ginger family, but very different in flavour. While ginger is fiery, galangal has more of a citrus, floral flavour. You can use ginger and lemon juice as a replacement. If you can't find it fresh, it can be bought in a jar.
Kaffir lime leaves. Traditionally, panang curry would call for kaffir lime zest but kaffir limes can be difficult to get hold of. Replacing the zest with kaffir lime leaves gives a similar zesty flavour.
Coriander stalks. Coriander root is more traditionally used, but we've used fresh coriander stalks for this curry. They're just easier to find in shops.
Fermented soybean paste. This is what we've used to replace shrimp paste. Fermented soybeans have a similar complex and salty flavour which add richness to the dish. It can be bought in Asian supermarkets and online. While we'd highly recommend getting some, you can just as easily use white miso paste or leave it out altogether.
For the curry:
Coconut milk – standard or reduced-fat both work well.
Vegan fish sauce or soy sauce. We love using Thai Taste fish sauce for some extra depth of flavour, but soy sauce works well, too.
Peanuts – be sure to get unsalted peanuts.
Kaffir lime leaves – sliced finely. These are optional but add extra fragrance and zest.
To see the full amounts, instructions and notes head to the recipe card at the bottom of this article.
🔪 Step-by-step instructions
Start by making the vegan panang curry paste. Grab all of the ingredients, and blend or bash them together until smooth. If using a blender, add 2 tablespoons of water to help it blend up easier.
You can do this using a pestle and mortar if you want to use a traditional method. Alternatively, you can save your arms by using a cup blender.
Now for the curry itself.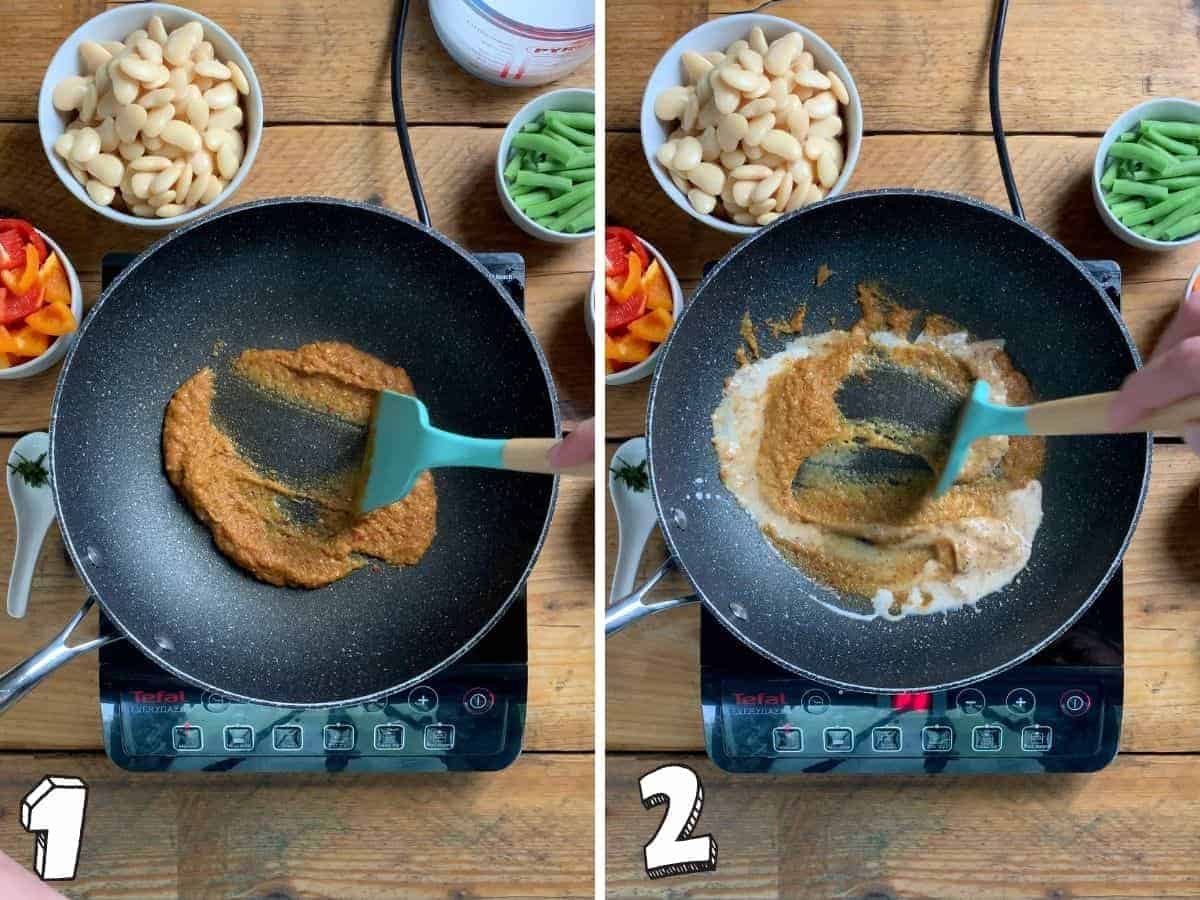 1. Heat all of the curry paste you've just made in a wok on a medium heat. If you're using shop-bought then check the package instructions. We often use more curry pastes than the packet says for a better flavour. You can use a splash of oil if you like, but you shouldn't need to if your wok is non-stick.

2. Stir in 2 tablespoon of coconut milk.
3. Add in the carrots and cook for a couple of minutes.
4. Pour in the rest of the coconut milk and mix well.
5. Add in the sugar, soy sauce and the peanuts. Give everything a stir.
6. Pop the butterbeans into the pan, and bring the pan up to the boil. Simmer for 8-10 minutes.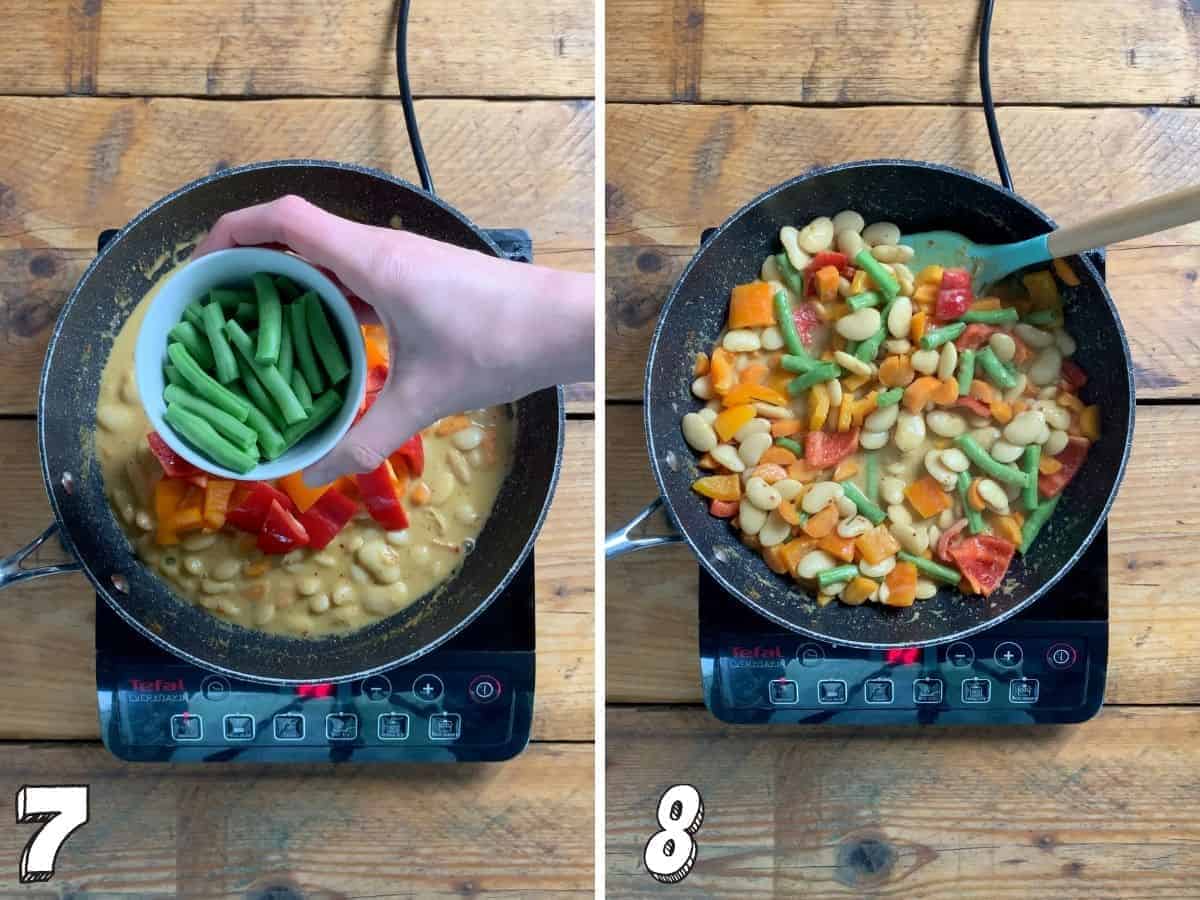 7. Now add the peppers, green beans and kaffir lime leaves (if you're using them).
8. Stir everything, and then leave to cook for another 3-5 minutes. Serve up with jasmine rice and maybe your favourite Thai side dishes, and enjoy.
👨‍🍳 Expert tips
Kaffir lime leaves
Kaffir lime leaves are a niche ingredient. They add zest and fragrance to the curry paste that's characteristic of vegan panang curry. We also finely chop them and add them to the curry itself.
You can get kaffir lime leaves in most supermarkets either fresh or dried. If you can find them, we'd recommend fresh kaffir lime leaves for more flavour.
Traditionally, panang curry would be made using kaffir lime zest. However, as kaffir limes can be tough to get hold of (outside of Thailand) we've adapted the recipe to use the leaves instead.
Shop bought curry paste vs homemade
We definitely recommend making a homemade paste at least once! You may be surprised how easy it is, and the taste is incredible.
If you're pressed for time and want to use a shop-bought paste, be sure to check the ingredients carefully. A lot of Thai curry pastes aren't vegan because they contain shrimp paste.
The only vegan panang paste we've found is by Mae Jum, it's definitely safe – it's registered with the Vegan Society. They actually do a traditional curry paste bundle, which includes pastes for the six most famous Thai curries! We always have these stored in the cupboard and recommend them whole heartedly.
Peanuts
Peanuts are what give vegan panang curry its distinctive nutty taste, so don't skimp on them!
It's common in panang recipes to include peanuts in the paste. In this recipe we've put ground peanuts in the sauce instead. This is just a personal preference because we like the texture.
If you'd like to add the nuts to your paste, definitely give it a go. Just chuck them in the pestle and mortar or blender with the other paste ingredients.
Make double the amount of paste
Little curry hack for you! If you make double the amount of paste, you can freeze what you don't use in an ice cube tray. This means that next time you want a curry the paste will already be ready!
Top Tip: if you love this recipe, check out our e-cookbook Vegan Thai Food Made Easy. It's packed with 21 original Vegan Punks recipes featuring curries, curry pastes, stir fries and even the most popular Thai dessert, as well as 3 BONUS recipes!
💭 FAQs
What variations can I make?
You can switch out the veggies for your favourites! You can also make it with tofu. Use firm tofu and fry it off a little before adding to the curry. Other vegetables that would work well include: mushrooms, potato, broccoli and cauliflower.
What if I don't have butter beans?
Try switching them out for chickpeas, cannellini beans or even tofu. They're all excellent sources of protein. Just bear in mind that chickpeas will need longer to cook. Butter beans are also great in a vegan jalfrezi.
Can vegan panang curry be frozen?
It can! It keeps well in the freezer for up to three months. We'd recommend separating it into individual portions before freezing. Be sure to defrost thoroughly before reheating.
🍛 What To Serve It With
In Thailand, people tend to eat family-style. They put lots of dishes out on the table and everyone tries a bit of everything. Dan and I always share our food as we just love to try new dishes so this style of eating is perfect for us!
Try it alongside some other Thai classics:
Vegan sweetcorn fritters
These vegan sweetcorn fritters are perfect as a side or as part of a main meal. They're a perfect blend of sweet and spicy, which complements the vegan panang curry really well.
Thai morning glory
Thai morning glory stir fry is packed full of veggies, and is super quick to prepare. Morning glory is similar to spinach, but has thicker, crunchier stalks. Definitely worth a try.
Thai vegetable stir fry
Another dish that works well as a main or side, is this Thai vegetable stir fry. It's a real treat – super simple to make, and delicious to boot.
Pineapple fried rice
Most curries go well with rice, and this one is no exception. So, try this pineapple fried rice as part of your Thai feast too!
🇹🇭 More Thai Curry Recipes
If you love cooking Thai food, check out our ultimate guide to making vegan Thai recipes too!
Did you make this recipe? Leave a review and a rating below, or tag us in your photos on Instagram! Alternatively, bookmark it in your browser or save to Pinterest for later.

If you love our content, please consider supporting it by buying us a coffee.
📖 Recipe
Vegan Panang Curry
Panang curry is a salty, sweet and nutty dish from Thailand. Our vegan panang curry sticks very closely to traditional recipes, only switching ingredients where necessary! The result is a delicious, rich and thick curry that will leave you wanting seconds.
Save
Saved!
Print
Pin
Rate
Ingredients
For the panang paste:
3

shallots

¼

teaspoon

salt

8

dried red chillies

– soaked*

1

whole lemongrass

– or 1 tablespoon from a jar

1

tablespoon

galangal

– fresh or from jar

1

teaspoon

kaffir lime leaves

1

teaspoon

coriander stalks

¼

teaspoon

peppercorns

6

cloves

garlic

1

teaspoon

fermented soybean paste

– or white miso paste
For the curry:
All of the curry paste

if you're using a shop-bought paste check the instructions

300

ml

coconut milk

200

g

carrots

– chopped into chunks

1

tablespoon

sugar

1

tablespoon

soy sauce

or vegan fish sauce

1

red pepper

– chopped into chunks

1

yellow pepper

– chopped into chunks

100

g

green beans

- chopped into 1 inch chunks

500

g

butter beans

– 2 x 400g tins, drained

4

tablespoon

peanuts

– crushed

3

kaffir lime leaves

– chopped, optional

Splash of oil

– optional
Instructions
For the panang paste:
Put all of the ingredients in a pestle and mortar or cup blender. If using a blender, add 2 tablespoons of water to help it blend easier.

3 shallots,

¼ teaspoon salt,

8 dried red chillies,

1 whole lemongrass,

1 tablespoon galangal,

1 teaspoon kaffir lime leaves,

1 teaspoon coriander stalks,

¼ teaspoon peppercorns,

6 cloves garlic,

1 teaspoon fermented soybean paste

Blend or bash until smooth.
For the curry:
Put the full amount of the curry paste into the wok over a medium heat. There's no need for oil if you have a non-stick wok, however, you can use a splash if needed.

All of the curry paste,

Splash of oil

Pour in around 2 tablespoon of the coconut milk and stir.

Add in the carrots and cook for around 2 minutes.

Pour in the rest of the coconut milk and mix well.

Pop the soy sauce, sugar and peanuts in and then stir.

1 tablespoon sugar,

1 tablespoon soy sauce,

4 tablespoon peanuts

Put the butter beans in, bring to a boil, then simmer for 8-10 minutes.

Finally, add the peppers, green beans and kaffir lime leaves (if using) into the wok.

1 red pepper,

1 yellow pepper,

3 kaffir lime leaves,

100 g green beans

Mix well, and then simmer for a further 3-5 minutes. Serve with Jasmine rice and enjoy!
Notes
Use fewer chillies for a less spicy finished dish.
For the paste, galangal and lemongrass can be bought in jars if you can't find them fresh.
If you don't have galangal use an equal amount of ginger and additionally, a tablespoon of lemon juice.
Nutrition
Calories:
411
kcal
|
Carbohydrates:
51
g
|
Protein:
17
g
|
Fat:
17
g
|
Saturated Fat:
11
g
|
Polyunsaturated Fat:
2
g
|
Monounsaturated Fat:
2
g
|
Sodium:
499
mg
|
Potassium:
1173
mg
|
Fiber:
14
g
|
Sugar:
13
g
|
Vitamin A:
9787
IU
|
Vitamin C:
102
mg
|
Calcium:
82
mg
|
Iron:
5
mg