We've been looking forward to sharing these vegan corn fritters for such a long time! We have gone through many rounds of testing these vegan corn cakes to get them just right. They are the exact balance of spicy, sweet, savoury and crispy to make them the most perfect fritter.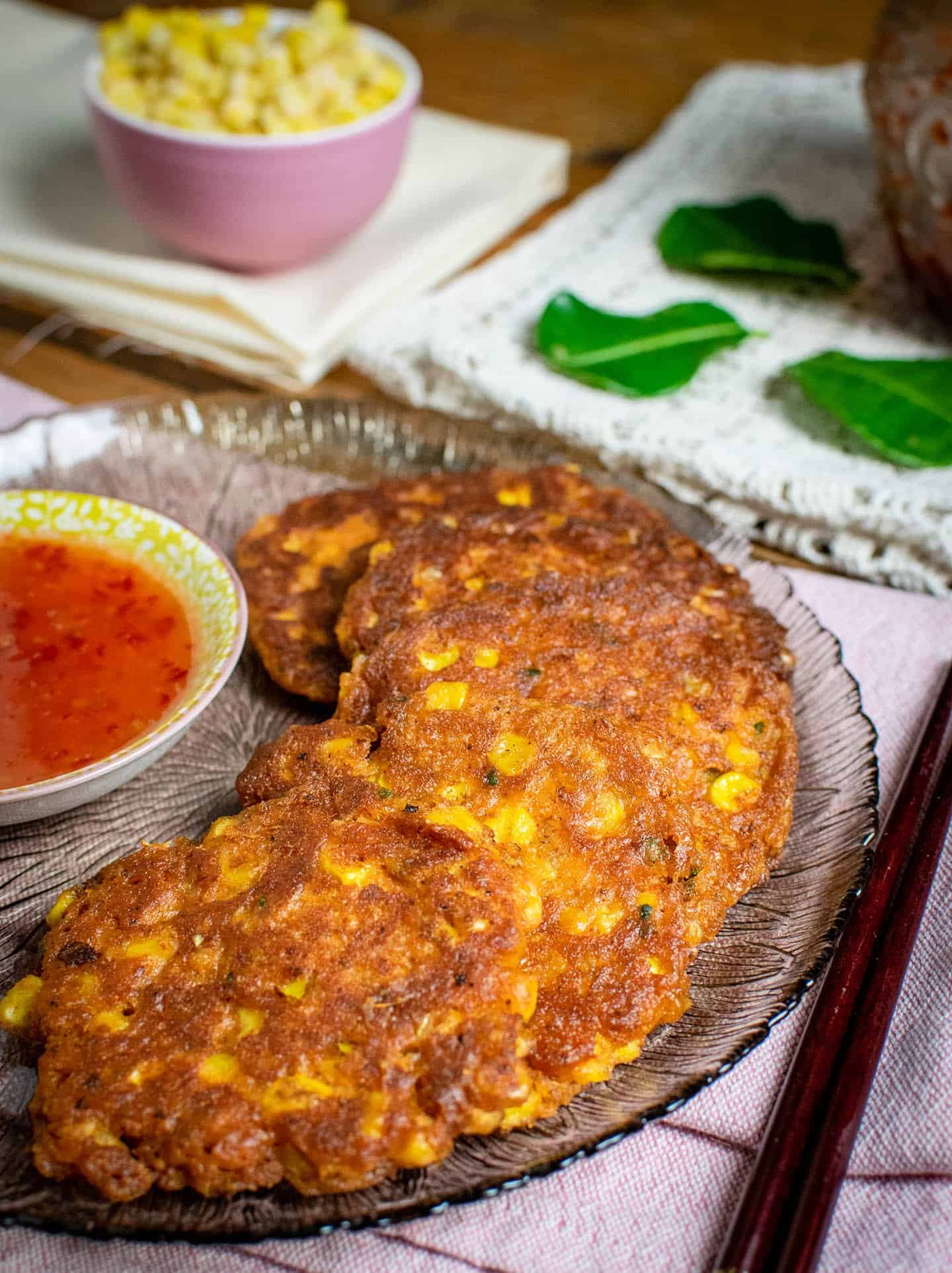 You'll only need 9 ingredients, and they can be served as a starter or side. They also take just 15 minutes to prepare, and a further 25 minutes to cook. By the end of this recipe you'll have 15 delicious vegan sweetcorn cakes to eat and share with your mates (or keep them all for yourself! 😜)

These vegan corn fritters are:
Delicious
Fragrant
Crispy on the outside
Soft in the middle
The perfect balance of sweet and spicy
They're ideal to serve as a side (or starter!) with these other recipes:
Thai Red Vegetable Curry
Vegan Thai Green Curry
Easy Vegan Pad Thai
And don't forget, if you're keen to find out more about Thai recipes, head to our Thai vegan food guide!
How to make sweetcorn fritters
To make these vegan corn fritters, you'll need just 9 ingredients (as shown in the pictures). They are:
Frozen sweetcorn (you can also use fresh)
Plain flour
Baking powder
Oat milk
Red curry paste (homemade or shop bought)
Kaffir lime leaves
Salt
Ground flaxseed
Vegetable oil (for frying)
That's it! These are all store cupboard (or freezer!) items, so you may not even need to go to the supermarket to be able to make them.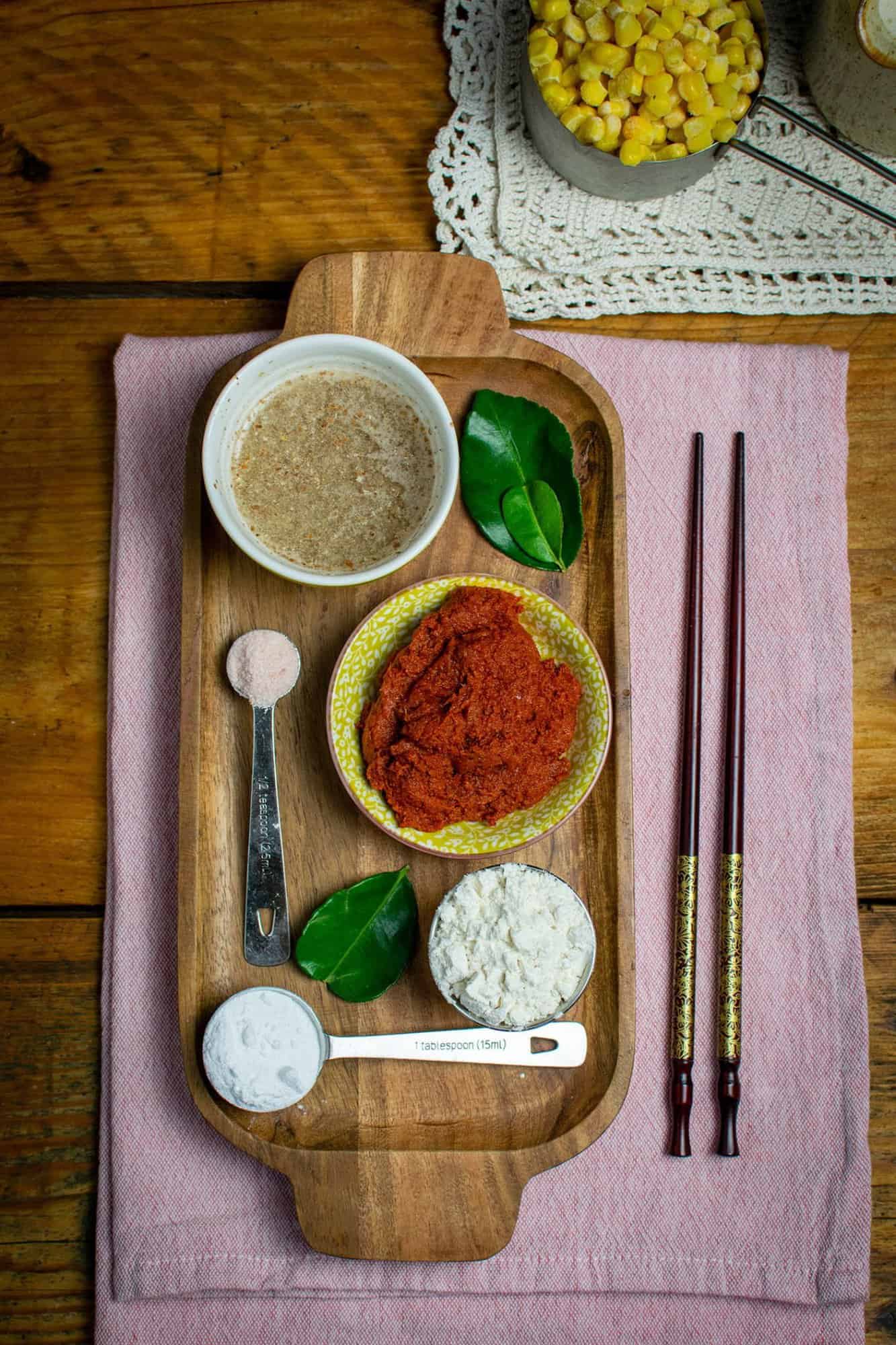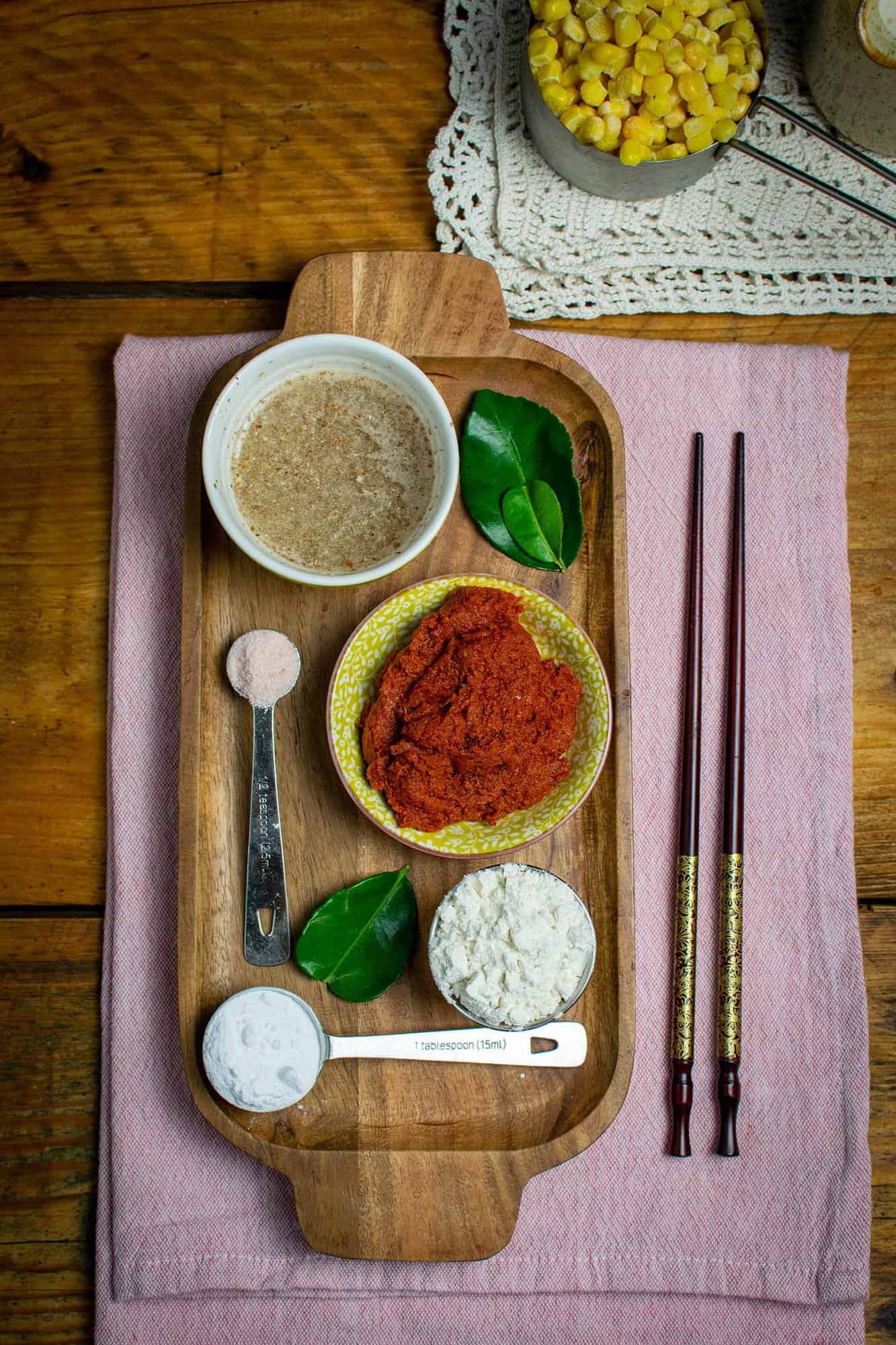 We would also recommend serving with a sweet chilli dipping sauce, or another Asian inspired dipping sauce. We have even served these with homemade chilli jam made by Dan's sister, Becca. She really does make the best chilli jam ever – it's the perfect balance of sweet and spicy. A jar of the sweet chilli jam is just visible in the photograph below (in the background to the right)!
Luckily for us, she makes it every year at Christmas and we're always gifted any leftovers once the jars have been handed out to friends and family (as well as our usual jar, of course!). Maybe we should ask Becca to share her recipe with us for the blog? Let us know in the comments if that would be cool!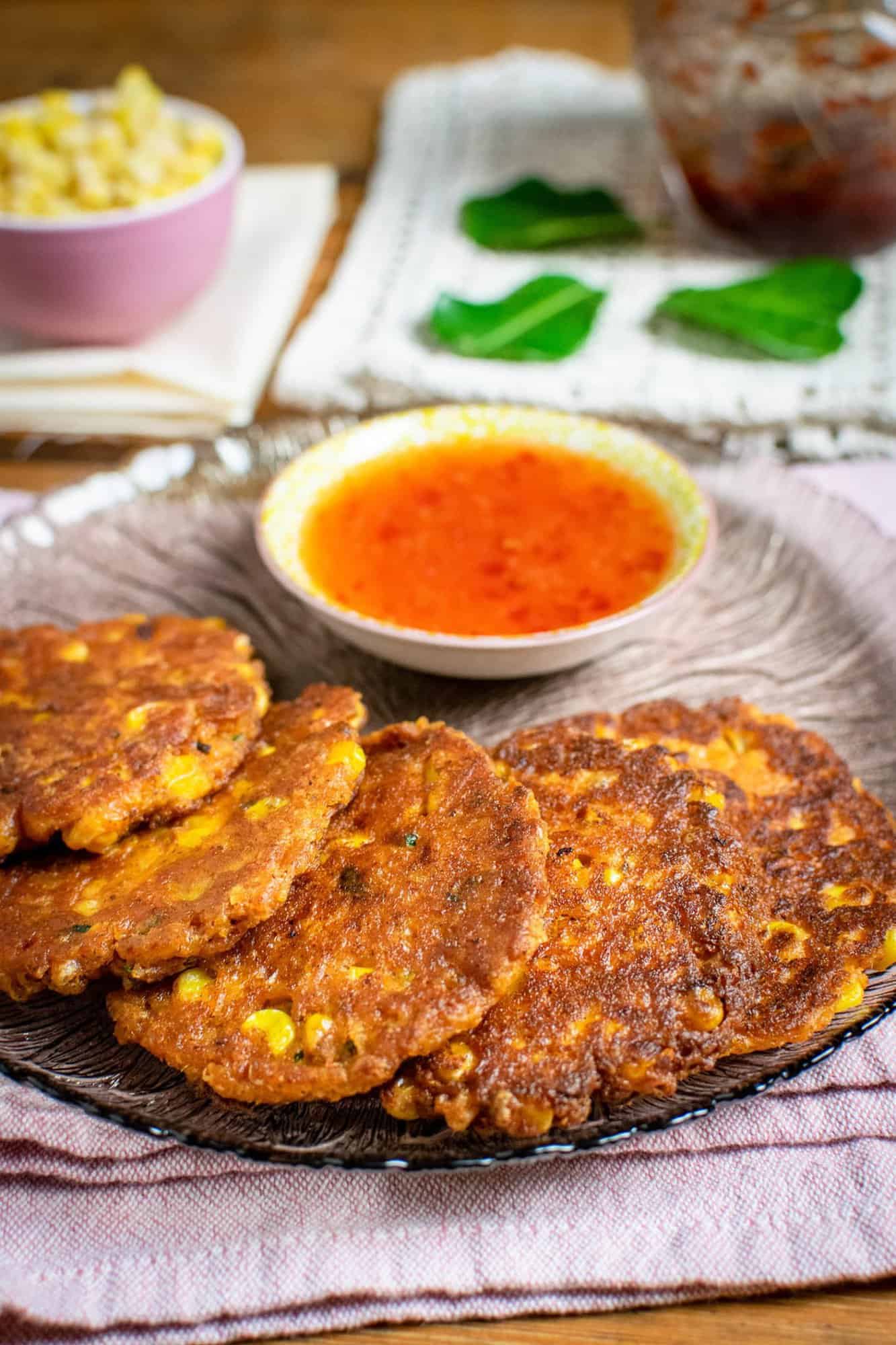 The equipment we use to make vegan corn fritters
The most complex part of this recipe will be mixing half of the corn with all the other ingredients in a food processor. After that, you just add the rest of the corn to the mixture and stir it all up well.
We've used a few different food processors – or blenders – to make these vegan sweetcorn fritters. These are the ones we would recommend:
Ninja Blender and Food Processor
Magimix Food Processor
Magimix 11613 Le Blender, Red Finish

All of these will do the job perfectly. The batter doesn't need to be perfectly smooth as there are going to be whole pieces of sweetcorn in there anyway. However, get it as smooth as you can for optimum consistency. Remember, whatever blender you've got will do the trick!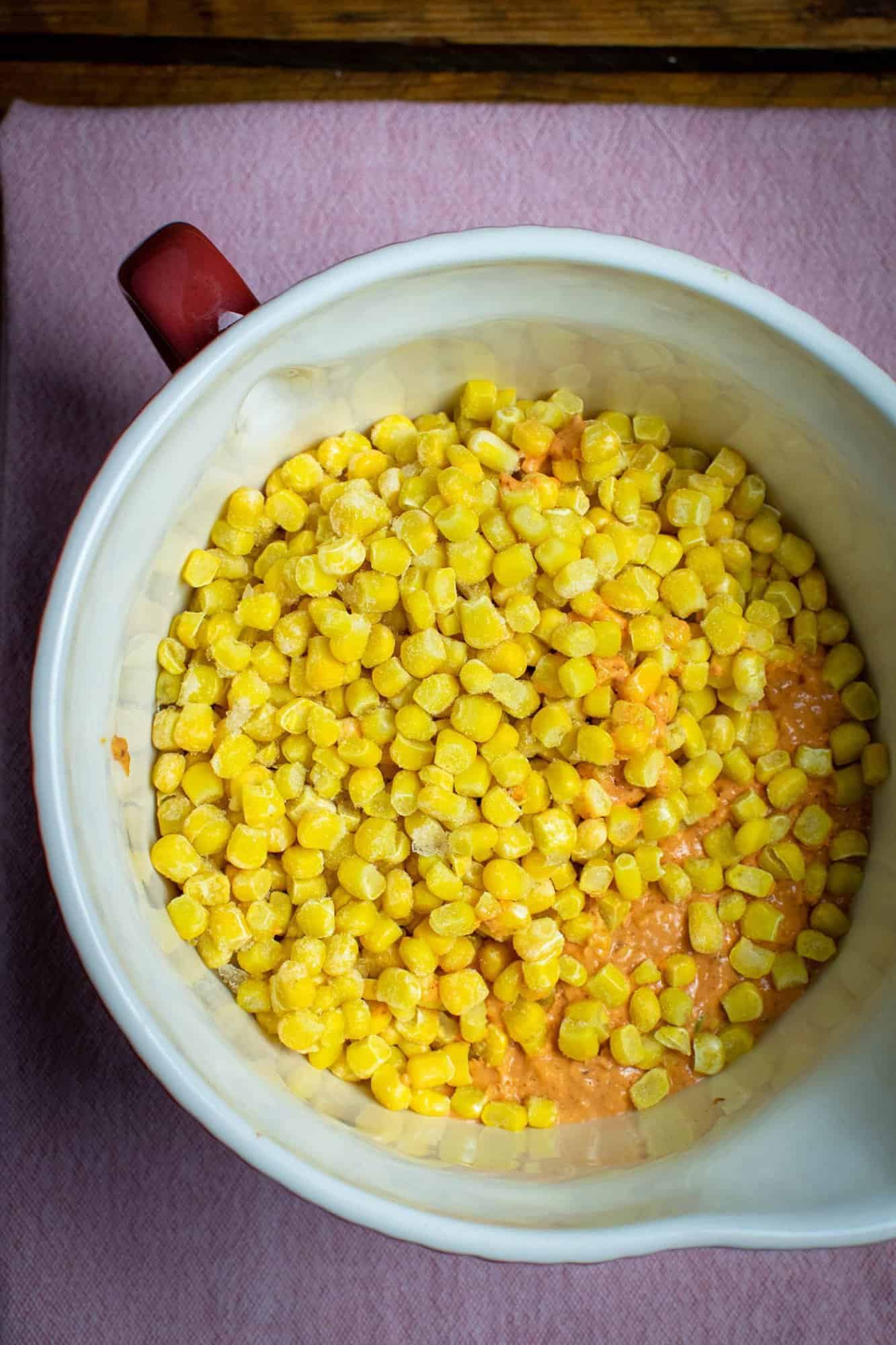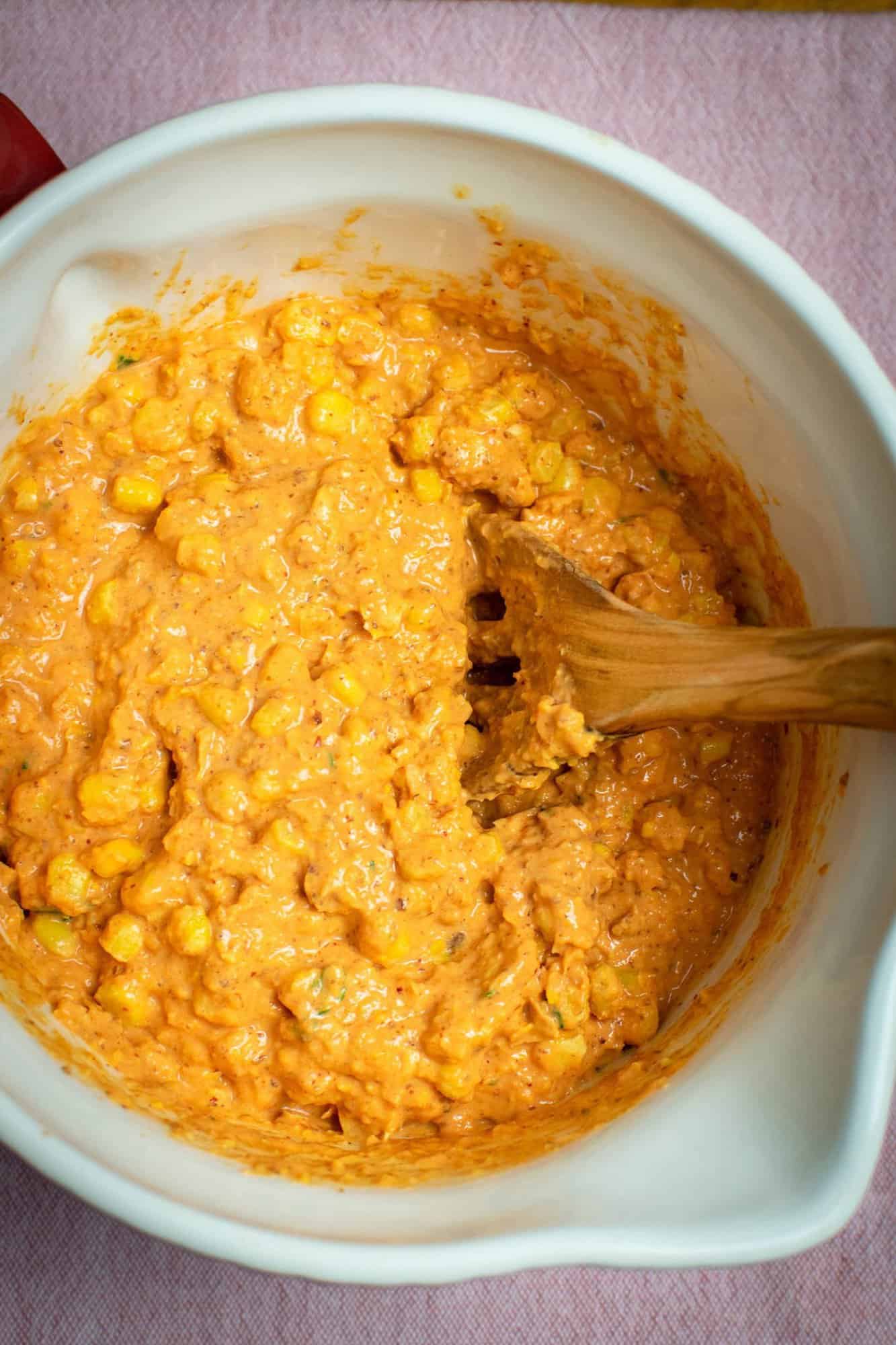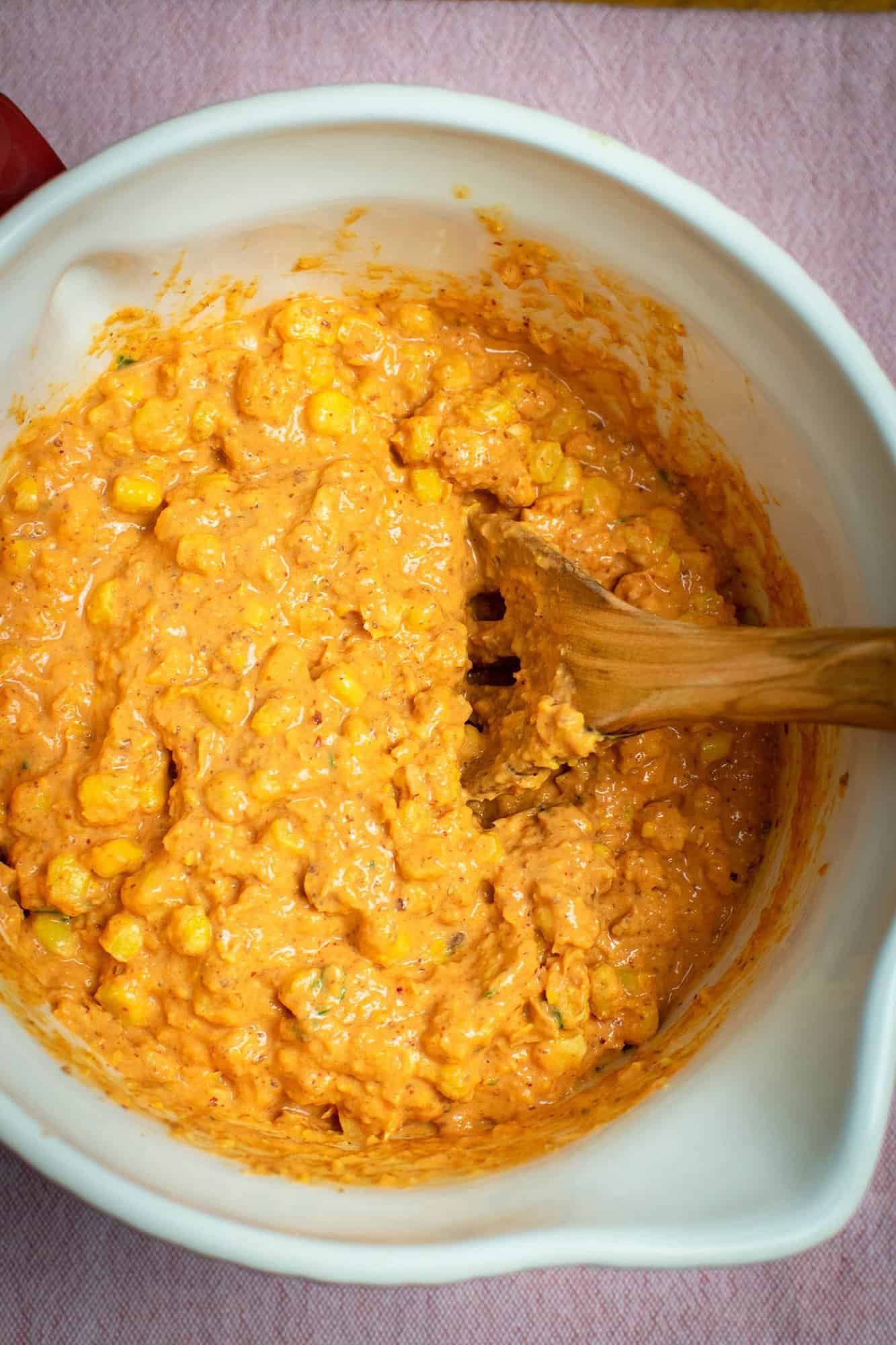 What are vegan corn fritters?
Basically, they're like potato cakes, but made with sweetcorn instead. In Thailand they're super popular, and are served in loads of different restaurants as well as from street food stalls. They can be a side, starter or a snack. We love them so much we served them as a starter at our wedding!
Are corn fritters usually vegan?
They're often not vegan because the batter can sometimes include an egg or dairy milk. However, if you're in a restaurant just ask your server – they'll be able to tell you what's in them
We use a good helping of Thai red curry paste in this recipe to help give the sweetcorn fritters a delicious fragrance. They're also made with red curry paste traditionally.
If you're feeling like making your own Thai red curry paste, follow the recipe in our Thai red vegetable curry recipe. If you'd rather use a pre-made paste, we'd recommend using Thai Taste red curry paste, as we know it's vegan and has an authentic flavour.
As always, if you're using a shop bought Thai curry paste, just remember to check the ingredients before buying it. Often shrimp paste is used in Thai curry pastes, which is the traditional way to make it, but obviously unsuitable for vegans.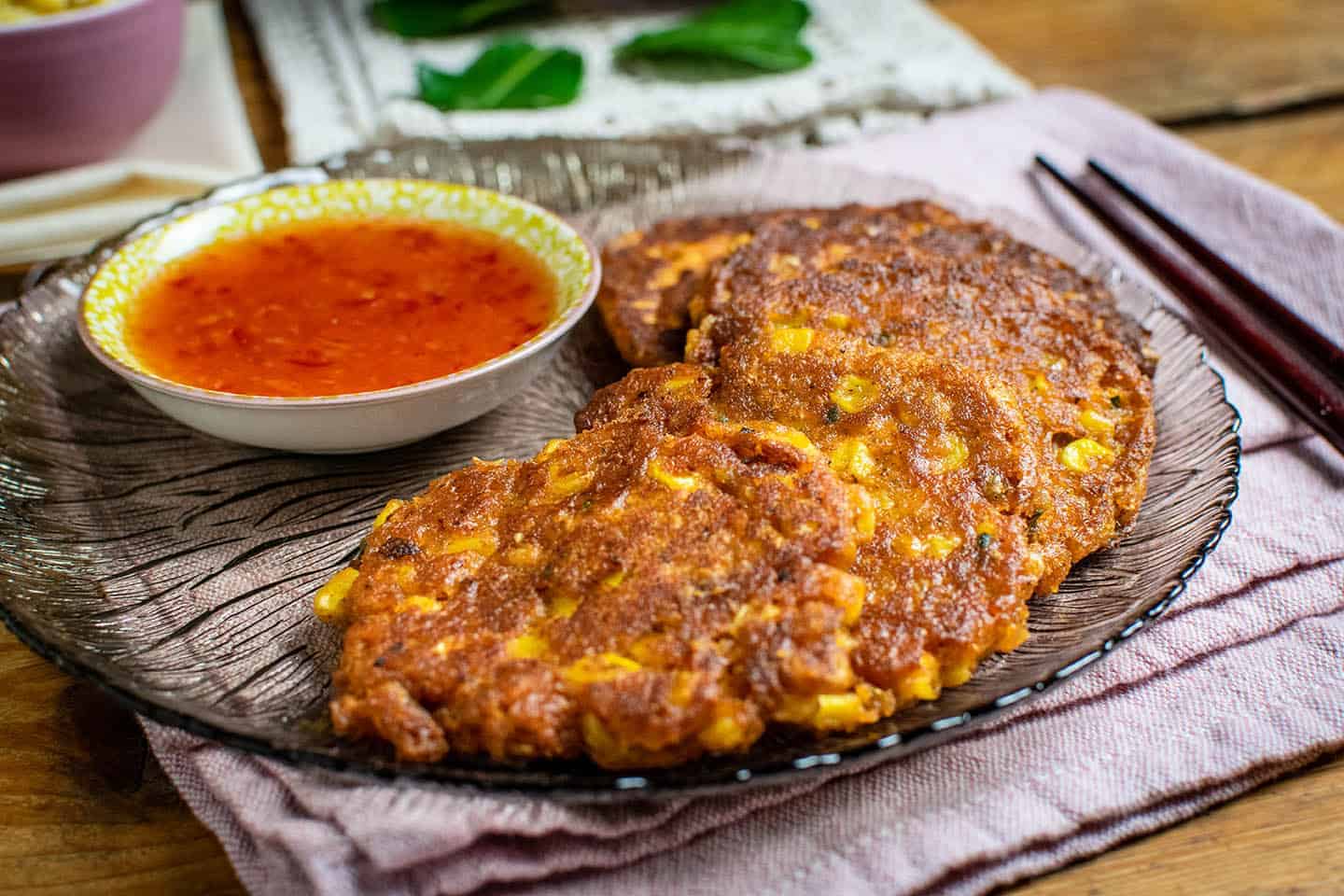 How much curry paste to use in these vegan corn fritters
We use 4 tablespoons of red curry paste to make the batter for our vegan sweetcorn cakes. We actually tested out using 2, 3 and 4 tablespoons. Until we got up to using 4 tablespoons of paste, we just weren't happy with the flavour. They were a bit on the bland side when using less paste, and 'bland' is just not a word we would ever associate with Thai food!
We used the Thai Taste red curry paste and it's perfect with 4 tablespoons – we wouldn't recommend adding more. And don't forget the salt, as this is hugely important for them being just right. Remember, Thai flavours are best when they're balanced between salty, spicy, sweet and sour. There's no 'sour' in this recipe but we find that sweet chilli has a bit of a sweet and sour flavour to it, so this bit comes in when serving the sweetcorn cakes.
What is a flax egg?
You might've heard of a flax egg before. It's basically an egg replacement that acts as a binder in recipes like this one, cakes or anything else that would usually require an egg.
Generally, to make a flax egg you need 1 tablespoon of ground flaxseed (a.k.a. linseed) and 3 tablespoons of water. It will thicken up if you stir it and leave on the side for about 10 or 15 minutes. There's no need to put it in the fridge, unless you want it to thicken up even quicker.
If you don't have flaxseed you could also use ground chia seeds, which will have the same effect. They both thicken up in water.
You don't need to buy them already ground either. We often will just blend flaxseeds or chia seeds from the whole version. It's usually cheaper to buy them whole than ground too.
We always buy store cupboard ingredients like these in bulk because it's cheaper, and then we have them in the cupboard for when we need them! This is where we get ours from:
Deep fry, shallow fry or oven bake?
We've designed this recipe to be shallow fried. That means using around 1.5cm-2cm of vegetable oil (or other bland oil) in a frying pan, then cooking for a few minutes on each side.
If you preheat the oven you can keep the vegan sweetcorn fritters warm while you cook the rest, then there's no need to reheat them then!
If your frying pan is big enough, cook two or three fritters at once, and then pop them on some kitchen towels to remove any excess oil.
We would like to be able to offer an oven baked version so that they're even healthier. We'll test that out next time we make them!
We really hope you enjoy these vegan corn fritters as much as we do, and if you have time, let us know what you think in the comments! We hugely appreciate every review our readers take the time to leave, and we always reply.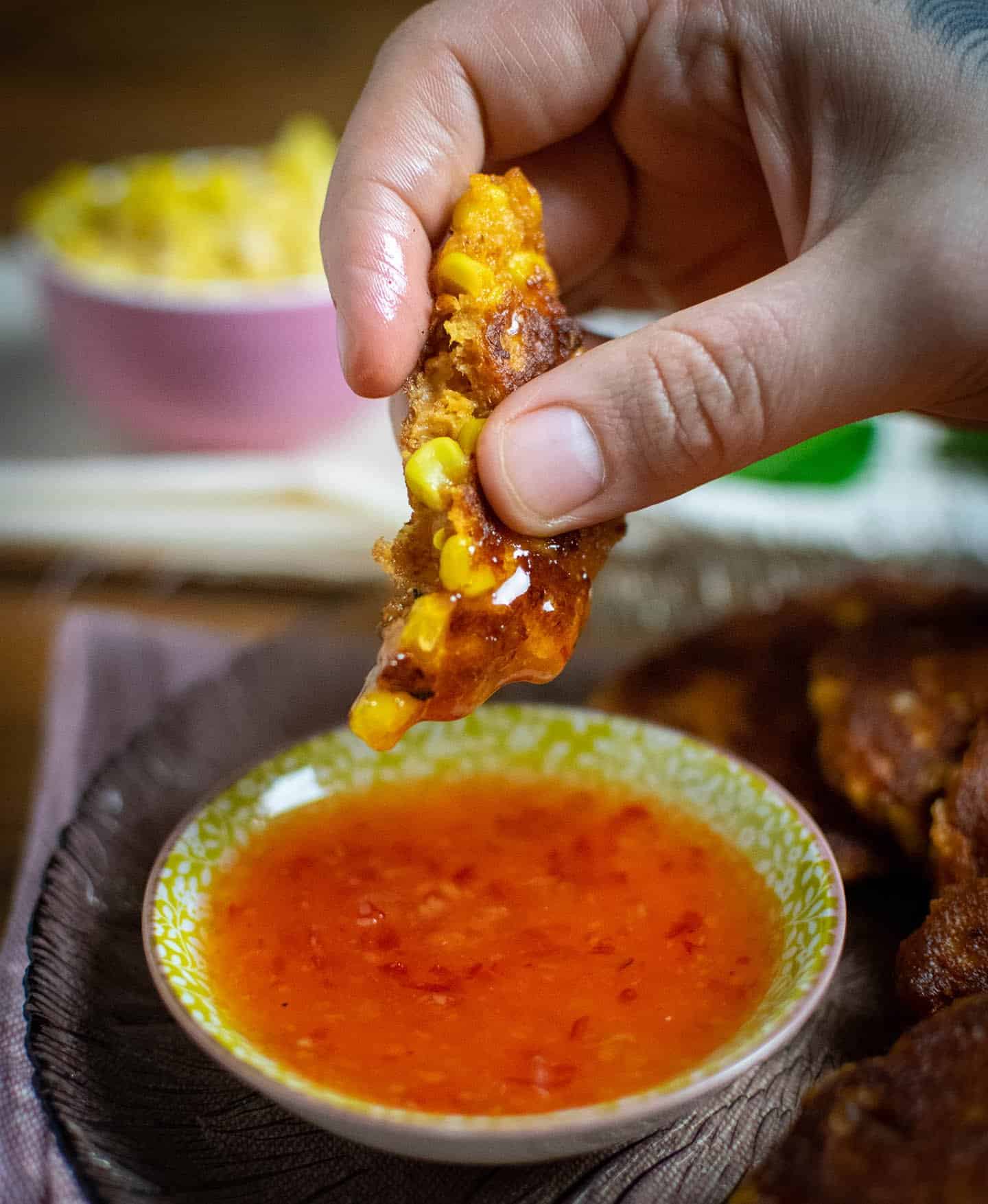 Did you make this recipe? Leave a review and a rating below, or tag us in your photos on Instagram! Alternatively, bookmark it in your browser or save to Pinterest for later.

If you love our content, please consider supporting it by buying us a coffee.
📖 Recipe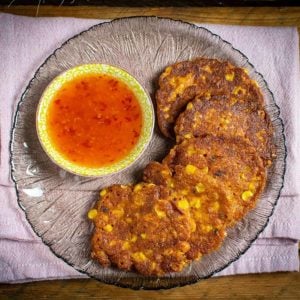 Vegan Corn Fritters Thai Style (Tod Mun Khao Pod)
We've been looking forward to sharing these vegan corn fritters for such a long time! We have gone through many rounds of testing these vegan corn cakes to get them just right. They are the exact balance of spicy, sweet, savoury and crispy to make them the most perfect fritter.
Save
Saved!
Print
Pin
Rate
Ingredients
1

tablespoon

ground flaxseed

3

tablespoon

cold water

4

Kaffir lime leaves

stems removed

3

cups

sweetcorn

from a can or frozen

1

cup

plain flour

1

tablespoon

baking powder

¾

cup

oat milk

unsweetened

4

tablespoon

Thai red curry paste

½

teaspoon

salt

Vegetable oil

2cm deep in the frying pan
Instructions
Put the ground flaxseed in a small bowl with the water and set aside for a minimum of 10 minutes.

1 tablespoon ground flaxseed,

3 tablespoon cold water

Chop the kaffir lime leaves into small pieces and remove the stems.

Place half of the sweetcorn along with all the other ingredients (including the flaxseed mix, but not the oil) in your food processor and blend until well combined and smooth (ish).

3 cups sweetcorn,

1 cup plain flour,

1 tablespoon baking powder,

¾ cup oat milk,

4 tablespoon Thai red curry paste,

½ teaspoon salt

Combine the remaining sweetcorn and the mixture in a large mixing bowl.

Heat the vegetable oil in a frying pan over a medium heat. Wait for the oil to heat up. There should be about 2cm of oil in the frying pan.

Test that the oil is hot enough with a piece of corn. If it starts to bubble around the edges, it's ready to go.

Place the corn mixture into the pan, 2 tablespoons for each fritter. Cook on each side for 3-4 minutes. Flip with a spatula and then repeat on the other side. You should be able to cook 2 or 3 fritters at once, depending on the size of the pan.

Continue going through this process until all of the mixture is used up. Pat each fritter on a plate lined with kitchen towels to remove excess oil.

Keep the fritters in the oven on a low temperature until they're all ready, and enjoy!
Notes
You can use flaxseeds or chia seeds for the egg replacer, just make sure they're ground up, not whole seeds.
Nutrition
Calories:
103
kcal
|
Carbohydrates:
15
g
|
Protein:
2
g
|
Fat:
4
g
|
Saturated Fat:
1
g
|
Polyunsaturated Fat:
2
g
|
Monounsaturated Fat:
1
g
|
Trans Fat:
1
g
|
Sodium:
169
mg
|
Potassium:
86
mg
|
Fiber:
1
g
|
Sugar:
3
g
|
Vitamin A:
736
IU
|
Vitamin C:
2
mg
|
Calcium:
73
mg
|
Iron:
1
mg