Butternut squash, with its sweet, nutty flavor and vibrant orange flesh, is a beloved ingredient in many kitchens. This humble vegetable is not only delicious but also a nutritional powerhouse, making it a favorite among health-conscious individuals and food enthusiasts alike. It's works so well in Indian cuisine, so that's why we're bringing you this amazing list of butternut squash Indian recipes.
In this article, we embark on a culinary journey that combines the versatility of butternut squash with the rich tapestry of Indian flavors. These vegan recipes not only celebrate the the butternut squash but also introduce a delightful fusion of spices and techniques from Indian cooking.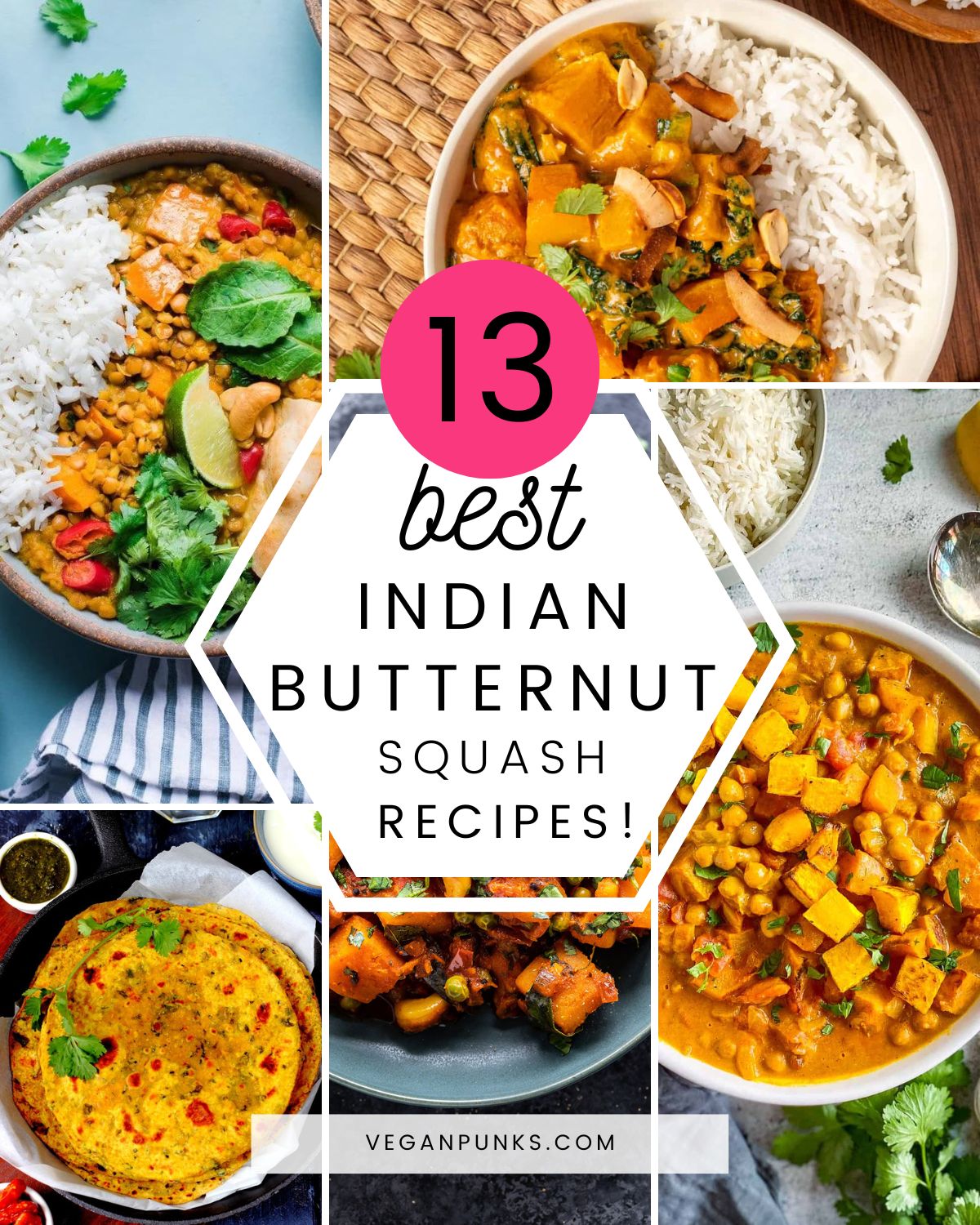 Jump to:
🤔 About butternut squash
High in vitamins and minerals: Butternut squash is a rich source of essential vitamins like vitamin A, vitamin C and vitamin E, along with vital minerals such as potassium and magnesium. These nutrients contribute to a healthy immune system, strong bones, and glowing skin. Source.
Rich in fiber and antioxidants: The fiber in butternut squash aids in digestion and promotes a feeling of fullness. Antioxidants like beta-carotene help combat oxidative stress and reduce the risk of chronic diseases.
Low in calories: For those watching their calorie intake, butternut squash offers a satisfying and nutritious option that offers sweet flavors as well as pairing well with creamy and spicy flavors.
🇮🇳 Butternut Squash Indian Recipes
Now, let's delve into a tantalizing array of Indian butternut squash recipes that will awaken your taste buds and add a burst of flavor to your vegan repertoire:
👩‍🍳 Tips for Cooking with Butternut Squash
Indian cuisine is renowned for its bold and aromatic flavors, diverse range of spices, and the art of balancing various flavors. From fragrant curries to hearty dals, India's culinary heritage has captured the hearts and taste buds of people worldwide.
How to peel and cut the butternut squash – Peeling and cubing butternut squash can be a breeze with the right technique. Start by slicing off the top and bottom, then use a vegetable peeler or a sharp knife to remove the skin. Cut the squash in half, scoop out the seeds, and proceed to cube it as needed for your recipe. Alternatively, cook the squash once cut in half and seeds have been removed. Once cooked and cooled, scoop out the flesh instead of peeling before cooking.
Reducing waste: using the seeds and skin – Don't discard the seeds and skin of butternut squash! The seeds can be roasted for a crunchy snack, and the skin can be used in soups or stocks to add flavor.
Storage and shelf life – Store whole butternut squash in a cool, dry place for up to one month. Once it's cut, refrigerate the unused portion in an airtight container for up to a week.
💭 FAQs
🍛 More Indian Food to try
If you're looking for sides to go with these butternut squash recipes, then this Brinjal Bhaji and this Mushroom Bhaji are both great sides. If you're looking for mains, check these out:
🌟 Summary
There we have it! 13 versatile butternut squash Indian recipes. These vegan recipes offer a delightful fusion of spices, herbs, and techniques that will elevate your dining experience and warm your soul.
Let us know which is your favorite butternut squash Indian recipe in the comments below!