Cooking a recipe that requires spring onions, but you're all out? Don't sweat it because there are some great spring onion substitutes and we're here to run you through them. Whether you're looking to replace the mild oniony flavor in a stir fry or you need the perfect garnish to top your ramen, this list has the answer. Read on for all the best spring onion substitutes!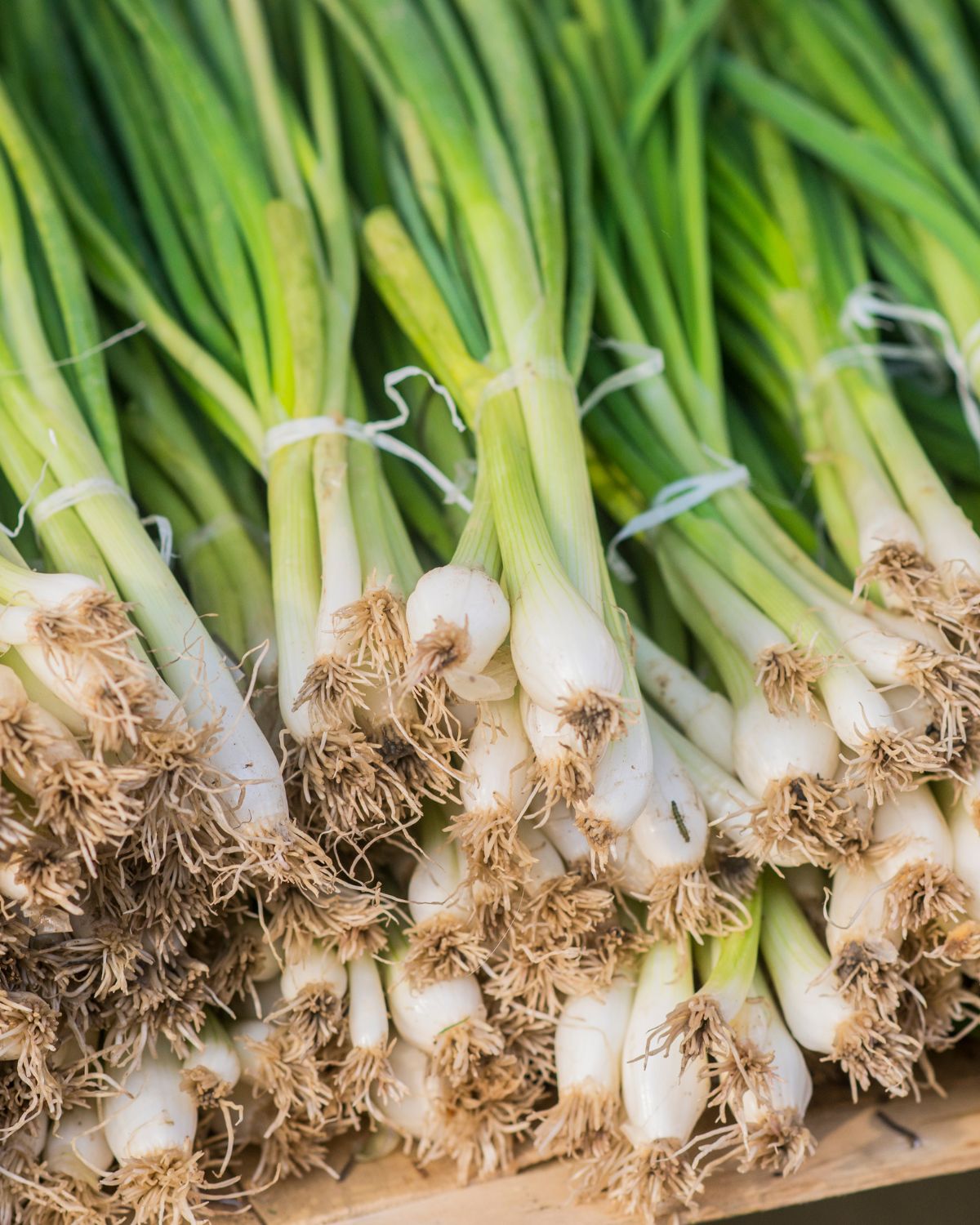 Jump to:
🤔 What are spring onions?
Let's cover this off quickly. Depending on what part of the world you live in, you might not be familiar with spring onions because they go by other names. So, you might even have them in your fridge and not realise!
Spring onions are also known as scallions or green onions. They're part of the allium family, the same as garlic, onions, and shallots and are recognized for their slender, tubular stalks and small white bulbs. When a recipe calls for spring onions you can use scallions or green onions, because they're the same thing!
The distinguishing feature of spring onions is their dual nature. The white ends (root end) are a blend of a mild onion flavor coupled with a subtle hint of garlic. The green tops are tender with a grassy, fresh taste, making them an excellent addition to both raw and cooked dishes.
In the kitchen, spring onions lend themselves to a plethora of culinary creations. Their mild flavor makes them a delightful addition to salads, salsas, and garnishes like on this Tantan Ramen or this Sweet and Sour Tofu, imparting a gentle oniony zest without overpowering other ingredients.
When used in stir-fries, the greens wilt slightly and infuse the dish with a subtle, aromatic flavor. They can be grilled whole, adding a smoky dimension, or charred to bring out their natural sweetness. Additionally, spring onions shine in soups, stews and noodle dishes, enhancing the overall taste while contributing a visually appealing element with their vibrant green hues.
Whether used as a primary ingredient or a garnish, spring onions bring a delightful complexity to a wide array of dishes.
🌱 Are spring onions and scallions the same?
They sure are! Spring onions, scallions and green onions are all the same. They have different names in different countries and regions of the world.
They're actually just young onions that have been harvested before the bulbs have had the chance to grow. The white end of spring onions, if left, would continue to grow into a round bulb (or white onions!). The same goes for red spring onions - that red part would eventually grow into a red onion!
🧅 The best substitutes for spring onions
Before you can decide what the best spring onion substitute is for the dish you're preparing, you need to ask what you're using them for! The white bulbs are used to add a mild oniony flavor, whereas the green stalks are even milder and have a grassy note. Often a dish will call to use both parts and either cook them at different times or use the green stalk as a garnish like in this Congee or Pad Thai.
If you're looking to add those delightful mild onion flavors, then head straight to the next section. But if it's a garnish you're after, skip to the section after that!
To add flavor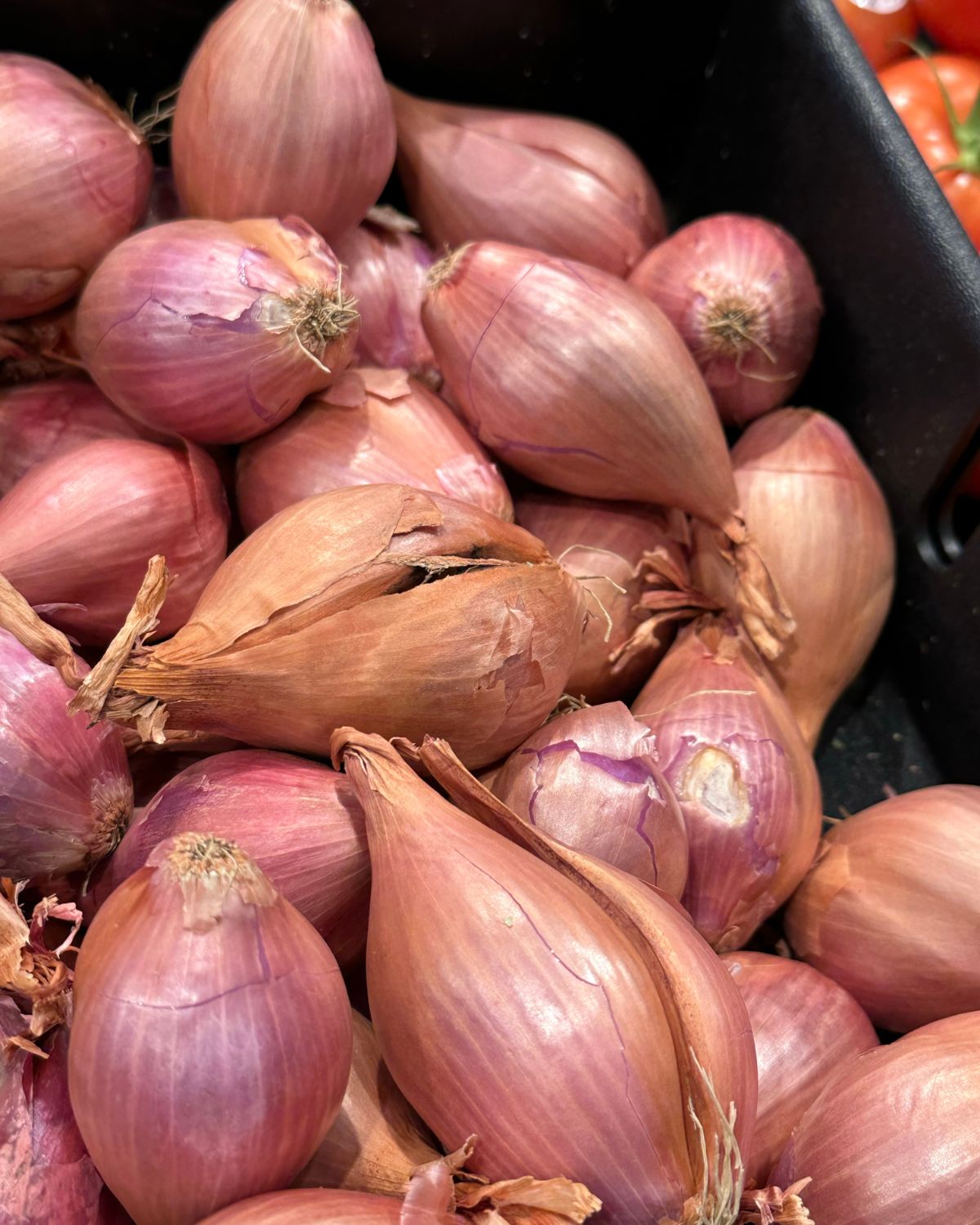 1. Shallots
Shallots are one of the best substitutes for spring onions. While spring onions are slightly sharper compared to the sweetness of shallots, they both offer a mild taste. Unlike onions, shallots grow in clusters of bulbs, not too dissimilar to garlic.
Aside from offering a great substitute for the flavor of spring onions, shallots are also very easy to find in grocery stores, so we think they're probably the best substitute.
To replace spring onions with shallots, use 1 tablespoon of diced shallots for each spring onion that a recipe uses.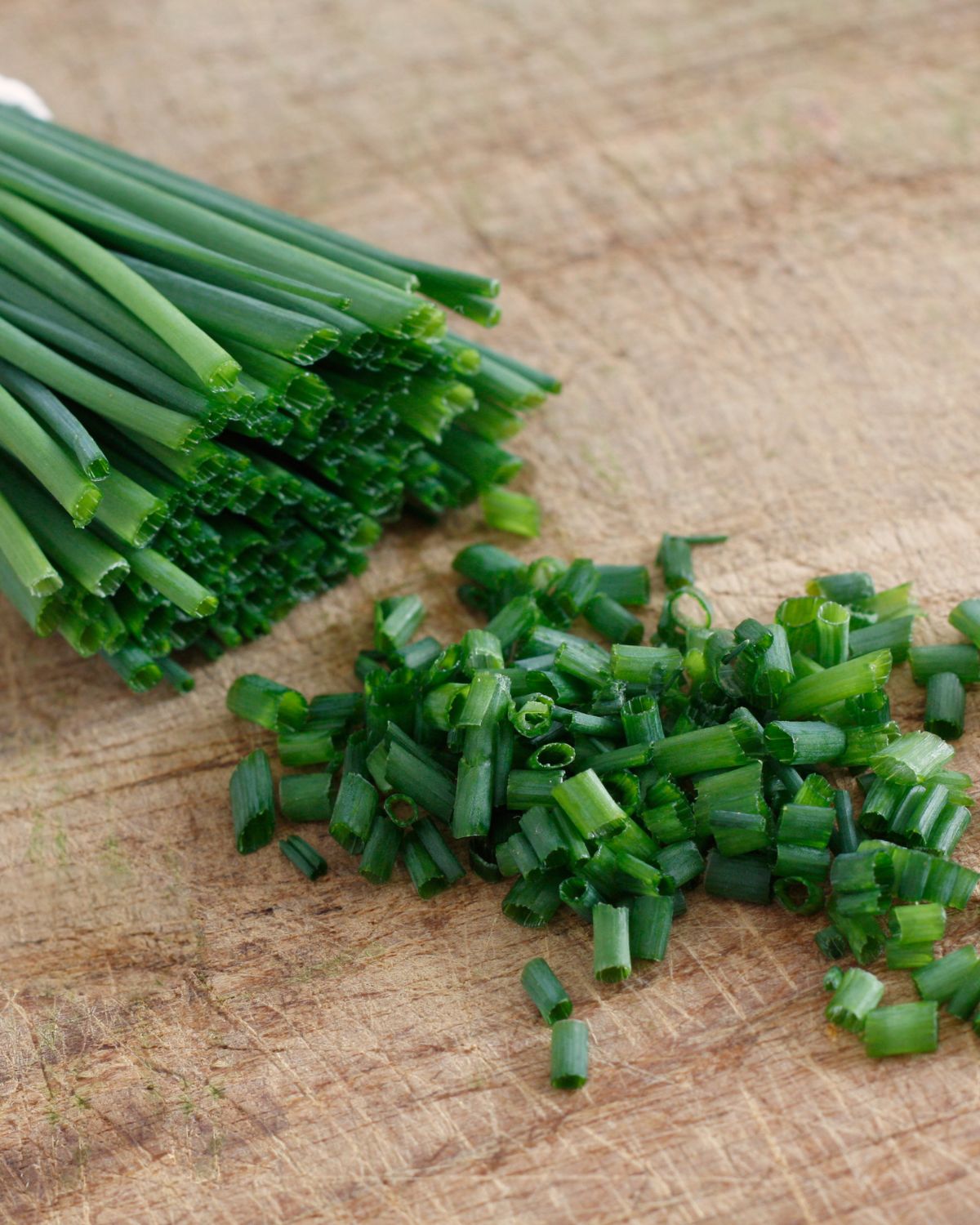 2. Chives
Chives are a great spring onion substitute, especially for replacing the green stalk. They have a much milder taste and a different flavor than any of the other spring onion substitutes, but is still a great option. The flavor is very delicate with a slight garlicky edge, rather than a strictly oniony flavor.
To substitute spring onions for chives, try adding 2 tablespoons of chopped chives for every spring onion that a recipe calls for.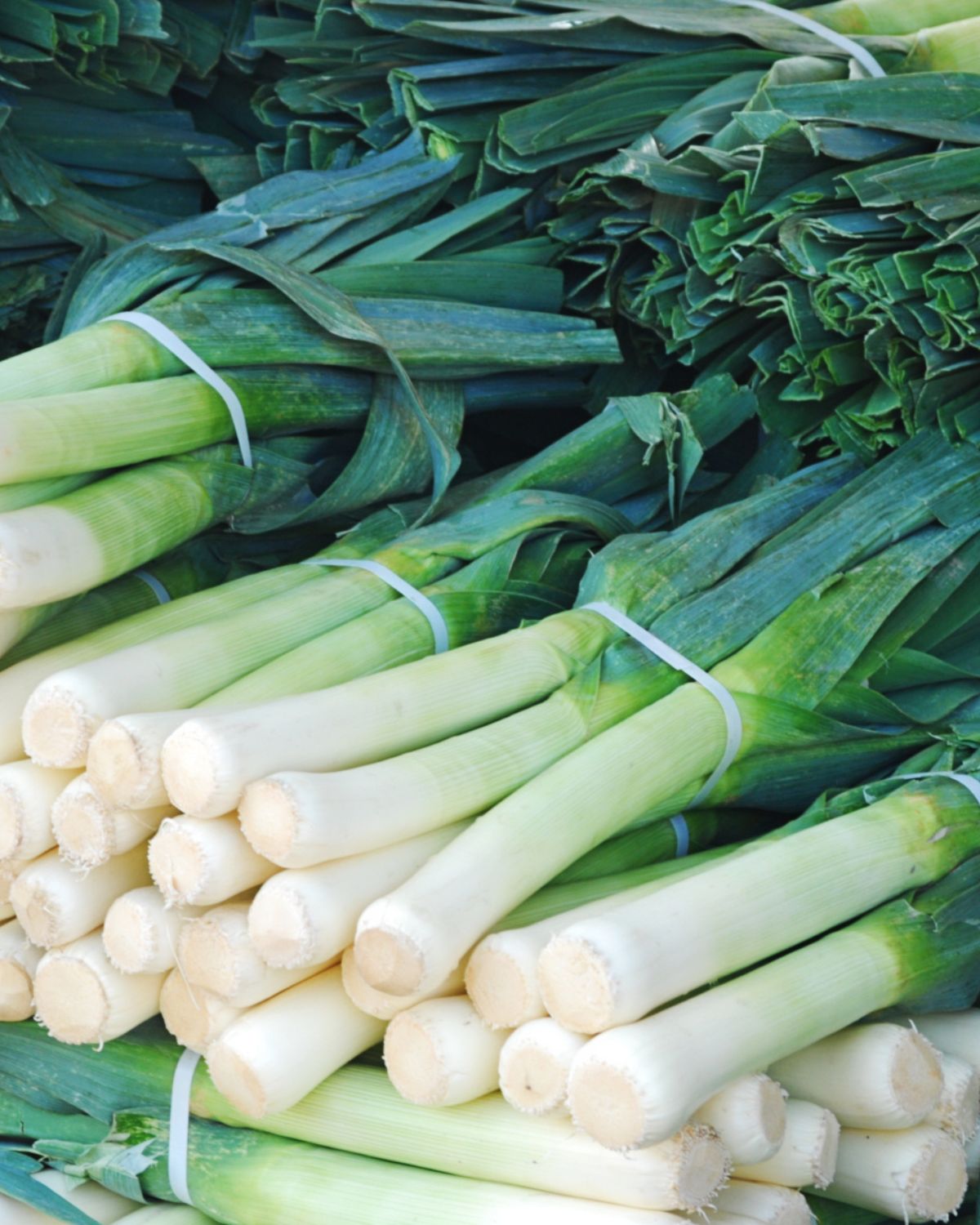 3. Leeks
Leeks are a really good option for replacing the fresh flavor from a spring onion. As leeks are much larger, thicker and harder than spring onions, it's best if they're used in a cooked dish. That's because leeks become a lot more mild once cooked, and can be quite harsh when raw. That way, it offers a similar taste without being too over the top.
To substitute leeks for spring onions, 1 leek will equate to about 6 spring onions.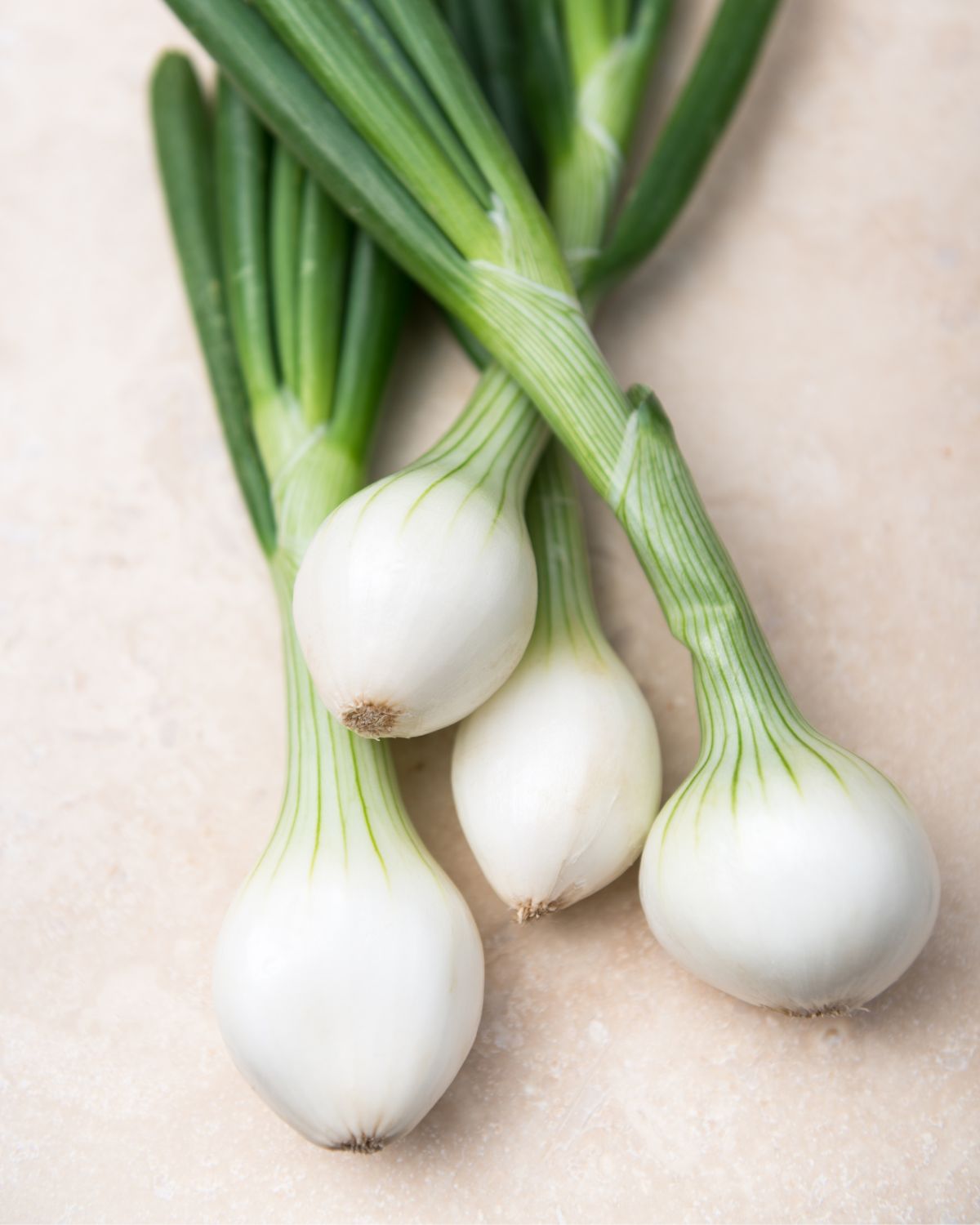 4. Salad onions
OK, so maybe salad onions is a UK thing because there's not much out there if you Google them. But they're spring onions that have been left to grow for longer so the white bulbs have developed, so they're one of the best substitutes for spring onions.
The bulbs of a salad onion are much more rounded and bulbous. The flavor of salad onions compared to spring onions is a little more robust and stronger, but nowhere near as much as a shallot or regular onion. They're a great substitute if the supermarket is out of spring onions but they happen to have salad onions!
To substitute spring onions for salad onion, just replace them directly 1:1.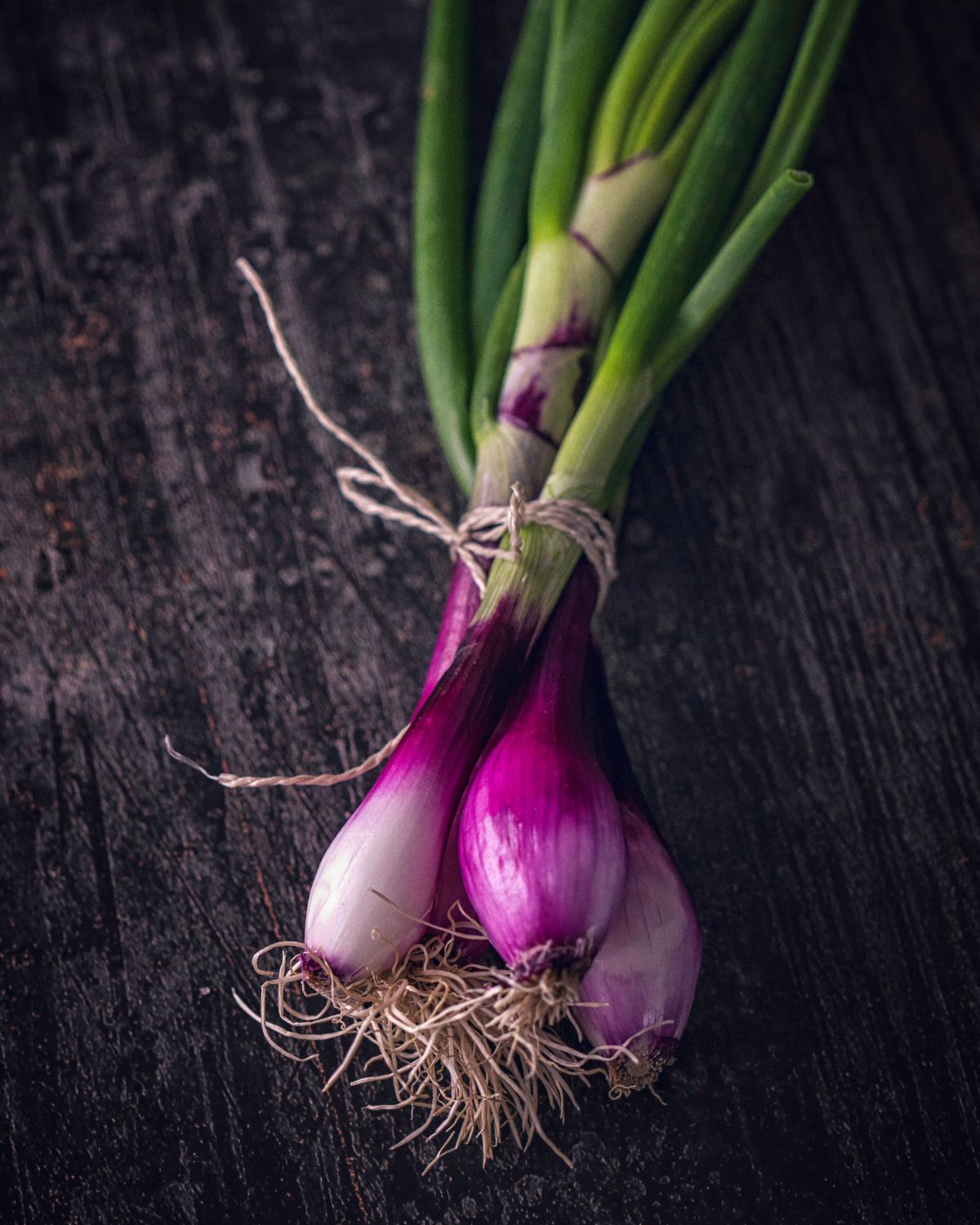 5. Red spring onions
Red spring onions are almost identical to regular spring onions, with very little difference in taste. However, they are an excellent substitute. The main difference, of course, is the color! The similarity makes them one of the best substitutes for spring onions.
If substituting spring onions for red spring onions, it can be done on a 1:1 basis.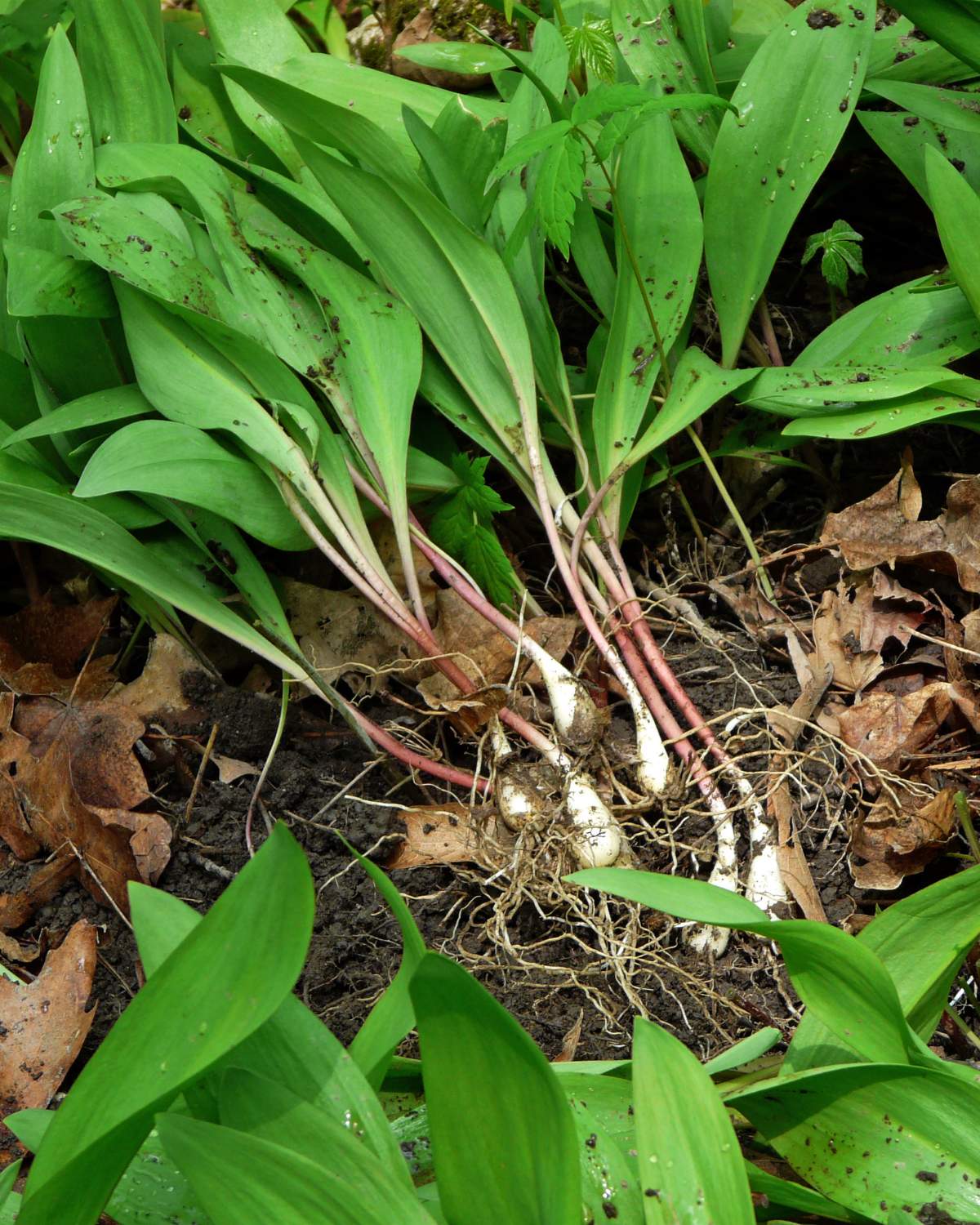 6. Ramps
Ramps (AKA wild leeks) are a North American species of wild onion, which is pretty similar to the wild garlic we have in Europe. Much like spring onion, ramps have a very small bulb. They have a broad leaf which can also be used raw and cooked in savory dishes.
The flavor of ramps offers a garlicky flavor on top of the onion, but it is still quite mild and a pretty good substitute.
Use one ramp bulb per spring onion when replacing them in a recipe. The leaves can be diced and used as a garnish or fried off with the rest of the dish.
7. Red onions
Another great option is red onions. They have a slightly sweeter flavor than white or yellow onions, so we'd definitely choose them over a yellow onion if none of the other options are available to you.
Red onion is a mature onion that has fully grown and offers a sweeter taste than a lot of the other onions mentioned because they have a higher sugar content. They're pretty good when eaten raw or when cooked and are perfect for all kinds of savory dishes and salads.
If using red onion to substitute spring onion, try adding half a red onion for every 2 spring onions, but remember, they will add a slight sweet flavor.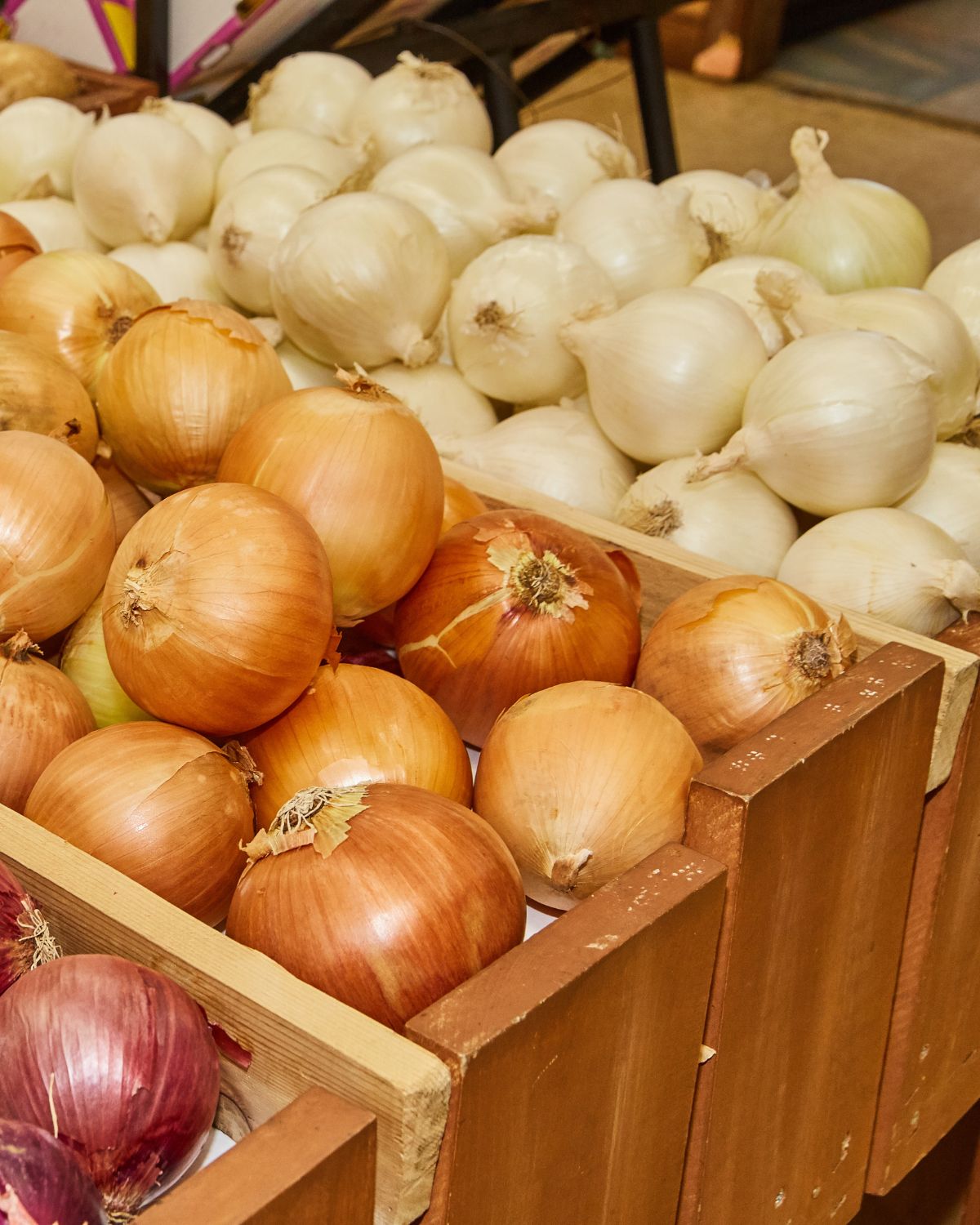 8. White or yellow onions
There are some differences between white and yellow onion, but we're just going to group them together here because they taste similar enough to give the same advice.
They're both mature onions that have fully grown. That means the flavor is a lot more robust than the other onions listed.
White and yellow onion can be pretty overpowering when consumed raw, so we'd definitely suggest putting them through some kind of cooking process. We recommend to fry them for 5-10 minutes until they've lost their crunchy texture and are soft. This also takes out some of the harshness of the flavor. This option isn't really recommended for raw dishes.
To substitute regular yellow onions for spring onions, we'd use half an onion for every 3-4 spring onions that are needed.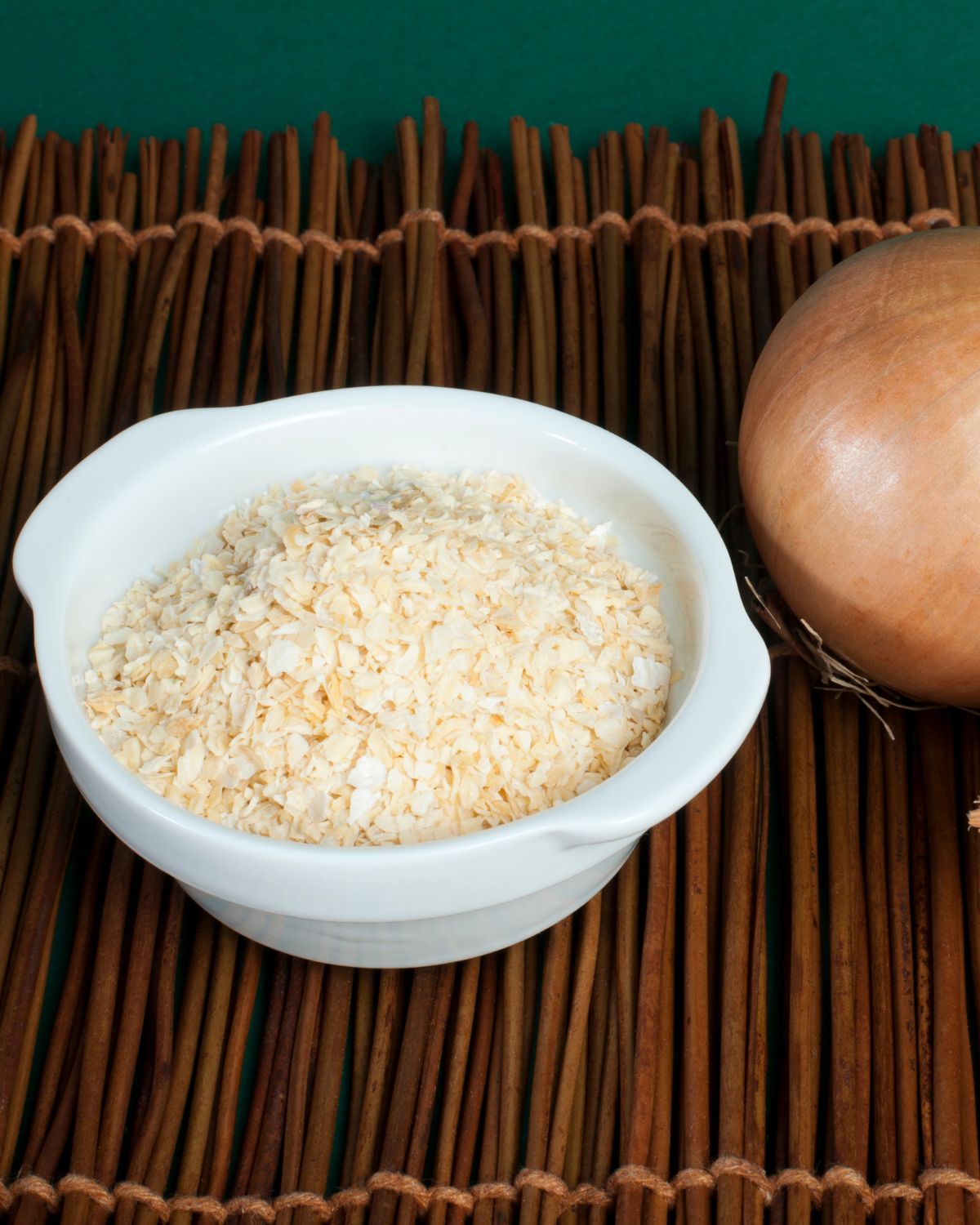 9. Onion powder
Onion powder, also known as onion granules, is dehydrated onions that have been ground into a powder. Flavor wise, it's not really a great substitute for spring onion and it doesn't offer the same look or texture. While it has an intense onion taste, it's not a similar flavor to either parts of a spring onion.
It might be something you have in your spice cupboard though, because dehydrated onions can be stored for a long time, so onion powder is pretty good to have around when you're in a pinch.
The flavor of onion powder is like a concentrated, strong oniony flavor. It's pretty good for stirring into sauces, dressings or soups if you're out of every type of fresh onion.
As onion powder has a pretty pungent flavor a little goes a long way. We suggest using 0.25 teaspoon per spring onion that a recipe requires. You can always add more if you want to boost the oniony flavor, but start off small and add more to get to your desired flavor if needed.
To add garnish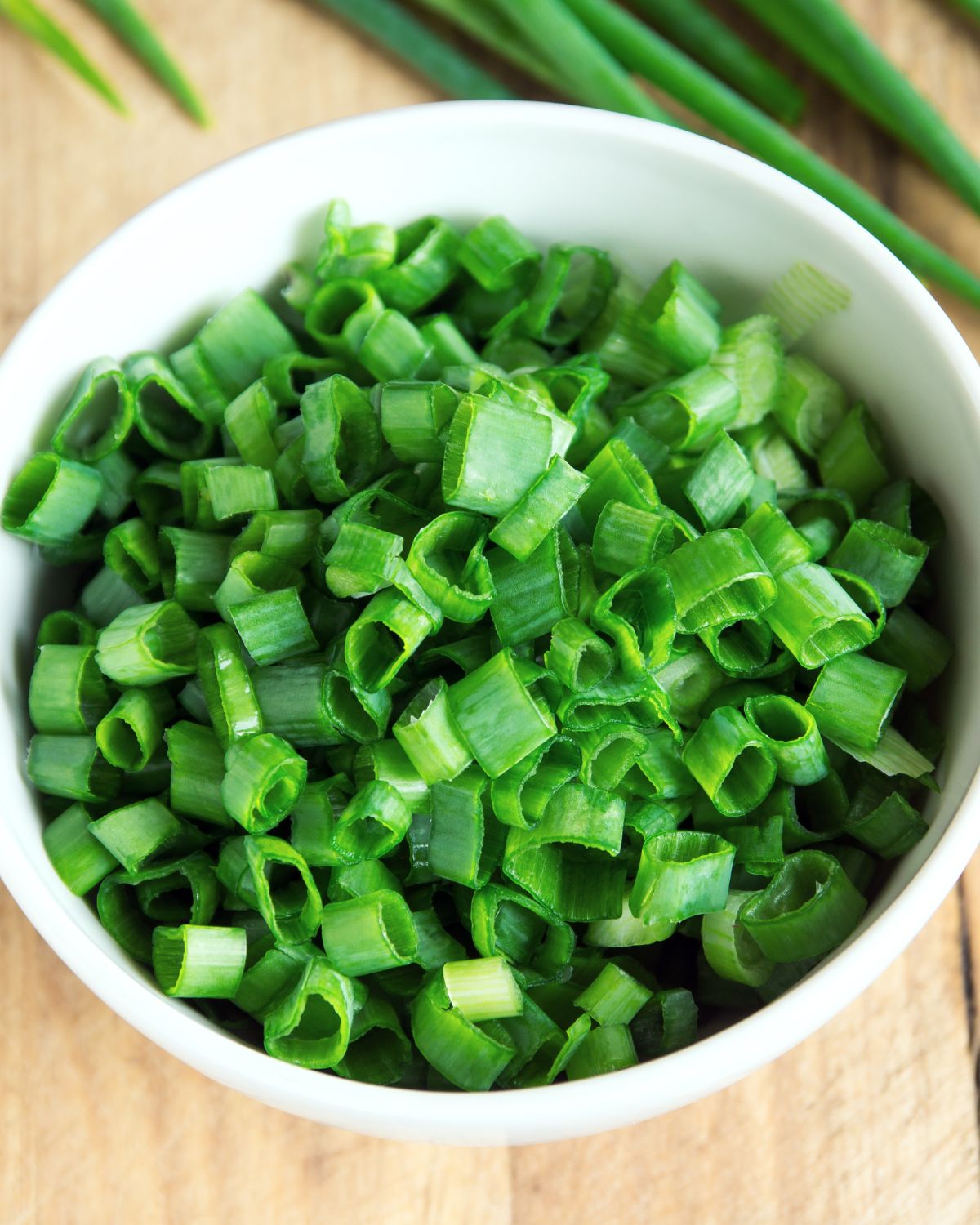 10. Chives
Another option is chives. They are the only herb that's part of the onion family. They're actually a slightly different genus, allium schoenoprasum.
If you're preparing a recipe that calls for the dark green leaves of spring onions, to be used raw or as a garnish, then chives are the perfect choice.
They offer a delicious, slightly sweeter flavor and look great on top of dishes when used as a garnish. They're amazing on garlic mushrooms or in dumplings for a hearty vegan stew and dumplings.
In addition, chives have an even milder flavor profile than spring onions, so if substituting them for spring onions, try adding 1.5-2x the amount.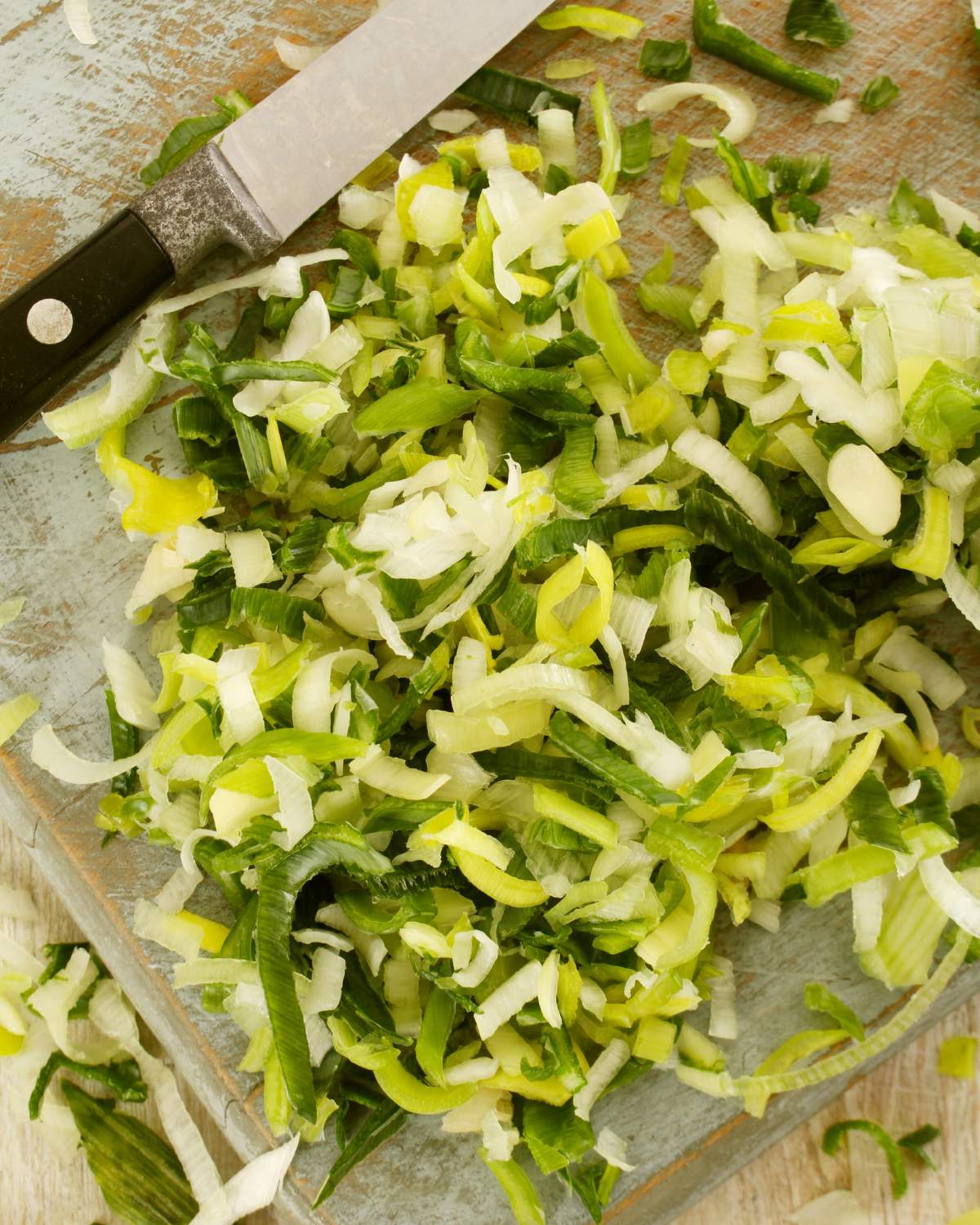 11. Leeks
Leeks, when chopped finely, offer a reasonable alternative to spring onion. They're another mild tasting option and you could easily get away with using the green end as a garnish in a raw dish. Though, when it comes to the white end, we personally prefer to fry them and soften before using. Especially in this buttery leeks and cabbage dish.
The main issue is the sheer size difference between a leek and a spring onion! If using a leek in place of spring onion for garnish, you'd be looking at one leek equalling 6-10 spring onions.
So, we'd suggest using around 1 tablespoon of finely chopped leeks to replace each spring onion that is needed. Use the green end of the leek as a garnish for best results, not the white, as the white part is often too hard.
💭 FAQs
Do you use the white or green part of the spring onion?
Both! The white part of the green onion is great for adding to stir fries and cooking off early in dishes. The green part can be cooked too or it can be thinly sliced and added to dishes raw or as a garnish.
Are salad onions the same as spring onions?
Pretty much. Salad onions are just spring onions that have grown for longer. That extra growing time means the onion flavor has developed and is a little stronger, but they're still much lighter than regular onions.
What is a good substitute for spring onions in salad?
Chives are definitely our top pick for replacing spring onions in a salad. Much like the green stalk of a spring onion, chives are great when used raw and have a really delicate onion flavor. If you need to replace spring onions in a dish, be sure to check out all our recommendations.
👩‍🍳 Related Articles
🌟 Summary
We hope this article has provided valuable insights into a range of exceptional substitutes for spring onions!
Whether you're looking for a stronger or milder flavor profile, these alternatives offer versatility in various dishes. From shallots to leeks and chives, each substitute brings its own unique twist to your recipes.
By exploring and experimenting with these alternatives, you can maintain the essence of spring onions and keep your culinary creations delicious and diverse, even in the absence of spring onions.
Happy cooking!