Italian seasoning is a popular ingredient in many recipes, but what if you're out of it? Don't fret! There are plenty of options that you can use to get similar results. In this article, we share the 4 best Italian seasoning substitutes, as well as what not to use. We're sure there will be an option in this list that will work well.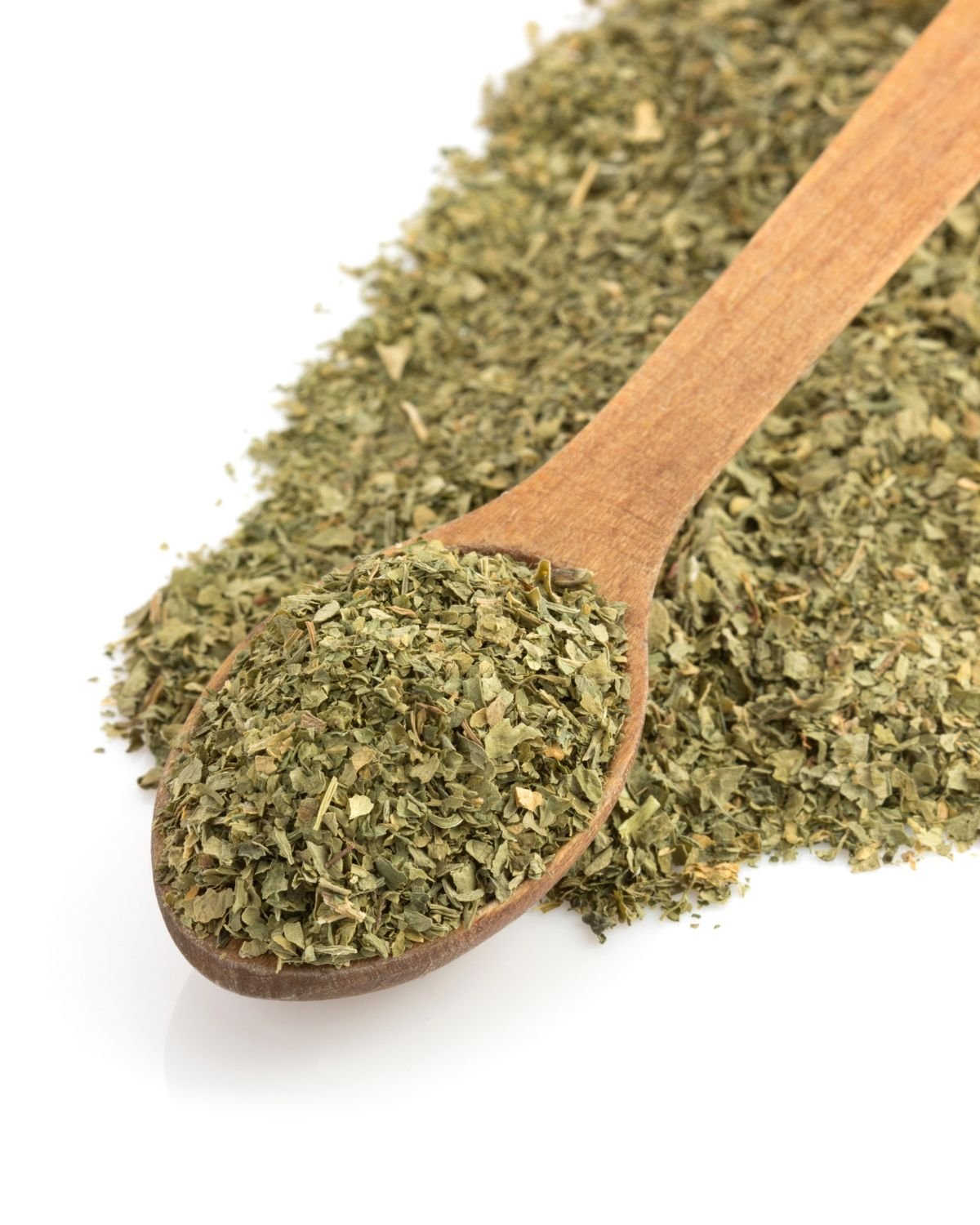 Jump to:
🤔 What is Italian seasoning?
Most Italian seasoning blends consist of dried herbs that are commonly used in Italian cuisine. The most common ingredients in Italian seasoning blends are dried basil, oregano, rosemary, thyme, marjoram, sesame seeds, black pepper and garlic. Some Italian seasoning recipes also include garlic powder, onion powder, crushed red pepper flakes, and/or fennel seeds.
It's a versatile seasoning, so it can be used in a variety of dishes in Italian cooking. Italian dishes like pasta sauces like this creamy mushroom pasta or lentil bolognese, soups, stews, marinades, and even rubs and salad dressings often use Italian seasoning. This spice blend is often also sprinkled on pizza (as a kind of pizza seasoning), bread, or vegetables.
Sometimes people confuse mixed Italian herbs with Italian seasoning because they are very similar. However, these seasonings aren't the same because Italian mixed herbs typically don't include onion, garlic powder or red pepper flakes. So, Italian mixed herbs are milder when compared to Italian seasoning.
Luckily, all the substitutes for Italian seasoning in this article are great alternatives to Italian mixed herbs too. And, of course, if you have mixed Italian herbs in the cupboard, but not Italian seasoning, then that will be one of the best substitutes to use!
👩‍🍳 The best Italian seasoning substitutes
When you don't have Italian seasoning, these Italian seasoning substitutes are the next best thing. We'll start with a homemade Italian seasoning blend because it's actually the best!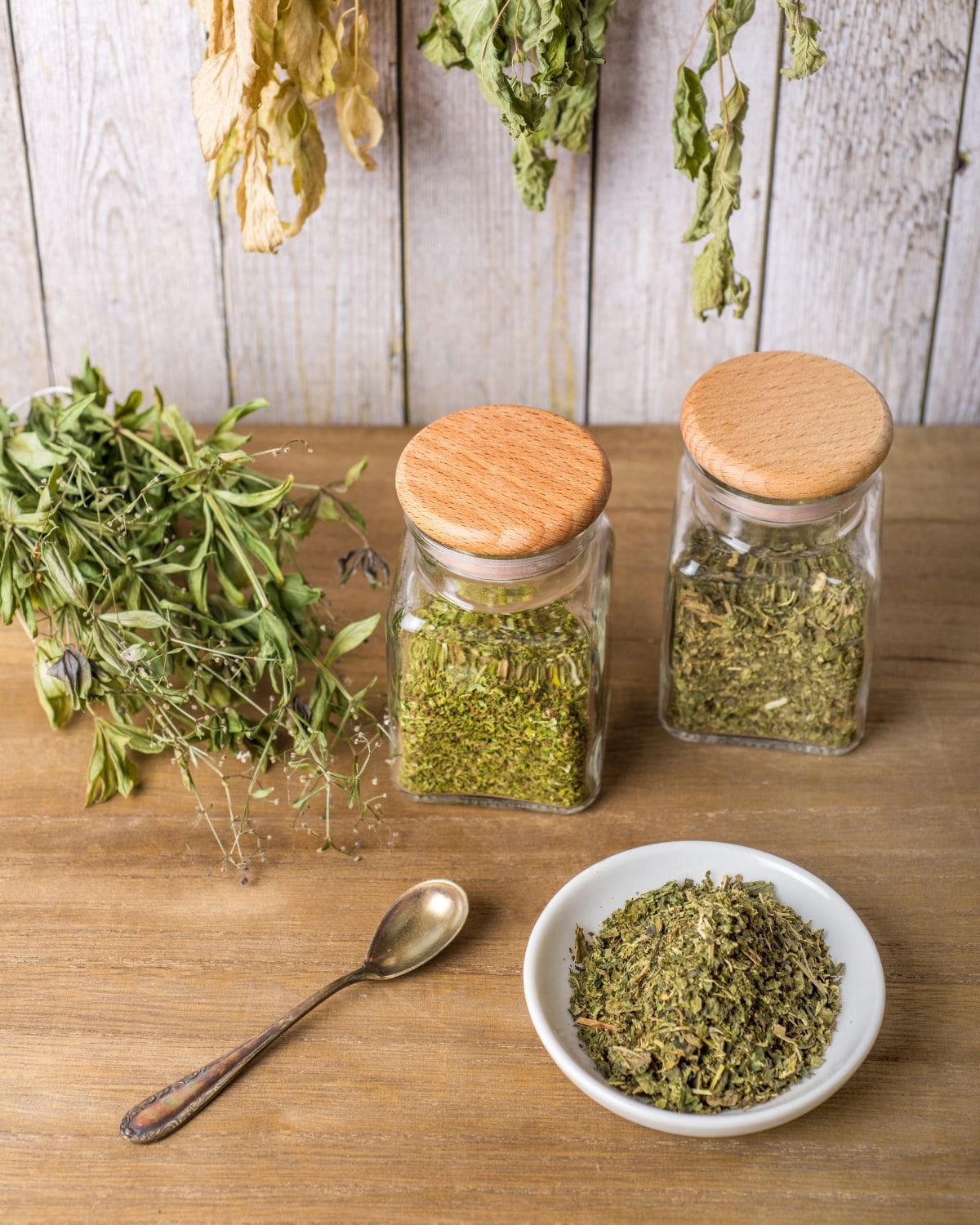 1. Homemade Italian seasoning
Homemade Italian seasoning is the best Italian seasoning substitute for many reasons. And the best thing is that you can control the ingredients and customize them to your taste.
To make your own homemade Italian seasoning, combine a selection of oregano, marjoram, basil, parsley, rosemary, sage, red chilli flakes, garlic powder and thyme in a small bowl. We don't add onion powder to our homemade Italian seasoning mix, but you can if you like. Store the seasoning in an airtight container in a cool, dark place for up to 6 months.
Alternatively, fresh herbs can be used in a homemade Italian seasoning mix when cooking from scratch. However dried herbs are a more practical option to replace Italian seasoning, that's because it's usually a dried mix.
Please see the recipe card at the bottom of the page for the exact Italian seasoning recipe with measurements and detailed instructions.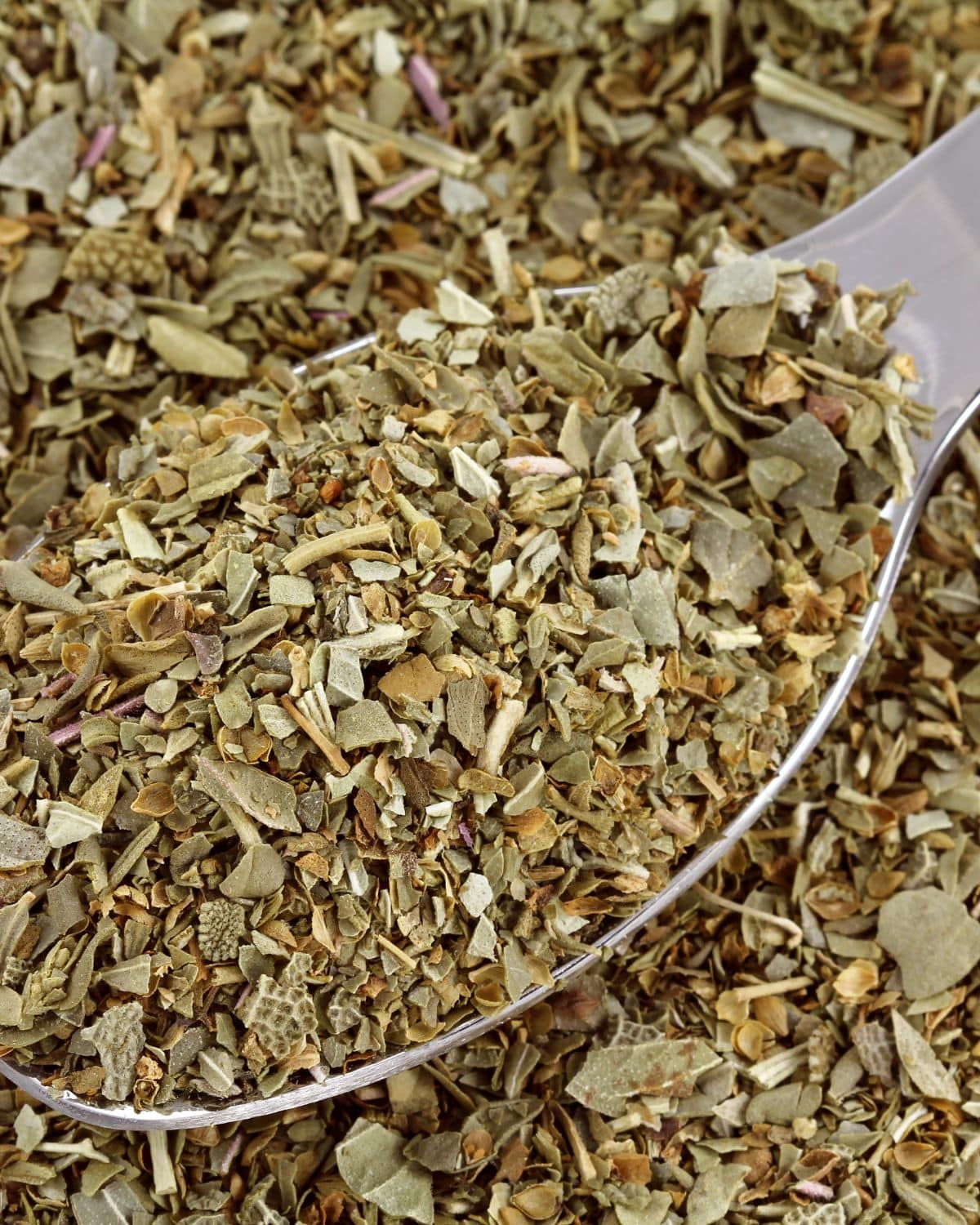 2. A mix of dried herbs
This part should be pretty easy - go to your kitchen and check the dried herbs you have in the spice cabinet. You'll probably have something that will substitute Italian seasoning in the spice rack already! The best option includes these common herbs: dried marjoram or dried oregano with dried basil, parsley, rosemary or thyme. Mix them in a bowl and use them as you would Italian seasoning. This is one of the best Italian seasoning substitutes. It's one of the best ways to enjoy the Italian seasoning flavor because it tastes so good, yet, it's totally effortless.
You can also experiment with different herb combinations to find your favorite flavor profile for an Italian seasoning substitute. Alternatively, using just one of dried oregano, dried thyme or dried basil will also work. It will simplify the flavor, but it should still be nice, albeit not perfect.
It is important to use the same amount when using dried herbs as a substitute for Italian seasoning. For example, if a recipe calls for 1 tablespoon of Italian seasoning, you should use 1 tablespoon of the homemade dried herbs mix.
Dried herbs can be added to food at any stage of cooking. However, they are best added at the beginning of cooking to allow their flavor to develop fully.
Top tip: to get the best flavor from dried herbs, crush them before adding them to the dish, this will help to release their flavor. Simply crushing them with your fingers helps to release the oils in the leaf, which intensifies the flavor.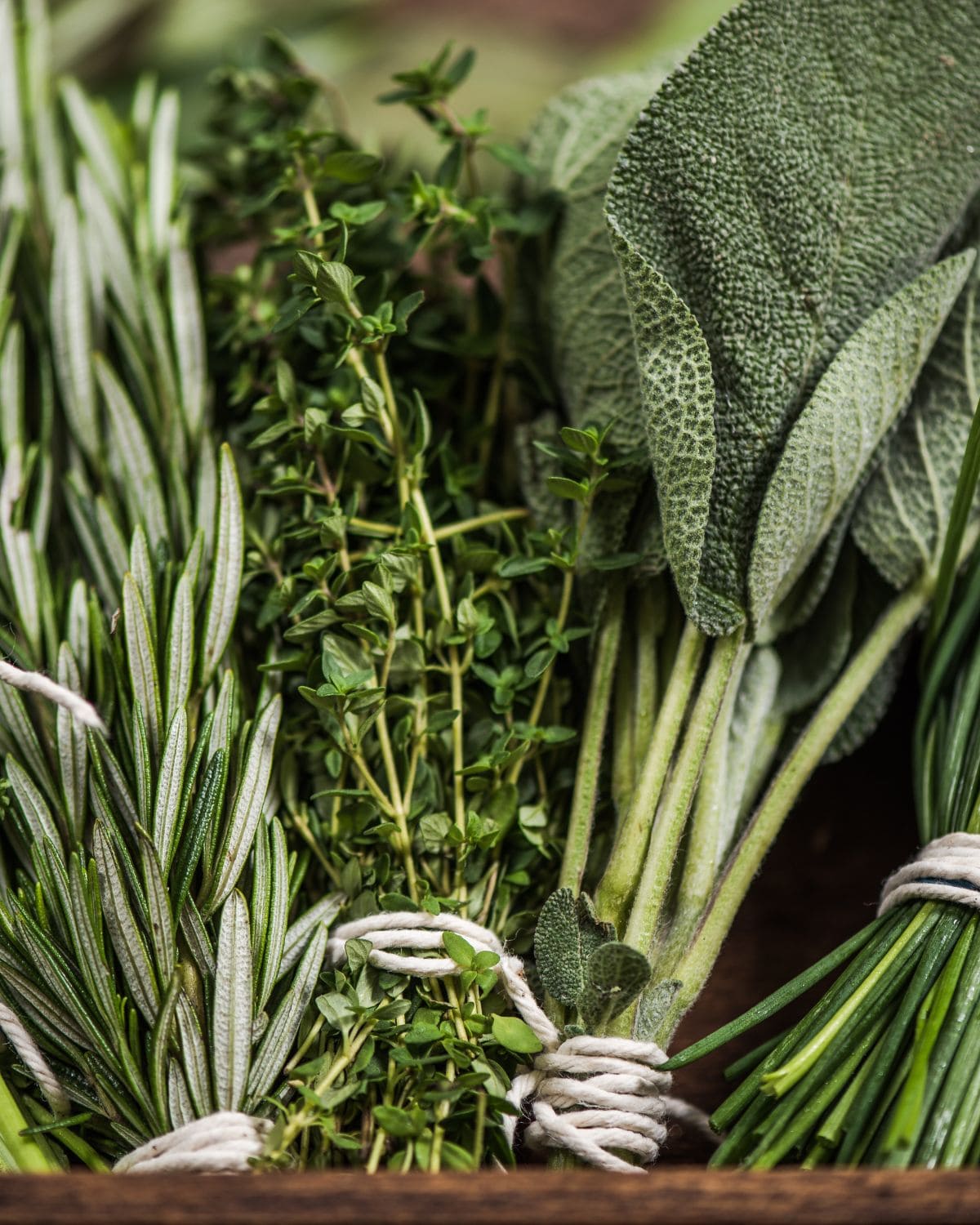 3. A mix of fresh herbs
A mix of fresh herbs is another great substitute for Italian seasoning. We love and recommend this option. You can use the same mix as the dried herbs - marjoram or oregano with basil, parsley, rosemary and thyme, but fresh. You can also add other herbs, such as parsley, sage or chives and fresh garlic or garlic powder.
Dried herbs are more flavorful, so if you replace them with fresh, make sure you use a larger quantity for your Italian seasoning substitute. Ideally, the ratio of dried to fresh herbs should be 1:3. For example, for 1 tablespoon of Italian seasoning, you should add 3 tablespoons of fresh herbs to get the desired flavor when using it as an Italian seasoning substitute.
To prepare the fresh herb mixture, rip or chop them into small pieces. Like dried herbs, you can store these at room temperature or in the refrigerator. However, fresh herbs will not last as long as dried herbs. They will keep for just a couple of days once chopped and in the fridge.
In addition, you can also use just one of the herbs mentioned above, but we would recommend either fresh basil or thyme if you are using just one herb. This option will simplify the flavor in your dish, but it may be the best option if you only have one fresh herb to use! Fresh herbs are great for spaghetti arrabiata.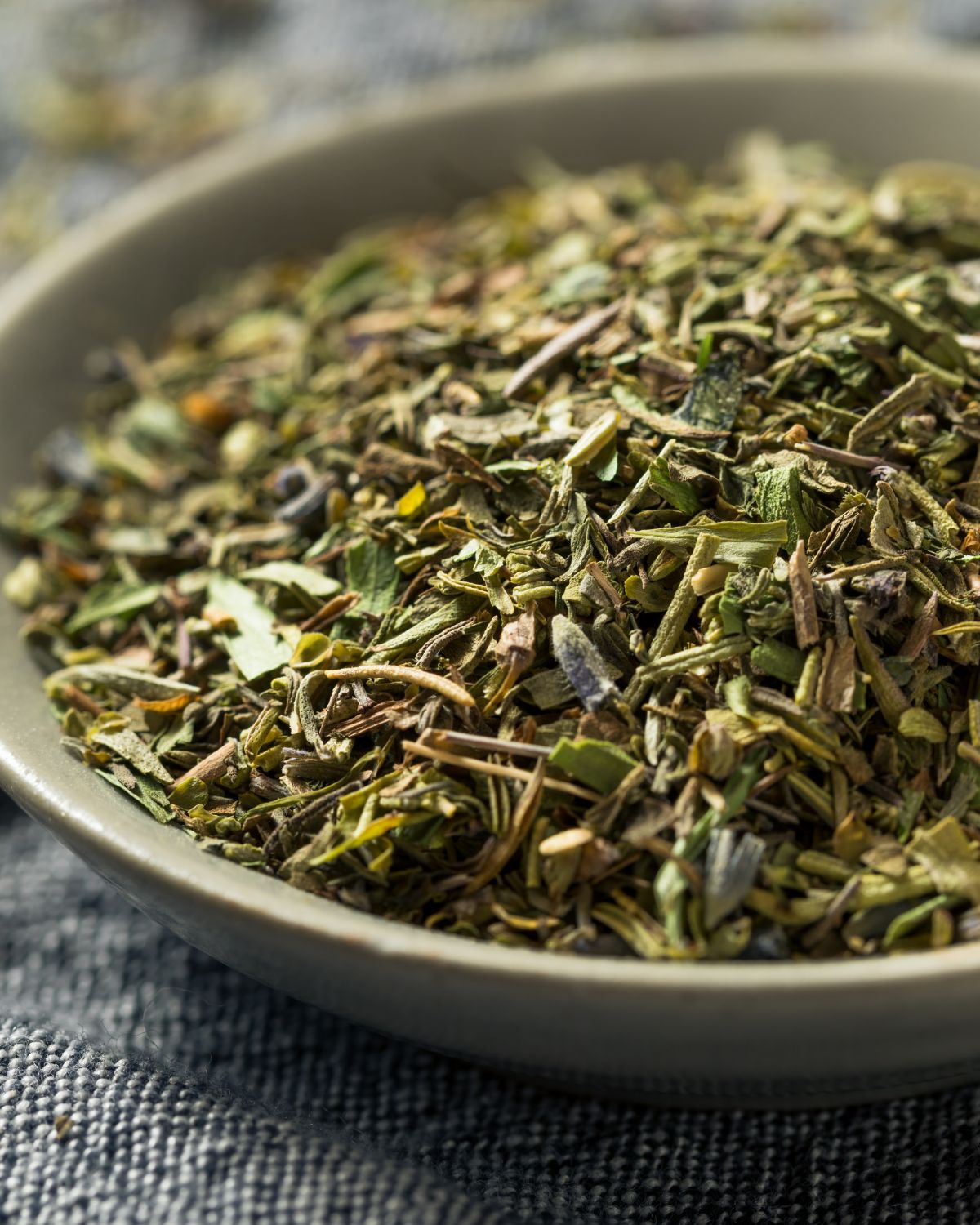 4. An alternative herb mix
If you're not going to use a homemade Italian seasoning, these are our favorites that are pre-made. If you need a store-bought alternative herb mix as a substitute for Italian seasoning, try these:
Herbes de Provence
Herbes de provence is a French herb blend that includes many of the same herbs as Italian seasoning but also contains a few additional herbs, such as lavender, fennel seeds, and savory (similar to thyme). This gives it a slightly different flavor profile, but it's quite similar to Italian seasoning and tastes great. Additionally, the quantities of each herb in the spice blend will most likely differ from the Italian seasoning blend.
Mediterranean/Greek seasoning
Another Italian seasoning substitute is Mediterranean or Greek seasoning - it's a herb blend that's similar to Italian seasoning. In addition to the Italian seasoning herbs, it has some other herbs added too, but it's full of flavor. This Italian seasoning substitute can be a great choice for dishes cooked over an open flame or BBQ, such as grilled vegetables or tofu.
Mixed herbs
This substitute for Italian seasoning is a catch-all term for any blend of dried herbs not specifically labeled as Italian seasoning, herbes de Provence, or Mediterranean seasoning (or another blend). These blends can vary widely in terms of the herbs they contain. So, it's important to read the label carefully before buying to choose one close to Italian seasoning.
🤨 Other alternatives (that we don't recommend)
We don't like the following alternatives because they can overpower the delicate flavors found in an Italian seasoning. Even though other information out there recommends these options, we don't think they work well.
Za'atar
It's a middle eastern spice with a strong and tangy flavor that can be overpowering in some dishes. We don't recommend Za'atar because it's often quite tangy, and savory (due to sesame seeds) which can clash with the milder flavors of dishes that would otherwise need Italian seasoning.
Creole seasoning
Creole seasoning is a blend of spices and herbs in Creole and Cajun cooking. It's spicy, so not really a good replacement for Italian seasoning.
Cajun seasoning
It's similar to Creole seasoning, but spicier and contains more herbs. We don't like the extra spicy touch of Cajun seasoning so it doesn't work instead of Italian seasoning. As it's spicy, it doesn't make sense to use this, so we don't recommend it.
Old Bay seasoning
The strong, sweet and salty flavor of old bay seasoning contradicts the mild flavor of Italian seasoning. It's not a good Italian seasoning substitute as you need to keep the flavor mild and herby, old bay doesn't offer this.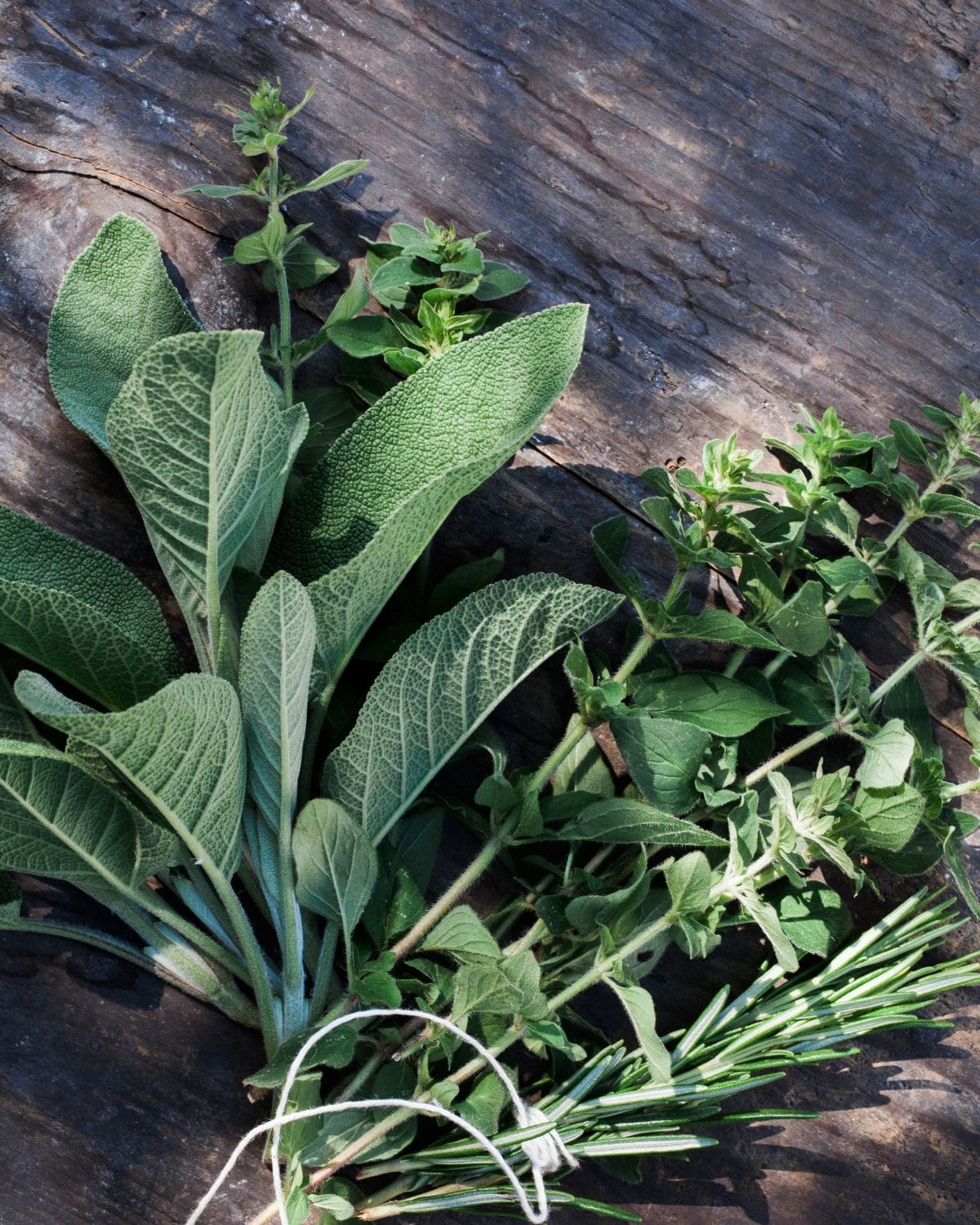 💭 FAQs
Can I substitute fresh herbs for Italian seasoning?
Yes, you can substitute fresh herbs for Italian seasoning. It's best to use a mix of fresh basil, fresh thyme and fresh oregano. That combination will make a good substitute.
Can I use oregano instead of Italian seasoning?
You can use dried oregano (or fresh!) as an Italian seasoning substitute, but you won't get the exact flavor of Italian seasoning. Instead, it will be a simplified flavor. Combine oregano with basil or thyme, and it will improve the flavor profile.
Is Italian seasoning the same as Italian herbs?
No, Italian seasoning and Italian herbs are not the same thing. Italian seasoning is a blend of dried herbs as well as red pepper flakes, while Italian herbs are a broader category that can include both fresh and dried herbs that are commonly used in Italian cuisine. Dried mixed Italian herbs can be bought dried in the supermarket and fresh Italian herbs such as basil, can be bought fresh or dried.
🇮🇹 Italian Recipes to try
🌟 Summary
So, next time you can't find Italian seasoning in your kitchen, don't panic! Use any of these 4 Italian seasoning substitutes, homemade, dried, fresh, or an alternative herb mix to enjoy classic Italian flavors. We don't recommend Za'atar, Creole, Cajun and old bay seasoning.
If you try any of these, we'd love to hear about your experience in the comments!
Don't forget, we have lots more ingredients substitute articles, so if you need an alternative to fish sauce, potato starch, mustard seeds or sweet chili (and lots more) - we've got you covered!
Did you make this recipe? Leave a review and a rating below, or tag us in your photos on Instagram! Alternatively, bookmark it in your browser or save to Pinterest for later.

If you love our content, please consider supporting it by buying us a coffee.
📖 Recipe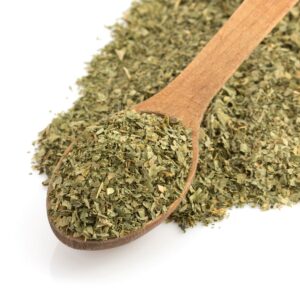 Italian Seasoning Substitute
This Italian Herb Seasoning is so easy to make when you haven't got any pre-made in the cupboard. This homemade Italian seasoning recipe will do just the trick, plus it's made using basic herbs.
Save
Saved!
Print
Pin
Rate
Ingredients
1.5

tablespoon

dried oregano

or marjoram

1

tablespoon

dried basil

1

tablespoon

dried parsley

0.5

tablespoon

dried rosemary

0.5

tablespoon

dried thyme

0.5

tablespoon

dried sage

0.5

tablespoon

red chilli flakes

1

teaspoon

garlic powder
Instructions
Optionally blitz up any of the larger herbs, for example the rosemary, if you want a more uniform and fine blend of Italian seasoning.

Pop all of the herbs in a bowl, then stir everything together until well mixed.

1.5 tablespoon dried oregano,

1 tablespoon dried basil,

1 tablespoon dried parsley,

0.5 tablespoon dried rosemary,

0.5 tablespoon dried thyme,

0.5 tablespoon dried sage,

0.5 tablespoon red chilli flakes,

1 teaspoon garlic powder

Store in an airtight spice jar or container for up to 6 months.
Notes
Keeps for 6 months in an airtight container.
Remove red chili flakes and garlic powder for a mixed Italian herbs blend rather than a seasoning.
Nutrition
Calories:
11
kcal
|
Carbohydrates:
2
g
|
Protein:
1
g
|
Fat:
0.3
g
|
Saturated Fat:
0.1
g
|
Polyunsaturated Fat:
0.1
g
|
Monounsaturated Fat:
0.1
g
|
Sodium:
14
mg
|
Potassium:
67
mg
|
Fiber:
1
g
|
Sugar:
0.2
g
|
Vitamin A:
258
IU
|
Vitamin C:
1
mg
|
Calcium:
52
mg
|
Iron:
2
mg