This Vegan Spaghetti Bolognese (or 'vegan spag bol' if you're in the UK) is a classic. It's packed with protein, herbs and has that great umami-rich flavour that all spaghetti bolognese lovers crave! It needs a long simmer time, but that's how the plant-based bolognese becomes a rich, thick and comforting ragu. It's based on a recipe we've been making in various iterations for years and years. Hope you love it as much as we do!
Jump to:
Long time readers will notice this recipe has had a bit of a makeover. Rest assured that it's only the photos that have changed, and we've tweaked and improved the method too.
🌟 Why this recipe works
Simmer time – we often make quick recipes that don't need simmering for too long, but this recipe really needs it. That 60 minute simmer time means the ragu will turn into a rich and thick sauce. Use the time to catch up on a chapter of a book, your latest Netflix binge or do the washing up! Without the simmering time, it will be watery, still delicious, but watery nonetheless. If you don't want to wait for the sauce to simmer, reduce the time but it will be a watery ragu, not a thick one, so we recommend simmering it for the full 60 minutes.
Herby and delicious – we use just a few herbs. Dried oregano, a bay leaf and some fresh basil. You can opt to remove the fresh basil, it's not traditionally used. However, it looks good and tastes good so we've kept it in this recipe!
Rich & thick ragu – this vegan spaghetti bolognese relies on the simmering time to create the rich, thick ragu that is totally irresistible.
Protein-packed – featuring vegan mince and mushrooms, this meal is packed with protein – 21g per portion! Making it a great option for a post-workout meal, just like these Vegan Sloppy Joes.
🍽 Equipment Recommendations
As usual, you don't need any fancy equipment to make this recipe. You'll do best by using a large stockpot or large sauté pan (like in our process pictures below). You'll also need a sharp knife and stirring utensils. We always recommend a garlic press too as it's so much quicker than chopping garlic by hand!
📋 Ingredient Notes
Spaghetti – let's start with an obvious one, it is a vegan spaghetti bolognese, after all. However, if you don't have spaghetti but you do have another type of pasta like fusilli, farfalle or linguine, then just use that instead, in the same quantity. We've done this more times than we can count!
Fresh basil – it's not traditional to use fresh basil in spaghetti bolognese, so if you don't want to use it, you can omit it. However, we think it adds a delicious flavour that we wouldn't want to omit.
Dried oregano – feel free to use fresh oregano if you have it.
Vegan beef stock – this is totally optional but really adds a great depth of umami flavour, that is hard to get otherwise.
Mushrooms – another ingredient that isn't necessarily traditional, but we love adding mushrooms to vegan spaghetti bolognese. It adds a little extra protein and a different texture in comparison to the vegan mince.
🔪 Step-by-step instructions
These instructions are intended as an overview to go with the visual representation of making the meal. For in-depth instructions, the full ingredients list, nutritional information and notes, head to the recipe card at the bottom of the page.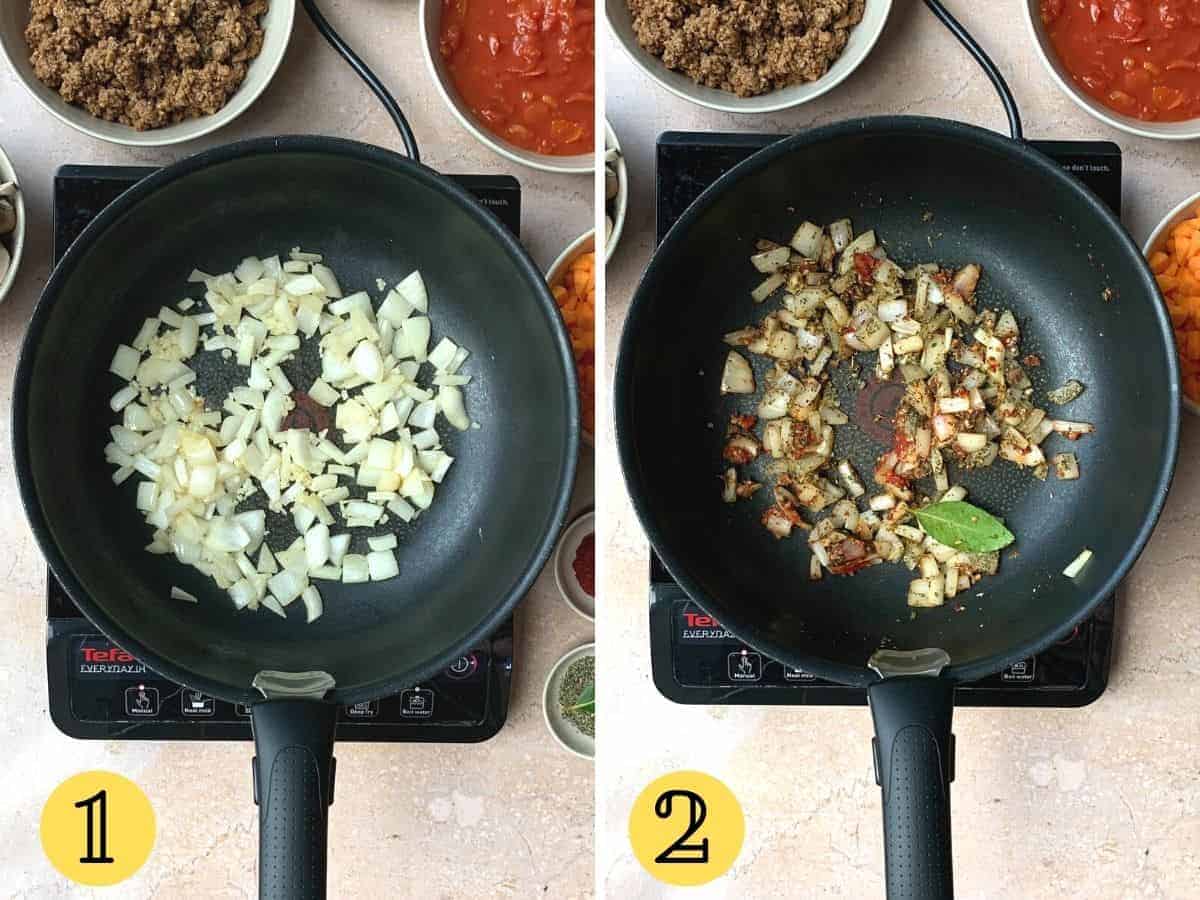 1. In a large saucepan, add a splash of olive oil (or oil spray) and bring up to a medium-high heat. Add the onion and cook for a couple of minutes until softened.
2. Now add the garlic, tomato purée and dried herbs, and cook for another couple of minutes.
3. Chuck in the carrots and mushrooms, cook for 5 minutes, stirring frequently.
4. Next, pour in the chopped tomatoes, stir through, bring to a boil and then immediately reduce to a simmer. Cook for 5 minutes.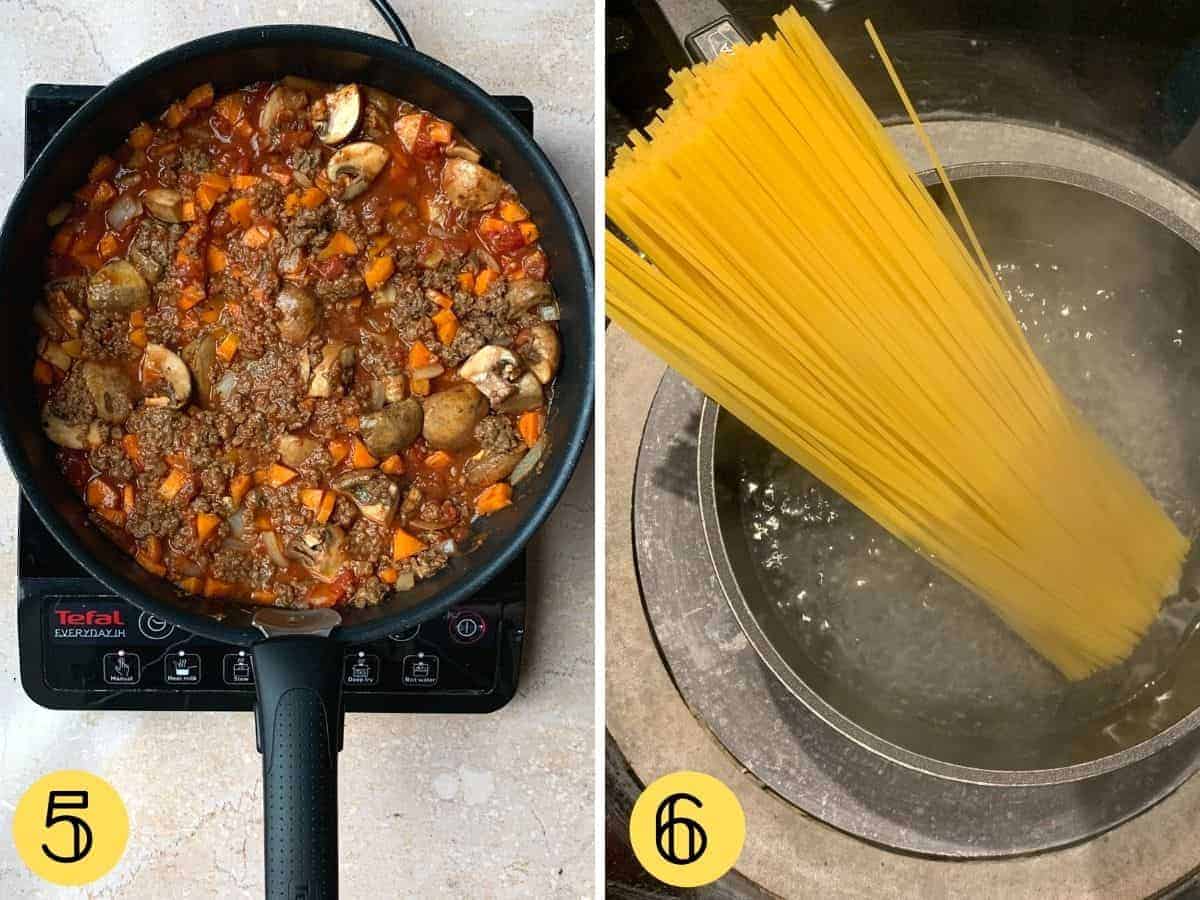 5. Stir the vegan mince in and simmer for 1 hour, stirring occasionally.
6. Once the vegan bolognese has been simmering for 45 minutes, put the pasta on to cook. It should take around 10 minutes.
7. Season the bolognese to taste with salt and black pepper.
8. Just before serving, stir the fresh basil into the bolognese.
👩‍🍳 Expert tips
Simmer time – it's really important to simmer the vegan spag bol for the full 60 minutes. That's to ensure it turns into a thick and rich sauce. If you don't simmer it for the full amount of time, it will be watery.
Vegan mince or TVP – instead of vegan mince, you can use TVP (textured vegetable protein). Use two cups in place of the vegan mince.
Stock cube – you can use a vegan beef stock cube (like Oxo) or Massel stock power.
Vegetables – we like to add carrots and mushrooms to spaghetti bolognese to make it a little healthier. We know that not everyone will like it that way. Feel free to omit the carrots and mushrooms if you like! Optionally, you can switch the mushrooms for celery. In the VP household we're not fans of celery so you're unlikely to find it in our recipes! But it is a classic ingredient that is often used in this dish.
Serving – you can either serve it mixed up (mix both the ragu and spaghetti in the pan then serve), or serve the bolognese on top of the pasta. We go for the latter, which we feel is more 'British' and less traditional, but you do you.
Freezing – you can freeze vegan spaghetti bolognese for up to 3 months. Defrost thoroughly and reheat until piping hot before serving.
Leftovers? If you don't eat it all in one sitting, keep it for the next day and have it on toast, a jacket potato or even on potato waffles.
💭 FAQs
Is spaghetti bolognese healthy?
As always, we'll put the disclaimer out there that we're not nutritionists. However, to us, this seems like a semi-healthy recipe. Of course, vegan mince is a processed food, which isn't the healthiest food ever, but aside from that this recipe is low oil and contains some pretty healthy ingredients.
Can this vegan spaghetti bolognese be made ahead of time?
Yes, it can definitely be made ahead. It keeps well for 3 days in the fridge. If you're making it for a dinner party you can make the ragu in advance, keep it in the fridge until needed, but cook the spaghetti just before serving, so it doesn't dry out.
Can it be frozen?
Yes! Vegan spaghetti bolognese freezes well. Portion it out and freeze, labelled with the date and what it is. Perfect for when you want a satisfying meal but don't want to cook!
🍝 What to serve with it:
Similar recipes to try
Did you make this recipe? Leave a review and a rating below, or tag us in your photos on Instagram! Alternatively, bookmark it in your browser or save to Pinterest for later.

If you love our content, please consider supporting it by buying us a coffee.
📖 Recipe
Vegan Spaghetti Bolognese
Vegan Spaghetti Bolognese is easy to make, packed with protein and is a total crowd pleaser!
Save
Saved!
Print
Pin
Rate
Ingredients
1

onion

– roughly chopped

4

cloves

garlic

– finely chopped

2

tablespoon

tomato purée

1

tablespoon

oregano (dried)

1

bay leaf

200

g

carrots

– diced

250

g

chestnut mushrooms

– quartered

450

g

vegan mince

800

g

chopped tomatoes

(2 tins)

1

vegan beef stock cube

– optional

450

g

spaghetti

25

g

fresh basil

– chopped
Instructions
In a large saucepan, add a splash of olive oil (optional) and bring up to a medium-high heat.

Pop the chopped onion in and cook for a couple of minutes until soft.

Next, add the garlic, oregano, bay leaf and tomato purée. Cook for two minutes more

4 cloves garlic,

1 tablespoon oregano (dried),

1 bay leaf,

2 tablespoon tomato purée

Chuck in the mushrooms and carrots, stir and cook for 5 minutes.

250 g chestnut mushrooms,

200 g carrots

Pour in the chopped tomatoes, stir well. Bring to a boil and then immediately down to a simmer. Crumble in the vegan beef or veg stock cube (if using). Cook for around 5 minutes.

800 g chopped tomatoes,

1 vegan beef stock cube

Now add in the vegan mince, stir well and simmer for 1 hour. No need for it to be covered, but stir it occasionally.

Around 10 minutes before the simmer time is up, put the pasta on to cook. It should take around 10 minutes to cook.

Season with salt and pepper, to taste.

Stir the fresh basil leaves into the bolognese just before serving on a bed of spaghetti.
Notes
It's important to simmer for the full amount of time, otherwise the bolognese will be watery.

You can use two cups of TVP (textured vegetable protein) instead of the vegan mince.

You can switch the mushrooms for celery if you'd prefer.

It keeps in the fridge for 3 days, and freezes for up to 3 months. Make sure to defrost and reheat thoroughly before consuming.

Serving – it's traditional to mix up the bolognese with the spaghetti. We've gone for the 'British' way of serving it – on top of the spaghetti. It's up to you how you'd prefer to serve it!
Nutrition
Calories:
465
kcal
|
Carbohydrates:
71
g
|
Protein:
25
g
|
Fat:
9
g
|
Saturated Fat:
1
g
|
Polyunsaturated Fat:
1
g
|
Monounsaturated Fat:
1
g
|
Sodium:
569
mg
|
Potassium:
782
mg
|
Fiber:
9
g
|
Sugar:
9
g
|
Vitamin A:
5973
IU
|
Vitamin C:
18
mg
|
Calcium:
92
mg
|
Iron:
5
mg