This is our take on a classic mac and cheese, comforting and complete with delicious salty 'bacon' bits. We've created our vegan baked mac and cheese using only 8 ingredients, and it's completely nut free!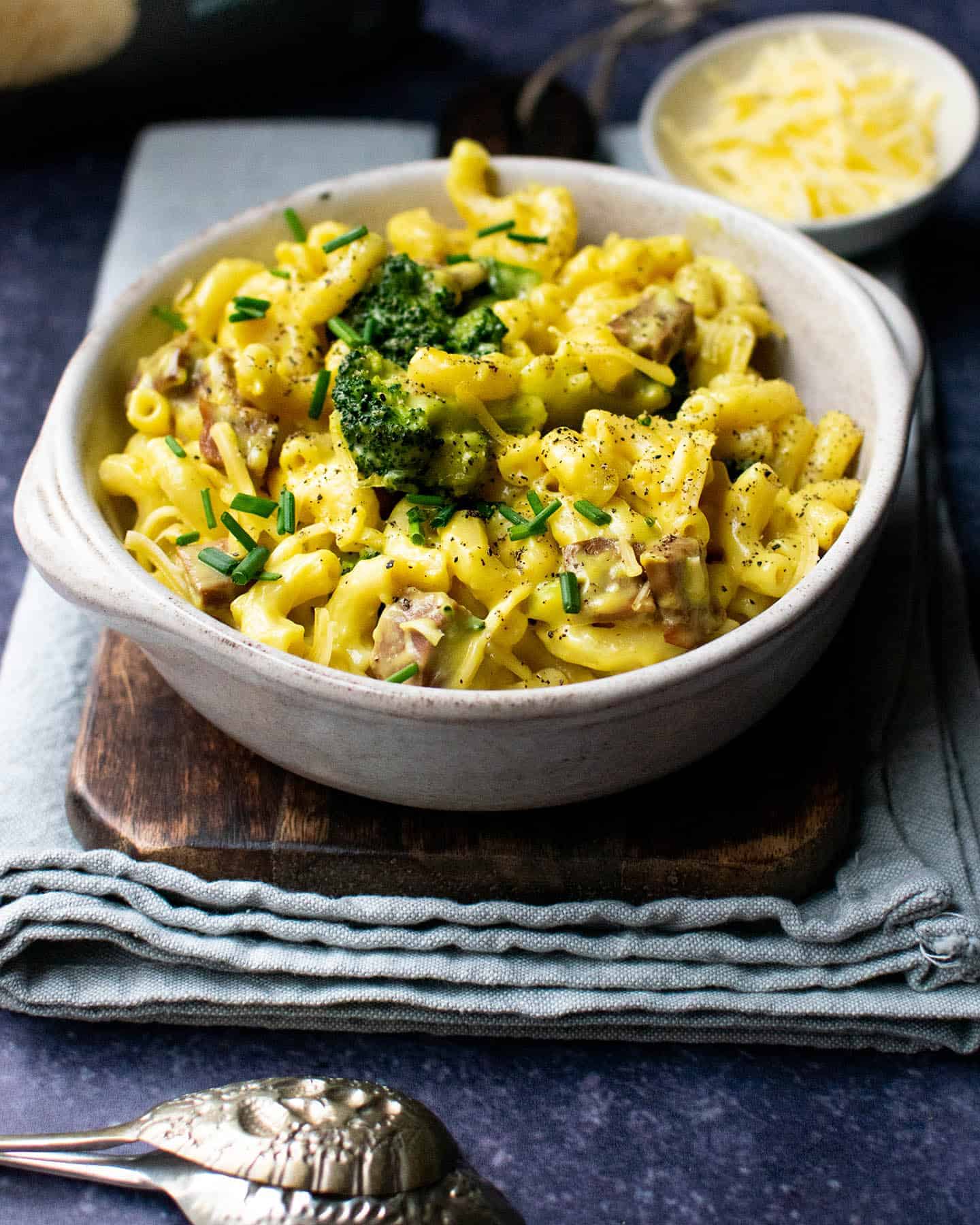 When we're making a dish like this we often use cashews for creaminess, but this time we've gone nut free to suit all dietary requirements. It can also be a gluten free vegan mac and cheese by replacing the flour and macaroni with gluten free versions. And making sure the plant milk is gluten free too.
Jump to:
🧀 How to make vegan mac and cheese
It's actually a lot simpler than you might think to make our delicious nut free vegan mac and cheese.
Start with a simple vegan roux (a mixture of vegan butter, plant based milk and plain flour). Add in some vegan cheese, nooch and turmeric. Then cook some pasta and mix it through the sauce, top with vegan cheese and bake for 15 minutes. And that's it!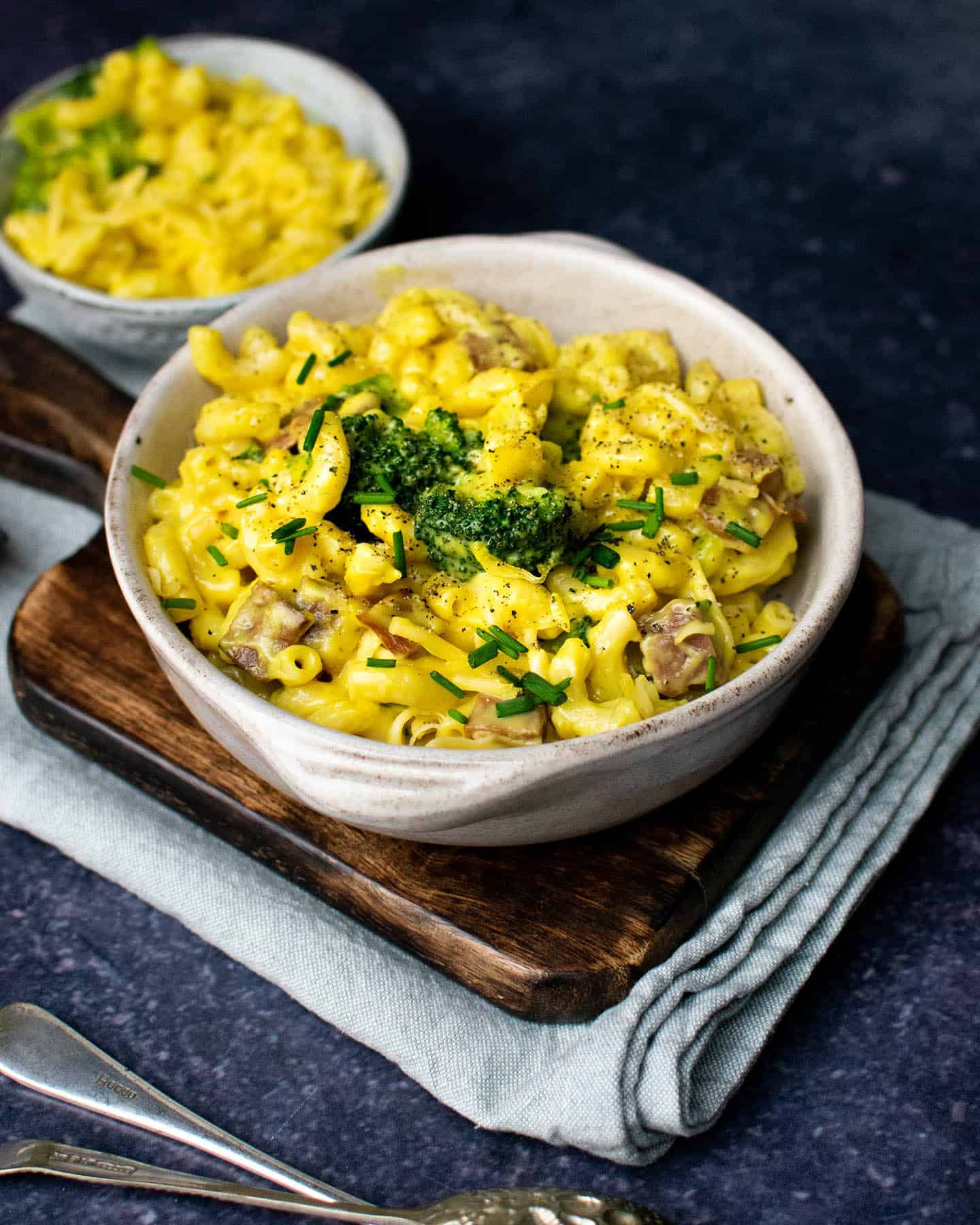 Pro tip
We've found that the best way to get the vegan cheese to melt is to cover the dish whilst baking in the oven. That's how to get your vegan baked mac and cheese to have a really delicious melty cheezy topping.
We aren't exactly sure why, but this makes vegan cheese melt much more effectively than if you leave the foil off. It may be because the heat doesn't escape from the dish!
📋 Ingredients
You only need 9 ingredients to make this vegan baked mac and cheese, and you can find them all in your local supermarket!
You will need:
Vegan butter. Any type of vegan butter is fine, we usually use Vitalite.
Plain flour.
Nutritional yeast. This is what gives the dish an extra cheesy, slightly nutty, rich flavour. You can usually find it in the 'free from' section.
Oat milk. Make sure that you get unsweetened oat milk. We recommend using Oatly Barista for cooking (and also for coffee!)
Grated vegan cheese. Cheddar style vegan cheese works the best.
Turmeric.
Vegan bacon rashers. You can use your favourite brand, personally we really like This!
Macaroni. Naturally!
Broccoli. To make it a little healthier.
Breadcrumbs. This is optional but it adds a nice crunch to the top of the vegan baked mac and cheese. To make breadcrumbs you can just grate up a piece of bread, it's a great way to use the dry bits at the end of a loaf.
For detailed measurements and instructions, head to the recipe card at the bottom of the page.
🔪 Instructions
The key to making vegan baked mac and cheese is starting with a great roux for the white sauce. This is the base of the recipe.
First take your pasta and cook it according to the packet instructions. This is usually simmering for 10 minutes. After 5 minutes, add in the florets of broccoli and boil for another 5 minutes. Drain, and set aside.
Put your oven on to preheat to gas mark 5/190°C.
Chop the vegan bacon up into lardon sized pieces.
Make your roux. To do this take the vegan butter and melt it over a medium heat in a medium sized pan. Gradually add in your flour, and mix until it combines. Don't worry too much if the mixture is lumpy, as it will smooth out during the next step.
Pour in your milk a little bit at a time. Keep whisking until the butter and flour mixture and the oat milk combine. The mixture will smooth out as you keep stirring it.
Add nutritional yeast and turmeric, and then add in the cheese gradually until it has all melted. Be sure to keep stirring the sauce so that it doesn't stick to the bottom of the pan too.
Season with salt and pepper. Taste to make sure you're happy with the seasoning.
Stir in the pasta, broccoli and vegan bacon into the sauce.
Add the whole lot to a large, deep baking dish. Top with vegan cheese and breadcrumbs (if you're using them).
Cover the dish with foil.
Bake for 15 minutes.
And there you have it, a simple vegan mac and cheese!
For detailed measurements and instructions, keep reading to the recipe card at the end of this article.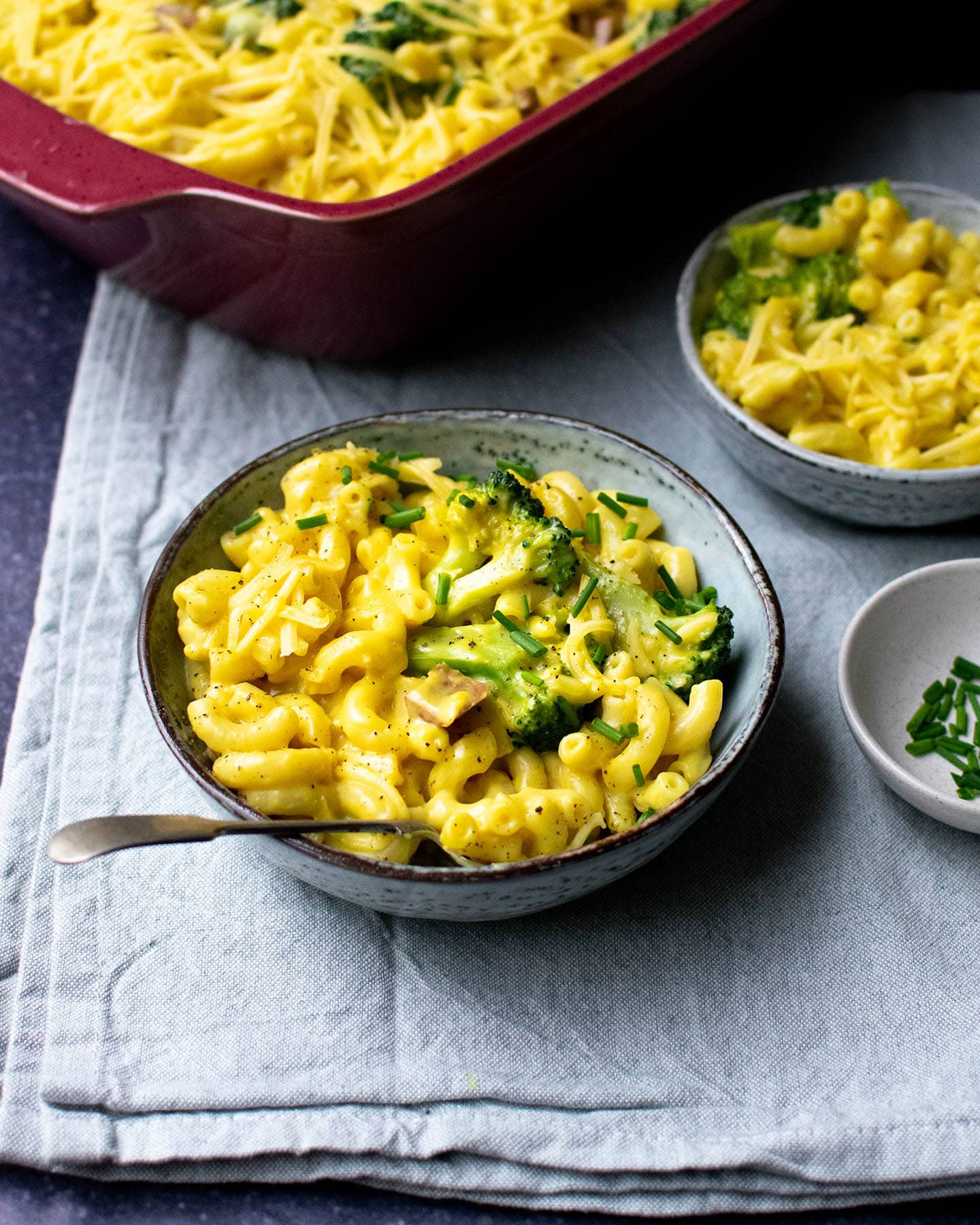 🥕 What to serve it with
Our vegan baked mac and cheese is filling and substantial so it's definitely a meal by itself! However, if you really want to treat yourself you could serve it up with a side of our vegan garlic bread which is made with ciabatta and is really something special.
Other pasta dishes you might like:
We love pasta! It's so versatile and filling, it's perfect for those nights where you've had a long day and you just want something delicious and comforting. Some of our favourite pasta dishes include:
As you might expect from us, this vegan creamy mushroom pasta has lots of garlic in it, and it's absolutely lovely! The meaty-ness of the mushrooms compared with the creaminess of the sauce makes it a really satisfying dinner.
We couldn't really list pasta dishes without talking about a classic spag bol now could we? We make our vegan spaghetti bolognese using vegan mince so that it's really close to eating the meaty original. To get the most out of the awesome flavours, we add a splash of vegan Worcestershire sauce too.
This one sounds odd, but trust us, everyone we've made it for has absolutely loved it! Definitely not one for when you're on a health kick, this vegan cheeseburger pasta bake is another one that makes great use of vegan mince. Trust us, you'll love it.
Another one that sounds a little strange, but we promise you it's an absolute winner! We are curry fiends (as you may already know), so it's probably not surprising that we came up with a vegan curry pasta recipe. Isn't it great not having to choose between two favourites?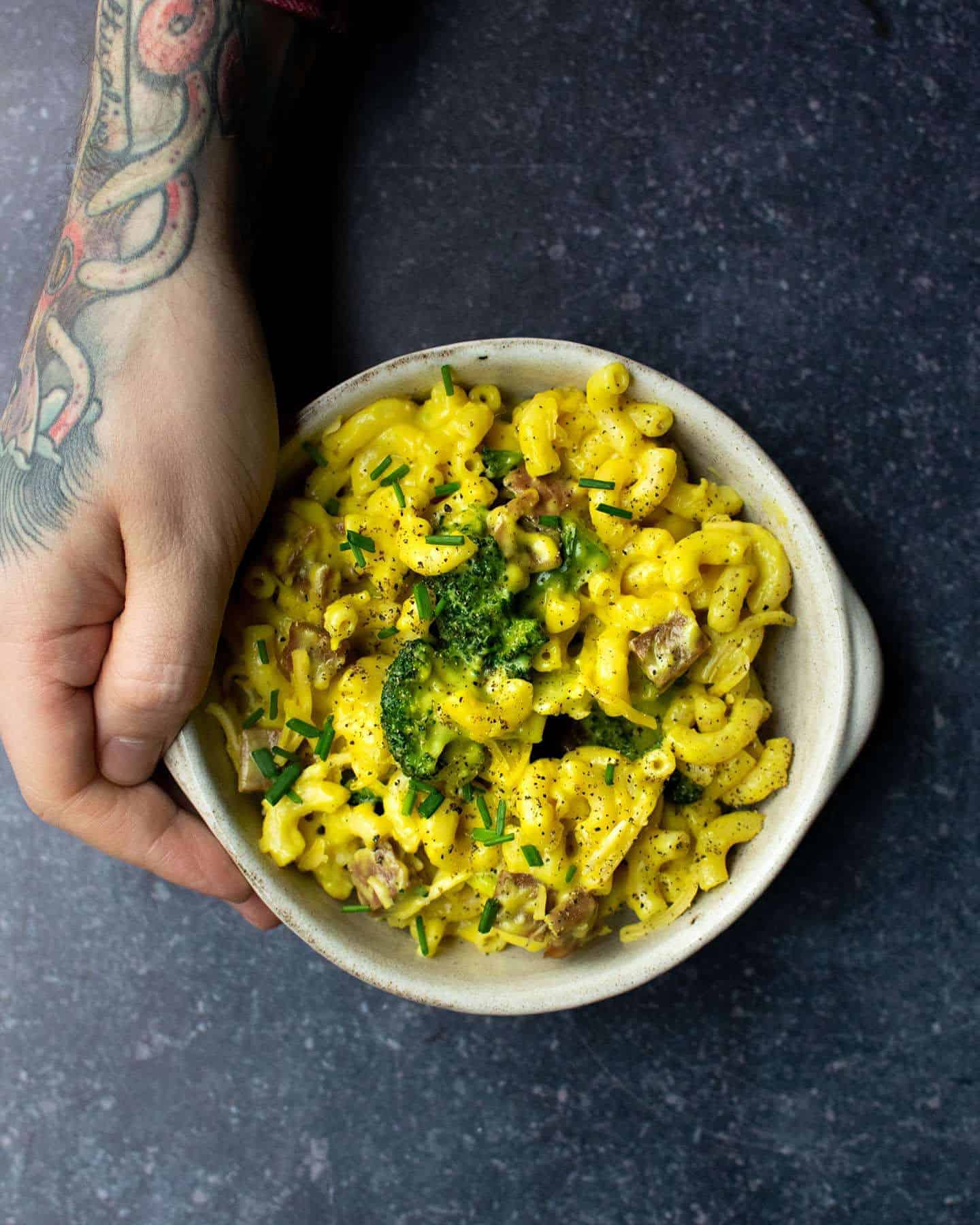 💭 FAQs
Can this be made gluten free?
Most definitely! Just switch out the macaroni and the flour for gluten free alternatives.
Can I use any other plant based milk?
Yes you can, just be sure to choose one without a strong flavour and that is unsweetened. We recommend oat, soy or coconut milk for this vegan baked mac and cheese.

We wouldn't suggest using a nut milk like almond or cashew as they usually have a distinctive flavour, which will affect the taste of your meal. Sweetened milks also won't work well if you're making a savoury dish, the sauce would end up very sweet.

We use the Barista version of Oatly as it has a higher fat content (than other types), which means that it creates the richest and creamiest sauce.
Can I make this ahead of time?
Pasta freezes well. It's just important to defrost it by leaving it out overnight or in the microwave. And then be gentle when stirring it while heating, to make sure it doesn't break up!
Did you make this recipe? Leave a review and a rating below, or tag us in your photos on Instagram! Alternatively, bookmark it in your browser or save to Pinterest for later.

If you love our content, please consider supporting it by buying us a coffee.
📖 Recipe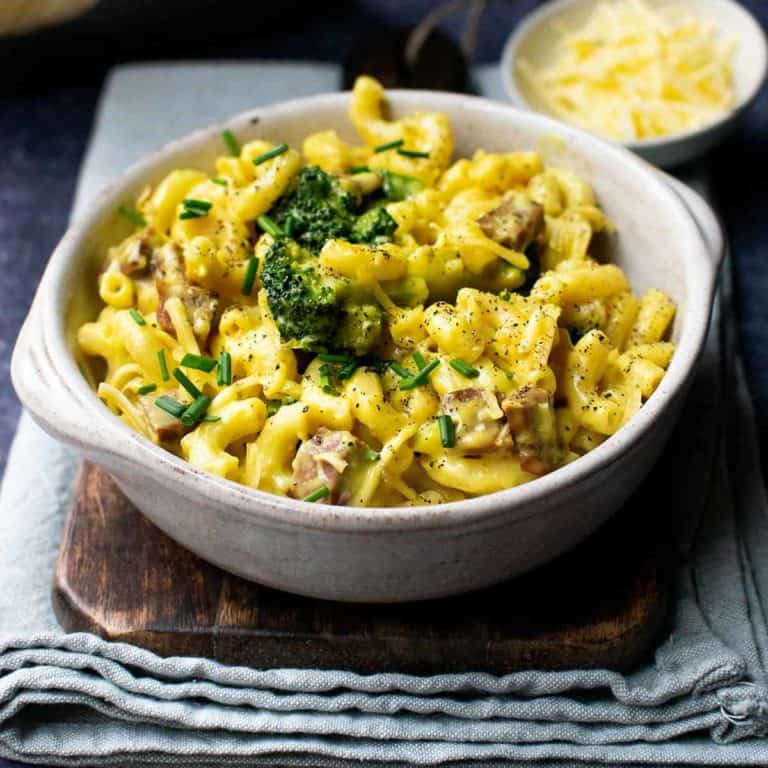 Vegan Macaroni Cheese
Vegan baked mac and cheese is pure comfort food. Plus it needs just 9 ingredients! We tried and tested this recipe until it was the creamiest, most indulgent version possible.
Save
Saved!
Print
Pin
Rate
Ingredients
2

tablespoon

vegan butter

2

tablespoon

plain flour

750

ml

oat milk

unsweetened, we love Oatly Barista

2

tablespoon

nutritional yeast

Pinch

turmeric

100

g

vegan cheese

cheddar style, grated + an extra couple of handfuls for the topping

60

g

vegan bacon rashers

we used This – chopped into small chunks

400

g

macaroni

150

g

broccoli

4

tablespoon

breadcrumbs

optional
Instructions
Cook the pasta according to the packet instructions (usually 10 mins), after 5 minutes, add in the broccoli and boil for another 5 minutes. Drain and set aside.

400 g macaroni,

150 g broccoli

Begin by making a roux - melt the butter in a medium pan over a medium heat. Once melted, add the flour and whisk until it combines. Don't worry if it clumps up, this is normal.

2 tablespoon vegan butter,

2 tablespoon plain flour

Pour in the milk a little. bit at a time, continually whisking until all the oat milk is added. It will gradually smooth out, just keep on whisking until it becomes silky smooth.

Pop in the nutritional yeast and turmeric and mix well.

2 tablespoon nutritional yeast,

Pinch turmeric

Now, add in the cheese, a little bit at a time and stir until it has all melted.

Season well with salt and pepper.

Stir through the pasta and vegan bacon, mix well so everything gets nicely coated.

Add the mix to a large deep baking dish, top with vegan cheese and breadcrumbs (if using), and cover with foil. Covering with foil helps the vegan cheese on top to melt.

100 g vegan cheese,

4 tablespoon breadcrumbs

Bake for 15 mins on gas mark 5, serve and enjoy!
Nutrition
Calories:
449
kcal
|
Carbohydrates:
76
g
|
Protein:
14
g
|
Fat:
9
g
|
Saturated Fat:
2
g
|
Polyunsaturated Fat:
1
g
|
Monounsaturated Fat:
1
g
|
Trans Fat:
1
g
|
Sodium:
318
mg
|
Potassium:
357
mg
|
Fiber:
5
g
|
Sugar:
13
g
|
Vitamin A:
594
IU
|
Vitamin C:
22
mg
|
Calcium:
232
mg
|
Iron:
3
mg