I've always been a sucker for a creamy pasta dish. Our vegan mushroom pasta pairs a creamy garlic sauce with meaty mushrooms for a quick midweek meal.
Creamy pasta dishes have always been one of my favourite meals, ever since I was a kid. It's a quick midweek meal that you can make healthier by bulking it out with veg. Or, you know, just carb it up with some garlic bread and veg in front of the TV!
Making your own cream is cool. But I was so stoked when I first found plant-based cream in our local health food shop!
Jump to:
Why we love it
Obviously we love our vegan mushroom pasta – but why do we think you'll love it? Here's the sales pitch:
It's quick – it only takes 25 minutes to prepare and cook. It's one of those meals we love throwing together after a busy day. Low effort, maximum reward.
It's luxurious – for me, there's something about creamy dishes that feel really luxurious and comforting. I guess they're not always the healthiest dishes, so there's something naughty about them too. But if you pile in the vegetables, it'd be difficult to say it's not a healthy dish too!
It's simple – it only has 8 ingredients and takes one pot. That means less washing up and less cooking time too.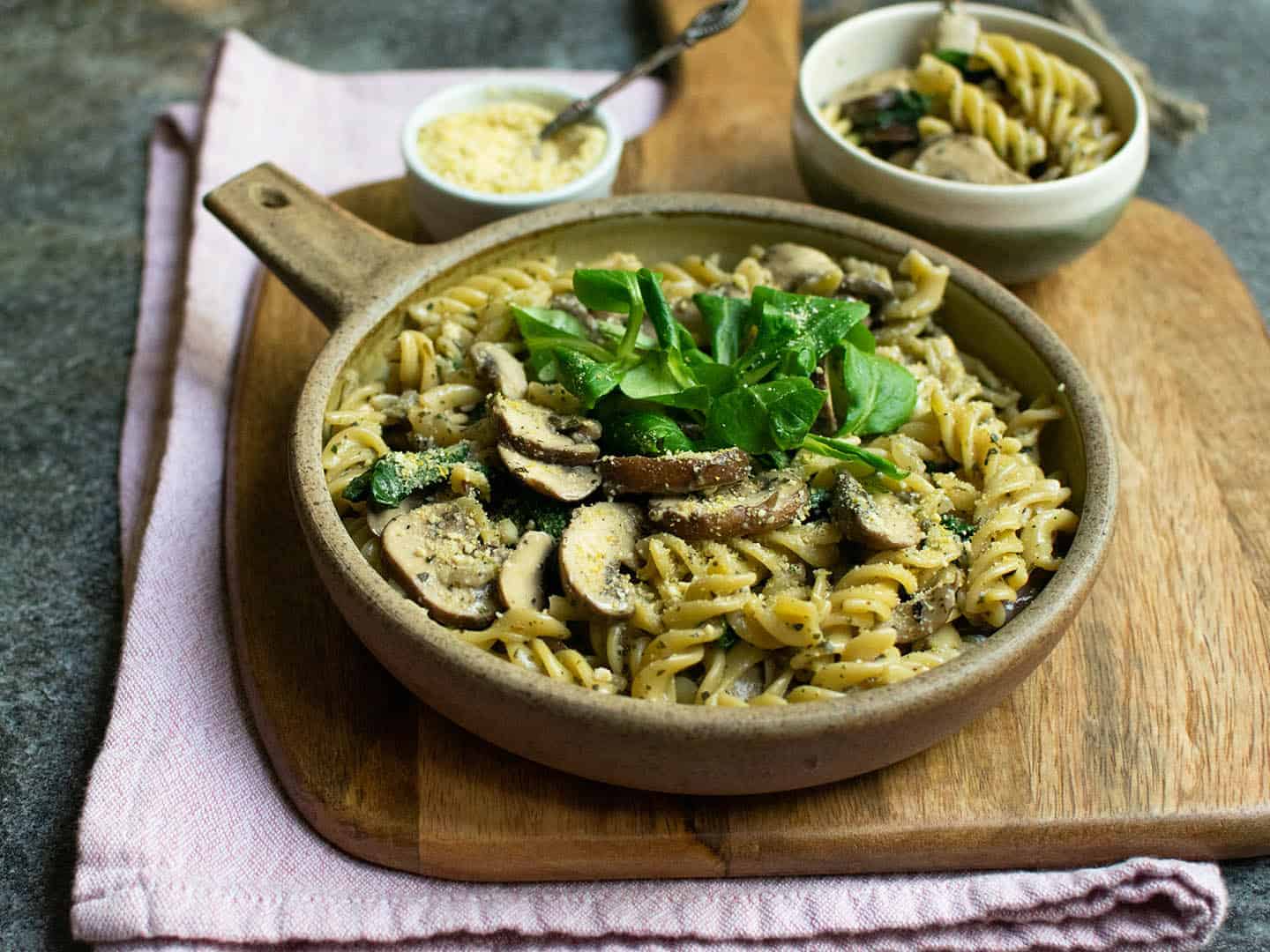 👨‍🍳 Expert Tips
Vegan Cream Alternatives
There's never been a better time to be vegan. It feels like every time I walk into a supermarket there's a new range of products out. Especially around this time of year with Veganuary in full swing.
Straight off the top of my head I can think of 3 big brands that are offering up vegan cream alternatives. That's great news for when you want to make a vegan creamy sauce. There's always at least one in each supermarket too, if not multiple. I'm sure there's plenty more brands out there too – just google it and you'll find there's loads.
That means there's never been a better time to make our vegan mushroom pasta and the creamy garlic sauce that goes with it! But, which cream do we go for?
It's a tough call! The three which seem to be most widely available, here in the UK, are:
We've cooked with all of them and there's honestly not much in it when it comes to making a vegan creamy sauce. Combined with the other flavours of the dish, you end up with the same result.
More often than not, we go for Oatly though.
Did you know it's also pretty easy to knock together your own more whole foods style vegan cream alternative? We often make cashew cream for dishes that require a non-dairy cream. It's pretty simple – 1 part cashews to 2 parts water, leave them to soak overnight. The next day, chuck it in a blender and blitz until smooth.
Cashew cream sometimes has a slightly bitty texture, especially if you don't soak them for long enough (or at all). The great thing is that you can make it with less water for a thicker cream. Or add more until you get the consistency you want. You can also sieve it if you find there's more 'bits' in it than you were hoping for.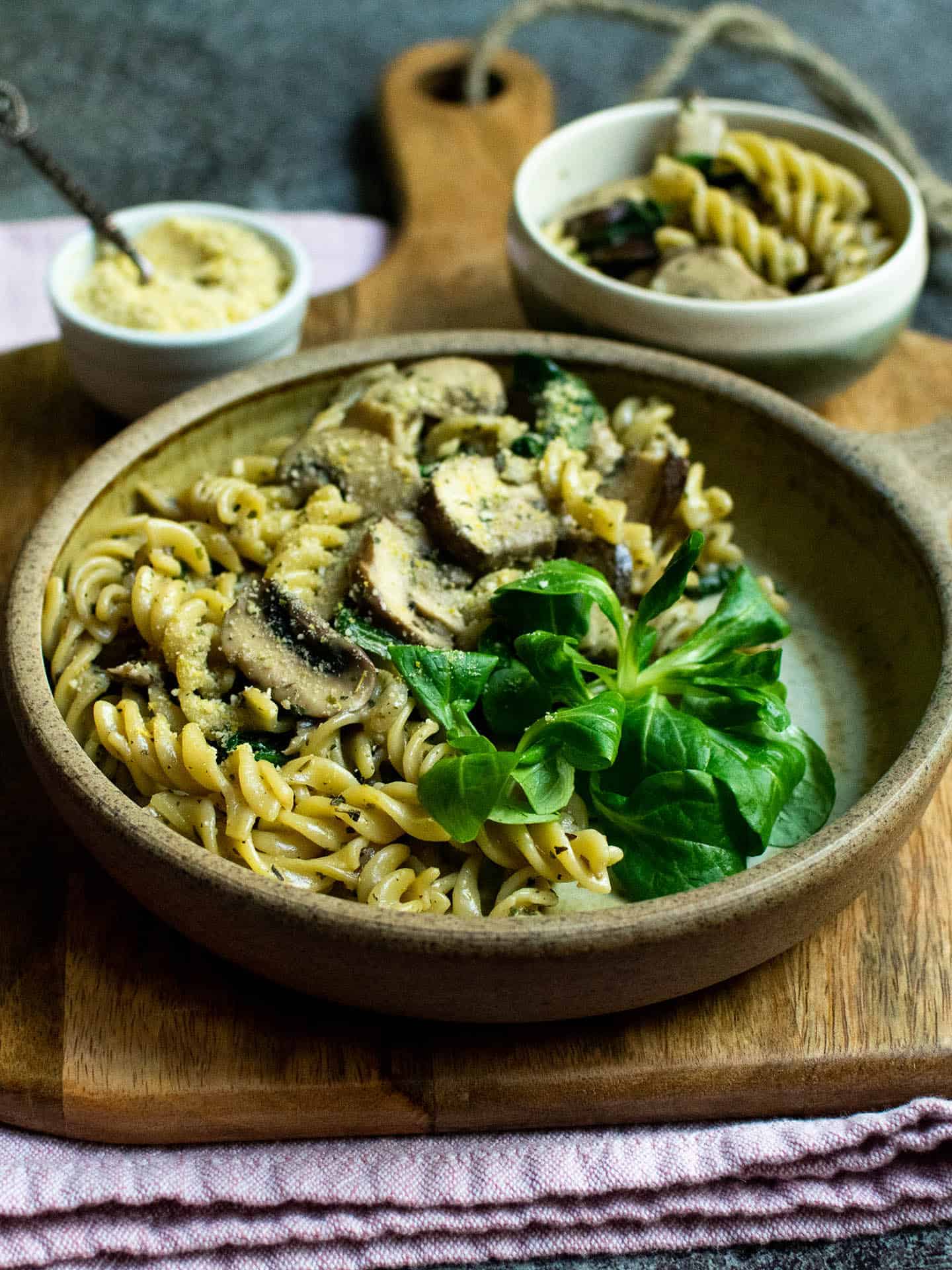 📋 Ingredients
I've already mentioned that it only takes 8 ingredients. Here they are:
400g pasta
1 onion
4 cloves of garlic
500g mushrooms
2 tablespoon mixed Italian herbs
1 tablespoon oregano
350ml vegan cream substitute – the key to your vegan creamy sauce!
100g spinach
Of course, we'd never discourage adding more veg! We kept this recipe simple, but we do sometimes chuck in a healthy portion of broccoli when we whip up our vegan mushroom pasta.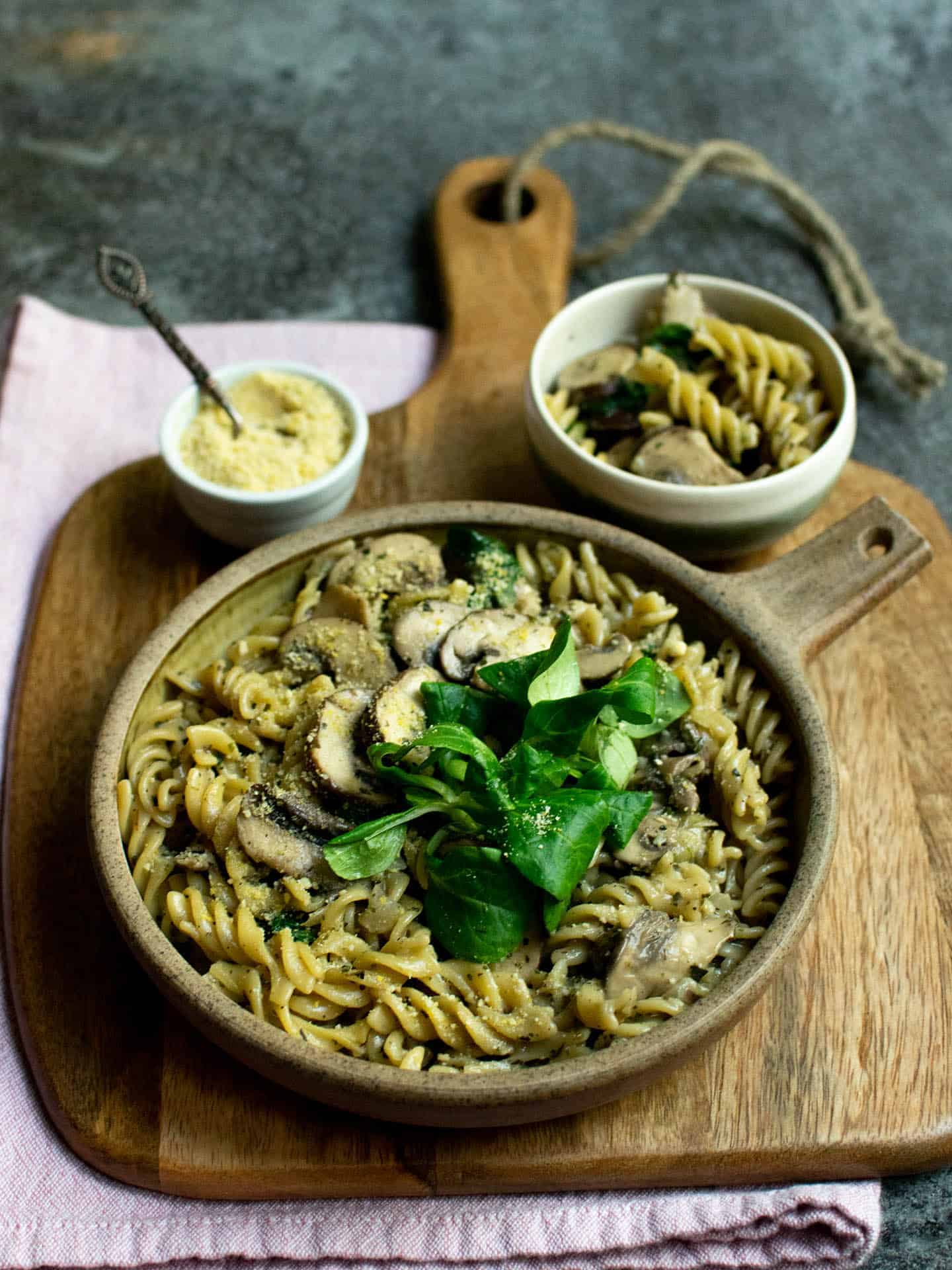 🔪 Step-by-step Instructions
It's easy. You can get things going quicker with two pots/pans if you really want, but this is what we do.
Cook the pasta according to the packet instructions – usually boiling for 10 minutes. Drain it and set aside.
Chuck the pan back on the hob with a splash of oil. Get it hot and fry the onion until soft.
Add the garlic and keep it moving for 30 seconds.
Get the mushrooms in and cook them down. 5 minutes should do it – they should soften up and release some water.
Add the herbs and stir them through.
Stir through the cream. Add a good helping of salt & pepper too. Simmer for another 5 minutes.
Add the spinach and wilt it down. It should take barely any time at all – you don't need to cook it for long.
Pour the cooked pasta back into the pan and stir. Give it a couple of minutes stirring regularly, to make sure it's piping hot.
Get stuck in – we love a bit of vegan parmesan cheese on top.
💭 FAQs
What cream should I use for the vegan creamy sauce?
Anything you like and can get your hands on! In the UK we've used Oatly, Elmlea (single and double) and Alpro. We know every country has their own offerings though and we've not found one that doesn't work.
Can I make my own cream?
Definitely. The easiest vegan cream to whip up at home is cashew cream. 1 part cashews, 2 parts water, soak overnight. Blend it the next day, water it down if you want it runnier – done.
What vegetables can I add?
We're always super flexible with what veg we use in stuff. We've added peas, broccoli and courgettes to this one in the past. But really, whatever you fancy should work.
Does it freeze?
It does, but we're not big fans of mushrooms after freezing. They get that leathery texture. If you do want to freeze it though, just defrost it overnight in the fridge and heat it thoroughly the next day.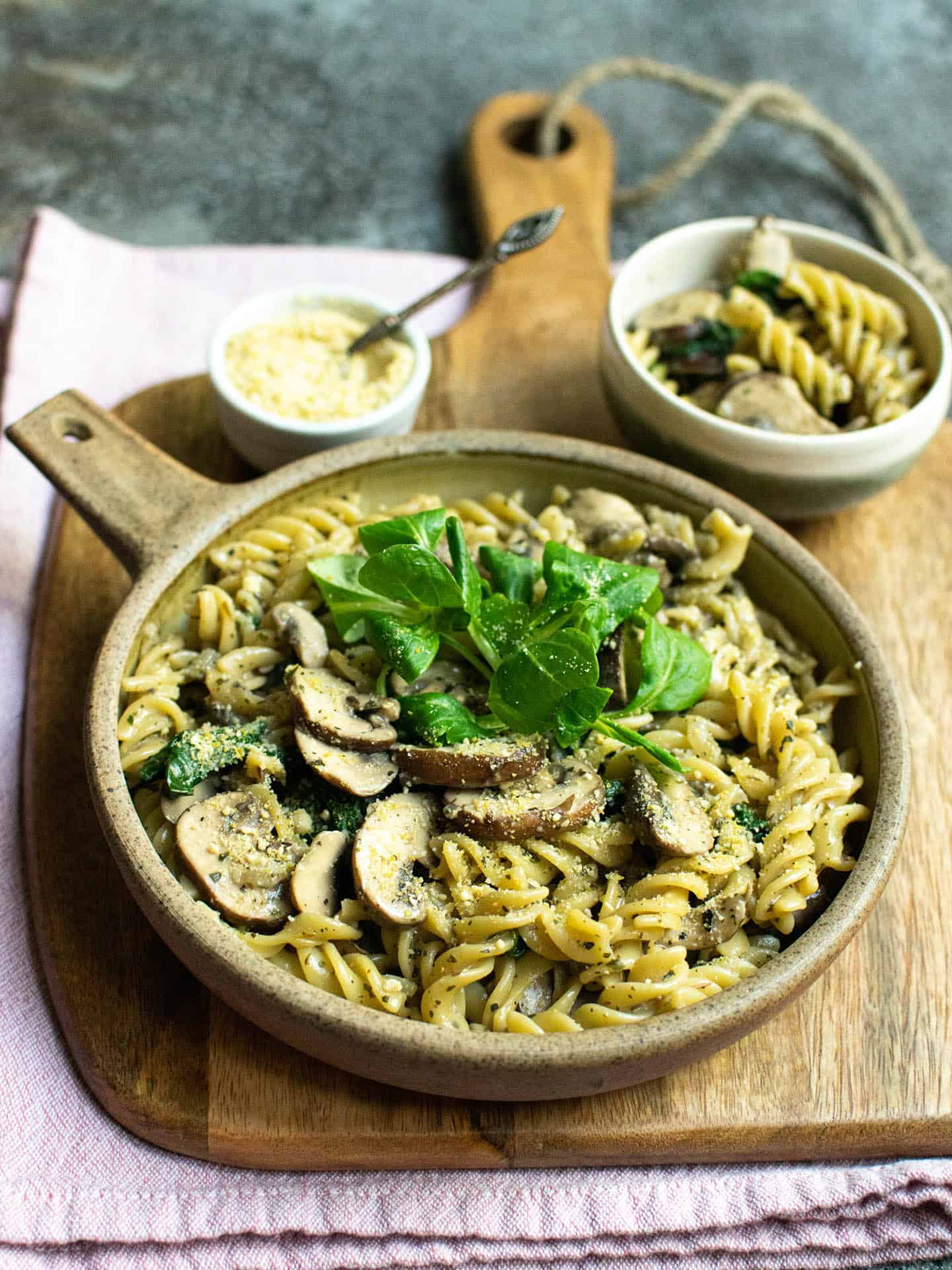 Love a pasta dish? Try these too:
Luxuriously Creamy Cauliflower Alfredo.
Indian fusion Vegan Curry Pasta.
Classic Vegan Pesto Pasta with cashew parmesan.
Tomatoey Pasta Alla Vodka.
Creamy Vegan Carbonara
🍽 Equipment
You don't need loads of fancy equipment to cook good food. Some things do make life easier though!
Large stock pot or saucepan
Stirring all of that vegan mushroom pasta and creamy sauce is much easier in a big pan. We always make it in a big stock pot so there's plenty of room and we don't lose any (that would be devastating!).
Cup and spoon measurers
They just make measuring easier. Consistency is key in the kitchen which is why we use proper teaspoon and tablespoon measurers for the herbs in this dish.
Garlic press
This is just personal preference, but we both find using a garlic press more convenient. When dishes require finely chopped/crushed garlic, it gets the job done without your fingers getting too garlicky (and it's quicker).
📖 Recipe
Vegan Mushroom Pasta With A Creamy Garlic Sauce
This Vegan Mushroom Pasta pairs a creamy garlic sauce with meaty mushrooms for a quick midweek meal, that's also super delicious.
Save
Saved!
Print
Pin
Rate
Ingredients
400

g

pasta

1

onion

– finely chopped

4

cloves

garlic

– crushed or finely chopped

500

g

mushrooms

– sliced

2

tablespoon

mixed Italian herbs

1

tablespoon

oregano

350

ml

vegan cream

100

g

spinach
Instructions
Bring a large pan of of water to boil, add a good pinch of salt and cook the pasta. It usually takes around 10 minutes, but check your packet instructions. Once the pasta has cooked, drain it and set aside.

Put the pan back onto a medium heat and add a splash of oil.

Fry the onion until soft, then add the garlic and fry for another minute.

Add the mushrooms and cook for 5 minutes, stirring regularly. They should soften up and release some water.

Chuck the herbs in and give it a good stir.

2 tablespoon mixed Italian herbs,

1 tablespoon oregano

Stir through the cream and season well with salt and pepper. Simmer the mix for another 5 minutes, stirring regularly.

Add the spinach and allow to wilt.

Pour the cooked pasta back into the pan. Give it a stir for a couple of minutes, making sure everything is piping hot.
Nutrition
Calories:
557
kcal
|
Carbohydrates:
91
g
|
Protein:
19
g
|
Fat:
14
g
|
Saturated Fat:
1
g
|
Polyunsaturated Fat:
1
g
|
Monounsaturated Fat:
1
g
|
Sodium:
72
mg
|
Potassium:
859
mg
|
Fiber:
8
g
|
Sugar:
10
g
|
Vitamin A:
2409
IU
|
Vitamin C:
13
mg
|
Calcium:
121
mg
|
Iron:
4
mg