Mustard seeds, those tiny flavor powerhouses, have been a staple in kitchens around the world for centuries. Their unique tang and heat make them indispensable in various culinary creations, from marinades and dressings to pickles and curries like this homemade madras. However, inevitably, as it's not an everyday ingredient, you may not have any left in the spice rack! So, this is where you can find the best mustard seed substitutes and how to use them.
In this article, we'll delve into the world of mustard seed substitutes. We'll explore a variety of options to ensure that you don't have to compromise on taste. So, whether you're out of mustard seeds or simply looking to experiment, let's uncover the secrets of mustard seed substitutes.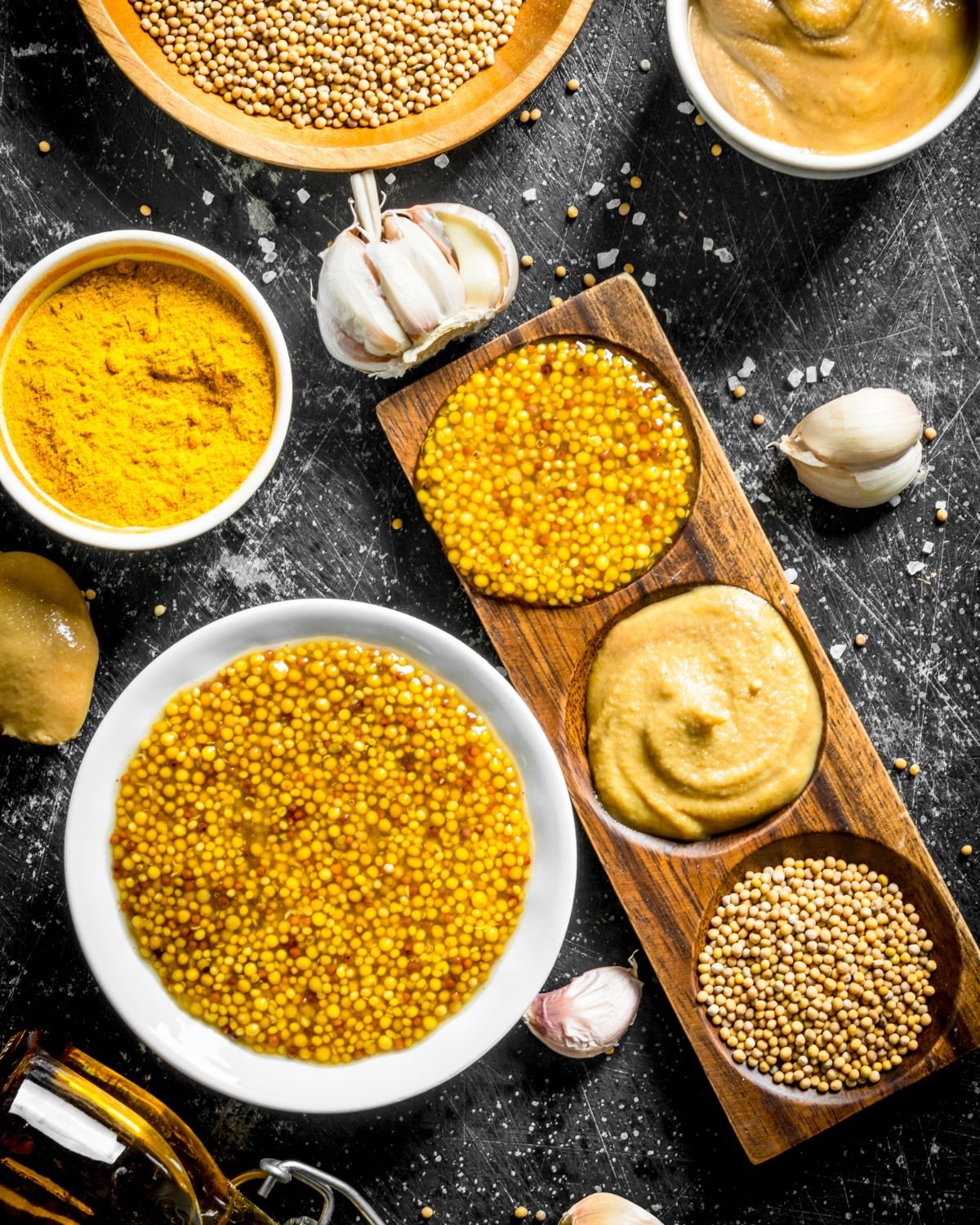 Jump to:
🤔 What are mustard seeds?
Before diving into the best substitutes for mustard seeds, let's take a moment to understand the culinary significance of mustard seeds.
Mustard seeds are derived from the mustard plant, scientifically known as Brassica juncea, and belong to the Brassicaceae botanical family (or mustard plant family) which also includes cabbage, broccoli, and kale plants. They're round tiny seeds that pack in a lot of earthy flavor. Find out more about this family of plants.
They have been cultivated for thousands of years, with their origins traced back to the Mediterranean region and parts of South Asia. The ancient Romans and Greeks recognized the culinary potential of mustard seeds, using them in various dishes and condiments. And it's an especially popular spice in Indian cuisine and Asian cuisine too.
Over time, mustard gained popularity across Europe, and by the Middle Ages, it was a staple in European cuisine. The art of mustard-making continued to evolve, leading to the creation of different mustard varieties, including the familiar yellow mustard seeds, brown mustard seeds, and black mustard seeds we know today. They each offer a slightly different flavor profile. The tangy, slightly spicy flavor they bring to dishes is truly unique.
This ingredients' versatility and distinctive flavor have solidified their place in global cuisine, from classic Indian curries to American hot dogs and beyond.
When mustard seeds are crushed or ground (into ground mustard powder) they release their distinct strong flavor and can be used to enhance the taste of countless recipes.
Whether you're making a classic Dijon mustard or adding a touch of zing to your salad dressing, mustard seeds are there to deliver.
🌟 Best Mustard Seed Substitutes
Now, let's explore some fantastic mustard seed substitute options.
1. Ground Mustard
Ground mustard is a versatile spice made from ground mustard seeds. It offers a concentrated mustard flavor and is readily available in most grocery stores. You can use it as a 1:0.5 substitute for all types of mustard seeds in many recipes.
It's particularly useful for making mustard sauces, marinades, and rubs. When substituting, keep in mind that the ground variety of mustard tends to be spicier than whole mustard seeds, so adjust the quantity to taste. You can always add more but you can't take it away!
Ratio: 0.5 teaspoon of ground mustard for each teaspoon of mustard seeds originally called for in a recipe, it makes a great substitute.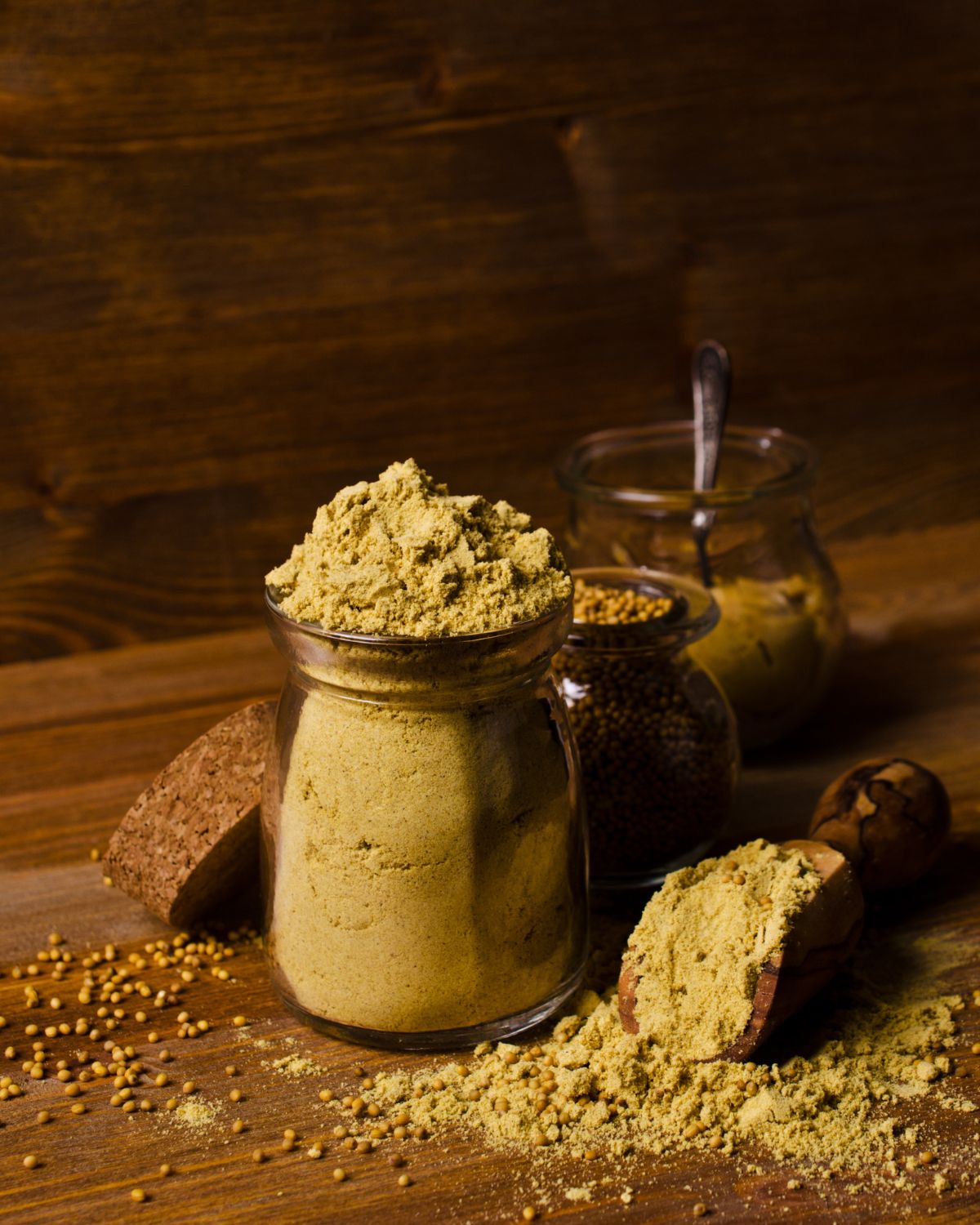 2. Mustard Powder
Mustard powder is basically another name for ground mustard, it's a dry mustard. Sometimes it's milder in flavor.
It's an excellent choice if you want the essence of mustard without the intense heat. When using mustard powder as a replacement for mustard seeds, start with a smaller quantity and gradually add more until you achieve the desired flavor.
Ratio: 0.5 teaspoon of mustard powder for each teaspoon of mustard seed originally called for in a recipe.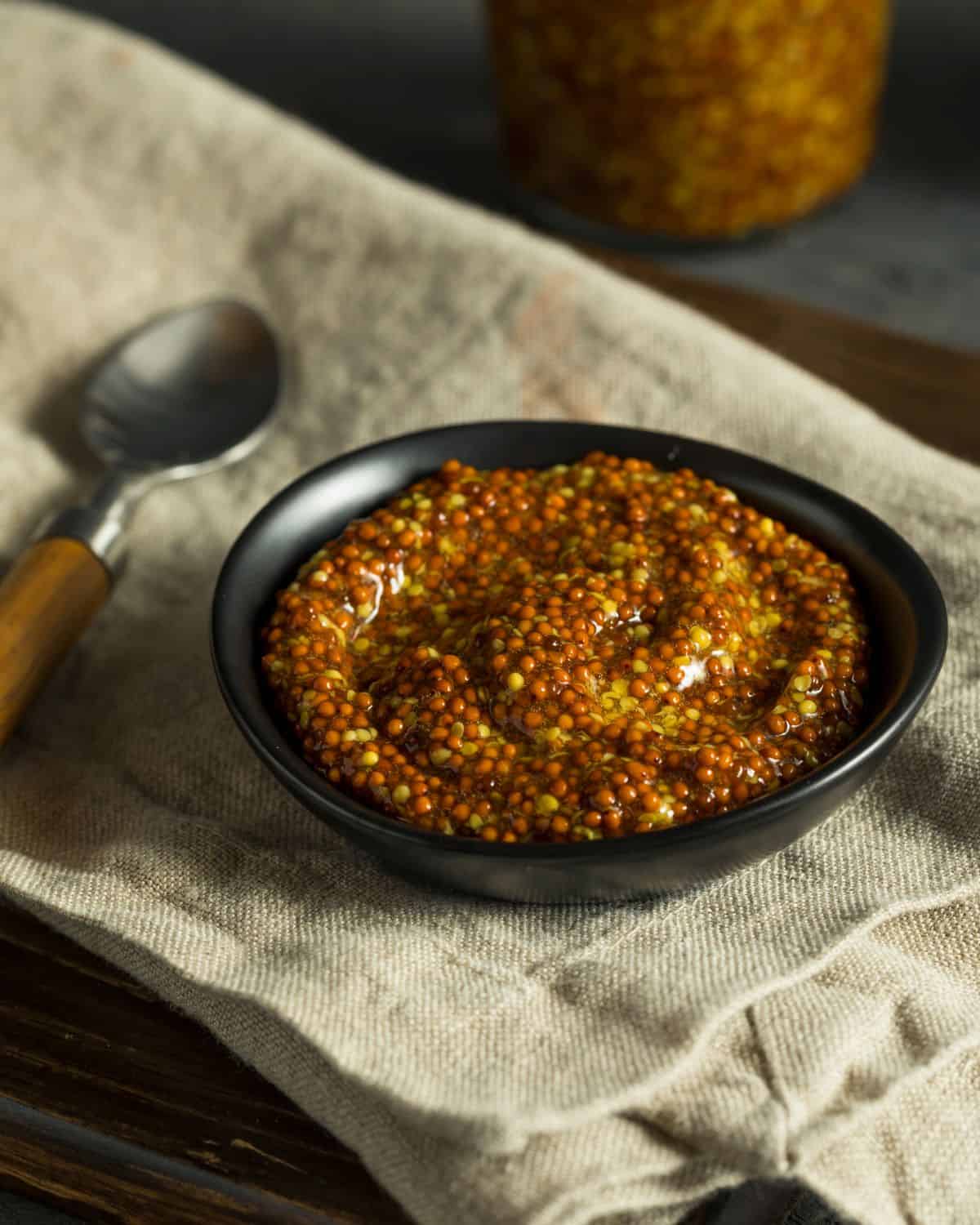 3. Whole-grain mustard
Wholegrain mustard serves as an excellent substitute for mustard seeds. Its ready-made form retains the mustard seeds, offering a similar flavor and delightful texture. You can replace mustard seed with whole grain mustard at a one-to-one ratio, maintaining the essence of mustard while enjoying added convenience. It works well in various dishes like marinades, dressings and pastes. Bear in mind it may add a tang or vinegar flavor as well as the mustard seed flavor. It's also great in these plant-based pigs in blankets.
Ratio: 1 teaspoon of whole grain mustard for each teaspoon of mustard seed originally called for in a recipe.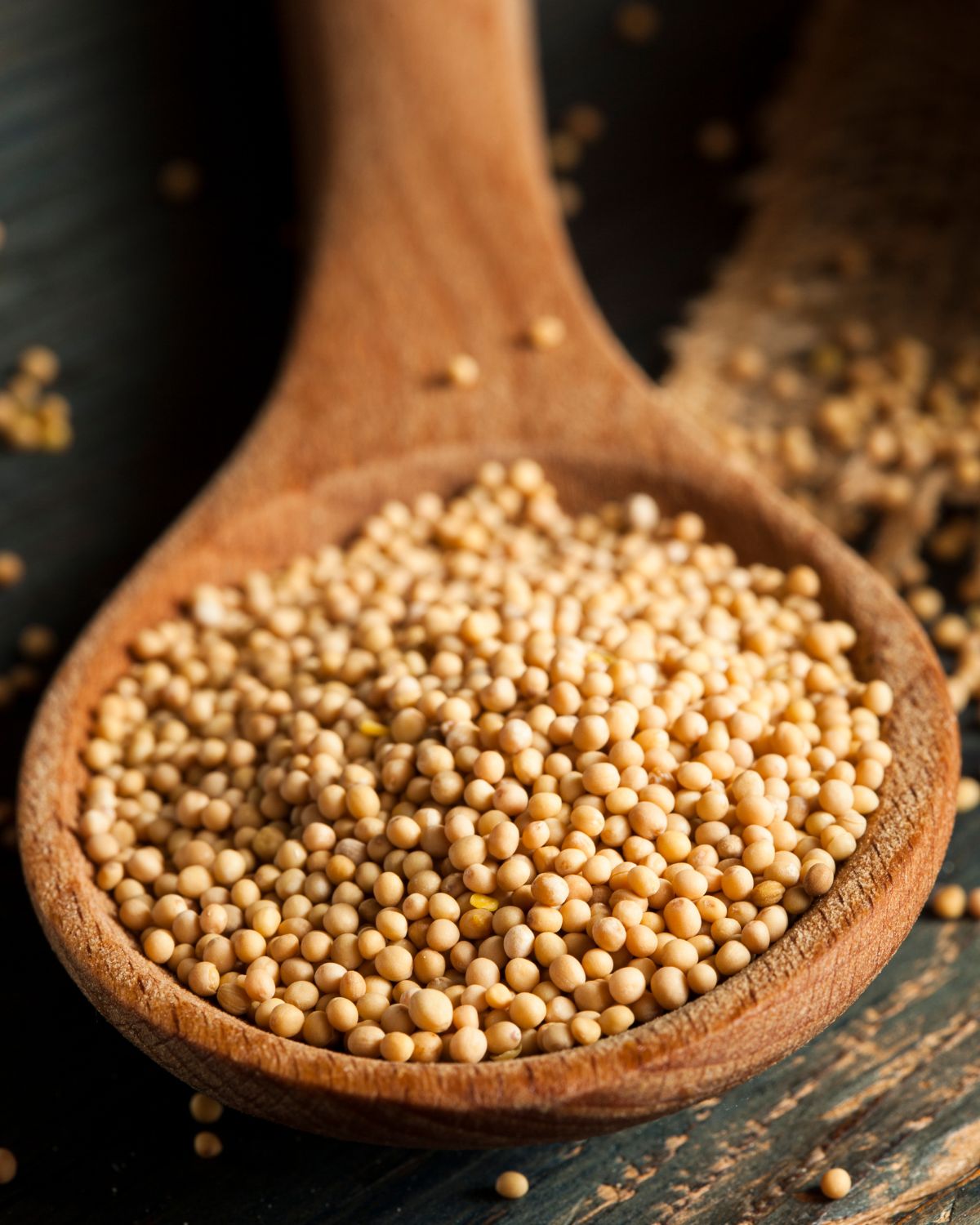 4. Yellow mustard seeds
If substituting brown mustard seeds or black mustard seeds, then use yellow mustard seeds. Generally, as yellow mustard seeds are the lightest, they will have a lighter flavor and milder taste. As the name suggests, they are small and round yellow seeds. The smaller and darker the seed, the hotter and more intense the flavor will be. This is a good substitute in Indian cooking, for example in this onion bhaji recipe or in a lovely matar dal.
Ratio: 1.5 teaspoon of yellow mustard seeds for each teaspoon of black or brown mustard seeds needed.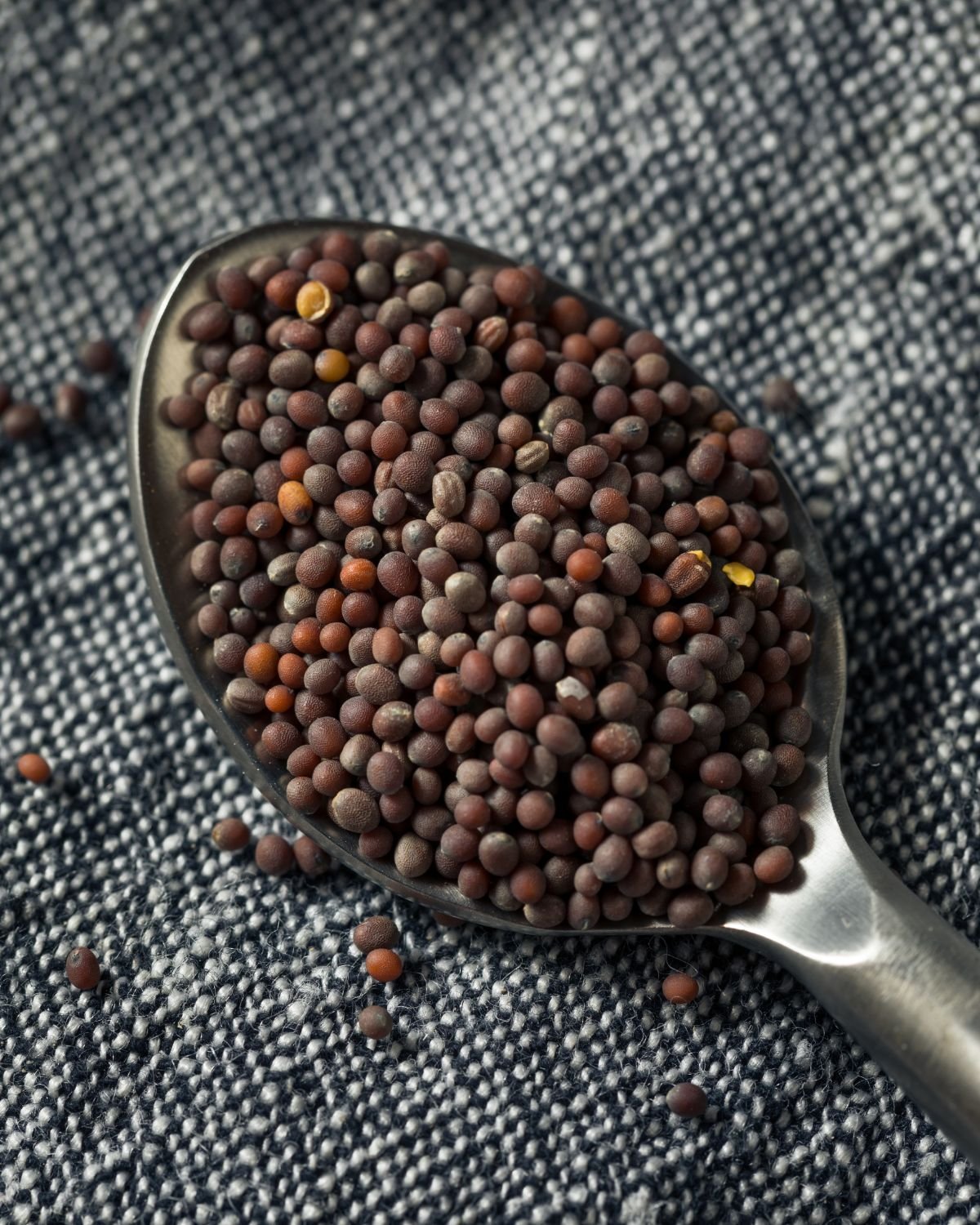 5. Brown mustard seeds
If substituting yellow mustard seeds or black mustard seeds, then use brown mustard seeds! The brown variety is in between yellow and black mustard seeds as far as flavor goes. It has medium intensity. For that reason, use half the amount required of yellow mustard seeds, and 1.25 the amount required of black mustard seeds.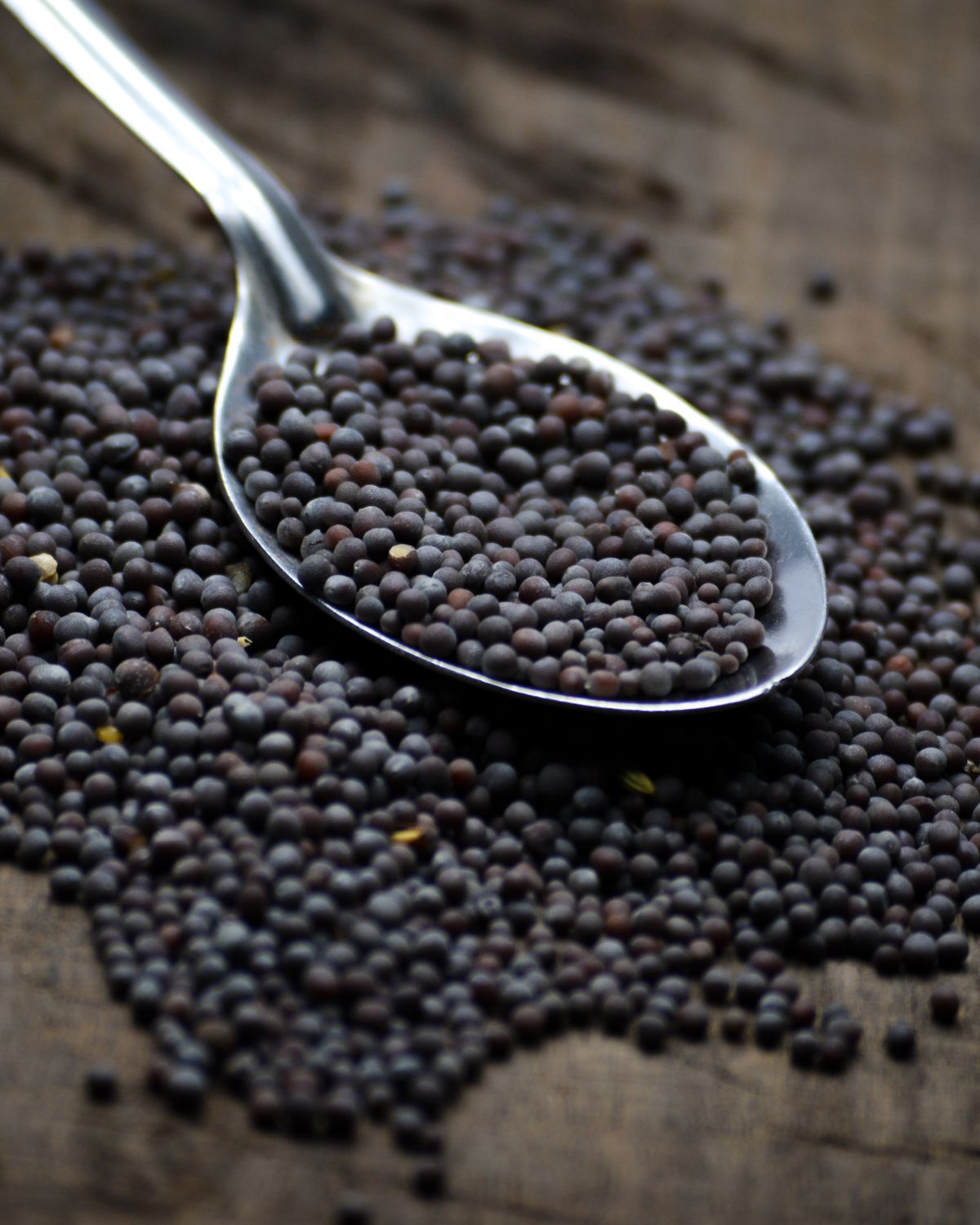 6. Black Mustard seeds
Black mustard is the smallest of the mustard seeds, and therefore has the most intense flavor. As the name might suggest, they are small round black seeds. When substituting for mustard seeds of the yellow or brown variety, follow these general rules: for yellow mustard seeds use ½ of the amount a recipe calls for. For brown mustard seed, use ¾ the amount a recipe calls for. This works especially well in spice blends like panch phoron.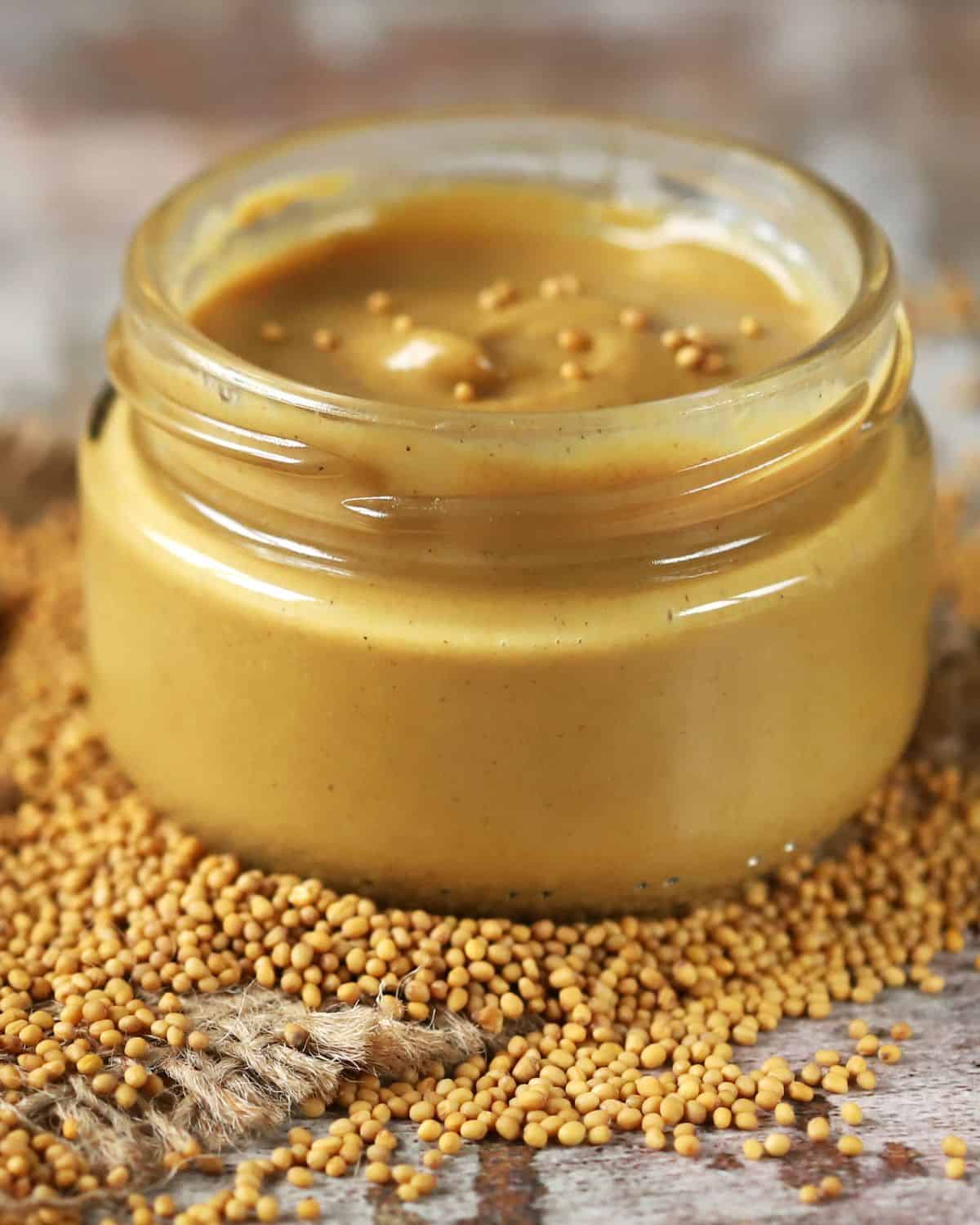 7. Prepared Mustard
Prepared mustard, the condiment found in most kitchens, is another great option for mustard seed substitutes. The type of prepared mustard you choose will influence the flavor of your dish. Yellow mustard, for instance, is mild and slightly tangy, while Dijon mustard offers a more intense sophisticated flavor and spicy brown mustard, of course, adds more of a spicy flavor.
Swap out whole mustard seeds with an equal amount of prepared mustard in salad dressings, sandwiches, and dipping sauces.
Ratio: 1:1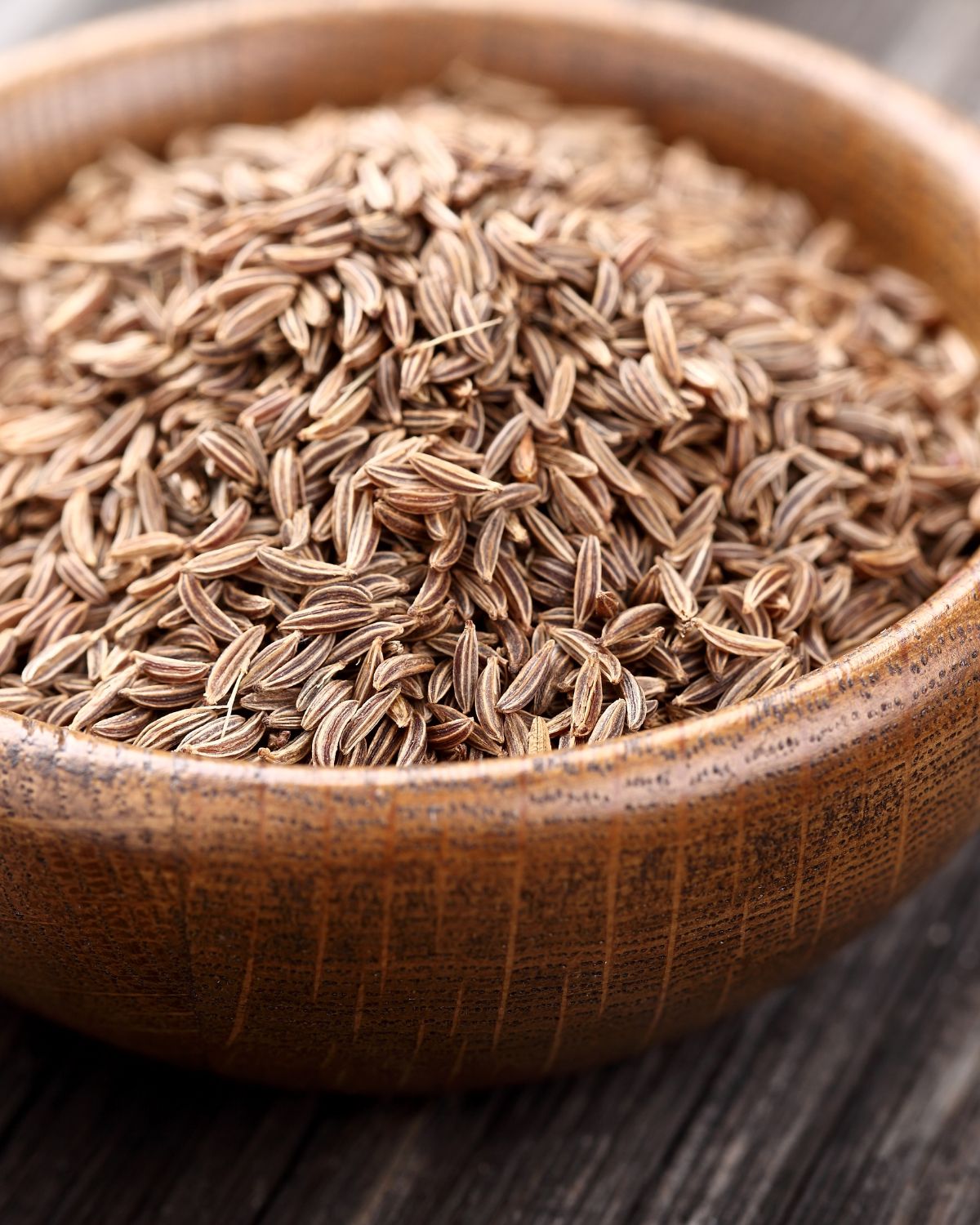 8. Caraway seeds
Caraway seeds serve as a noteworthy ingredient to replace mustard seeds due to their distinct flavor profile and versatility. While caraway seeds are not as spicy as mustard seeds, they offer a robust and slightly nutty taste with a hint of citrus, making them an excellent alternative in recipes where the sharp flavor of mustard seeds is not essential. Caraway seeds can be used to add depth and complexity to recipes for sauerkraut or pickles, rye bread, and certain stews, imparting a unique earthiness and warmth.
When using caraway seeds as a mustard seed substitute, it's important to consider the flavor compatibility with your dish, as well as the quantity, as caraway seeds can be quite potent. This substitution is particularly suitable for those who prefer a milder and more aromatic flavor in their recipes or have dietary restrictions that limit the use of mustard seeds.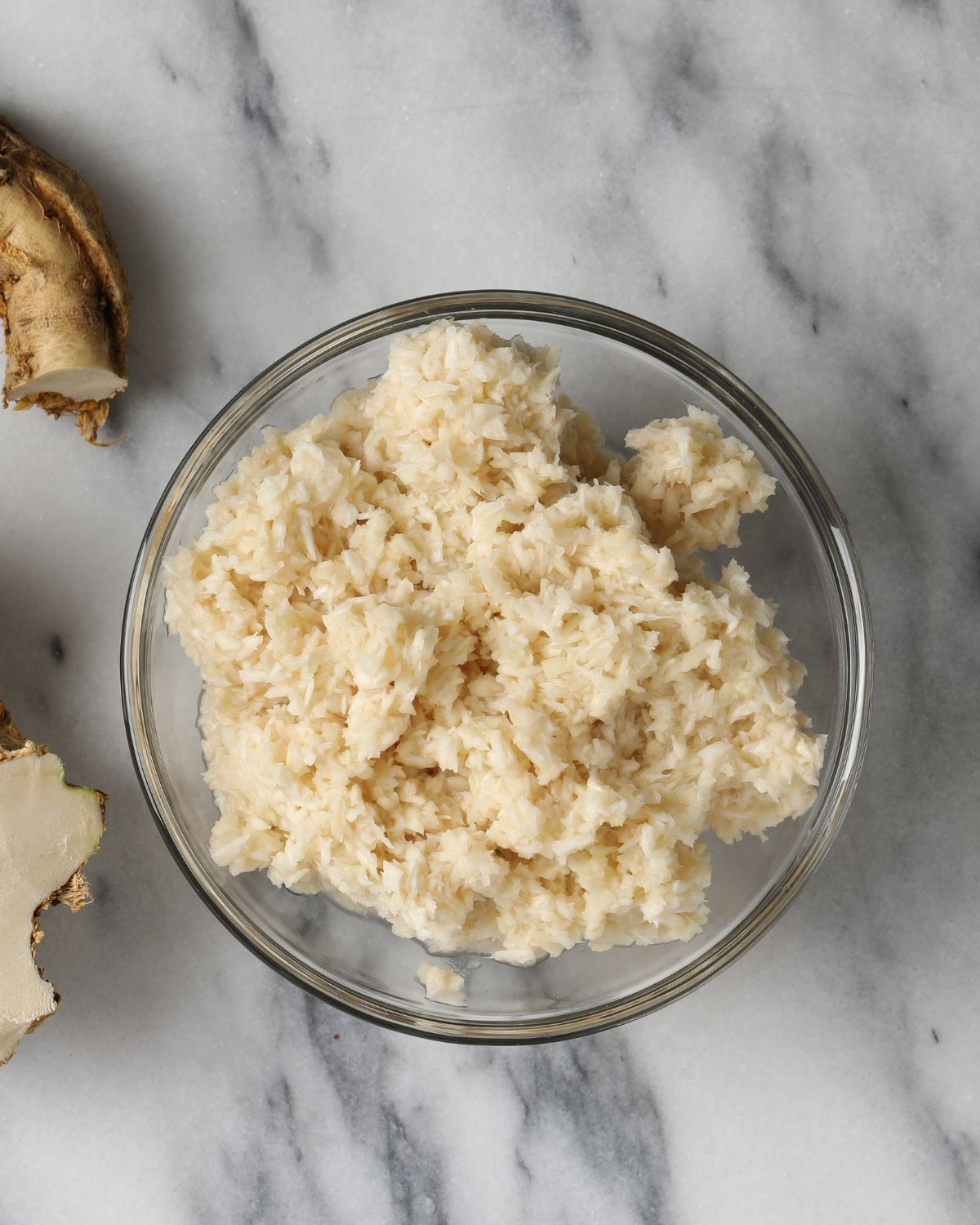 9. Horseradish
For those seeking a unique twist, prepared horseradish or even fresh horseradish from horseradish rootcan be a delightful way to replace mustard seeds. Known for its pungent flavor and sharpness, horseradish can add a zesty kick to your dishes. Use it sparingly, as it can be quite potent. It pairs exceptionally well with creamy sauces, offering a distinct flavor profile that can elevate your recipes.
Ratio: 0.5 teaspoon of horseradish for every 1 teaspoon of mustard seed a recipe calls for.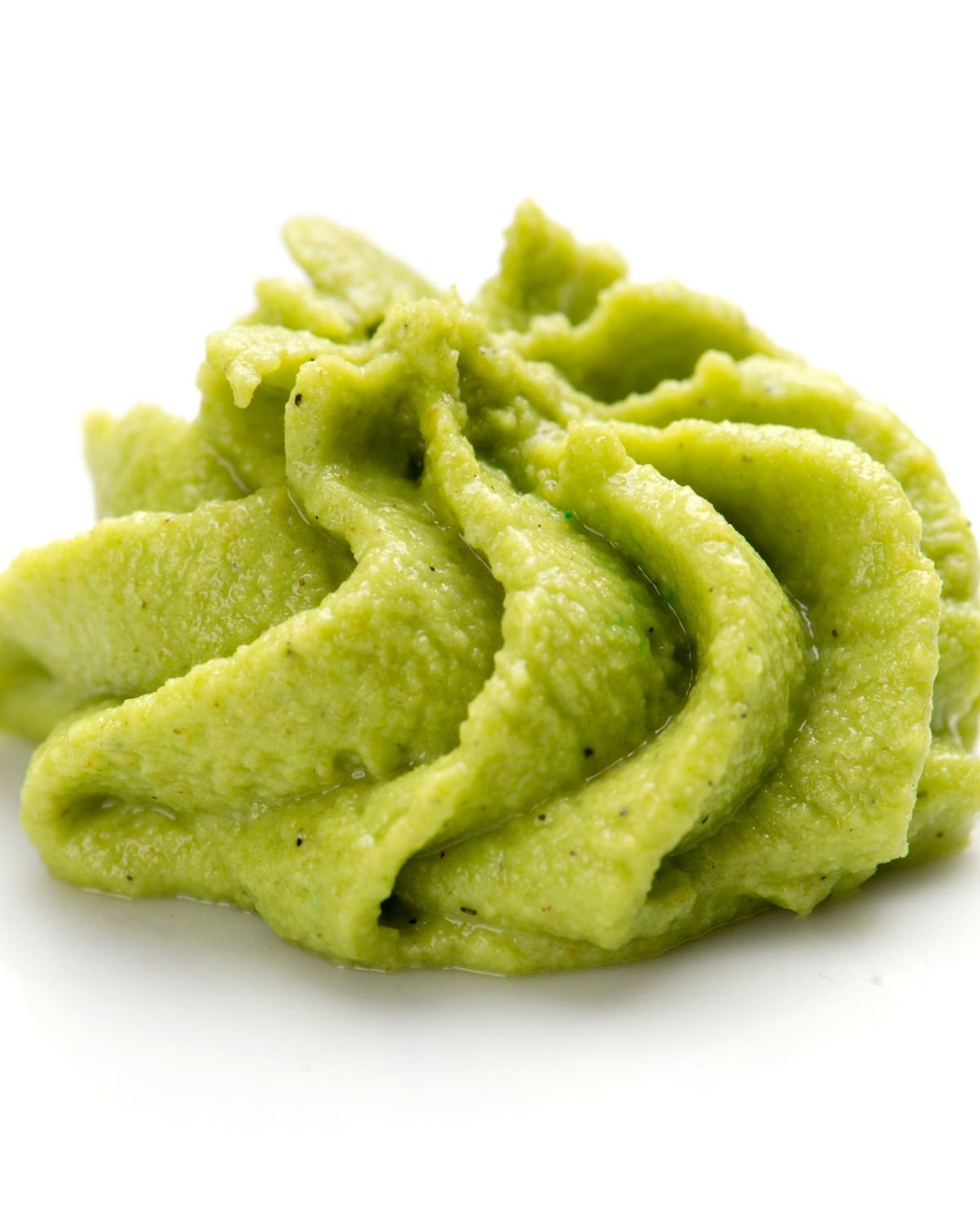 10. Wasabi
Wasabi, the fiery, spicy green paste often served with sushi, can also serve as an unconventional but exciting substitute for mustard seed. However, it will add a spicy flavor. Its heat and unmistakable flavor can infuse your dishes with a bold and spicy kick. Consider using wasabi as a mustard seed substitute in Asian-inspired recipes, such as sushi rolls, dressings, and dips. You can also try wasabi powder, if you have that to hand.
Ratio: 0.5 teaspoon wasabi powder or paste to each teaspoon of mustard seed needed.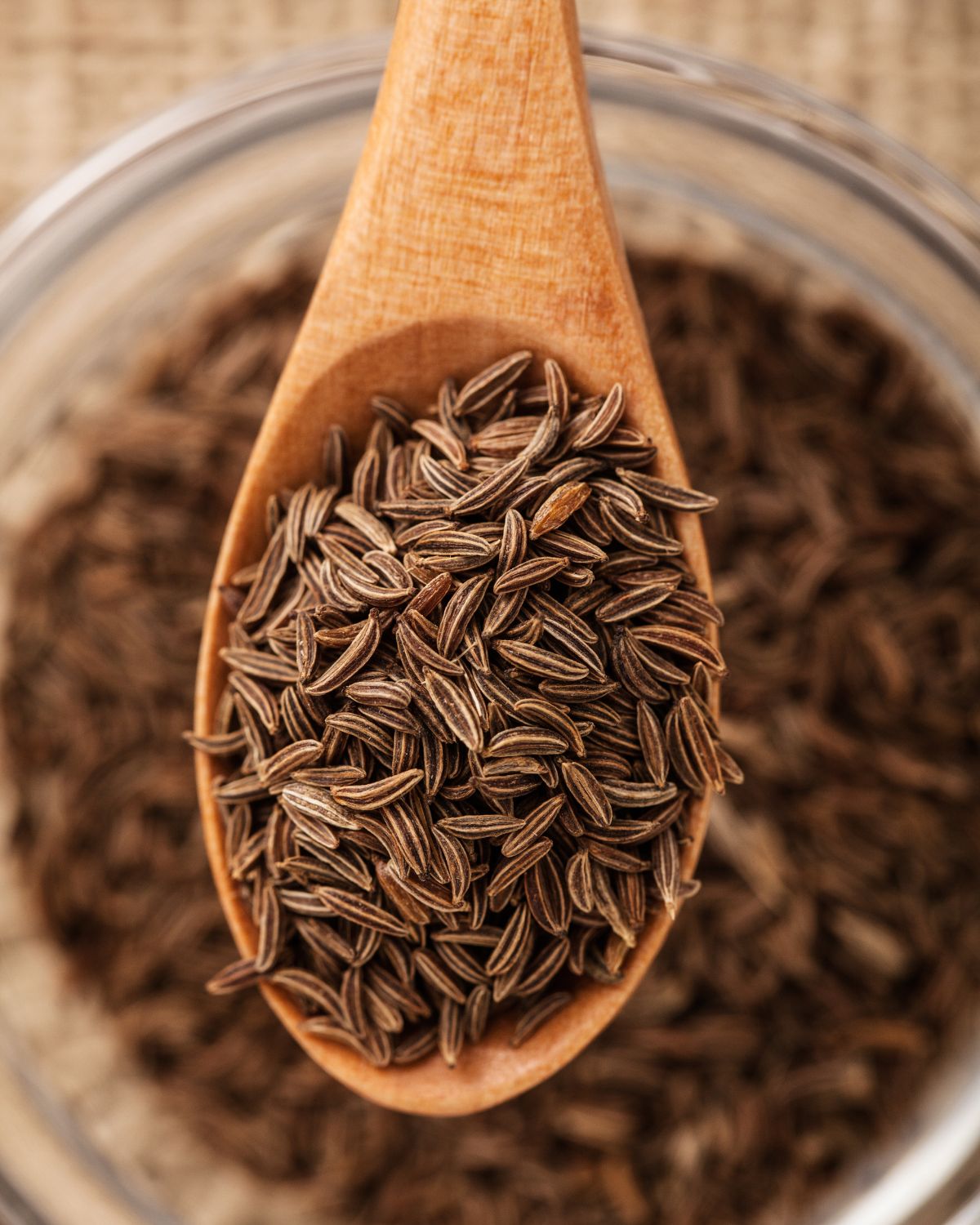 11. Cumin seeds
Cumin seeds can be used as a substitute for mustard seeds, but it's important to recognize that they offer a distinct flavor profile as well. If you're in a pinch and don't have mustard seeds on hand, cumin seeds can provide a somewhat similar earthy and nutty flavor. To use cumin seeds as a substitute, replace them at a 1:1 ratio.
Keep in mind that cumin's flavor is milder and lacks the pungent flavor of mustard seed. While it may not perfectly replicate the intended taste, it can add depth to your dish and serve as a reasonable alternative when you have no other options. Especially if making something like a vegetable curry or dahl.
12. Turmeric Powder
Turmeric powder can be used as a last-resort ingredient for replacing mustard seeds, but it's not an ideal choice due to its distinct lack of intense flavor and potency. Start with a small amount (about half a teaspoon of turmeric powder for every teaspoon of mustard seeds) to see how you get on.
Keep in mind that turmeric won't replicate the flavor or texture of mustard seeds accurately. It's advisable to use other better substitutes like mustard powder or prepared mustard for better results.
👩‍🍳 Choosing the Right Substitute
While there are plenty of substitutes ti choose from, selecting the right mustard seed substitute depends on various factors:
1. Flavor Profile: Consider the flavor you want to achieve. If you're looking for the classic mustard taste, ground mustard or mustard powder might be your best bet. For a unique twist, horseradish or wasabi can provide a distinctive spicy flavor as well.
2. Heat Intensity: Mustard seed varieties vary in spiciness. Ground mustard and mustard powder can be adjusted to provide the level of heat you desire. Horseradish and wasabi can be quite potent, so use them sparingly if you're looking for a milder flavor.
3. Texture: If the texture of mustard seeds is essential to your recipe, consider substitutes like ground mustard or mustard powder, which can mimic the grainy texture when mixed with liquid.
4. Color: Mustard seeds can add a yellow or brown hue to your dishes. Be aware that some substitutes, like prepared mustard and wasabi, may not contribute the same color. However, turmeric will add color, but not a similar flavor.
Matching the Substitute to Your Specific Recipe
To help you make the best choice, here's a quick guide on matching substitutes to your specific recipes:
For Dressings and Marinades: Ground mustard, mustard powder, and prepared mustard are excellent choices. Adjust the quantity to suit your taste.
For Pickling: it can be hard to replace mustard seeds in pickling recipes because they add texture and a specific flavor. However, caraway seeds or cumin seeds can serve as good substitutes for mustard seed in these recipes. The overall flavor will be different but still good.
For Creamy Sauces: Horseradish and wasabi can add a unique zing to creamy sauces.
💭 FAQs
Can you substitute ground mustard for mustard seed?
Yes, ground mustard can effectively substitute mustard seeds in many recipes. Ground mustard is made by finely grinding mustard seeds, so it retains the same intense flavor but lacks the texture and crunch of whole seeds. To substitute, use an equal amount of ground mustard for the quantity of mustard seeds called for in your recipe. Keep in mind that ground mustard can be spicier than mustard seeds, so adjust the quantity to your taste preferences.
Can you use cumin seeds instead of mustard seeds?
Certainly, you can use cumin seeds instead of mustard seeds, but it's important to note that cumin seeds have a distinct flavor profile. Cumin seeds provide a warm, earthy, and slightly nutty taste, which offers different flavors to the tangy and pungent flavor of mustard seeds. When substituting, use cumin seeds at a 1:1 ratio to mustard seeds, understanding that your dish will have a different but still flavorful character. It's a suitable choice when mustard seeds are unavailable, but it will alter the overall flavor of the recipe.
What can I use instead of mustard seeds for pickling?
When pickling and in need of a mustard seed substitute, you can turn to ground mustard or mustard powder as alternatives. Both options offer the characteristic mustard flavor without the whole seed texture. To replace mustard seeds in pickling recipes, use an equal amount of ground mustard or mustard powder. These substitutes are particularly effective for adding that signature tang, natural spiciness and peppery flavor to pickles, relishes, and other preserved foods. It goes especially well with bay leaves, cumin seeds and coriander seeds.
🔪 Experimenting with Mustard Seed Substitutes
One of the joys of cooking is experimentation. Don't be afraid to get creative with your mustard seed substitutes. You can even mix multiple substitutes to create unique flavor profiles that suit your palate. Remember that the journey to discovering the perfect substitute for mustard seeds can be as enjoyable as the destination.
⭐️ Summary
In the world of cooking, adaptability and creativity is essential. While mustard seeds hold a special place in many dishes, there are many different substitutes available to cater to various tastes, preferences, and dietary needs. Whether you opt for ground mustard, mustard powder, prepared mustard, horseradish, or wasabi, each substitute brings its own distinct character to your recipes. And these can all be found in the local grocery store.
So, the next time you find yourself in a pinch without mustard seed or simply want to explore new flavors, consider these mustard seed substitutes. With the right choice and a dash of culinary imagination, your dishes will continue to dazzle with the unmistakable essence of mustard. Happy cooking!