Vegan congee is a delicious and filling savoury breakfast that you can make in advance for the whole week. This recipe makes enough for ten portions, and will happily keep for up to five days in the fridge. Batch cooking at its finest – perfect for a quick midweek breakfast before work!
Jump to:
Congee is a type of rice porridge, it's eaten throughout most of Asia. Unlike sweet porridge, like our Carrot Cake Oatmeal which is quite a quick meal, it's made by slowly cooking rice in stock until it breaks down, and then served with toppings for extra flavour. We love to top ours with mushrooms, ginger, spinach or tofu. Any excuse to eat some extra veggies!
There are a lot of different variants on congee depending on where in Asia you have it. Our vegan congee is based on the traditional Thai variation, known as Thai Jok.
Thai rice porridge is usually made using meat stock. We've created vegan rice porridge by switching out the meat stock for tasty vegan chicken stock.
📋 Ingredients Notes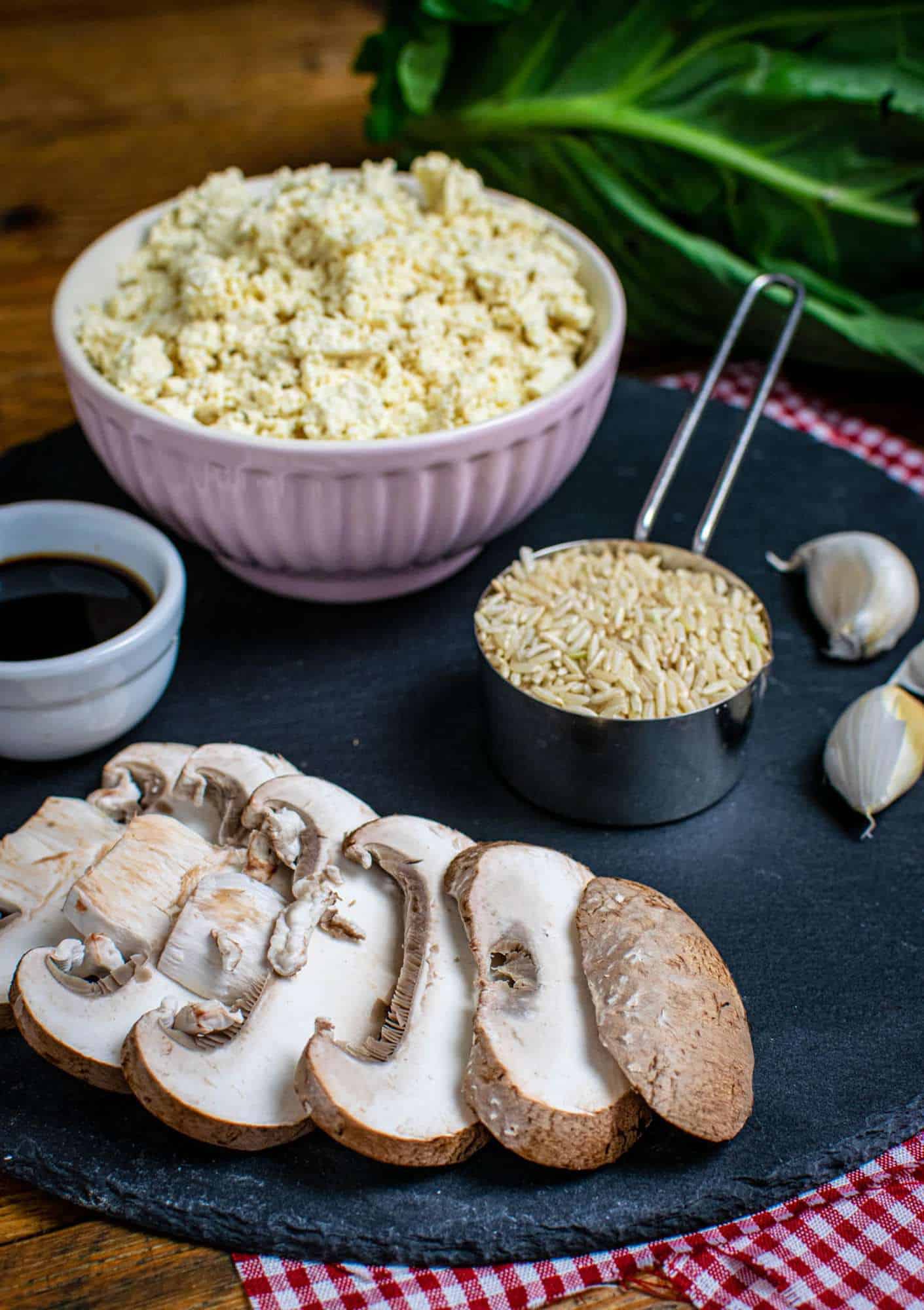 To make our vegan congee, you will only need two primary ingredients. They are rice and stock.
Rice – we recommend using Jasmine rice because it's traditional, but other types of rice work too.
Stock – for the stock, we recommend either vegan chicken stock or alternatively, regular vegetable stock. We love vegan chicken stock, it's definitely worth a try.
Top tip: rinse the rice before cooking! This helps remove starch from the rice, prevents it from going clumpy and allows it to cook more evenly.
For the toppings
There are so many topping options for vegan congee! Try a few and see which you like best. Some of our favourites are:
Mushrooms, cut into slices and fried with garlic and soy sauce.
Sliced spring onions.
Leafy greens like spinach, spring greens or cabbage.
Firm or pressed tofu, cut into slices and fried so that it goes brown. Chuck a bit of garlic and soy sauce into the pan, too.
Fresh ginger, peeled and cut into matchsticks.
Grated carrot.
Crumbled tofu, sauteed with soy sauce and garlic.
Toasted sesame seeds.
Suggested combinations:
Mushrooms, carrot and ginger matchsticks
Spinach, crumbled tofu, spring onions and ginger matchsticks.
Take a look at this step-by-step video for this recipe:
🔪 Step-by-step instructions
Full instructions and measurements can be found in the recipe card at the bottom of the page. This is a summary of the instructions to go along with the process photos.
1. Start by pouring three litres of stock into a pan and bringing it up to a boil. Like in the pictures, make sure that you use a large pan! You can make your stock directly in the pan or in a jug.
2. Pop the rice in a sieve, and wash it under cold running water. Be sure to move the grains around in the sieve with your hands to ensure you get them all. When the water runs clear, the rice is ready.
3. Add the rice to the pan and bring it up to a low simmer.
4. Let the rice simmer in the stock for 90 minutes with the lid on, or 2 hours if you are using brown rice. Be sure to check on it regularly to ensure the vegan congee isn't sticking to the pan. Add more water if it looks dry. The consistency will thicken as it progresses.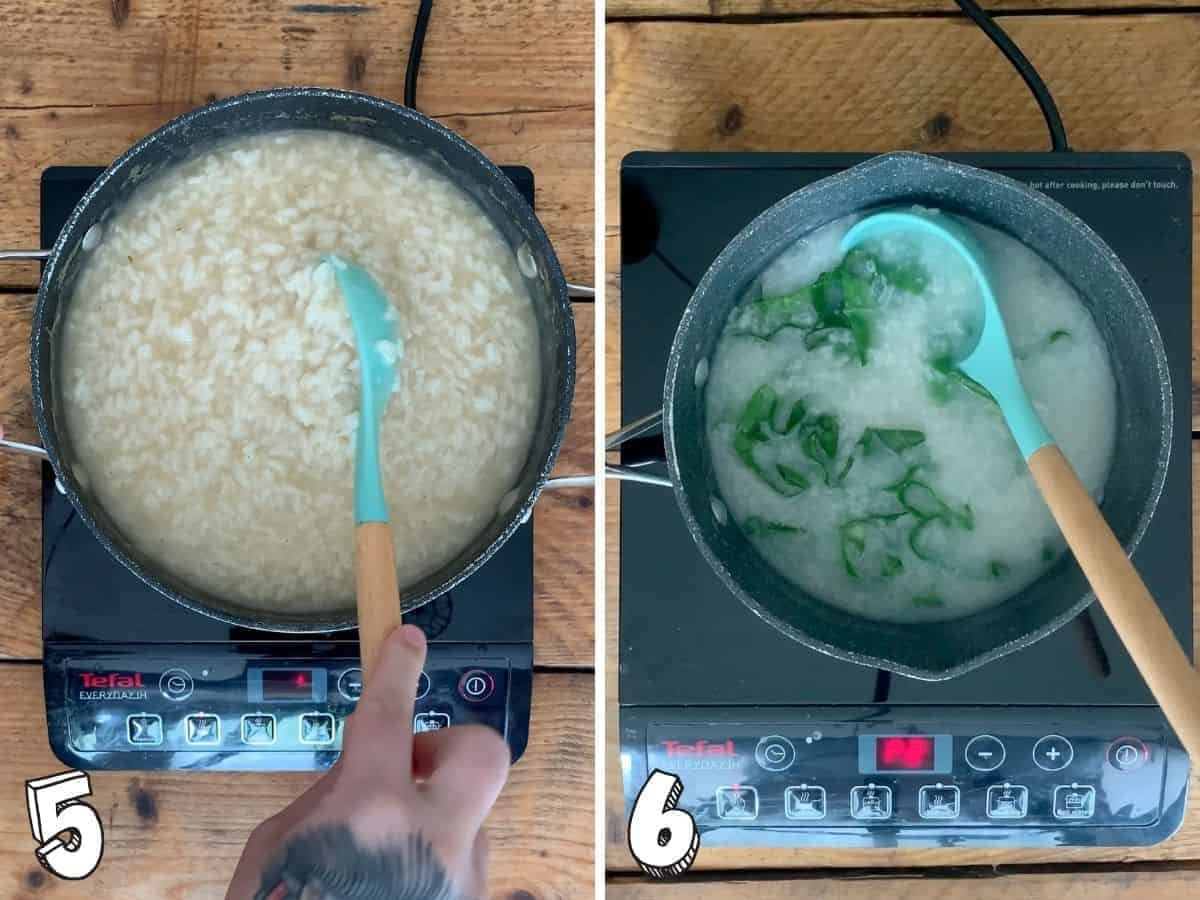 5. Once the rice has broken down so that you can't see individual grains and is a porridge consistency, it's ready.
6. Serve up into bowls along with your choice of toppings. We suggest adding baby spinach or spring greens at the end and then top with grated carrot, crumbled tofu sauteed with garlic and soy sauce and spring onions.
Top Tip: if you love this recipe, check out our e-cookbook Vegan Thai Food Made Easy. It's packed with 21 original Vegan Punks recipes featuring curries, curry pastes, stir fries and even the most popular Thai dessert, as well as 3 BONUS recipes!
👨‍🍳 Expert tips
Type of rice to use
Traditionally Jasmine rice is used to make Thai rice porridge. It's also the most commonly used rice in Thai cooking.
This recipe also works well with long grain rice, or wholegrain rice. Wholegrain rice is great if you want a breakfast that releases energy slowly. We wouldn't recommend using glutinous rice or sushi rice.
Cooking time
When you're making vegan congee it's important to cook the rice down for 90 minutes. You're looking for the rice to break down and become quite sloppy, similar to the consistency of oat porridge. You can tell when vegan rice porridge is ready because you won't be able to see whole grains of rice anymore (like in the pictures above).
💭 FAQs
Can I keep it in the fridge and reheat it?
Yes! This is exactly what we do – make a big batch on Sunday then eat it during the week.

Just make sure you reheat it very well, as you would with any rice dish.

It will solidify a little in the fridge, so make sure to add extra water during reheating. It should be kind of soupy, rather than a thick porridge.
Is congee vegan usually?
No, it's not. Congee is usually made with meat stock, and served with meat-based toppings and boiled eggs.
Is congee dairy free usually?
Yes. It's made with stock, so unlike oat porridge, it's not cooked with dairy. It's also not served with any dairy, although people do sometimes put an egg on top.
What do you serve with Thai jok?
Traditionally, Thai Jok is served with a partially boiled egg. As well as egg, other popular toppings are minced pork or beef and chopped spring onions. Of course, we don't suggest these as toppings for our vegan congee!

To replace the minced meat, we love crumbling up some extra-firm tofu and frying it off with minced garlic, spring onions and soy sauce. It creates a savoury, mince-like crumble to serve on top of your vegan congee. It's really delicious!
What other Thai breakfasts are there?
Some of the most popular breakfast options in Thailand are Thai omelette with rice, fresh fruit, khanom krok (small coconut pancakes), grilled meats with sticky rice and salapao (dumplings, like dim sum).

Thai breakfast options aren't as fixed as they are in the UK, so fried rice or noodle dishes are equally popular breakfast choices. It's not unusual to grab a portion of Pad Thai or red curry and rice for breakfast when you're in Thailand!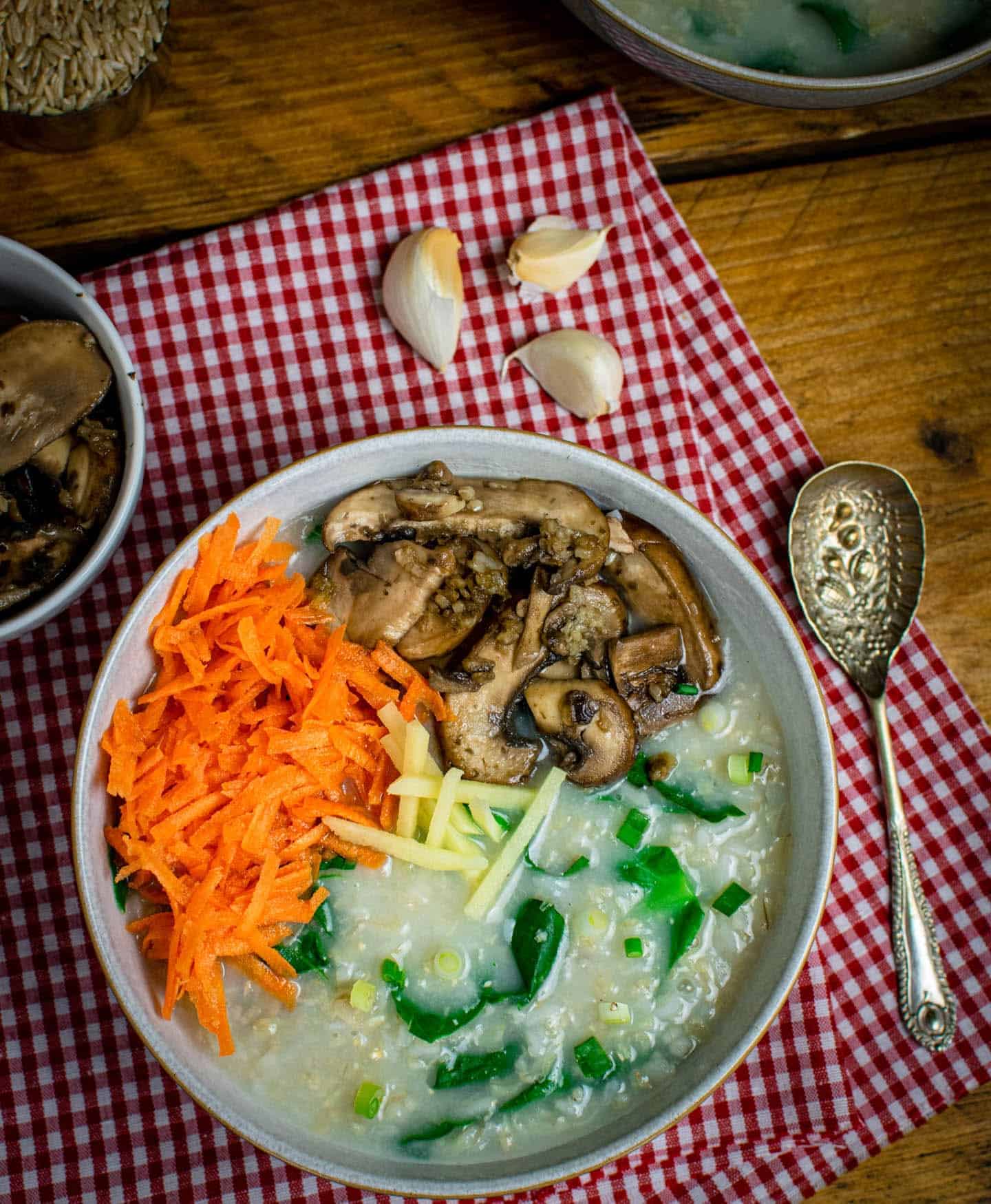 🍚 More Asian Inspired Rice Recipes
If you enjoy our vegan congee, then you might just love these too:
Don't forget to check out our guide to cooking Vegan Thai Food for even more delicious inspiration.
Did you make this recipe? Leave a review and a rating below, or tag us in your photos on Instagram! Alternatively, bookmark it in your browser or save to Pinterest for later.

If you love our content, please consider supporting it by buying us a coffee.
📖 Recipe
Thai Jok (Congee)
Vegan Congee is a hearty Thai breakfast! A delicious and filling savoury rice porridge, which you can customise with a variety of tasty toppings to suit you.
Save
Saved!
Print
Pin
Rate
Ingredients
2

cups

Jasmine rice

see notes

3-4

litres

vegan chicken stock

or regular vegetable stock
Suggested toppings:
Crumbled tofu fried with garlic and soy sauce

Sliced mushrooms fried with garlic and soy sauce

Sliced spring onions

Matchsticks of fresh ginger

Leafy greens

such as spinach, spring greens or cabbage

Grated carrot

Splash of soy sauce
Instructions
Pour 3 litres of stock into a large pan or stockpot and bring to a boil – if you're using stock cubes or powder, you can make it up directly in the pan.

3-4 litres vegan chicken stock

Rinse the rice in a sieve until the water runs clear.

Add the rice to the pan and bring it to a low simmer.

Cook for 90 minutes with the lid on, stirring regularly to prevent sticking. If using brown rice, cook for 2 hours.

Once simmered, the rice will break down and resemble a soup-like, porridge consistency.

Serve in bowls along with a variety of tasty toppings (as suggested in the ingredients above).

Crumbled tofu fried with garlic and soy sauce,

Sliced mushrooms fried with garlic and soy sauce,

Sliced spring onions,

Matchsticks of fresh ginger,

Leafy greens,

Grated carrot,

Splash of soy sauce
Notes
Jasmine rice is used traditionally, but you can use white rice or brown rice.
If using brown rice, simmer for 2 hours. Brown rice takes longer to cook and break down.
We don't recommend using sushi rice or glutinous rice.
It will keep in the fridge for up to 5 days. Add a little water when reheating and make sure it is hot all the way through.
We don't recommend freezing this dish.
The nutritional information in this recipe card is for this dish without toppings.
Nutrition
Calories:
136
kcal
|
Carbohydrates:
30
g
|
Protein:
3
g
|
Fat:
1
g
|
Saturated Fat:
1
g
|
Polyunsaturated Fat:
1
g
|
Monounsaturated Fat:
1
g
|
Sodium:
53
mg
|
Potassium:
43
mg
|
Fiber:
1
g
|
Sugar:
1
g
|
Calcium:
10
mg
|
Iron:
1
mg