This Vegan Pineapple Fried Rice has got it all – sweet, savoury and sour! It's not a spicy one, but you can always add a sprinkling of chilli flakes to the dish if you'd like it a bit spicy.
There's only 12 ingredients in this authentic Thai Pineapple fried rice, and if the rice is already cooked it will come together in under 20 minutes!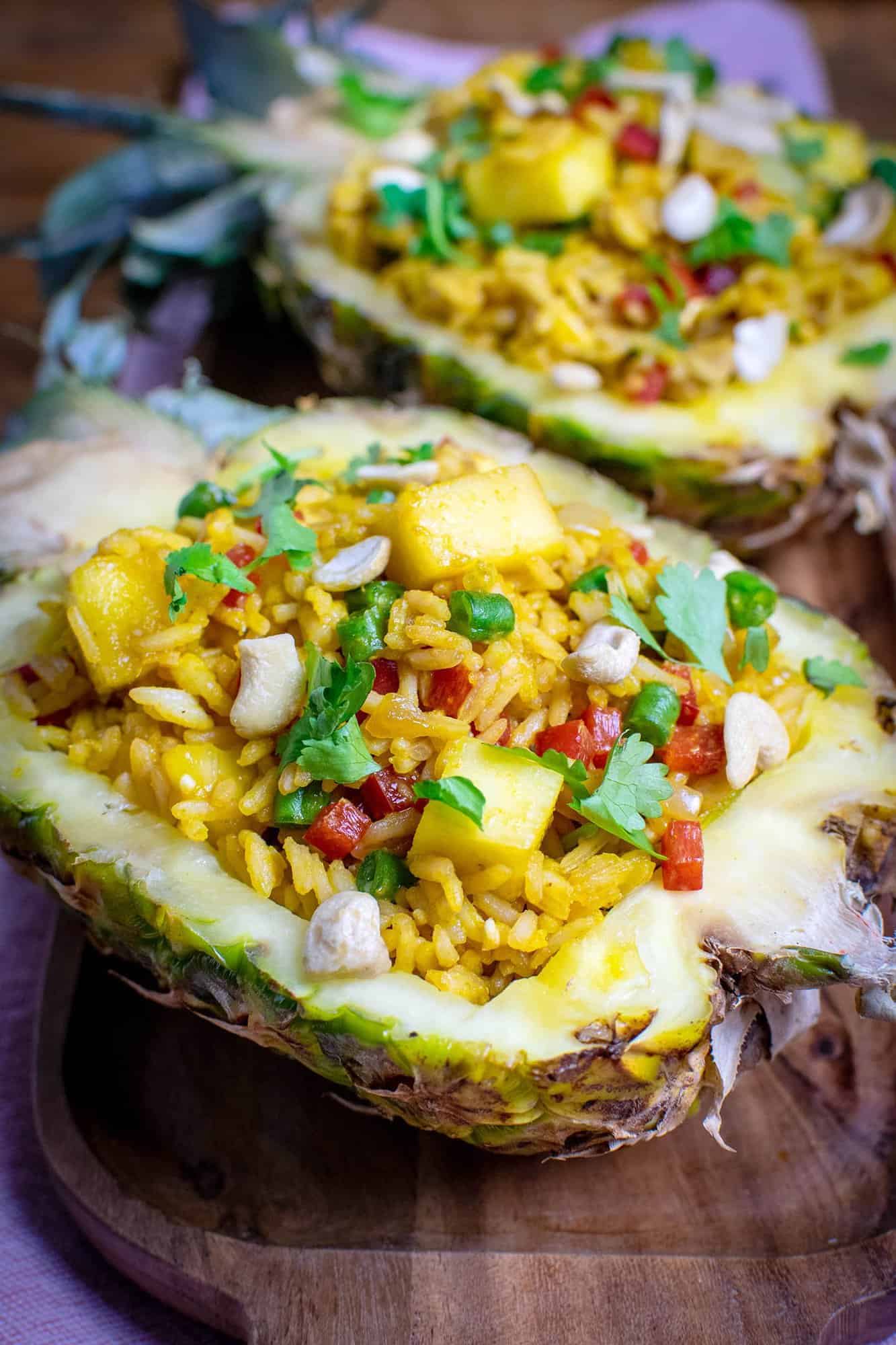 What is Thai fried rice?
Thai fried rice, or Khao phat is a Thai dish that is made using leftover rice, veggies and a protein. Non-vegan versions often include egg or meat, but we're making vegan pineapple fried rice, so there's no need for any of those ingredients here!
Where does Pineapple Fried Rice come from?
Traditionally, authentic Thai Pineapple Fried Rice would be made in central Thailand and it's a way of using up leftover Jasmine rice.
Fried rice is actually a dish that comes from China, the main difference between Chinese fried rice and Thai fried rice is the way it's seasoned. In Thailand fish sauce is used (or vegan fish sauce in our case!) and in China, soy sauce is used.
There are all sorts of variations to fried rice, including this pineapple version, but it could also be made with coconut flakes or Thai basil.
This vegan Pineapple fried rice is:
Delicious
Fruity
Simple
Vibrant
Crunchy
How to make this vegan pineapple fried rice
First of all, you'll need around 300g of Jasmine rice (dried weight). Once cooked the weight of the rice should increase to roughly 800g.
It's traditional to use Jasmine rice in Thailand but you can use whatever rice you have to hand (or leftover!). Fun fact: in Thailand, it's widely believed that brown – or red – rice is dog food, and white Jasmine rice is far superior.
We like brown and red rice because they're whole grain. However, in Thailand there are also lots of health food cafes and restaurants that purposely serve red rice. This is because they know the health benefits, and that it keeps you fuller for longer.
These are the ingredients you will need for the vegan pineapple fried rice sauce:
Soy Sauce
Sugar
Turmeric
Curry Powder
These are the vegetables that go in this dish:
Babycorn
Green Beans
Red Pepper (or capsicum)
Onion
Garlic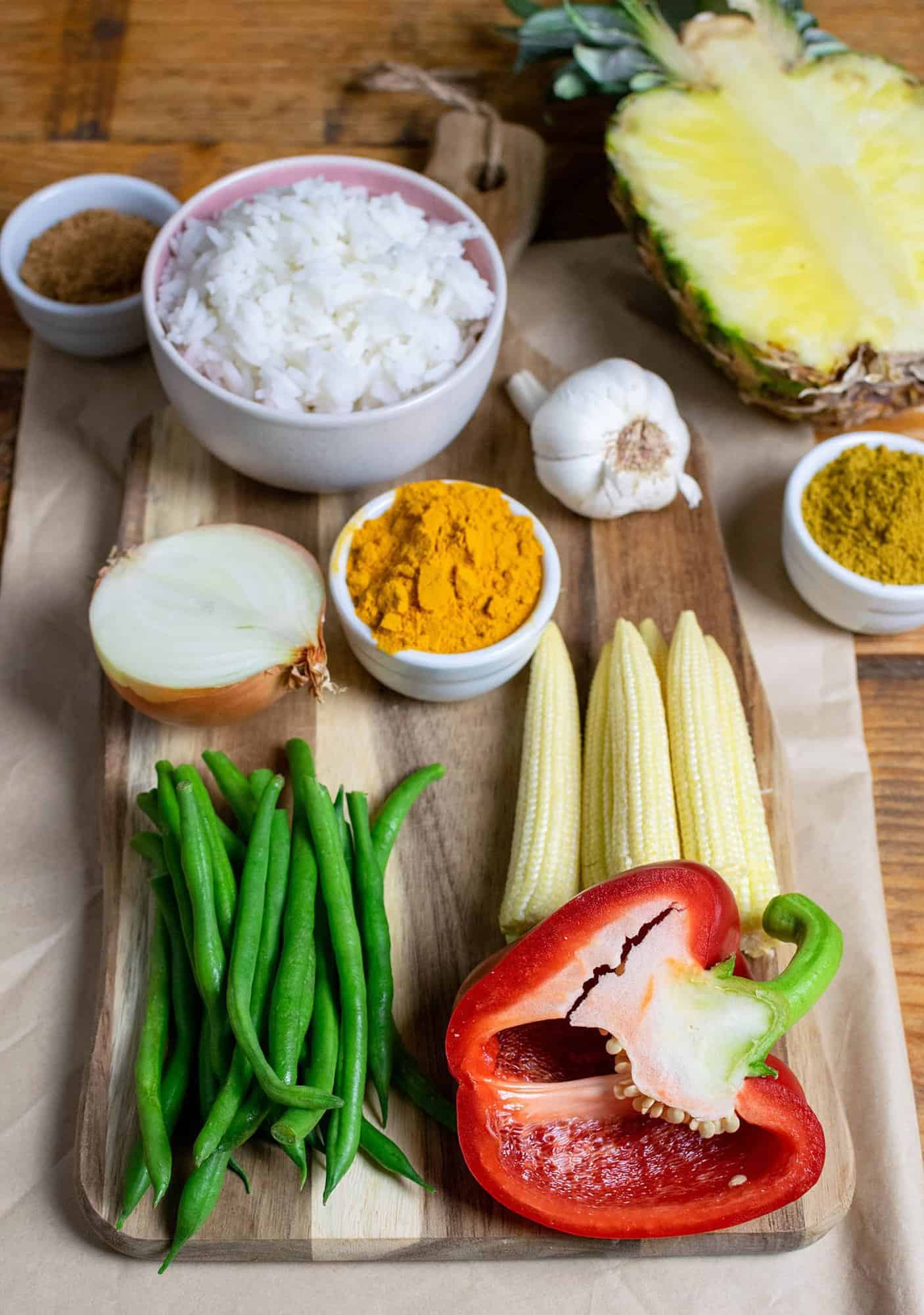 And of course, don't forget the key ingredient – the pineapple! We also add in cashews for some protein, and because it just works really well.
Quick step-by-step instructions
To make this dish, it's super simple. Start by chopping up the veggies super small, in cubes – roughly. You could use a nicer dicer or another similar tool. It will mean that the vegetables are all roughly the same size, and will help them cook evenly. Plus, it will save loads of time!
You just have to start by frying off the onion and garlic in a splash of neutral flavoured oil (like vegetable or rapeseed).
Once the onion is translucent, add in the spices. Stir for a few minutes so that it gets hot and the rice breaks up a bit.
Add all the vegetables, cashews and pineapple in. Keep cooking for a few minutes more, then add in the soy sauce and sugar. Then, once all stirred together, add in the rice.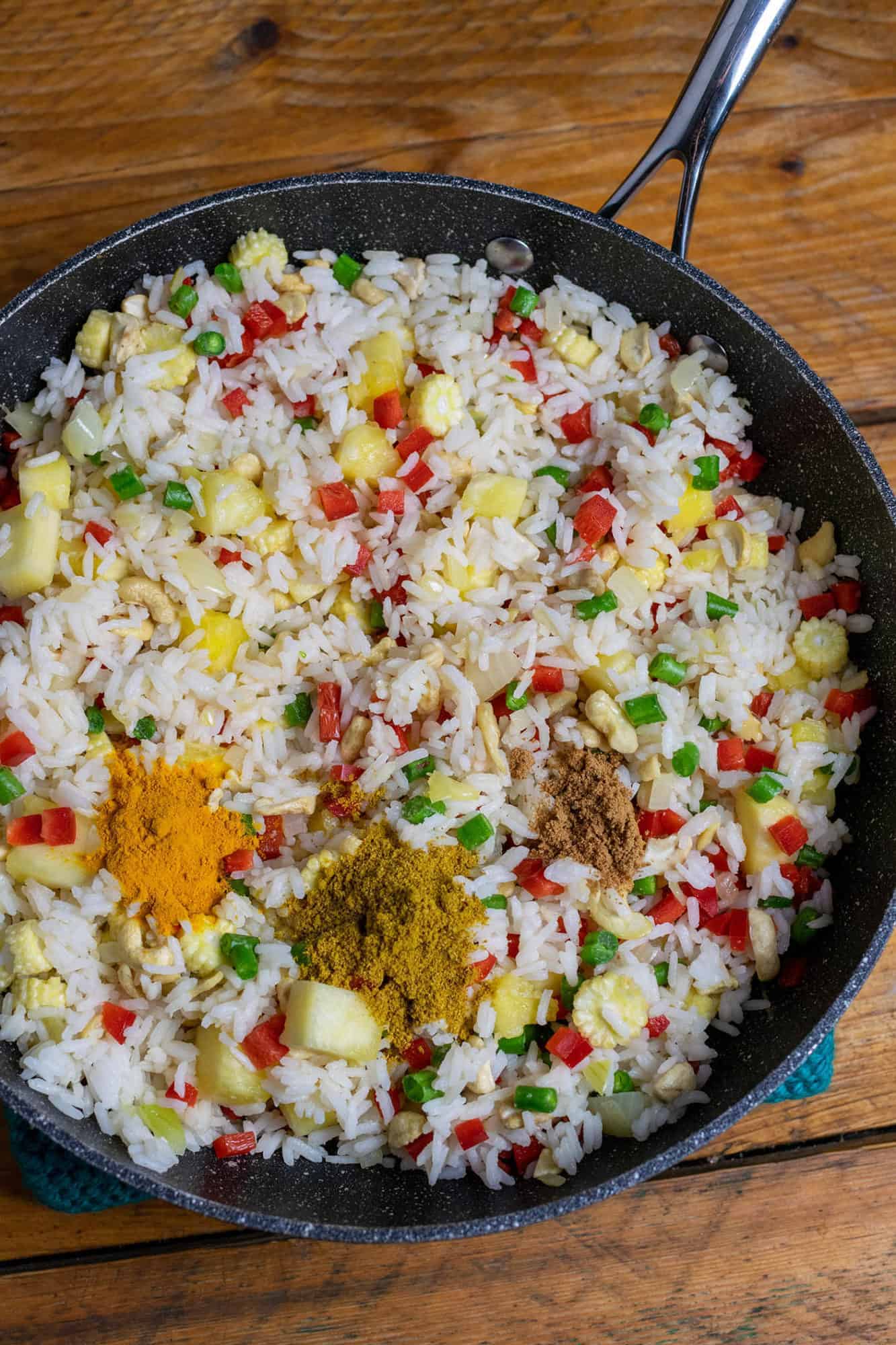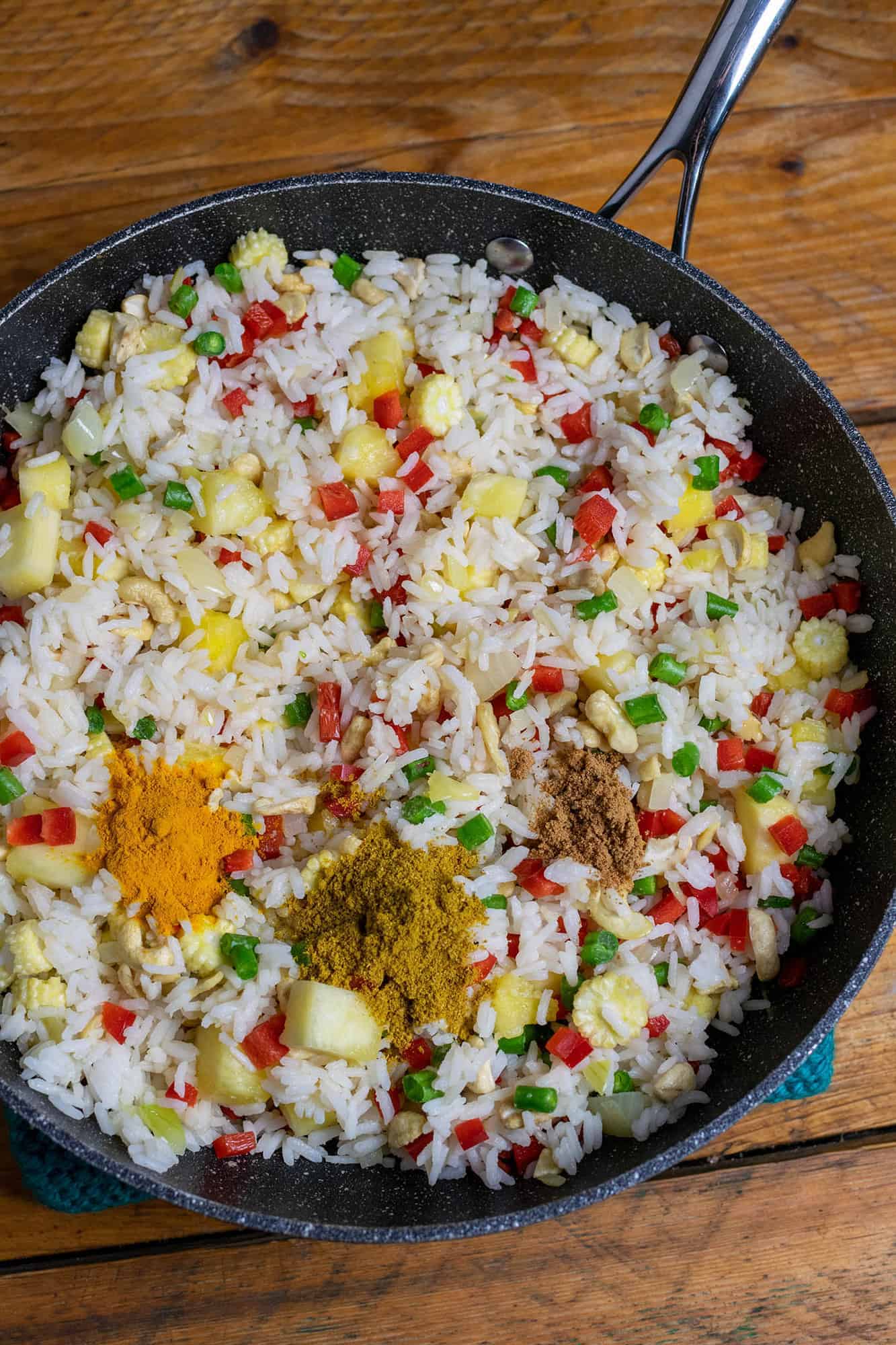 Cook for a further 5 minutes, until the turmeric and curry powder coats all of the ingredients.
Serve in a pineapple bowl – if you want
If you'd like, you can serve this vegan pineapple fried rice in an actual pineapple bowl!
Here's how to make one (as pictured). Start by cutting the pineapple in half (lengthwise), then score along the edges using a sharp knife. Be careful not to cut all the way through the pineapple! Chop the middle of the pineapple into 6-8 pieces, while it's still intact. If you do cut all the way through on once side, it's not the end of the world. As long as you can't see a gaping hole, it will be fine.
Using a spoon, very gradually and carefully, coax each chunk out of the pineapple. You'll be left with a pineapple bowl – that will save on the washing up!
It's traditionally served like this in Thai restaurants, but it's up to you whether you want to go to the extra effort. We tend to do it if we have guests over for dinner!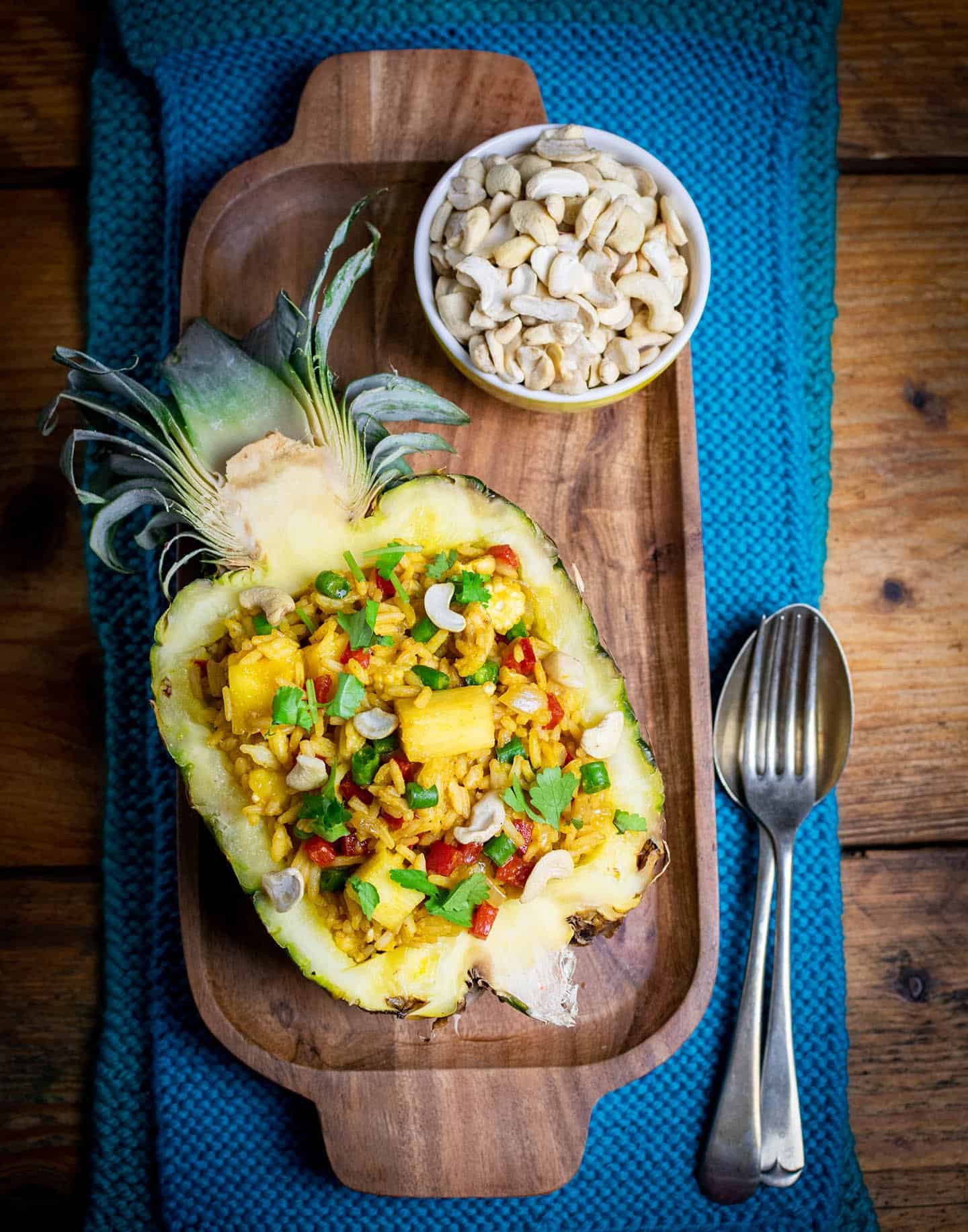 Can I use pineapple out of a tin?
The short answer is yes! It's often more convenient to use pineapple out of a tin than chopping up a fresh pineapple and making it into a bowl. However, if you want the pineapple to be as fresh and tasty as possible, grab a fresh one and do the prep. If you're not too worried about it, then go for it with the canned pineapple!
Can you freeze vegan pineapple fried rice?
Yes, you can freeze vegan pineapple fried rice, no problem. Just make sure to thaw it out overnight, the day before you want to eat it. Also, be sure to reheat it thoroughly, and freeze it while it's still fresh.
Fun fact: if pineapple makes your tongue, mouth or lips tingle when you eat it, that will be because of an enzyme called Bromelain. The Bromelain breaks down proteins, and that's what the feeling is! It's breaking the protein down on your lips. Weird, right?
However, it's nothing to worry about. If you're allergic to the enzyme, just grab tinned pineapple as the canning process breaks down the enzyme.
What equipment will I need to make Pineapple Fried Rice?
Here is a list of gadgets that we'd recommend for making this recipe…
Pineapple Corer – who knew that a pineapple corer exists? This nifty gadget will make the most time consuming task in this recipe as easy as 1-2-3. Please note, you won't be able to use this gadget if you want to serve the Thai fried rice in a pineapple bowl. This is because it requires the top and bottom to be cut off first. It is also easy to clean and dishwasher safe.
Nicer Dicer – although not something that is found in a chef's kitchen traditionally, it will help you to cut the vegetables into a uniform shape and size. This means they will cook evenly, and will save you a lot of time! We use this Genius Nicer Dicer – we love it. Especially as it's dishwasher friendly too!
Wok – we've said it before, and we'll say it again. A good quality wok is everything! We have an Eaziglide Neverstick wok. It has a non-stick coating on it, and a lifetime guarantee. Woks are excellent because they can heat to much hotter temperatures meaning quicker cooking times, yet delicious hot and crunchy vegetables.
If you like this recipe, you make also like:
If you'd like to find out more about cooking Vegan Thai Food, head to our Ultimate Guide to Cooking Vegan Thai Food and check out even more amazing Thai side dishes.
Did you make this recipe? Leave a review and a rating below, or tag us in your photos on Instagram! Alternatively, bookmark it in your browser or save to Pinterest for later.

If you love our content, please consider supporting it by buying us a coffee.
📖 Recipe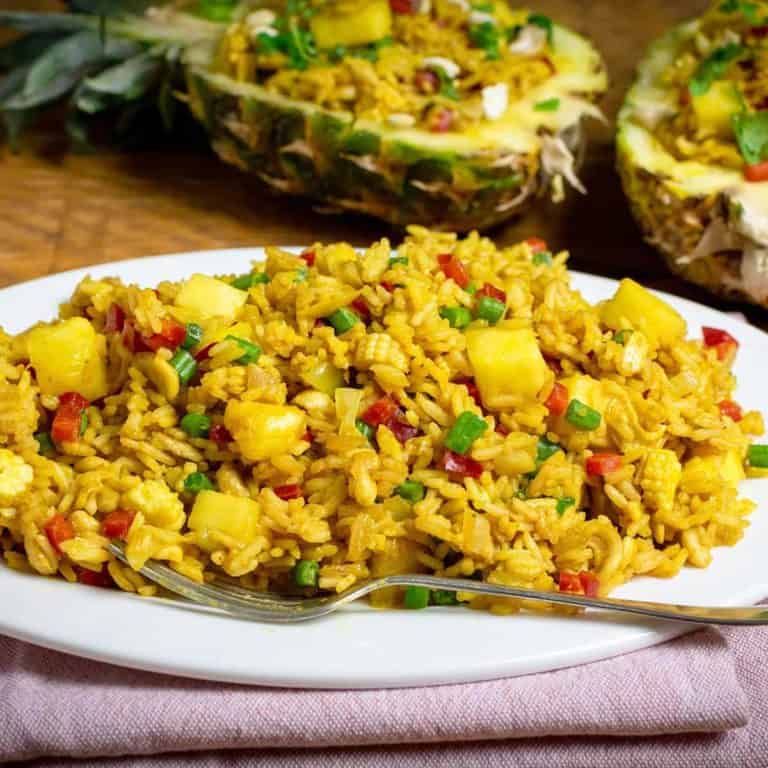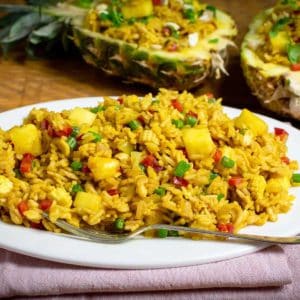 Vegan Pineapple Fried Rice in 20 minutes
This Vegan Pineapple Fried Rice has got it all – sweet, savoury and sour! It's not a spicy one, but you can always add a sprinkling of chilli flakes to the dish if you'd like it a bit spicy. You'll need just 12 ingredients and 20 minutes to bring this to life!
Save
Saved!
Print
Pin
Rate
Ingredients
1

onion

– chopped

3

cloves

garlic

– crushed

180

g

pineapple chunks

100

g

baby corn

– cubed

100

g

green beans

– cubed

1

red pepper

– cubed

½

cup

cashews

2

teaspoon

turmeric powder

2

teaspoon

curry powder

4

tablespoon

soy sauce

1

teaspoon

sugar

300

g

Jasmine Rice

(800g cooked weight)
Instructions
Cook the rice according to packet instructions (if you're not using leftovers).

Fry off the onion in a wok, over a medium high heat.

Add the garlic in for a minute, once the onions are translucent.

Then add in the turmeric and curry powder, stir for another minute to get the spices fragrant.

2 teaspoon turmeric powder,

2 teaspoon curry powder

Put the rest of the veggies, pineapple and cashews into the wok and stir well. Keep cooking for around 2 minutes.

180 g pineapple chunks,

100 g baby corn,

100 g green beans,

1 red pepper,

½ cup cashews

Season with the soy sauce, and add in the sugar.

4 tablespoon soy sauce,

1 teaspoon sugar

Pop the rice into the wok and combine with everything until the rice takes on the vibrant yellow colour of the turmeric.

Serve in a pineapple bowl (if you like – instructions in the blog) and enjoy!
Notes
If using cooked rice, it will be around 900g. White rice triples in weight when cooked.
You can use canned pineapple if you don't have fresh.
Nutrition
Calories:
467
kcal
|
Carbohydrates:
87
g
|
Protein:
13
g
|
Fat:
8
g
|
Saturated Fat:
2
g
|
Polyunsaturated Fat:
2
g
|
Monounsaturated Fat:
4
g
|
Sodium:
1017
mg
|
Potassium:
547
mg
|
Fiber:
5
g
|
Sugar:
13
g
|
Vitamin A:
1203
IU
|
Vitamin C:
50
mg
|
Calcium:
67
mg
|
Iron:
4
mg