Nothing quite hits the spot on a cold winter's night like this classic vegan stew and dumplings. Hearty and comforting, it's become a favourite in the Vegan Punks household!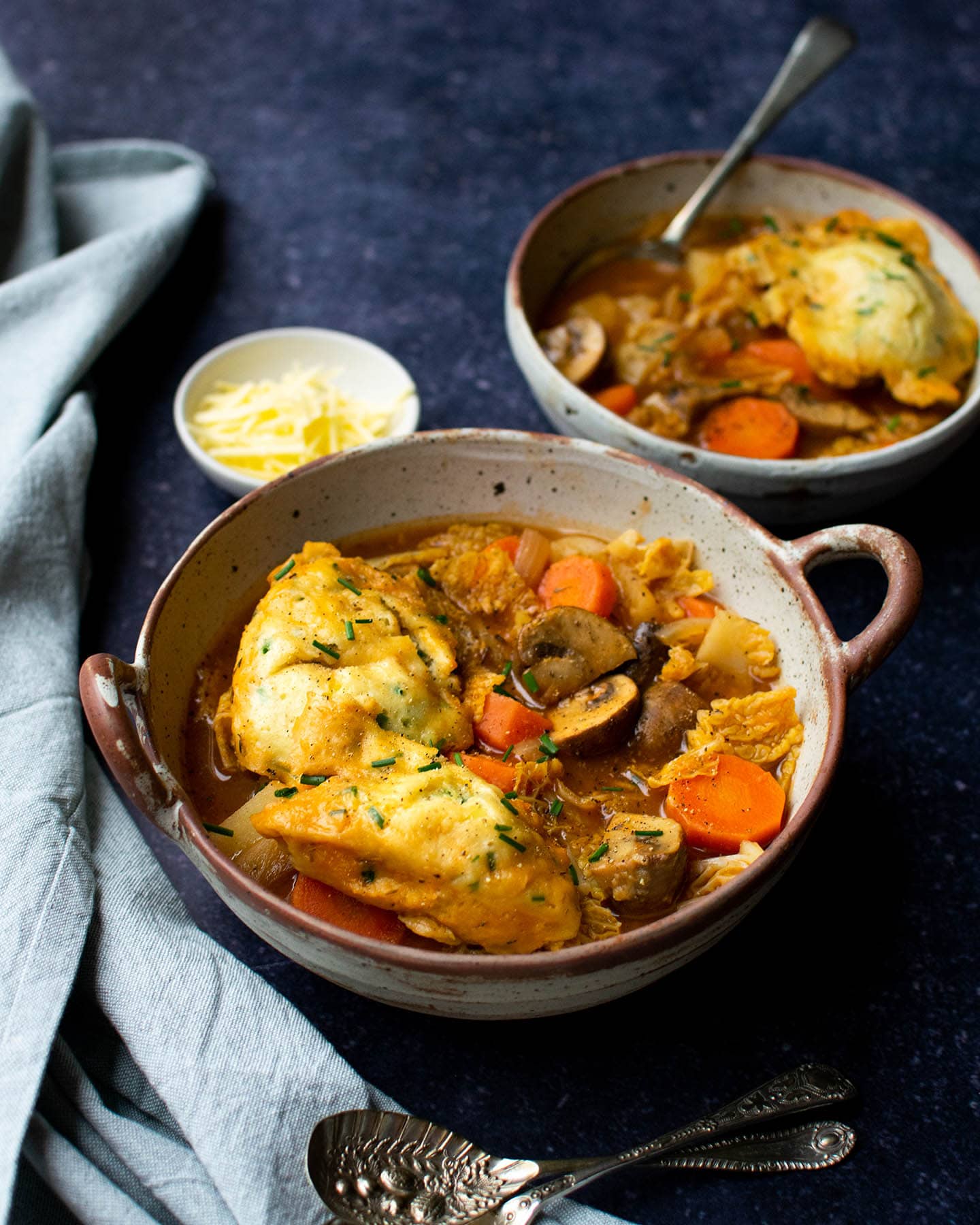 Jump to:
Why this recipe works
We've taken our inspiration for this recipe from a traditional Irish stew, although without the meat. It's been a recipe that we've tinkered with a lot over the years, but we thought that it was about time we got it written down and on the blog for you all. So, it's not strictly traditional, but it is tasty!
In this version of our classic vegan dumpling stew, we've gone with mushrooms, potatoes, cabbage and carrots because these wintery vegetables are particularly good in a stew.
However, being the versatile dish that it is, you can make your vegan dumpling stew using pretty much any veg that you like!
We'd recommend using potatoes because they add the hearty and comforting feeling that you get from eating a stew, but other than that the world is your oyster.
Celery, kale and root vegetables like parsnips, swede and sweet potatoes are all really good in stews. You can also try switching up the protein source, for example rather than mushrooms you can use chickpeas, butter beans or black beans.
Another great things about this recipe is that you can chuck in whatever veg you have lying around, so it's a great way to minimise your food waste.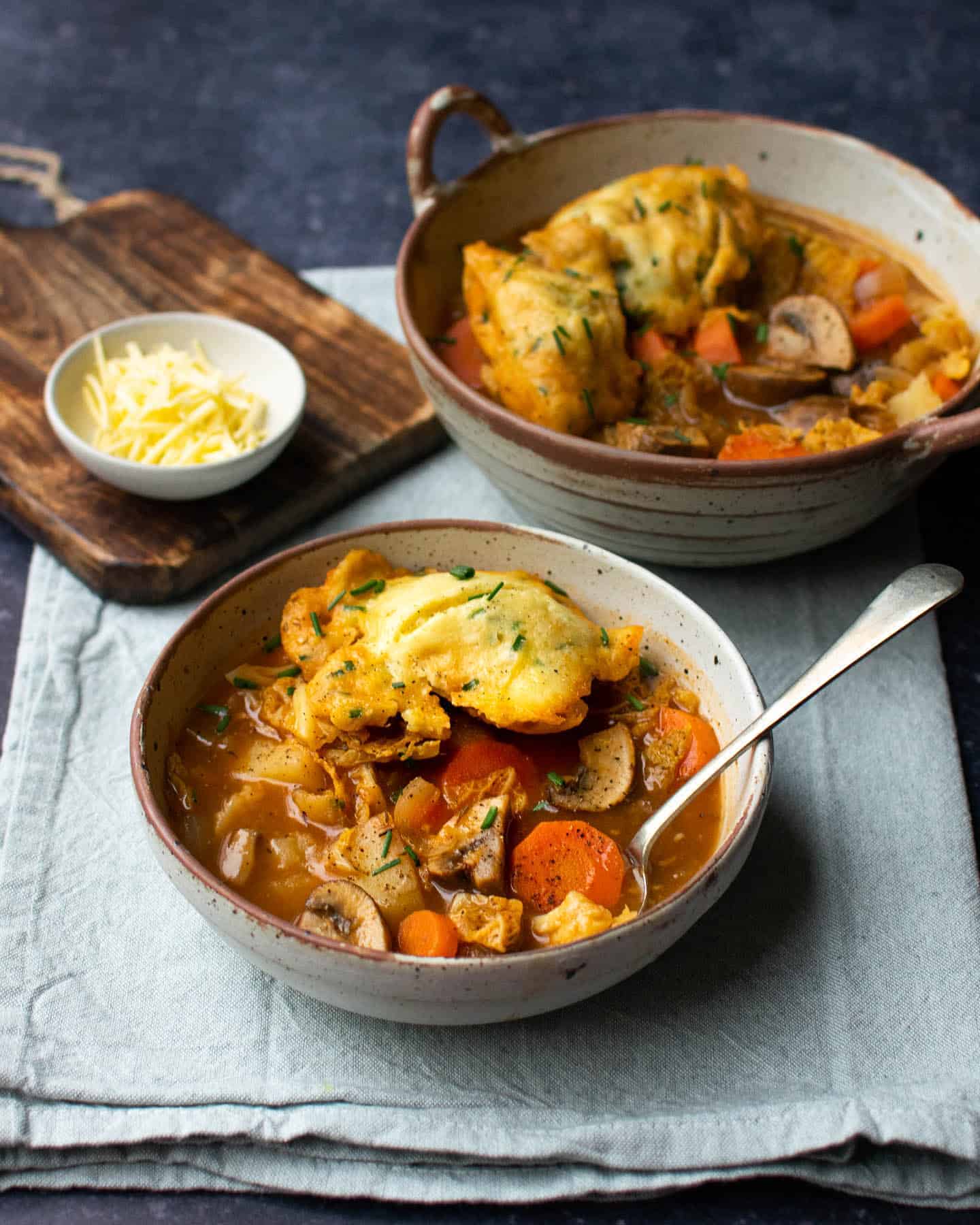 📋 Ingredient Notes
The base for this vegan dumpling stew, is a vegan vegetable stew, but with added delicious dumplings! You can substitute the vegetables and use your favourites or the ones you happen to have lying around, but we'd recommend keeping the potatoes (it just isn't a stew without potatoes!).
If you're taking out the mushrooms it's a good idea to replace them with another protein source like chickpeas, black beans or even tofu, to make sure the meal is nice and filling.
Chestnut mushrooms. We like chestnut mushrooms in particular because they are nice and 'meaty' and retain their texture well when cooked.
Onion. Red or white is fine, red is slightly sweeter and white has a slightly stronger flavour. Chop your onion into small pieces.
Carrots. Carrots should be washed and chopped, skin on or off is fine.
Potatoes. Chop them into bite sized chunks so that they cook evenly while still retaining some 'bite.'
Vegetable stock or vegan beef stock works well too.
Ale. A lot of bottled and canned ales are vegan, but it's worth double checking on Barnivore, or making sure you buy an ale marked as vegan to be sure. Traditionally ales were brewed using isinglass which is a kind of gelatin obtained from fish, and if it's been used it won't usually say so on the label.
Thyme. Dried or fresh is fine.
Cornflour mixed with water to form a paste.
Vegan dumplings for stew:
Our vegan dumplings for stew are extra delicious because they have a delicate cheese flavour with a hint of chive, too. Here are some ingredients notes for them...
Nutritional yeast. You can get hold of this in most of the larger supermarkets.
Plain flour – be sure to sieve the flour to make the dumplings extra fluffy.
Grated vegan cheese. You can leave this out if you don't have it, but it will make your dumplings extra delicious.
Oat milk, or any plant based milk that is unsweetened and doesn't have a lot of flavour. Coconut and soy milk would also work well.
For measurements and detailed instructions, please see the recipe card at the end of this article.
🔪 Step-by-step Instructions
It's a good idea to get your dumplings ready before starting to put your stew together. This means they'll be ready to go into the stew as soon as it's ready for them.
Sieve the flour into a large bowl.
Add the rest of your ingredients to the flour and mix together.
Set aside.
For the stew:
This vegan dumpling stew is nice and easy, and made in one pot which saves on washing up! You'll need a good sized cooking pot with a lid, see the recommendations at the end of this article for more information.
Take your onion and fry it off in a splash of vegetable oil until it starts to go slightly translucent.
Add garlic to the pan and saute for around 30 seconds. Be careful not to let it burn.
Add your potatoes, mushrooms and thyme. Cook for around 5 minutes until your mushrooms start to release water.
Pop in your tomato paste and carrots. Give the whole lot a good stir.
Pour in your ale and stock, bring up to a simmer.
Add in your cabbage, and then put the lid on and simmer for five minutes.
Remove the lid, and stir in the cornflour mixture.
Now it's time to add the dumplings! For each dumpling, take roughly 2 tbsp of the dumpling mixture and spoon it onto the stew. It should float on the top. You're looking to create 8 dumplings, 7 around the edge and one in the middle. If you find you have mixture left after creating your 8 dumplings then scrape it onto each of the dumplings evenly (there shouldn't be much mixture leftover).
Pop the lid back on and simmer for 10 minutes to allow the dumplings to cook.
Serve and enjoy! This stew is especially delicious with hunks of buttered bread for dipping.
For detailed ingredients and instructions, please see the recipe card at the end of this article.
💭 FAQs
Can I use different vegetables in this vegan stew?
Yes, absolutely! This vegan dumpling stew is a great way to use up any extra veg you have lying around, which helps to prevent food waste. Experiment and see which veggies you think taste the best!
What if I don't want to cook with ale or alcohol?
The ale is used to add depth to the flavour, so you can leave it out, but be sure to replace it with something else that does this. Veggie stock or vegan beef stock work really well, or you could even try an alcohol free ale.
Can I make this ahead of time?
Yes, you can make the vegan vegetable stew ahead of time. We'd recommend making the dumplings on the day that you want to eat them, though.
Does this stew freeze?
Yes, it freezes really well. It's worth noting though that mushrooms can go slightly rubbery when they have been frozen, so it's worth bearing this in mind when you're choosing which veg to put in your vegan dumpling stew (before freezing).
What ale should I use?
We usually go for a golden ale, but any ale is fine provided that it's vegan and not flavoured (like the elderflower or coffee flavoured ales that you can sometimes get). You could even try using a stout like Guiness, although personally we think that Guiness gives a slightly sour flavour that we don't really like as much.
🥔 More comfort recipes you might like
If you're looking for a hearty and comforting winter treat, we have a few delicious options for you!
As you might expect, it took us some time to perfect our vegan fish pie recipe! We've tried this recipe on multiple people, and everyone has loved how creamy and herby it is.
We're seriously chuffed with this one. We've managed to create a truly delicious vegan toad in the hole that's fluffy and crunchy, and perfect when served up with a generous helping of gravy. All this without an egg in sight!
Mushroom wellington is perfect as the centrepiece of a roast dinner, or even as the main event on Christmas day! It looks impressive on the table so you can wow your dinner guests, but actually it's very simple to make and only needs 8 ingredients.
We couldn't really talk to you about comforting wintery fare without mentioning our awesome vegan shepherd's pie recipe. Using a combination of lentils and veg for the filling, and topped with yummy mashed potato, this recipe is great if you're short on time and want to make a wholesome meal to impress the family.
Did you make this recipe? Leave a review and a rating below, or tag us in your photos on Instagram! Alternatively, bookmark it in your browser or save to Pinterest for later.

If you love our content, please consider supporting it by buying us a coffee.
📖 Recipe
Hearty Vegan Stew and Dumplings
Vegan stew and dumplings is a perfect winter warmer! Potatoes, mushrooms, carrots and cabbage in a rich sauce makes for a wonderful dinner. Especially when topped with hearty, comforting (and fluffy!) vegan dumplings.
Print
Pin
Rate
Ingredients
For the stew:
1

onion

- chopped

3

cloves

garlic

- crushed

500

g

chestnut mushrooms

- chopped into chunks

350

g

carrots

- peeled and chopped (~ 3 carrots)

400

g

potatoes

- peeled and chopped (~ 2 potatoes)

350

g

savoy cabbage

- sliced

2

tbsp

tomato paste

2

cups

veg stock

500

ml

ale

- check it's vegan

2

tbsp

thyme

- dried or fresh

1

tbsp

cornflour

- mixed with 2-3 tbsp water to make a paste
For the dumplings:
1

cup

plain flour

2

tbsp

nutritional yeast

1.5

tsp

baking powder

2

tbsp

rapeseed oil

2

tbsp

chives

- chopped

½

cup

grated vegan cheese

- optional but recommended

1

cup

oat milk

- unsweetened

½

tsp

salt
Instructions
Mix all of the dumpling ingredients together in a bowl. Make sure to sieve the flour so that you get extra fluffy dumplings. Set aside once all the ingredients are mixed together well.

1 cup plain flour

,

2 tbsp nutritional yeast

,

1.5 tsp baking powder

,

2 tbsp rapeseed oil

,

2 tbsp chives

,

½ cup grated vegan cheese

,

1 cup oat milk

,

½ tsp salt

Fry the chopped onion in a splash of veg oil until translucent.

Next add the garlic, sauté for 30 seconds, being careful not to burn it.

Add in the chopped potatoes, mushrooms and thyme. Cook for about 5 mins, until the mushrooms start to release water.

500 g chestnut mushrooms

,

400 g potatoes

,

2 tbsp thyme

Pop in the tomato paste and carrots, then stir well.

2 tbsp tomato paste

,

350 g carrots

Pour in the ale and the veggie stock, and bring up to a simmer.

500 ml ale

,

2 cups veg stock

Next add the cabbage, then allow to simmer for 5 minutes with the lid on. The cabbage will start to wilt down.

Pour in the cornflour mix and stir well, again.

Take lid off, then carefully spoon 2 tablespoons at a time of the dumpling mix onto the stew, around the edges. They will float on the top. Go the whole way around the pan and then put one in the middle. It should make 8 dumplings, 7 around the edge and 1 in the middle. Scrape any leftover mixture onto the dumplings evenly.

Put the lid back on and simmer for another 10 minutes. Remove the lid and the dumplings will be perfectly risen and fluffy. Serve and enjoy!
Notes
You can omit the vegan cheese from the dumpling mix for a lighter result, if you like.
Try it with your favourite vegetables! Parsnips, swede and other root vegetables would all work well!
Nutrition
Calories:
526
kcal
|
Carbohydrates:
85
g
|
Protein:
16
g
|
Fat:
12
g
|
Saturated Fat:
2
g
|
Polyunsaturated Fat:
2
g
|
Monounsaturated Fat:
4
g
|
Trans Fat:
1
g
|
Sodium:
1223
mg
|
Potassium:
1790
mg
|
Fiber:
12
g
|
Sugar:
16
g
|
Vitamin A:
15972
IU
|
Vitamin C:
63
mg
|
Calcium:
317
mg
|
Iron:
5
mg