If you've been reading our blog for any time at all, you'll know that we're obsessed with vegan Indian dishes!
Maybe it's down to my West Midlands upbringing, or just the fact that Brits love curry and all things Indian food, but I just love it.
That's why we cook so many vegan Indian recipes. We love the flavours, the comforting feeling it brings, and yes – we even eat curry in the summer!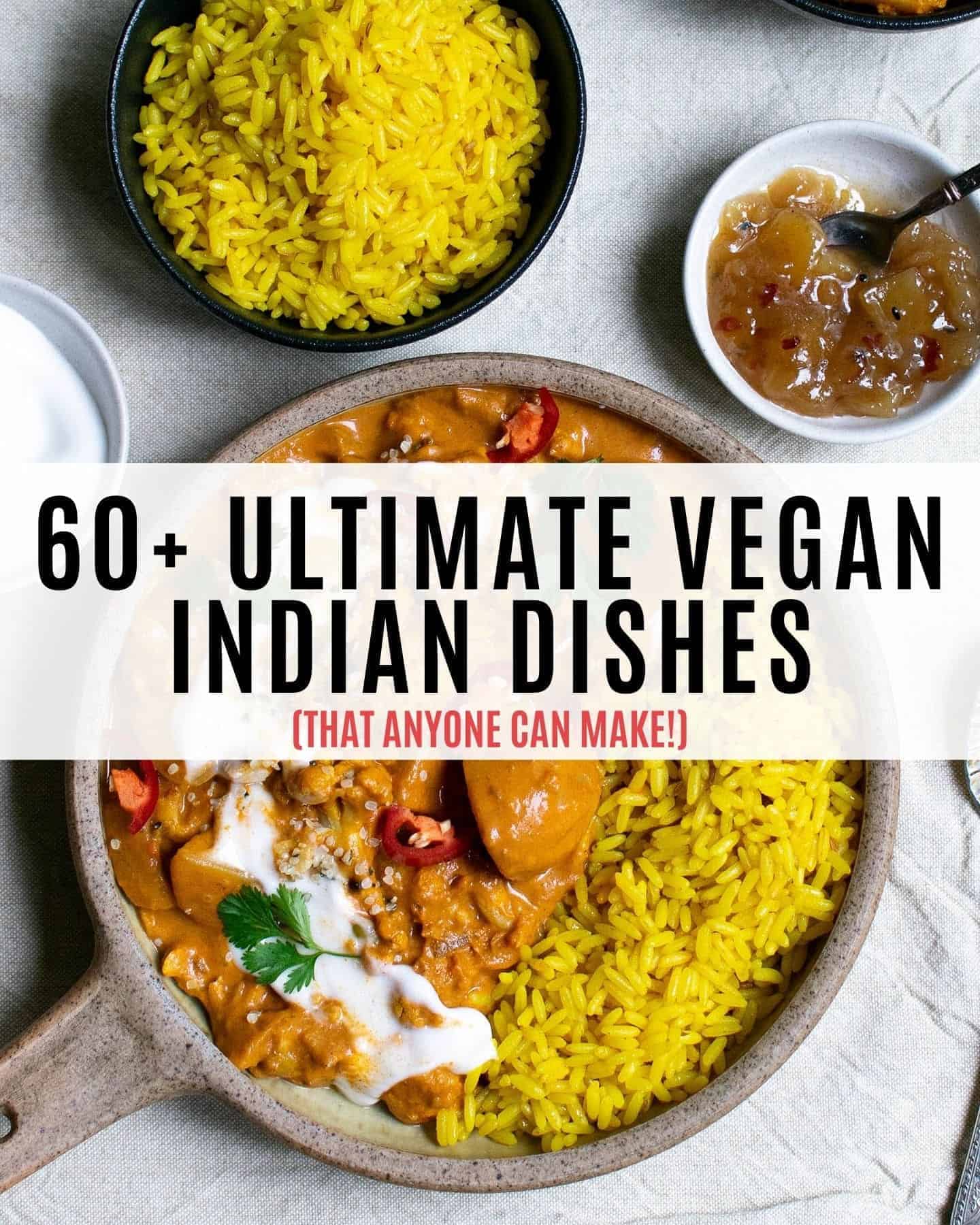 However, it's not just curries we love. We love Indian style breads, chutneys, raitas, and even snacks like pakoras and samosas. The list of vegan Indian dishes to try is basically endless.
Jump to:
Before we get into the best ever vegan Indian dishes on the internet, here are some of our pro tips:
🔪 How to make vegan Indian food: pro tips
Of course, every vegan Indian recipe is different. But if you follow the tips below, you'll have all the basic ingredients needed to make a lot of vegan Indian dishes, just waiting for you in the pantry! You can then add niche ingredients as and when you need them.
Spices
We'd recommend keeping a load of spices – whole and powdered – in your spice drawer.
Not just because having a full spice rack makes us happy like you wouldn't believe, but they're very useful too, of course! And you'd be surprised at how quickly they run out when you're cooking vegan Indian recipes. Here's where we would start, lots of recipes use these spices as a base:
Ground spices:
Cumin powder
Coriander powder
Chilli powder (spicy and mild)
Curry powder
Turmeric powder
Garam masala powder
Cayenne Powder
Whole spices:
Cumin seeds
Black peppercorns
Mustard seeds
Whole coriander
Cardamom pods
Cloves
Once you have these in your cupboard, you can start adding to your collection as and when recipes call for different spices.
Things like fennel powder, star anise and cinnamon sticks (to name just a few) are great to have in your spice rack, but aren't as commonly used. Managing your spices like this also helps to spread the cost!
🍅 Core ingredients
It's also worthwhile mentioning a few more core ingredients. These are items that will be used again and again in a number of different recipes. We'd recommend keeping them in the cupboard (or pantry) and adding them to your weekly shopping list!
Passata – canned tomatoes can be a little bitter sometimes. Using passata instead of chopped tomatoes creates a sauce that's smooth and delicate. We're not saying tinned tomatoes aren't good – they are (read the next point below) – but if you want a sauce that's smooth and creamy, go for passata instead. This is my favourite curry 'trick'! If it can be called a 'trick' that is...
Tinned tomatoes – the base of so many curries! We recommend buying chopped tinned tomatoes, as they spread out in the sauce a lot easier than whole tomatoes. If you want a chunky sauce with bits of tomatoes throughout, go for tinned tomatoes.
Tomato puree – enhance the flavour of your sauces, and it creates deep richness in sauces. Lots of supermarkets now offer double strength tomato puree, so the tube goes twice as far!
Cashews – not a traditional ingredient, but when soaked and blended up, it makes the most perfect cream alternative. A shop bought vegan cream also works well, but if you can't find that, cashews are the next best thing, or better, some might say.
Vegan yoghurt – used to make creamy kormas, cooling sauces and fluffy naans, so you'll need a good vegan yoghurt on hand.
Onions – the base of many great curries. If you're not in a hurry, cooking onions down for around 20-25 minutes until brown creates the greatest base for curries.
So here it is, our favourite vegan Indian dishes from the internet. Featuring bloggers from all over the world!
🍛 Main Dishes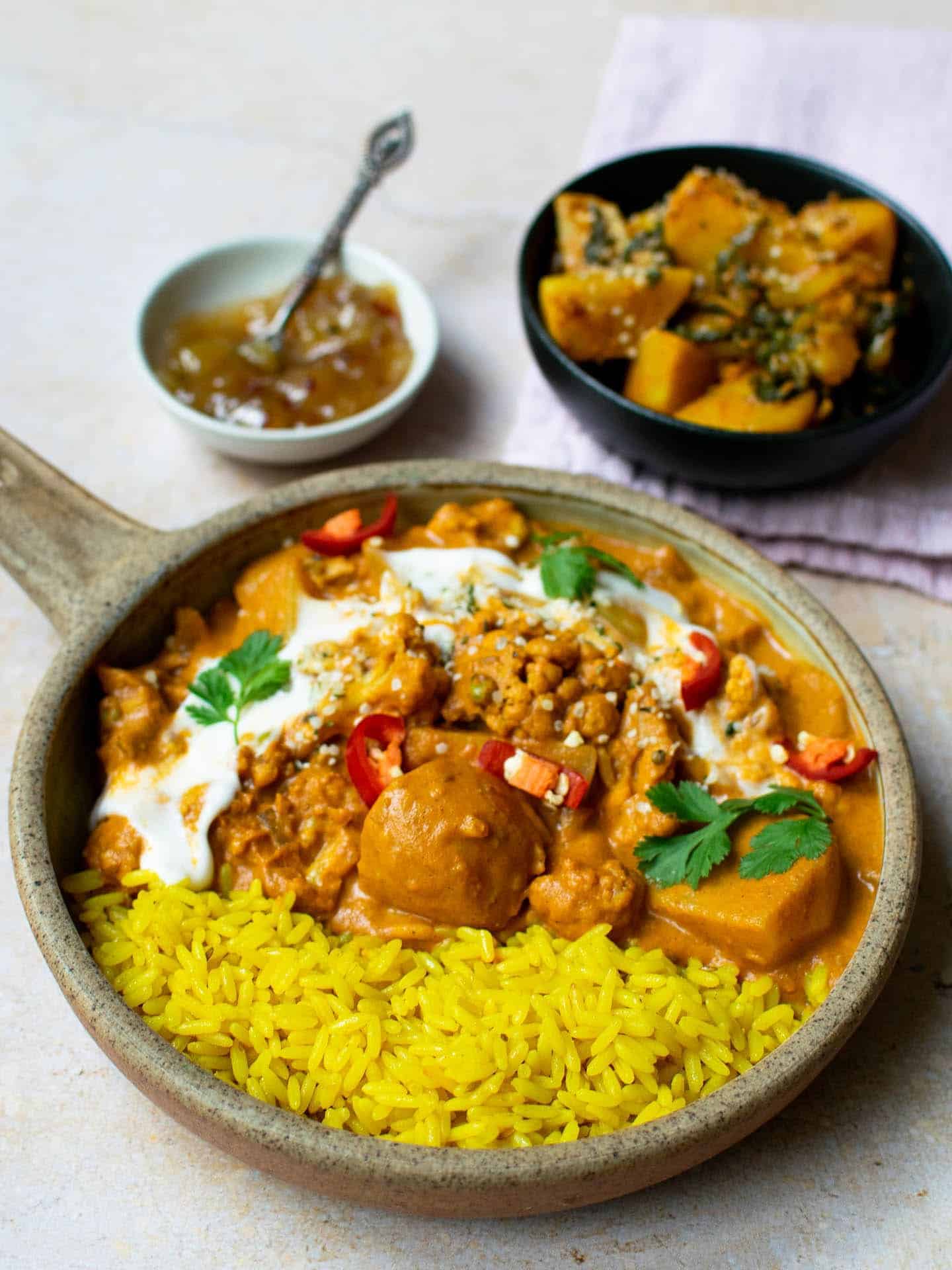 One of our favourite vegan Indian dishes, and fast becoming a fan favourite. It's rich, creamy and slightly spicy. No wonder it's a crowd pleaser. Top with vegan yoghurt and fresh coriander for a banging dinner. We also made this dish live on the Veganuary Instagram page.
This easy Vegetable Bhuna is comforting and delicious. Featuring a rainbow of vegetables, as well as tofu for some added protein, this could be your new go-to curry recipe. For lovers of fakeaways, this one really hits the spot, and is a great replica for the classic curry house dish.
This jackfruit curry features a rogan josh style sauce, so it's tomatoey, rich and on the mild side. Just chuck all the ingredients in and leave to simmer for 30 minutes – easy. Plus, there's a lot of sauce for you to get stuck into with a fluffy naan! One of our favourite vegan Indian dishes. Give it a go!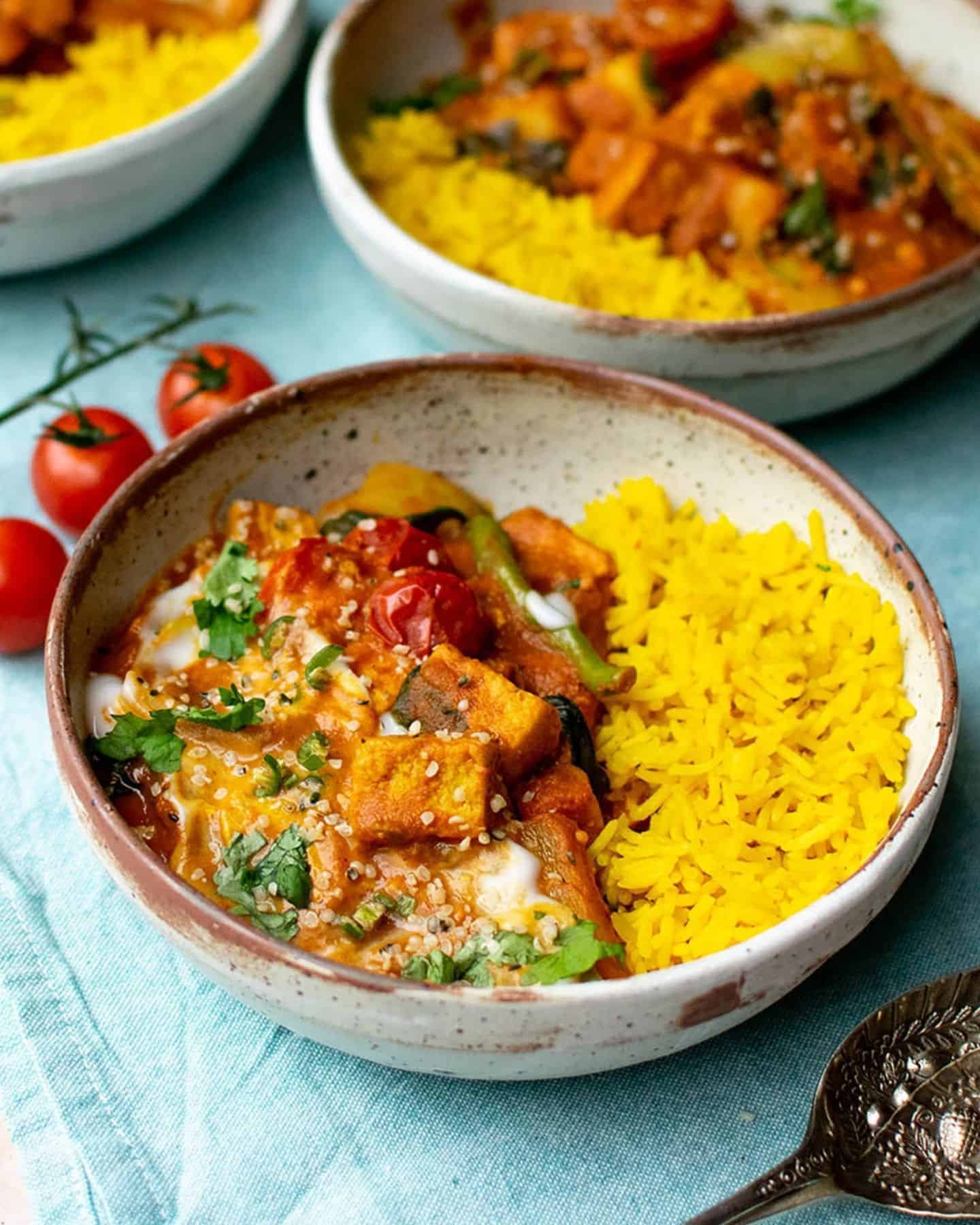 This delightful Vegetable Jalfrezi is made in two parts – to make sure the flavours infuse in the sauce, and that the vegetables remain nice and crunchy. The base of coconut yoghurt and passata makes for a silky smooth sauce that is hard to resist. Plus, this is a zero waste recipe.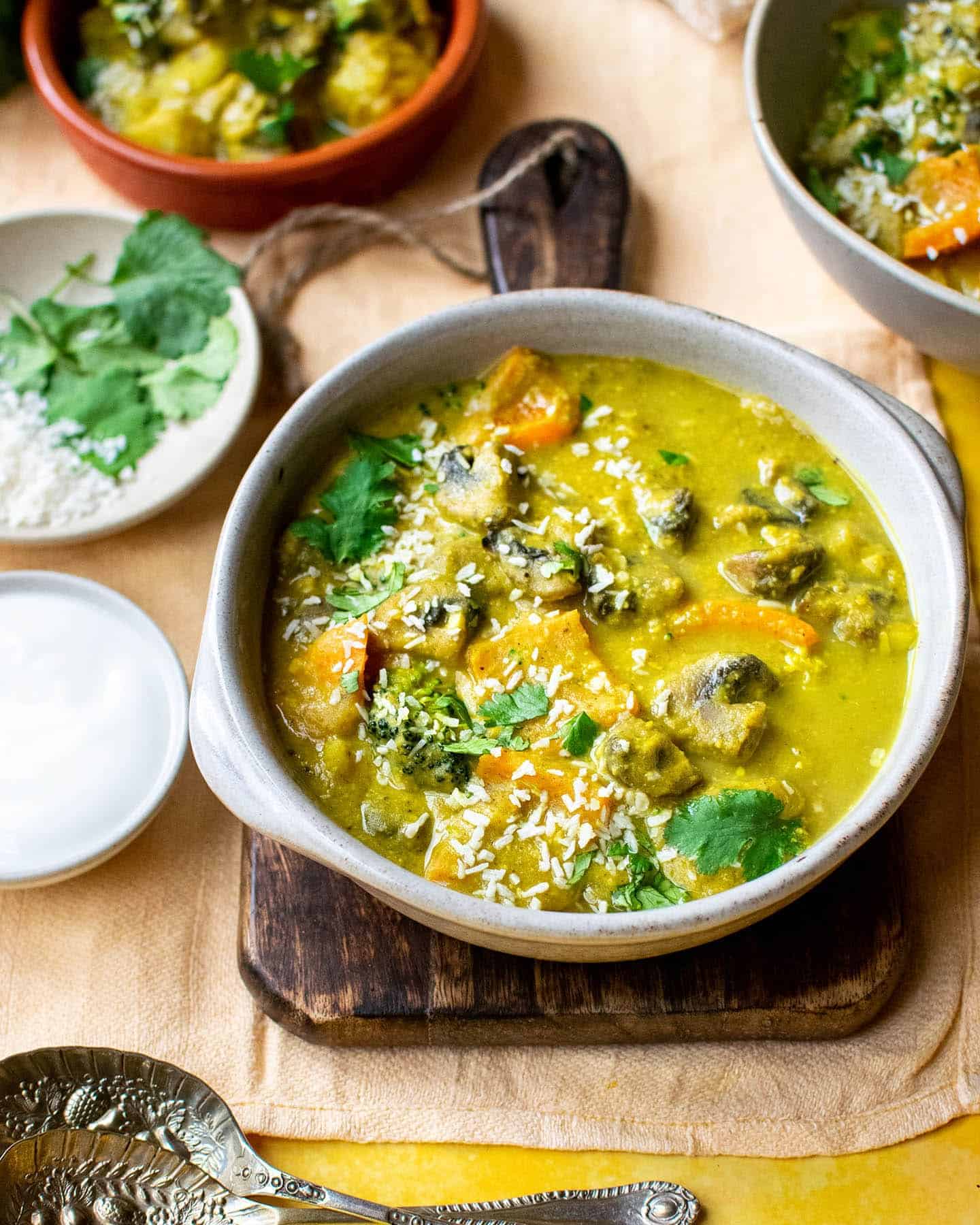 An easy to make, creamy and fragrant mushroom korma, that's destined to be a family favourite. It takes just 30 minutes to make. What are you waiting for?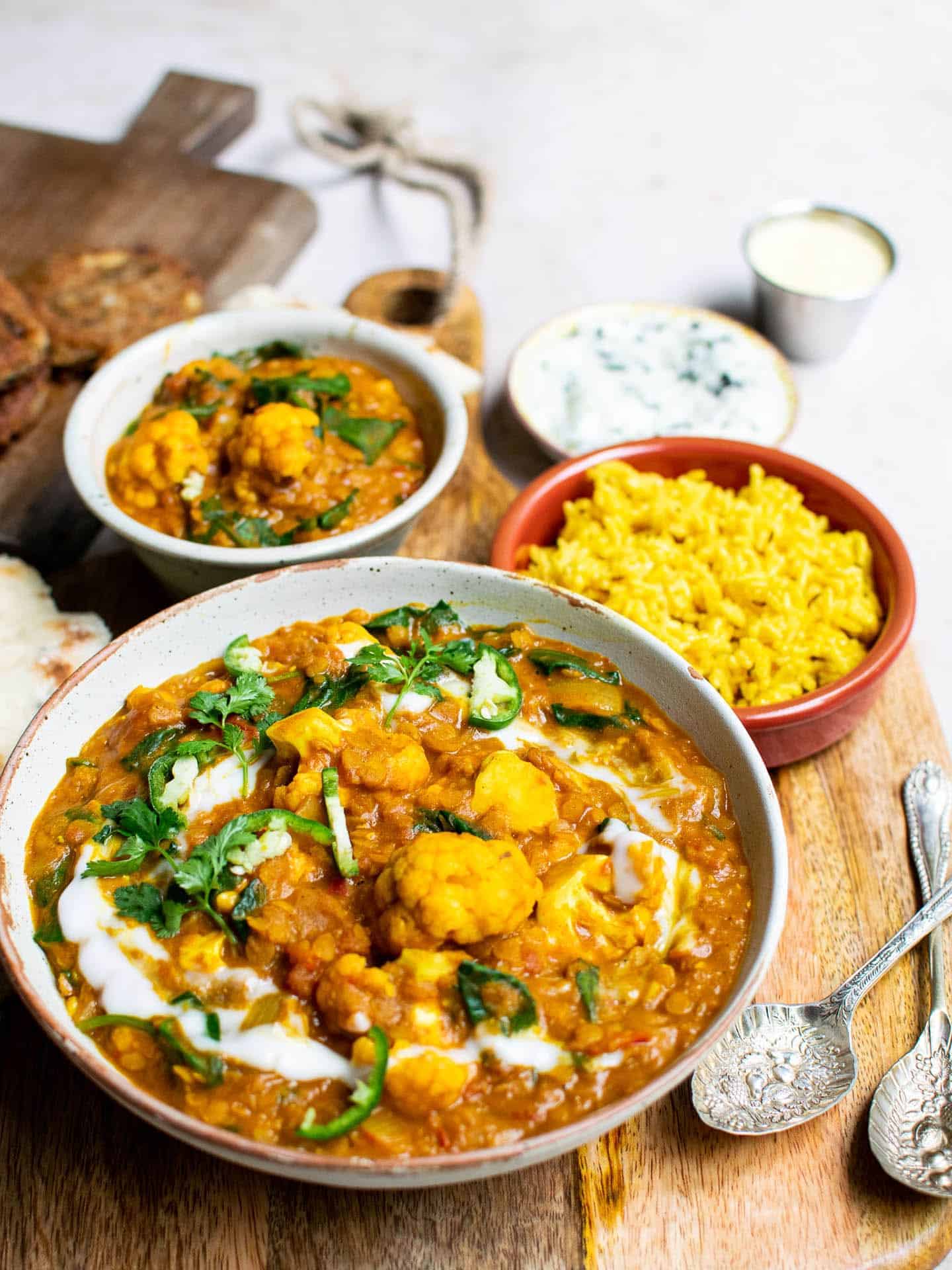 However you spell it dal, daal, dhal or dahl, no one can deny how delicious this Indian dish is! This cauliflower and spinach dal is made in just one pot and takes only 30 minutes. The cauliflower adds a great texture and the spice mix is heavenly. What's not to love?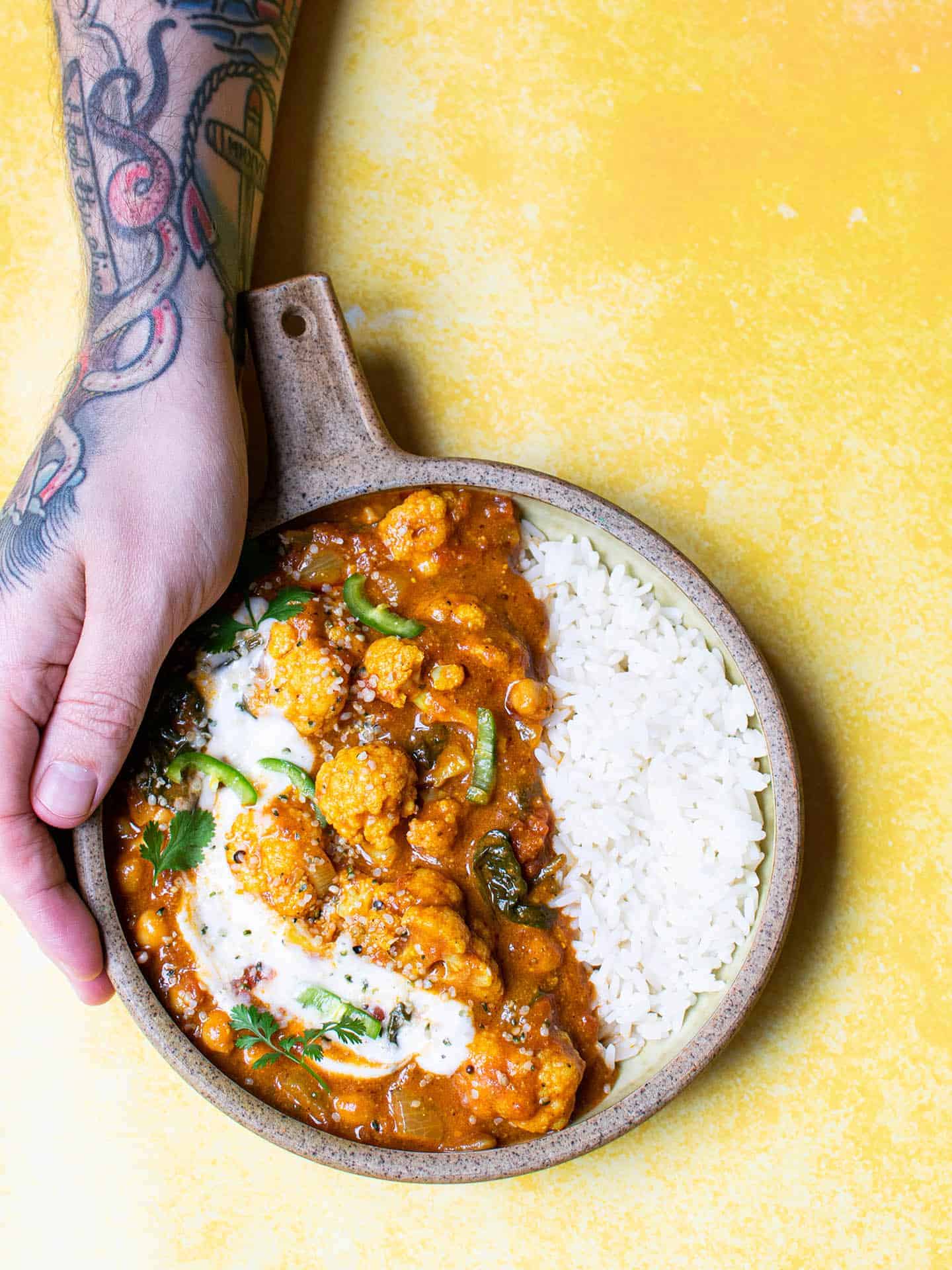 Our madras-style cauliflower curry satisfies a takeaway craving like no other! Rich, spicy and tomatoey, it's everything a curry should be. The area this curry comes from was previously called Madras, but is now Chennai.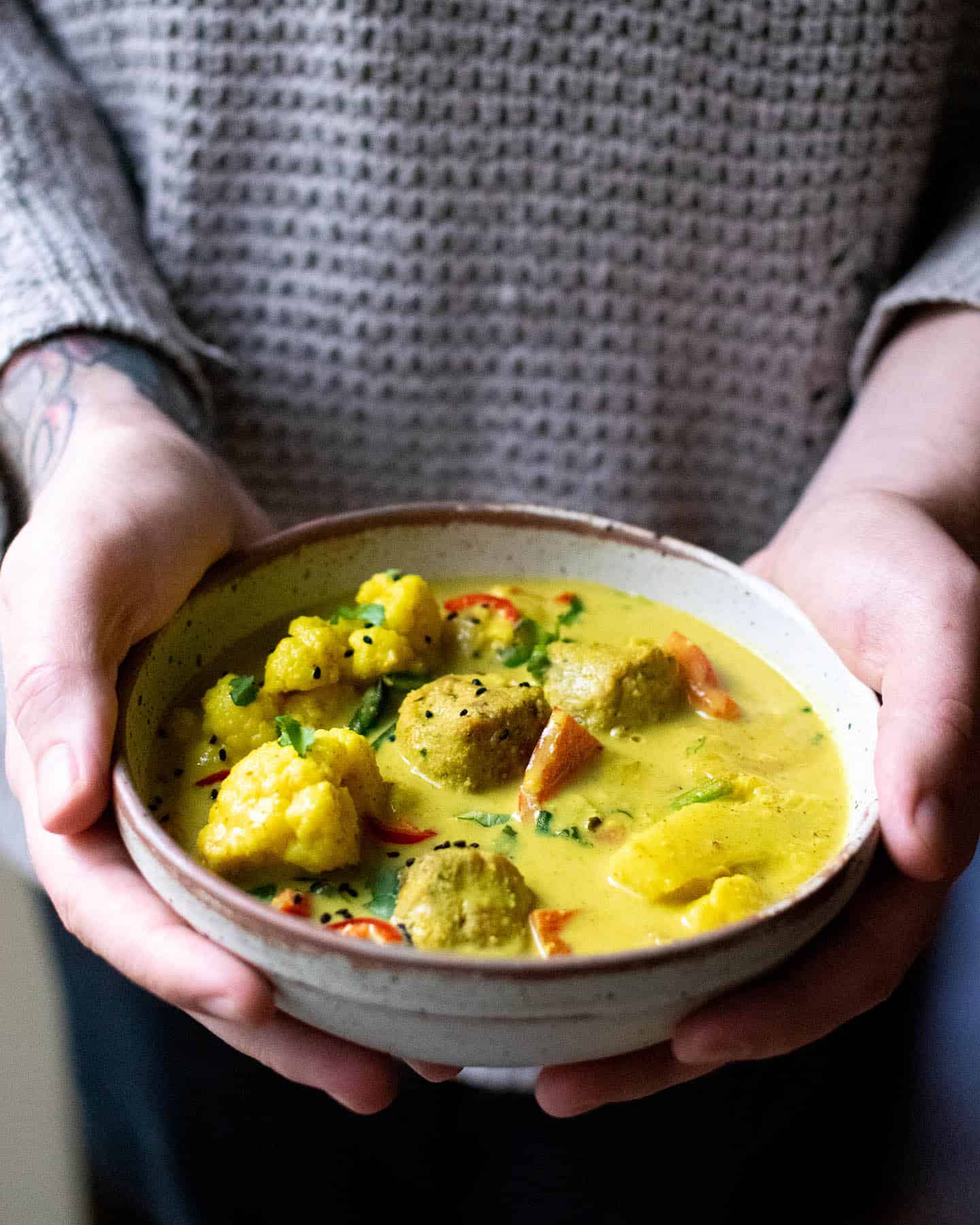 Falafel Curry?! No we haven't gone mad! The creamy korma sauce in this curry, paired with the traditional Moroccan falafel is a match made in heaven. Similar to koftas, but the cheat's version.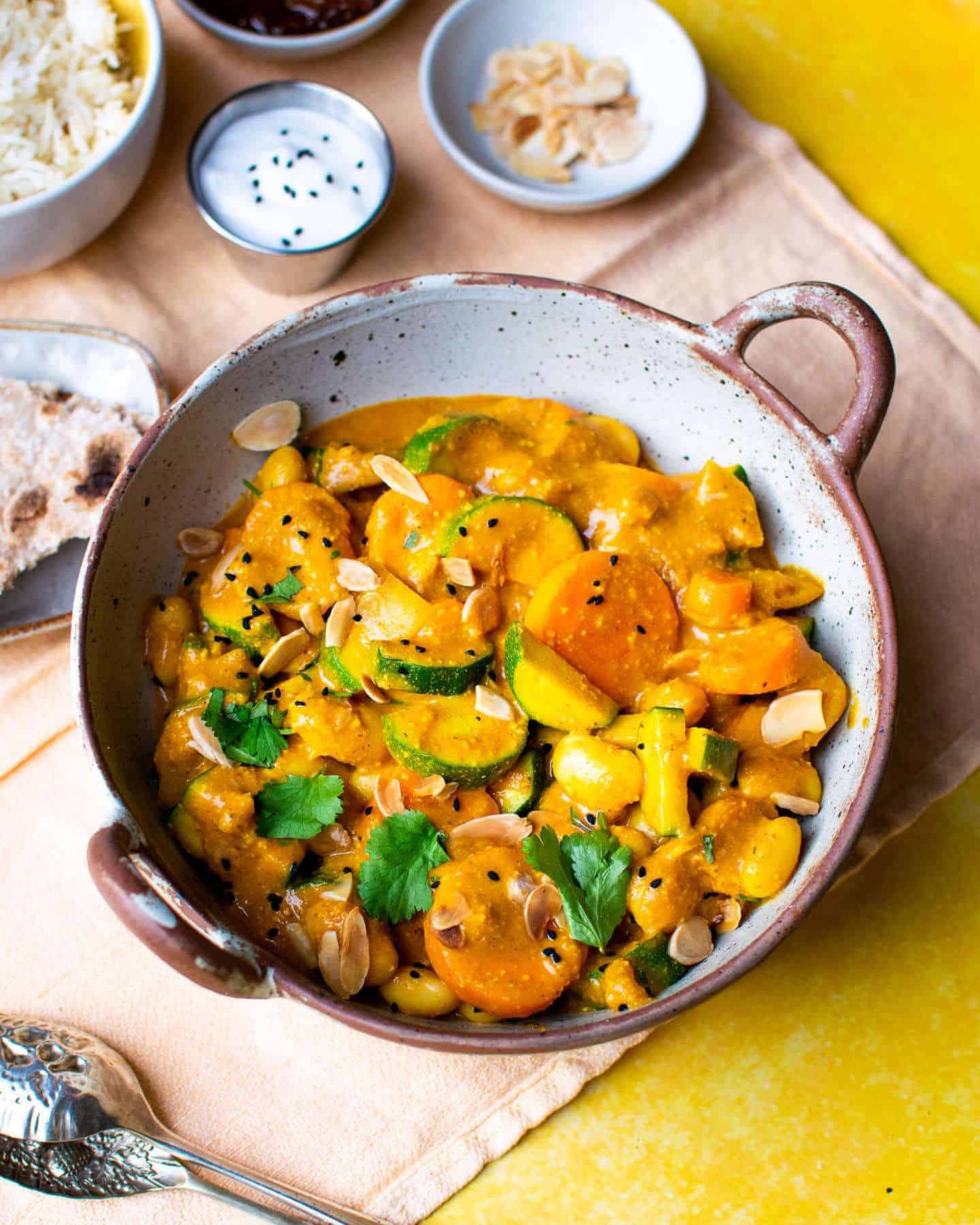 Vegetable Pasanda is silky smooth, creamy and full of flavour. It's great for all the family as it's a mild curry, but you can always add chilli flakes on your plate if you'd like yours to be a bit spicier! Plus, it only takes 30 minutes to make.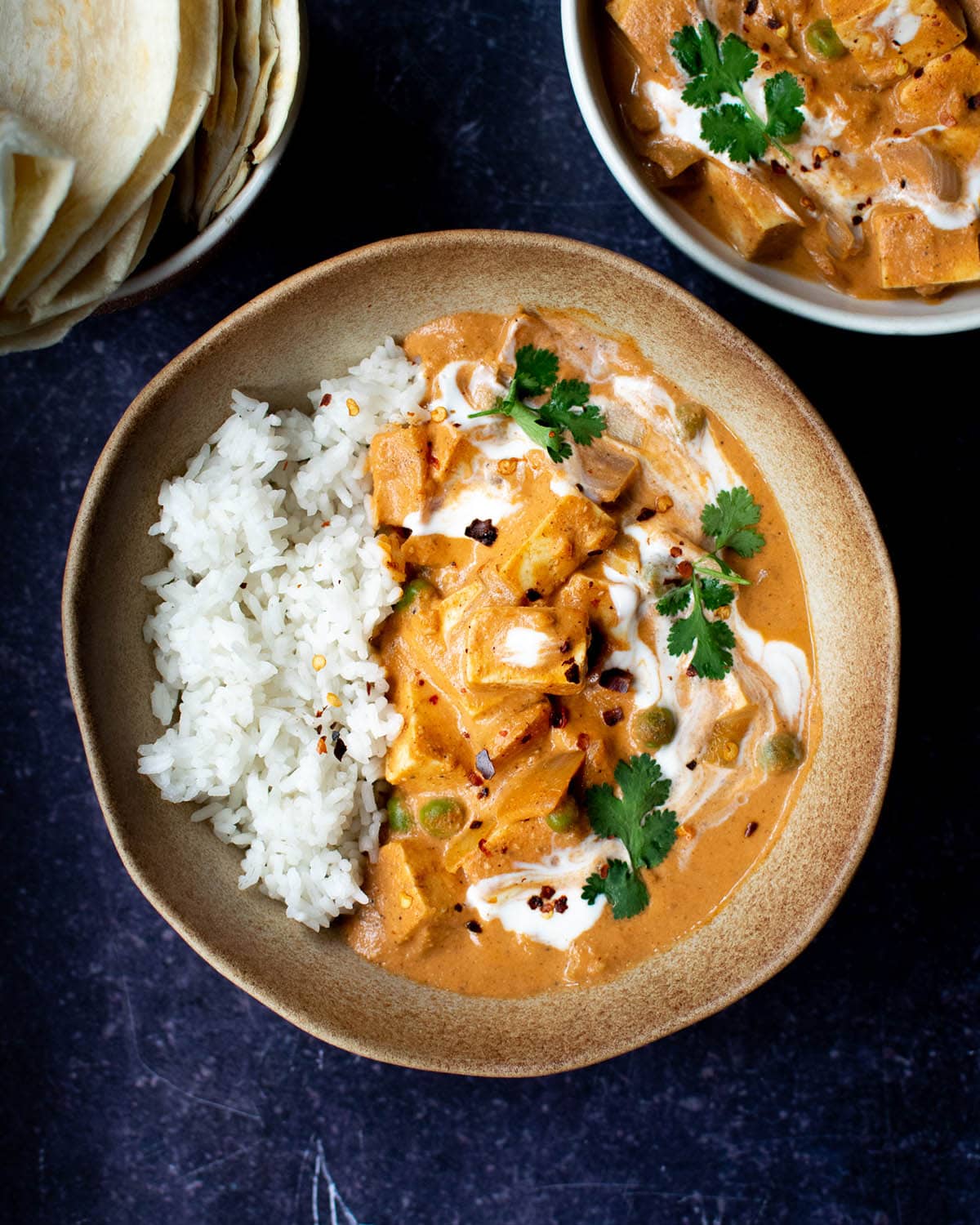 This is our take on the classic butter chicken but using tofu. Made in just 30 minutes, it's creamy tomato sauce pairs wonderfully with a chilli pepper kick. Not to be missed.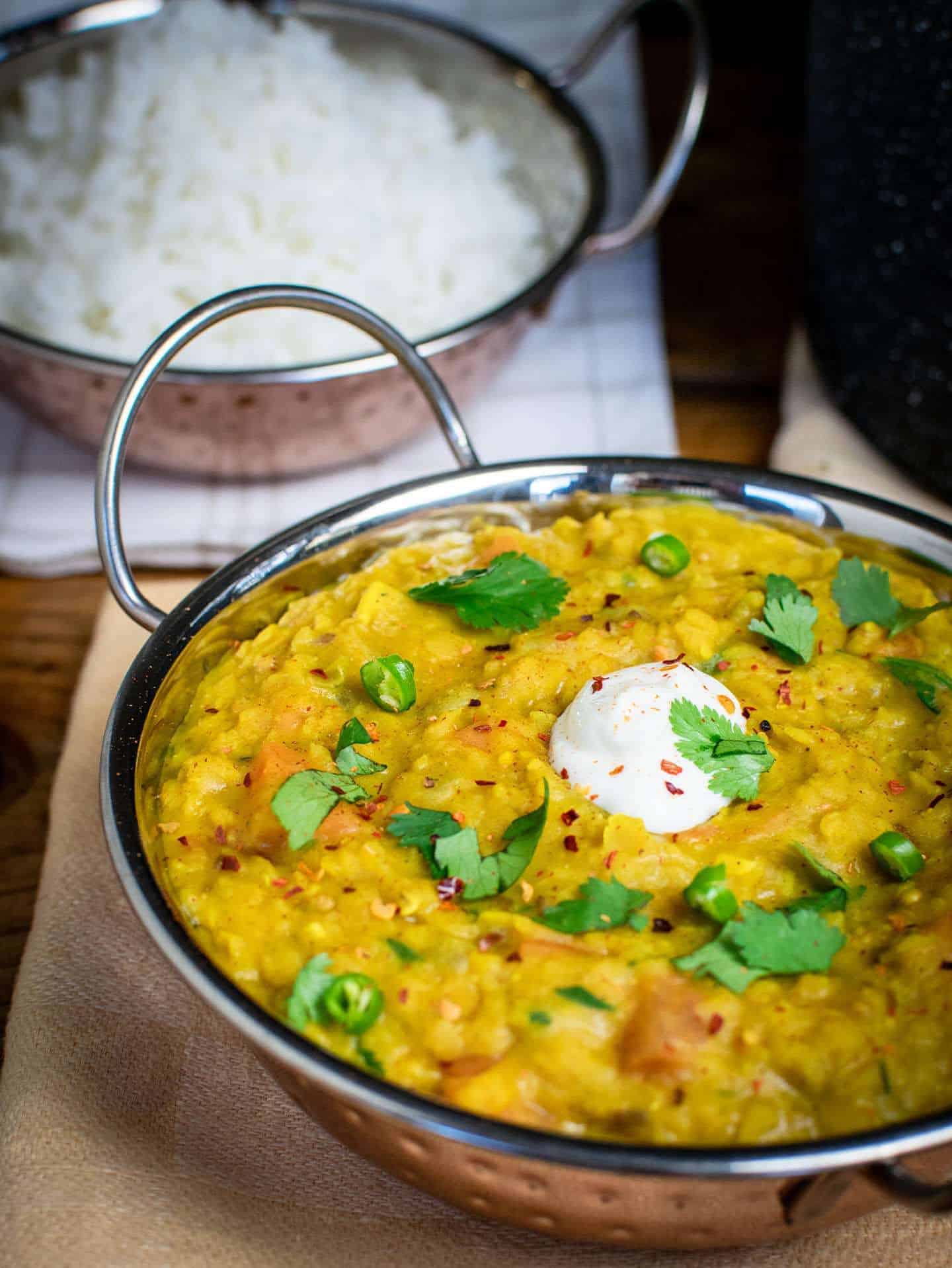 The classic dahl! Using mostly store cupboard ingredients (including swaps for what to use if you haven't got some of the ingredients), this is one of our most popular recipes on Instagram. Remade by followers and readers alike, and it never disappoints because it's low effort and super delicious.
The fragrant spinach based sauce, paired with curry and kala namak crusted tofu is a perfect match! For fans of Palak Paneer.
Kothu Parotta ia a South Indian dish that's made with torn bread (parotta), veg and curry sauce! Try our quick and easy version – it's ready in under 30 minutes.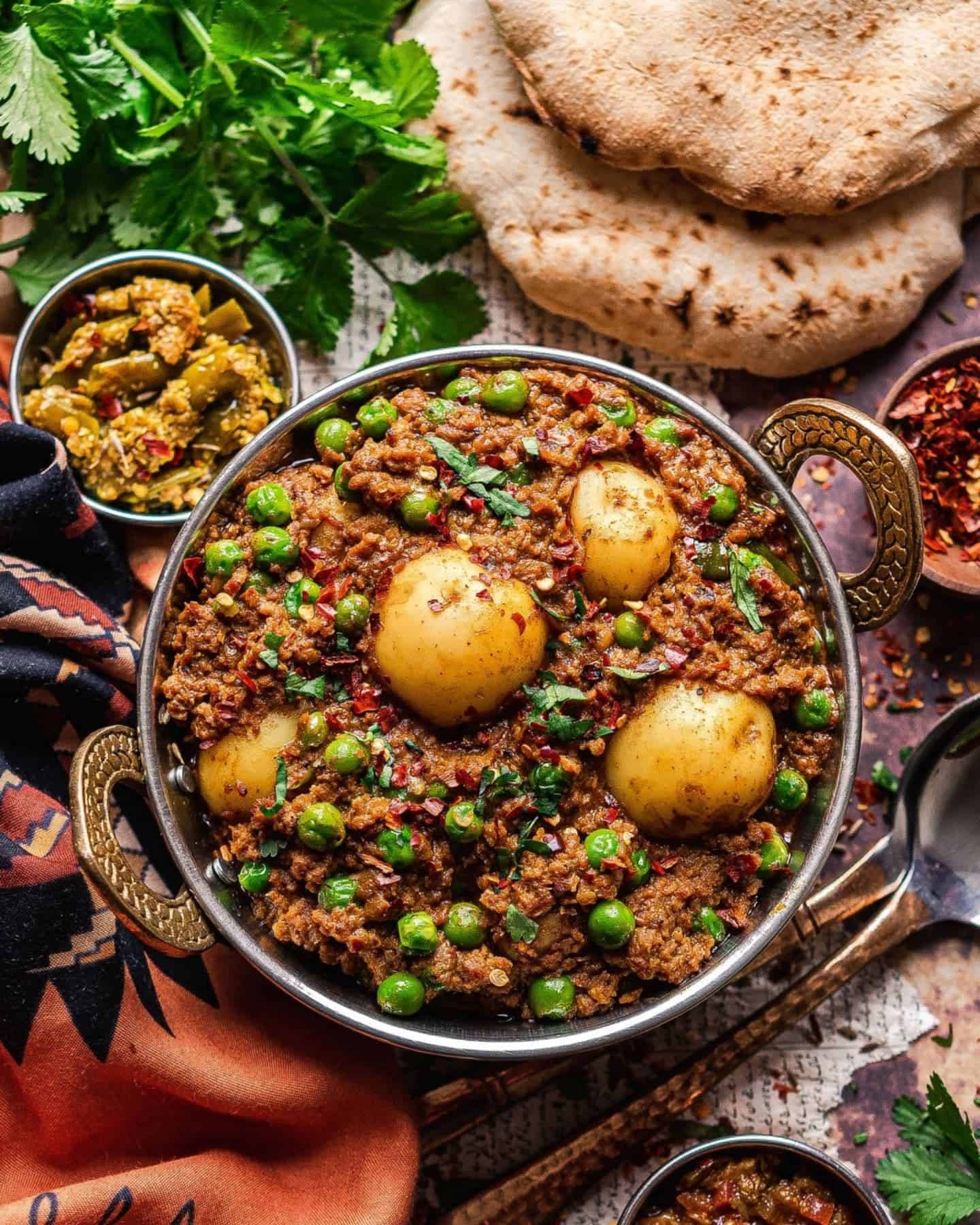 When we saw this recipe from Justyna, we knew it had to feature in this vegan Indian dishes list! Maybe the most inventive recipe in this article, it uses vegan mince to recreate an alternative to what is usually a heavily meat based curry. A must try!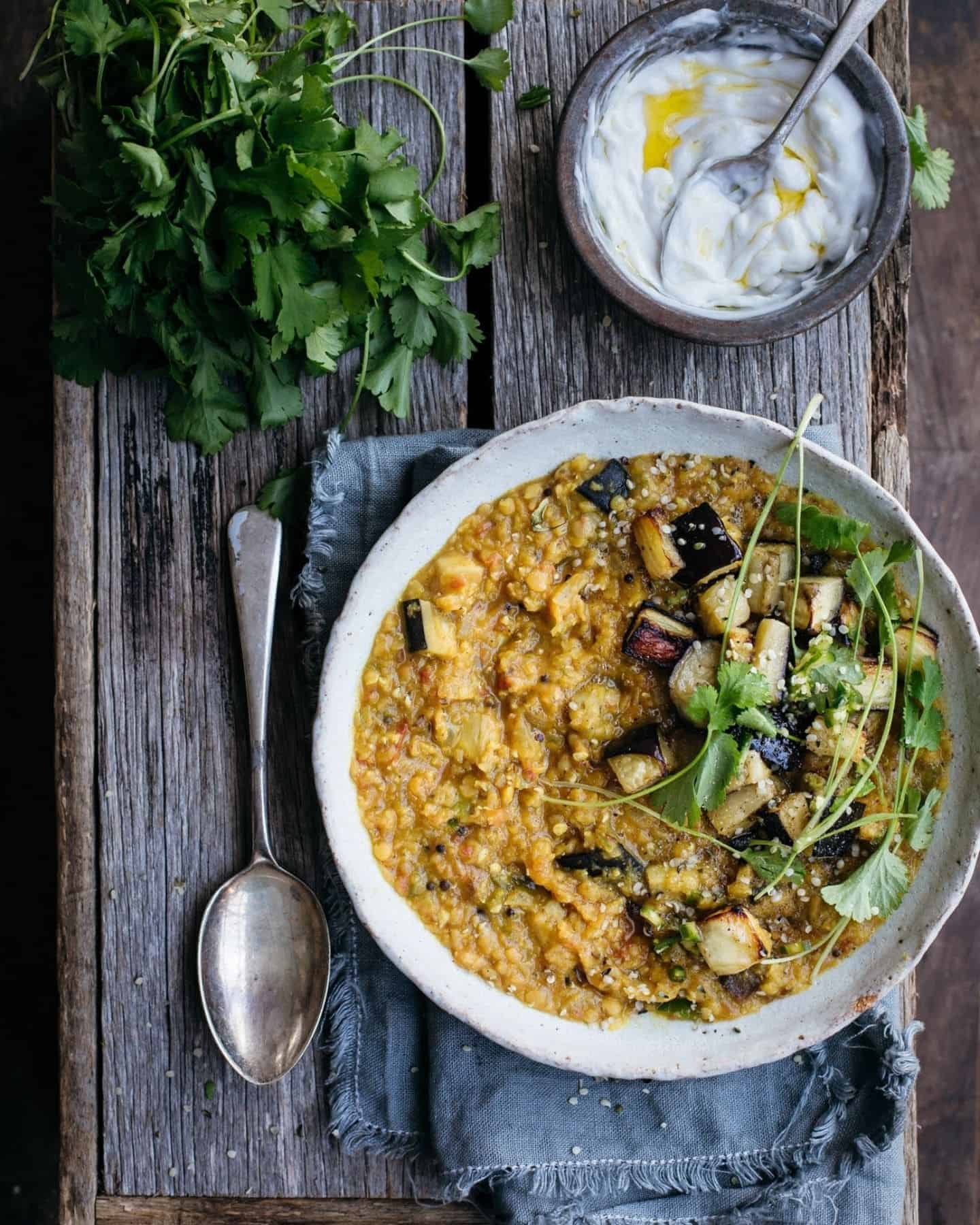 Masoor Dal or red lentil dal is an aromatic and delicious Indian curry. Simple to make and naturally gluten-free, it's a quick and healthy vegan dinner.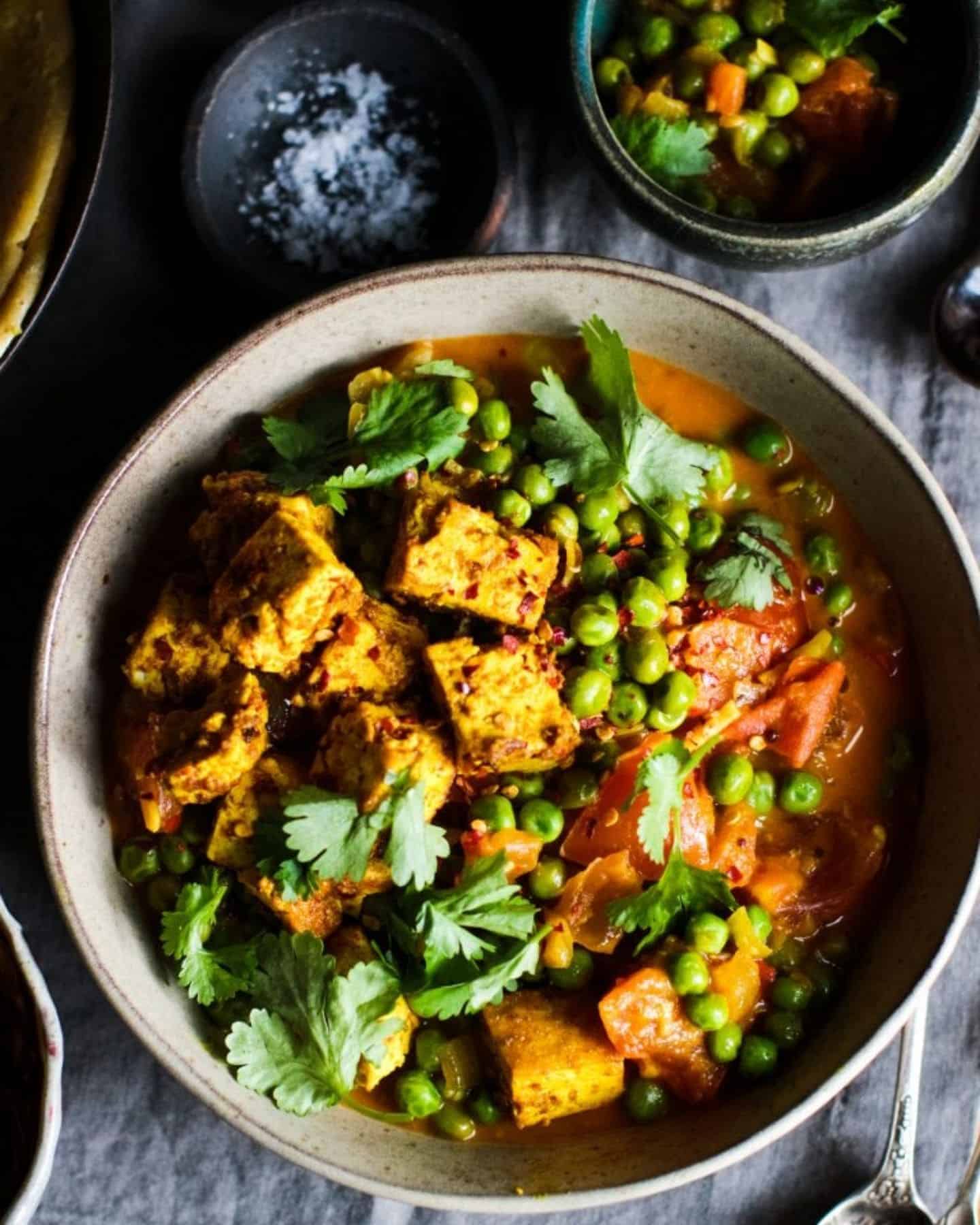 The sweetness of the peas paired with a rich tomato sauce and delicately spiced tofu, this is sure to be something you'll make again and again.
This plant protein packed dal is sure to hit the spot. Featuring brown lentils (whole masoor), chickpeas and even tenderstem broccoli and a hearty blend of ginger, garlic and chilli, this will please dal lovers everywhere.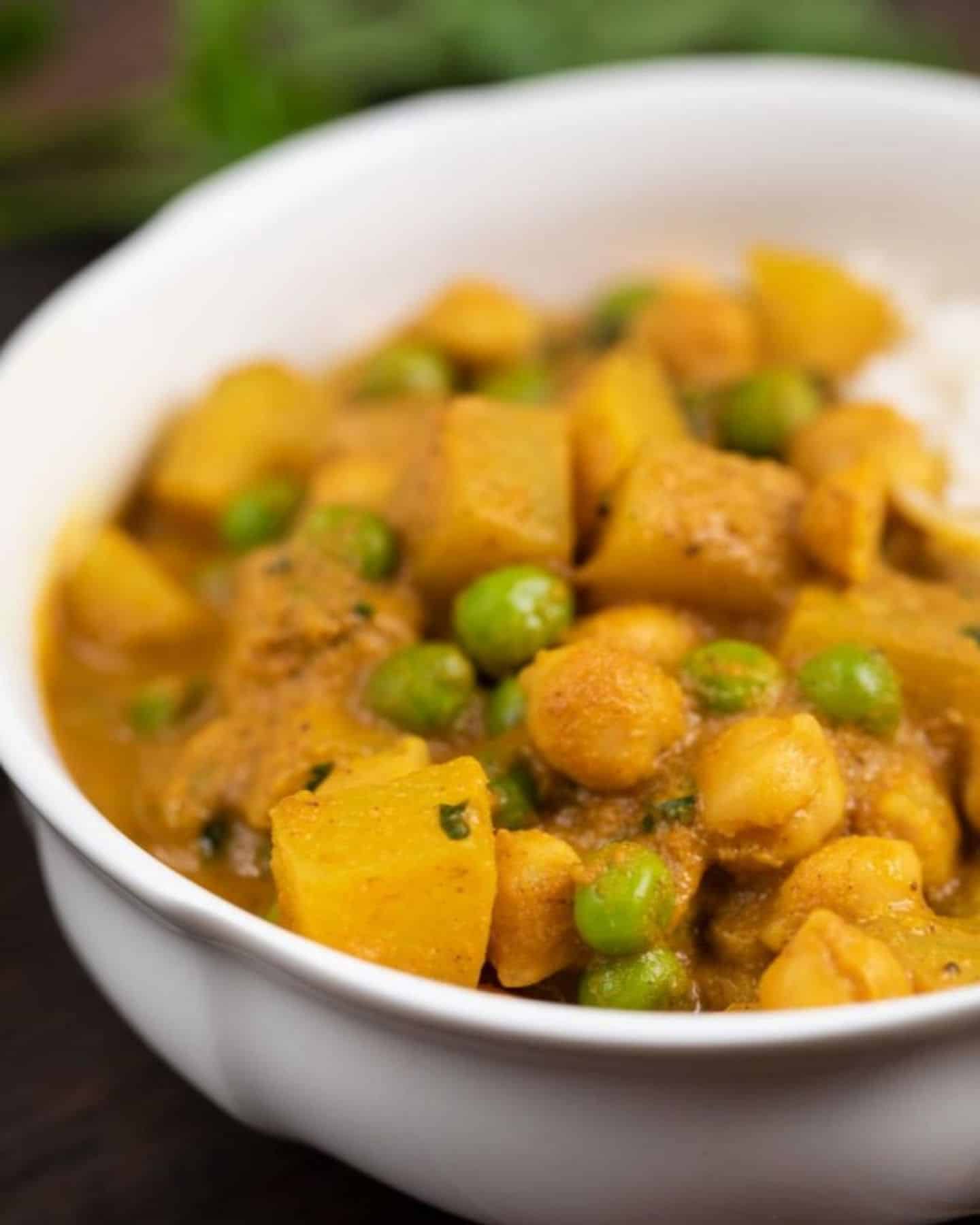 This easy peasy potato curry is totally loaded with Indian flavours, sweet peas, chickpeas, and golden potatoes in a creamy coconut milk base. It's also super healthy, easy to make and uses just one pot and a blender.
A one pot curry dish that's packed with big, bold flavour! This chickpea and mushroom curry is fresh and tasty, rich and filling, and completely and utterly delicious. Tastes like comfort food, but it's nutrient dense too.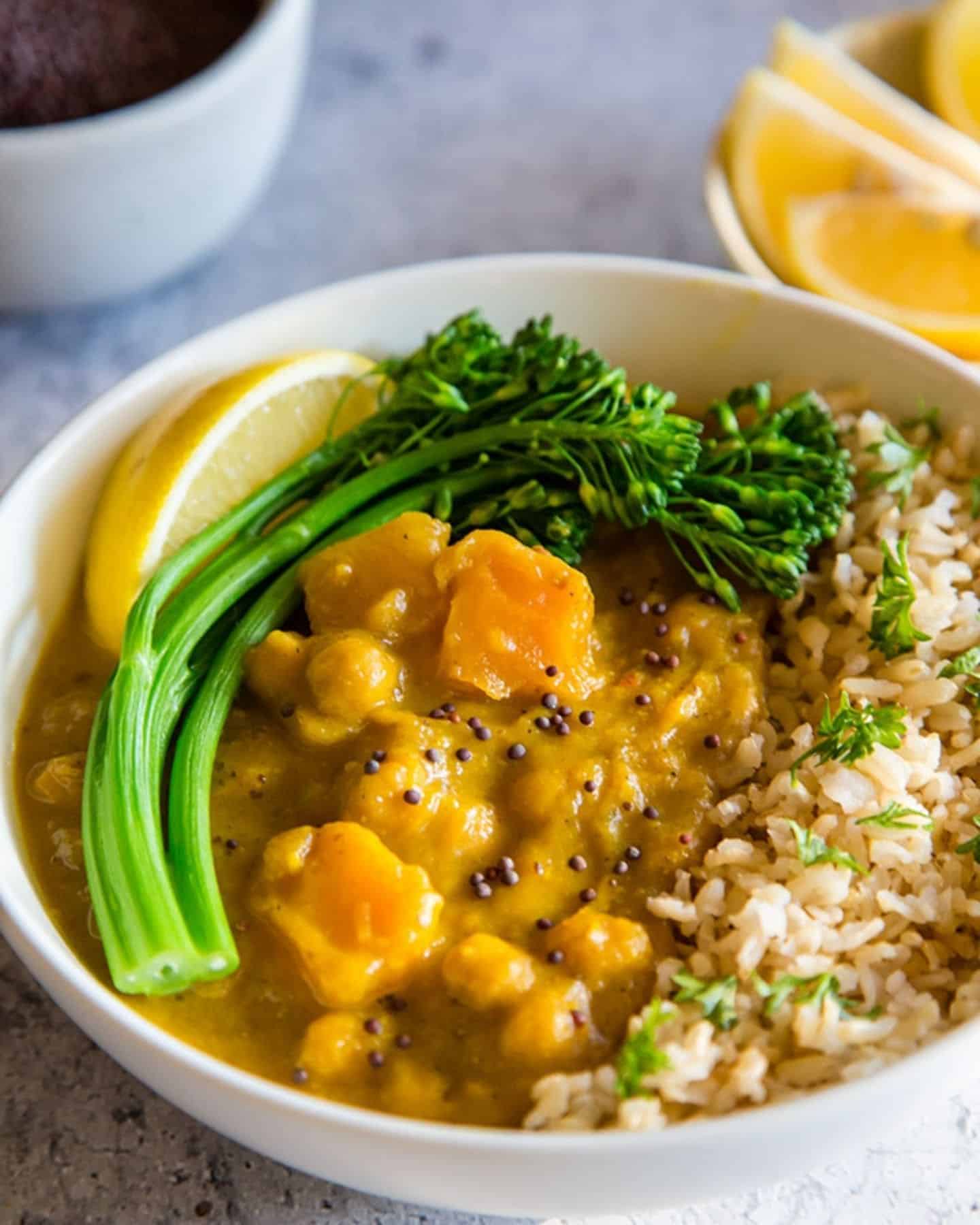 This creamy vegan butternut squash curry with chickpeas, broccolini, and rice makes a delicious main dish. You can cook the squash in the Instant Pot or on the stove.
This vegan dal tadka is super easy to make and ready in just 25 minutes. Rich and decadent with restaurant-style taste meets convenience!
This ginger dal is easy to make and comes together with simple pantry ingredients. It is the perfect meal for busy people who want something fast, nourishing, and simple to make.
Easy Green Lentil Dahl is comforting, warming and flavourful. Make more than you need because you'll want more for lunch tomorrow! Whether you eat it on its own with rice or as part of a selection of curries, this gently spiced dahl is a star dish.
Aloo gobi is an irresistible Punjabi cauliflower and potato curry. It's easy to prepare and it makes a fabulous vegan main, a go-to side dish or part of a greater curry feast.
The best Punjabi chole recipe you can find is right here! Straight from the author's grandmother's kitchen to yours, there's unlikely to be a more authentic tasting recipe. One taste of this perfectly cooked chickpea dish and you won't want to eat it any other way.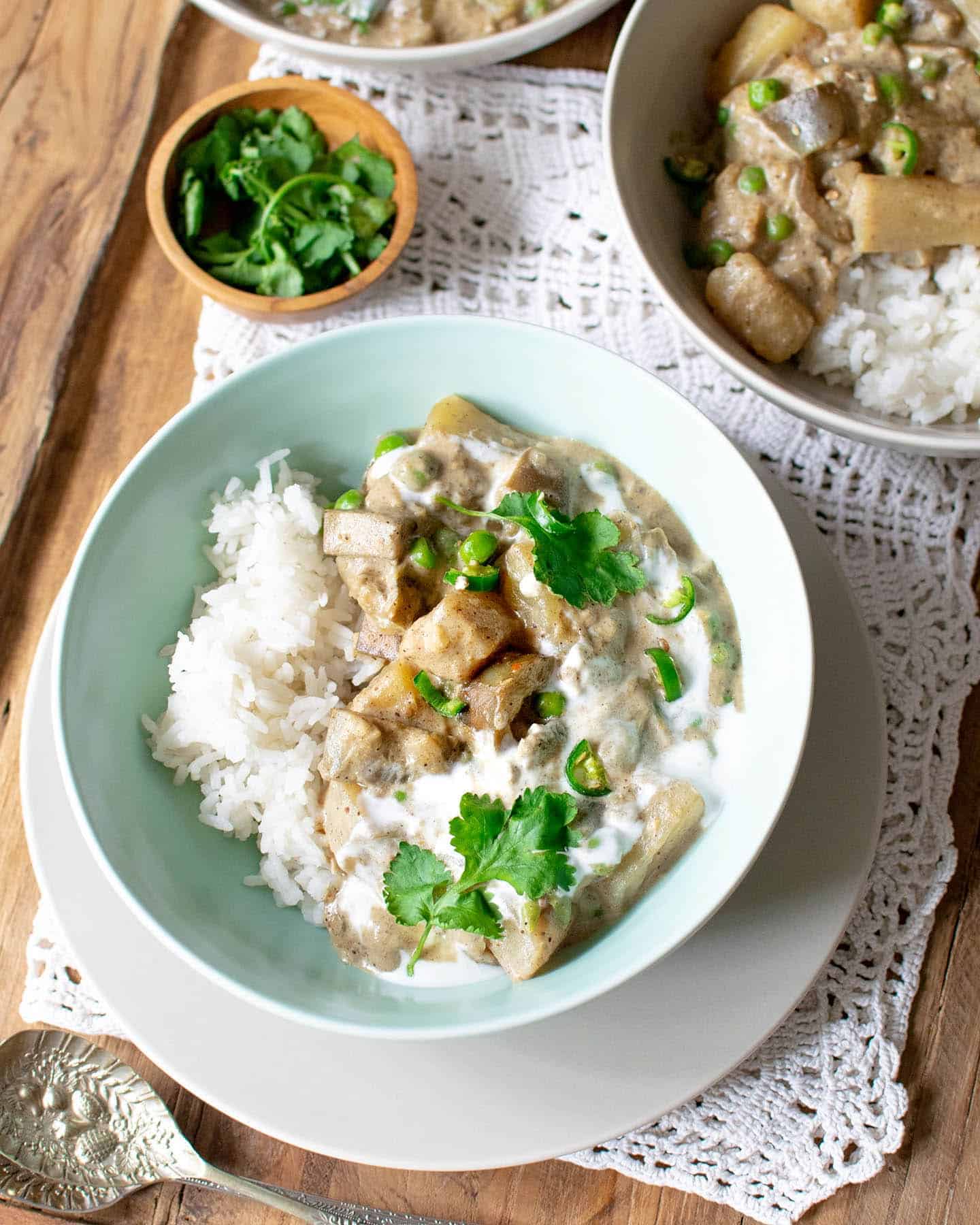 This creamy vegan korma is ready in under 45 minutes and is so easy to make. Featuring potato, aubergine and peas in a wonderfully fragrant and creamy sauce.
This vegan pumpkin coconut curry is so simple to make yet so flavourful! Adding mashed pumpkin to this curry makes it ultra creamy.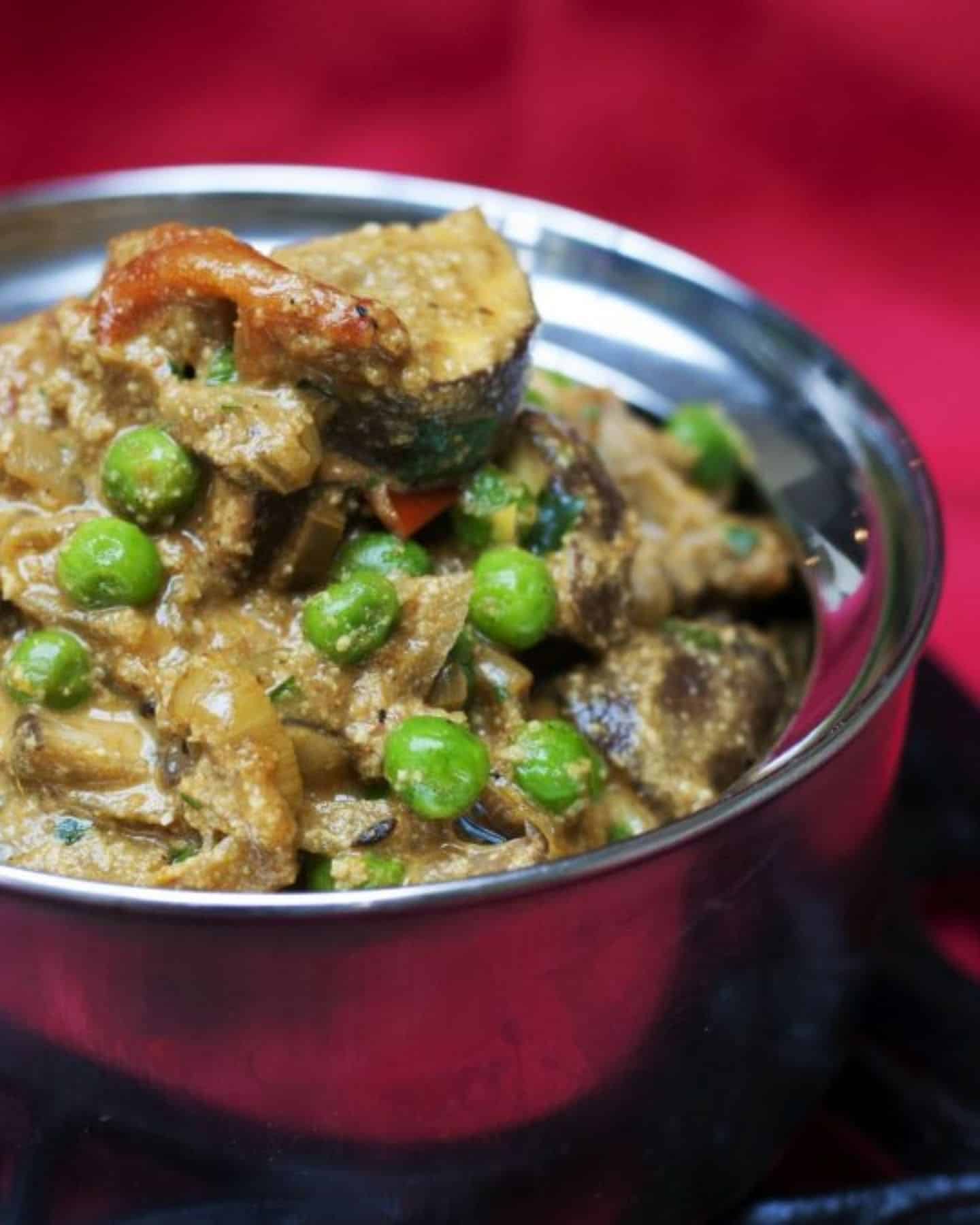 This creamy, indulgent Mushroom Matar (Mushroom and Pea curry) has a cashew cream base and a glorious spice mix that will hit the spot. Not too spicy, yet not too mild. Choose whether you'd like the gravy to be thick or thin by adding more or less water. It's a must try vegan Indian dish!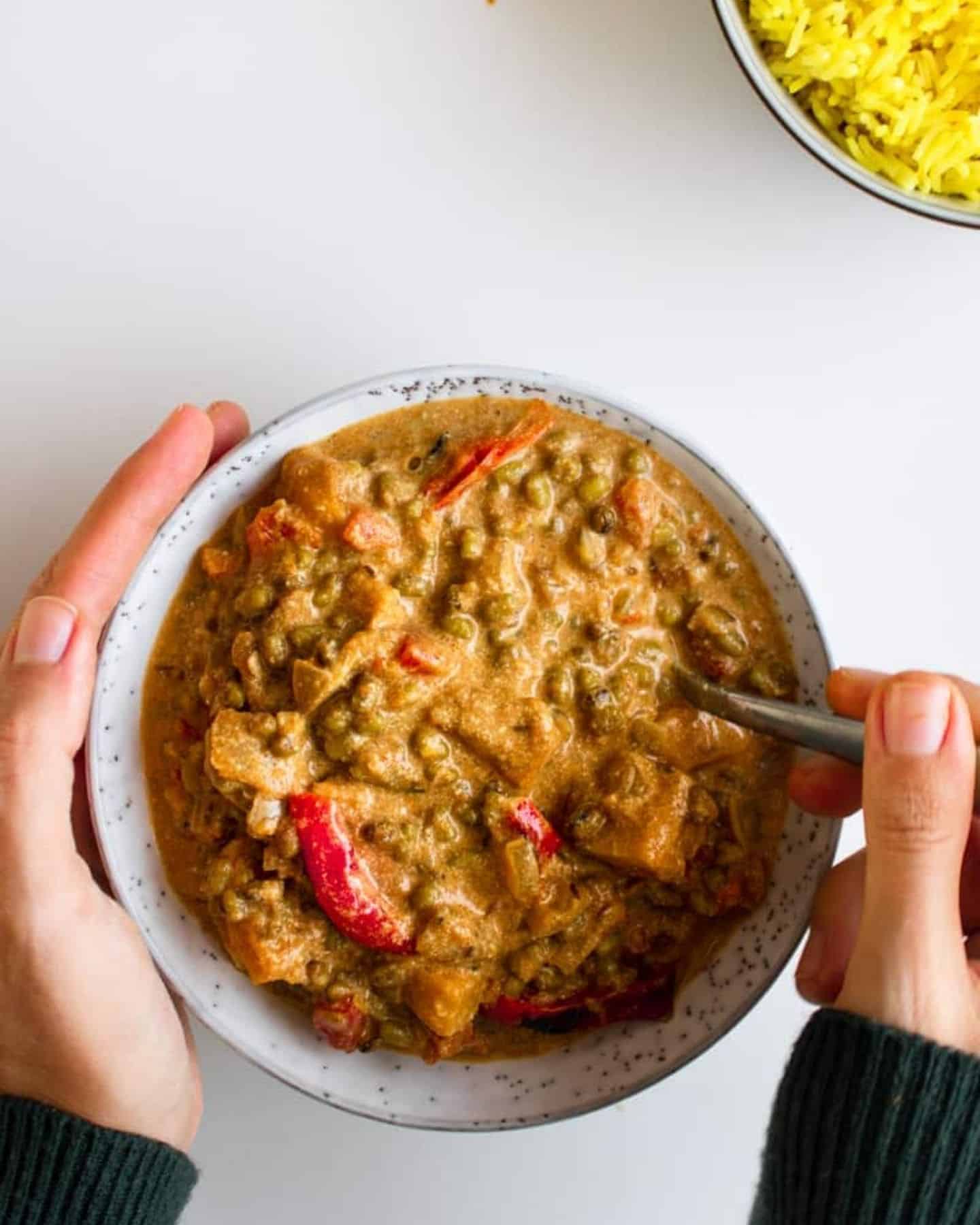 Packed with sweet roasted vegetables, mung beans (of course) and a rich and creamy sauce, that uses both coconut milk and tomatoes.
Made using urad beans that need quite a long cooking time, so the author recommends cooking this recipe in a pressure cooker. The urad bean actually turns soft and buttery, creamy and even sticky when cooked. That means you don't need anything to make it creamy, other than the beans. Go on, give it a go!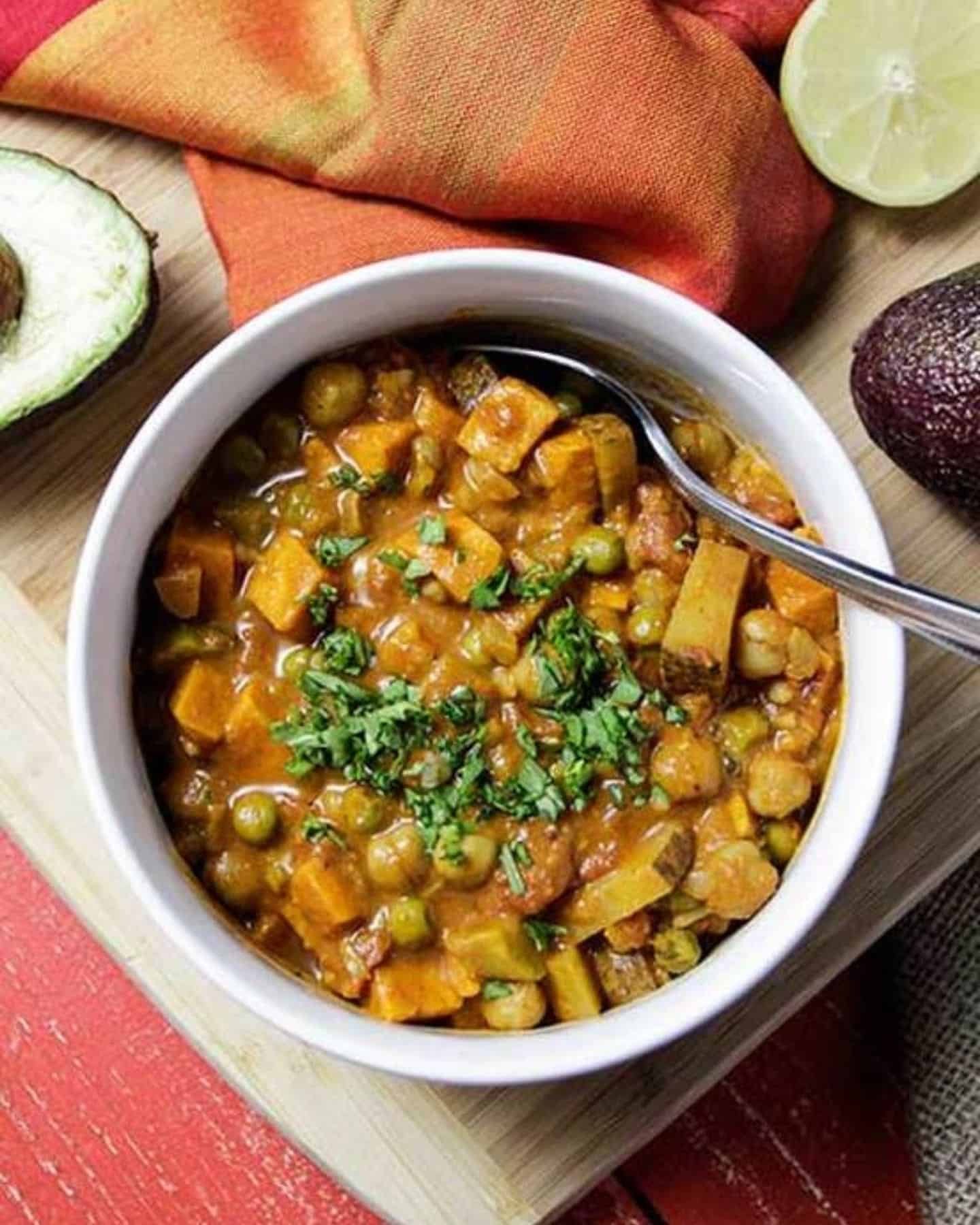 This easy one-pot chana masala is super flavourful and one of the most popular dishes in India.
🍚 Sides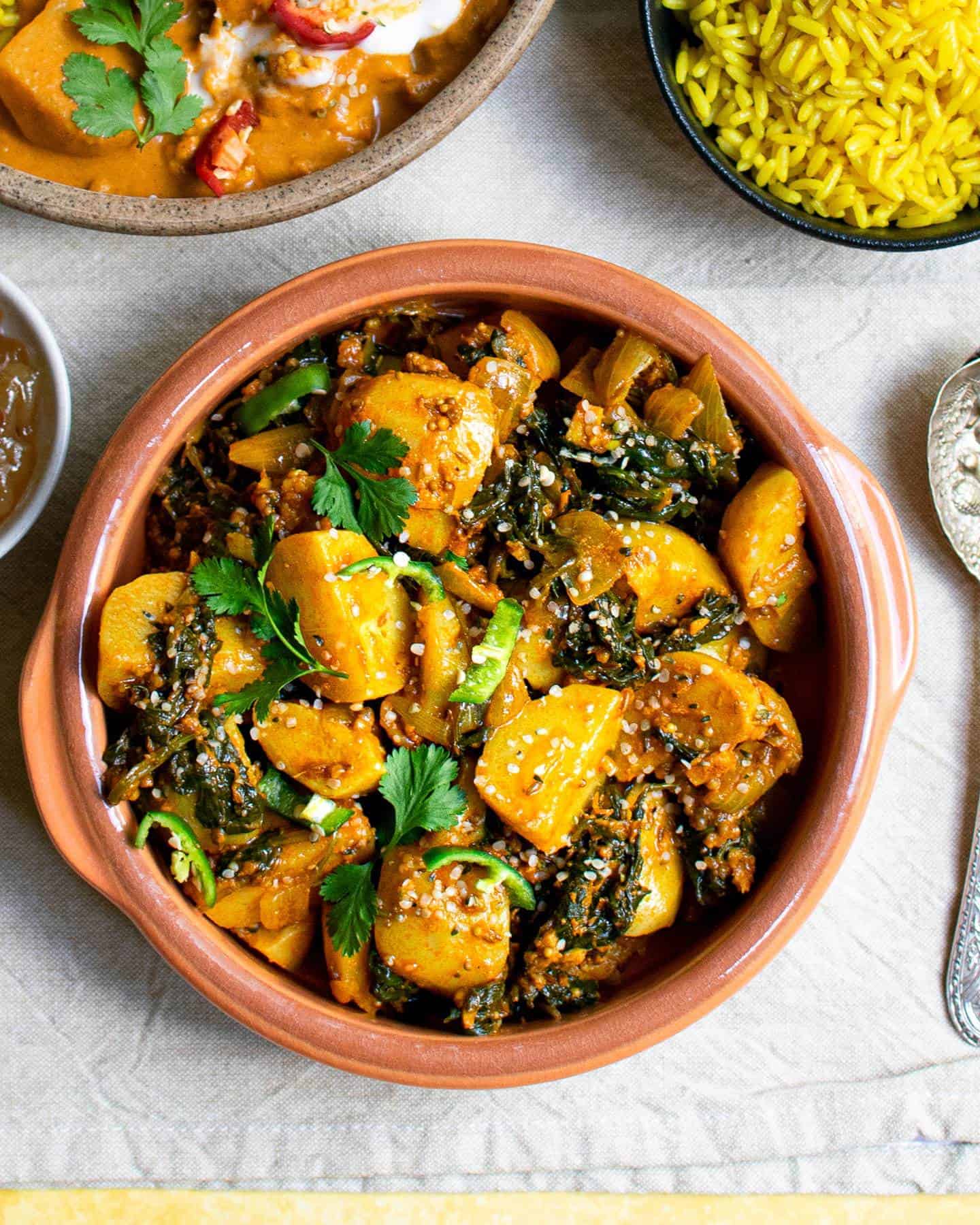 Our 25 minute saag aloo recipe is a potato lovers dream! We think you'll love this because it's just like the restaurant version, but is probably healthier and is so quick to make. While it's maybe not the most traditional recipe, it is delicious.
Another restaurant classic, and something we always order from Indian restaurants. It's so simple, it only needs 9 ingredients and 15 minutes to make, so we'd say it's well worth the effort!
This Brinjal Bhaji (or aubergine bhaji) is one of the most popular recipes on our website! And we know why. The rich, creamy baked aubergines, paired with a simple chilli, cumin, coriander and garam masala spice blend is a heavenly combo.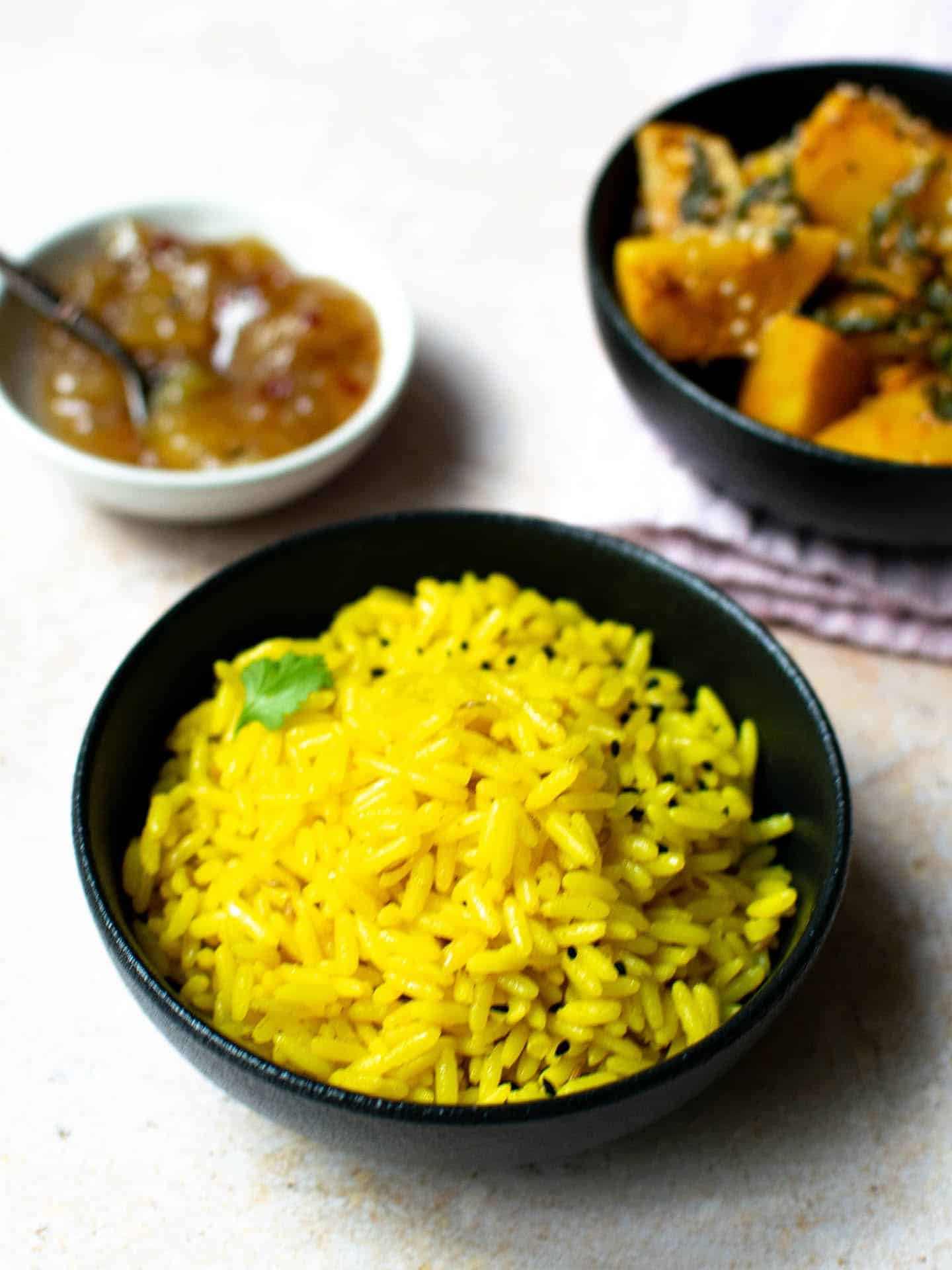 Did you know that pilau rice only takes 15 minutes and needs just 6 ingredients? It will really wow guests at curry night, and is next to no effort to make!
With a soft and spicy potato and pea mixture inside, and a crispy, flaky outside, these pakoras will level up snack time.
Cabbage stir fry is a simple and delicious side dish served with Indian meals. Cooked in 10 minutes, this humble "Gobhi Ki Sabzi" or 'sautéed cabbage' is healthy, vegan and gluten free. A versatile recipe that can be easily jazzed up with ingredients such as tomatoes, carrots, peas or potatoes!
Bombay Aloo (or Bombay potatoes) is a simple and delicious Indian side dish. The easy recipe is ready in just 20 minutes and is perfect alongside a curry. Naturally vegan and gluten-free too. This dish is from an area in India previously known as Bombay, now it's Mumbai.
Batata Vada is Indian style potato fritters with a spicy filling of garlic and peanuts. This Maharashtra delicacy is perfect as an evening snack with chai or tea. Plus it is a great crowd-pleaser. Once prepped, fry it in a huge batch and serve immediately.
Aloo pakora or aloo bajji consists of thin potato slices that are coated with besan, rice flour batter, and then deep fried until crispy. You can call this potato fritters or batata bhajia.
These onion pakoda or bhajjis are delicious served with masala chai. There's even a healthy version included in the recipe!
Samosa is a very popular street food in India, known for its traditional potato and peas filling. But it can be made with any stuffing! These are usually served with some green chutney and sweet tamarind chutney.
Peanut Chaat is a tasty, refreshing and healthy chaat made with boiled peanuts, colorful veggies, spices and tasty chutneys. This popular street food from India is very filling and is a perfect recipe to enjoy in summer.
Masala grilled cheese is an Indian upgrade on the childhood classic. This tasty recipe features spiced onions and is served alongside a quick coriander chutney. Maybe one of the lesser known vegan Indian dishes out there, but one we think will be a hit! Make it with your favourite vegan cheese.
Bread Pakora is a much loved snack of deep fried, savoury bread fritters from Northern Indian Cuisine, especially Punjabi Cuisine.
Call it Potli or money bags, these crispy flaky veg potli samosas are a fantastic vegan snack. They include lots of veggies and tonnes of flavour, making them a great party snack or starter. Serve with spicy green chutney, ketchup or your favourite sauce to eat them the way you like best!
Vegetable Pakora is one of the most popular snacks to go with tea or masala chai in India. It's gluten-free as well as vegan and are made with assorted vegetables.
These pakoras are crunchy and delicious, made with the finest British grown pulse flour (but you can just use chickpea / gram flour) and seasonal vegetables. Served with a fresh vegan raita including fresh herbs and spices for the perfect contrast.
Aloo tikki is every chaat (snack) lover's delight and the perfect evening snack. Learn how to make these golden and crisp potato discs and serve them with a sweet and spicy tamarind chutney for an extra burst of flavour!
Crispy Onion Pakoda is one of the most popular Indian snacks during Monsoon season or Winter days. These fritters taste even better when served with some delicious Indian Chutneys.
Aloo Chop is a deep-fried snack where a patty of spiced mashed potato is dipped in a batter before deep-frying. It is a popular evening snack, often served with a bowl of muri (puffed rice), sliced onion and a couple of green chillies.
🇮🇳 Indian Bread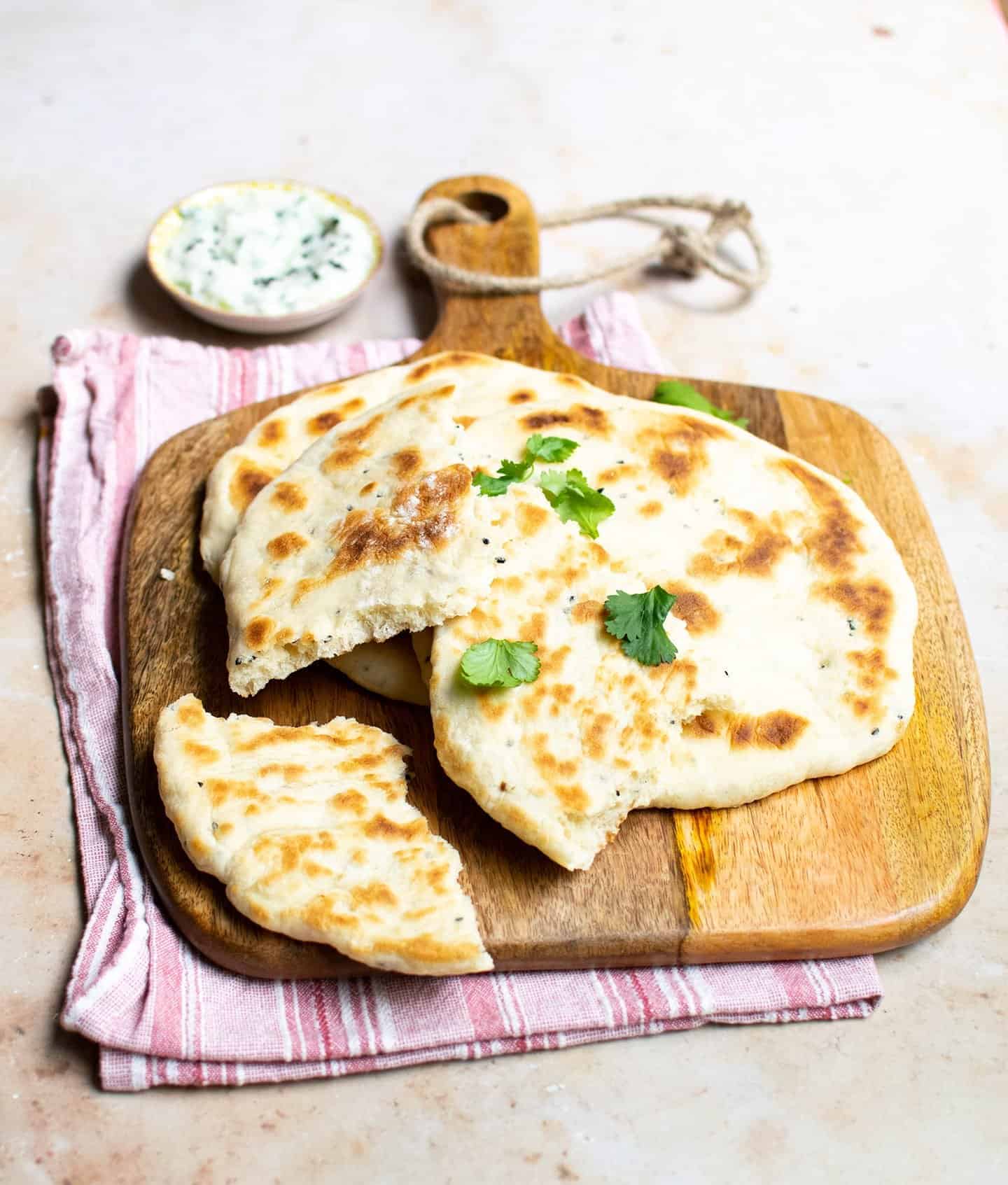 Soft, fluffy and chewy, this is the best vegan naan recipe ever. It's everything that naan should be and more. Dan loves naan, so he spent months perfecting this recipe. All of our family, friends and readers have approved. What will you think to it?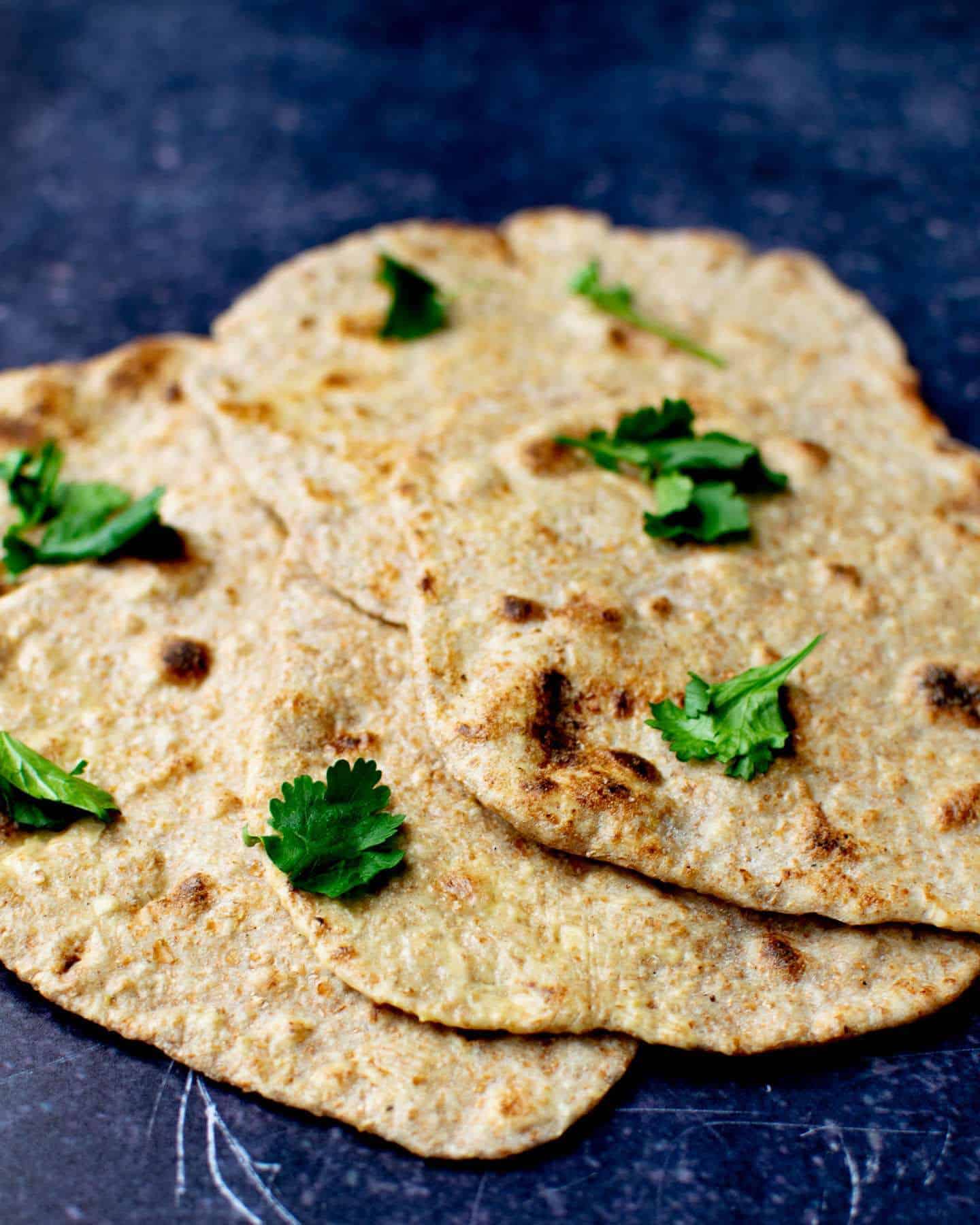 These 3-ingredient vegan roti are a breeze to make! They're so easy and can often be made while a curry is simmering. They'll be ready just in time for serving the curry out. Making these are also a great activity to do with kids.
This quick and easy chapati recipe with just four ingredients makes soft and chewy flatbreads, perfect for mopping up the last of that curry sauce.
These healthy chickpea flour pancakes are the perfect accompaniment to Indian meals. They're fragrantly spiced, sturdy, and naturally vegan and gluten-free.
Poori is a deep fried puffy Indian bread. It is vegan and goes well with curries, but isn't very healthy!
🥭 Chutneys and Condiments
With only 5 ingredients, this delicious vegan raita is easy to make and totally delicious. It tastes just like the refreshing condiment served in Indian restaurants. However, this is one is better because it's plant based!
This sugar-free mango chutney is naturally sweet, tangy, slightly spicy and so easy to make! Made with fresh ingredients and fragrant spices, it's the perfect Indian dipping sauce or vegan appetizer.
Taking the best from both Indian and British chutneys, this Anglo-Indian recipe is the easiest, quickest and tastiest tomato chutney you'll find on either continent.
This authentic tasting chutney isn't just delicious, it's also incredibly nutritious! This is definitely a vegan Indian dish that needs to be tried!
A healthy and delicious recipe with spinach, sesame seeds and Indian spices. Make this versatile spinach chutney, and use it as a side dish for rice, roti, idly, dosa, or as a dip or spread.
Coconut chutney is the perfect pairing primarily for South Indian breakfast recipes such as dosa or idli.
This easy homemade coriander sauce adds a spicy fresh kick to any of your meals! Coriander gives this sauce an intense flavour and deep green colour, and fresh green chilies take the heat up a notch. Make this easy sauce ahead of time, store in a tightly sealed glass container and refrigerate to have on hand to serve as a sauce with many different Indian snack. It's an oil-free, nut-free and raw.
Here is an easy version of Sweet Tamarind Chutney, which is a must for any chaats (snacks).
There you have it! A jam packed list of over 60 vegan Indian dishes to inspire you to took Indian food. It has been an absolute joy to compile this list.
If we've missed your favourite vegan Indian recipe, let us know in the comments below! And don't forget to pin this list for later if you're on Pinterest. You never know when you'll need some fresh dinner inspiration.