This mushroom korma uses a mixture of vegan yoghurt and a ground almond paste to create a fragrant, creamy sauce. Even the fussiest of eaters will hoover it up! It's also super easy to make, despite looking really impressive.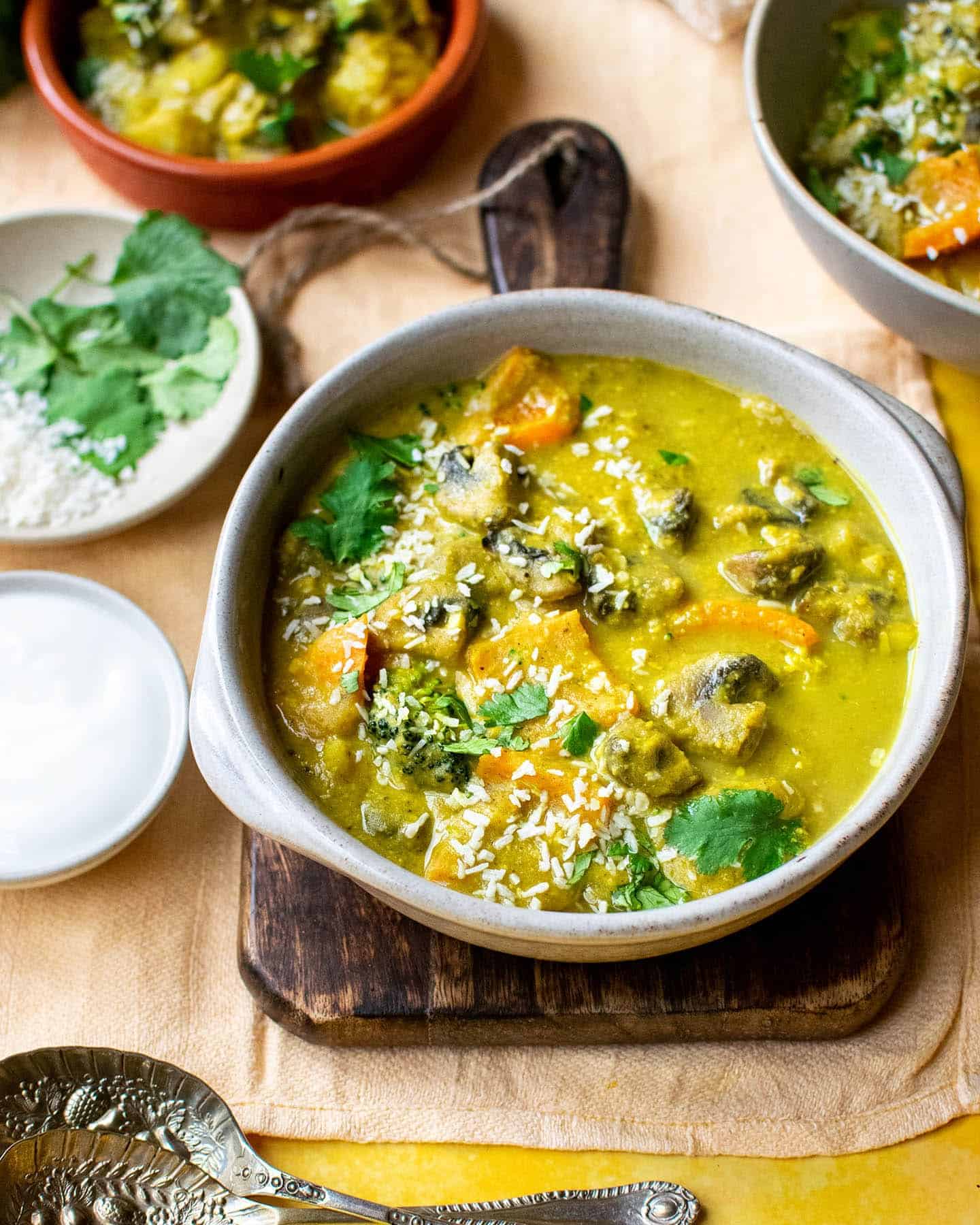 Jump to:
Korma recipes can vary wildly depending on where you go and who is cooking them. In general you can expect to find meat or vegetables braised in a mild and creamy yoghurt sauce (our version is vegan, of course!).
👩‍🍳 How to make mushroom korma
This mushroom korma is closely related to our falafel curry recipe which also has a korma style sauce as a base. Give that one a go if you fancy a fusion-style curry!
The sauce in this mushroom korma uses a mixture of ginger, garlic, and fragrant spices. They're all gently cooked in a sauce made from ground almonds, vegan yoghurt and stock.
It's a one pot recipe (who wants to wash multiple pots?) and you can make the whole thing in around half an hour.
📋 Ingredients
This awesome vegan korma is made from a combination of spices, fresh vegetables and, of course, ground almonds and yoghurt. You will need:
Onion - diced
Garlic - peeled and chopped finely
Ginger - peeled and finely chopped
Coconut milk
Dairy free yoghurt - we really like Koko coconut yoghurt, but you can use any kind of plain yoghurt. Just make sure that it isn't sweetened
Potatoes - leave the skins on but give them a wash and dice them up quite small so that they will cook quickly in the sauce
Mushrooms - chopped
A pepper - we like to use an orange pepper, but whatever colour you have on hand or prefer is fine
Garam masala powder
Cumin powder
Turmeric powder
Cinnamon powder
Chilli powder
Vegetable stock
Ground almonds mixed with water to form a paste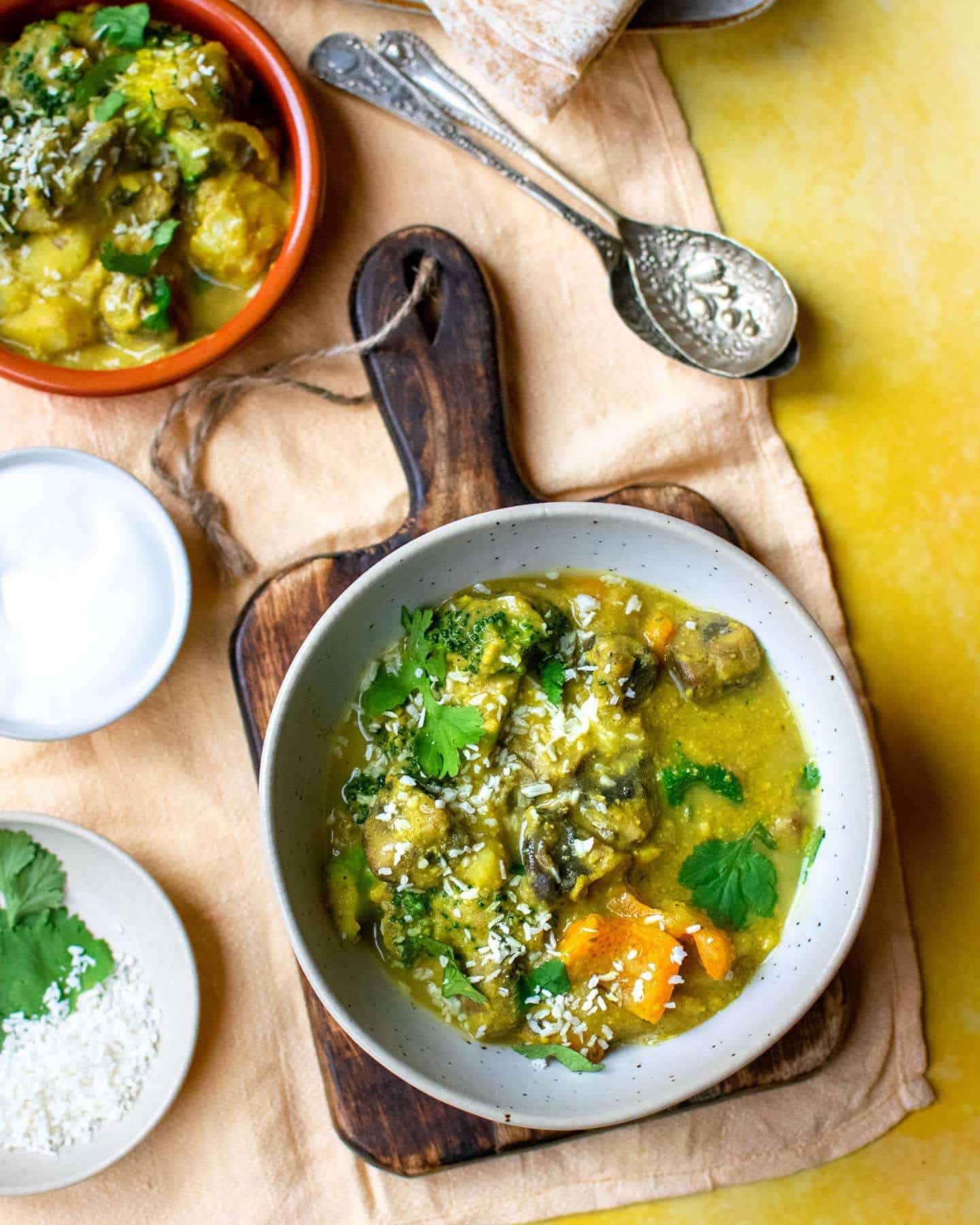 🔪 Instructions
Get a large pan and heat a splash of oil over a medium heat.
Add the chopped onion and sauté for around 5 minutes until translucent.
Pop in the ginger and garlic to the pan and fry for a further minute.
Add your mushrooms and potatoes to the pan.
Pop all the powdered spices into the pan and stir. Keep everything moving so that it doesn't burn!
Pour in your coconut milk and stock, and give it all a good stir.
Bring your sauce up to the boil, and then turn the temperature down to allow the sauce to simmer. You'll want to let it simmer for about 5 minutes to let the flavours infuse.
Now is a good time to have a taste of the sauce and see what you think of it. This mushroom korma recipe is pretty mild, as a korma should be, but you can add a pinch more chilli if you like!
Once you're happy with the flavour of your sauce, simmer for around 10 minutes. Long enough to heat through, and allowing the potatoes to cook.
Add in the chopped pepper and stir in the ground almonds. They will thicken your sauce, and also give it the signature almond taste that makes a korma. Simmer for another 5 minutes.
Remove from the heat and stir through the vegan yoghurt. Try not to eat it all at once!
See the recipe card at the end of this article for full measurements and instructions.
🍛 What to serve with it
This deliciously fragrant dairy free korma is perfectly paired with the usual suspects for a curry night, rice, naan and maybe a cheeky side:
Check out our article on how to prepare pilau rice if you're looking to up your rice game! Our pilau rice is delicately flavoured with cumin, cloves, turmeric and stock, and goes wonderfully with a mushroom korma.
Brinjal bhaji, otherwise known as aubergine bhaji, is a staple of Indian restaurants everywhere. That's because this recipe brings out the delicious creamy texture of the aubergine by using classic Indian spices, and makes for a side dish that's something really special.
We absolutely adore vegan naan, especially when it's dipped in a yummy curry sauce or piled high with more food than could ever fit in a human mouth (I'm looking at you Dan…) This is a 'proper' naan recipe so it does take a little time and attention as you'll be working with yeast which needs time to prove. It's definitely worth it though.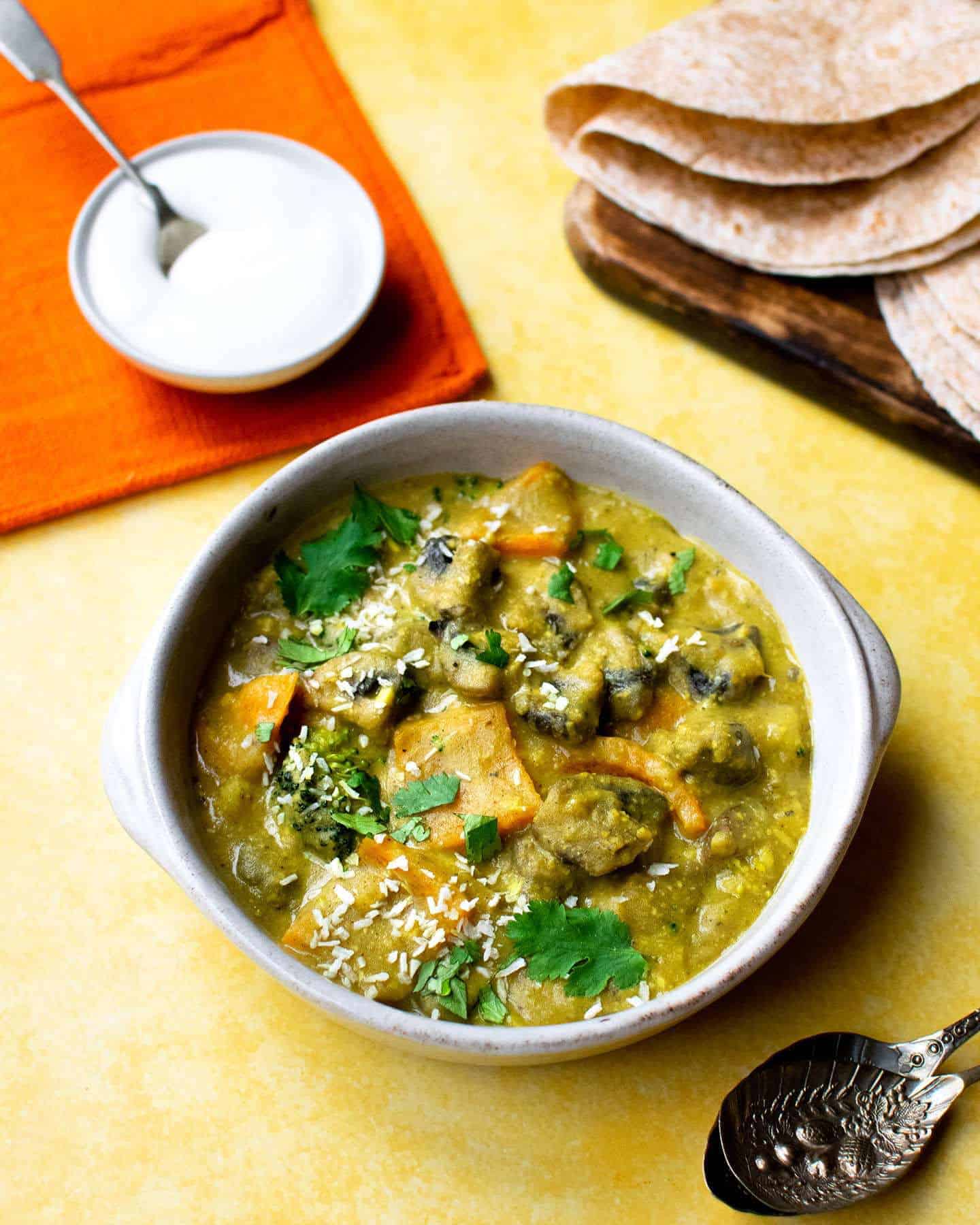 💭 FAQs
What does mushroom korma taste like?
Mushroom korma is a dish with a thick and creamy sauce which tastes of fragrant Indian spices without being spicy. It has a nutty element to it, and of course a lovely note of ginger and garlic. The mushrooms themselves give this vegan korma a slight 'meaty' texture which is really satisfying.
What's the difference between korma and pasanda?
Pasanda has a more complex sauce than a korma, the key difference is that the main ingredient is usually baked in a creamy marinade before adding it to the sauce. This gives an extra depth of flavour that is super delicious in its own right.
Can it be frozen?
Yes, absolutely! We love making a big batch of mushroom korma and freezing off individual portions for a quick dinner on those days when we don't want to cook. It will keep in the freezer for three months, but be aware that the mushrooms may change texture slightly and become a bit rubbery.
Can I use other veg?
Of course! We really like the combination that we've included in this recipe but you could use almost any other combination of veggies. Try making it with cauliflower, green beans, butternut squash or any other seasonal veg that you have to hand.
🍄 Other recipes you might like:
For even more Indian style recipes head to our ultimate list of over 60+ vegan Indian recipes!
🍽 Equipment
Sauté pan
We love having a sauté pan, because they are absolutely perfect for making any type of curry. They have a nice wide bottom which means you can fry a lot of ingredients at once, and they also have deep sides for making sauce.
Bamboo chopping board
We love a bamboo chopping board! Not only is bamboo a renewable material due to how easy it is to grow, but it's also extremely hard wearing. Bamboo has antibacterial properties which makes it the perfect material for making kitchen equipment out of.
Measuring spoons
We absolutely wouldn't be without our measuring spoons! No more tedious conversion of tablespoon measurements into grams or millilitres for one thing. Plus, using measuring spoons makes it much easier to see ratios and scale your recipes up or down, depending on how many portions you're making.
If you like this recipe, save it for later! And if you really love it, leave us a review below. We'll be eternally grateful. Reviews help food bloggers immensely, so if you leave one, we love you billions.
Print
📖 Recipe
Deliciously Creamy Mushroom Korma
---
Author:

Jess Saunders

Prep Time:

10

Cook Time:

20

Total Time:

30 minutes

Yield:

4

1

x

Diet:

Vegan
Description
This Mushroom Korma is deliciously creamy, full of fragrant Indian spices and mild. We're sure it will become a weekly favourite! Try mixing it up with seasonal vegetables to keep it fresh!
---
1

onion

3

garlic cloves

400

ml coconut milk

½ cup

yoghurt

2

potatoes (400g) - washed, cut into small chunks, skin on

400g

mushrooms - cut into chunks

1

orange pepper (or whatever colour you have or prefer)

1 tbsp

fresh ginger - chopped finely

2.5 tsp

garam masala powder

1 tsp

cumin powder

1 tsp

turmeric powder
A little pinch of cinnamon powder
A pinch of chilli powder

1 cup

vegetable stock

3 tbsp

ground almonds mixed with 6 tbsp water to make a paste
---
Instructions
Heat a splash of oil over a medium heat in a large pan.
Sauté the chopped onion for 5 minutes until translucent.
Pop in the garlic and ginger and fry for one minute more.
Add potatoes and mushrooms. Sauté for another few minutes.
Sprinkle in the powdered spices and stir well. Prevent burning by keeping it all moving in the pan!
Pour in the stock and coconut milk and still well.
Bring the sauce up to the boil, and then down to a simmer. You'll want to let it simmer for about 5 minutes to let the flavours infuse.
Taste the sauce and then add salt. You can also add a pinch more chilli if you'd like.
Simmer for around 10 minutes, this will allow the potatoes to cook and let the flavours infuse even further.
Add the chopped pepper and the ground almonds. They sauce will thicken up quite a lot with the ground almonds. Simmer for another 5 minutes.
Stir through the vegan yoghurt and serve with pilau rice, naan and poppadoms.
Equipment
Category:

Dinner

Method:

Stove-top

Cuisine:

Indian
Keywords: Mushroom Korma, Vegan Korma, Mushroom Korma Recipe