This delicious vegan raita tastes exactly like the refreshing condiment served in most curry houses, except that this one is better because it's vegan!
It's absolutely delicious when served with a spicy curry, especially if you've accidentally gone a bit overboard on the chillies as it will help to cool it down a bit.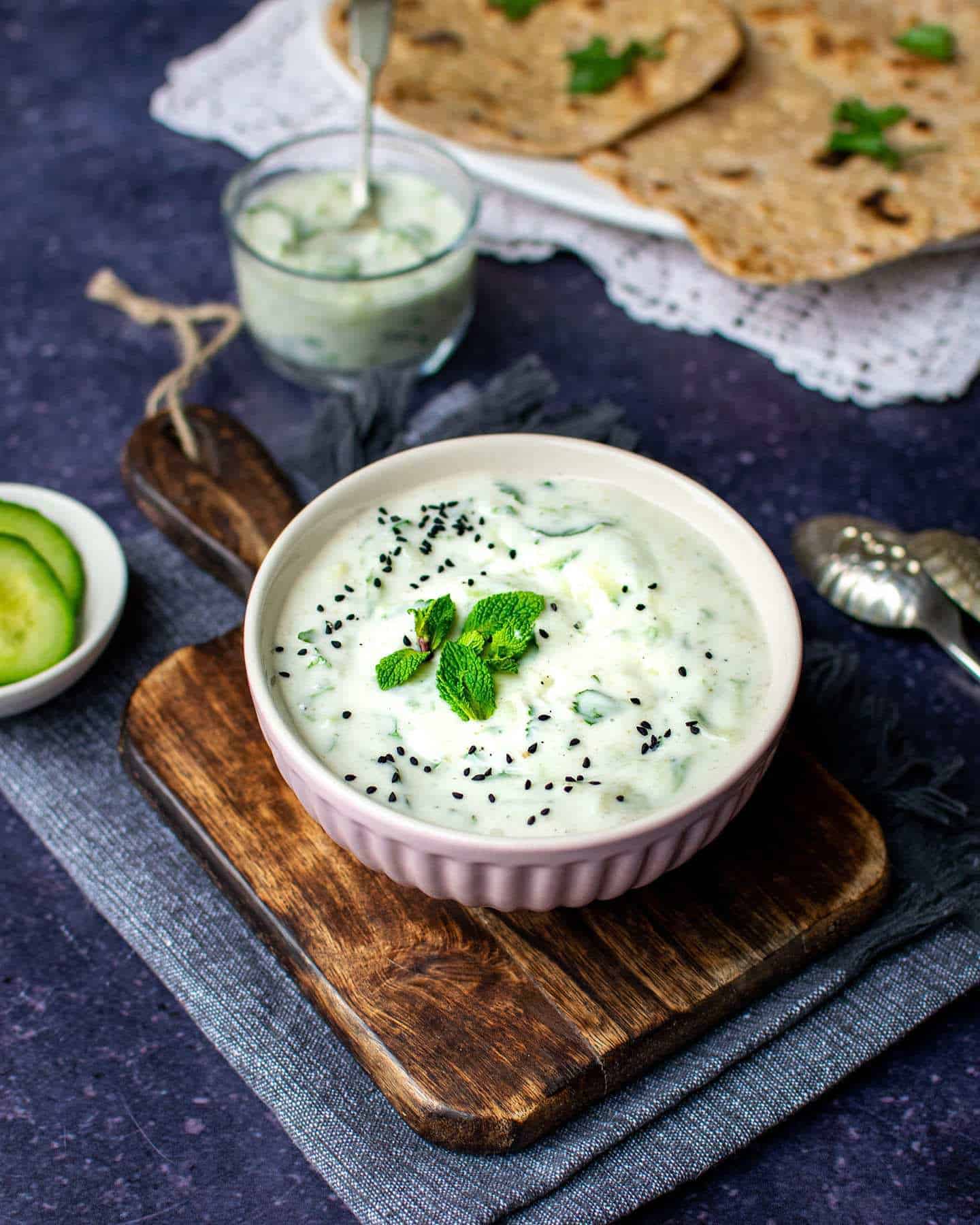 Jump to:
This dip only has 6 ingredients, the recipe is super simple, and you'll have it ready in less than 10 minutes. Perfect for if you're having guests over for a curry night and you really want to impress!
🤔 What is raita?
Raita is a cooling accompaniment to have with curry, usually made with yoghurt, mint, coriander, cucumber and cumin powder. It's quite similar to Tzatziki, the main difference being that while Tzatziki is made with Greek yoghurt, Raita is made with plain yoghurt.
Raita isn't usually suitable for vegans, but this vegan raita is because we've replaced the plain yogurt with a delicious coconut based alternative.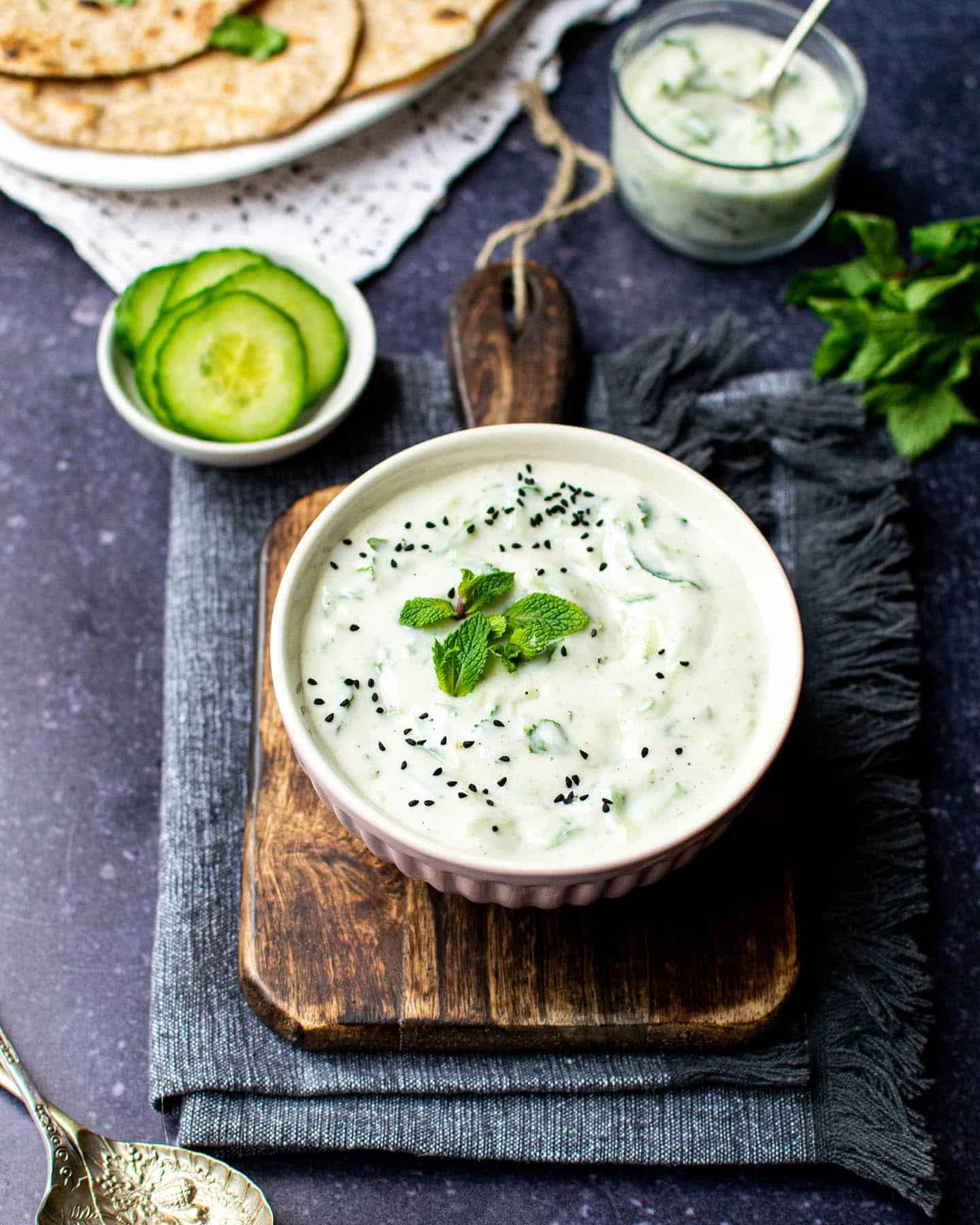 👩‍🍳 Pro tip
When preparing the cucumber some people will remove both the seeds and the skin. We don't do that.
There's a lot of flavour and goodness in both the seeds and the skin, and the method for vegan raita means that you grate the cucumber which means the skin and seeds don't impact on the texture. Plus, it means you won't waste the skin and seeds! It's always good to keep food waste to a minimum in our view.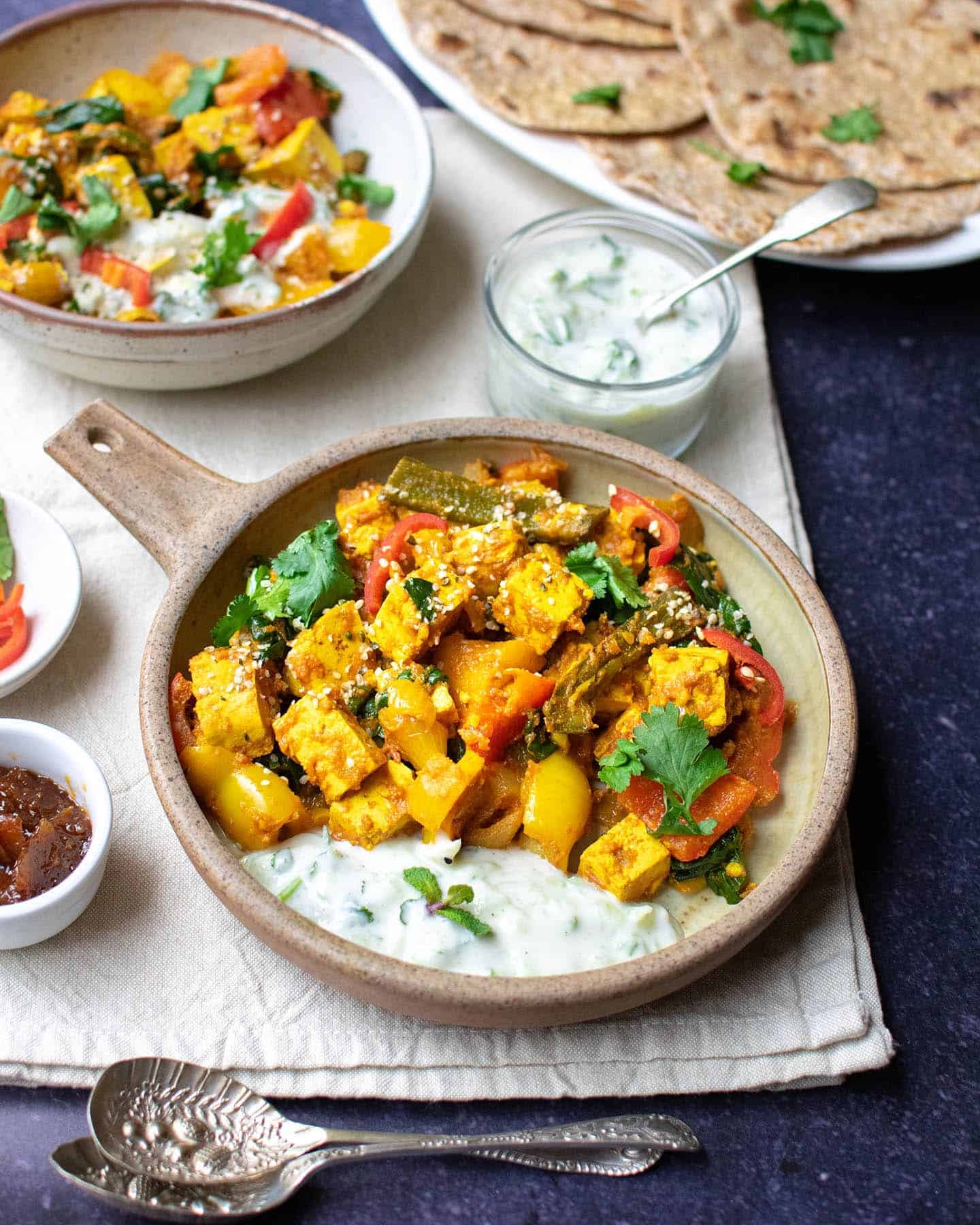 📋 Ingredients
One of the awesome things about this vegan raita recipe is that it only has 6 ingredients! You will need:
Coconut yoghurt. We really like Koko because it's nice and thick and creamy. It's our favourite vegan yoghurt!
Cucumber.
Fresh mint leaves. Chop these as finely as you can.
Fresh coriander leaves. Chop these finely.
Lemon juice.
Cumin powder.
A good helping of salt and black pepper for seasoning.
For detailed measurements and instructions, please see the recipe card at the end of this article.
🔪 Instructions
This recipe is super simple, no cooking required! Just five minutes and you'll have your delicious vegan raita:
Take your cucumber and grate it using a grater. No need to remove the seeds and skin as they will actually add to the flavour, plus it saves them being wasted! Grating the cucumber means that the skin and seeds won't affect the texture of the dip.
Chop your coriander and mint as finely as you can. Use a good sharp knife for this otherwise you end up tearing rather than chopping the leaves. It works better when you don't have big bits of herbs in the yoghurt!
Put the yoghurt, grated cucumber, chopped mint and coriander, lemon juice and cumin powder into a large bowl, along with a generous helping of salt and pepper.
Mix well.
Voila! All done.
We told you it was quick! Serve your raita alongside Cauliflower Curry, Naan and your favourite sides like samosas, mushroom bhaji and of course a few poppadoms.
For detailed measurements and instructions, read on to the recipe card!
🥕 What to serve it with:
Vegan raita is perfect on the side of a curry, or as part of a huge spread of different dishes if you're having a curry night! When we have curry nights, there are a few favourites that usually make their way onto the menu...
Soft and fluffy vegan naan is really what makes a curry in our opinion. The bread helps to calm down some of the spiciness, and it's also great for mopping up all of the extra sauce. Delish!
Bhuna is a great choice if you're looking for a fragrant and spicy curry dish. It's not creamy like a korma or a massala, and it's a lot less saucy. Our vegan bhuna gets its texture from chunks of tofu and peppers, and is flavoured with lots of garlic, chilli, and ginger. A real taste sensation!
Made from chunks of steaming potato and yummy spinach, and seasoned with a light chilli flavour, this saag aloo is deliciously filling. It works perfectly as either a main or side dish. Personally we like it as a side, so that we can have as many different curry dishes in one meal as possible!
When we say the word 'bhaji' to you, you might immediately think of a crispy fried onion bhaji. Mushroom bhaji is actually quite different. It's not deep fried like onion bhaji is, and it actually has some sauce. The mushrooms take on a simple but delicious spice mix, meaning that the dish is really rich and flavourful.
If you go out for a curry, your meal will often be served on a bed of pilau rice that's fluffy while at the same time being slightly fragrant. When you make rice at home, it can be really difficult to achieve the same results. If you're looking to up your rice game, then be sure to check out our guide on how to prepare pilau rice.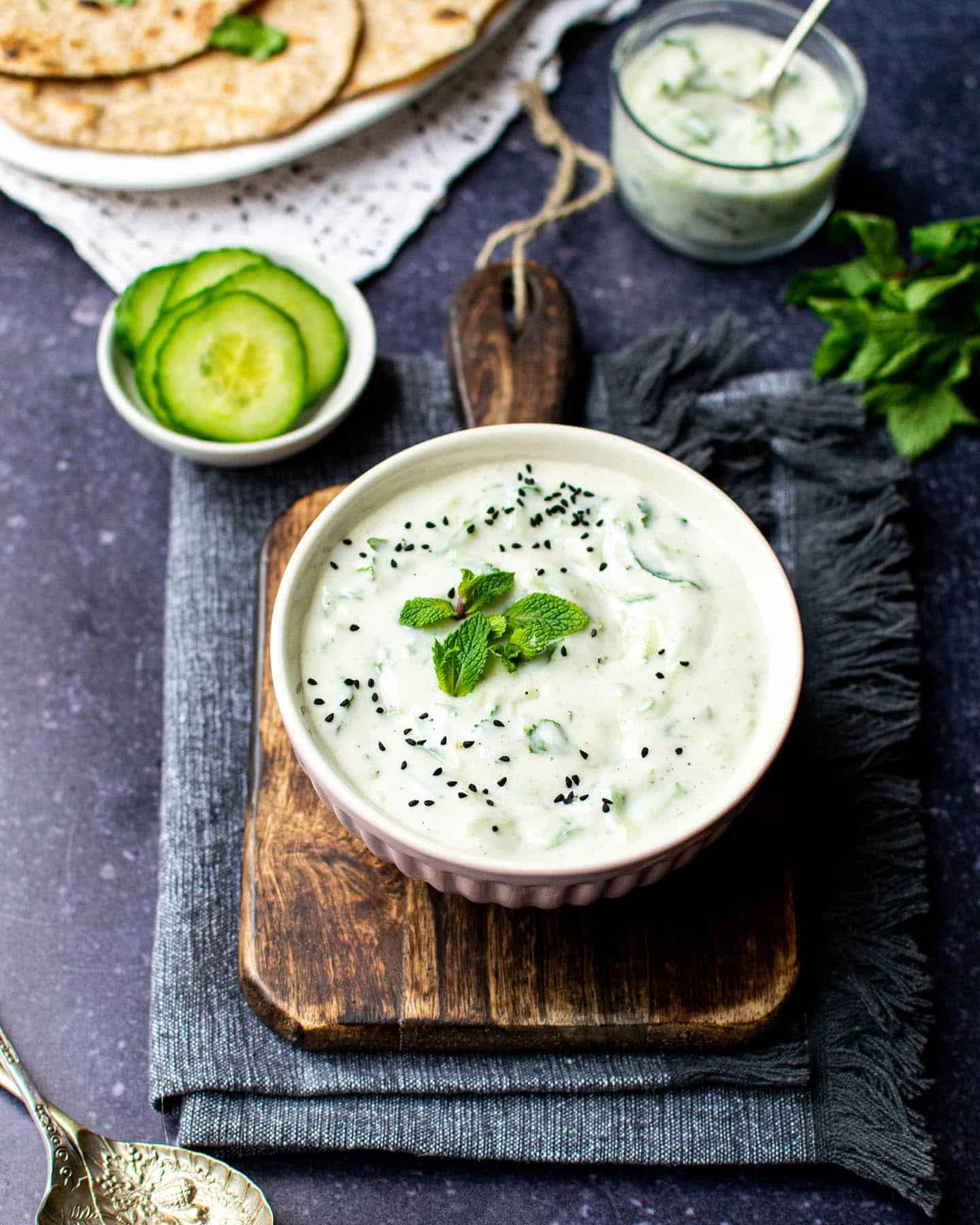 You may also like to try a this Carrot Chutney. There's a whole world of condiments that you could serve with curry, this is just the tip of the iceberg!
💭 FAQs
Do I have to use coconut yoghurt?
No, vegan raita tastes delicious made with any plant based yoghurt. Just make sure as it isn't sugary or flavoured. There are really great yoghurts made from soy, oats, cashews, almonds and even pea protein. Give a few a try and see which one you like the best.
How to eat raita?
Our favourite way to eat raita is with a curry! The cool flavours contrast in a great way with the flavours of a curry, and if you've got a particularly hot one then this vegan raita will help to cool it down. It's also delicious with poppadoms as a snack.
Can I make this ahead of time?
Yes, for sure! It will keep well in the fridge for around 5 days. Just be sure to store it in an airtight container.
Can this be frozen?
This isn't something we'd recommend freezing, it's so tasty because of the fresh flavours which won't be preserved in the freezing process.

If you think that you're going to have too much (this recipe serves 8) then you can cut the quantities in half. Or use it all up over a few days as a sauce in wraps, dip for crisps or with leftover curry!
🍽 Equipment and product recommendations
This vegan raita is so simple that you don't need any specialist equipment to make it. That being said, you'll find it much easier if you make sure you have a few things:
Grater
When you're looking for a grater, you should look for a comfortable handle and a wide surface area. It's also important that the teeth are sharp so that you don't end up smushing rather than grating - this is especially important when you're grating more delicate things like the cucumber in this recipe.
Nicer dicer
To develop as many recipes as we do, we have to be cooking a lot! We soon found that we wanted to up our veg prep game so that we could spend less time chopping, grating and dicing, and more time coming up with awesome flavour combinations. Our nicer dicer has been a game changer, making veg prep and cleaning up an absolute doddle.
Sharp knife
If you cook pretty often, then you should definitely invest in a good quality, sharp, knife. For this recipe it makes it really easy to slice up the mint and coriander into the small bits that are needed. You'll find a sharp knife super helpful for any recipe where you need to chop veg. No more sawing your way through tough veggies!
Mixing bowl
There's something really annoying about trying to mix together a load of ingredients in a bowl that's too small and not fit for purpose! A mixing bowl will really help you out if you want to make not only this recipe, but also lots of curries and dessert recipes, too.
If you like this recipe, find even more inspiration in our list of the best vegan Indian recipes around! There's a whole load of condiments included too, like mango chutney, coriander sauce and coconut chutney.
📖 Recipe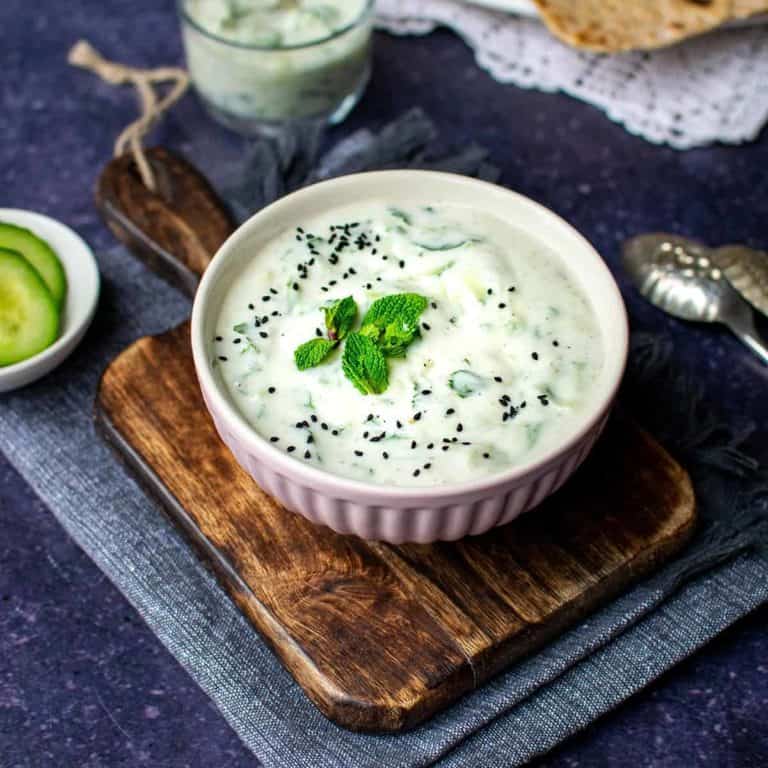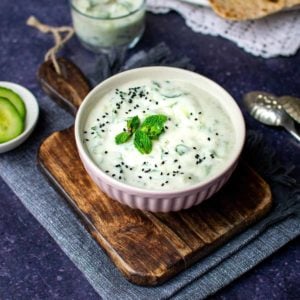 Simple Vegan Raita In 5 Minutes
Vegan Raita takes just a few minutes to make, and just 6 ingredients (plus seasoning). Take curry night to the next level by adding this dish to your repertoire!
Save
Saved!
Print
Pin
Rate
Ingredients
½

cup

coconut yoghurt

150

g

cucumber

- grated

1

tablespoon

fresh mint leaves

– chopped finely

1

tablespoon

fresh coriander leaves

– chopped finely

1

tablespoon

lemon juice

½

teaspoon

cumin powder

Salt and black pepper

for seasoning to taste
Instructions
Weigh and then grate the cucumber using a grater. No need to remove the skin or the seeds.

Chop the coriander and mint very finely using a sharp knife.

1 tablespoon fresh mint leaves,

1 tablespoon fresh coriander leaves

Mix all the ingredients together in a big bowl, including a good helping of salt and pepper. Taste and adjust the seasoning if needed. Voila! Done. Serve with your favourite curry!

½ cup coconut yoghurt,

150 g cucumber,

1 tablespoon fresh mint leaves,

1 tablespoon fresh coriander leaves,

1 tablespoon lemon juice,

½ teaspoon cumin powder,

Salt and black pepper
Notes
You can use an alternative to coconut yoghurt, just make sure it's unsweetened and not flavoured.
Nutrition
Calories:
16
kcal
|
Carbohydrates:
2
g
|
Protein:
1
g
|
Fat:
1
g
|
Saturated Fat:
1
g
|
Polyunsaturated Fat:
1
g
|
Monounsaturated Fat:
1
g
|
Sodium:
61
mg
|
Potassium:
33
mg
|
Fiber:
1
g
|
Sugar:
1
g
|
Vitamin A:
45
IU
|
Vitamin C:
2
mg
|
Calcium:
5
mg
|
Iron:
1
mg