When we think about going for a curry (have we mentioned that we love curry?) one of the things we look forward to the most is a yummy Saag Aloo. Anything with potato in it is bound to be a winner right?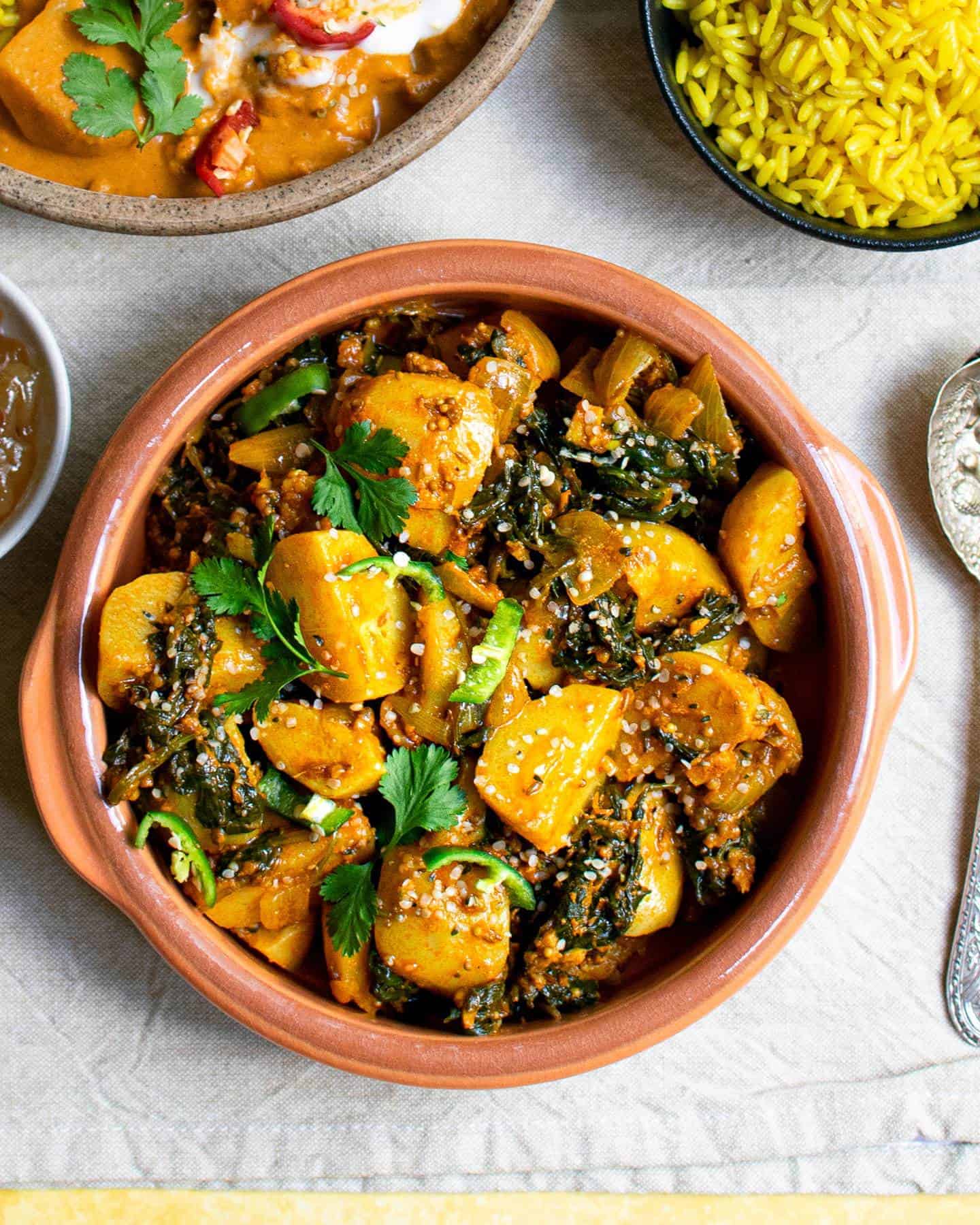 Saag Aloo is one of the most popular North Indian dishes in the world, so we had to figure out a way of making a vegan version! This version tastes exactly like one you would get from a takeaway, and it's ready in just 25 minutes.
Is this an authentic Saag Aloo?
As with a lot of authentic Indian dishes, the method is almost more important than the ingredients. We've done our best to recreate our favourite takeaway style Saag Aloo by paying close attention to the way that we cook it.
For this dish, as with many other Indian favourites, the key is to ensure that you properly cook down the onions. It's well worth the extra effort.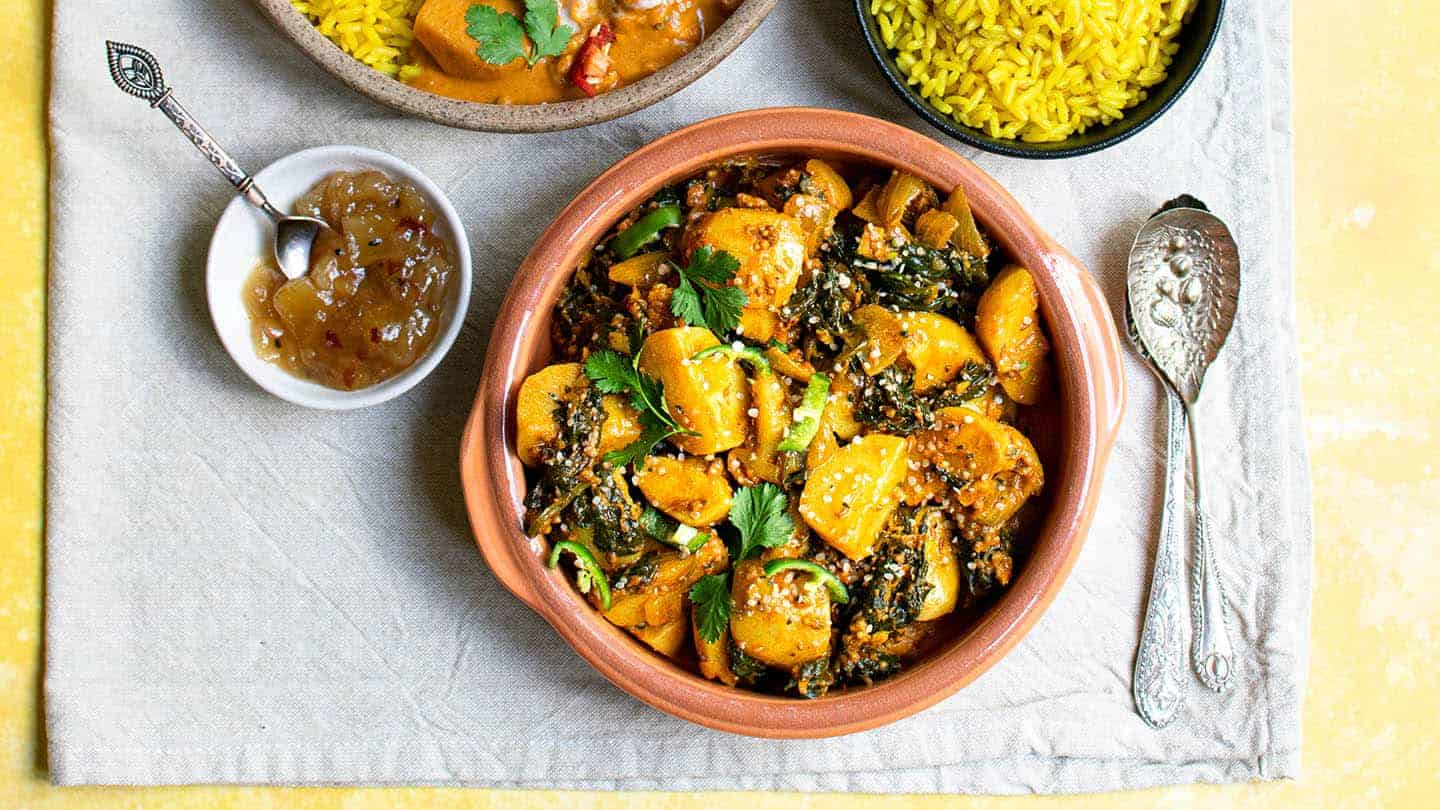 Is Saag Aloo vegan?
Traditionally Saag Aloo isn't vegan because it is made with ghee, which is a highly clarified form of butter traditionally used in Indian cooking.
Our Saag Aloo is 100% vegan because we've used oil instead. A lot of the time Indian takeaways don't use dairy ghee as it's cheaper for them to use non-dairy, but it's always worth checking just in case.
Saag Aloo ingredients
You'll need a few spices to get the traditional Saag Aloo flavour just right, but they're all quite common and can be picked up in any supermarket. You will need:
Potatoes. These should be peeled and then chopped into chunks.
Spinach.
Oil for cooking. We prefer to use rapeseed oil, but whatever kind of oil you have at home will be fine.
Onion. Either red or white will work. White onions have a slightly stronger flavour and red onions are a little bit sweeter, so it depends on your preference.
Garlic.
Ginger.
Tomato puree.
Ground coriander. If you're someone who doesn't like fresh coriander you'll probably find that you're OK with ground coriander as it's a much milder flavour.
Chilli powder.
Cumin seeds.
Yellow mustard seeds.
Water
Salt for seasoning.
For the quantities, take a look at the recipe card below.
How to make Saag Aloo
This vegan Saag Aloo is really quick and simple to make, so it's a wonderful addition to a curry night at home!
First take your potato chunks and boil them for 10 minutes to soften them up. You'll know they're done when a fork can pierce the surface, but doesn't easily go all the way through.
In a separate pan, heat up some oil. Once it's up to temperature add the mustard and cumin seeds and fry them off. Make sure the pan you use is one with a lid, as you'll need it for the next step.
Add the onion to the pan and give it a stir. Then saute for 10 minutes over a medium heat with the lid on. Be sure to stir the onion every so often, as you want to make sure it doesn't burn. It's important that you fry the onions for the full amount of time as this releases the flavour and it really makes the dish.
Pop in garlic, ginger and tomato puree along with the water.
Put the lid back on, and cook for 5 minutes.
Add the potatoes to the pan and give them a stir to coat them in the spices.
Pour in some more water, and then start to gradually wilt the spinach two handfuls at a time. With each two handfuls that you add, pop the lid on to allow the spinach to wilt for 30 seconds. Remove the lid and give it a stir, and then add the next two handfuls. Repeat until all of the spinach has been added.
Finally, season with a generous helping of salt.
The recipe card at the bottom of this article has details on the temperatures and measurements.
What to serve with Saag Aloo
When we have a curry night, we like to go all out and have as many different types of curry as possible! This Saag Aloo works well as a main dish, or you could have it as a side dish alongside one of our other favourites:
Veg Jalfrezi – if you like a saucy curry with a nice bit of crunch to it then you can't go wrong with a Veg Jalfrezi. This recipe uses Quorn pieces so it's great for meat eaters who want that bit of meaty texture in their meal. It's also zero waste, so it uses all of the parts of the vegetable that would usually be thrown away.
Vegan Cauliflower Curry - we're huge fans of cauliflower, and we love it even more when it's combined with a spicy tomato-based sauce like it is in our Vegan Cauliflower Curry. This recipe shows you how to make a madras paste from scratch, but it also works really well if you want to use a shop bought one.
Vegan Dahl - our Vegan Dahl is one of our go-to meals because not only is it really tasty, it's made from store cupboard ingredients. Perfect if it's miserable out and you really don't want to go to the shops!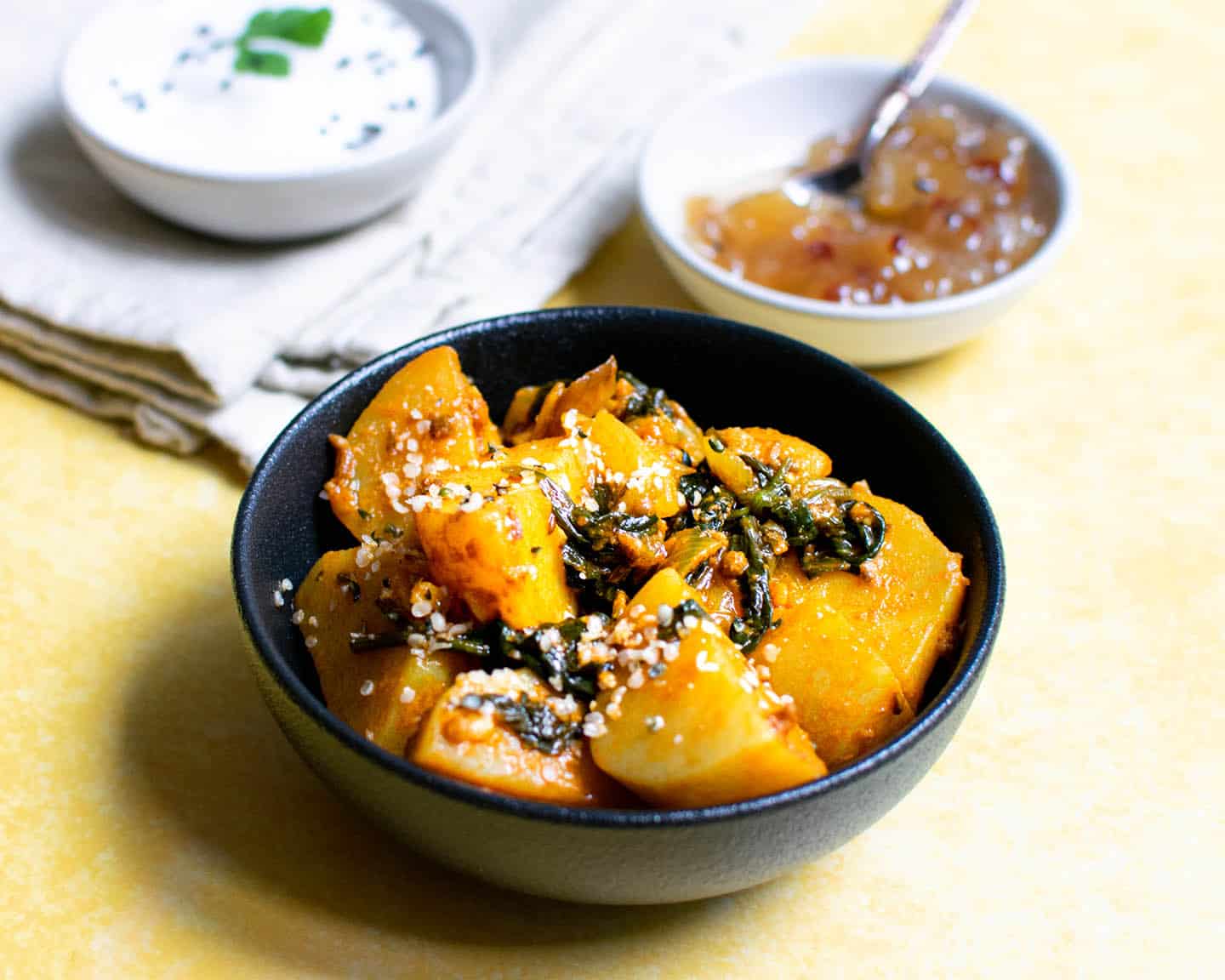 Recipe FAQs
Is Saag Aloo spicy?
Typically Saag Aloo isn't that spicy, and this recipe doesn't use all that much spice so it's pretty mild. That being said if you want to make it spicy, feel free to throw in some extra chilli!
Do you have to use spinach for Saag Aloo?
The word 'Saag' means spinach or leafy vegetable, so you'll need to use some kind of dark leafy green. You could try making this recipe with a dark leafy green other than spinach, like mustard leaf, collard green or cavelo nero, if you like.
Can this Vegan Saag Aloo be frozen?
Definitely! Be sure to freeze it in individual sized portions, and then you can easily defrost some when you want a quick side to go with a dinner.

It should keep in the freezer for three months.
What Equipment will you need?
As with any recipe, having the right equipment will make this dish a whole lot easier to put together!
Large pan with a lid
This is essential for cooking down the onions, without the lid you'll lose moisture and the onions could burn. We use our pan every time we need to simmer anything, so for curries, stews, pasta dishes… the list goes on! We love this Scoville 3 Piece Saucepan Set, and would definitely recommend them. The big pan is perfect for cooking this dish.
Potato peeler
We can't stress enough how much easier life is with a potato peeler that actually works! We tried to get by with the old rubbish one in the bottom of the drawer for a while, and it resulted in us nearly injuring ourselves multiple times. It pays to get one like this Vegetable Peeler by OXO – it's the one we use.
The 'Y' shape makes it easy to peel potatoes (and any other vegetables), it has good grip and it's sturdy too!
Measuring spoons
We love our measuring spoons, it makes it so much easier to work out ratios. Plus it makes using recipes from the US an absolute doddle, no more converting everything into grams!
Would you like to try even more amazing vegan Indian recipes? Then head on over to our ultimate list: 60+ Vegan Indian Dishes [That Anyone Can Make]!
📖 Recipe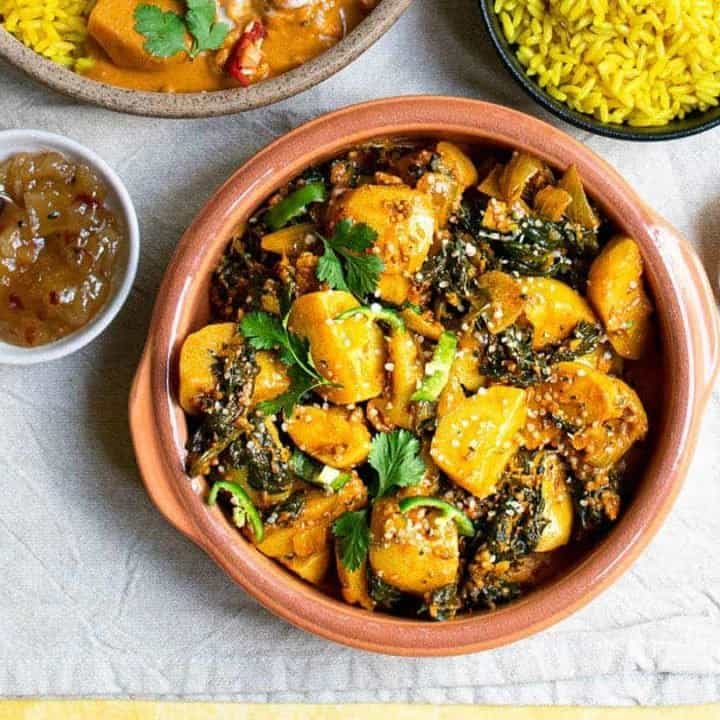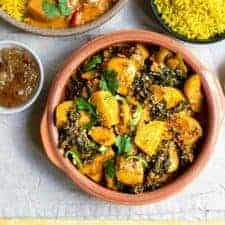 Vegan Saag Aloo in 25 Minutes
Vegan Saag Aloo is great as a side on a curry night, or as a main. It's deliciously fragrant and mild, plus it only takes 25 minutes to make!
Save
Saved!
Print
Pin
Rate
Ingredients
500

g

potatoes

- chopped into bitesize chunks

1

onion

- chopped

3

garlic cloves

- crushed

1

inch

ginger

- chopped finely

1

tablespoon

tomato puree

1

teaspoon

ground coriander

½

teaspoon

chilli powder

2

teaspoon

cumin seeds

2

teaspoon

yellow mustard seeds

½

cup

water

2

tablespoon

water

250

g

spinach

2

tablespoon

oil

Rapeseed or Coconut

1

teaspoon

salt
Instructions
Boil the potatoes for 10 minutes, then drain and set aside.

Meanwhile, in a large pan (that has a lid) pour in the oil, and let it heat for a minute. Once hot, add in the yellow mustard seeds and cumin seeds for one minute, until they are 'popping' around in the pan.

2 teaspoon yellow mustard seeds,

2 tablespoon oil,

2 teaspoon cumin seeds

Put the onion in, stir and then place the lid on and leave for 10 minutes, over a medium heat.

Pop in the garlic, ginger, tomato puree, the rest of the spices and 2 tablespoons of water. Stir well.

3 garlic cloves,

1 inch ginger,

1 tablespoon tomato puree,

1 teaspoon ground coriander,

2 tablespoon water,

½ teaspoon chilli powder

After 5 minutes, add in the drained potatoes and the remaining half cup of water. Stir well again, then add the salt.

½ cup water,

1 teaspoon salt

Finally, add in the spinach, 2 handfuls at a time. To help it wilt, place the lid onto the pan for 30 seconds after each lot of spinach is added in. Repeat until all spinach is wilted.
Notes
If you'd like the Saag Aloo to be spicy, double the chilli powder or add in a chopped fresh chilli.
Nutrition
Calories:
203
kcal
|
Carbohydrates:
29
g
|
Protein:
6
g
|
Fat:
8
g
|
Saturated Fat:
1
g
|
Polyunsaturated Fat:
2
g
|
Monounsaturated Fat:
5
g
|
Trans Fat:
1
g
|
Sodium:
649
mg
|
Potassium:
989
mg
|
Fiber:
5
g
|
Sugar:
3
g
|
Vitamin A:
5972
IU
|
Vitamin C:
46
mg
|
Calcium:
107
mg
|
Iron:
4
mg