Vegetable Bhuna is a great choice for dinner if you're looking for a curry with a lovely thick sauce, with plenty of flavour.
People tend to have pretty strong views on whether Bhuna is actually a 'real' curry, as technically Bhuna is the name for the style of cooking, and not the dish itself. The Bhuna technique originated in Bangladesh and the Bengal area of India, and it involves frying spices, usually ginger, garlic and shallots, in hot oil until they form a paste. This paste give the dish its flavour.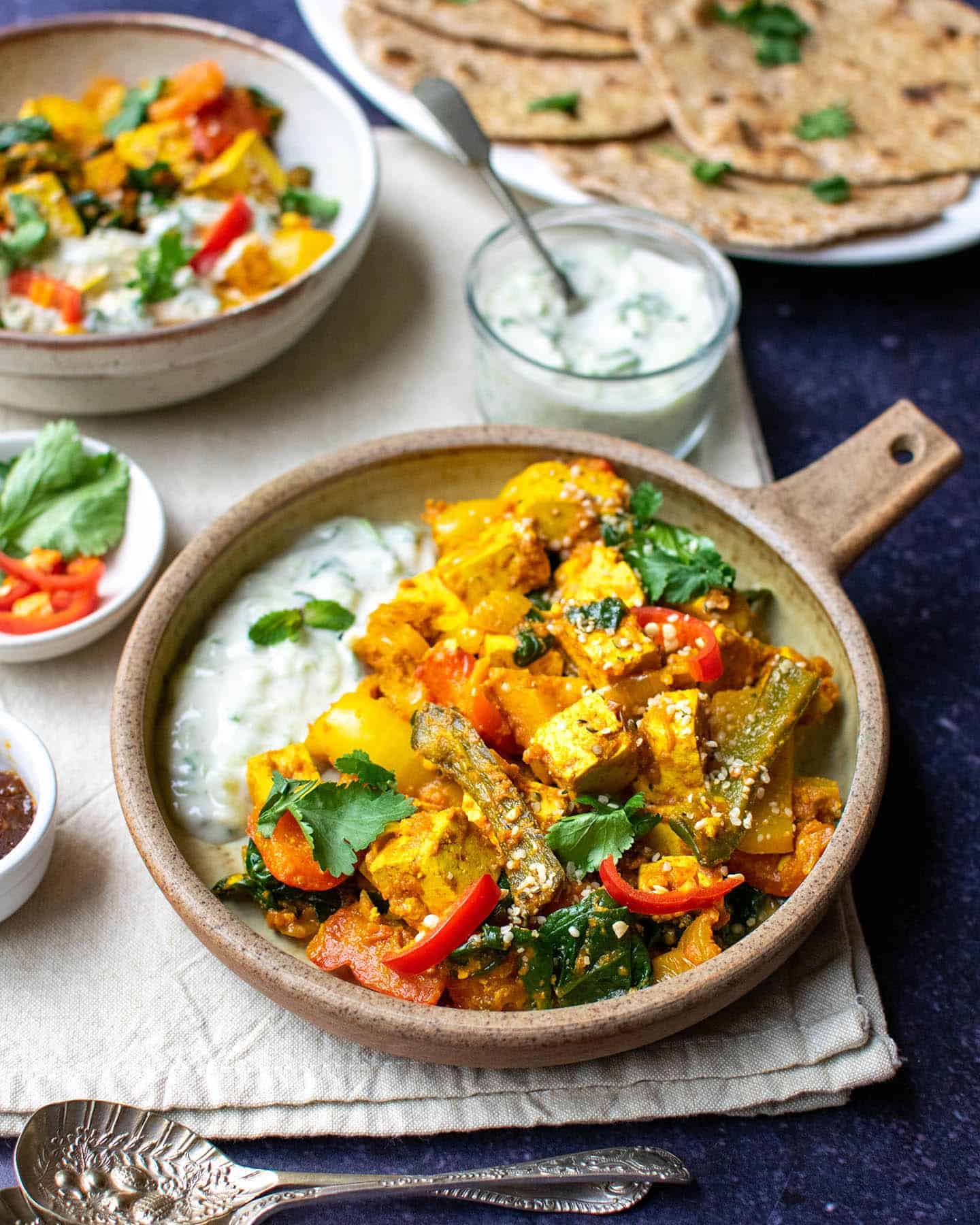 It's become hugely popular in Europe, particularly in the UK, in fact it's a staple on the menus of most Indian restaurants.
Jump to:
What is a Bhuna?
Bhuna is the name often given to a curry that's been made using the technique of frying spices in hot oil until they form a paste.
A vegetable Bhuna will be made by taking the paste, and then slowly cooking the vegetables in it. As the vegetables cook they release juices, which combine with the paste to create a kind of thick 'gravy'.
It's a drier dish than some other curries, and it's usually quite spicy. We've made this recipe medium spicy, but feel free to use more or less chillies depending on what you like!
🤔 Is Bhuna vegan?
Traditionally Bhuna isn't vegan, as it's usually made with meat or fish. However vegetable Bhuna is usually a safe choice for vegans, just be sure to double check as each restaurant will follow a slightly different recipe.
This vegetable Bhuna is of course 100% vegan!
👩‍🍳 Pro tip
The key to getting the best flavours out of your vegetable Bhuna, and actually all curries, is in how you cook your onions. Take the time to cook them down for about 20 minutes, as this will ensure that you create lovely deep flavour base for the curry.
You should cook them on high at first, and then reduce them down to medium for the rest of the cooking time. You want them to be well browned, not just translucent!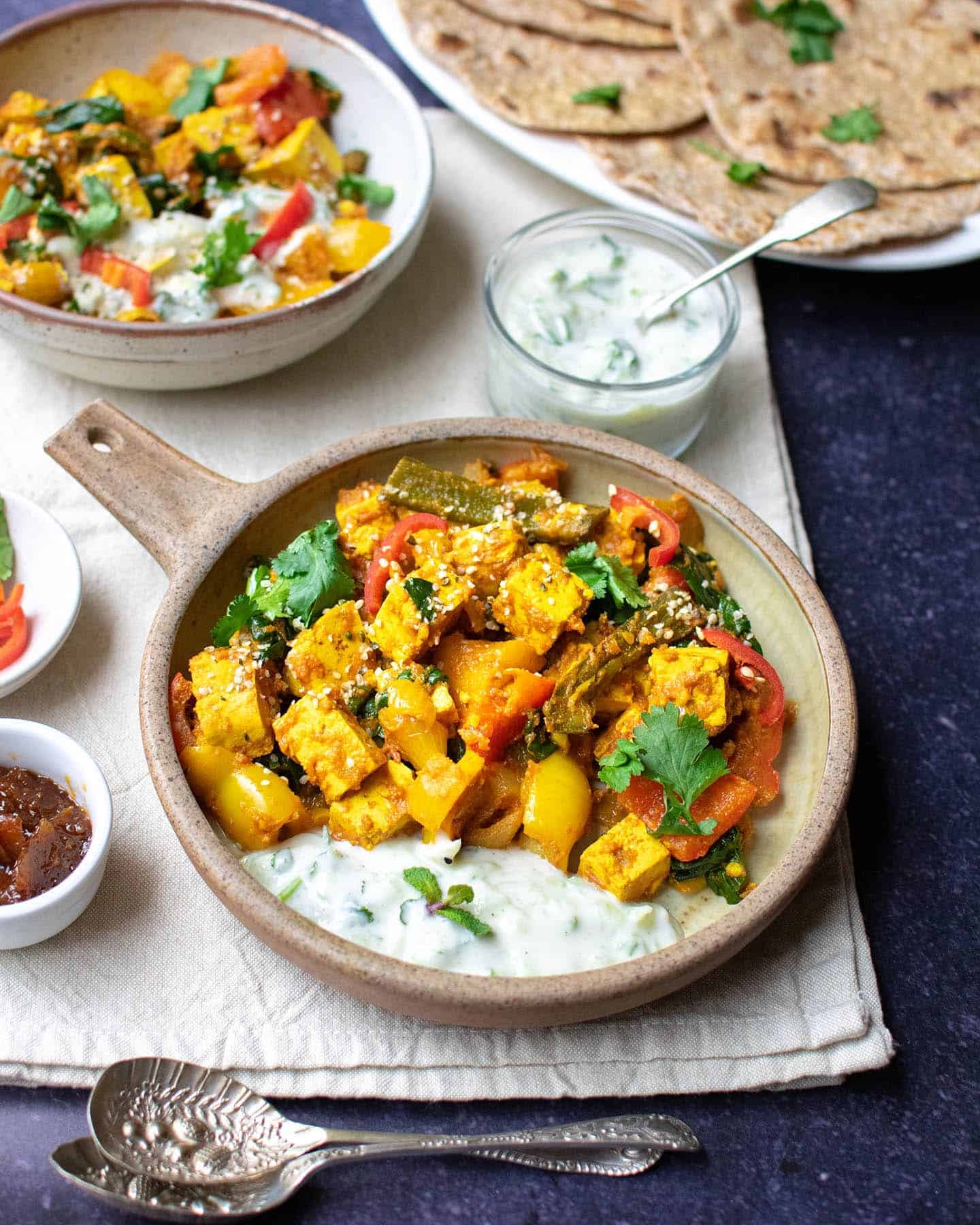 📋 Ingredients
This vegetable Bhuna recipe uses a combination of store cupboard spices and fresh vegetables, plus some tofu to add texture. You will need:
Onions. Chop these into medium slices.
Fresh ginger. Fresh ginger should be peeled, and chopped into small pieces.
Garlic. To prepare the garlic peel it, and then either finely chop or crush it.
Green chillies. Remove the ends and chop into small pieces. The majority of the spice comes from the membrane, so bear this in mind when you're deciding how many to add into the curry! You could try removing the seeds and membrane if you want a milder curry.
Turmeric.
Cumin.
Ground coriander.
Garam masala.
Tofu. For best results make sure that you press the tofu first, or get a brand like Tofoo that you don't need to press. Chop the tofu into bite sized pieces.
Tomatoes. These are where a lot of the dishes flavour comes from, so try to get nice ripe ones with a lot of flavour. Generally organic or home grown tomatoes will be more flavourful than intensively farmed ones.
Tomato puree.
Peppers.
Spinach.
For measurements and instructions, please see the recipe card at the bottom of this article.
🔪 Instructions
To get the best flavours out of your vegetable Bhuna you'll need to allow enough time to slowly cook it, so that all the flavours can be released. It will probably take around 45 minutes, but it's so worth it!
First heat some vegetable oil on a high heat in a large saute pan, and then add your onion and chilli.
Fry the onion and chilli on a high heat at first, and then reduce down to a medium heat. You'll want to cook them for 15-20 minutes, continuously stirring, until the onions are nicely browned.
While the onion is cooking, pop your tomatoes and the tomato puree into a blender and blend them until they form a thick, smooth mixture.
Once the onions are ready, add the garlic, ginger and chillies to the pan.
Add all your spices and the tofu to the pan, and then cook for 1 minute until the spices become fragrant.
Pour in the tomato mix, along with some water.
Give it all a good stir, and then allow to simmer on a medium heat for 10 minutes.
Add in your peppers, and then continue cooking for 5 minutes more.
Wilt in your spinach, and then season with a generous amount of salt.
Serve and enjoy!
For full measurements and instructions, please see the recipe card at the end of this article.
🥕 What to serve with Bhuna
We always think that the best thing about having a curry is the fact that you get to have loads of yummy sides with it! This vegetable Bhuna is no different.
It's super annoying that most naan breads have milk in them, which is why we just had to create this recipe for the ultimate vegan naan bread. It's absolutely delicious, and perfect when piled high with a generous amount of rice and curry.
Vegan raita
There's something about the combination of a spicy curry and cooling dip that really hits the spot. This vegan raita is creamy and fresh, and perfectly complements the rich flavours of the vegetable Bhuna. It's also pretty great just as a dip with some naan or poppadoms.
Saag Aloo has to be one of the ultimate sides to go with a curry. This warming spinach and potato dish is a staple in our house, we just can't have curry night without it!
It would be a bit wrong to have a curry without rice, wouldn't it? Check out our guide on how to prepare pilau rice to make sure that you get perfect fluffy rice, every time.
💭 FAQs
Is this dish spicy?
We've made this vegetable Bhuna recipe medium spicy, but you can tailor it based on what you like. If you don't like it too hot, then you can use less chillies or try removing the seeds from your chillies. Traditionally Bhuna is a spicy dish, but we've toned it down a little for this one.
Where does Bhuna come from?
Bhuna is believed to originate in Bangladesh and Bengal, but it's become really popular in Europe in recent years. It's actually the name of the cooking style used to create the curry, which centres around cooking spices in hot oil until they form a paste. The paste is then used to flavour the curry. Traditionally meat would be cooked in the paste to form a kind of gravy. Obviously in this version we're using vegetables!
Can I make this ahead of time?
Absolutely! You can make this vegetable Bhuna a few hours or a day ahead of time and it will be perfect at dinner time. Just be sure to keep it in the fridge until you need it. If you are planning to make this dish to be reheated later, then you can leave out the spinach until you are warming it up to eat. This will mean that the spinach will be fresher, and taste better.
Does it freeze well?
It does! You can keep this vegetable Bhuna in the freezer for up to three months. You will find that the texture of the tofu changes from being frozen and defrosted, and becomes more 'meaty.' We deliberately freeze and then defrost a lot of our tofu to achieve this effect.
🍽 Equipment and product recommendations
If you want to make your vegetable Bhuna as tasty as possible, there are a few things you'll want to make sure you get hold of:
Sharp knife
Probably the most important thing in our kitchen is our knives! Using a good quality, sharp, knife will make chopping up your veg much less of a chore. It's also a lot safer to use a sharp knife. If knives are slightly blunt then they can slip off of whatever you are chopping and cut you, which is less than ideal.
Big saute pan
Having a nice big saute pan is essential when you're cooking any curry because it allows you to get adequate heat to all of your spices and release their flavours. It also means that everything will cook evenly, and you'll have enough room to stir all of your ingredients without splashing them everywhere.
Chopping board
Chopping boards are really important for any kind of cooking because you'll protect your work surfaces, and it also minimises the risk of spreading germs around the kitchen. We really like to use wooden chopping boards because they look great, are more biodegradable and some types of wooden chopping board have antibacterial properties.
Tofu press
Unless you're using an extra firm type of tofu that doesn't need pressing, like Tofoo, we'd recommend always pressing your tofu.
It's possible to press your tofu by wrapping it up in kitchen paper, popping it between two plates and then balancing a can or two on top. However, we much prefer using a tofu press because they are specifically designed to catch the water so they don't create as much mess, and they take up much less space.
Plus it's kinder to the environment not to keep using paper towels if you're eating tofu as much as we do!
For more inspiration, head to our ultimate list of vegan Indian recipes. There's over 60 recipes included, and they're all super simple to make.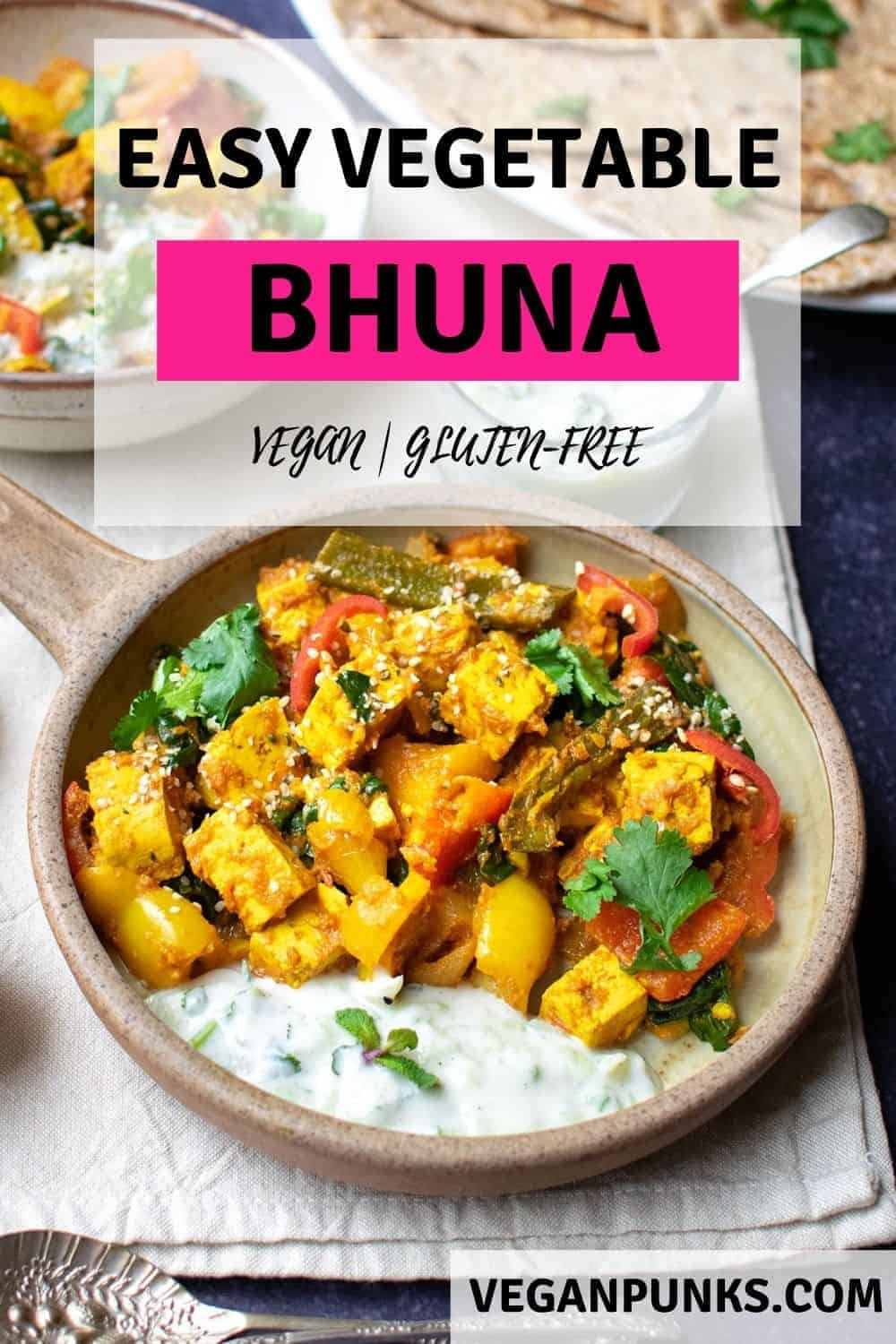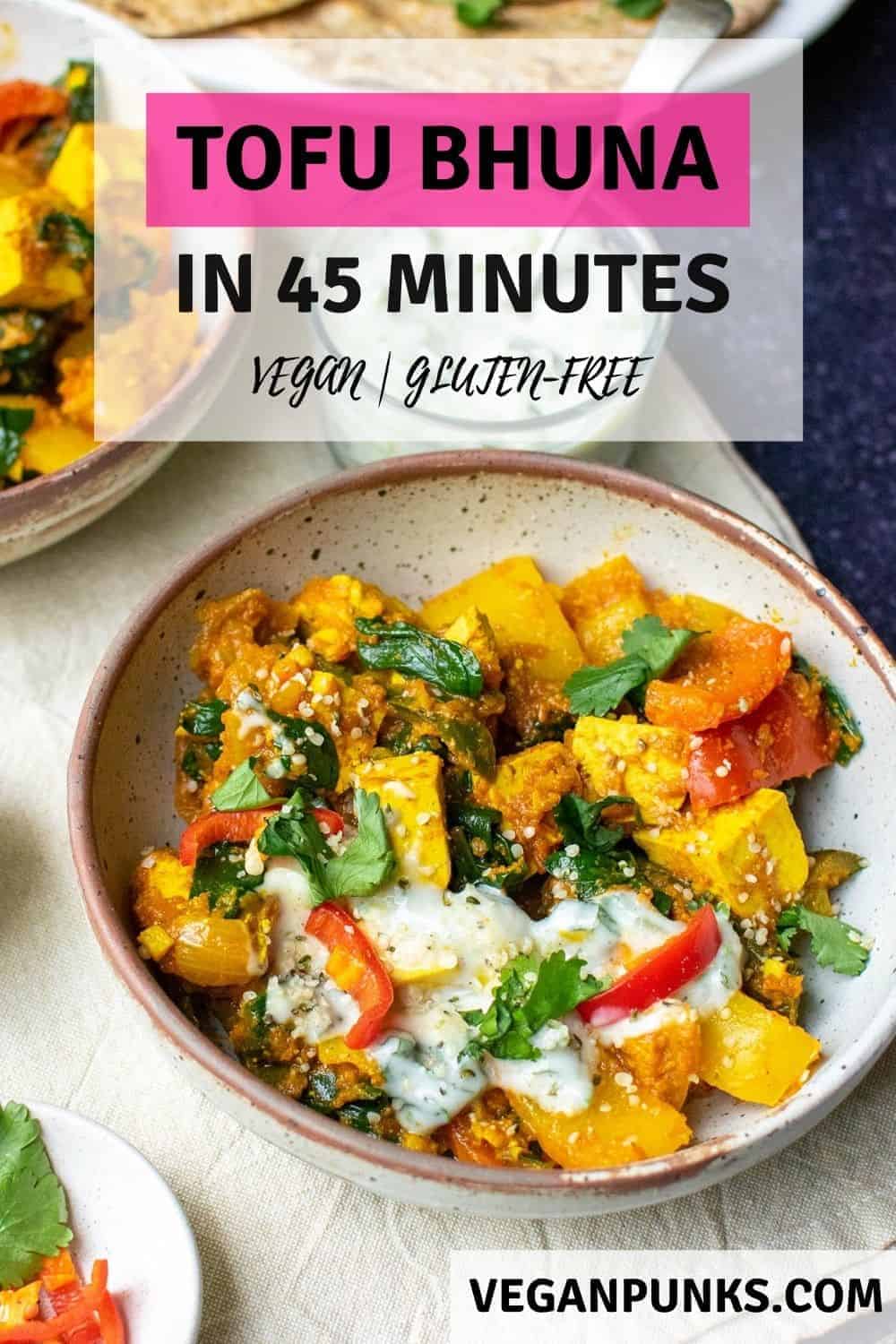 📖 Recipe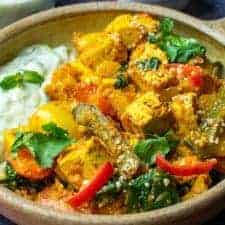 Easy Vegetable Bhuna
Vegetable Bhuna is a delicious and comforting dish. The addition of tofu makes it a bit more substantial, and it's super healthy as it features peppers, spinach and onions too!
Save
Saved!
Print
Pin
Rate
Ingredients
2

onions

- chopped into medium slices

2

tablespoon

fresh ginger

4

cloves

garlic

3

green chillies

1

teaspoon

turmeric

2

teaspoon

cumin powder

2

teaspoon

ground coriander

1

teaspoon

garam masala

450

g

tofu

- chopped into small chunks

500

g

tomatoes

~6 tomatoes - chopped into quarters

2

tablespoon

tomato purée

2

peppers

- chopped into chunks

100

g

spinach

100

ml

water
Instructions
Fry the onion and chillies off in 1-2 tablespoon vegetable oil for 15-20 minutes, continually stirring them. The onions should brown quite nicely, but don't let them burn. Start on a high heat then reduce down to medium.

2 onions,

3 green chillies

Next, blend the tomatoes with the tomato puree until smooth, it should be a thick mixture. Like a smoothie.

500 g tomatoes,

2 tablespoon tomato purée

Pop in the garlic, ginger and chillies with the onion, still over a medium heat. Stir well.

2 tablespoon fresh ginger,

4 cloves garlic

Then add all of the spices and the chopped tofu, and make sure everything is nicely coated. Cook for 1 minute, to allow for the spices to become fragrant.

1 teaspoon turmeric,

2 teaspoon cumin powder,

2 teaspoon ground coriander,

1 teaspoon garam masala,

450 g tofu

Pour in the tomato mixture and 100ml water.

Simmer for 10 mins (uncovered), to allow the sauce to thicken and reduce.

Pop in the chopped pepper and cook for 5 minutes more.

Wilt in the spinach and then season with a generous amount of salt. Serve and enjoy!
Notes
Use fewer chillies if you would like the bhuna to be mild. This dish has been made medium-spicy, rather than very spicy.
Nutrition
Calories:
187
kcal
|
Carbohydrates:
22
g
|
Protein:
14
g
|
Fat:
6
g
|
Saturated Fat:
1
g
|
Polyunsaturated Fat:
3
g
|
Monounsaturated Fat:
2
g
|
Sodium:
154
mg
|
Potassium:
725
mg
|
Fiber:
7
g
|
Sugar:
9
g
|
Vitamin A:
3661
IU
|
Vitamin C:
82
mg
|
Calcium:
222
mg
|
Iron:
4
mg