Vegetable Rogan Josh is super easy to make, and it's so tasty! Much better than anything you get in a jar. In just 30 minutes, you'll have a delicious curry to rival any takeaway.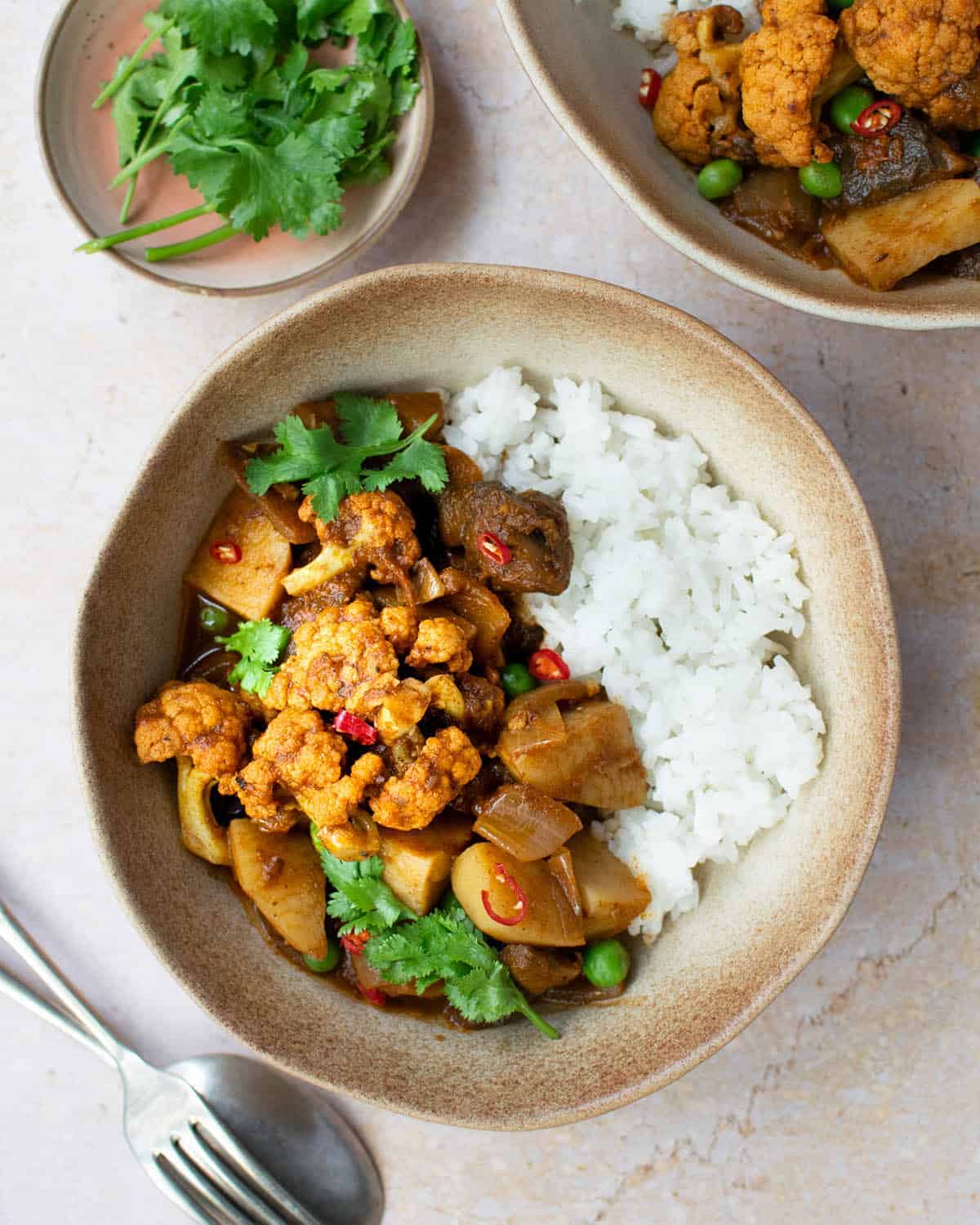 Jump to:
Historically, rogan josh got its signature red colour from the mild red Kashmiri chillies that were used to make it. The dish is believed to have originated in Persia, which is the language it takes its name from. In case you were wondering, 'rogan' means clarified butter in Persian, and 'josh' means hot (or passionate). Of course, our vegan rogan josh doesn't have any butter in it, but you won't miss it.
Keep reading to find out how to make an authentic vegetable rogan josh...
🌟 Why this recipe works
Spice mix - this recipe's mix of spices is unique to a rogan josh and they are what bring the specific flavour.
It's versatile - we love the combo of cauliflower, mushrooms and potato in our veg rogan josh. We think that it makes it lovely and filling and comforting, with a nice crunch from the cauliflower. However, it's so versatile you can add any veg that you like!
Passata - using passata rather than tinned tomatoes will level up any tomato based curry. It creates a silky smooth and indulgent sauce that will be a hit with everyone.
The love is real - genuinely, vegetable rogan josh is one of my favourite curries. I know food bloggers say this all the time, but I really mean it. I would never create a recipe that didn't do it justice! Saying that, we also just love making curries. Check out these for more: Aubergine Curry, Creamy Tofu Korma and even this Palak Chana.
Keeping it simple - a lot of rogan josh recipes will include a spice list as long as your arm! We wanted to keep it as simple as possible, so that anyone could make it. We've used fewer aromatic spices and powders, while retaining an impressive and intense flavour. Well, we think we have anyway. Let us know what you think in the comments below.
🍽 Equipment needed
We've kept our vegan rogan josh nice and simple. All you'll need is a large pan, measuring spoons and stirring utensils.
📋 Ingredient notes
Spice powder mix - the spice powder mix we use is traditional for rogan josh, and it's awesome! However, if you want a shortcut you could use a shop bought paste instead. We promise you that the spice mix will be better, though.
Aromatic whole spices - using some aromatic whole spices rather than powdered spices for your curry will intensify the flavours. We definitely recommend it.
Onions - as with most great Indian curries, the base of a truly awesome vegan rogan josh is sweating down the onions. Make sure you don't skip this step.
Peas - peas are an excellent source of iron. Yes, even better than spinach!
Passata - we love using passata because it makes the sauce extra silky smooth. If you don't have passata, then blended tomatoes work well, too.
🔪 Step-by-step instructions
These instructions are an overview to go with the process images. For the full ingredients list, instructions and recipe notes, head to the recipe card below.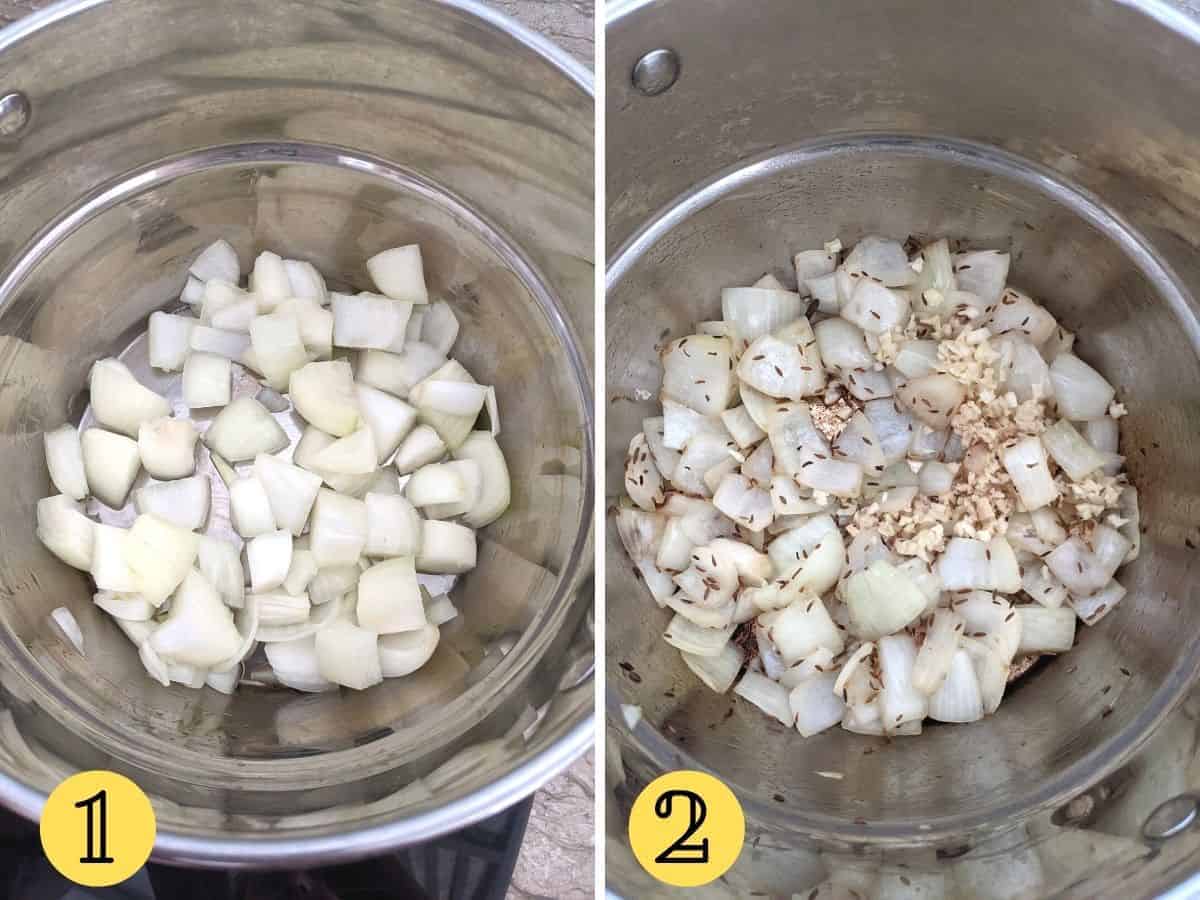 1. Begin by sweating down the onions in 1 tbsp of oil. It's important that you do this for long enough for the onions to release their flavour. If you don't, your vegetable rogan josh won't be as good, and that would be a shame!
2. Once your onions have sweated, add in the cumin seeds, garlic and ginger.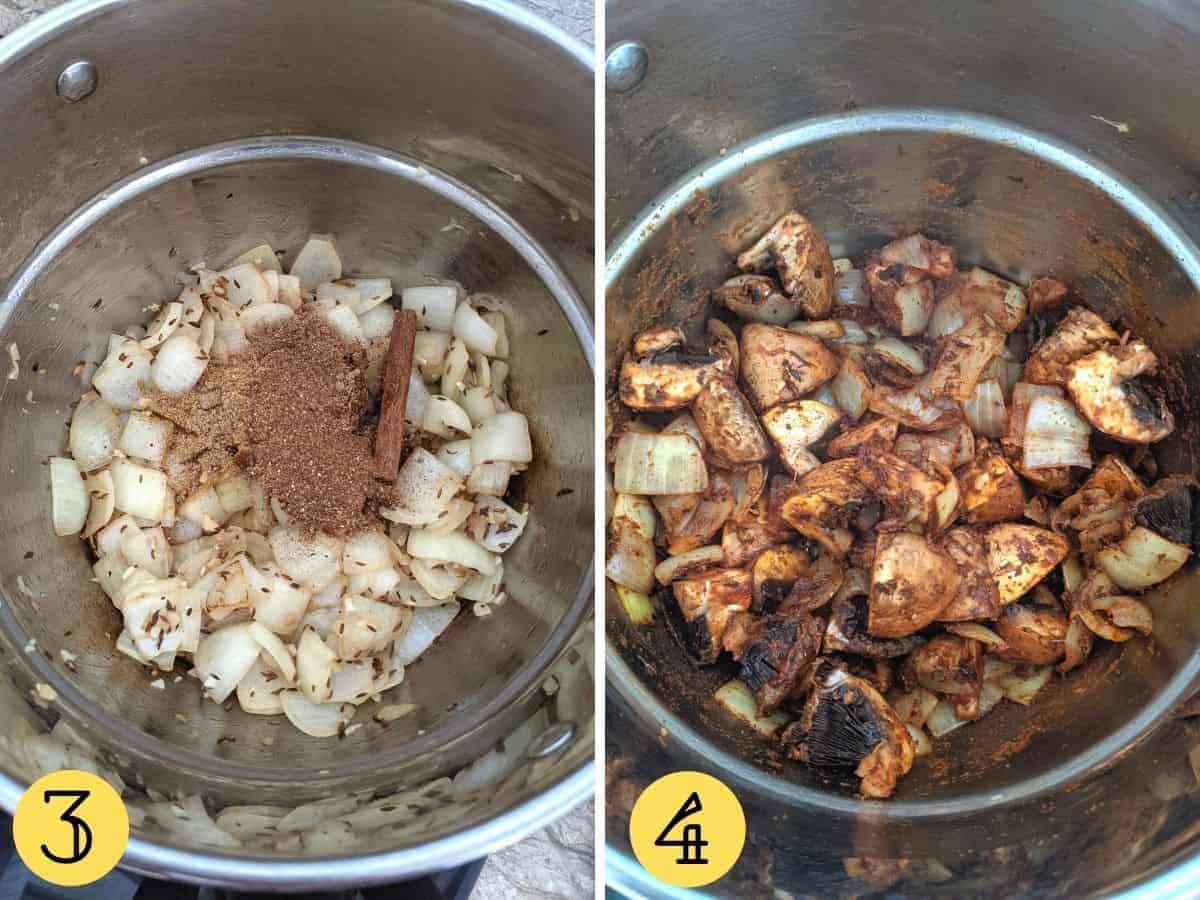 3. Next, add the cloves and the cinnamon stick. Chuck in all of the remaining spices and give everything a good stir.
4. Add the mushrooms and stir them in the spice mix so that they get coated.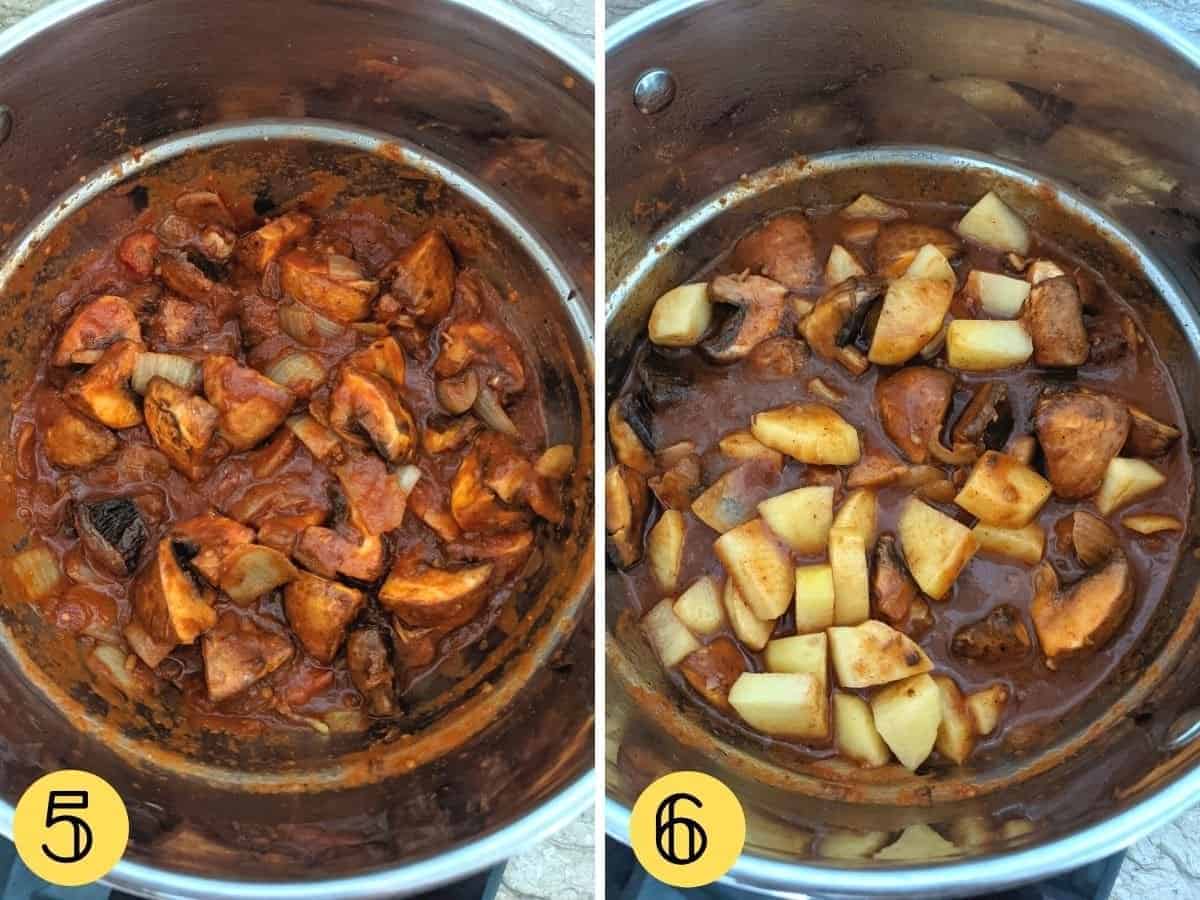 5. Stir in tomato puree.
6. Pour in the passata, water and potatoes. Bring the pan up to a gentle simmer, and cook for 10 minutes.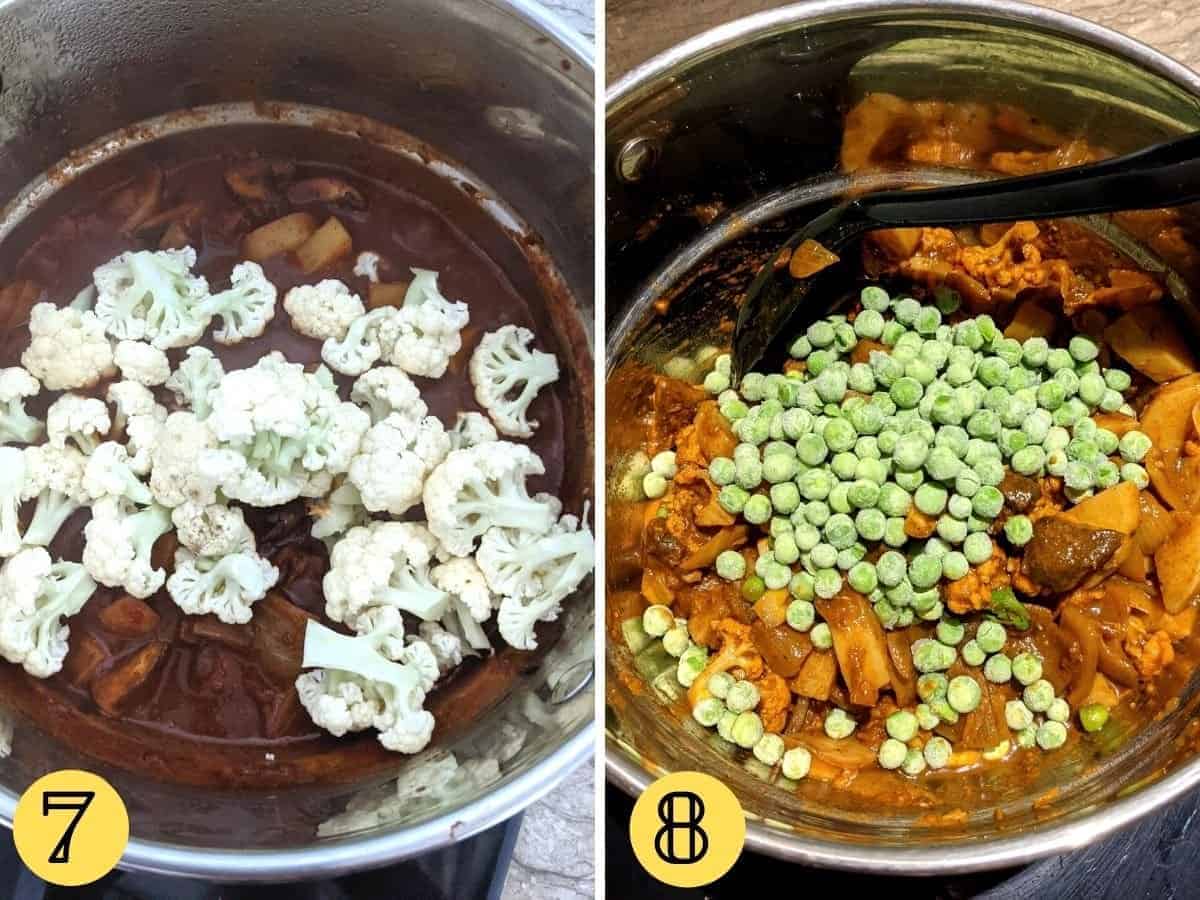 7. After 10 minutes, add the cauliflower and simmer for another 10 minutes.
8. Pop the peas in along with 1 tsp of salt. Simmer for another 1 or 2 minutes to allow the peas to heat through.
Serve and enjoy!
👩‍🍳 Expert tips
Change it up by varying the ingredients. Consider adding a protein like firm tofu, tempeh or a vegan chicken replacement.
Our vegetable rogan josh is a medium spicy curry. If you prefer a mild curry, you can use less cayenne powder, or omit it altogether.
You can make a batch of veg rogan josh in advance, as it freezes well. However, as we always say, mushrooms don't freeze well. If you want to freeze yours then consider leaving the mushrooms out - but this is just a personal preference.
If you don't have cumin seeds, you can replace them with 1 teaspoon of cumin powder.
Chop the potatoes quite small - around 1.5cm cubes. This is to ensure that they cook all the way through during the simmering time. If they're not small enough, they'll need to simmer longer. If this happens, simmer for an extra 5-10 minutes. In addition, you'll probably need to add up to one more cup of water so the sauce doesn't completely dry up.
💭 FAQs
What vegetables go in rogan josh?
There are no rules when it comes to veggies in this curry! We love the combo that we've selected, but feel free to mix it up. You could try using your favourite veggies, or whatever is in season.
Is vegetable rogan josh vegan?
Traditionally, rogan josh is made by stewing meat using clarified butter, or ghee, which means that it isn't vegan.

Vegetable Rogan Josh is usually vegetarian, but not vegan because of the ghee.

Some restaurants will make their rogan josh vegan, however, so it's always worth asking. Or, you can just make this one which is definitely vegan!
What can I use instead of mushrooms?
We get it, mushrooms are a bit of a 'marmite' vegetable and some of you don't like them! If they are on your 'no' list, you could use carrots, broccoli or courgette instead.
How long does this curry keep?
One of the things we love about this curry is how well it keeps. If you put it in an airtight container, it will last in the fridge for 3 days. If you want to freeze it, it's a good idea to divide it up into individual portions first. It will last up to 3 months in the freezer.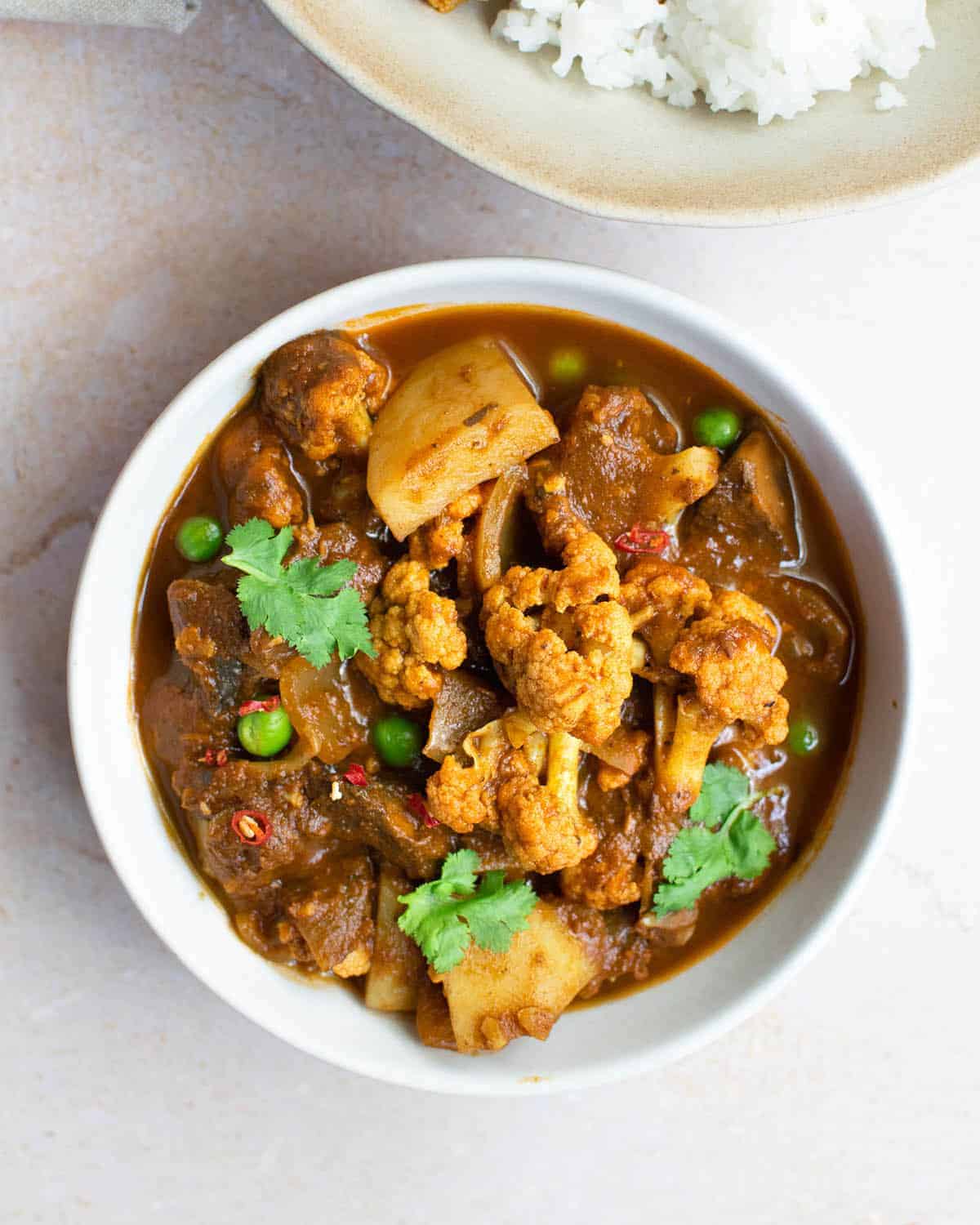 🍛 What to serve it with
🇮🇳 More vegan Indian dishes
If you liked this curry, then we think you'll love some of our other favourite Indian dishes:
If you're looking for more inspiration for Indian meals, check out our guide to the best ever vegan Indian dishes. It features over 60 recipes, and they're all super simple to make.
Did you make this recipe? Leave a review and a rating below, or tag us in your photos on Instagram! Alternatively, bookmark it in your browser or save to Pinterest for later.

If you love our content, please consider supporting it by buying us a coffee.
📖 Recipe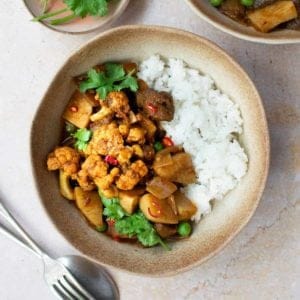 Vegetable Rogan Josh In 30 Minutes
Vegetable Rogan Josh is super easy to make, and so tasty! It's a lot better than anything you can get in a jar. In just 30 minutes, you can make a delicious curry to rival any takeaway.
Print
Pin
Rate
Ingredients
1

tbsp

oil

- or a few sprays of 'Fry Light' oil spray

4

cloves

garlic

- crushed

2

onions

- roughly chopped

1

cinnamon stick

2

tsp

cumin seeds

2

tbsp

ginger

- finely chopped

2

cloves

1

tbsp

paprika powder

0.25

tsp

cayenne powder

1

tsp

turmeric powder

2

tsp

garam masala

2

tbsp

tomato puree

400

ml

passata

- blended tinned tomatoes also work well

200

g

cauliflower

- chopped into bite size florets

200

g

mushrooms

- quartered

400

g

potato

- chopped into bite size pieces (1.5cm cubes)

110

g

peas

250

ml

water

1

tsp

salt
Instructions
Sweat down the onions in 1 tbsp of oil in a large pan. This creates the best base for the curry.

Next add in the cumin seeds, garlic and ginger. Careful not to burn them, garlic catches easily.

4 cloves garlic,

2 tsp cumin seeds,

2 tbsp ginger

Pop in the cloves and the cinnamon stick, stir well.

1 cinnamon stick,

2 cloves

Chuck in all of the remaining spices and give everything a good stir.

1 tbsp paprika powder,

0.25 tsp cayenne powder,

1 tsp turmeric powder,

2 tsp garam masala

Once everything is smelling aromatic, put the mushrooms in and stir. They should be coated with spices.

Stir in the tomato puree.

Pour in the water, passata and in the potatoes. Bring up to a gentle simmer, and allow to cook for 10 minutes.

400 ml passata,

250 ml water,

400 g potato

After 10 minutes have passed, add the cauliflower. Simmer for another 10 minutes.

Pour in the peas in and add 1 teaspoon of salt. Cook for another 1 - 2 minutes to allow the peas to heat through.
Notes
If you'd like the curry to be mild, use less cayenne powder, or omit it altogether. Othewise, this is a medium spicy curry.

It's important to chop the potatoes into bitesize chunks, about 1.5cm cubes. This is key to keeping the cooking time down. If they're not cooked after the simmer time, you can add in 1 cup of water and simmer for another 5-7 minutes.

Change up the veggies! This curry is versatile, so you can replace the vegetables with whatever you have on hand. Carrots, courgette, broccoli will all work well.

Increase the protein by adding tofu, tempeh or vegan chicken.

This curry freezes well. If freezing, we would recommend omitting the mushrooms as they don't tend to freeze well.

Keeps in the fridge for 3 days.
Nutrition
Calories:
249
kcal
|
Carbohydrates:
46
g
|
Protein:
10
g
|
Fat:
5
g
|
Saturated Fat:
1
g
|
Polyunsaturated Fat:
1
g
|
Monounsaturated Fat:
2
g
|
Trans Fat:
1
g
|
Sodium:
647
mg
|
Potassium:
1477
mg
|
Fiber:
11
g
|
Sugar:
13
g
|
Vitamin A:
1761
IU
|
Vitamin C:
76
mg
|
Calcium:
98
mg
|
Iron:
5
mg