Thai Tofu Yellow curry (Kaeng lueang) is totally delicious. This blog post takes you through how to make a homemade yellow curry paste and make the full curry too. We'll go through all the ingredients you'll need, such as vegan fish sauce and fresh turmeric (and alternatives), as well as a quick and easy method to make the tofu yellow curry.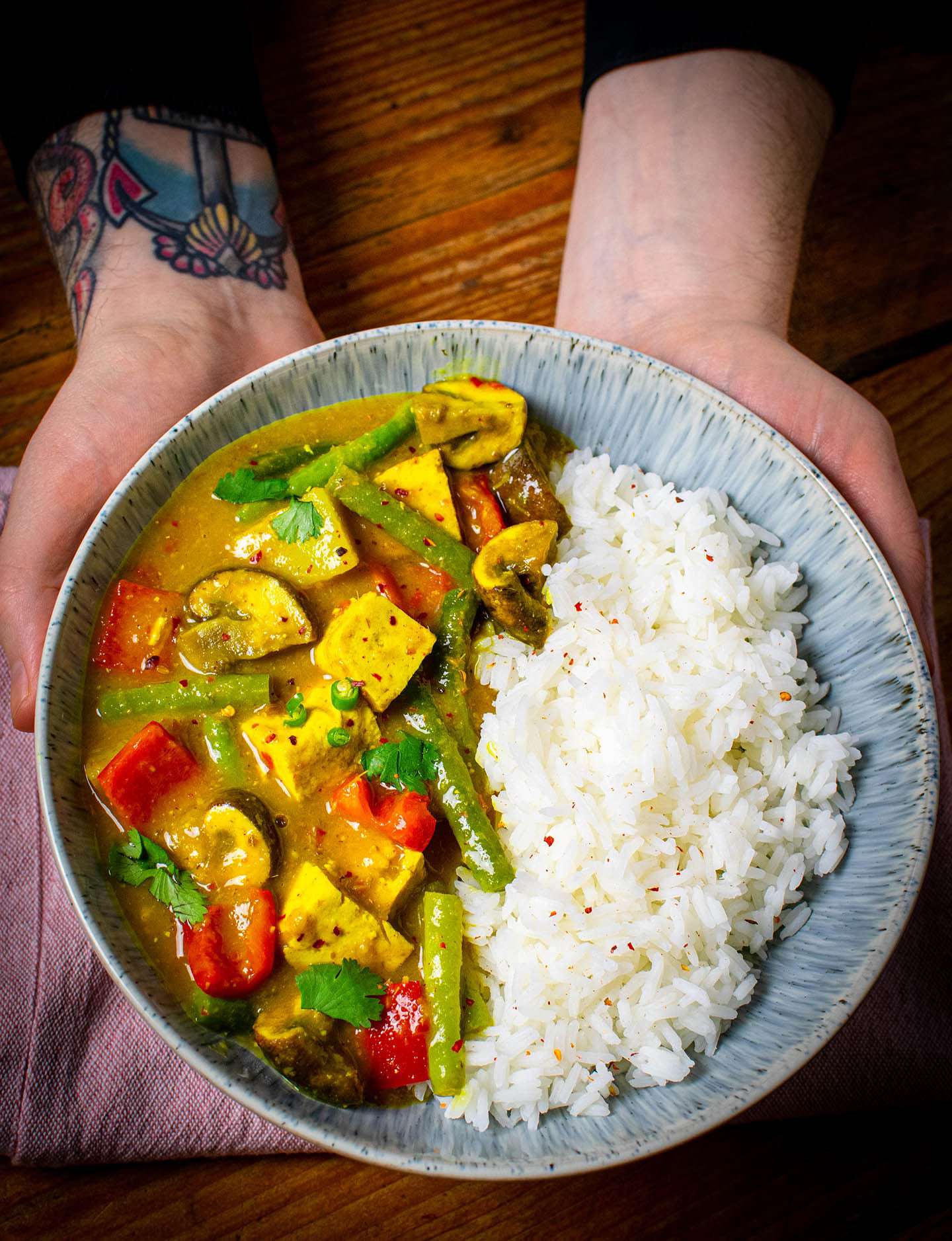 Jump to:
As always, you can head straight to the bottom of the post for the full recipe, but the rest of the blog post explains more about the recipe, the ingredients and how we developed it.
This Vegan Yellow Curry is:
Fragrant
Healthy
Delicious
A little spicy
Flavoursome
What is Thai Tofu Yellow Curry?
Thai tofu yellow curry isn't as well known as other Thai curries, such as Thai green or red vegetable curry. If you haven't tried our recipes for those dishes, then we recommend giving them a go (just click the link and bookmark the pages to come back to later!). However, yellow curry is just as scrumptious as any other Thai curry. I always order a Thai green curry if we go out, but a yellow curry often tempts me these days! What's your favourite Thai curry?
So, what makes this curry yellow? Simply – the fresh turmeric. A mix of curry powder and fresh turmeric make this curry the golden yellow-ish colour that can be seen in our photos. Plus, turmeric is an amazing superfood so you can feel pretty good about eating this one.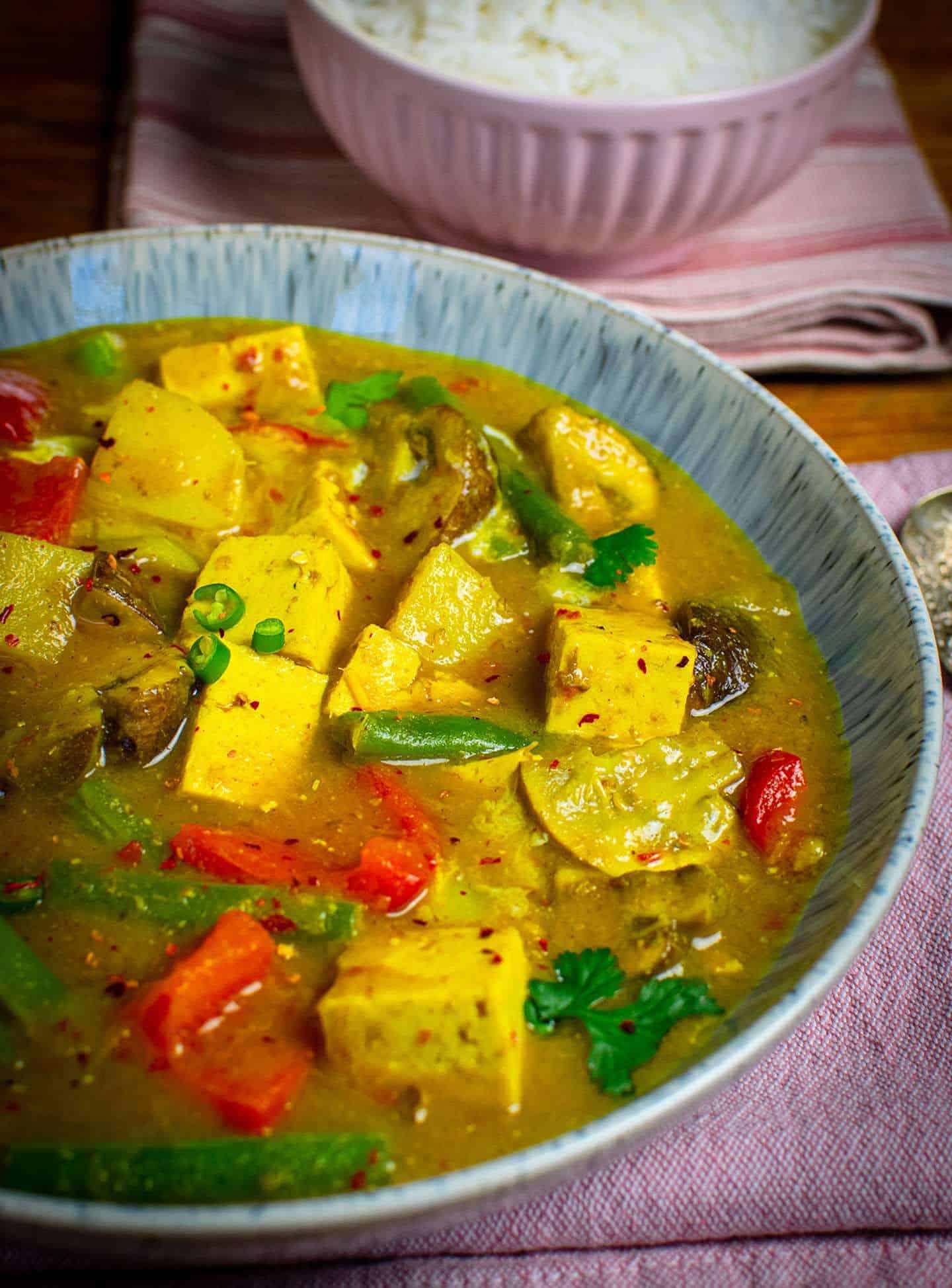 Another thing to mention is that we don't use soy sauce in this recipe, we use vegan fish sauce instead. As vegan fish sauce is very light in colour – even transparent – it doesn't add colour to the dish, in comparison to soy sauce, which does. In addition, this tofu yellow curry is gluten free too..
I always think it's a combination of flavours, it reminds me of Malaysian, Singaporean and Indian food all in one. However, the fragrant galangal and fresh lemongrass reminds me that it is a very Thai dish after all. I actually read that it has a fusion flavour as it was originally made in the Muslim community in southern Thailand. This could explain some of the flavours included. It is a real taste sensation!
Where does Yellow Curry come from?
Thai yellow curry or Kaeng lueang originates in the south of Thailand, near the coast. It has a fusion kind of flavour as it takes influence from Indian cooking. It actually looks more like an Indian curry than Thai, but has all the clear markers of a Thai curry when it comes to taste.
How to make homemade yellow curry paste
Making a vegan homemade yellow curry paste is super easy. You can make it the traditional way in a pestle and mortar or the cheats method – using a blender. We've listed out below the blender we use, and other equipment that would be handy for making this recipe.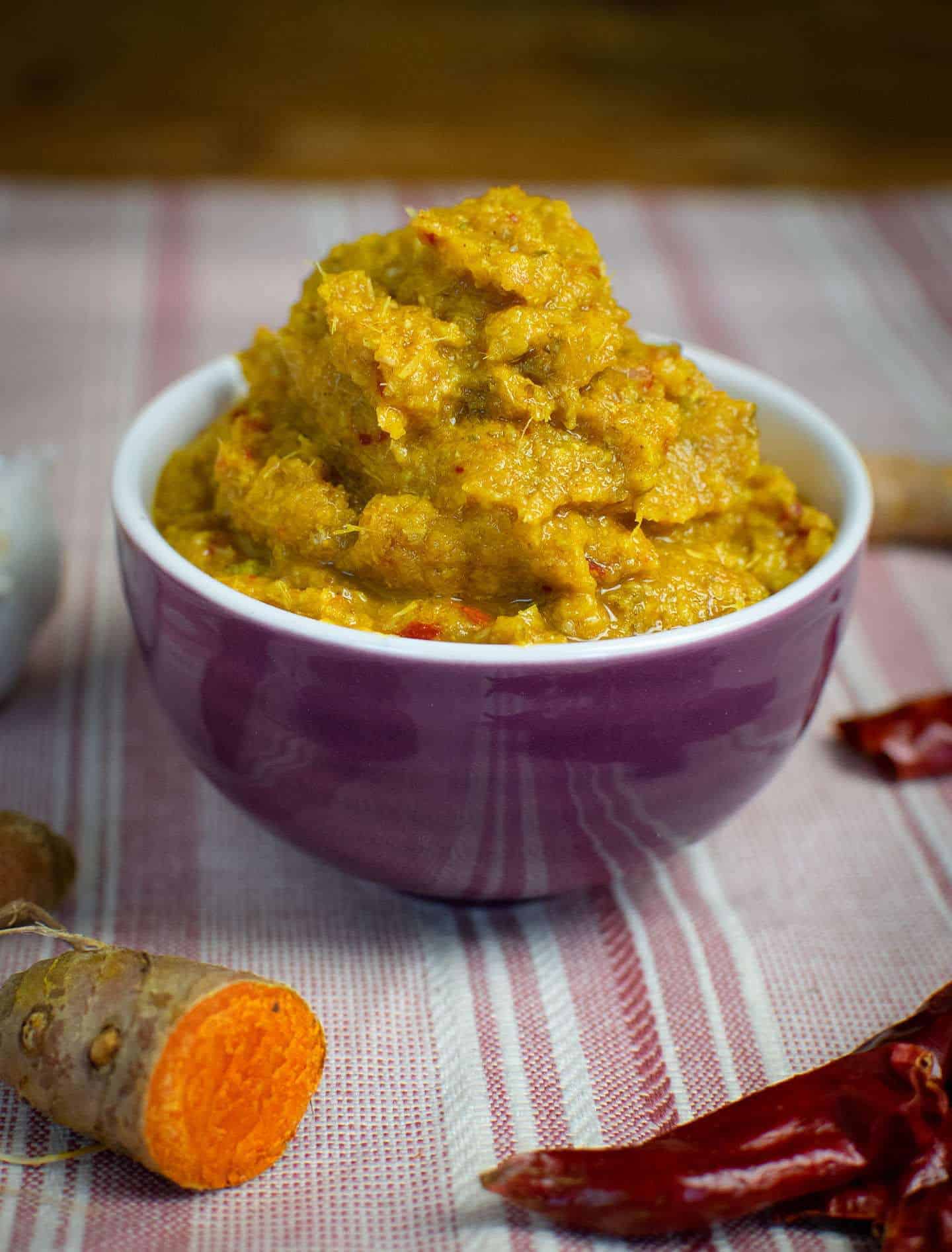 These are the ingredients you will need for the homemade yellow curry paste:
Shallots
Garlic
Lemongrass
Greater galangal
Ginger
Dried red chillies
Fresh turmeric
Salt
Coriander seeds
Cumin seeds
Curry powder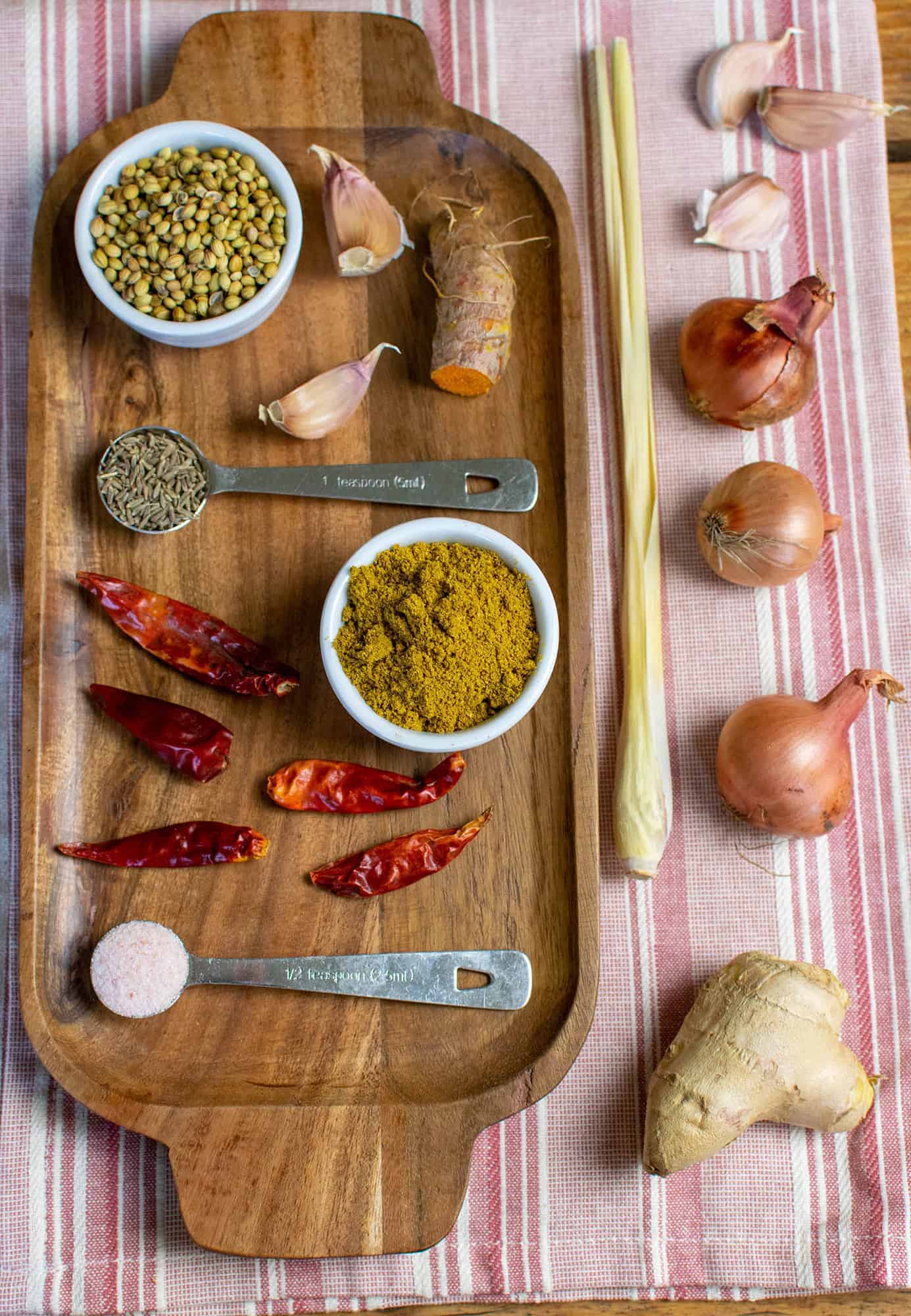 Even though it seems like quite a few ingredients, all you have to do is pop them in a blender and blitz (or a pestle and mortar, and then bash!).
Fresh turmeric can be found at farmers markets, health food stores, Asian supermarkets and ordered online. Some supermarkets even stock it these days.

Pro tip: buy more fresh turmeric than you need, peel it and freeze. It will keep for months. As you probably won't need to use it often, it will last longer and save waste. If you don't have fresh turmeric, you can use powdered. Using fresh ingredients just gives the paste that extra pop of flavour!
If you don't have fresh greater galangal, you can use the jarred version. We have used galangal by Thai Taste and it is excellent. You can also buy greater galangal fresh from Asian supermarkets, and it can also be frozen so it keeps longer. We've included a list below of where each specific item can be found.
Dried red chillies add a depth of flavour that fresh chillies aren't able to do alone. We have actually tried this paste with fresh chillies instead of dried. While it was still tasty we preferred the version with dried red chillies, as it made for a more well-rounded paste and had a superior flavour.
How to make Tofu Yellow Curry
These are the ingredients you'll need:
Green beans
Potatoes
Mushrooms
Red pepper
Tofu
Coconut Milk
Water
Sugar
Tamarind
Vegan Fish Sauce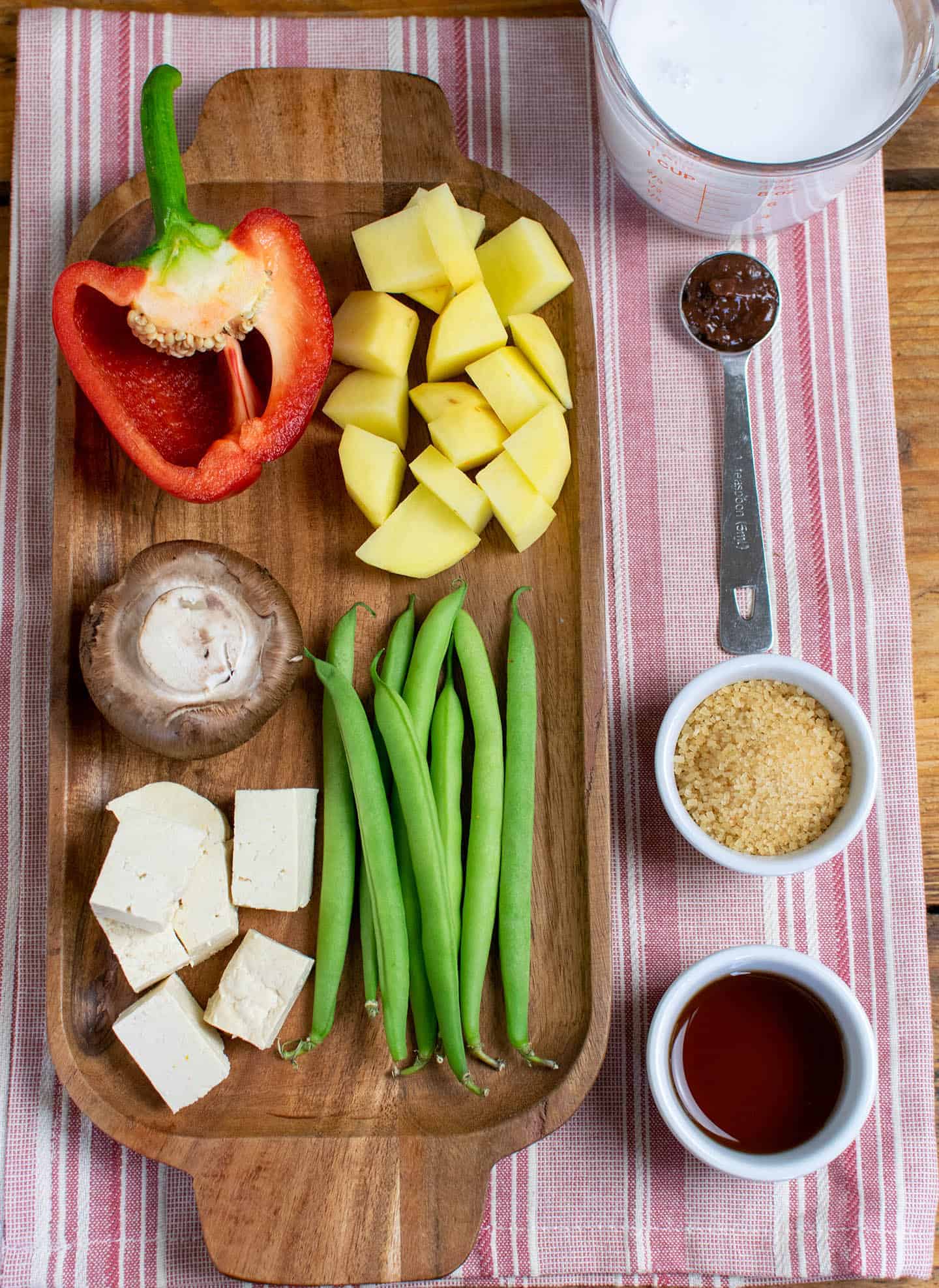 Once you've made the vegan yellow curry paste, the curry comes together in under 15 minutes. You just need to start by frying off the yellow curry paste in the wok. Once fragrant, add the potatoes, mushrooms, pepper and tofu. Make sure the paste covers everything well.
After a few minutes, pour in the coconut milk and water. Then add vegan fish sauce, tamarind and sugar. Simmer until the potatoes are done – around 10-12 minutes. Just five minutes before the end, add in the green beans, they'll only need five minutes to cook.
The beans will remain al dente, we really don't like soggy green beans so we always cook them like this. Put them in the wok a little earlier if you prefer them softer!
As always, this is just an overview of the recipe method, but the full instructions can be found in the recipe card below.
Key ingredients and where to buy them
We mentioned above that there are some niche ingredients in this recipe, that you may not always have in your cupboards. These are our pro tips on these ingredients, as well as recommendations on where to buy them.
Full transparency – these are affiliate links. That means we earn a small commission on any purchases you make once clicking on the link. We don't actually make any profit through this blog, so joining affiliate programmes seemed to be a logical next step.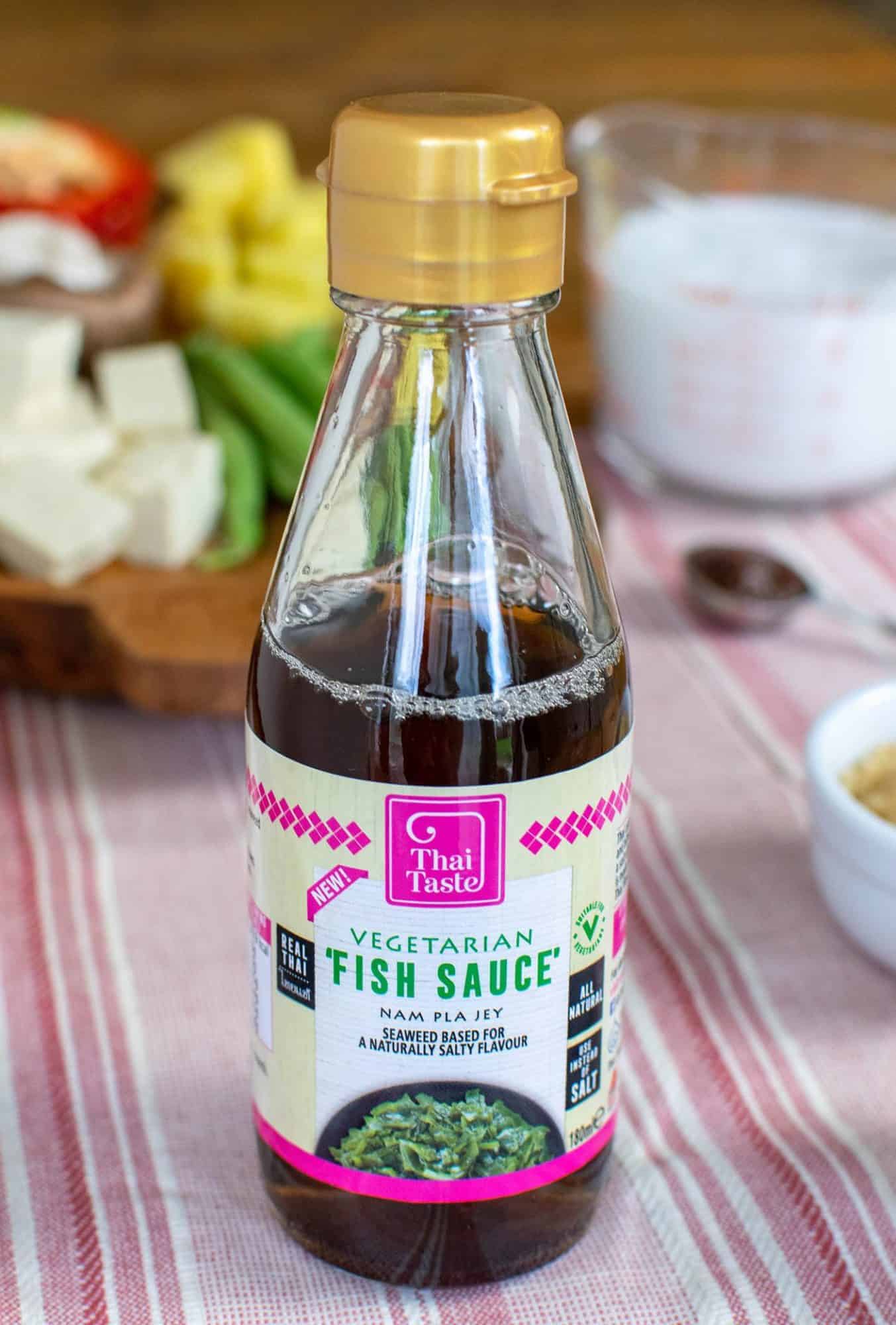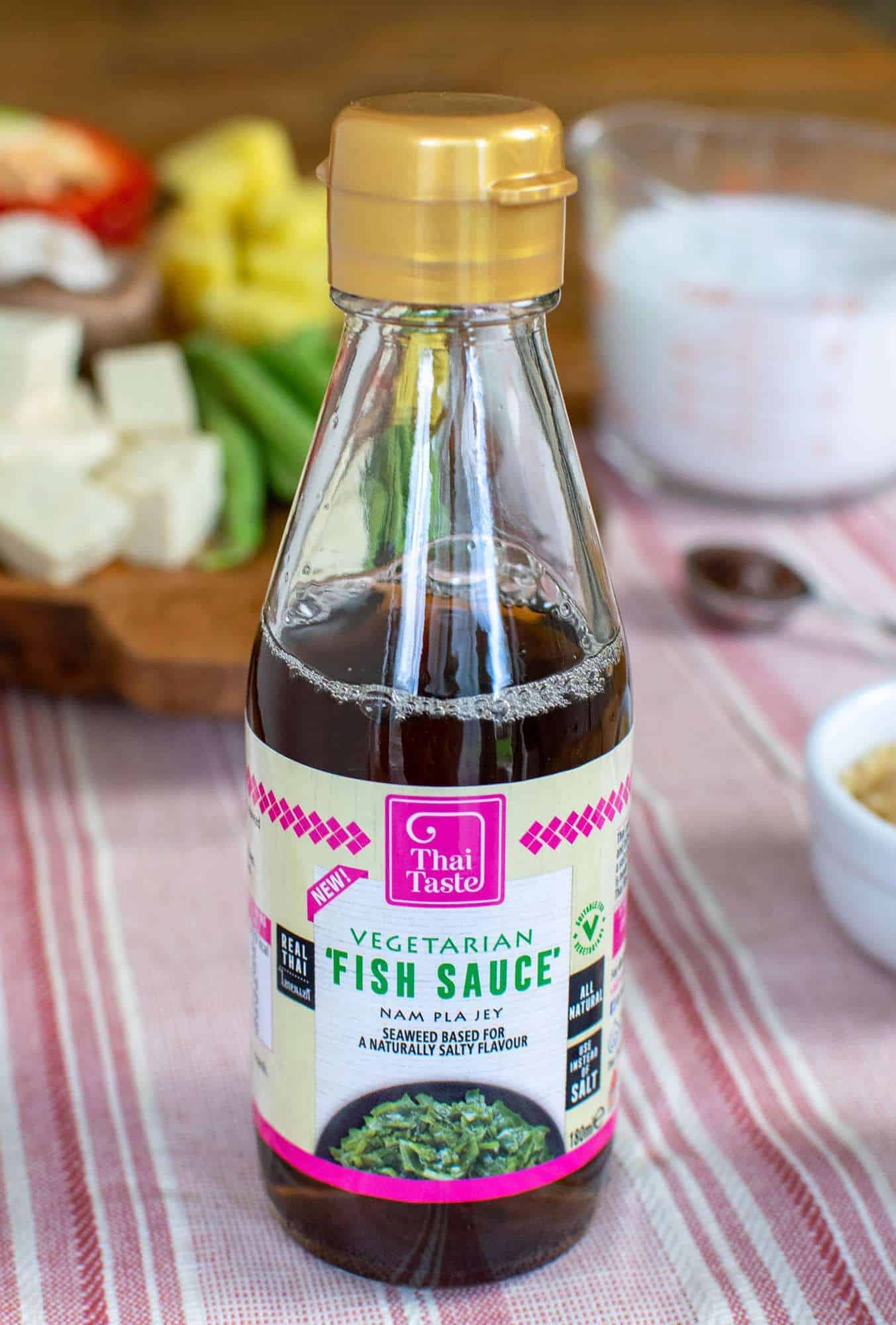 Vegan Fish Sauce
Our go-to vegan fish sauce is from Thai taste. We love this brand and the amount of vegan-friendly items they sell. We use vegan fish sauce in this dish for two reasons: it helps keep the sauce yellow, and it means the curry is gluten free too. This sauce is made from seaweed. Go easy on it though. We use 1 tablespoon in this recipe. It's potent. We ended up with a very very salty yellow curry the first time we made it, as we used way too much of the vegan fish sauce! Remember, it's easier to add than to take away…
We often buy ingredients like this in bulk as it's a lot cheaper and it keeps in the cupboard for ages. There's a 6 pack of this sauce that we bought from Amazon recently, which is a lot better value for money than buying one at a time. Plus, we know it will keep for ages in the cupboard.
Tamarind
We recommend using tamarind paste (Makham Piek) from a jar. Thai Taste offers the best and most affordable option in our experience. Tamarind is used to add a sweet and sour flavour to dishes. It can be used instead of lime juice in some dishes.
Fresh tamarind isn't readily available in supermarkets but can be found in Asian supermarkets and online. We buy it in a jar because it lasts longer. Thai Taste only uses citric acid as a preservative in this jar, so we feel happy knowing that it doesn't contain anything nasty.
Fresh Turmeric
Fresh turmeric is amazing. It's a superfood that contains antioxidants, and adds an incredible golden yellow hue to any recipe it's in. Curcumin is found in turmeric – that's a powerful anti-inflammatory and antioxidant.
When preparing fresh turmeric, make sure you use a chopping board that you don't mind getting stained. It will leave a yellow stain behind, that is nigh on impossible to remove from a wooden chopping board. You can also use a teaspoon to scrape the skin off, in exactly the same way as removing the skin from fresh ginger.
If you can't find fresh turmeric, you can replace it with the equivalent amount of turmeric powder.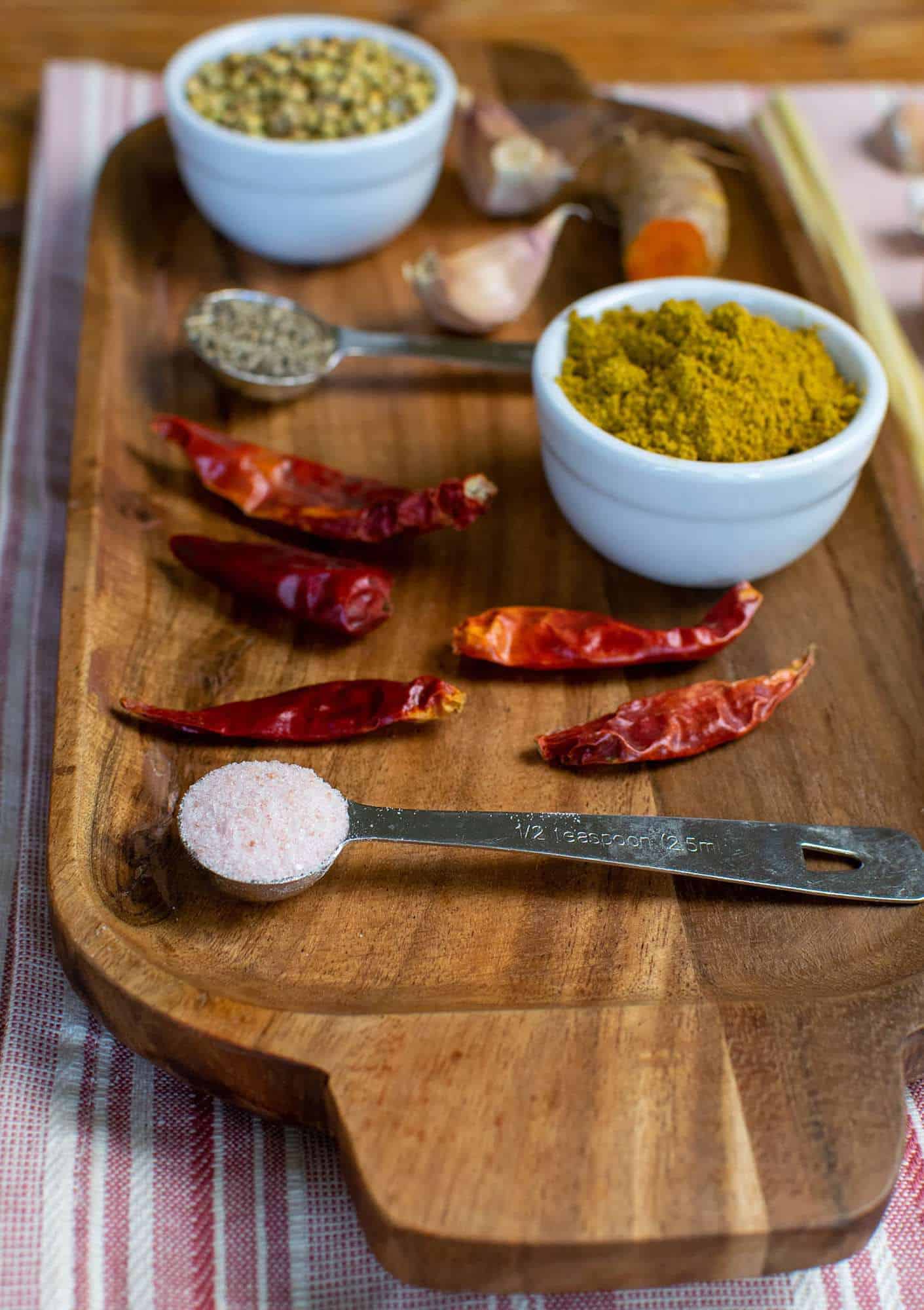 Dried Red Chillies
Dried red chillies add a flavour that can't be achieved with just fresh chillies alone. These chillies add depth of flavour and an earthy taste red chillies don't have.
The best way to buy these dried chillies is in a big bag that will keep in your cupboard, for months or even years. As they're dried, they're already preserved. That means that the shelf life of dried chillies is pretty much indefinite.
When preparing dried chillies, they need to be rehydrated first. Just pop them in warm water a few hours before you want to use them. We've done rigorous testing and have found that the best results are gained from soaking the chillies for longer. If you're short on time, rehydrate in boiling hot water from the kettle for 30 minutes.
We've also found that you do not need to remove the seeds from dried chillies. The main reason for removing seeds from any chilli, is to remove the heat. The seeds and membranes of any chilli is where most of the spiciness is. This is how to remove the seeds from a dried chilli, if you want to:
Cut off the end of a chilli.
Tip upside down and shake until all the seeds come out. They may need a little shake of encouragement to get them all out, but as they're dried the seeds usually come out really easily.
Greater Galangal
There are two types of galangal – greater and lesser. Generally greater galangal is used in Thai cooking, for its fragrant and sweet flavour. Lesser galangal is more peppery than greater and, funnily enough, doesn't grow as big as greater galangal – now you know why they're named the way they are!
So, buying greater galangal in the west isn't as simple as popping to the supermarket. As with a lot of the ingredients in this vegan yellow curry recipe, buying it online or from an Asian supermarket is a good option.
However, we find that buying it like this comes with a couple of downsides. Firstly, you don't know how fresh they're going to be, especially if bought online. Every time we've ordered galangal online, it has not been fresh. That's why we're yet to be able to recommend somewhere to order it online.
Overall, we would recommend buying galangal in a jar, from you guessed it – Thai Taste. We cannot knock their range of products! It keeps in the fridge for months once opened, and it's just as good as buying fresh.
Pro tip: if you do buy fresh galangal, peel and chop whatever you have leftover and freeze it. Then you can grab it out of the freezer as and when you need it, reducing waste and saving you money!
Useful equipment used to make this curry:
Tofu Press
If you've been reading our blog for any time at all, you'll know two things:
We love tofu.
We love pressed tofu even more.
Using a tofu press means you don't have to worry about pressing tofu in a makeshift press. Hello, stacks of books with a tupperware pot underneath to collect all the squeezed out water – you're not welcome here. It's messy, inefficient and ineffective.
Honestly, the tofu press is our number one recommendation. You can pop the tofu in, use the handles to close it up and let the built-in container collect the water. You then just have to open it up and pour the water away. No more balancing act, just an easy-to-use gadget to help you out in the kitchen!
The tofu press also doubles up as a marinating dish. Once the tofu is pressed, you can put it back in the container with a marinate. Leave it in the fridge for a couple of hours or overnight, for the tofu to absorb the flavours.
Wok
We've said it 100 times before, but a good wok is a huge help in the kitchen. You don't need to spend hundreds on it either. There are numerous non-stick versions out there that are very reasonably priced.
Kitchen Utensils Set
Once you've got a wok, using the right utensils just makes life a lot easier. We found this set that's made wooden handles and silicon (which are scratch resistant). Super easy to use, stylish and good value for money too. What's not to love?
Blender
We swear by our Ninja Blender and food processor. It's efficient, easy to use and comes with a number of different attachments. The cups that are used to make smoothies also double up as a great container for making curry pastes, like this homemade yellow curry paste.
Pestle and Mortar
Using a Pestle and Mortar is super fun, but also a bit of hard work. We find that using a blender is quicker and easier but we do love using a Pestle and Mortar because it's more authentic.
The main difference between using a Pestle and Mortar and a blender to make a curry paste, is that a blender may need some liquid to be added. In a pestle and mortar, you're physically able to break the ingredients down, which releases natural oils or liquid from the ingredients. As a blender doesn't have this ability, you may need to add a tablespoon or two of water to help get the blades going, and allow it to move the ingredients around in the cup or jug.
Don't forget, if you want to explore more vegan Thai cooking, check out our guide to cooking the best vegan Thai food.
Did you make this recipe? Leave a review and a rating below, or tag us in your photos on Instagram! Alternatively, bookmark it in your browser or save to Pinterest for later.

If you love our content, please consider supporting it by buying us a coffee.
📖 Recipe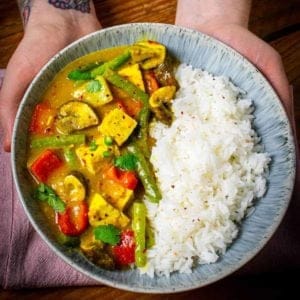 Thai Tofu Yellow Curry
Thai Tofu Yellow curry (Kaeng lueang) is totally delicious. It combines potatoes, tofu, a mix of fresh veggies and a homemade curry paste. Taking influence from Indian cuisine, this Thai vegan yellow curry is a taste sensation.
Save
Saved!
Print
Pin
Rate
Ingredients
For the homemade yellow curry paste:
2

shallots

5

cloves

garlic

2

tablespoon

lemongrass

0.5

tablespoon

fresh ginger

5

dried red chillies

soaked in warm water for 1 hour at least, or overnight

0.5

tablespoon

fresh turmeric

1

teaspoon

yellow bean paste

or white miso paste

1

teaspoon

salt

1

tablespoon

coriander seeds

1

teaspoon

cumin seeds

2

teaspoon

curry powder
For the full curry:
Full amount of curry paste from above

250

g

mushrooms

– chopped

200

g

potatoes

– peeled and chopped

250

g

extra firm tofu

– pressed and chopped

1

red pepper

– chopped

400

ml

coconut milk

100

ml

water

1

tablespoon

sugar

1

teaspoon

tamarind

1

tablespoon

vegan fish sauce

alternatively use 2 tablespoon soy sauce
Instructions
Pop all of the paste ingredients in a blender (or pestle and mortar) and blitz or bash until smooth. If using a blender, add 1-2 tablespoon of water to help the ingredients blend. You can use the water that the dried chillies were soaking in for extra flavour.

2 shallots,

5 cloves garlic,

2 tablespoon lemongrass,

0.5 tablespoon fresh ginger,

5 dried red chillies,

0.5 tablespoon fresh turmeric,

1 teaspoon yellow bean paste,

1 teaspoon salt,

1 tablespoon coriander seeds,

1 teaspoon cumin seeds,

2 teaspoon curry powder

Pour the full amount of the paste into a wok over a medium-high heat. If non-stick you don't need oil. You can optionally add a splash of oil if needed.

Full amount of curry paste from above

Once fragrant, add in the potatoes, mushrooms, pepper and tofu. Give it a good stir to make sure everything gets coated with the paste.

250 g mushrooms,

200 g potatoes,

1 red pepper,

250 g extra firm tofu

Pour in the coconut milk and water, stir and bring up to a simmer.

400 ml coconut milk,

100 ml water

Pop in the sugar, tamarind, vegan fish sauce (or soy sauce) and stir.

1 tablespoon sugar,

1 teaspoon tamarind,

1 tablespoon vegan fish sauce

Simmer for 10-12 minutes, until the potato is cooked.

Serve with Jasmine rice and enjoy!
Notes
Using soy sauce instead of vegan fish sauce is a fine swap. It won't be gluten free though.
Yellow bean paste is a type of fermented soy bean paste. You can use white miso paste as an alternative.
Nutrition
Calories:
303
kcal
|
Carbohydrates:
28
g
|
Protein:
11
g
|
Fat:
17
g
|
Saturated Fat:
14
g
|
Polyunsaturated Fat:
1
g
|
Monounsaturated Fat:
1
g
|
Sodium:
942
mg
|
Potassium:
719
mg
|
Fiber:
4
g
|
Sugar:
9
g
|
Vitamin A:
1117
IU
|
Vitamin C:
52
mg
|
Calcium:
65
mg
|
Iron:
3
mg