Jackfruit rendang is a super easy curry to make! It's fragrant, spicy and luxurious.
This vegan take on the traditional Indonesian recipe uses young jackfruit instead of meat. Once you've got everything in the pot you can leave it to simmer without needing to check it too often.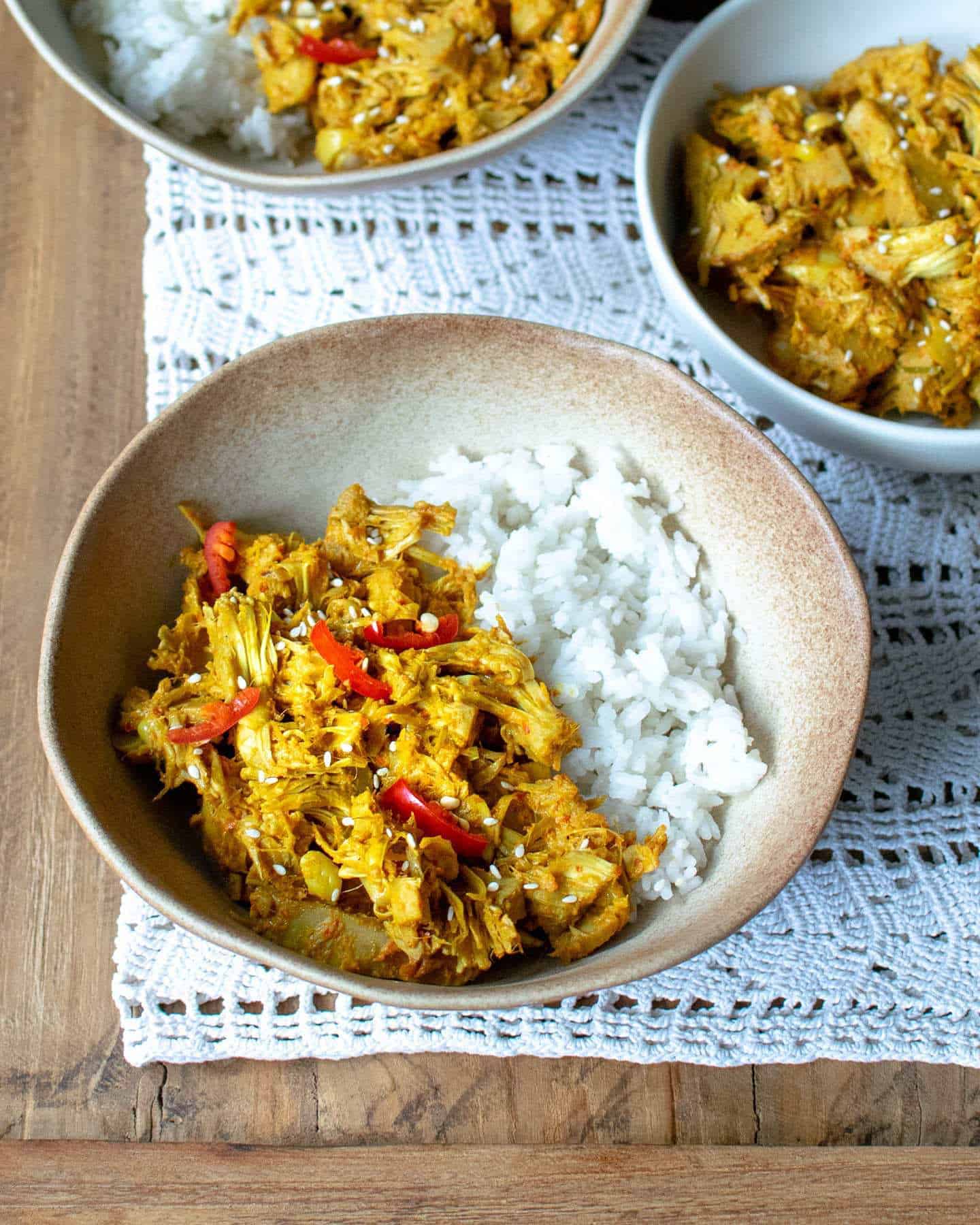 Jump to:
Top tip: this curry goes great with homemade easy vegan roti – making them is also a perfect activity to do while the curry simmers!
We love taking our time over it on lazy weekend afternoons, or first thing on a Saturday before heading out. You can make it using either fresh unripe jackfruit or tinned young jackfruit in water or brine.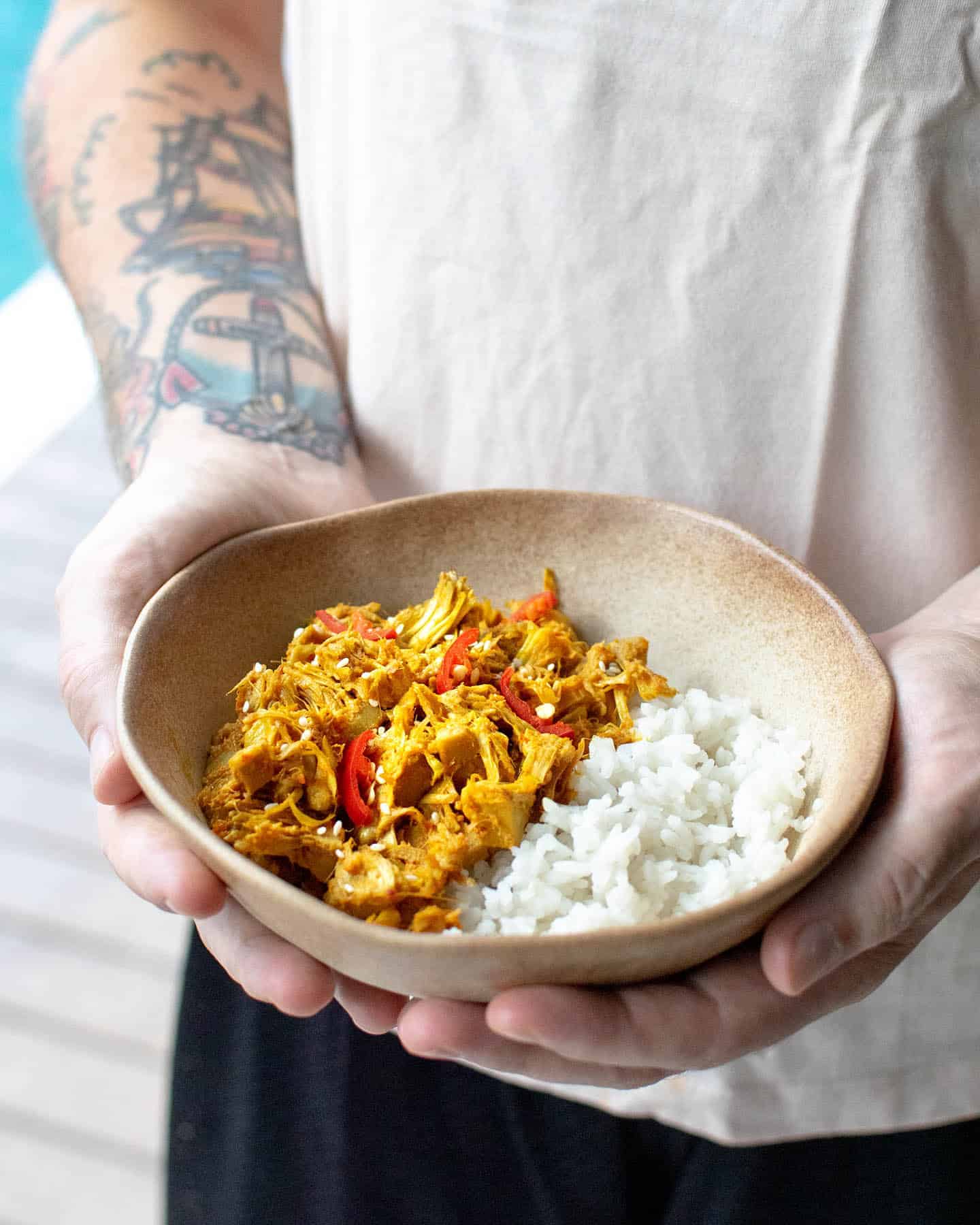 🤔 What is it?
Rendang is a traditional Indonesian dish. It usually uses a slow-cook method, that braises a protein in coconut milk and a blend of herbs and spices. A lot of the liquid evaporates during cooking, leaving a rich, thick sauce behind.
We've used jackfruit for this vegan rendang, because it has a texture that's great for replicating meat. Plus, in Bali, jackfruit rendang is a classic so we just had to bring it to you!
By the way, if you love jackfruit, checkout the best tinned jackfruit recipes on the internet!
📋 Ingredient Notes
Size of jackfruit chunks
Make sure your jackfruit is cut up evenly, into chunks no thicker than 1cm. This will help them to cook evenly so that your jackfruit rendang doesn't have any half-cooked bits!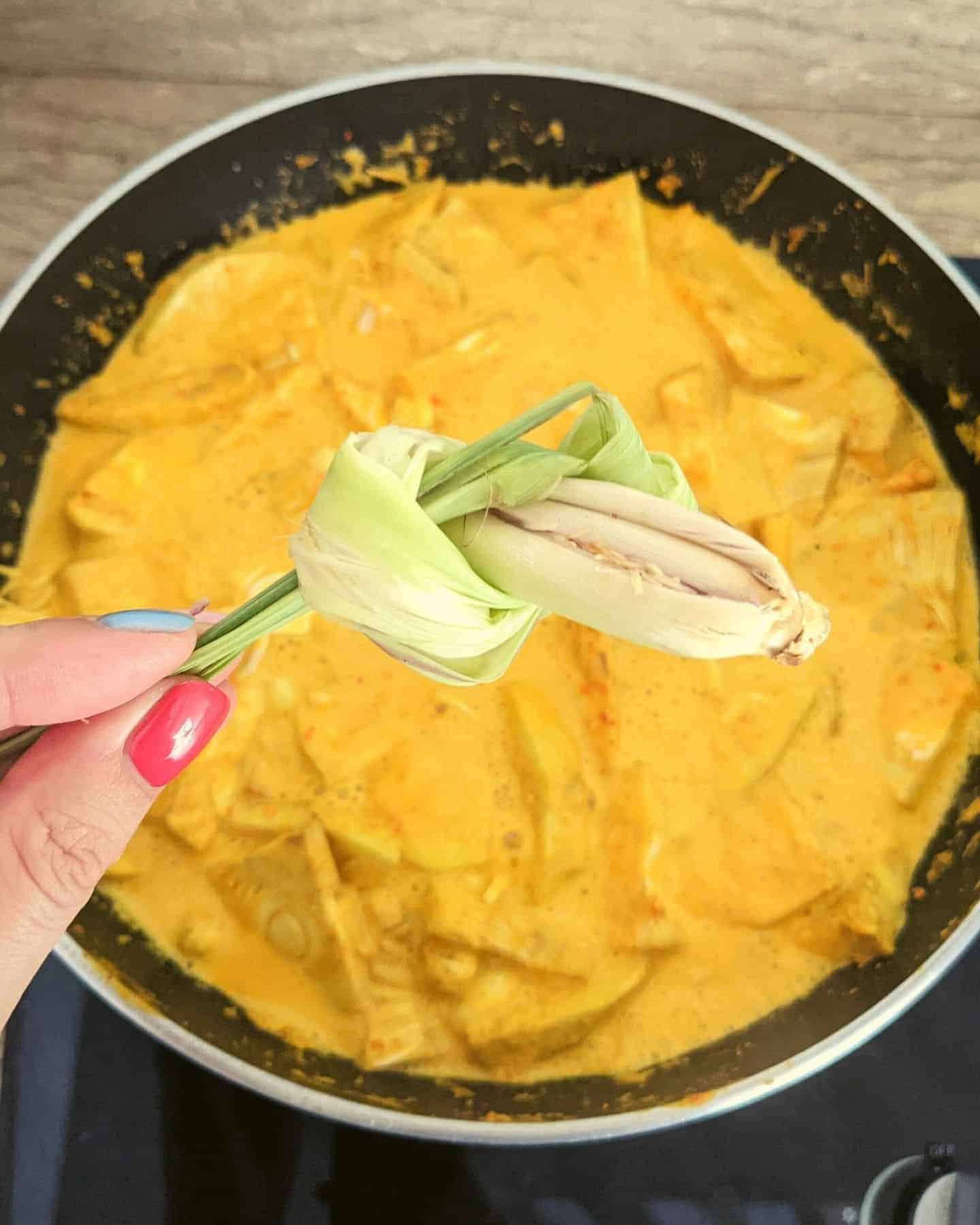 Lemongrass
Lemongrass adds a delicious flavour to your vegan rendang, but it's tough and not pleasurable to eat, so remember to remove it before serving!
Before adding lemongrass, bash it with the handle of a knife and then tie it in a knot. You can see what we mean in the picture above. Bashing the lemongrass means that more flavour is released, and the knot will make it much easier to find at the end.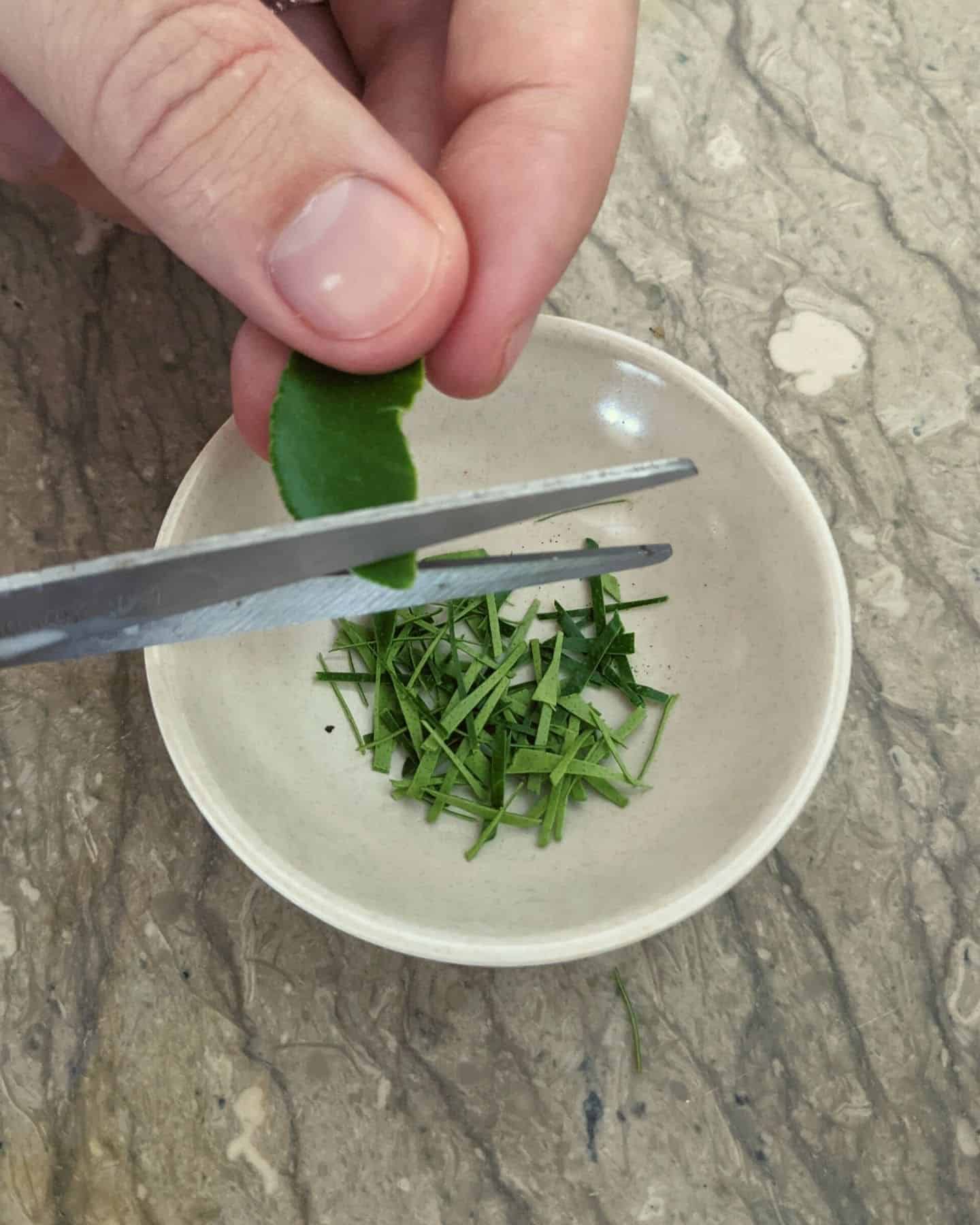 Kaffir Lime Leaves
Kaffir lime leaves are a fragrant leaf, often used in Thai cooking. Using fresh kaffir lime leaves is best for this recipe. Also, in this recipe the leaves need to be shredded. Instead of using a knife, it's easier to use a pair of scissors to chop them finely.
Whole spices tip
Have you ever been eating a curry only to bite down on a clove or cardamom pod? It's pretty gross. To avoid this, put all of the whole spices in some muslin cloth, tied up with string or a specially made muslin bag. Alternatively, you can buy muslin bags. Just add the whole spices to the muslin bag, close it and pop it into the curry. This will make it much easier to find and fish them out.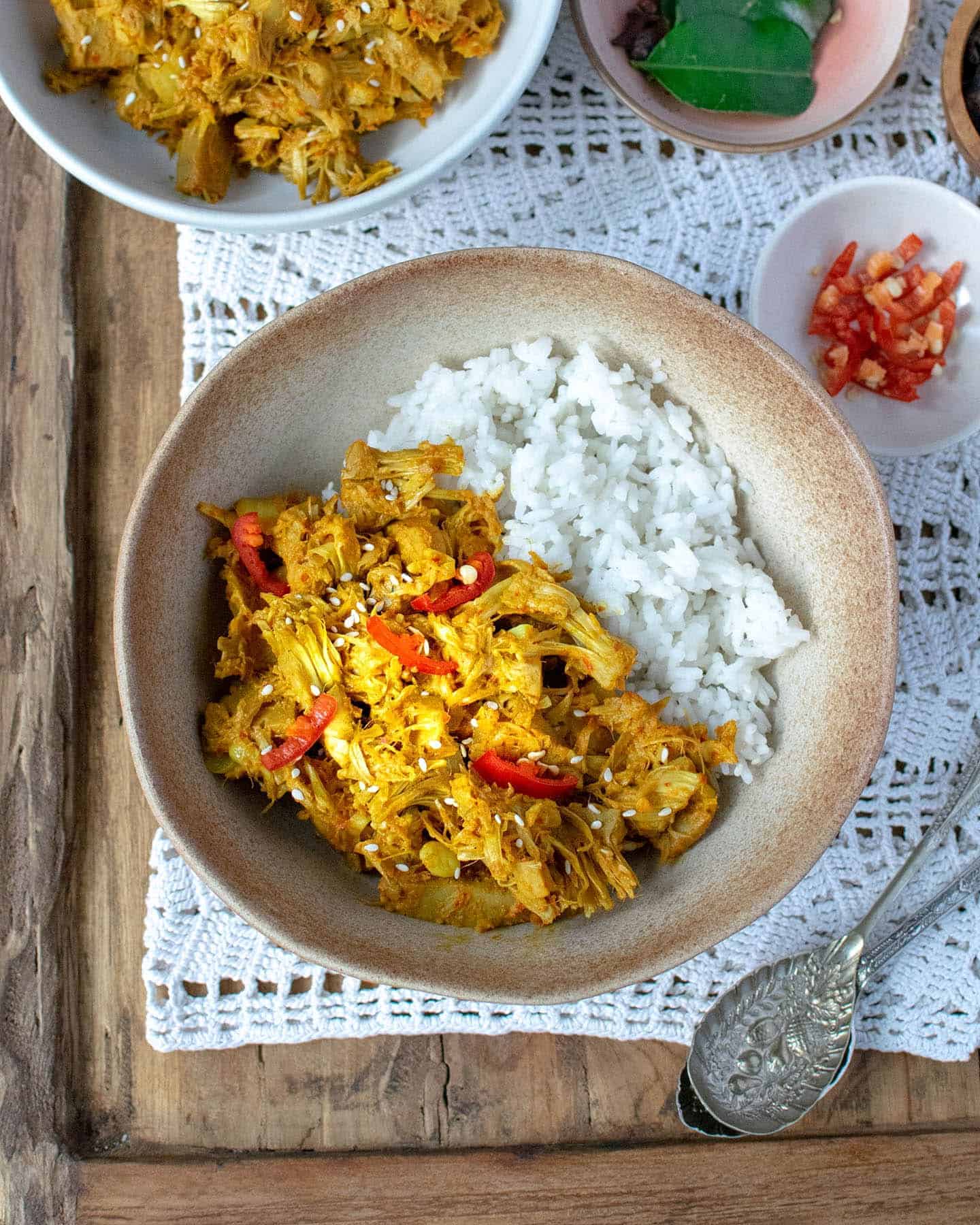 🔪 Step-by-step instructions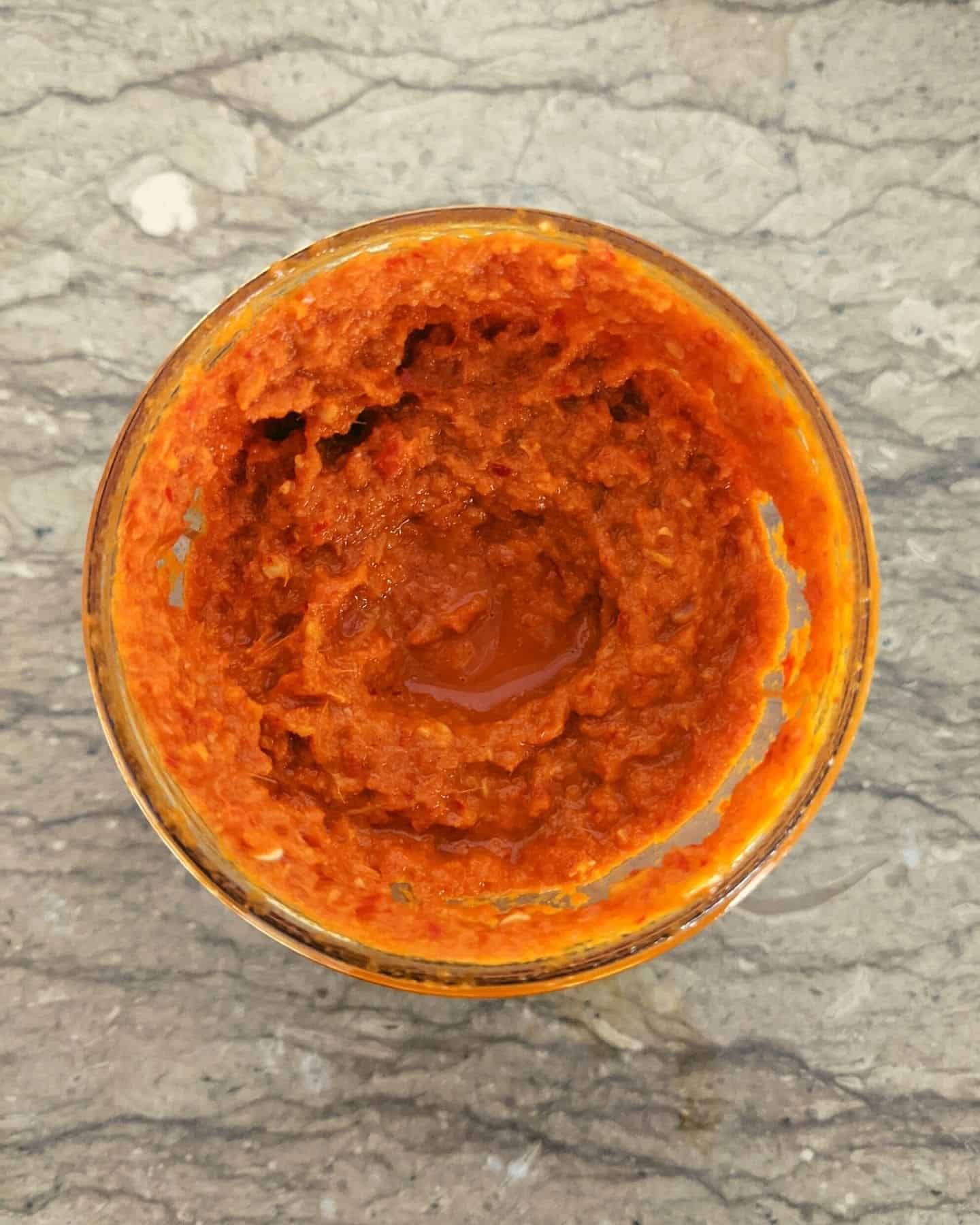 Start by blending the chillies, garlic, shallots, 2 of the lemongrass sticks and turmeric powder with 2 tablespoon of water to make a thick paste.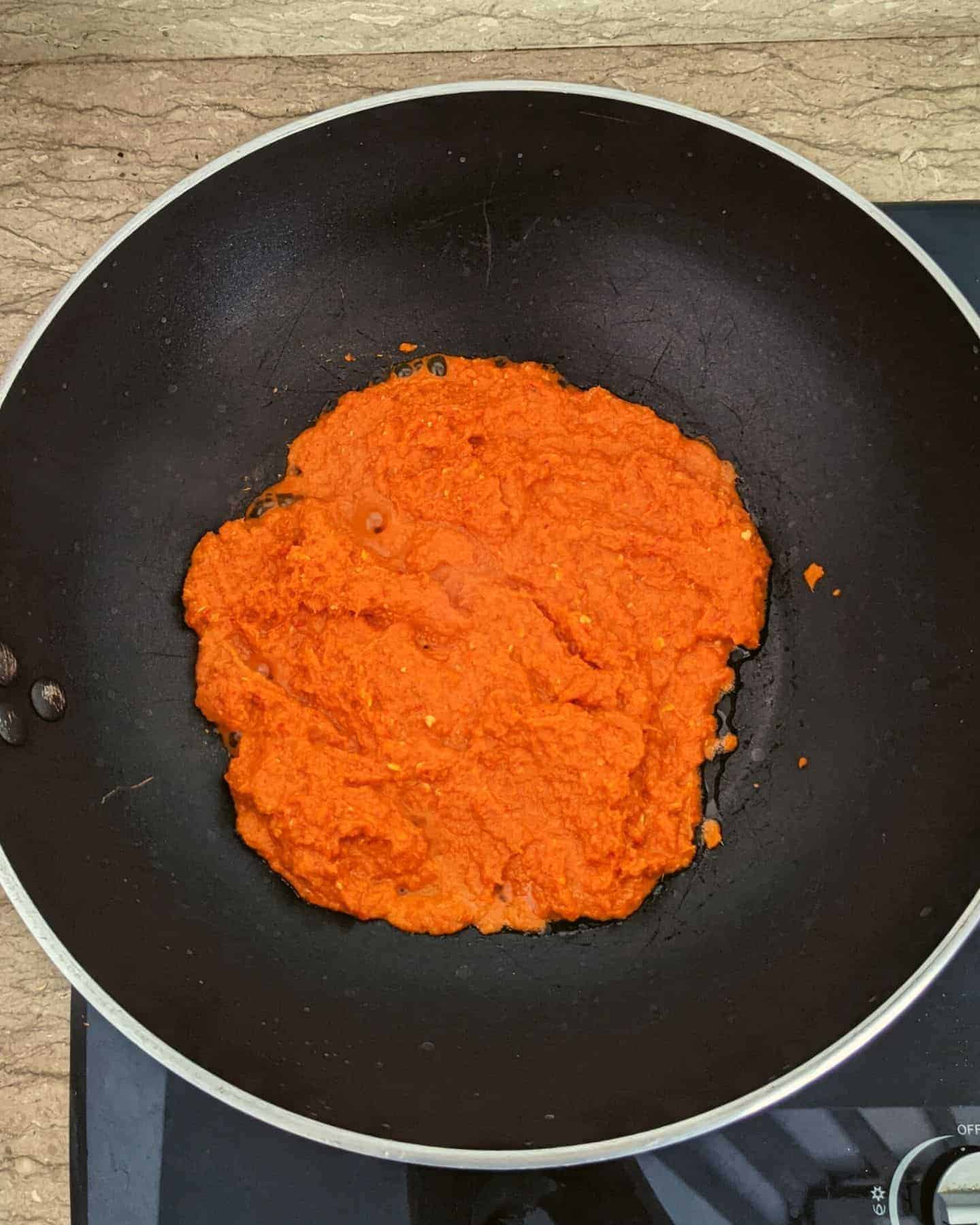 2. Heat up a splash of oil in a wok and once it's hot add in the paste. Cook until the oil separates, this usually takes a couple of minutes.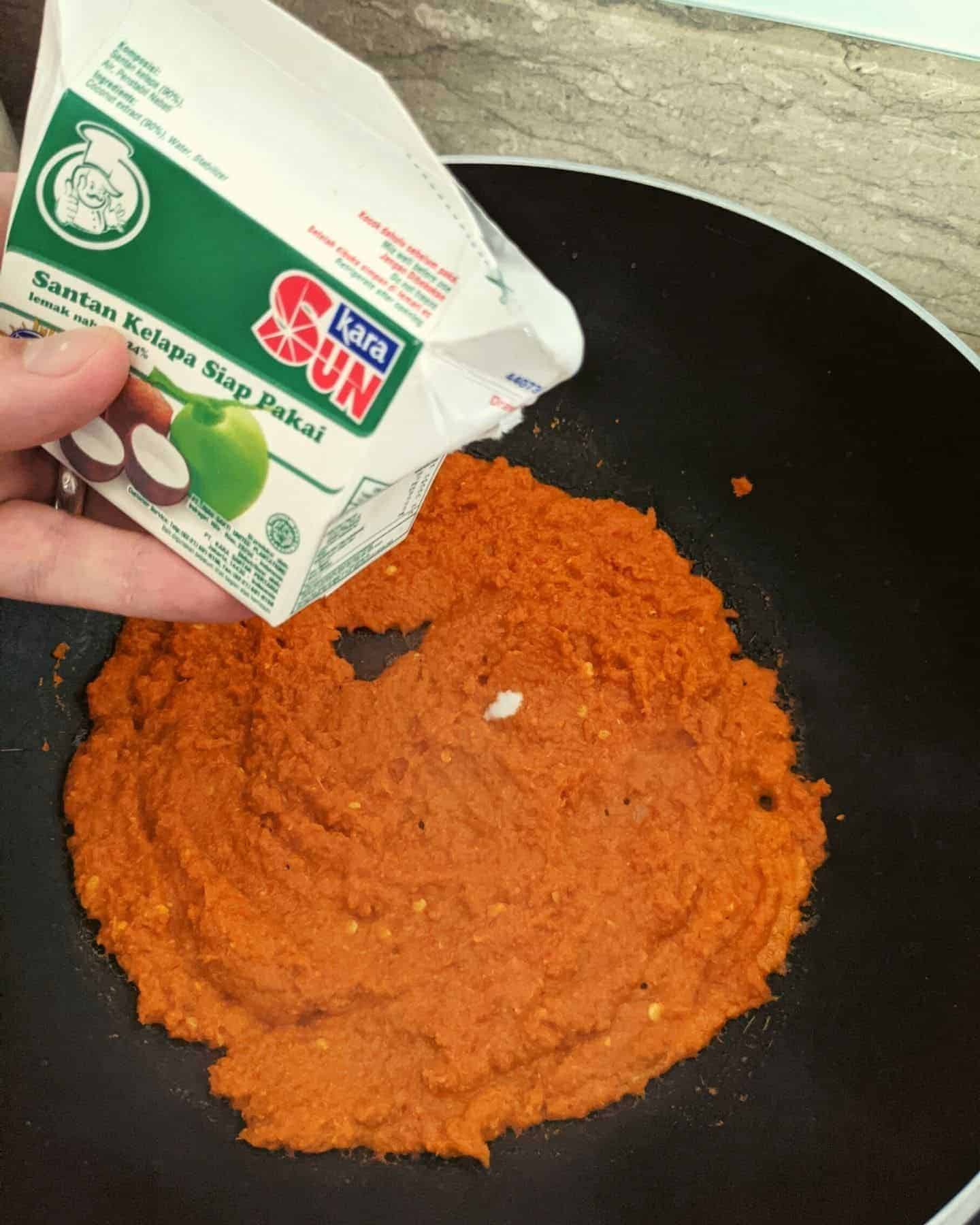 3. Add in the coconut milk.
4. Put in the cinnamon stick, cloves, star anise and cardamom pods. You might want to tie all of these up in a muslin pouch to make them easier to find later.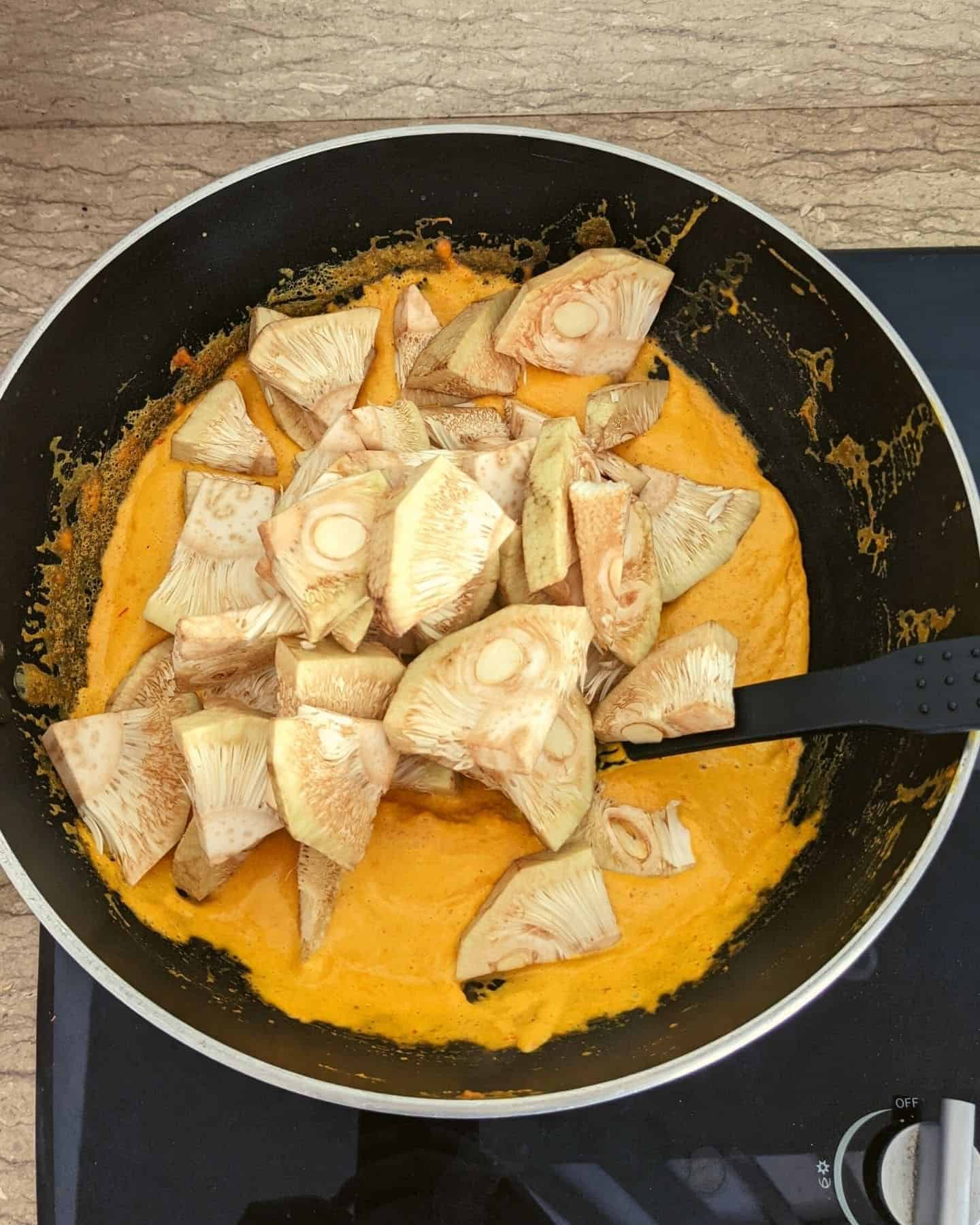 5. Add the jackfruit and 2 cups of water, and give everything a stir.
6. Tie the lemongrass in a knot, and chuck it in.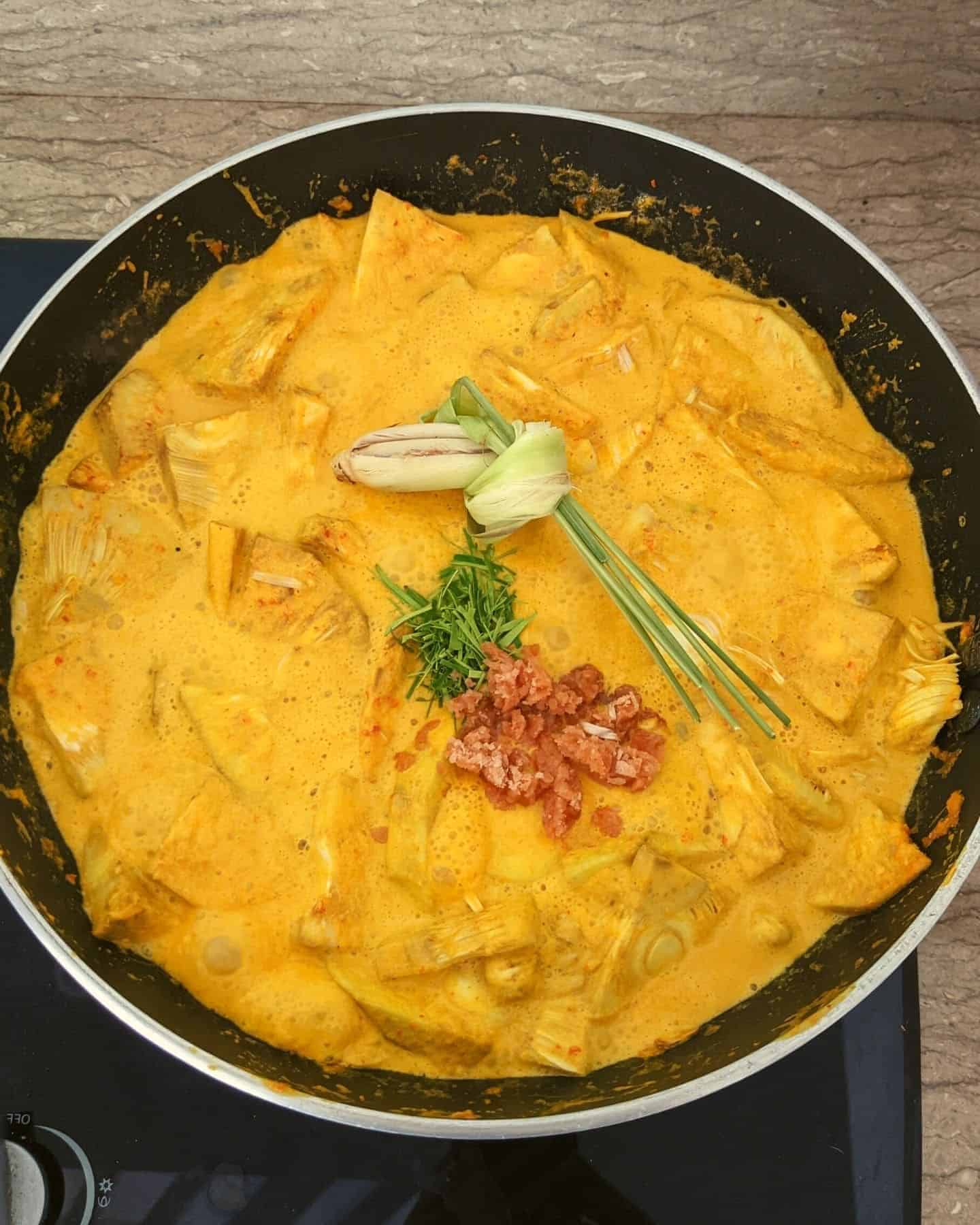 7. Add in the finely sliced kaffir lime leaf, sugar and lime juice.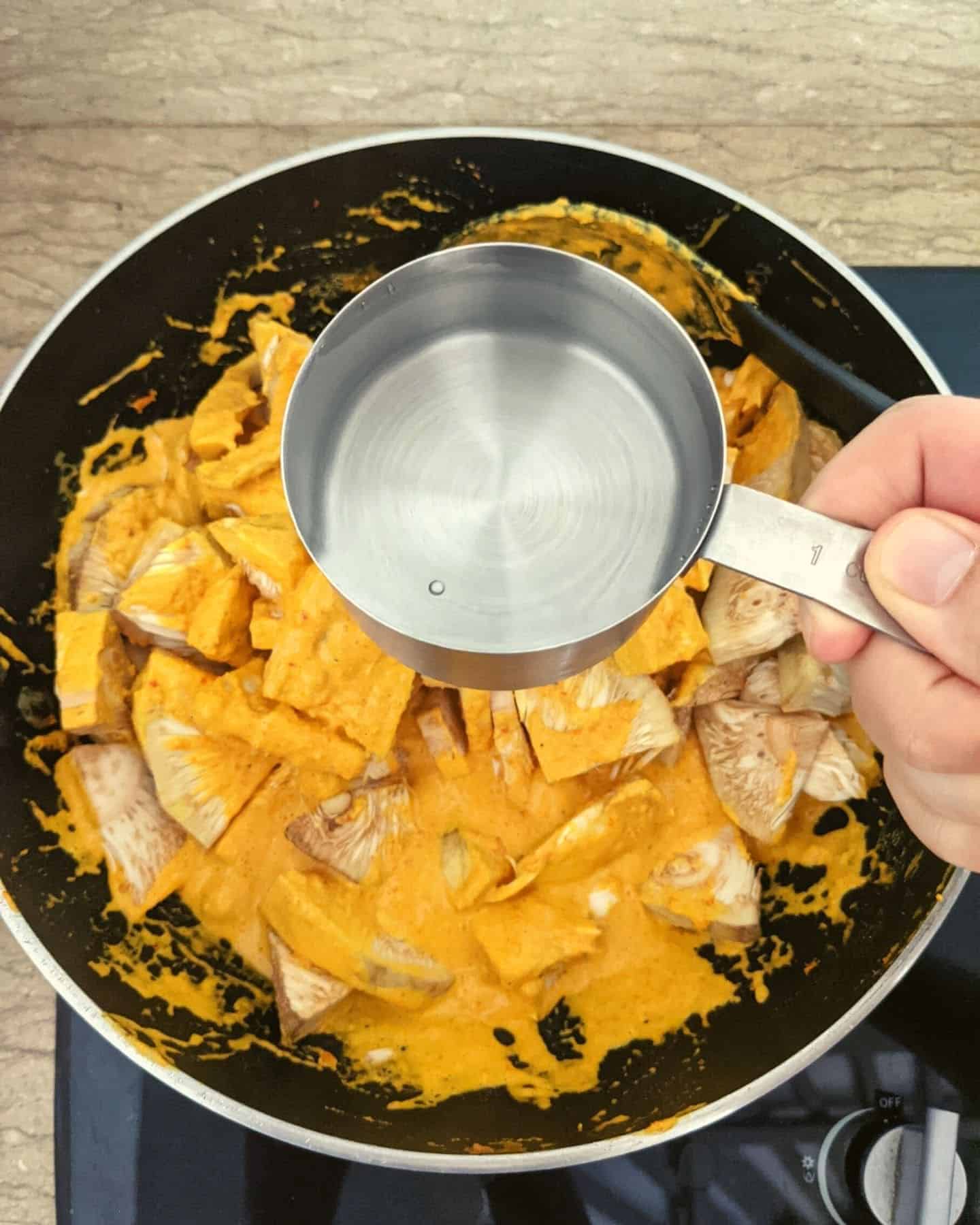 8. Simmer everything for 1hr30 minutes, uncovered. If it starts to look dry, add in another cup of water. Jackfruit rendang doesn't have loads of sauce, but you need to ensure it doesn't dry out completely, either.
9. After 1hr30 minutes, check to see if the jackfruit is cooked. Take two forks and pull the jackfruit 'meat' apart. If it doesn't shred easily then it's not quite done. If it's not quite done, simmer it for another 15-30 minutes. Check it after the first 15 minutes, if it pulls apart easily, take it off the heat.
10. Once the jackfruit is done, season with 1 teaspoon of salt.
👨‍🍳 Expert tips
How to cook jackfruit as a meat substitute?
The key to cooking jackfruit is simmering it low and slow. Chop your jackfruit into evenly sized chunks, and make sure they are all covered in the sauce and spices.
Simmer them in the sauce slowly, for around 1.5 to 2 hours. Simmering over time will make sure the jackfruit goes deliciously tender. Once it's cooked, take two forks to pull the jackfruit apart. It does take patience, but you'll end up with an amazing texture that's reminiscent of pulled pork.
How to use jackfruit in cooking?
We recommend unripe (otherwise known as young) jackfruit for savoury dishes like this jackfruit rendang.
You can use either tinned or fresh jackfruit, just be sure to avoid ripe jackfruit! As jackfruit ripens it gets sweeter, so it's not great for savoury dishes. If you're buying tinned jackfruit, make sure that you get the kind in brine or water not in syrup. Jackfruit in syrup is meant for desserts.
Whether you're using tinned or fresh jackfruit, it will need to be cooked over a long time period. Slow cooking allows it to absorb the flavours, and get the tender texture that makes it so delicious.
Simmering
If you're hungry you might be tempted to simmer your jackfruit rendang for less time… please don't!
It's important to add all of the liquid, even though it seems like a lot, and allow it to simmer off. This is what will give your jackfruit rendang its thick, rich sauce. You're aiming for a dish that's reasonably dry when compared with other curries like madras or korma.
We like to start cooking on a Saturday morning, and make some vegan roti or vegan naan while it simmers.
💭 FAQs
Do I need to cook canned jackfruit?
For best results canned jackfruit should be cooked. Jackfruit from the can will be softer than fresh jackfruit, but it's still much nicer if you cook it. Cooking it in the sauce is what makes it tender and gives jackfruit rendang its meaty texture.

Canned jackfruit is edible without cooking first, so you can eat it straight from the can, but this isn't something we have done.
How long to cook green jackfruit?
We recommend cooking green (unripe) jackfruit for 1-2 hours to get the right texture. It will become similar in texture to pulled pork once it has been pulled apart – really tender.

If the green jackfruit was bought in a tin (in water or brine) it will need less cooking time. You could get away with cooking it for 30 minutes to 1 hour. However, you'll get a richer sauce and texture when cooking it for longer.
Does young jackfruit freeze?
Yes, jackfruit freezes well. We'd recommend freezing it once it's been cooked as part of a meal. Freezing something like this jackfruit rendang is a great idea, as it means you have a healthy meak ready for when you need it on another day. Perfect for when you just don't want to cook!

You can reheat it either in the microwave or on the stove, just be sure to defrost it thoroughly first. You might need to add ¼ cup of water when you're reheating, as curries can dry out when frozen. Freeze for a maximum of 3 months.
🍛 What to serve with it
Vegan roti
Our vegan roti is ridiculously simple to make, it only has 3 ingredients! We love this traditional Indian flatbread piled high with vegan rendang.
Vegan naan
We're really chuffed with our vegan naan recipe. Shop bought naan quite often have yoghurt in them, so they aren't vegan. Creating this vegan version has been a game-changer. It's pillowy soft and fluffy, we'd say this is a more substantial bread than the roti.
Sambal
Sambal is a spicy sauce that's really popular in Indonesia. It goes perfectly with jackfruit rendang. It comes in many varieties. We'd recommend a basic chilli sambal, rather than a more complex one.
You can buy it in supermarkets, but we'd recommend making it yourself for something extra special. Try this Tomato Sambal by My Cooking Journey.
Pilau rice
Pilau rice is absolutely incredible and so simple to make. It takes 15 minutes! Taking a few extra minutes to add the spices to the pan really is worth the reward! Check out our guide on how to prepare pilau rice.
More recipes you may like
Recipes featuring unripe jackfruit:
Vegan Indonesian recipes:
Did you make this recipe? Leave a review and a rating below, or tag us in your photos on Instagram! Alternatively, bookmark it in your browser or save to Pinterest for later.

If you love our content, please consider supporting it by buying us a coffee.
📖 Recipe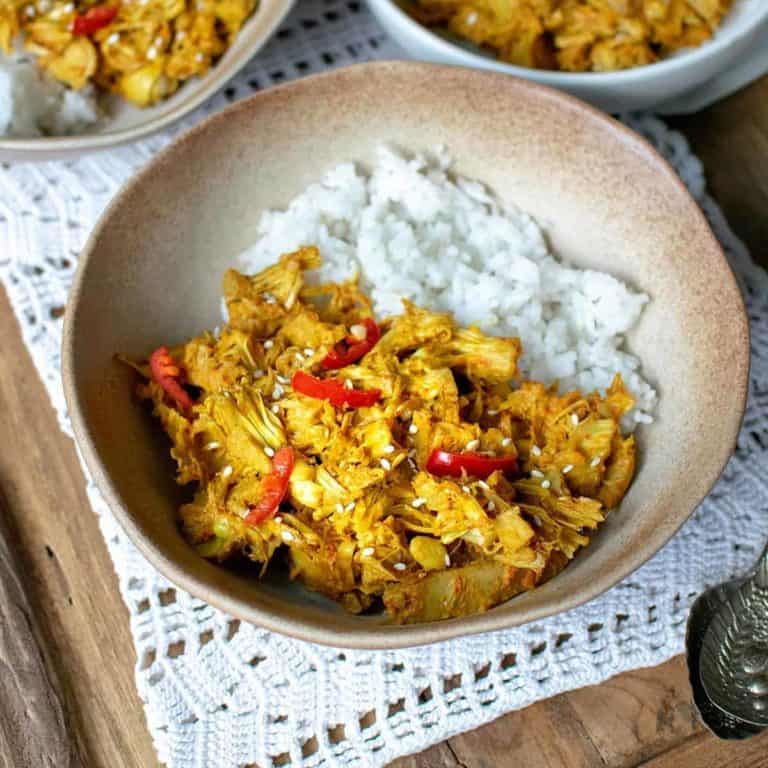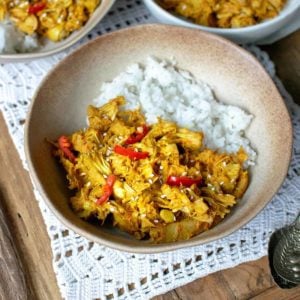 Easy Indonesian Jackfruit Rendang
Jackfruit rendang is a slow-cooked, deliciously spicy, fragrant and filling Indonesian curry, that we're sure will be a hit!
Save
Saved!
Print
Pin
Rate
Ingredients
6

red chillies

6

cloves

garlic

– peeled

6

shallots

– peeled

3

sticks

lemongrass

– 2 for the paste and 1 to simmer

1

tablespoon

turmeric powder

500

ml

coconut milk

1

cinnamon stick

2

cloves

4

cardamom pods

2

star anise

4

kaffir lime leaves

– finely shredded

750

g

unripe jackfruit

– drained and chopped into 1cm chunks

3

cups

water

+ 2 tablespoons

1

tablespoon

sugar

1

tablespoon

lime juice

– roughly half a lime

1

teaspoon

salt
Instructions
To make the paste, blend the chillies, garlic, shallots, 2 of the lemongrass sticks and turmeric powder with 2 tablespoon of water to make a thick paste.

In a wok, heat up a splash of oil and add in all of the paste. Cook for a few minutes until the oil separates.

Pour in the coconut milk.

Pop the cinnamon stick, cloves, star anise and cardamom pods into the wok. To make it easier to find them later, you could put them in a sealed muslin pouch, then add them to the wok.

Put the jackfruit in along with 2 cups of water, and stir well.

Tie the lemongrass in a knot, and add it to the pan.

Next add the finely sliced kaffir lime leaf, lime juice and sugar.

Simmer the curry for 1hr30 minutes, uncovered. Keep an eye on it and if it starts to look like it's drying out, add one more cup of water.

Check to see if the jackfruit is cooked. Take two forks and pull the jackfruit apart. It should shred easily, it's doesn't, it's not quite done. Simmer it for another 15-30 minutes if it's not quite ready. Check it after the first 15 minutes, if it pulls apart easily, take it off the heat.

Season with 1 teaspoon of salt, stir well and serve with rice.
Notes
If you're using canned young jackfruit you can reduce the initial simmer time by 30 minutes. But keep an eye on it. We wouldn't want it to dry out.
You could consider putting the whole spices in a muslin bag. That way you can pop them in the curry in the small bag, and easily take them out at the end without spending ages searching for them.
Tying the lemongrass in a knot means it's easier to find and remove at the end too.
Use a pair of scissors to shred the kaffir lime leaves, instead of a knife. It will be much easier to cut them finely this way.
If you'd like, you can use half a tablespoon of tamarind paste instead of lime juice, this is more traditional. We used lime juice as it's a more common ingredient.
Nutrition
Calories:
520
kcal
|
Carbohydrates:
72
g
|
Protein:
6
g
|
Fat:
28
g
|
Saturated Fat:
24
g
|
Polyunsaturated Fat:
1
g
|
Monounsaturated Fat:
1
g
|
Sodium:
641
mg
|
Potassium:
980
mg
|
Fiber:
6
g
|
Sugar:
10
g
|
Vitamin A:
655
IU
|
Vitamin C:
106
mg
|
Calcium:
174
mg
|
Iron:
8
mg