Bumbu Bali is a traditional Balinese spice paste that has a multitude of uses, perfect for making a traditional Balinese curry and it keeps in the freezer for 3 months.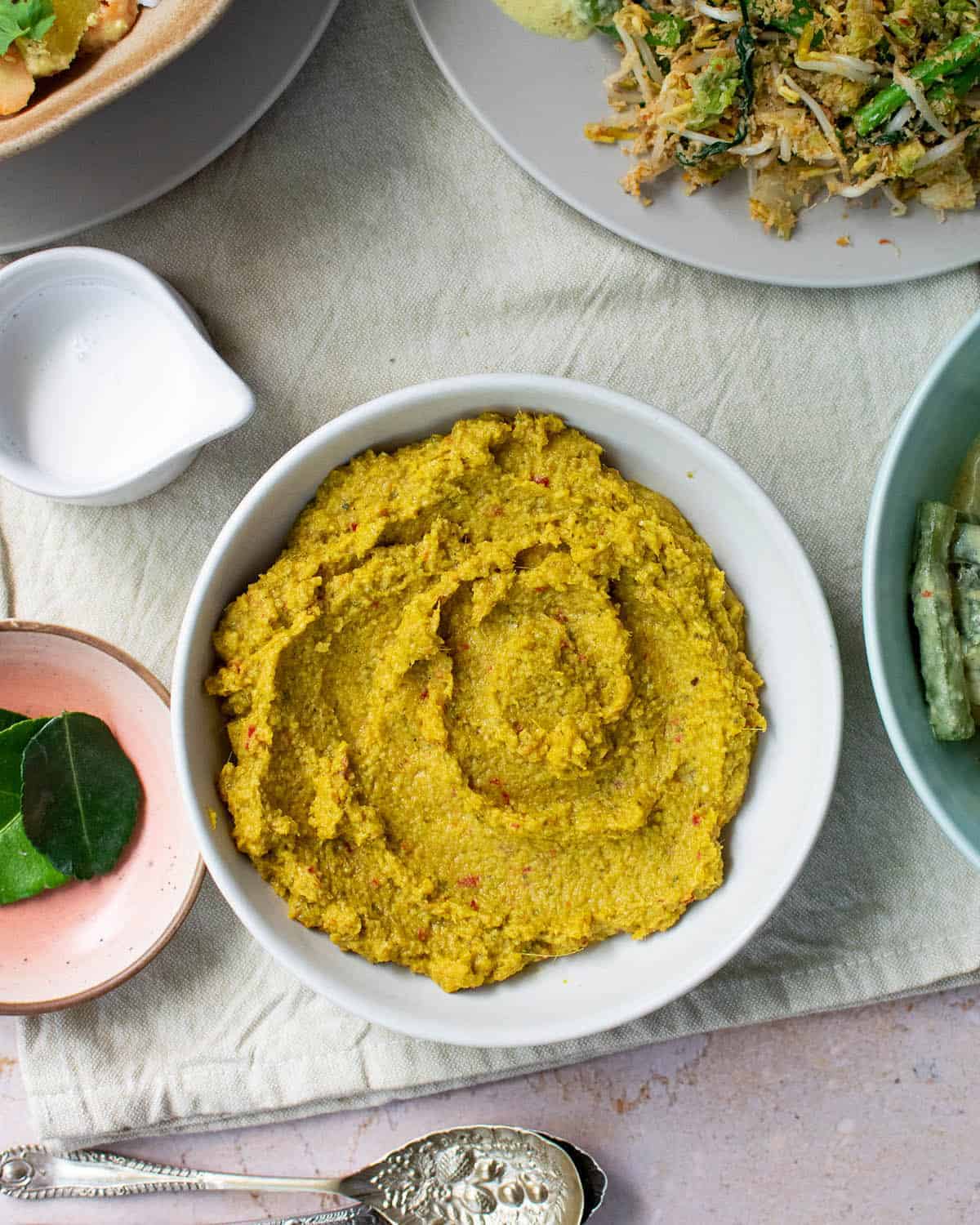 Jump to:
Why this recipe works
Our Balinese spice paste recipe is based on one we learned at a Balinese cooking school. You could only get more authentic by going to Bali!
It's packed full of flavour. The ingredients create an intense paste that mean it will easily serve as the base for at least 3 dishes that serve 4 people each!
It's incredibly versatile. It's used for all sorts of recipes, like traditional Balinese curry, soups and even fritters.
We love this recipe because it's really simple to make, and it keeps well in the freezer. It's perfect for whipping up a speedy, yet flavourful, dinner even when you're pushed for time.
What is Balinese spice paste (Bumbu Bali)?
Bumbu is the Indonesian word for the blend of spices that give Bumbu Bali its flavour.
It's made from spices like garlic, ginger, nutmeg and turmeric, all chosen for their aroma and flavour. Traditionally, Bumbu Bali would be made using candlenuts and galangal.
We've switched out those ingredients for items that are more easily accessible outside of Bali. We'll talk more about that in a moment.
This paste is the base for a lot of Balinese dishes. The flavour is characteristic of Indonesian cuisine, so it's a great place to start your Balinese cooking journey.
📋 Ingredient Notes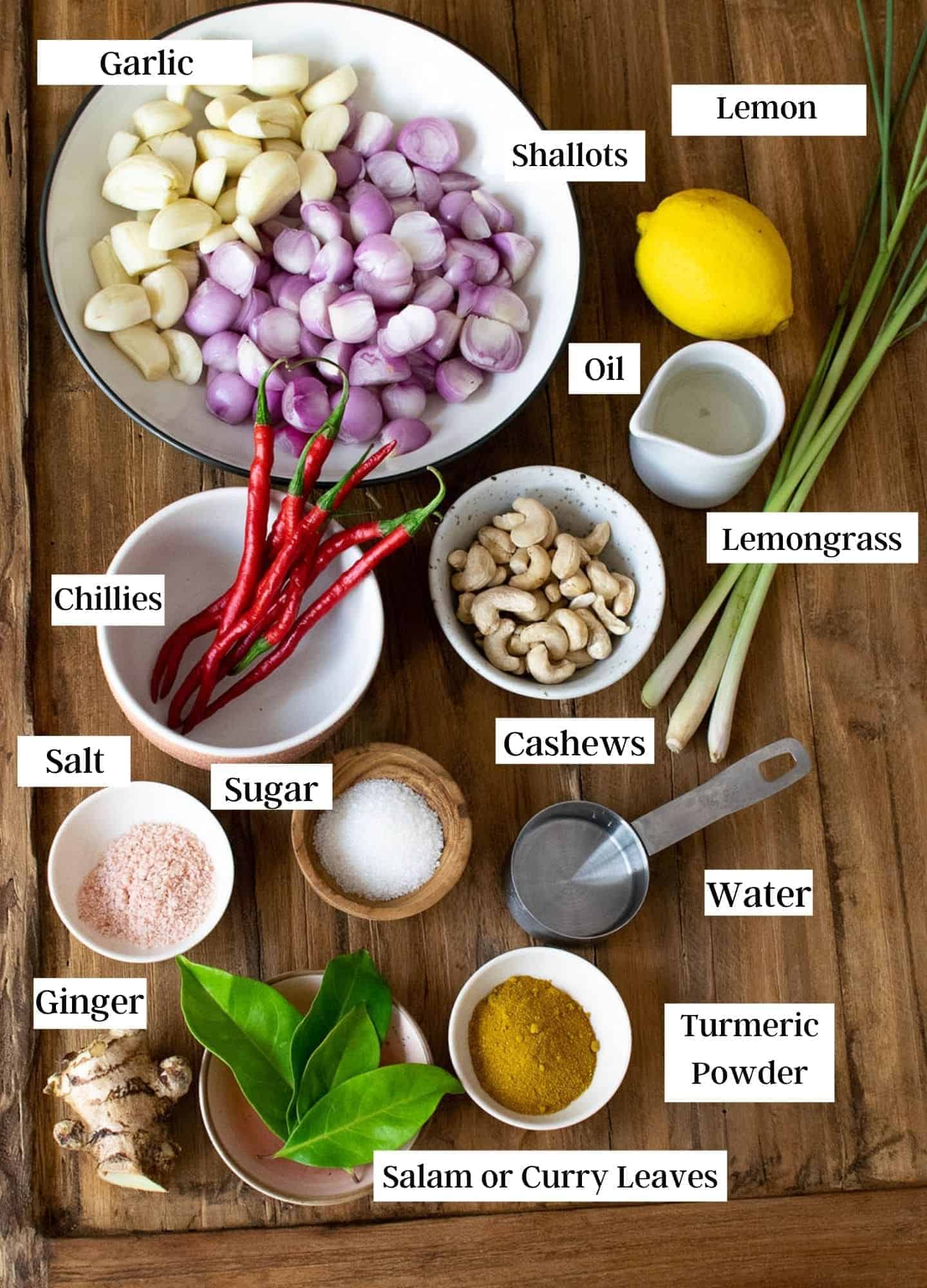 Garlic – this recipe makes a big helping of spice paste. So don't be afraid of the quantity of garlic – 30-40 cloves!
Ginger and lemon juice - this combination is to replace galangal, which is a member of the ginger family. Alternatively, if you have galangal use it instead.
Cashews – usually this spice paste would use candlenuts, which are a common ingredient in Bali. As these nuts are not widely used in the UK, we replaced them with cashews and the recipe still works really well.
Curry leaves or salam leaves – salam leaves are Balinese bay leaves. We've never seen them outside of Bali. Curry leaves are a very close alternative.
Sugar – if you don't have palm sugar, brown sugar will work just as well.
Water – this is to help the blender grind the ingredients efficiently. You can omit the water if you're using a pestle and mortar to grind your ingredients.
🔪 Step-by-Step Instructions
These instructions are an overview of how to make this recipe. For full instructions and measurements head down to the recipe card at the bottom of the post.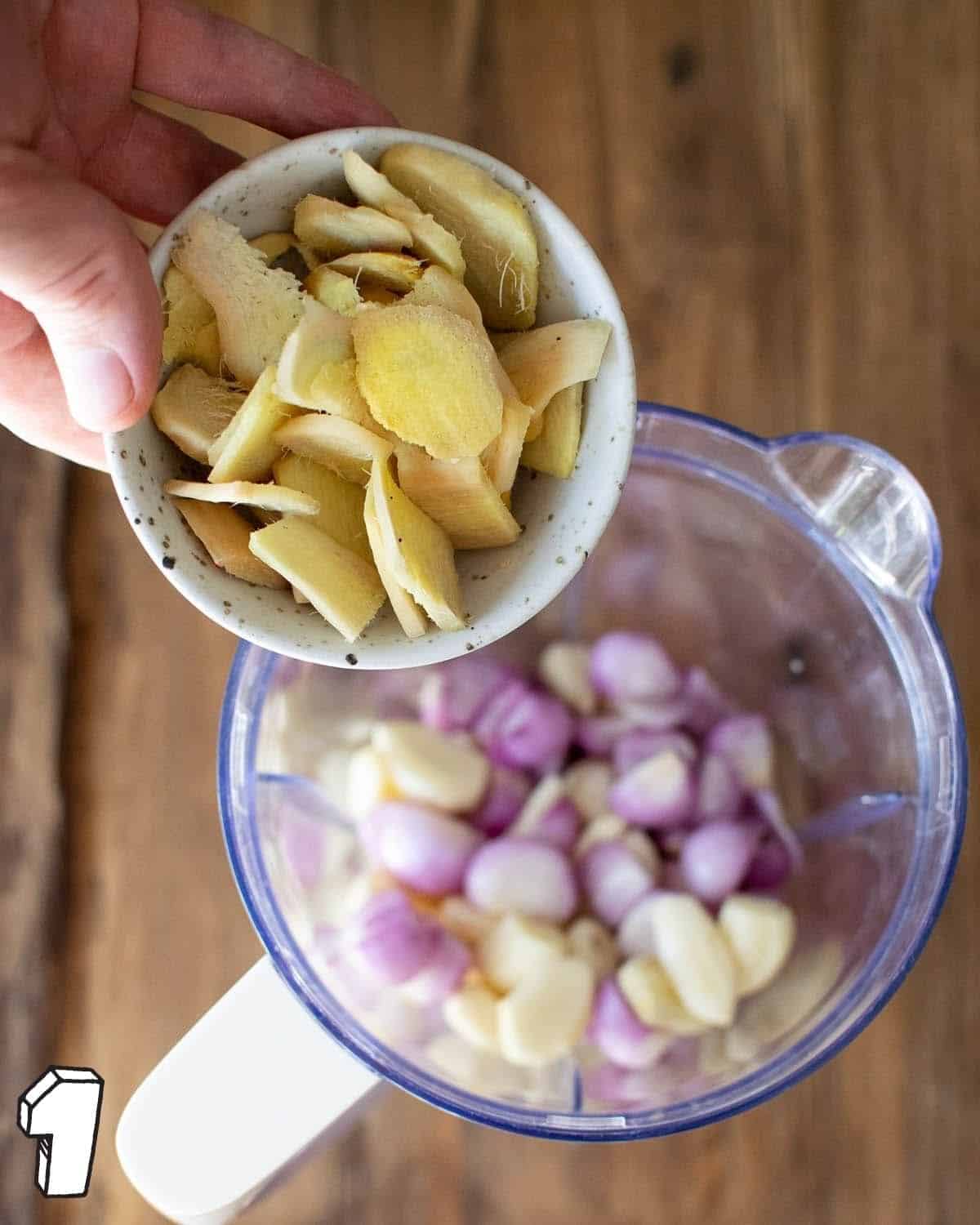 1. Get all of the ingredients ready for the blender by roughly chopping them up. Pay particular attention to the ginger and lemongrass as they are tough, so will need to be chopped up quite small (it's likely that the shallots and garlic will already be small enough). If using a pestle and mortar, chop the ingredients even smaller.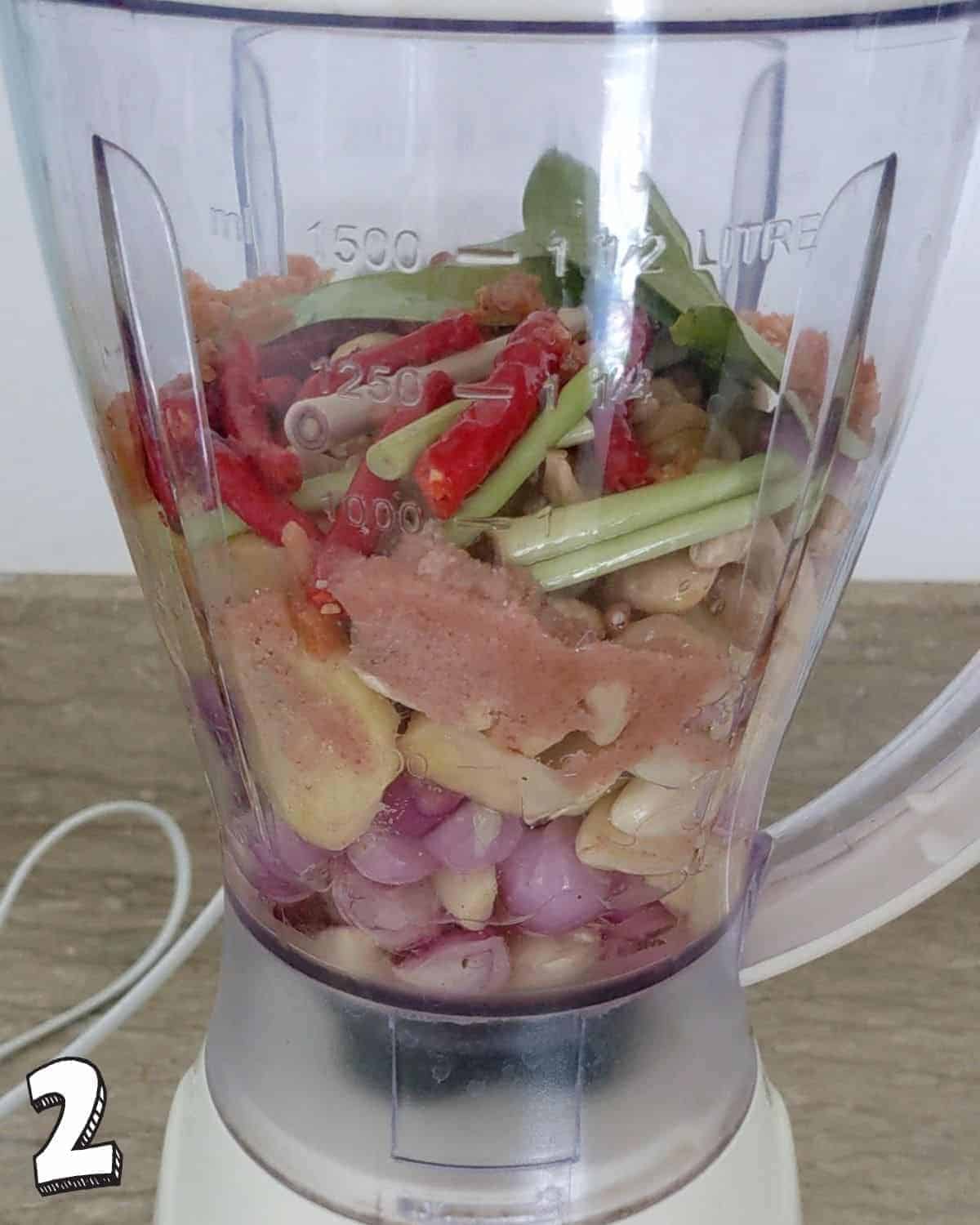 2. Pop all of your ingredients into the blender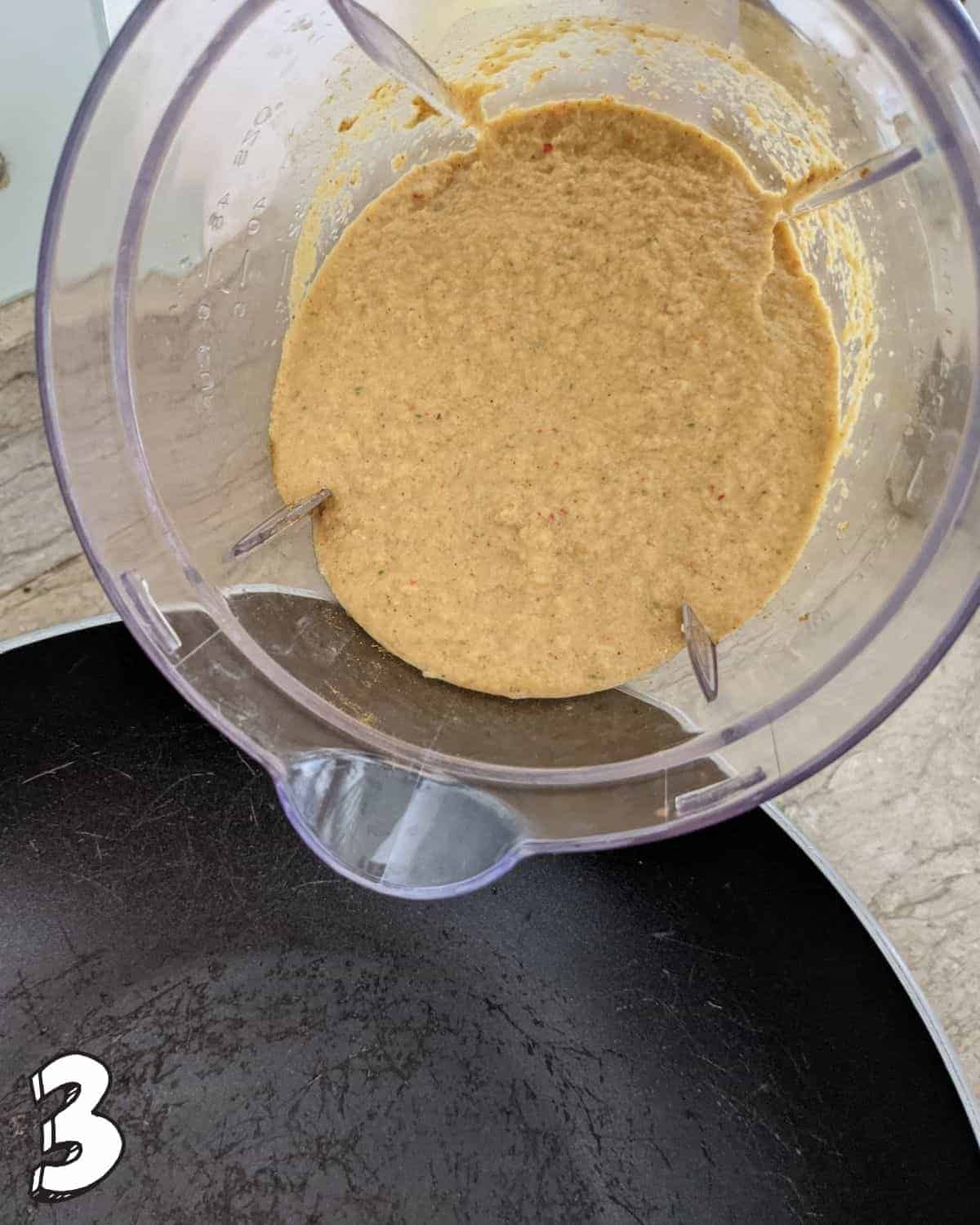 3. Blend the ingredients until they form a paste. Alternatively, omit the water and pound the ingredients in a pestle and mortar until a smooth paste forms.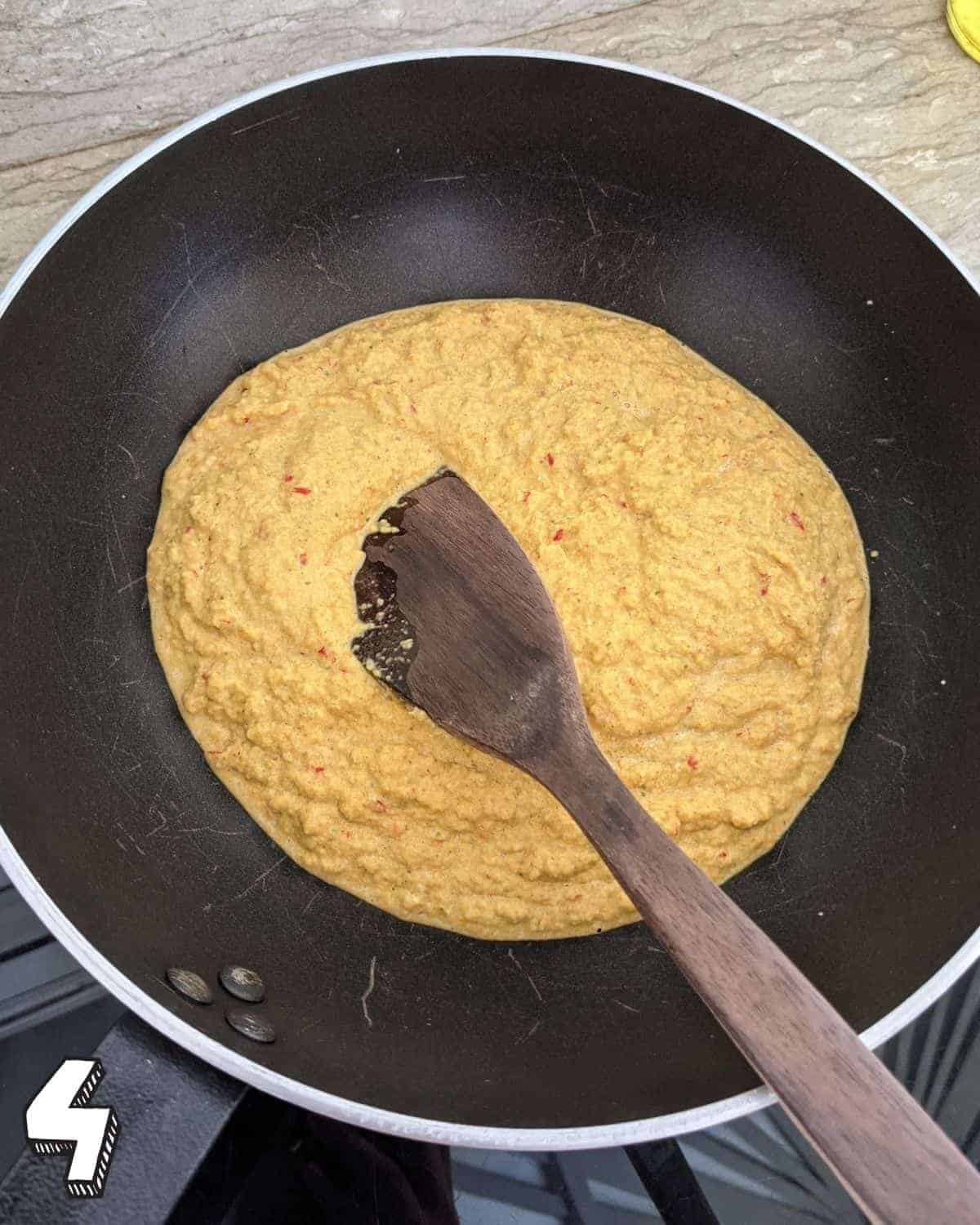 4. Put your paste into a wok, without oil, and cook until it is hot. You should notice the paste get thicker and begin to bubble up.
That's it! Your paste is ready to use as a base for a curry, marinade or to be frozen for later.
👨‍🍳 Expert tips
Cashews instead of candlenuts
Traditionally, Bumbu Bali paste is made using candlenuts. Candlenuts are a popular ingredient in Bali, as the candlenut tree is native to Indonesia. However, be careful when using candlenuts as they are toxic and bitter when raw. Cooking them for at least 15 minutes will remove the toxicity and the bitter taste. They are often used in stews and curries in Balinese cooking, which are cooked for a long time.
We've decided to use cashews for our Bumbu Bali instead, because they are more readily available outside of Bali. Cashews are also completely non-toxic, so there's less risk attached!
Ginger and lemon juice instead of galangal
Traditional Balinese spice paste is usually made with galangal, which is a member of the same family of roots as ginger. Galangal has an earthy, floral taste, with a citrus edge. We've substituted galangal for ginger and lemon juice, as it's not common outside of Asia. Ginger and lemon juice create a similar flavour profile, although doesn't mimic galangal identically.
Cup blender or pestle and mortar
We definitely think it's easier to make Bumbu Bali using a cup blender! If you want to use a more traditional method, though, you could try using a pestle and mortar. Just make sure you leave out the water. Water helps if you're blending ingredients in a blender, but for a pestle and mortar dry ingredients are easier. You'll need to use quite a large pestle and mortar so that all the ingredients fit in it.
Palm sugar or brown sugar
Palm sugar is another ingredient that's native to Indonesia so it can be tricky to find outside of Asia. If you don't have any, you can use brown sugar to make it instead.
In case you're worried, palm sugar is not at all related to palm oil. Palm sugar is safe, and doesn't use harmful farming practices.
Balinese vegetable curry (sayur kare)
One of the most delicious dishes to make with Balinese spice paste is a traditional Balinese vegetable curry. We love our sayur kare recipe because it's absolutely packed full of vegetables, and it's lovely and creamy. We also recommend using to to make Sayur Lodeh - vegetables cooked in coconut milk with bumbu Bali.
💭 FAQs
How long does Balinese spice paste last?
If you keep it in the fridge it will last up to five days. In the freezer it lasts much longer, up to three months. We like to freeze it in ice cube trays so that you can just pop one out when you want to use it.
Is Bumbu Bali spicy?
Bumbu Bali is quite a spicy paste, but it's quite well rounded when you use it in a Balinese curry. Balinese curry uses coconut milk, which mellows out the spice and is lovely and creamy. Sugar can also be added when using the paste in stews or curries, to create a well-rounded meal.
What are salam leaves?
Salam leaves are a native Bali bay leaf. If you can't get hold of them, then you can use curry leaves instead. They are a great swap, and your Bumbu Bali will still be delicious.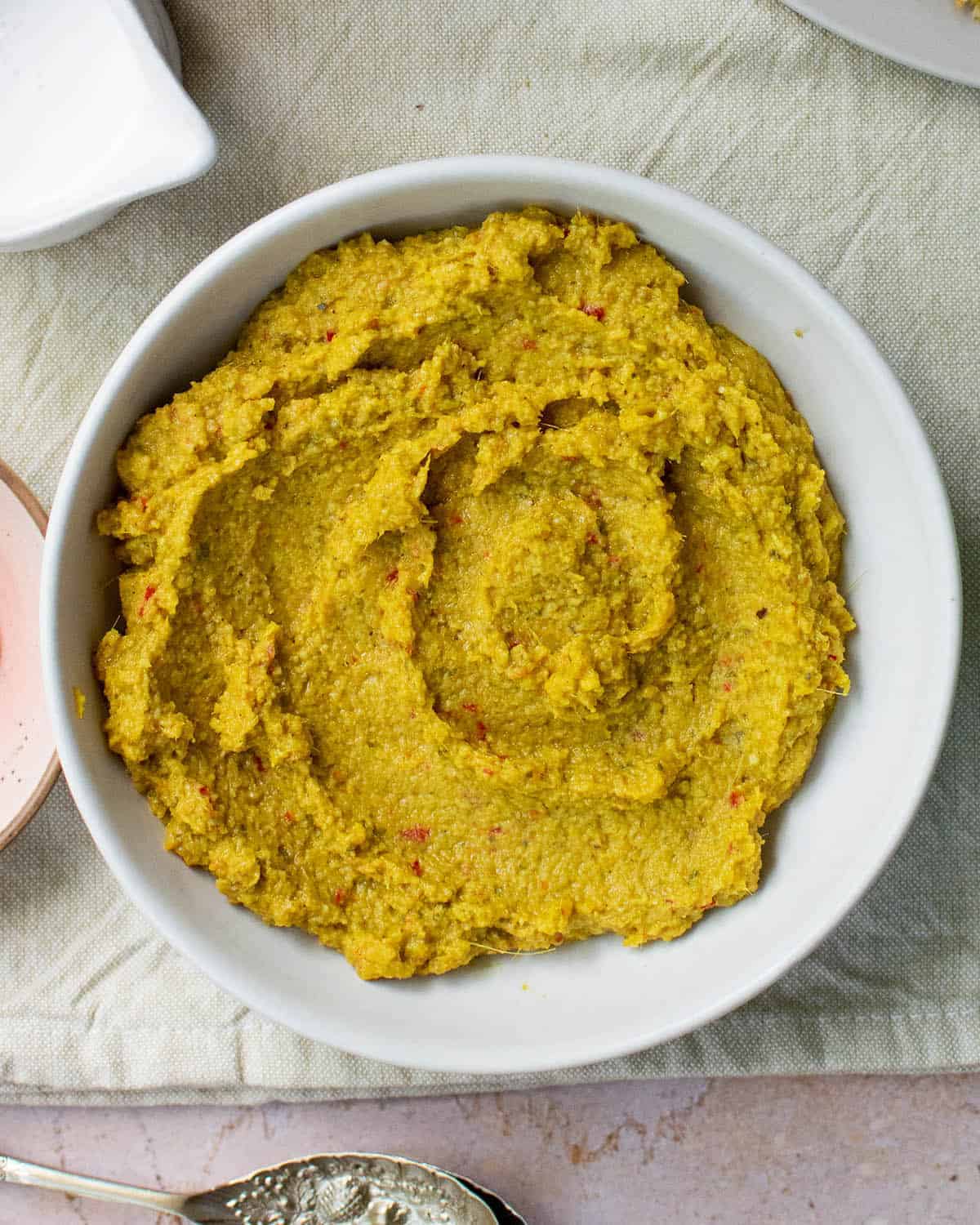 🇮🇩 More Indonesian recipes you might like:
Did you make this recipe? Leave a review and a rating below, or tag us in your photos on Instagram! Alternatively, bookmark it in your browser or save to Pinterest for later.

If you love our content, please consider supporting it by buying us a coffee.
📖 Recipe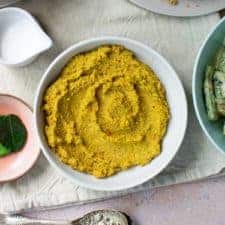 Simple All-Purpose Balinese Spice Paste
Balinese Spice Paste (also known as Bumbu Bali) is a fragrant and spicy base for many Balinese recipes. It can be used to make curries, stews, sauces and even fritters. Plus, it only takes 10 minutes to make!
Save
Saved!
Print
Pin
Rate
Ingredients
350

g

shallots

– peeled

150

g

garlic

30-40 cloves – peeled

100

g

ginger

– peeled & roughly sliced

1

tablespoon

lemon juice

3

sticks

lemongrass

- roughly chopped

25

g

cashews

25

g

bird eye chillies

~8 chillies – tops removed & halved

12

curry leaves

or 4 salam leaves

30

g

sugar

(palm sugar if possible)

2

tablespoon

turmeric powder

1

tablespoon

salt

¼

cup

water

2

tablespoon

oil
Instructions
Start by preparing the larger ingredients for the blender. Chop the shallots in half, slice the ginger roughly, chop the lemongrass into 1-inch pieces, and remove the tops from the chillies and cut them in half. The curry leaves can go in the blender whole. If you're using a pestle and mortar, chop all of these items very finely.

Put all of the ingredients into the blender, and blitz them until they create a paste. Alternatively, pound in a pestle and mortar. If using a pestle and mortar, you won't need the water or the oil.

Put the paste into a wok without oil, over a medium heat, and cook until it is hot. The paste will start to bubble and will thicken slightly.

Pour the paste into a jar or container and refrigerate once cool. Alternatively, pop into an ice cube tray and then the freezer. Once frozen, move into freezer bags.
Notes
To make a curry with coconut milk, you'll need 5 tablespoons of the paste, or if frozen (roughly) 5 ice cubes of curry paste, which can be used from frozen.
This paste is a great foundation for curries, stews, fritters and many other Balinese recipes.
It will keep in the fridge for 5 days, or the freezer for 3 months.
Palm sugar is recommended for this recipe but brown or white sugar will work too.
The ginger and lemon juice is to replace galangal in a traditional recipe. If you have galangal, use 100g of it instead.
Nutrition
Calories:
95
kcal
|
Carbohydrates:
15
g
|
Protein:
2
g
|
Fat:
4
g
|
Saturated Fat:
1
g
|
Polyunsaturated Fat:
1
g
|
Monounsaturated Fat:
2
g
|
Trans Fat:
1
g
|
Sodium:
589
mg
|
Potassium:
243
mg
|
Fiber:
2
g
|
Sugar:
5
g
|
Vitamin A:
65
IU
|
Vitamin C:
33
mg
|
Calcium:
44
mg
|
Iron:
1
mg